60 Best Healthy Memorial Day Recipes
Because we could all use a good cookout on the back porch right now!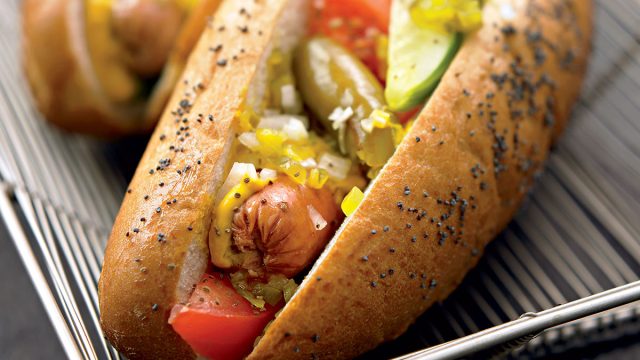 Whether you're hosting a cookout with friends in the park or in a backyard this Memorial Day, you'll want to make sure you have a menu that's filled with impressive, good-for-you dishes and beverages. It's quite easy to end up overindulging and derailing any weight-loss goals you may have during a holiday, but armed with the right recipes, you can stay right on course.
Samantha Cassetty, MS, RD, and nutrition and wellness expert, even offers up some better-for-you dessert tips that you can employ this upcoming holiday weekend. One easy way to make sure that you and your guests don't go overboard on sweets is to prepare mini portions of your favorite treats. For example, Cassetty recommends making mini brownie cupcakes instead of making a pan's worth of thick, calorie-rich bars.
"Just use mini muffin liners and bake until a toothpick comes out clean. When the brownies are ready, frost them, and then place a sliced strawberry on top," she says. "To make these mini treats healthier, use a brownie mix with almond and coconut flours, which have more protein and fiber than a typical mix made with regular flour."
From small bites to start with to burgers, cocktails, and even dessert, here are 60 healthy recipes you can use at your cookout this Memorial Day weekend. (Related: 21 Best Healthy Cooking Hacks of All Time)
Small Bites
Shrimp and Mango Summer Roll
The combination of shrimp, the perfect lean protein, with tangy-sweet mango and a few crunchy strips of red pepper makes for a delish appetizer! Adaptable and delicious, once you master this simple wrapping technique, feel free to fiddle with the filling and find your favorite combination of deliciousness.
Get our recipe for Shrimp and Mango Summer Rolls. 
Teriyaki Scallops Wrapped in Bacon
This recipe also only a few ingredients—not to mention, ones you might not think go well together—but the subtle scallops are the perfect protein to pair with the complex bite of the teriyaki. Let's be real: What doesn't taste great wrapped in bacon?
Get our recipe for Teriyaki Scallops Wrapped in Bacon.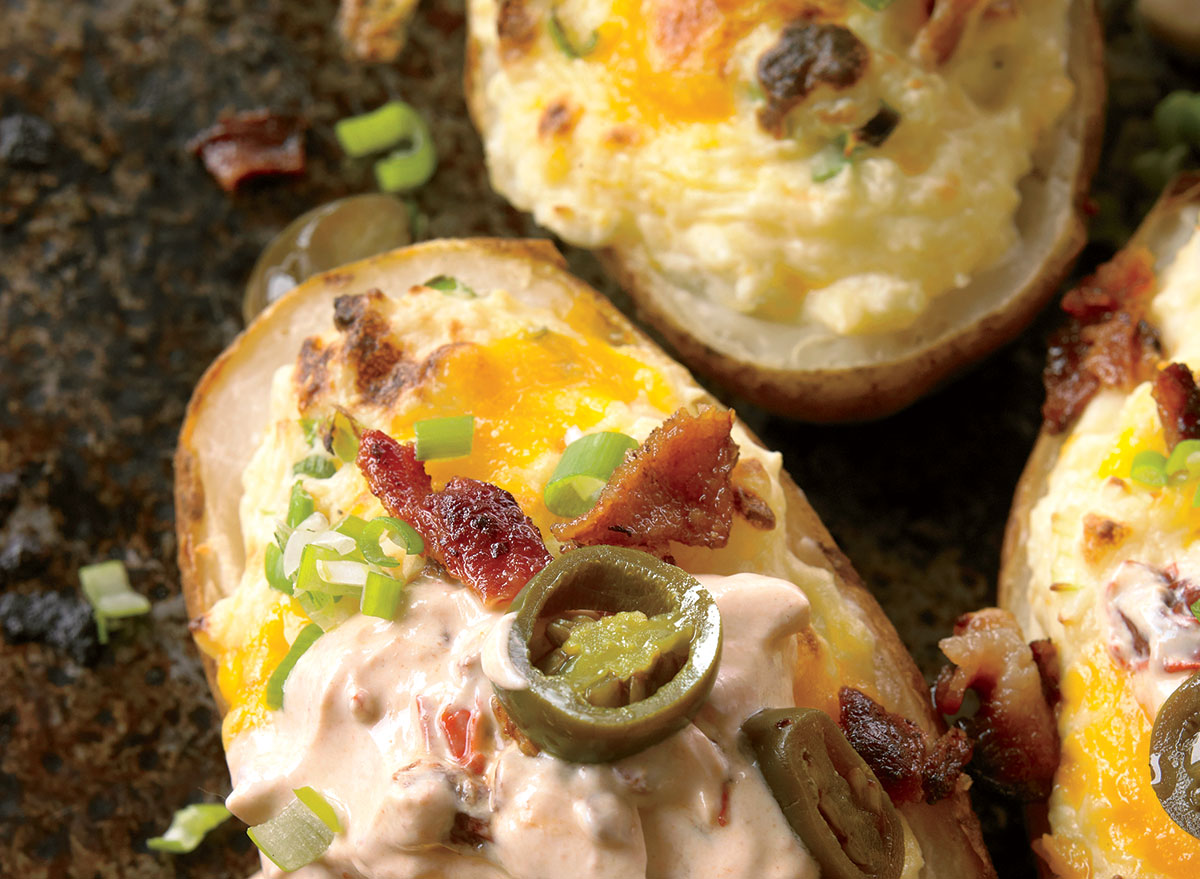 Filled with all sorts of delicious goodness, these spicy potato skins rival the ones that you would find in any restaurant. They're the perfect appetizers to share before a Memorial Day cookout.
Get our recipe for Spicy Potato Skins.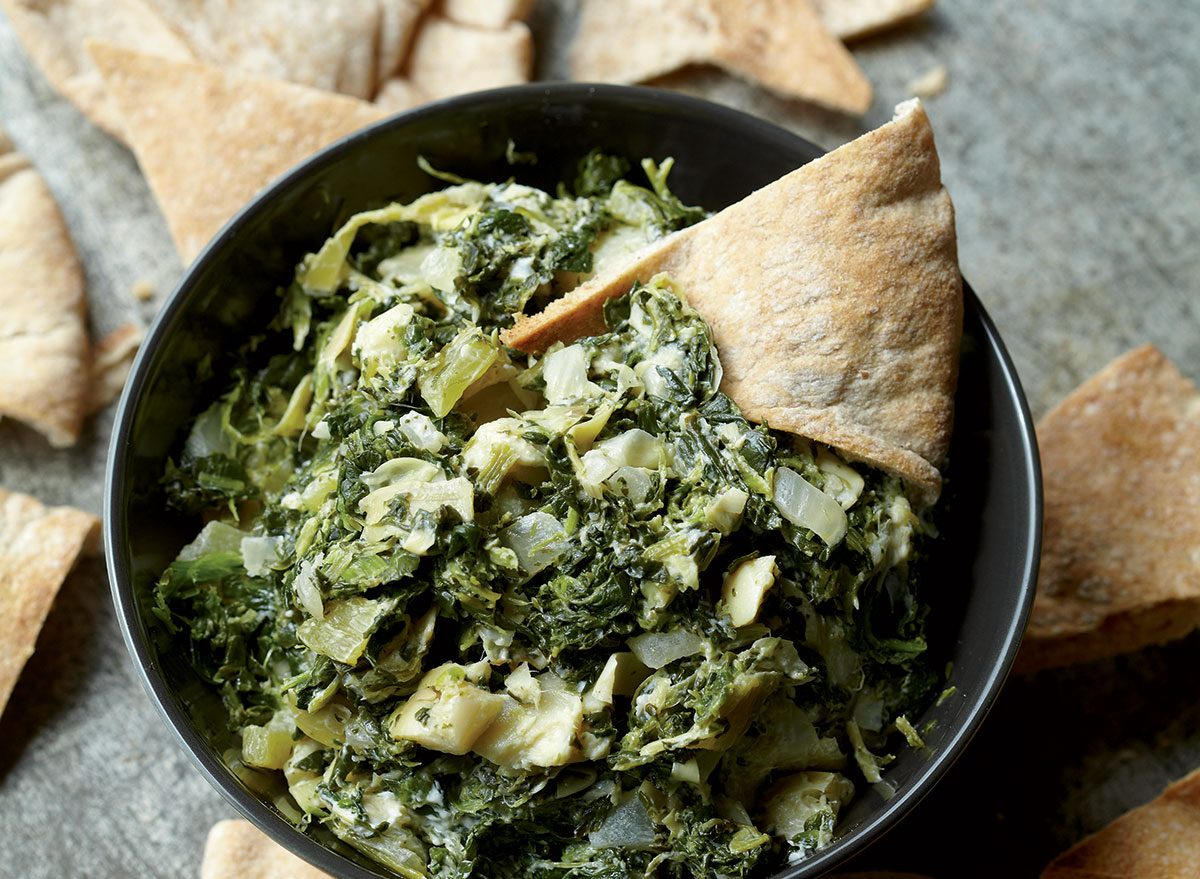 For this appetizer, we use a flavorful olive oil-based mayo instead of the fat-filled alternative to cut calories and boost nutrition. Chiles bring some extra heat to the equation, while toasted wheat pitas work as super scoopers instead of the greasy chips you might be accustomed to.
Get our recipe for Spinach Artichoke Dip. 
Melted Brie with Vegetables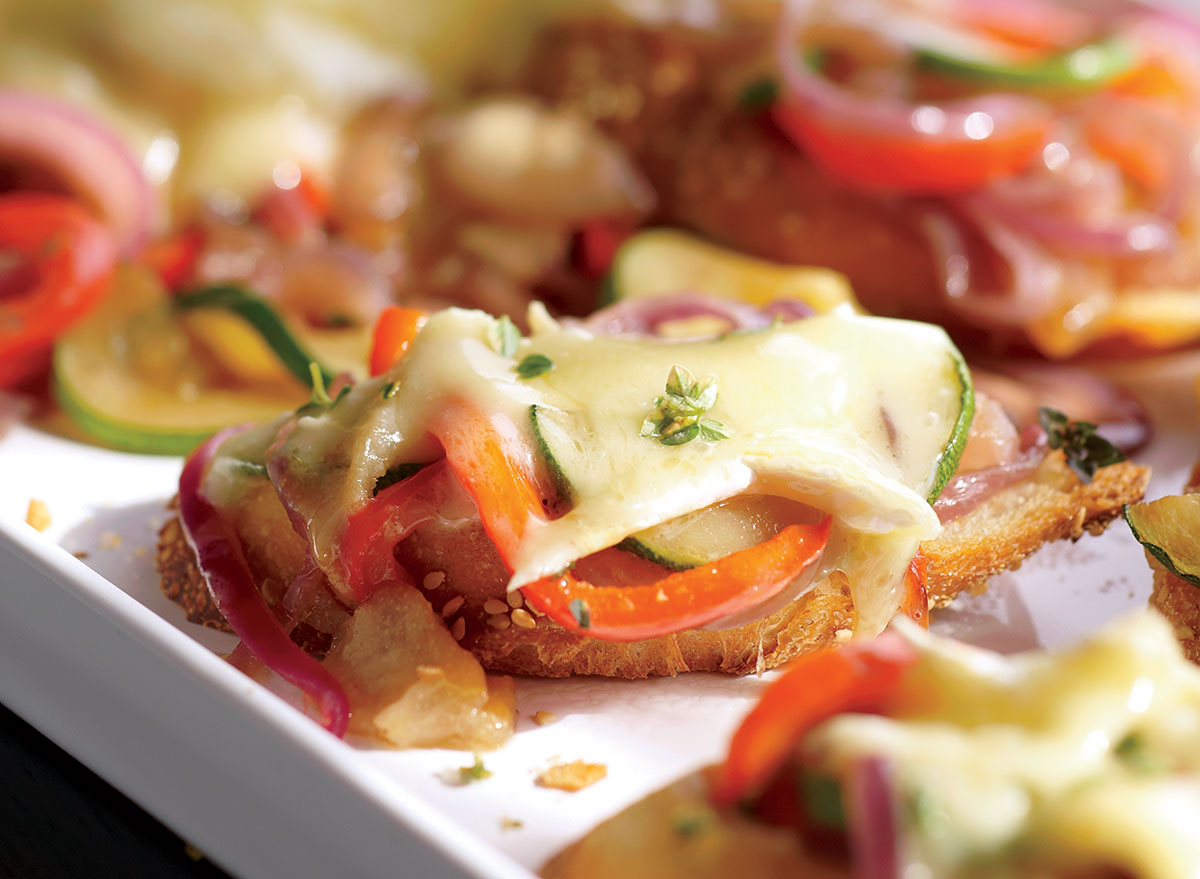 If cheese is the focus, surround it with a strong supporting cast. Brie is undoubtedly the star here, but the sautéed vegetables add plenty of substance to our take on melted brie.
Get our recipe for Melted Brie with Vegetables. 
Oven-Roasted Shrimp Cocktail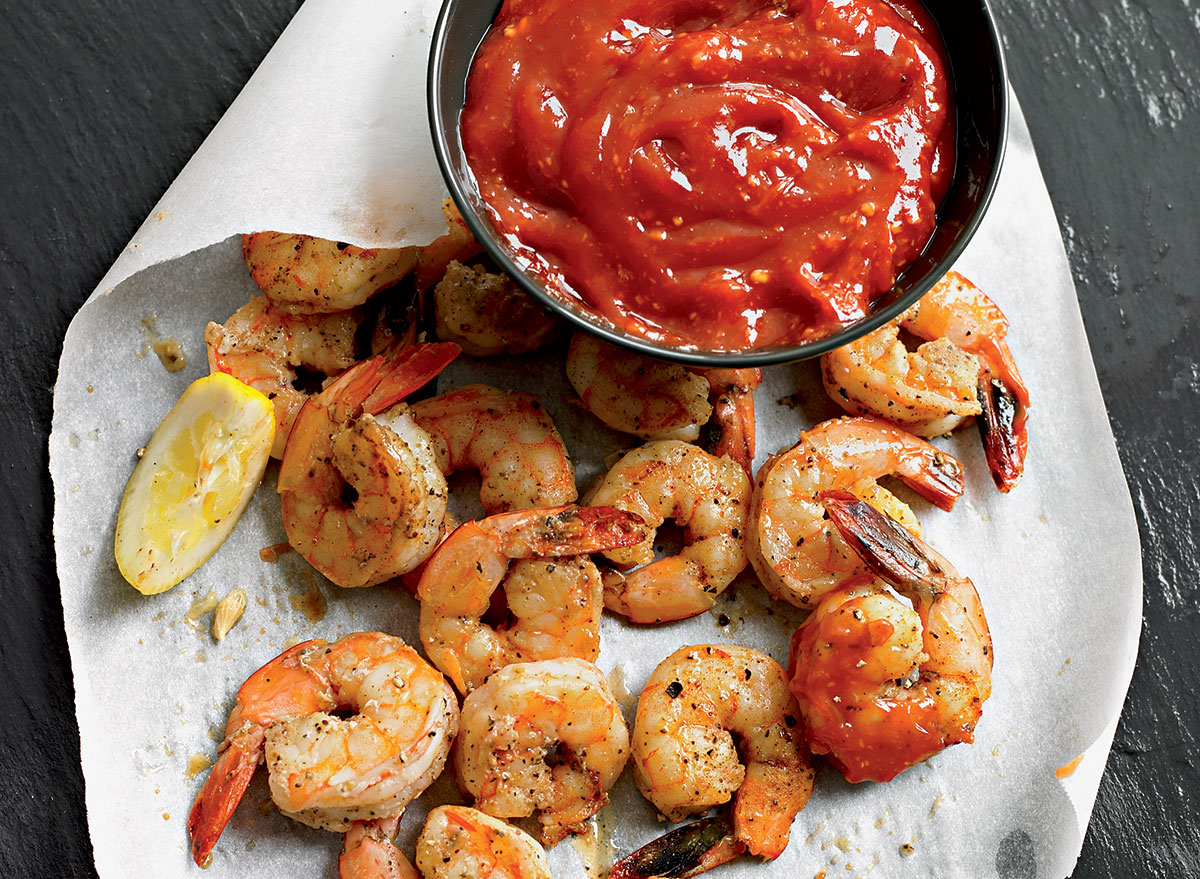 In our version, we cut back on the salt by making a fiery homemade cocktail sauce and improve matters by skipping pre-cooked store-bought shrimp (most of which are pretty disappointing!) in favor of quickly oven-roasting fresh ones tossed in Old Bay seasoning. The only thing this recipe is missing is a frothy beer, but we have a feeling you might have one waiting for you in the fridge.
Get our recipe for Oven-Roasted Shrimp Cocktail.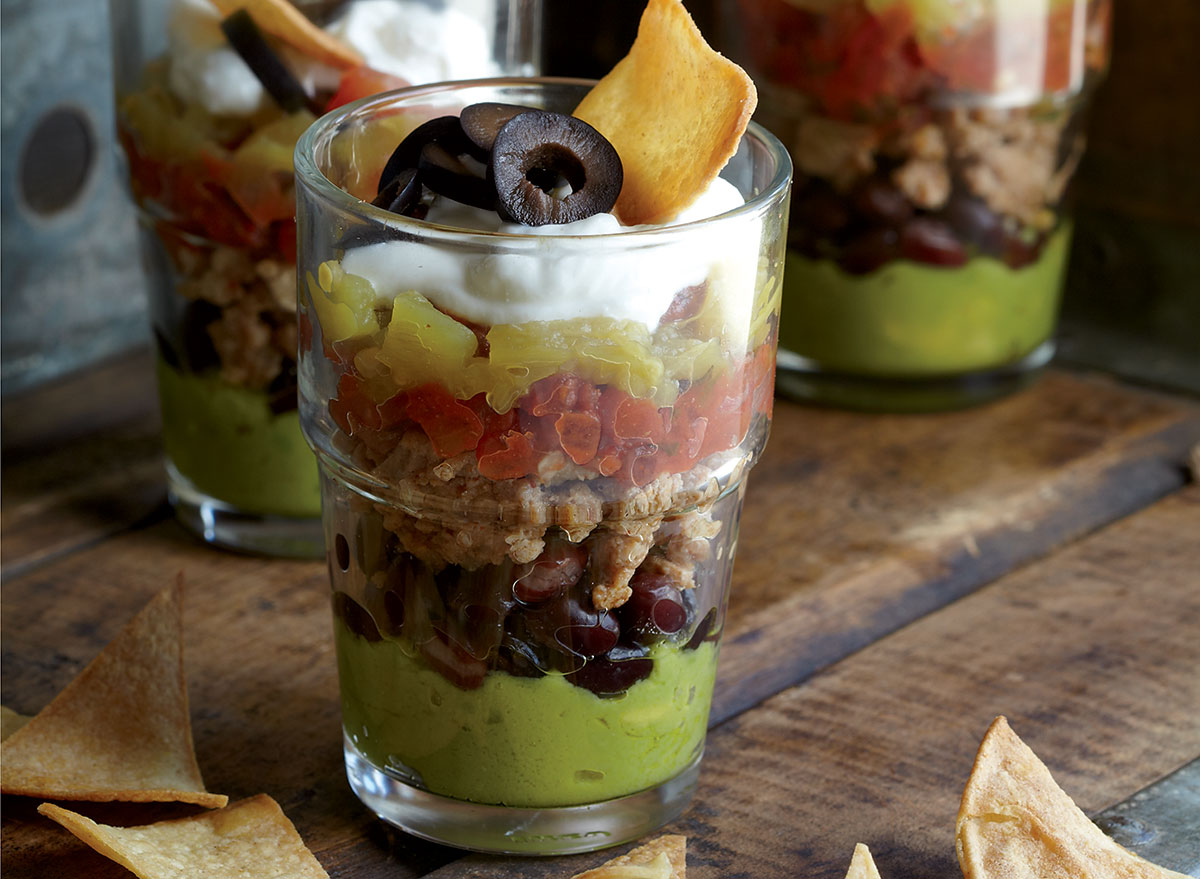 You can serve this in one giant dish, but building layered servings in individual glasses (for a fancy effect, grab some martini or wine glasses!) makes for a dramatic presentation that allows for all the double-dipping you could want.
Get our recipe for 7-Layer Dip. 
Cheese and Chorizo Stuffed Jalapeños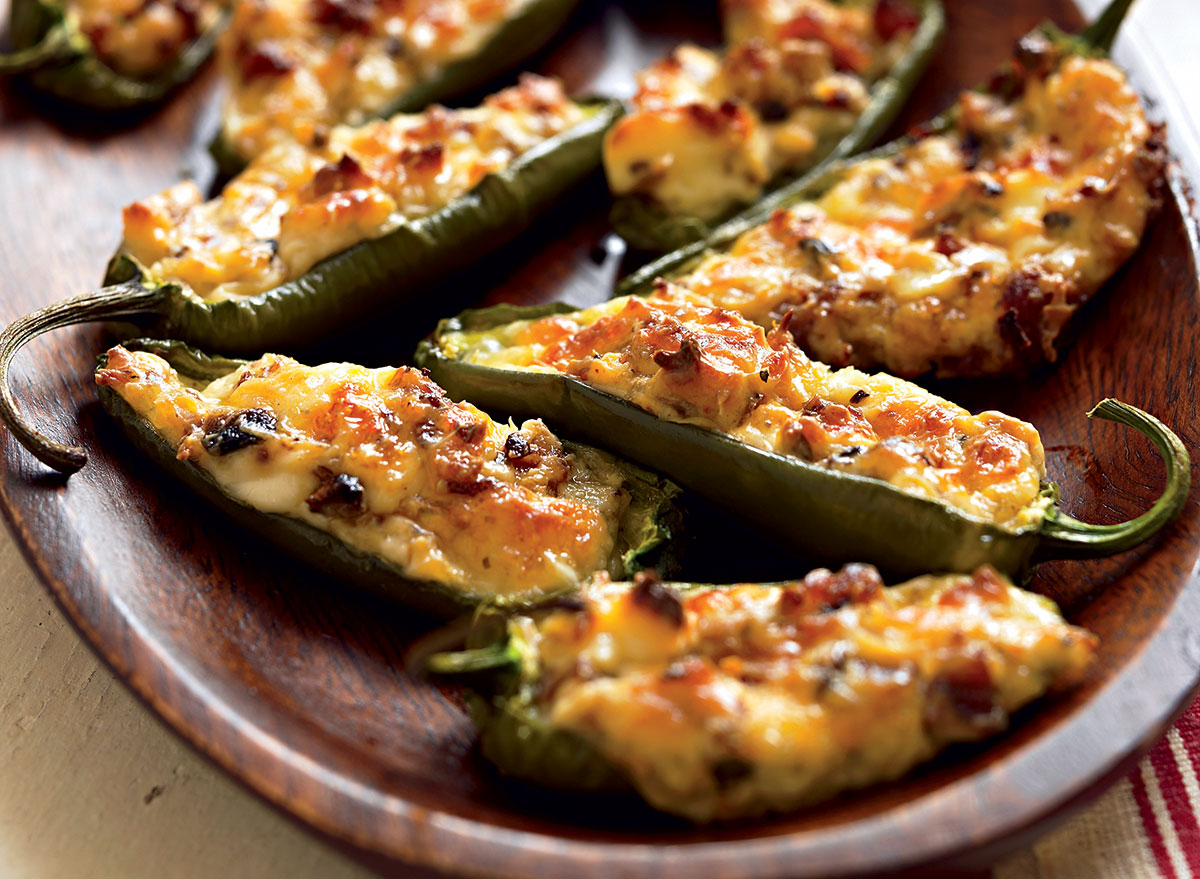 In this healthy stuffed jalapeños recipe, we pull back on quantity and add in quality ingredients that will pack a flavorful punch and harness the heat of the jalapeños rather than slathering them in unnecessary fat and calories.
Get our recipe for Cheese and Chorizo Stuffed Jalapeños. 
Bacon and Blue Cheese Stuffed Dates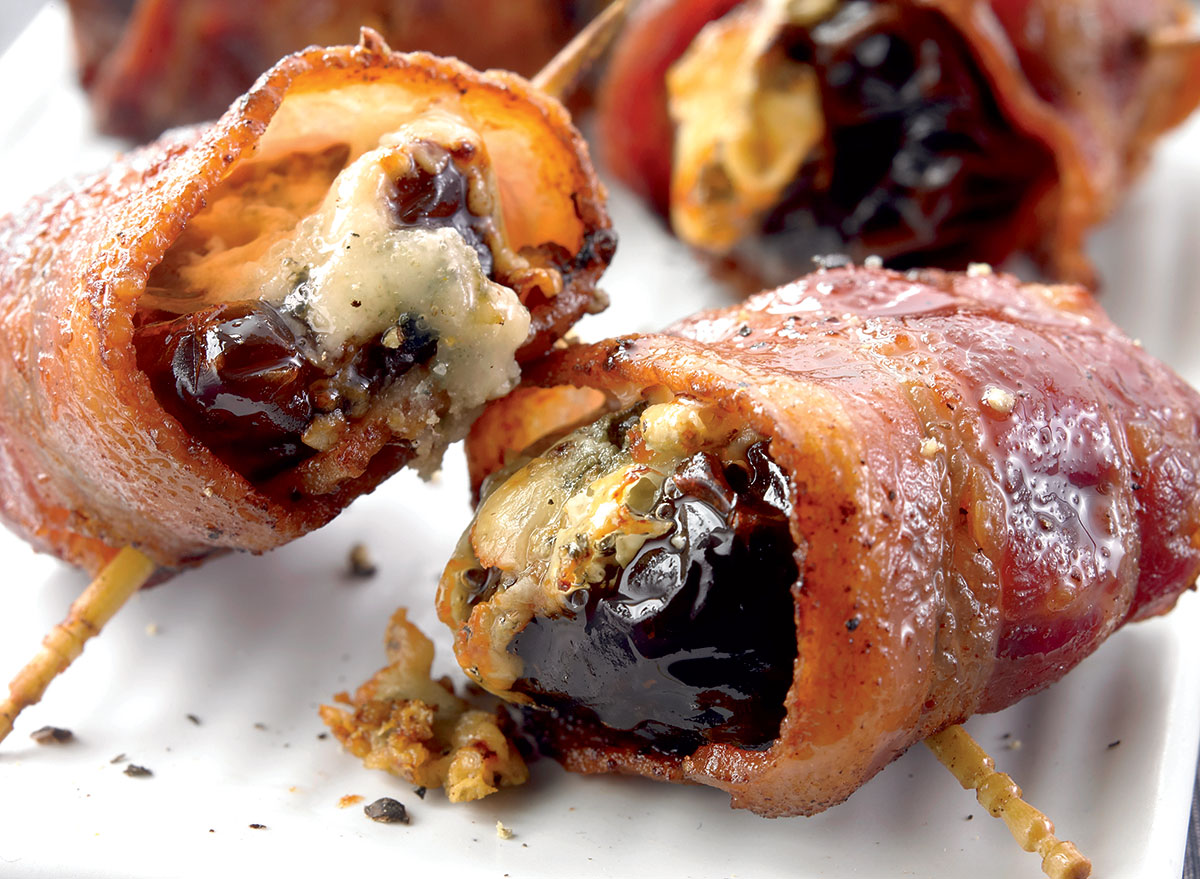 Sweet, salty, smoky, creamy: In a single bite, these tiny packages take you through the highest peaks of flavor country. Each bite containing a single, natural date, wrapped in delicious bacon and blue cheese.
Get our recipe for Bacon and Blue Cheese Stuffed Dates. 
Mains
Tuna Burger with Wasabi Mayo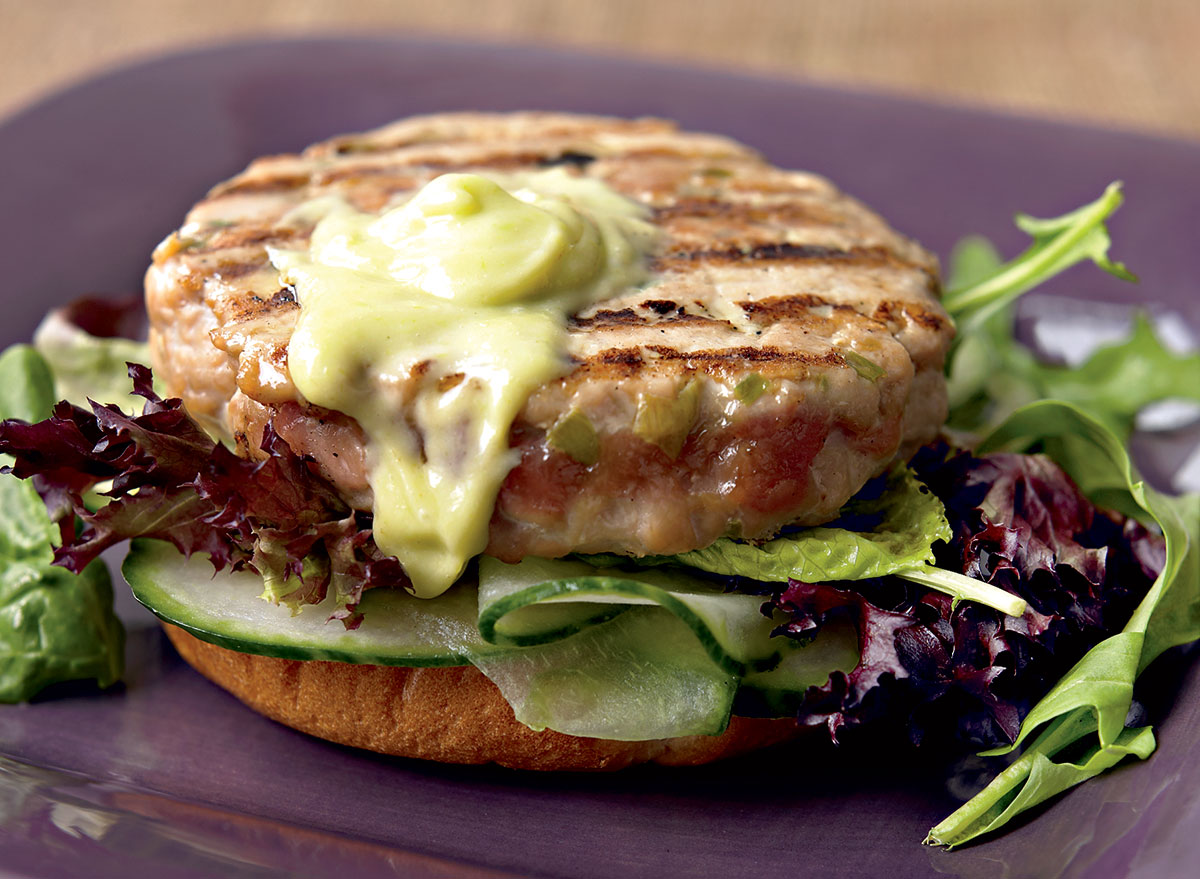 When topped with spicy wasabi mayo, you'll get a burger that brings the heat in every bite. This is far from the basic burger you might be used to!
Get our recipe for a Tuna Burger with Wasabi Mayo.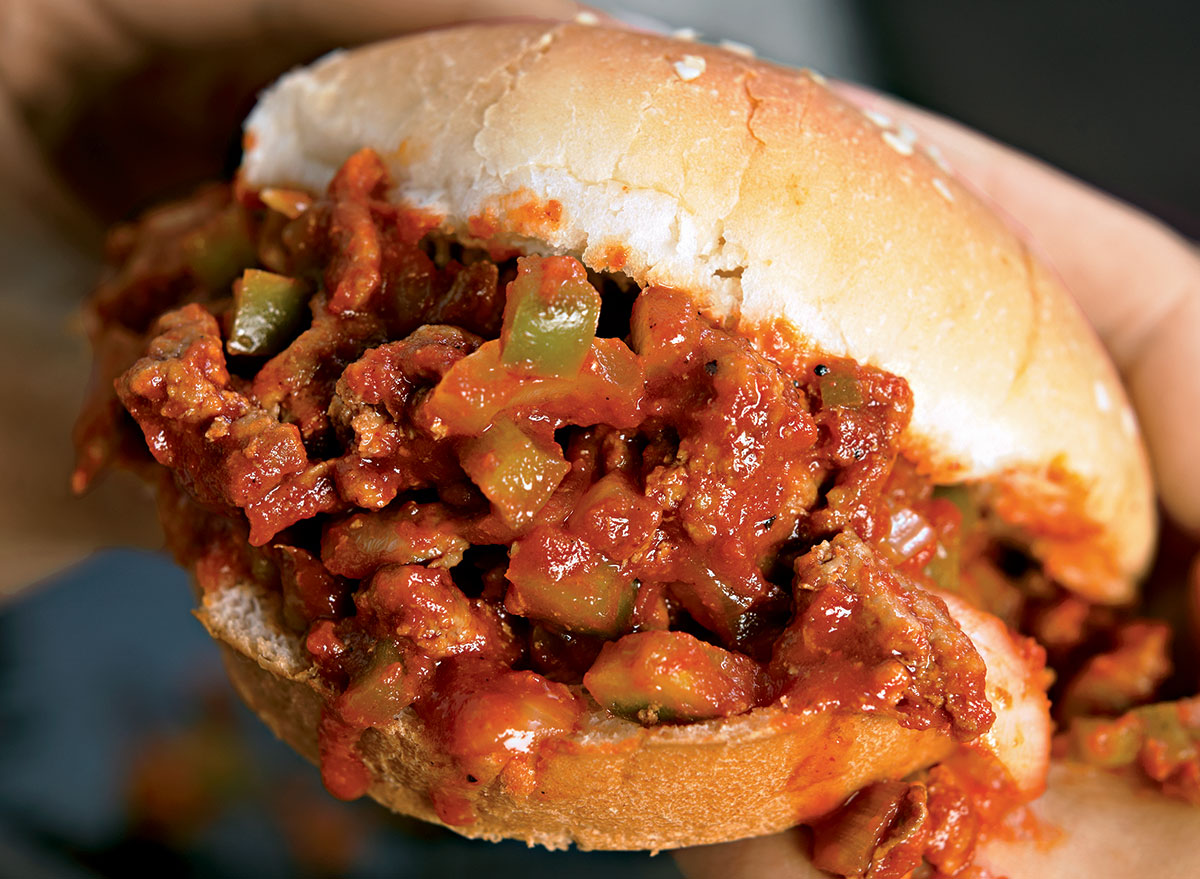 The best part about sloppy joes is that everything you need is likely already in your pantry and spice cabinet, gathering dust, waiting for a chance to shine. Open a can, measure out a few spices, and you'll have a crowd-pleasing dinner on the table in about 15 minutes.
Get our recipe for Turkey Sloppy Joes.
Americans love quirky regional burgers—from the butter burgers of Wisconsin to the pastrami-topped burgers of Utah. Our favorite is the Midwestern smashed burger, which involves using a spatula to thwack a ball of ground beef into a thin patty while it cooks in a cast-iron skillet.
Get our recipe for A1 Swiss Burgers.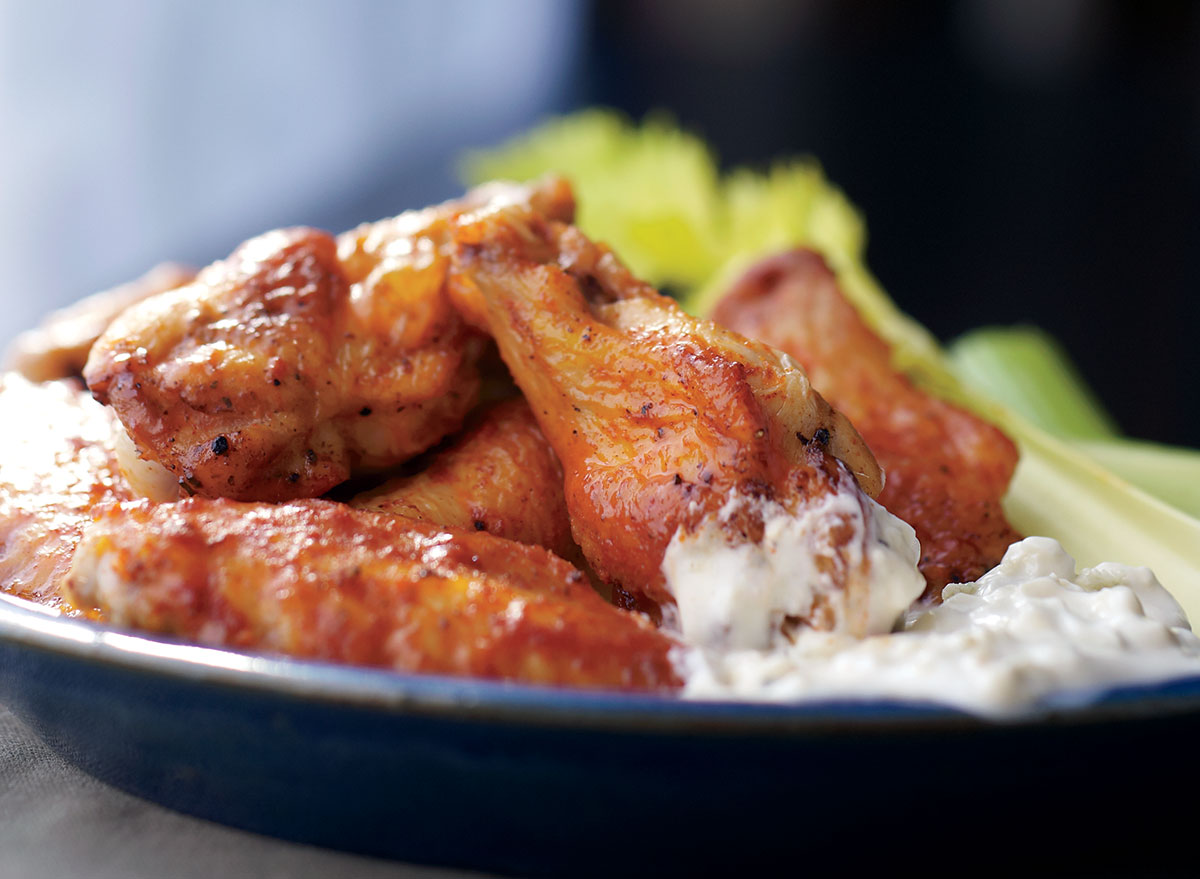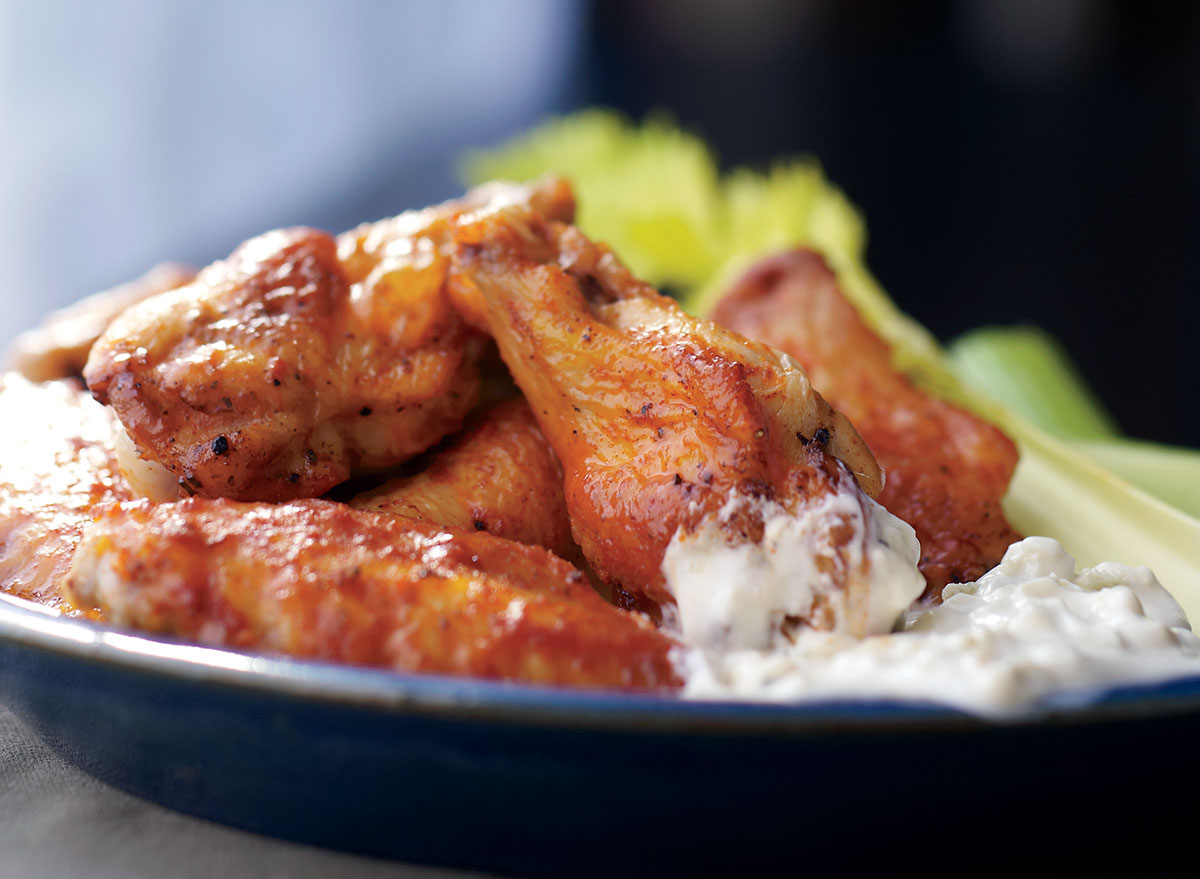 Grilling or oven-roasting your chicken wings cuts the fat content down significantly. It's also easier, cheaper (no quart of oil for frying!), and tastier (especially on the grill!).
Get our recipe for Buffalo Wings. 
Copycat KFC Chicken Sandwich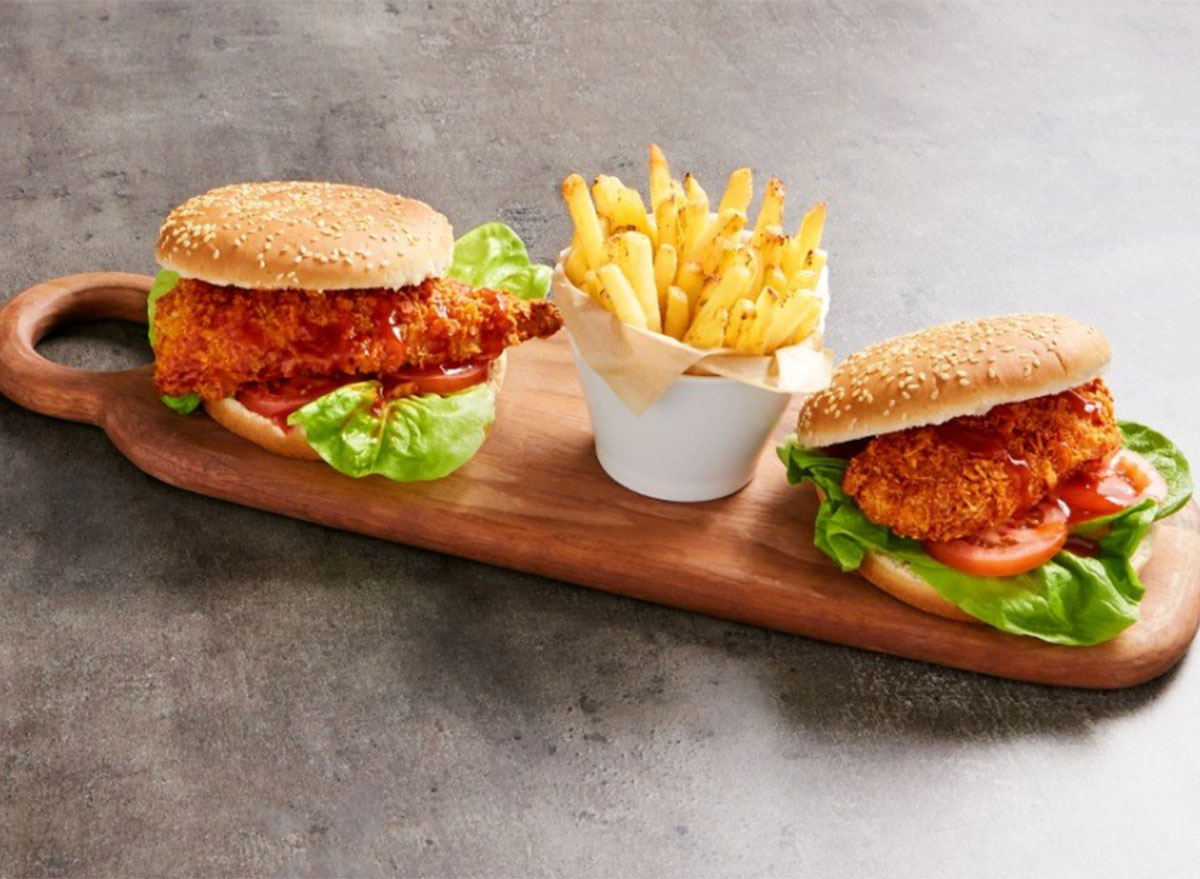 Craving a KFC chicken sandwich right now? Don't worry, this recipe is going to satisfy that craving in an instant. Yes, we have a copycat KFC chicken sandwich recipe that's going to absolutely knock your socks off.
Get our recipe for Copycat KFC Chicken Sandwiches. 
Traditional North Carolina pulled pork is dressed with nothing more than a bit of spicy cider vinegar, which is used to accentuate the meat's flavor—not mask it. We get back to the humble hog treatment and turn out a sandwich packed with flavor yet light on calories.
Get our recipe for Pulled Pork Sandwiches. 
Gai Tod Thai Chicken Marinade
This marinade works for basically anything you want to grill up this summer! It's also great for air-frying meats, grilling vegetables, and so much more.
Get our recipe for Gai Tod Thai Chicken Marinade. 
If you're looking for a leaner burger that will satisfy any craving, this southwest turkey burger will do the trick! Topped with a homemade chipotle mayo and pepper jack cheese, this burger is sandwiched between an English muffin and topped with a healthy amount of avocado.
Get our recipe for Southwest Turkey Burgers.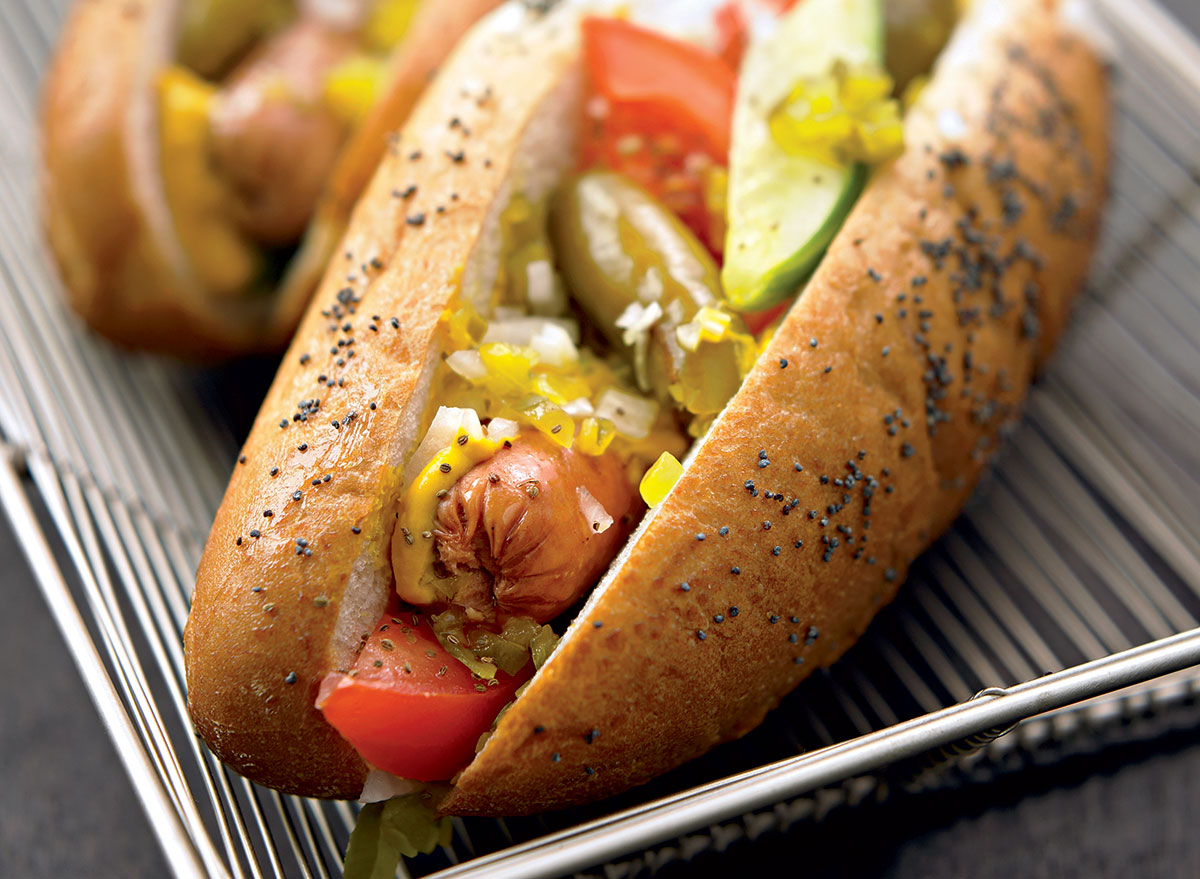 Enjoy a classic Chicago dog at home with our easy-to-make recipe. Remember, no ketchup!
Get our recipe for Chicago Hot Dogs.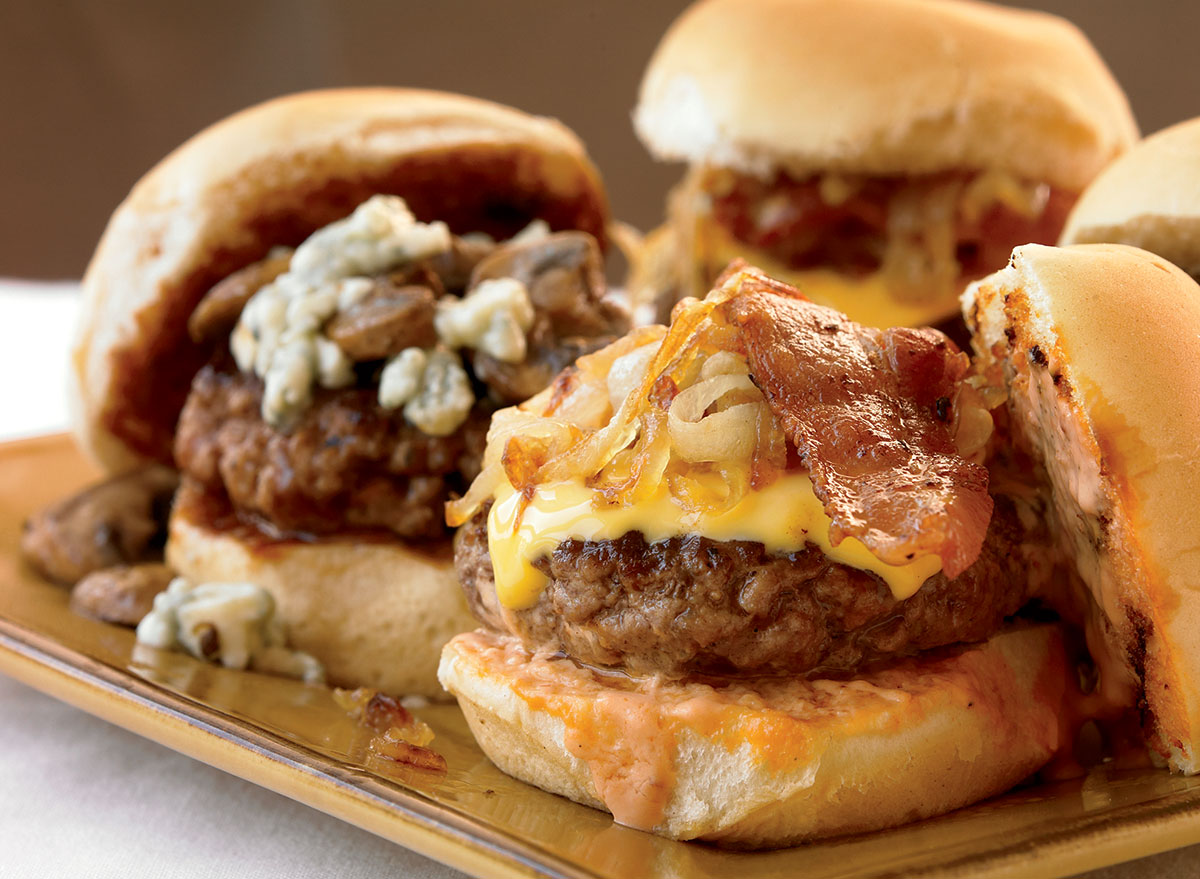 These tasty burger bites deliver some huge flavor for a truly mini caloric price tag. They're great for appetizers, snacks, or even as the main event!
Get our recipe for Sliders.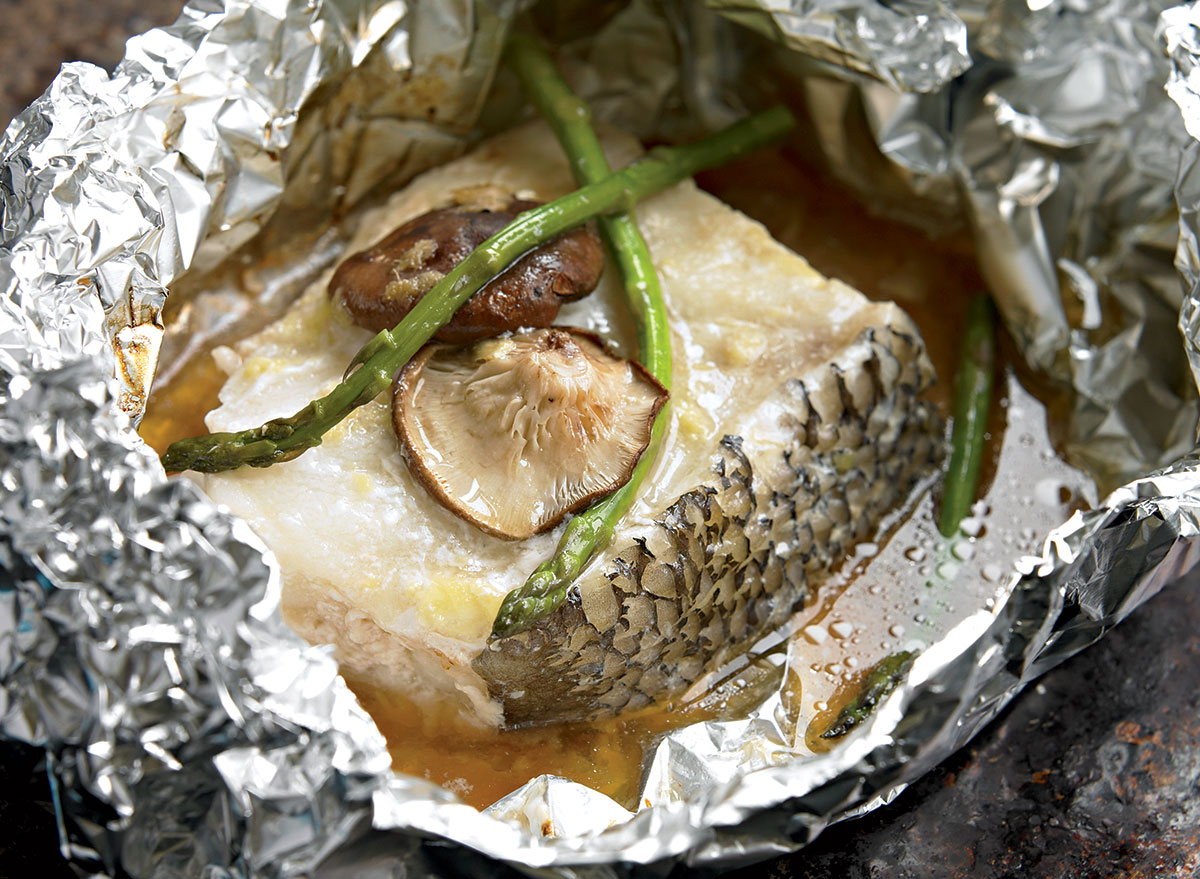 Why more people don't cook food in packets is one of the culinary world's many mysteries. Not only is it one of the healthiest, easiest ways to cook chicken, fish, and vegetables, but the abundance of flavorful steam trapped inside the packet means your food will still be delicious—even if you overcook it. Plus, there are no pots or pans to clean—toss the foil in the trash, and move on.
Get our recipe for Sea Bass Packets. 
Grilled Chicken Sandwich with Chimichurri Sauce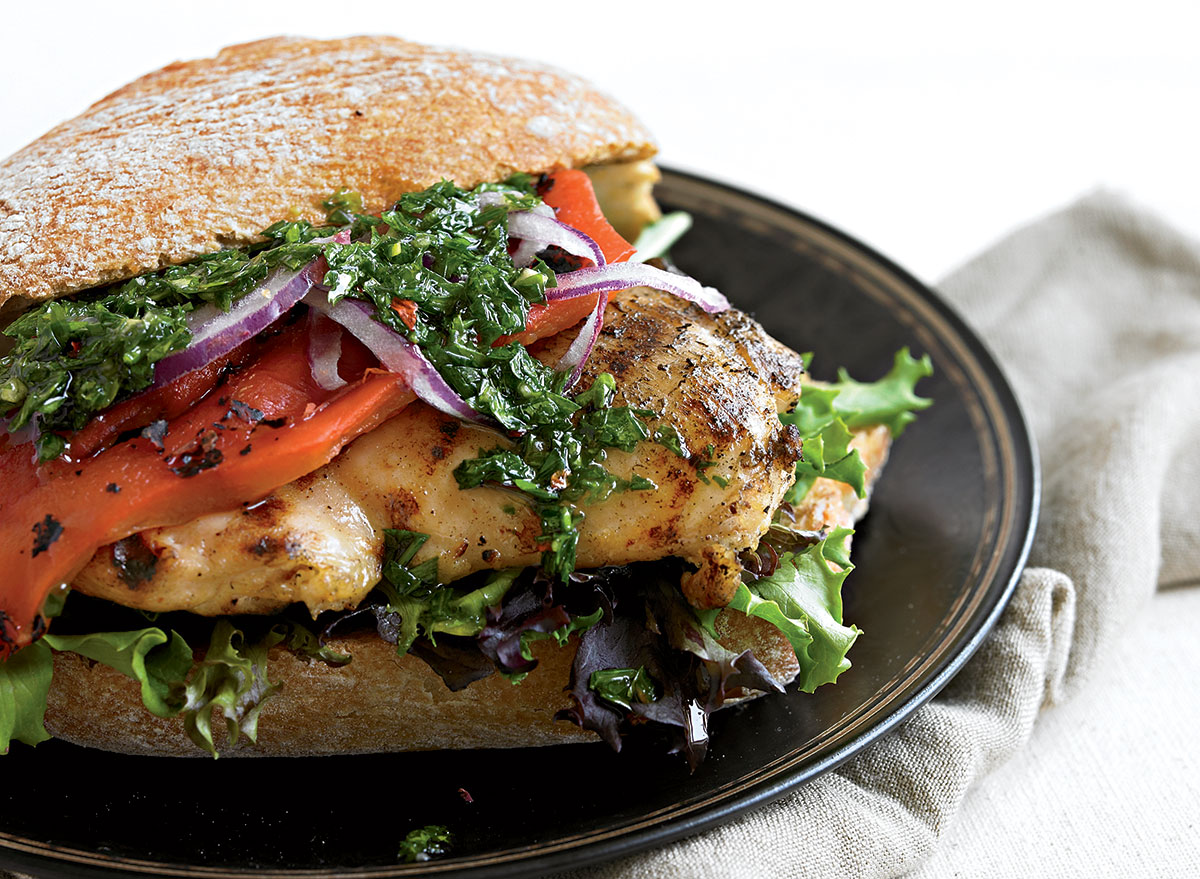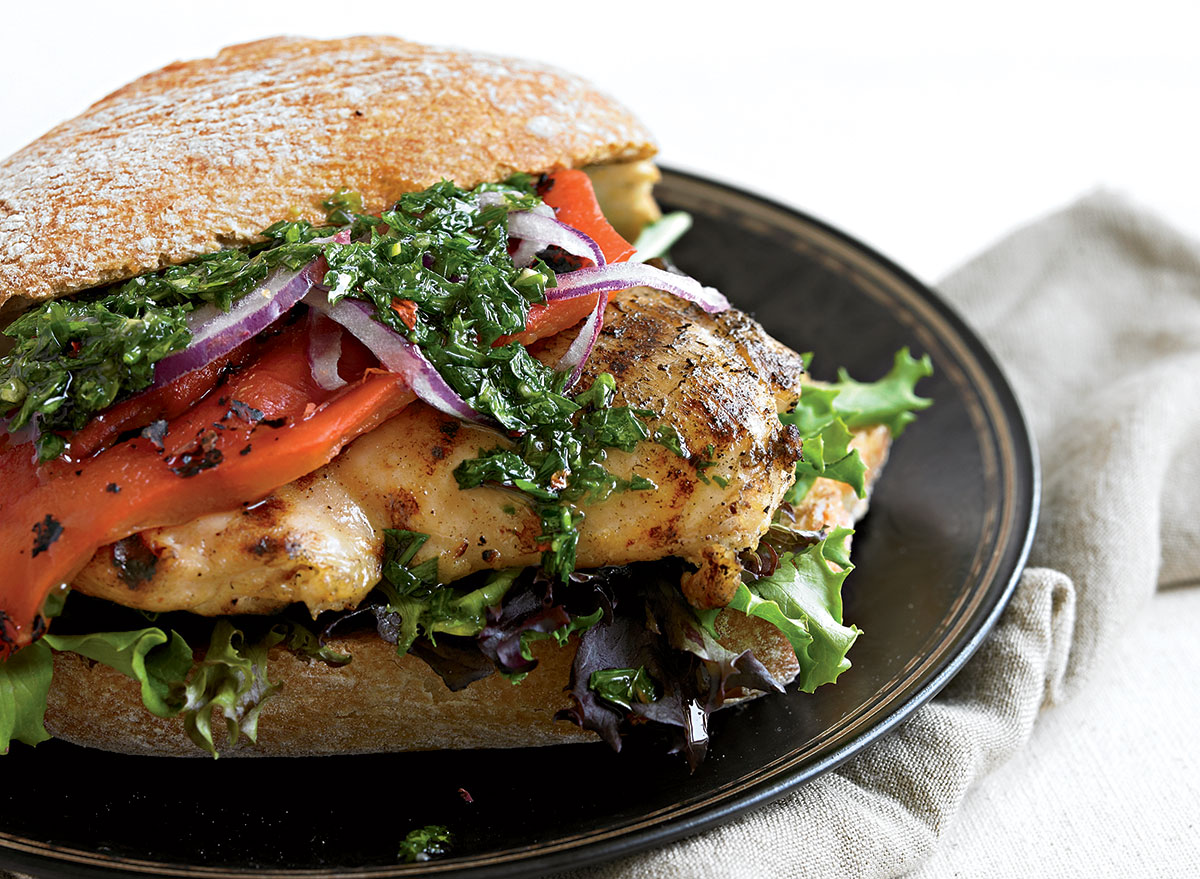 This grilled chicken sandwich recipe calls for chimichurri, an Argentine herb-based sauce that would make shoe leather taste like fine dining, along with a solid supporting cast of sweet peppers, sharp raw onions, and peppery greens.
Get our recipe for Grilled Chicken Sandwich with Chimichurri Sauce. 
Garam Masala Chicken Skewers with Fire-Roasted Jalapeño Dip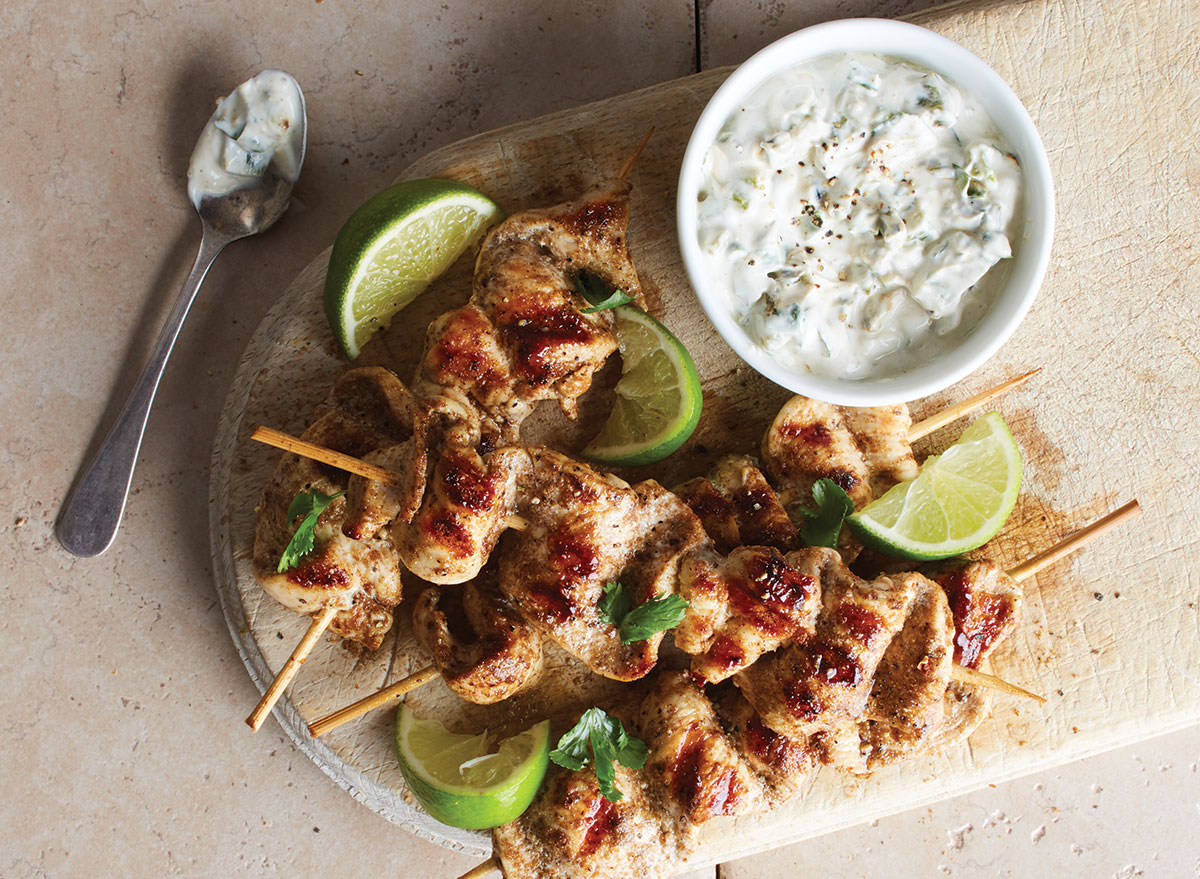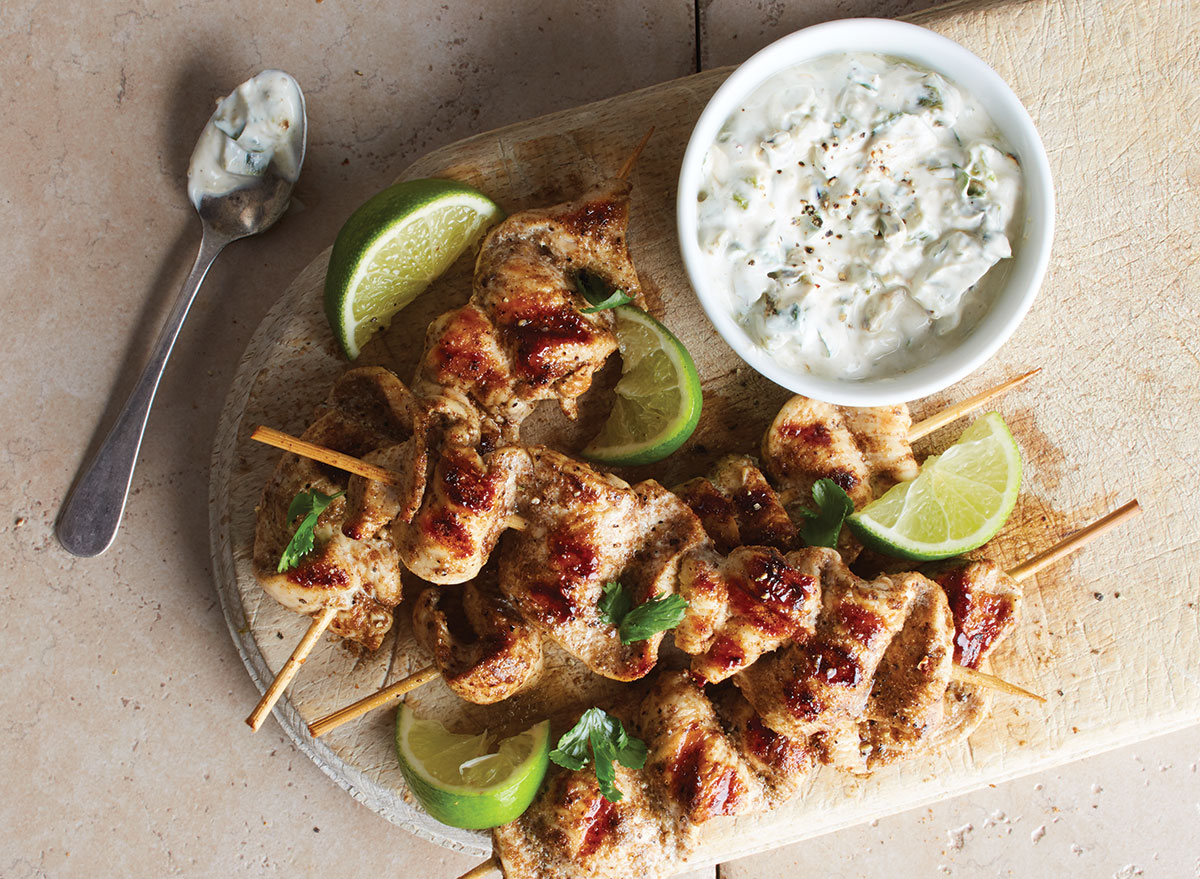 When these chicken breast pieces are cooked to perfection, with a slightly crispy exterior, they'll be impossible to resist. Add that to the spicy jalapeño dip, and you've got an appetizer that just might steal the show from the rest of the meal.
Get our recipe for Garam Masala Chicken Skewers with Fire-Roasted Jalapeño Dip. 
Sides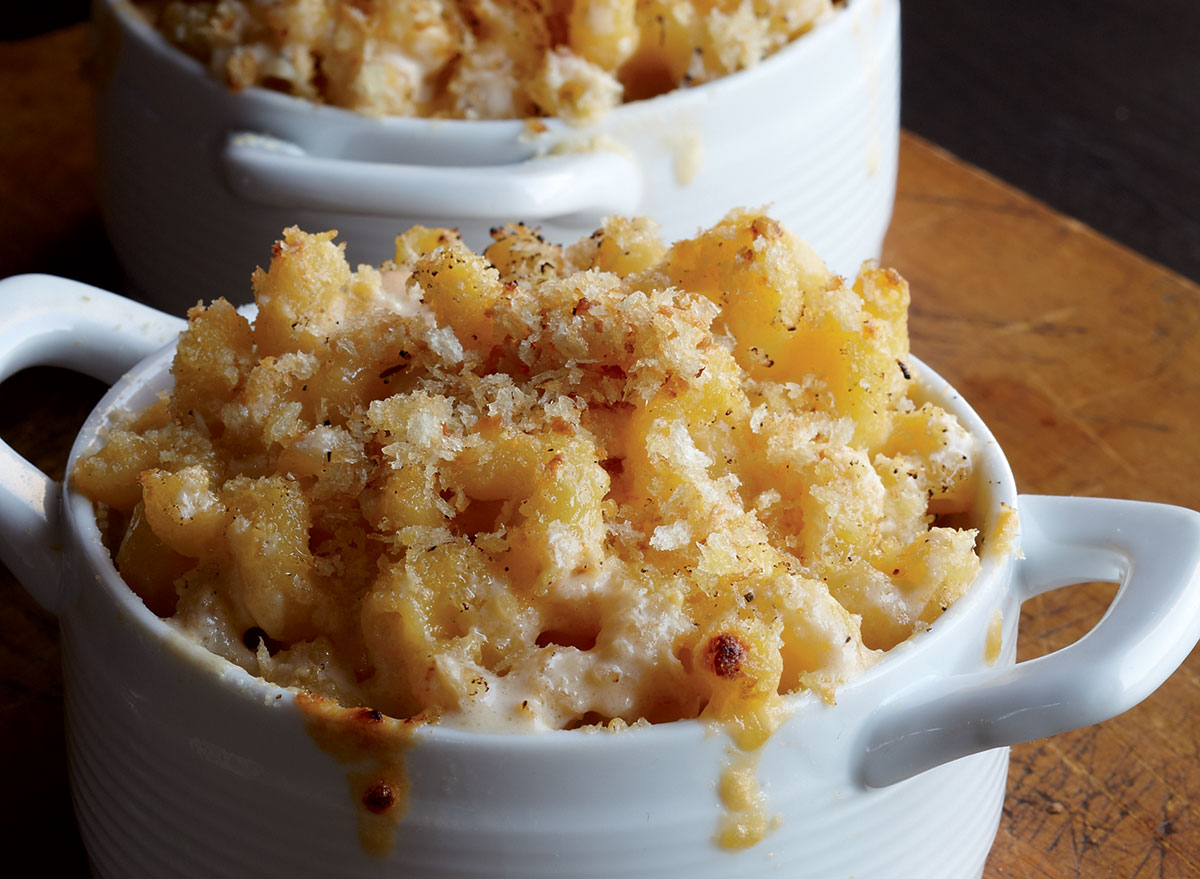 Over the years, we've tested dozens of iterations of the classic—spiked with chiles, topped with bacon, toned down with non-fat cheese. However, we keep returning to this formula: a béchamel base with extra-sharp Cheddar cheese and a bit of yogurt to give the sauce that perfect texture.
Get our recipe for Mac and Cheese. 
Kiwi, Cucumber, and Mango Salsa
Looking for a salsa recipe that's going to wow a crowd? Then this kiwi, cucumber, and mango salsa will do just that. Why? It's all because of this salsa's secret ingredient: Kombucha!
Get our recipe for Kiwi, Cucumber, and Mango Salsa.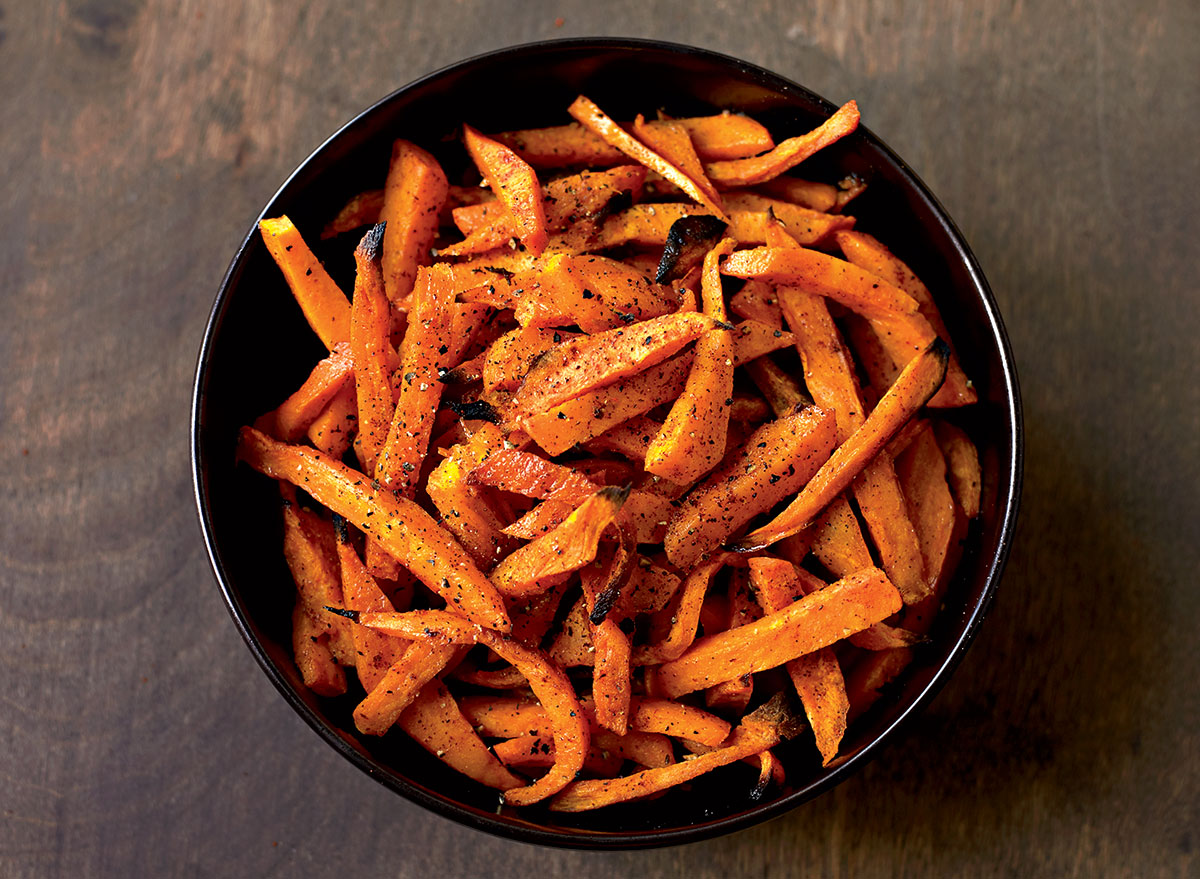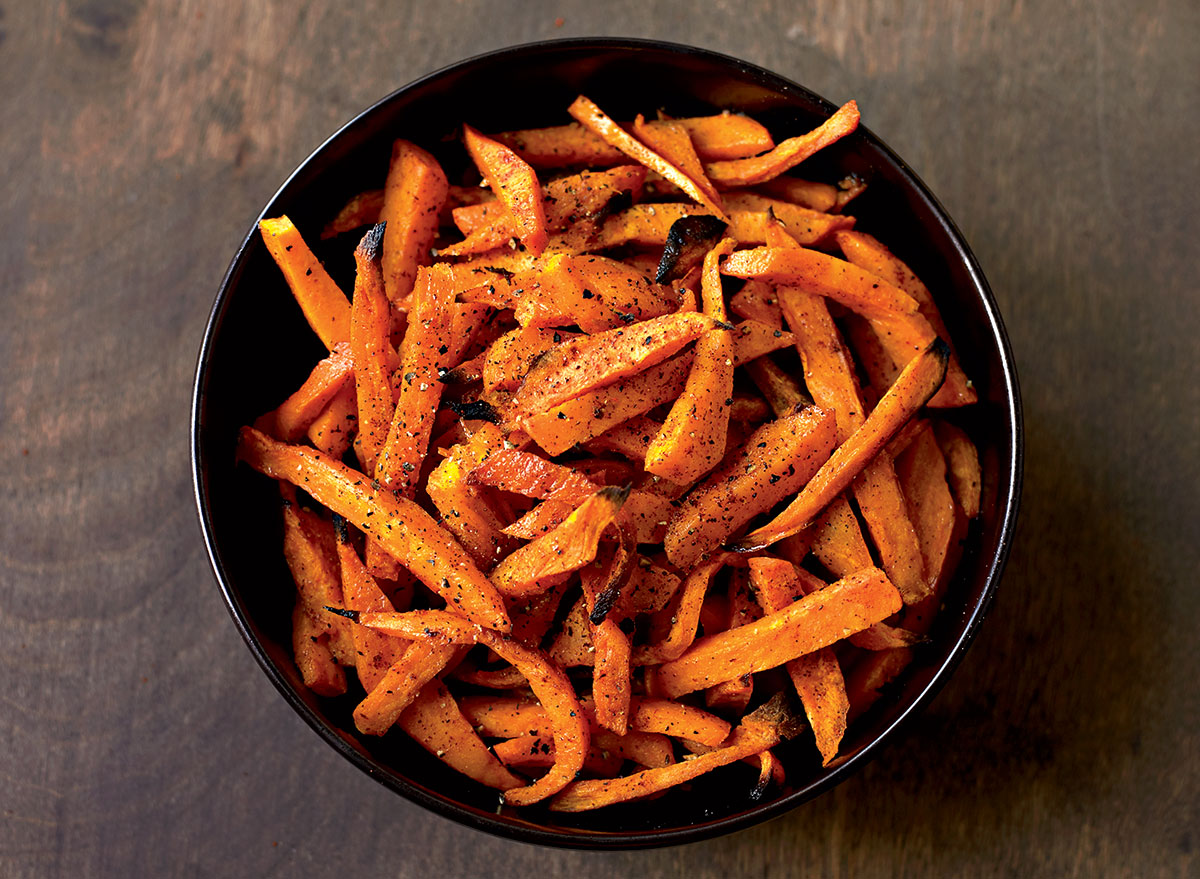 Sweet potatoes have two big nutritional boons that regular potatoes lack: big doses of fiber and vision-strengthening vitamin A. Plus, the natural sugars found within them will intensify and strengthen when baked or roasted, and they pair just as perfectly with the fiery cayenne. These fries are 100% every bit as enjoyable as the kind that bathe in oil.
Get our recipe for Baked Sweet Potato Fries.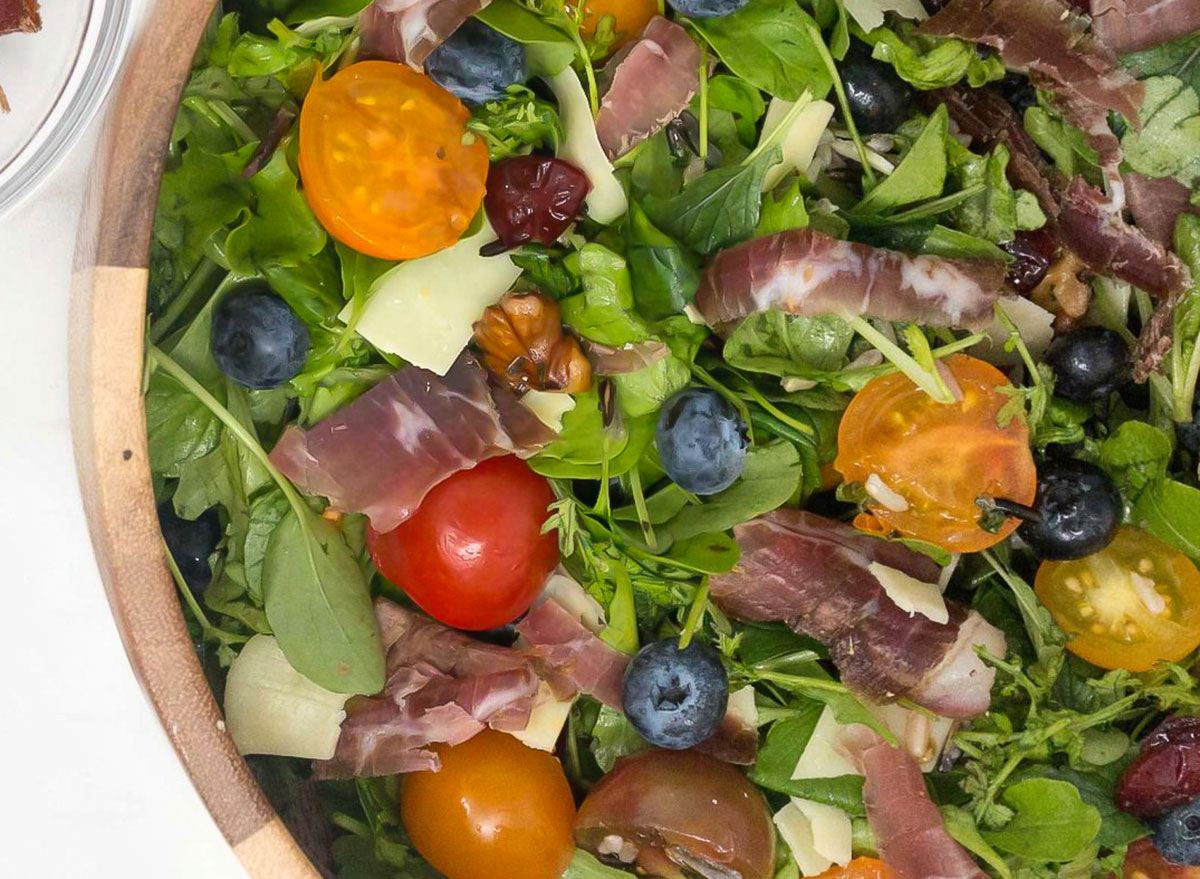 Whether you need a side salad to add to the table for your Memorial Day cookout, or simply need something prepped for lunches, this dried beef salad is perfect for both.
Get our recipe for Biltong Salad. 
The key here is washing the surface starch from the potatoes before baking, which helps encourage surface browning and crisping. The rosemary and Parmesan are nice touches, but the real star of this show is the spud itself. This side dish goes great with a steak and a side of spinach; a juicy burger; or better yet, a turkey burger!
Get our recipe for Oven-Baked French Fries. 
To keep the biscuit as healthy as possible while still producing a genuine, flaky, Southern-style treasure, we've cut out the shortening, showed some restraint with the butter, and used low-fat buttermilk to bring moisture and tang to the mix.
Get our recipe for Southern-Style Biscuits.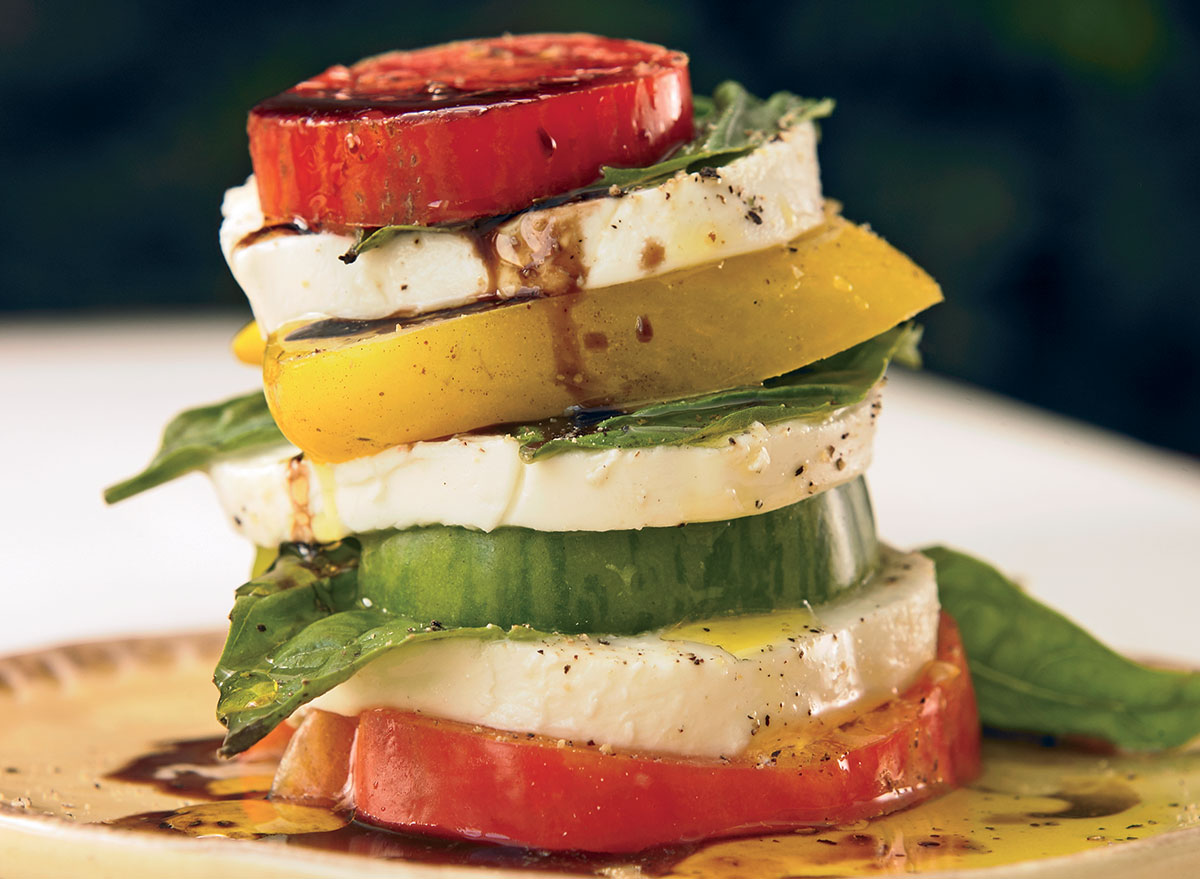 Make this Caprese salad one of your go-to summer salads. Start with your Memorial Day cookout, where it would work great as an appetizer or a salad.
Get our recipe for Caprese Salad.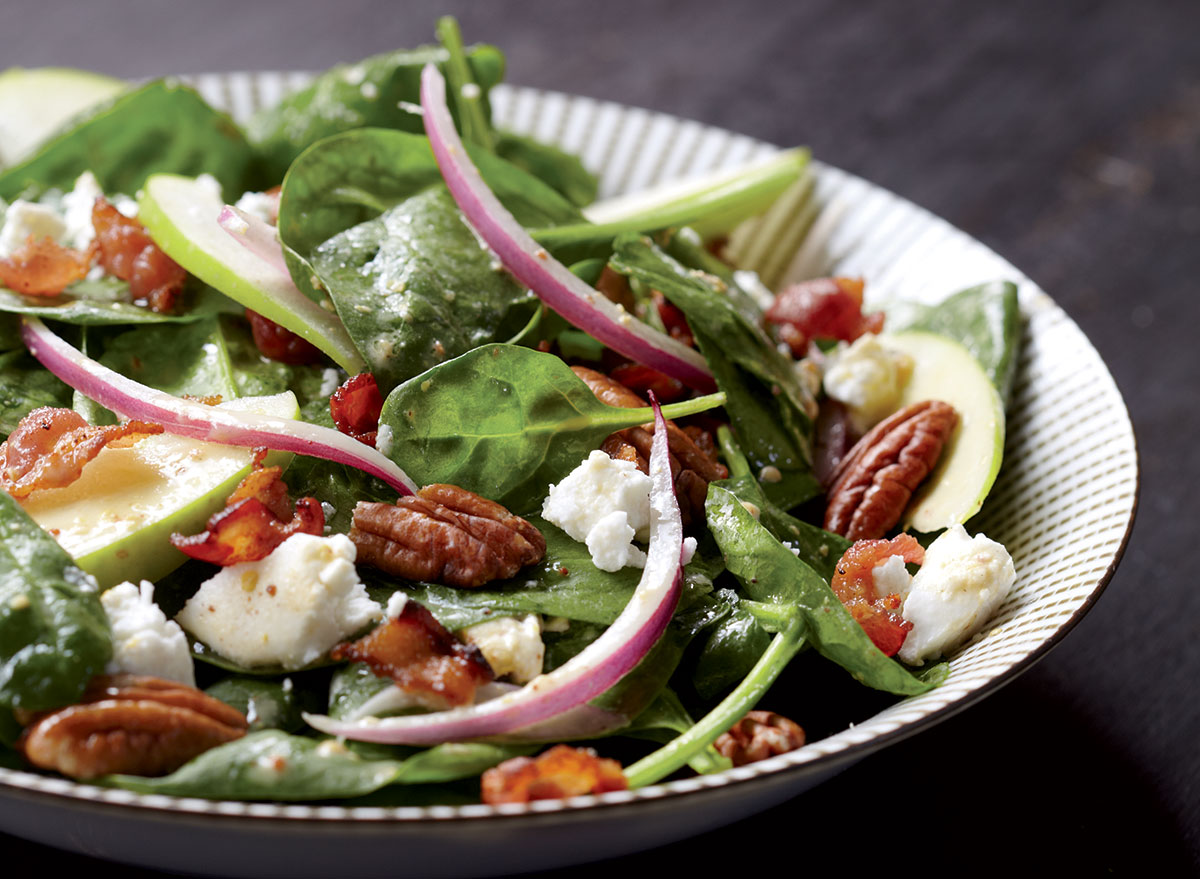 A great salad should be many things: sweet and salty, crunchy and tender. In short: a full exploration of taste and texture, but not at the cost of a whole meal's worth of calories. With the addition of caramelized apples, creamy goat cheese, and toasted pecans, this retro spinach salad finally achieves perfect harmony.
Get our recipe for Spinach Salad. 
Brussels Sprouts with Bacon and Almonds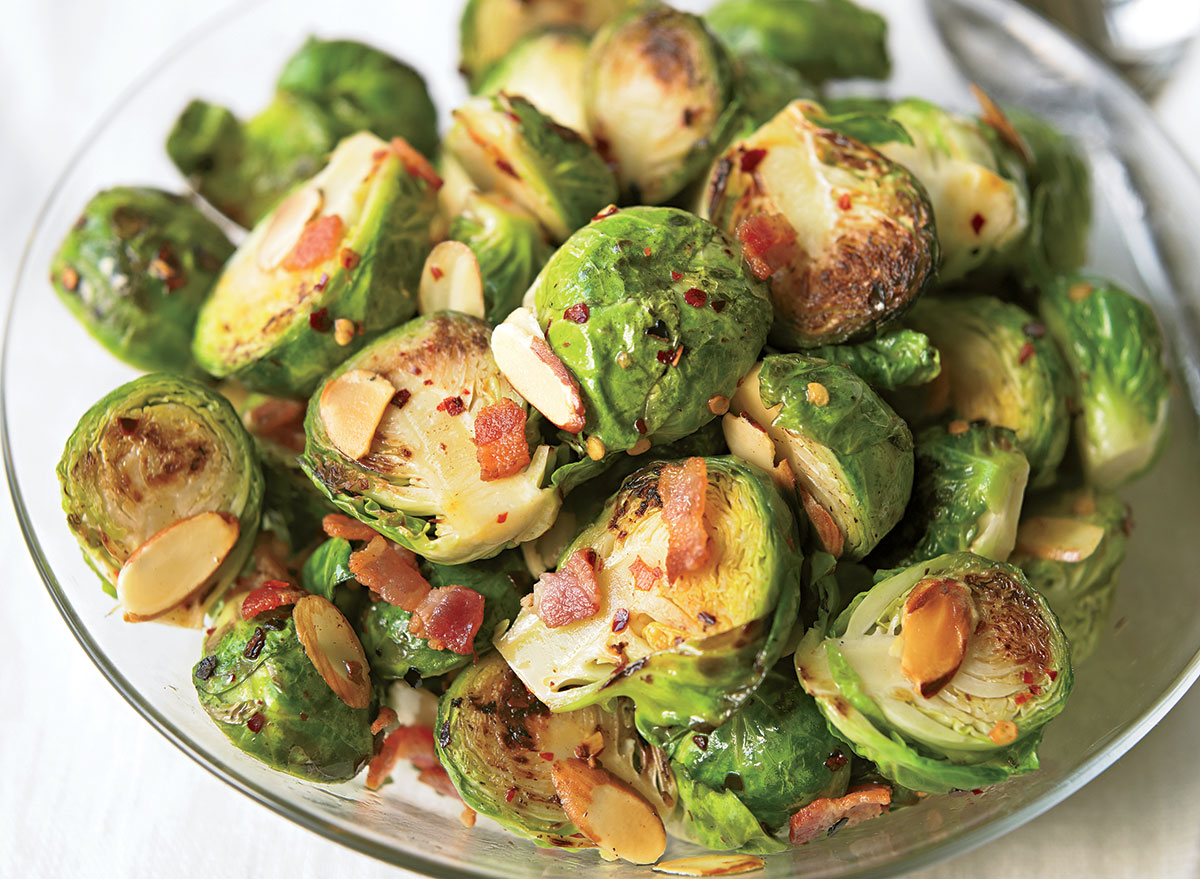 Don't worry, we promise that the smoke of the bacon, the crunch of the almonds, and the heat of the red pepper flakes will win over even the most stubborn "veggie-phobe."
Get our recipe for Brussels Sprouts with Bacon and Almonds. 
Smoky "Baked" Beans with Bacon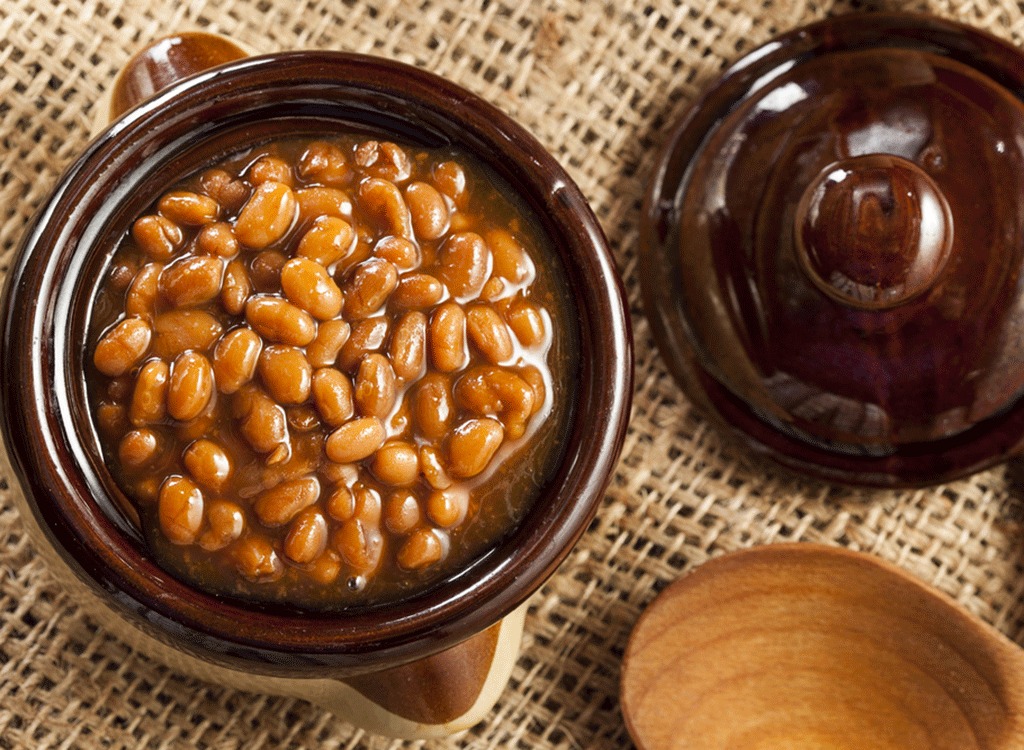 To preserve the health status of baked beans and simultaneously maximize their deliciousness, we mitigate the sugar surge and instead build flavor with a few of our all-time favorite foods and spices: cayenne, beer, and bacon. See what we mean about maximizing deliciousness? Yep, these smoky baked beans will be both healthy and addictive. Dig in!
Get our recipe for Smoky "Baked" Beans with Bacon.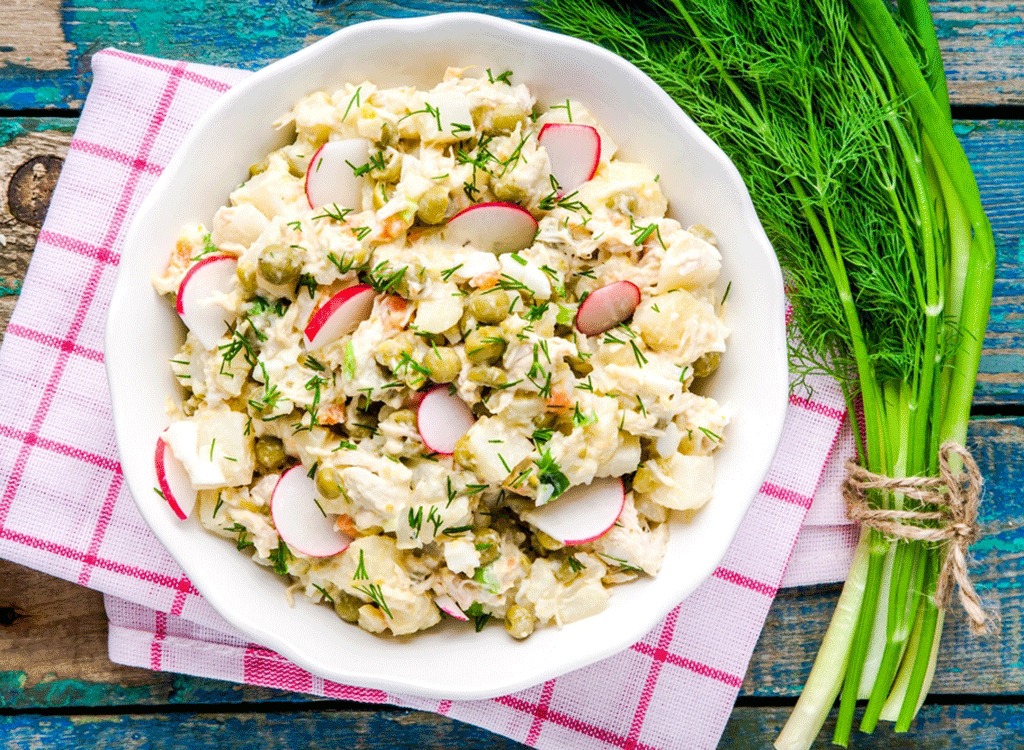 This version is about as classic as potato salad can get, except for the fact that we resist the urge to drown the vegetables in a viscous sea of mayo. Instead, the mayo is bolstered with Dijon and a tangy shot of vinegar. The result? A healthier potato salad that cuts nearly half the fat from the equation and still tastes like the picnic classic we all adore.
Get our recipe for Potato Salad. 
Smoked Paprika Potato Chips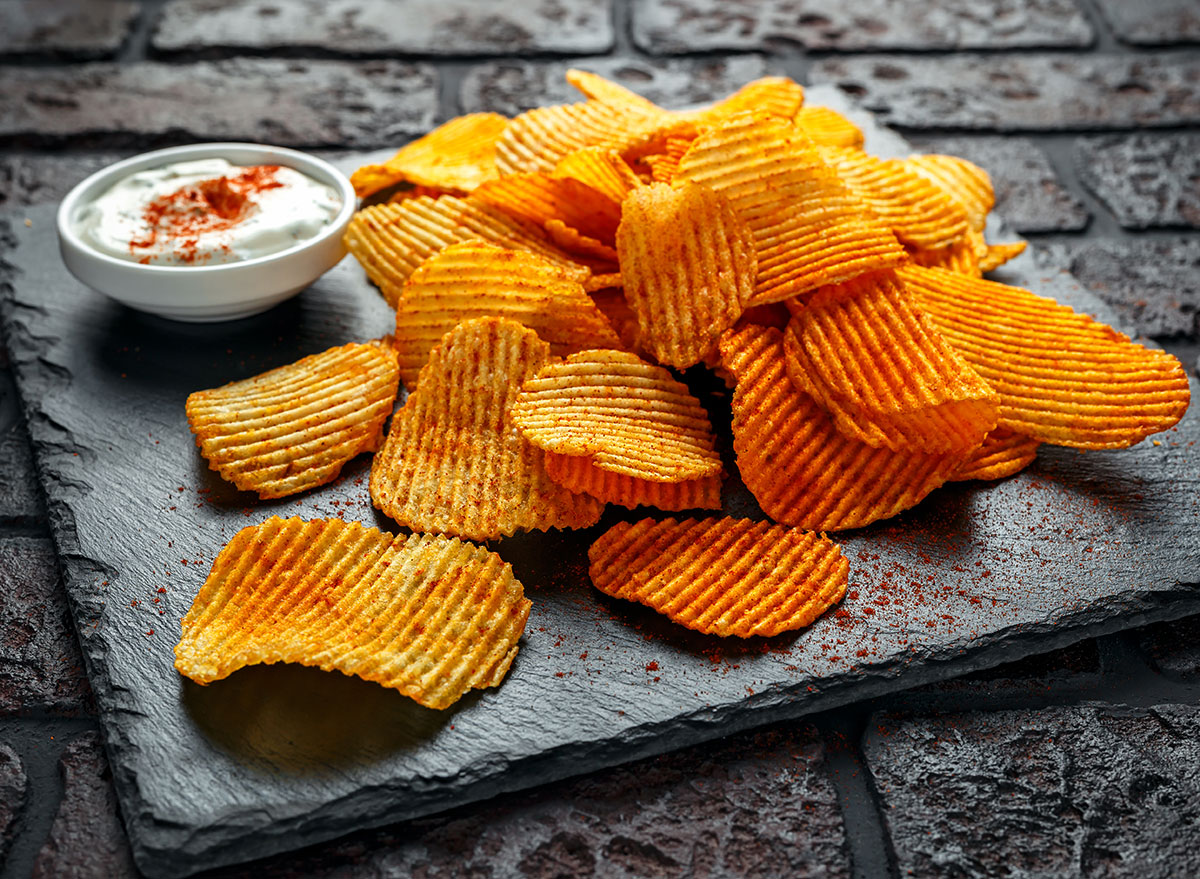 These chips aren't just considerably better for you than the standard supermarket fried variety. They're also about three times as delicious, thanks to the fresh potato flavor and a smoky touch from paprika. Eat them as a snack, or serve them alongside a burger or grilled steak.
Get our recipe for Smoked Paprika Potato Chips.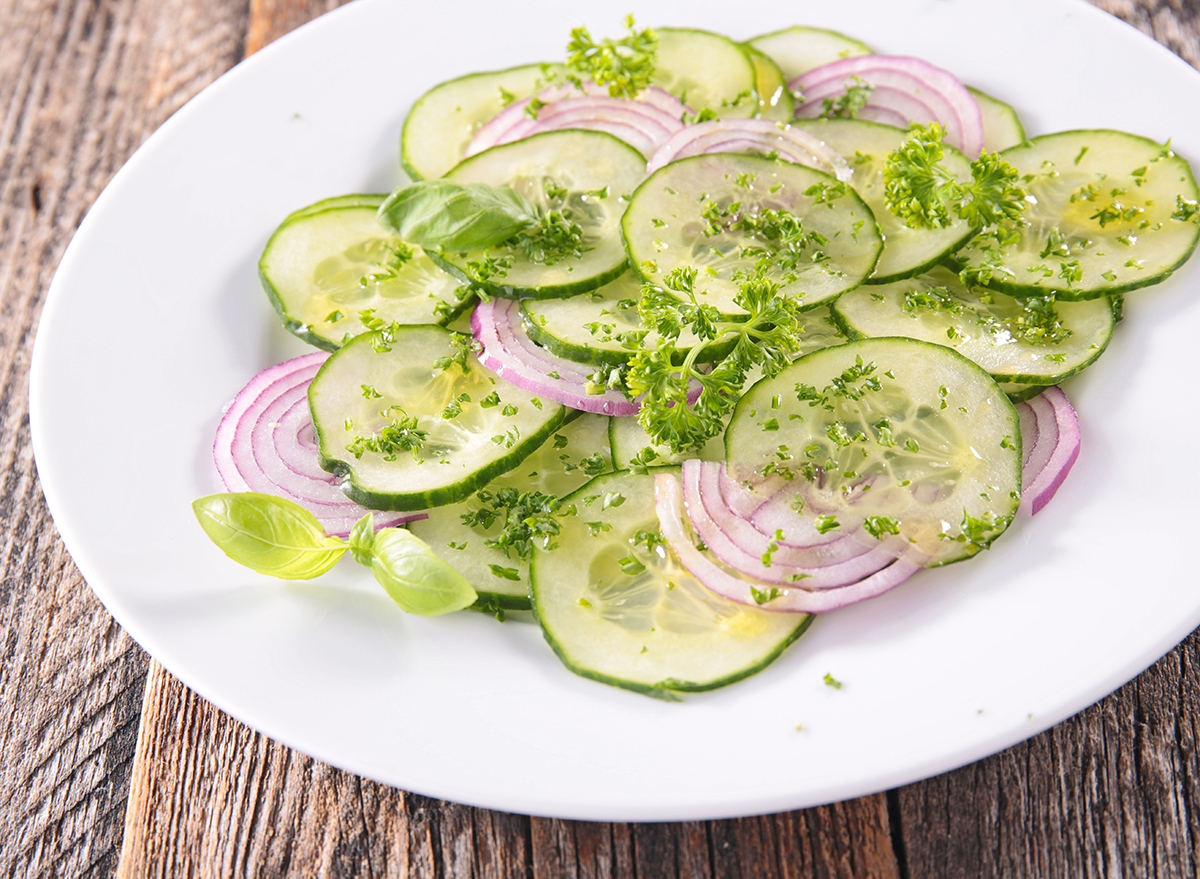 This recipe resides in that small but happy space between a side dish and a tasteful garnish. It's good enough to eat on its own, but it's also the type of punchy, assertive salad that can be served over a piece of grilled chicken, grilled salmon, or even steak. You can even tuck it into your favorite wrap or sandwich.
Get our recipe for Pickled Cucumber Salad. 
Drinks
Sauvignon Blanc Margarita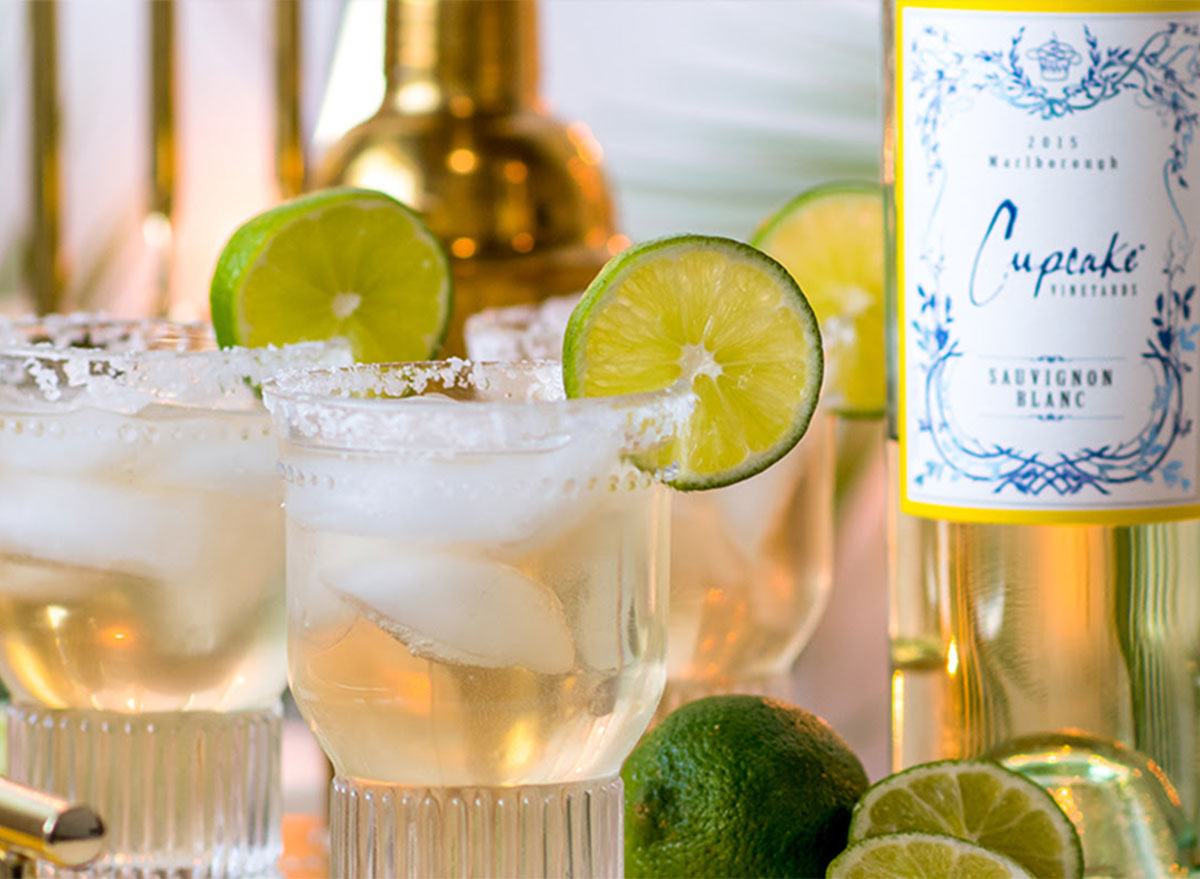 Use up that leftover bottle of white in your fridge, and make a sauvignon blanc margarita for your Memorial Day cookout.
Get our recipe for Sauvignon Blanc Margarita.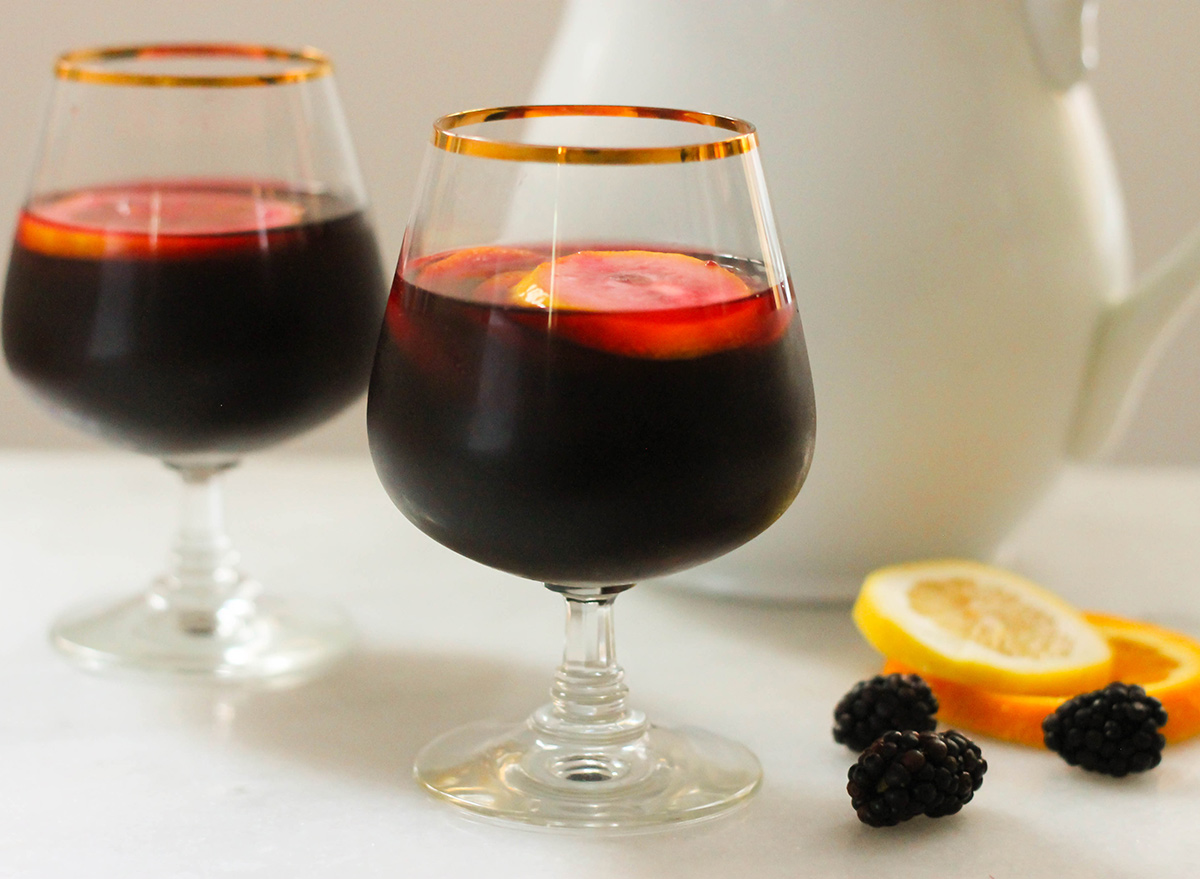 While sangria is a fun cocktail to enjoy at happy hour, it can be loaded with some hidden sugars. Between the juice, the simple syrup, and even the fruit, sangria tends to be higher in sugar compared to other cocktails or a glass of wine. Thankfully, we found a way to make a healthier pitcher of sangria for your Memorial Day cookout so you can save that sugar count for dessert later!
Get our recipe for Blackberry Sangria. 
Watermelon Vodka Spritzer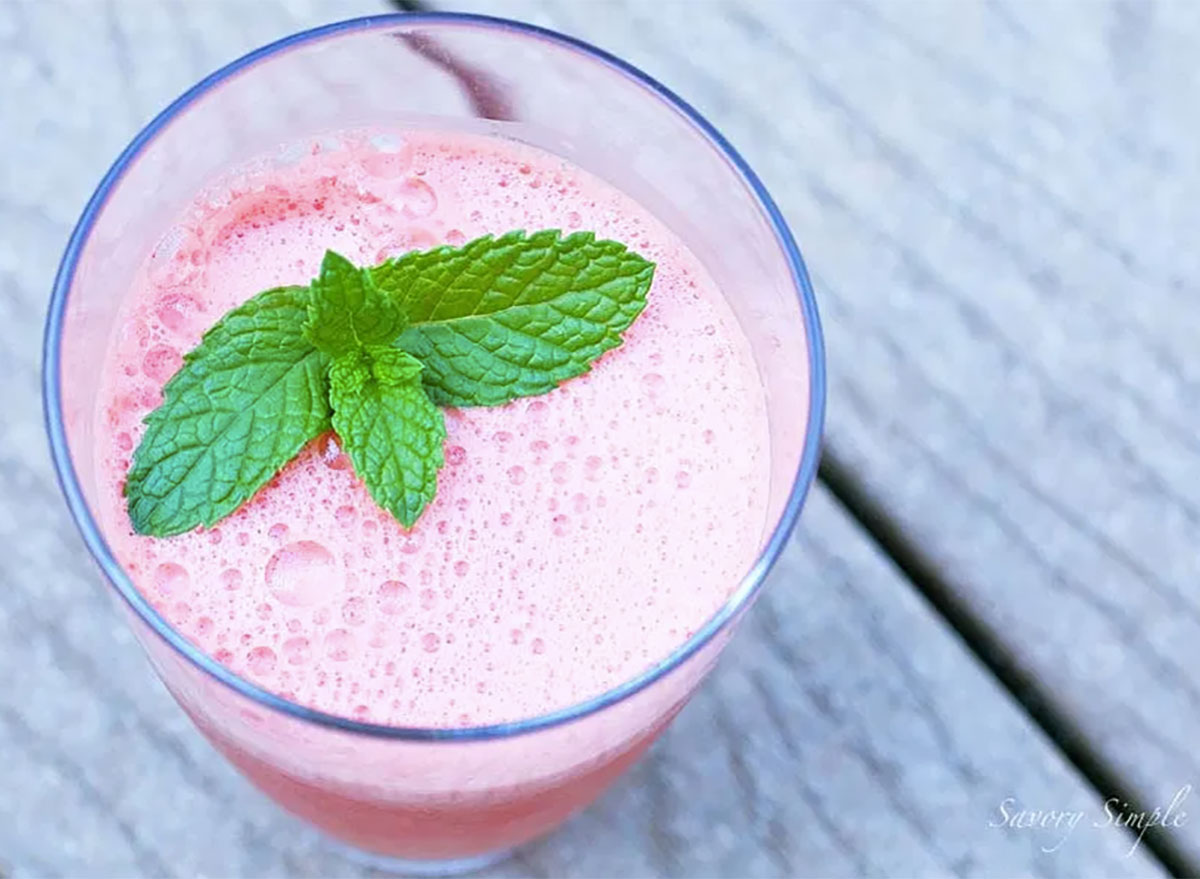 Watermelon is a truly beloved summer fruit, and vodka is one of the most popular spirits. So bringing these flavors together only makes sense! This recipe actually runs the whole cocktail through a blender, so you'll be sipping on a silky, frozen treat.
Get the recipe from Savory Simple.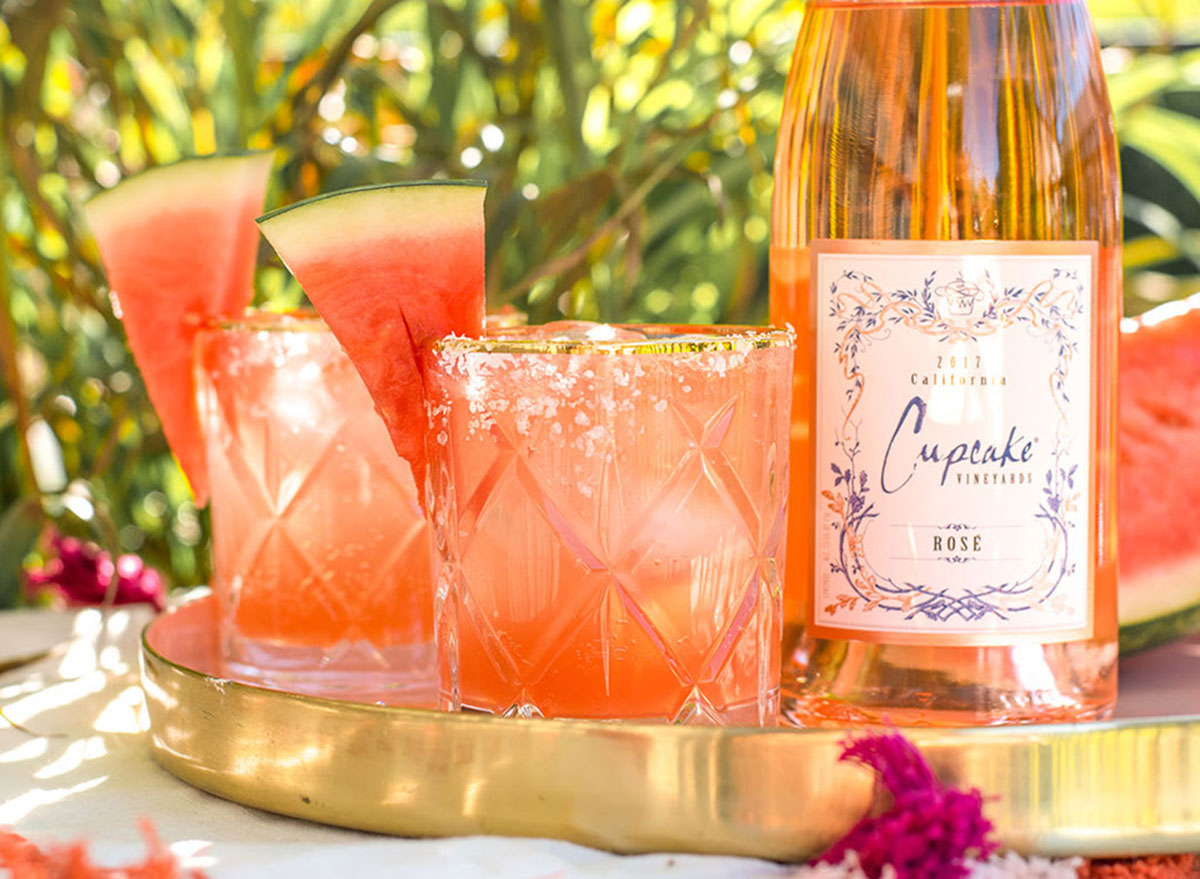 With this cocktail recipe, you're getting the best of both worlds. This rosé Paloma cocktail is the perfect drink to have on a hot, summery day.
Get our recipe for Rose Paloma Cocktail.
Avocado Pineapple Margarita
Here's how to make this delicious margarita with all of the Mexican staples you love—avocado, chili powder, lime, pineapple, and of course, tequila!
Get our recipe for Avocado Pineapple Margarita. 
Use up those leftover strawberries and a can of ginger ale to make a Pimm's cup to sip on. Bonus points if you can garnish yours as beautifully as this one!
Get our recipe for Pimm's Cups. 
If you're looking for a cocktail to impress, the clover club should be your go-to. This cocktail recipe calls for an egg white and a homemade raspberry syrup!
Get our recipe for Clover Club. 
Whether served in a glass or a copper mug, Moscow mules are a great approachable drink that everyone can enjoy at the Memorial Day cookout.
Get our recipe for Moscow Mule.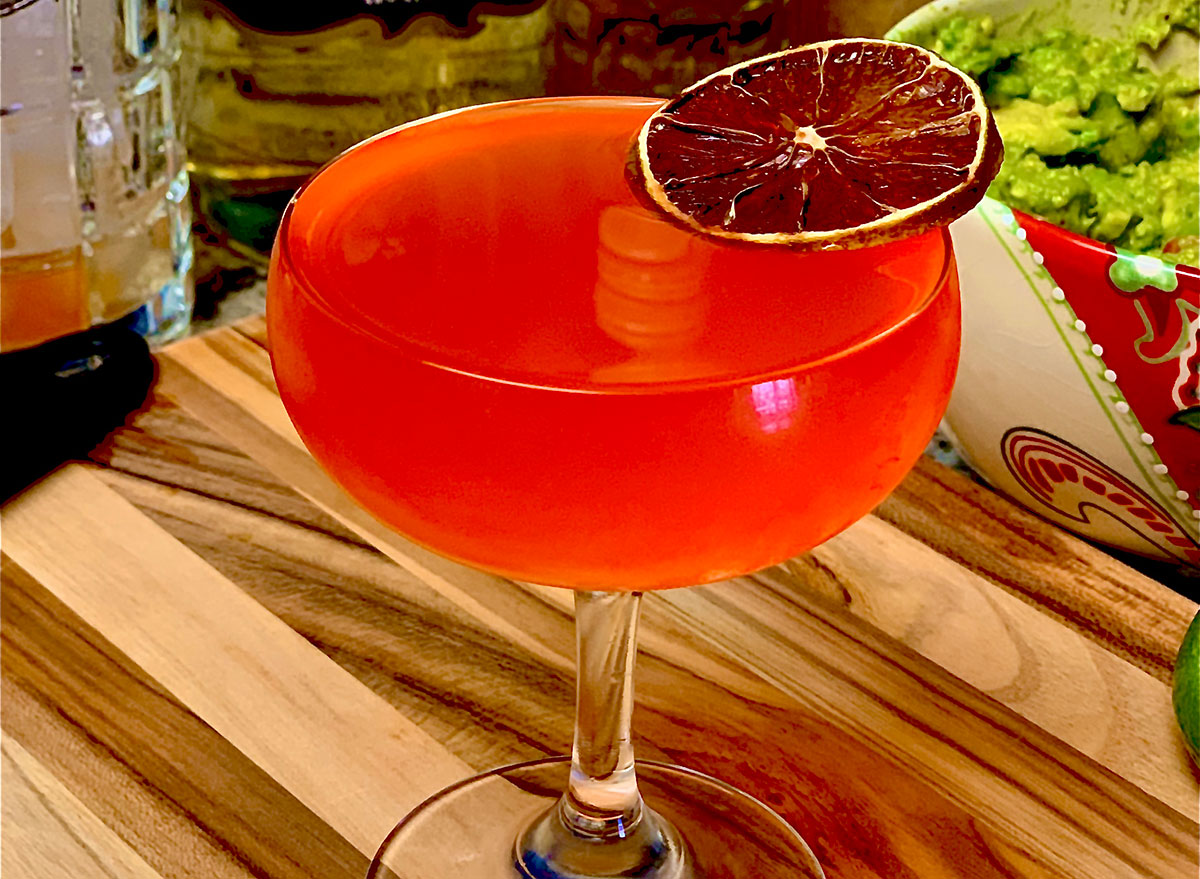 An original cocktail made by a New York City bartender, the 77 St. Mark is made with tequila, Aperol, and green chartreuse.
Get our recipe for 77 St. Mark.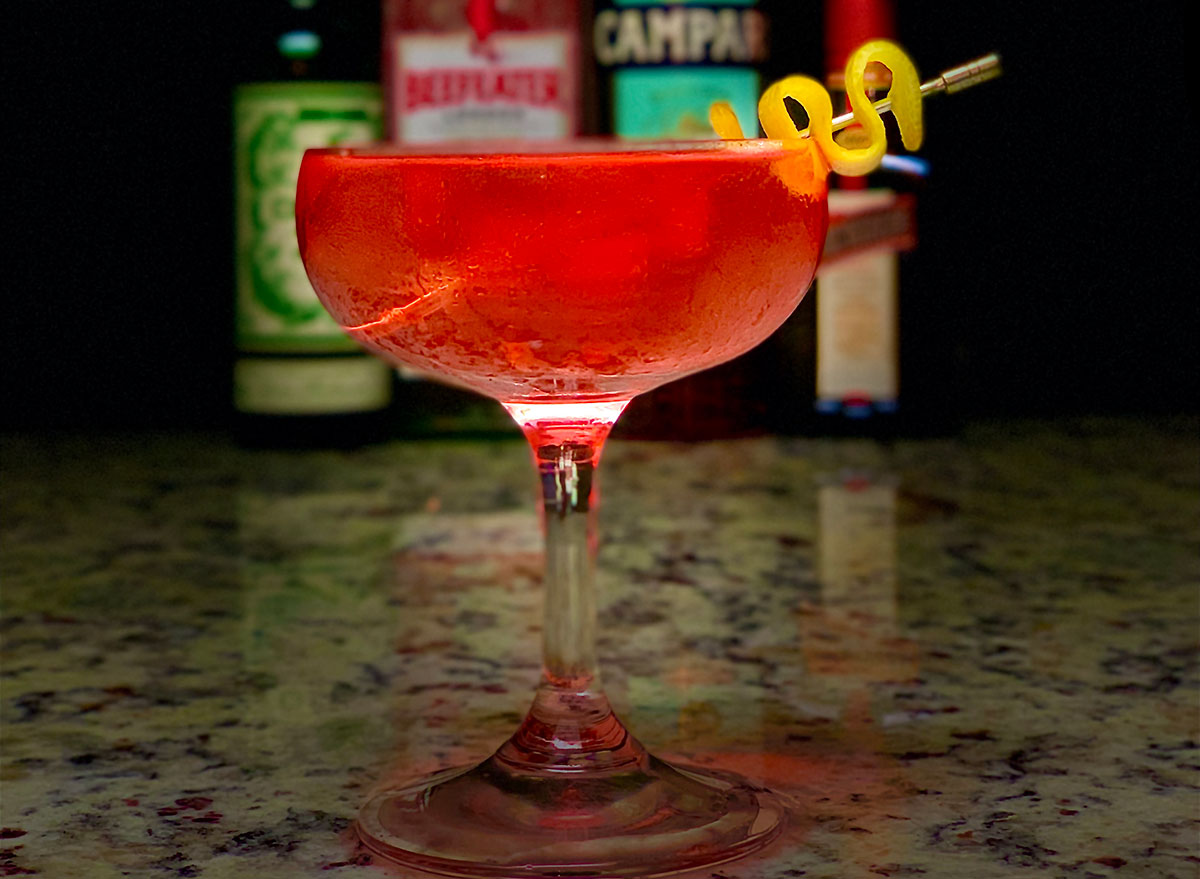 If someone claims they don't like gin, try serving them this. This is a classic gin cocktail for a reason.
Get our recipe for Lucien Gaudins. 
Cucumber and Jalapeño Margarita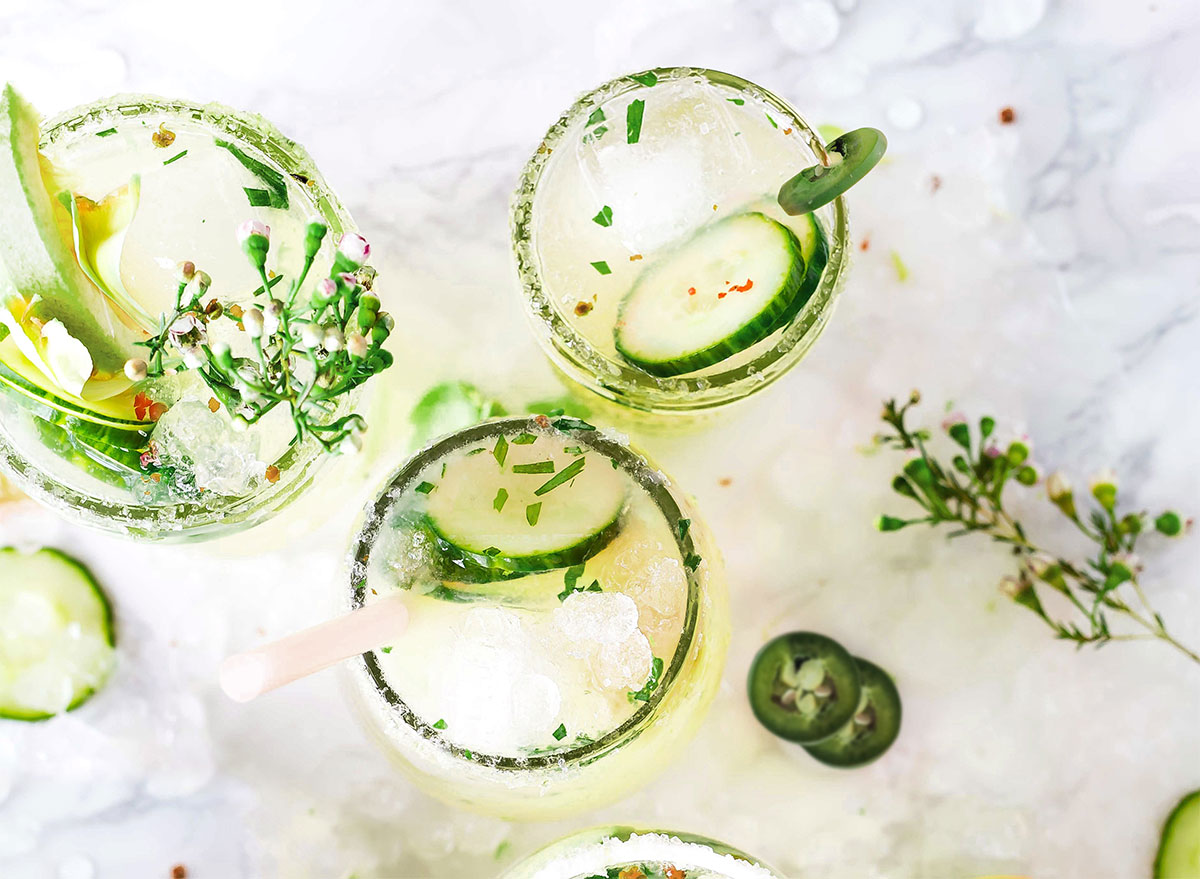 Looking for a cocktail that is refreshing yet still has a kick? Well, this is the drink that will truly spice up your BBQ!
Get our recipe for a Cucumber and Jalapeño Margarita.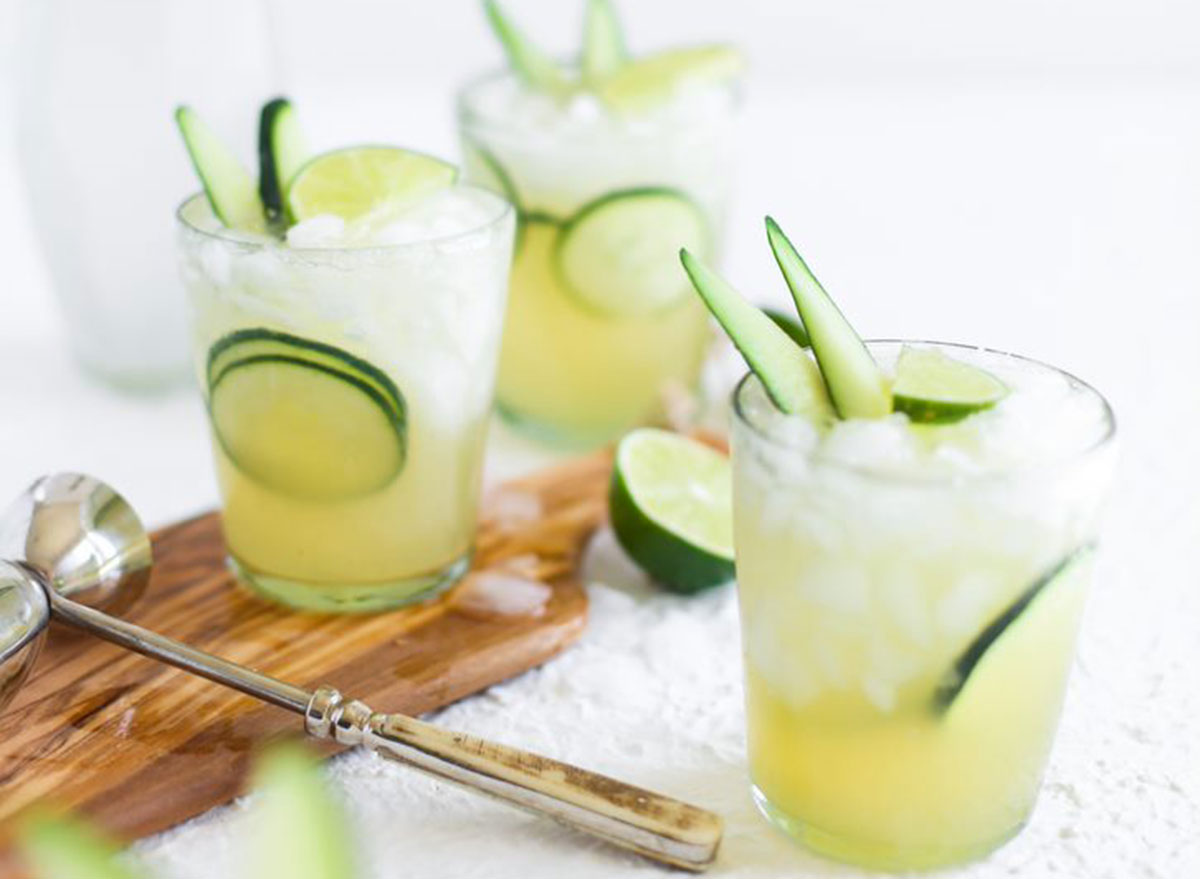 A mix of spicy and sweet, this cocktail is made with tequila and mezcal. It's the perfect refreshing cocktail for a Memorial Day cookout.
Get our recipe for Jalapeño en Jaliscos. 
Sweet Treats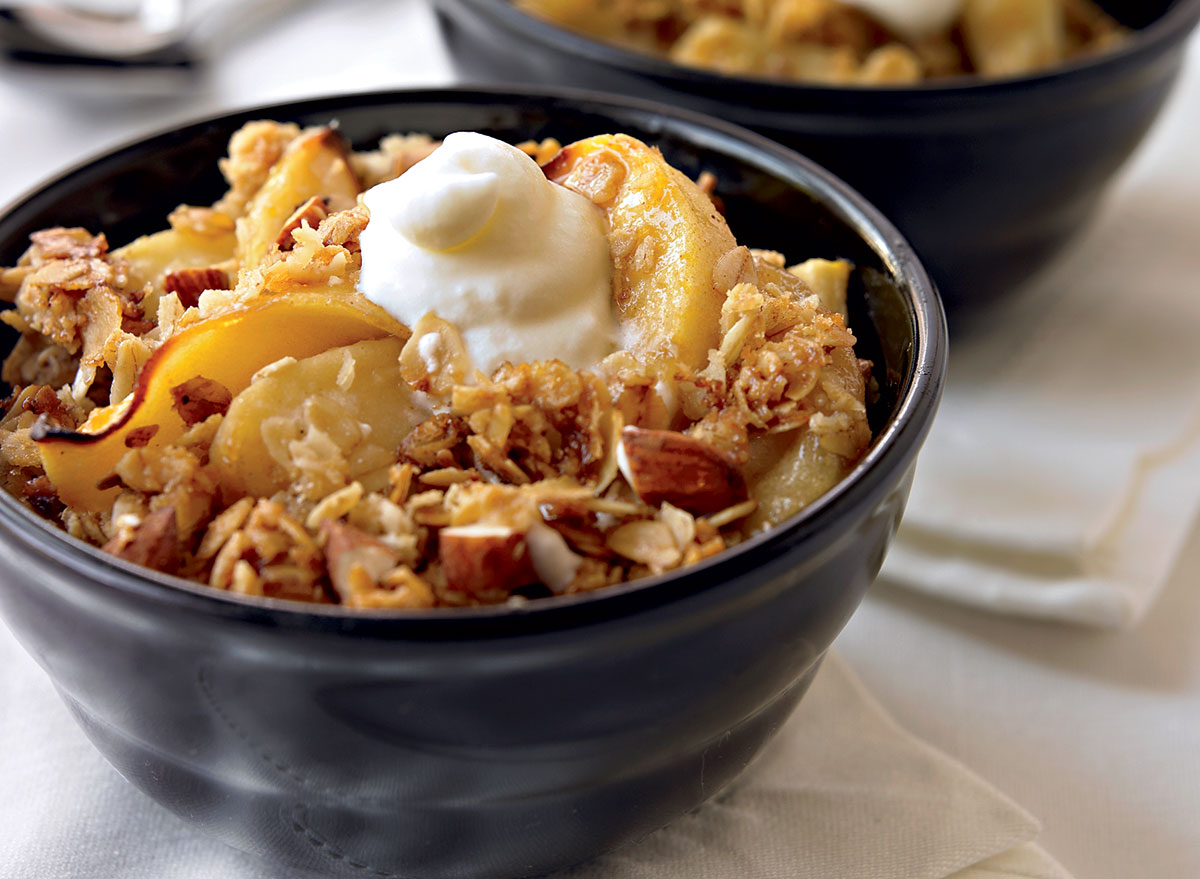 Not only do the oats and almonds give this dish a shot of healthy fat, fiber, and antioxidants you wouldn't find in a standard flour-based crumble, but the crunchy texture of the topping makes for a more rewarding contrast to the soft cooked apples.
Get our recipe for Apple Crumble. 
Kombucha Piña Colada Popsicles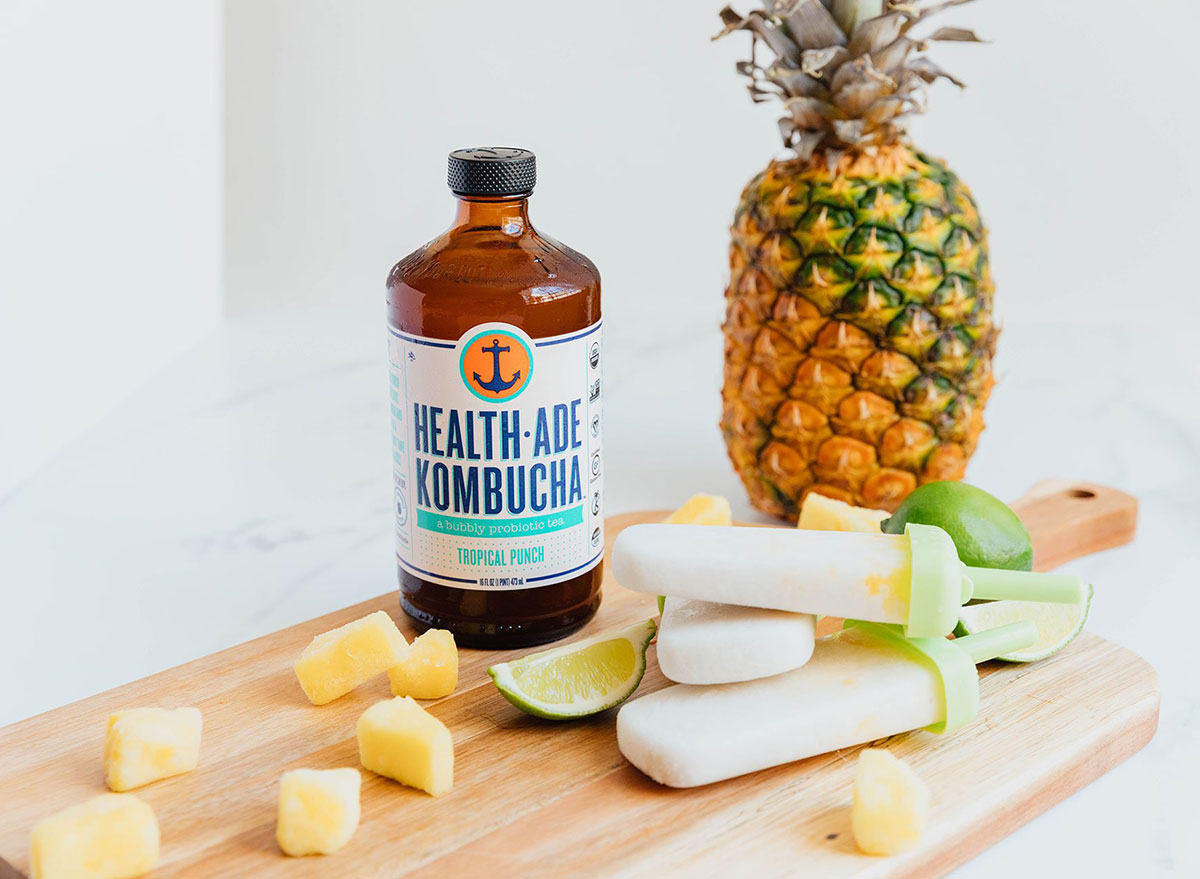 Sure, you could run to the ice cream truck and get your favorite treat, but why not make some popsicles at home? Especially if you can make them with a little bit of your favorite Kombucha!
Get our recipe for Kombucha Pina Colada Popsicles. 
Vanilla Grilled Pineapple and Rum Sauce Sundae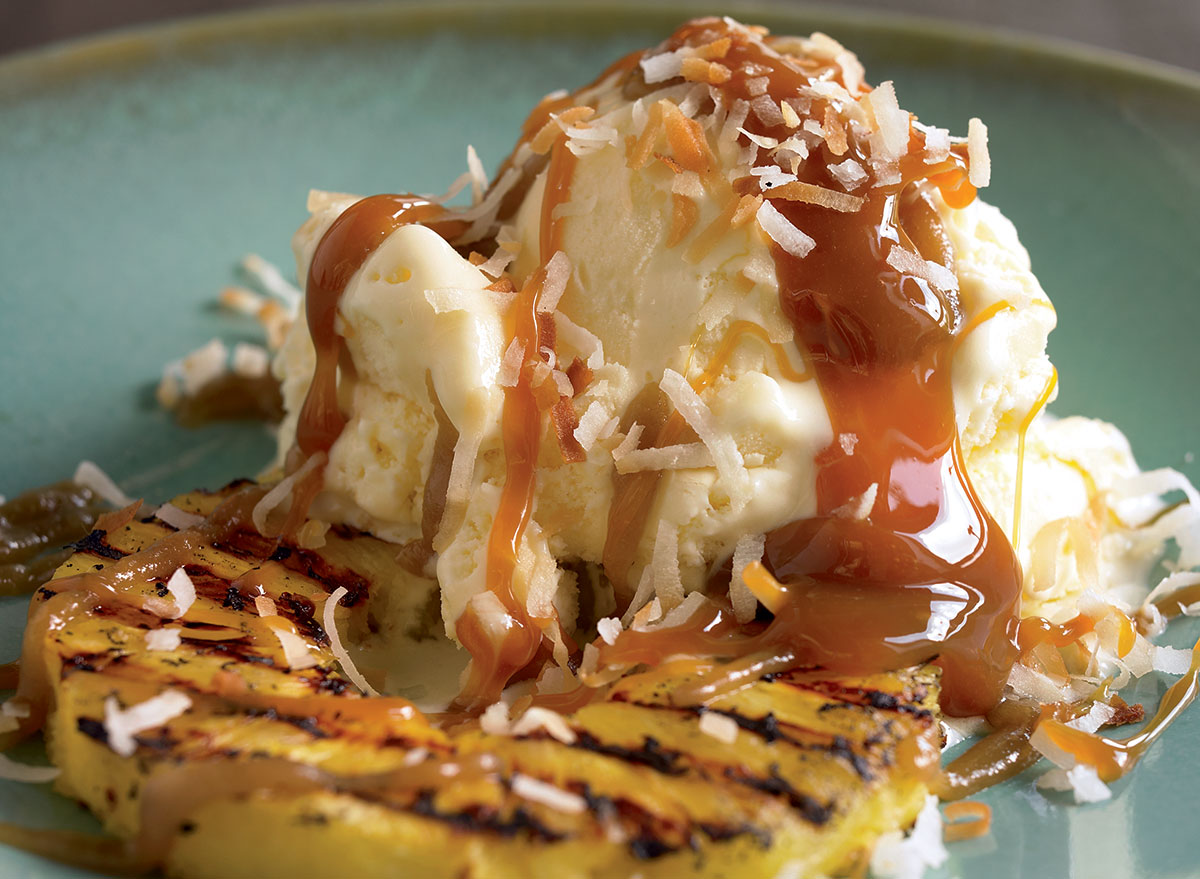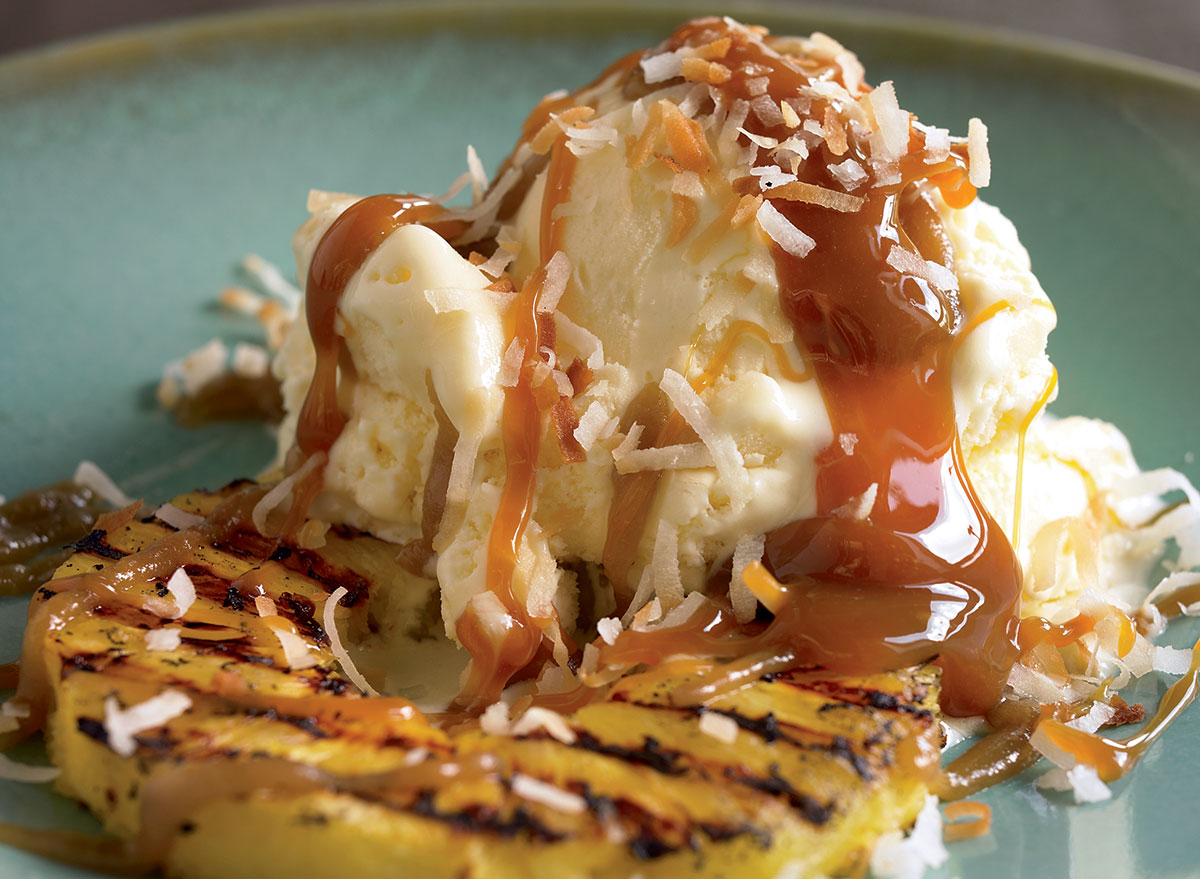 Add a swirl of rum sauce and some toasted coconut to this grilled pineapple sundae recipe. It's like having a piña colada, minus the hangover aka vacation on a plate.
Get our recipe for Vanilla Grilled Pineapple and Rum Sauce Sundae. 
With a restrained amount of butter and sugar and a dose of good, antioxidant-rich dark chocolate, you're going to have a delicious square to devour, rather than a sweet treat that leaves you disappointed. This brownie may be low-calorie, but it's 100% the real deal.
Get our recipe for Fudgy Brownies. 
Oatmeal Chocolate Chip Cookies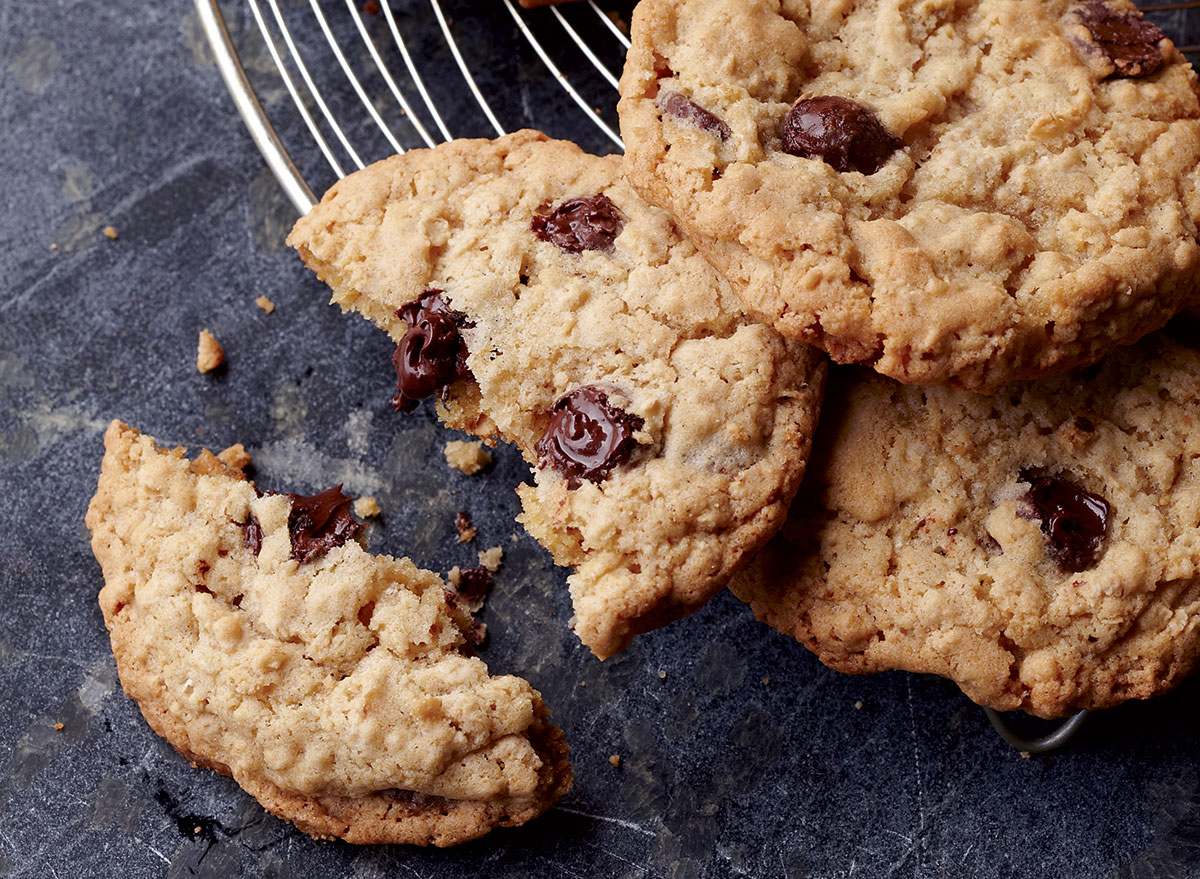 The wonder of oatmeal chocolate chip cookies lies in the texture: a perfectly chewy interplay of butter-softened flour and baked oats, with a surprising jolt of chocolaty goodness. The oatmeal provides a great opportunity to bring a healthy ingredient to a dessert.
Get our recipe for Oatmeal Chocolate Chip Cookies.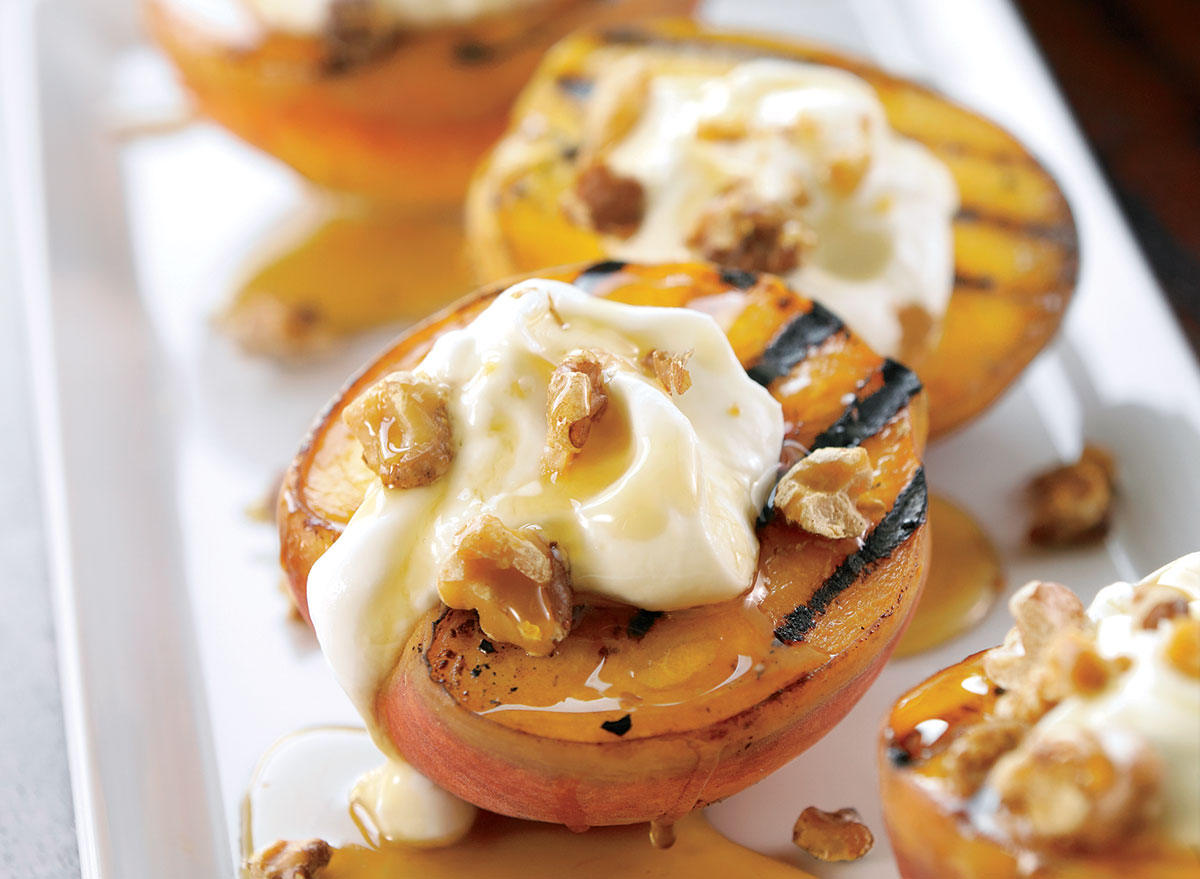 That small circle from the fruit's pit is practically screaming for a little scoop of yogurt or ice cream to go in it! This grilled peach recipe filled with protein, healthy fat, and fiber—is about as good as dessert ever gets.
Get our recipe for Grilled Apricots. 
Combining the delicious taste of apples with cranberries, oats, and walnuts, this dessert is as classic as American pie. Plus, you can make it in a pressure cooker, so there's not a lot of elbow grease (and dirty dishes) required. It's bound to be one of your favorite Memorial Day recipes to date.
Get our recipe for Apple-Cranberry Crisp. 
Looking for a way to use up that can of light coconut milk? Try this coconut cream pie! This dessert recipe will satisfy any sweet tooth, and it will have every coconut fan savoring every delicious bite.
Get our recipe for Triple Coconut Cream Pie.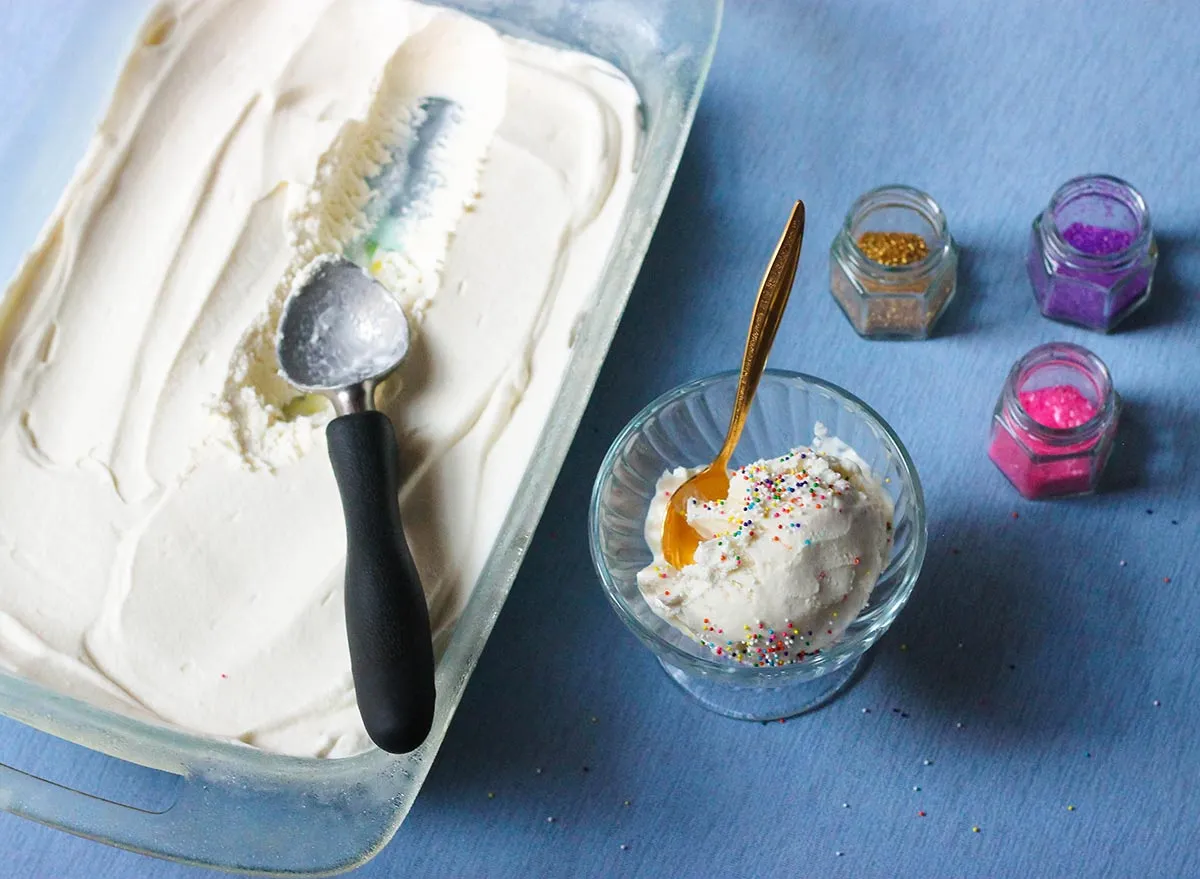 If you're looking for an easy dessert that will wow a crowd, this homemade ice cream recipe will do just the trick. Bring out the sprinkles, sauces, and candy toppings, and you can have yourself the ultimate ice cream sundae extravaganza!
Get our recipe for Homemade Ice Cream.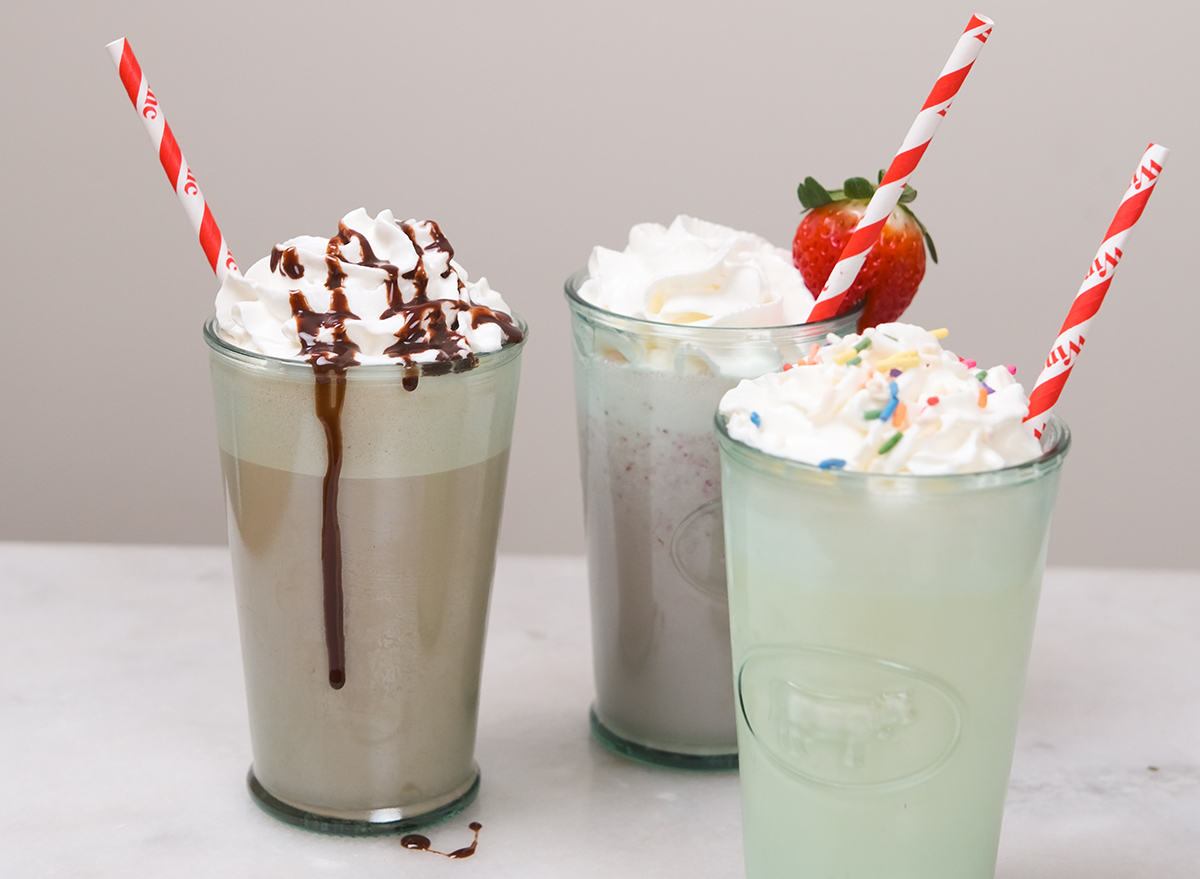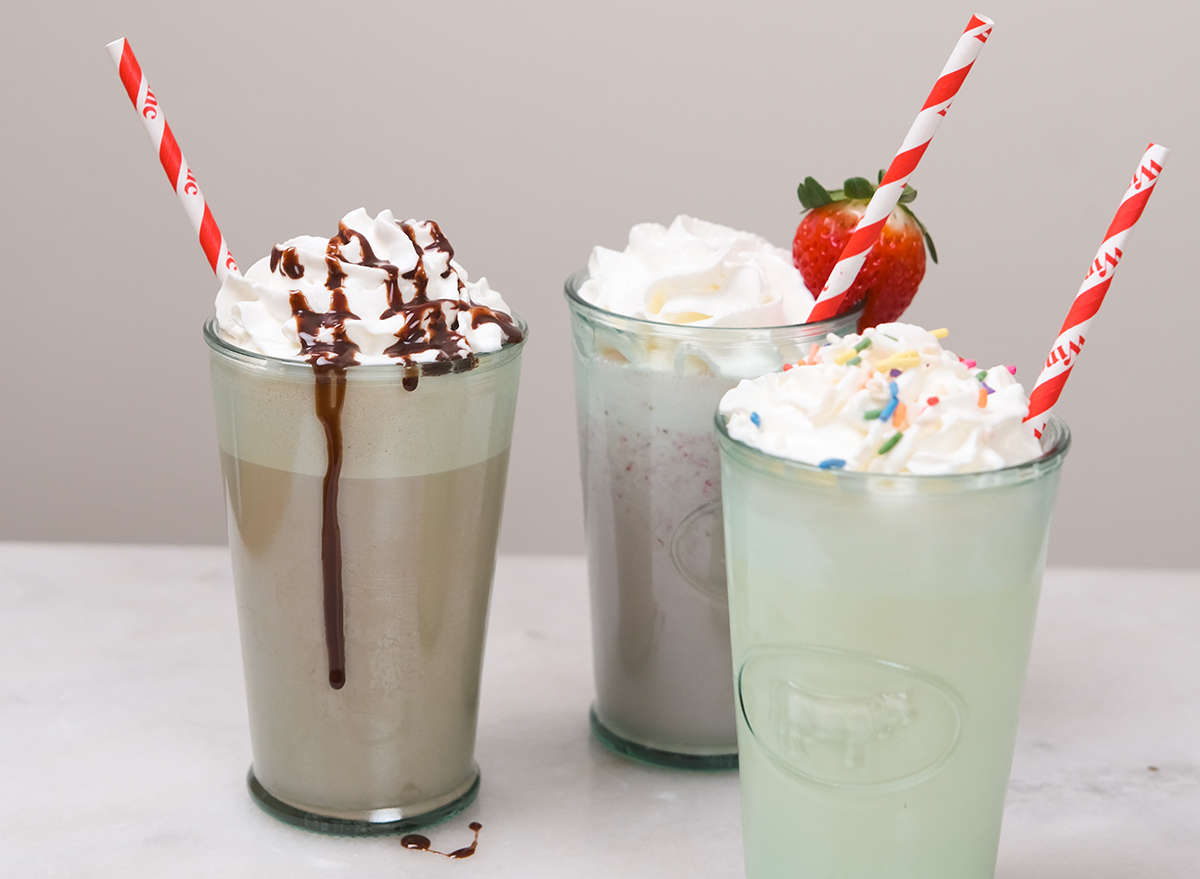 Milkshakes on Memorial Day sound like the most American thing to indulge in! The trick to making thick milkshakes is your ice cream to milk ratio. In order for the milkshake to be thick and creamy, you actually want to have more ice cream than milk. It's kind of an art, but once you get used to it, making it at home is a breeze (and rather addicting if we're being honest here)!
Get our recipe for Milkshakes. 
Did you know that the base of a fruit pizza is a giant sugar cookie? Yep, that's right! When you make a fruit pizza, it's actually one large sugar cookie topped with icing and fruit. Making a fruit pizza is actually easier than making pizza dough from scratch—simply because the "crust" is easier to put together. It's the perfect, colorful dessert to share during your Memorial Day cookout.
Get our recipe for Fruit Pizza. 
Fudgy Chocolate Strawberry Keto Brownies
Calling all keto diet followers! This dessert was made just for you. Enjoy all of the chocolatey goodness you would with normal brownies, minus all of the sugar and carbs.
Get the recipe from Birch Benders. 
Paleo Strawberry Shortcake
We bet you've never had a grain-free strawberry shortcake dessert, right? Impress your guests this Memorial Day with this easy-to-make, paleo-friendly dessert!
Get the recipe from Birch Benders. 
If you're looking for more inspiration, sign up for our newsletter to get daily recipes and food news delivered straight to your inbox!
Kiersten Hickman is a senior editor at
Eat This, Not That!
, with a main focus on food coverage, nutrition, and recipe development.
Read more