These blasts from the past are classics for a reason.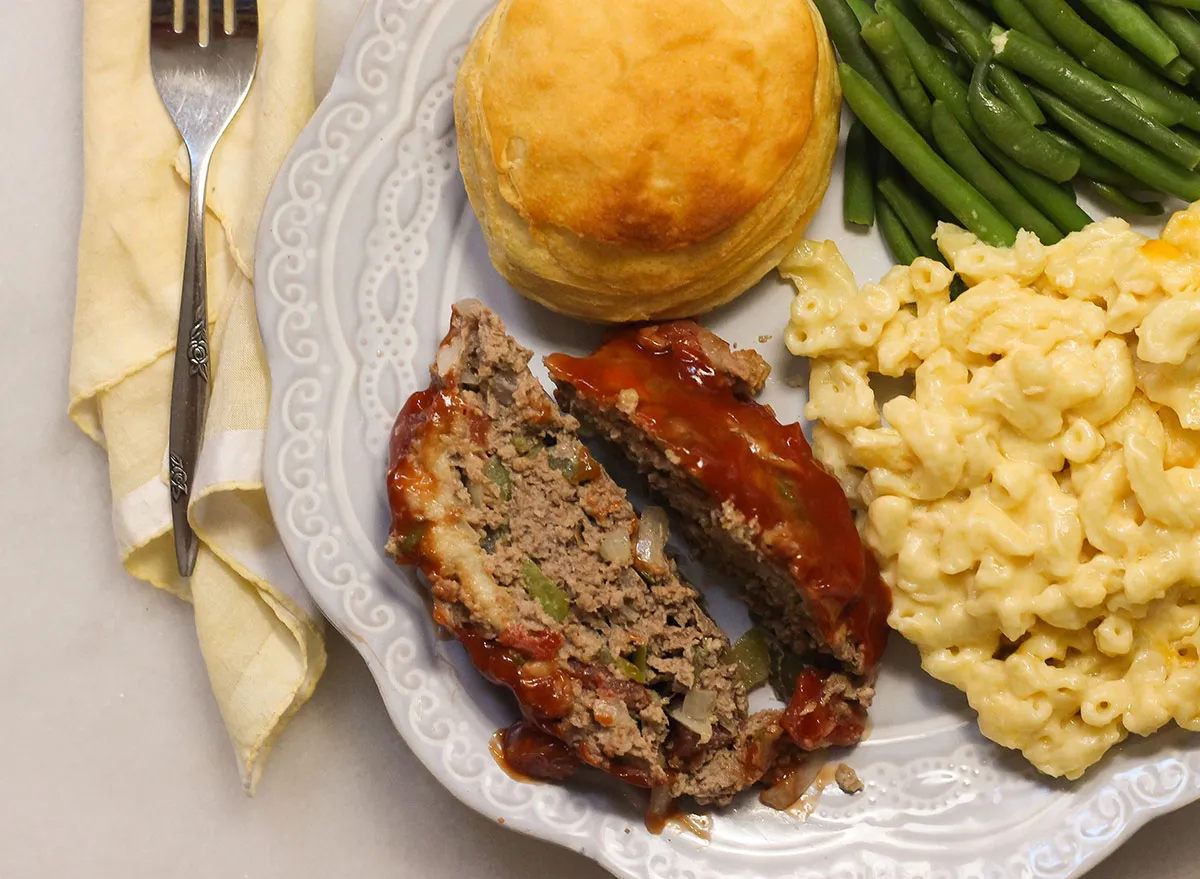 Finding unique dinner recipes can be, well, a bit exhausting. Whether you need to entertain or you're just looking to cook up a fresh meal that you and your family can get behind, it's not always easy to find something new that actually tastes good, too. So, why not instead take some inspiration from the past? These vintage-inspired recipes are tried-and-true classics—they were loved by your forefathers, after all. Nothing like going old-school, even when it comes to your food.
See, each one of these treasures survived through generations for a reason—they take a minimum amount of time to make and can please any picky eater. Trying to navigate which vintage recipes work and which fall flat can prove a bit challenging.
But have no fear!
When you want to spruce up your menu with time-tested favorites, we went ahead and assembled a master list of retro-inspired recipes that will please everyone. Because they taste great, of course! And for a few healthy recipes to keep in your back pocket, check out 22 Meals to Melt Belly Fat in 2022.
Chicken Pot Pie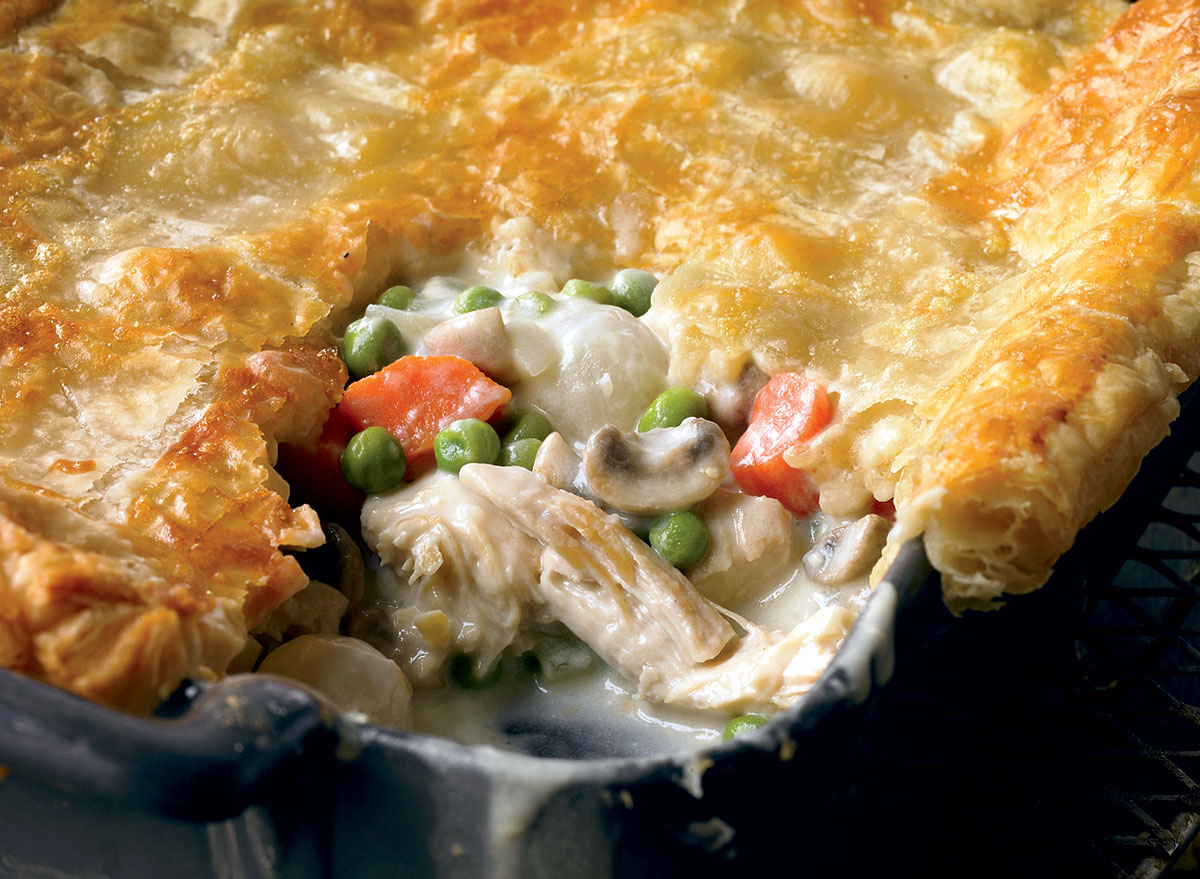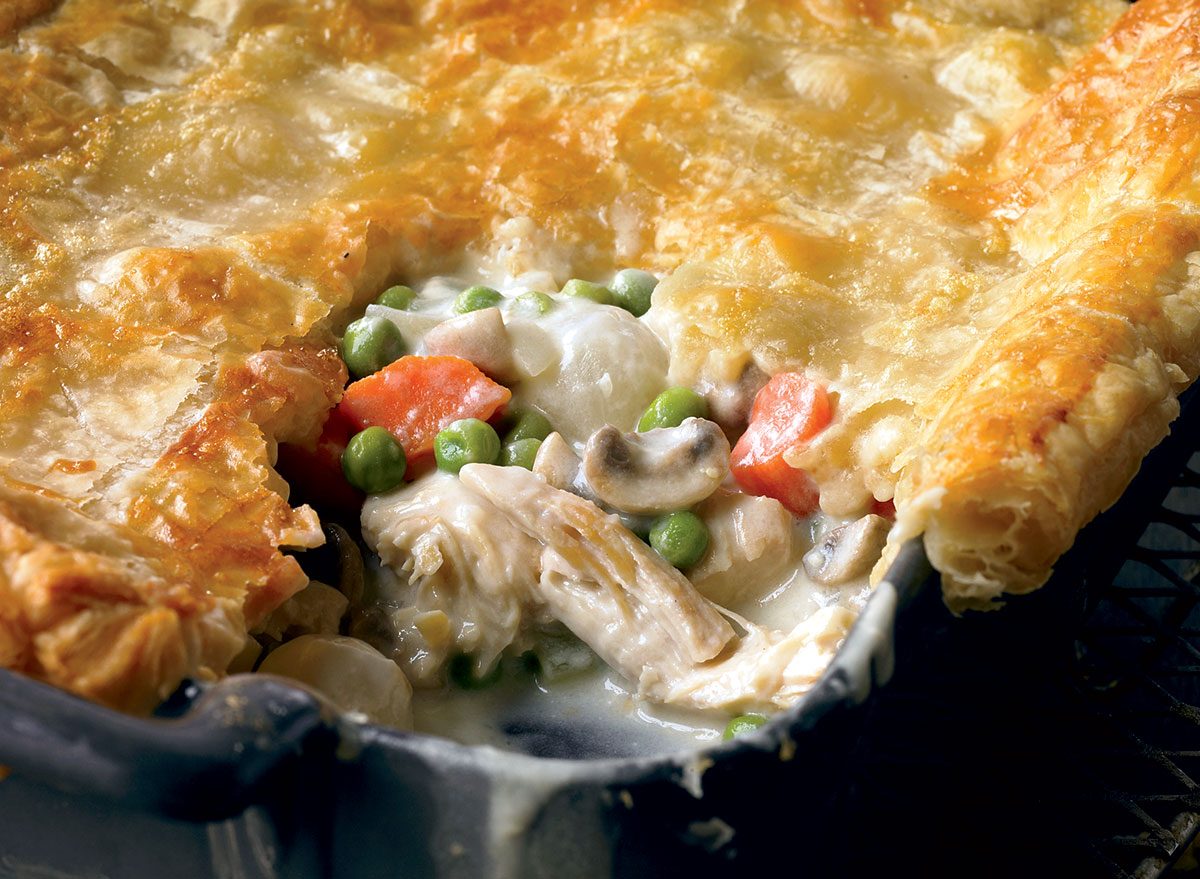 If you haven't eaten a pot pie, you don't know what you've been missing. The combo of a buttery, flaky crust melding into a creamy mix of chicken and perfectly seasoned vegetables is second to none and has remained popular through the decades for good reason. If you haven't made many pot pies in the past, this take gives you the best and easiest entry point to this time-tested favorite.
Get our recipe for Chicken Pot Pie.
Beef Stroganoff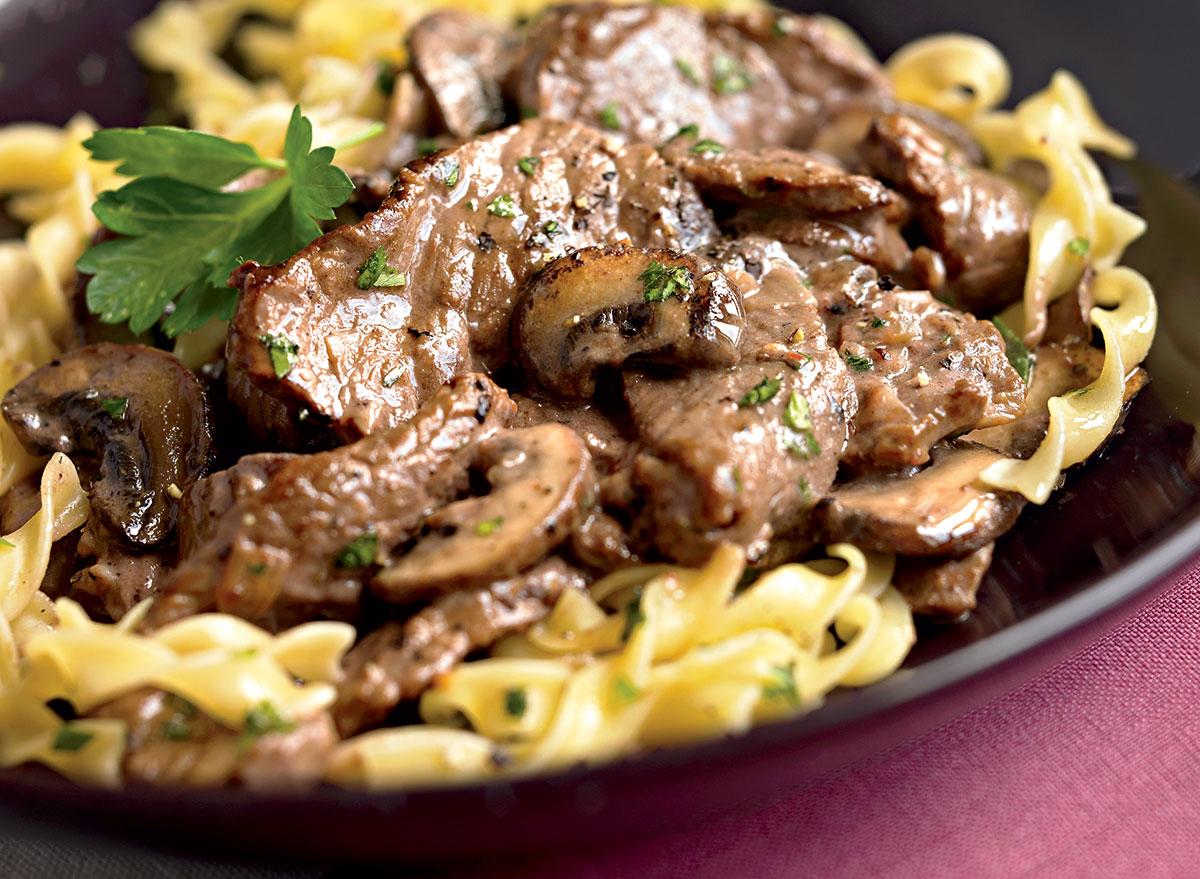 Originating from a recipe concocted by a French chef cooking for his Russian benefactors, beef stroganoff has graced tables for hundreds of years. This creamy beef dish appears in multiple forms, but why not try a take on the classic that Americans have loved for years? The luscious gravy made from beef and sour cream drizzled over egg noodles and beef chunks will leave everyone happy.
Get our recipe for Beef Stroganoff.
Potato Salad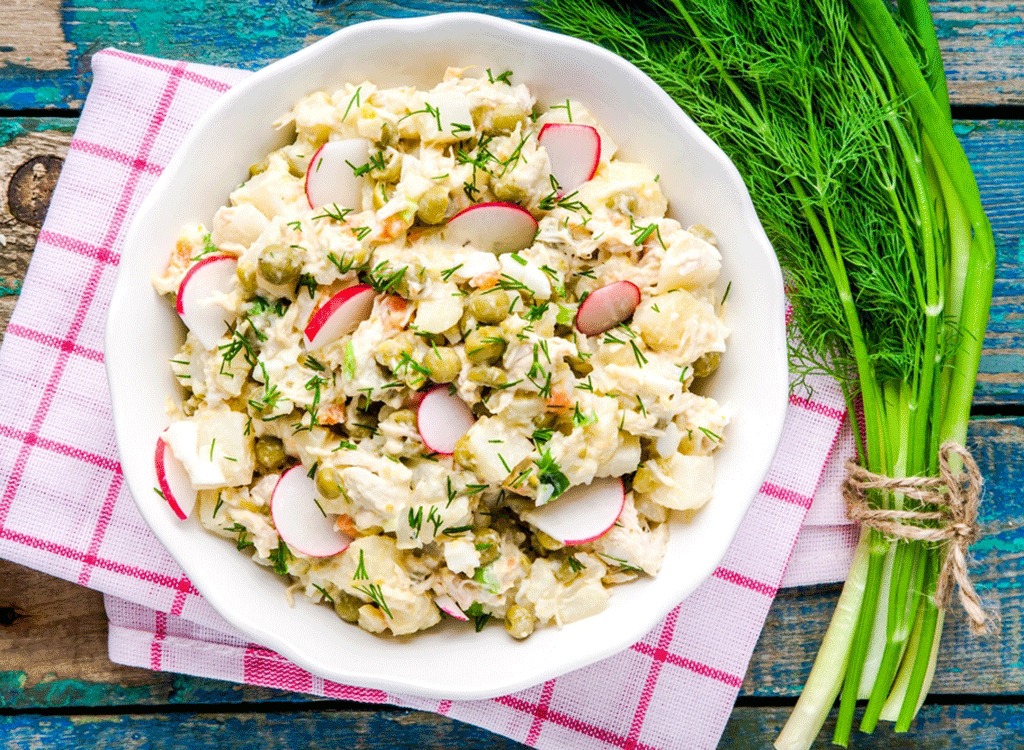 No matter what the occasion, there's always time for some potato salad. This vintage side dates back years and has easily won its place in the pantheon of great American recipes. With so many regional variations on this dish, it's hard to go wrong when you find your favorite style. If you need a quick side for dinner, the classic take on this side works wonders.
Get our recipe for Potato Salad.
Macaroni and Cheese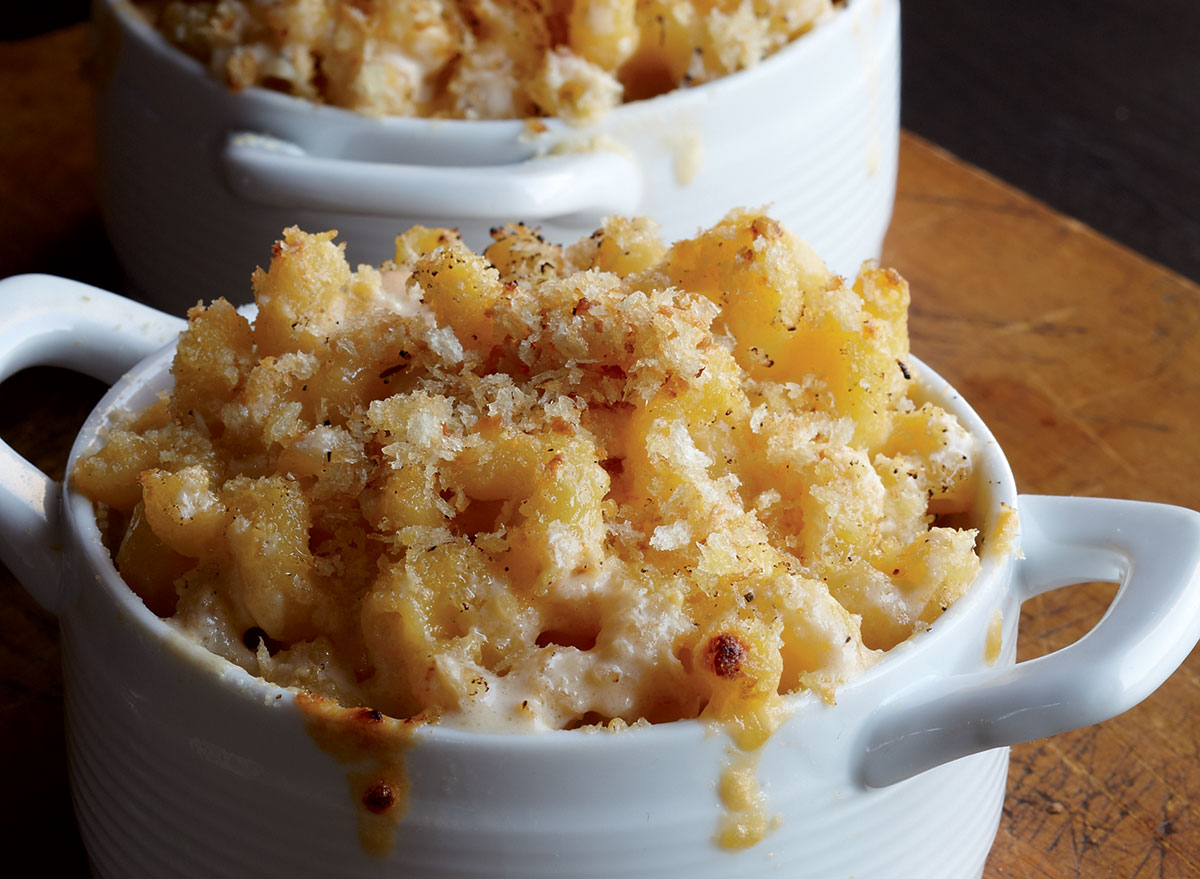 Macaroni and Cheese date back for centuries, and the recipe has changed very little over time. You can't beat something that has already reached perfection! If you have only been cooking the boxed variety at home, wait until you taste this recipe. This gooey pasta-and-cheese classic takes almost no time to prepare and even less skill to throw together, making it perfect comfort food for any occasion.
Get our recipe for Macaroni and Cheese. 
Chicken and Dumplings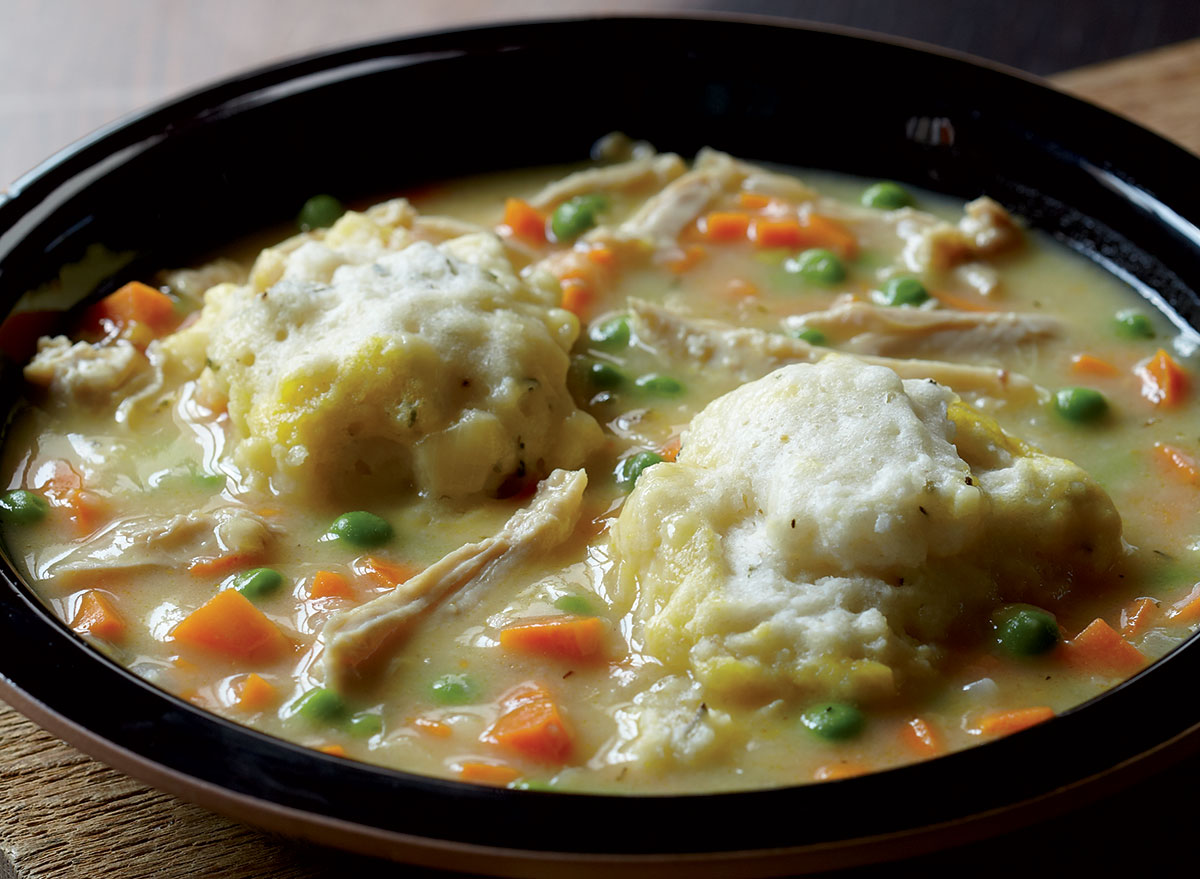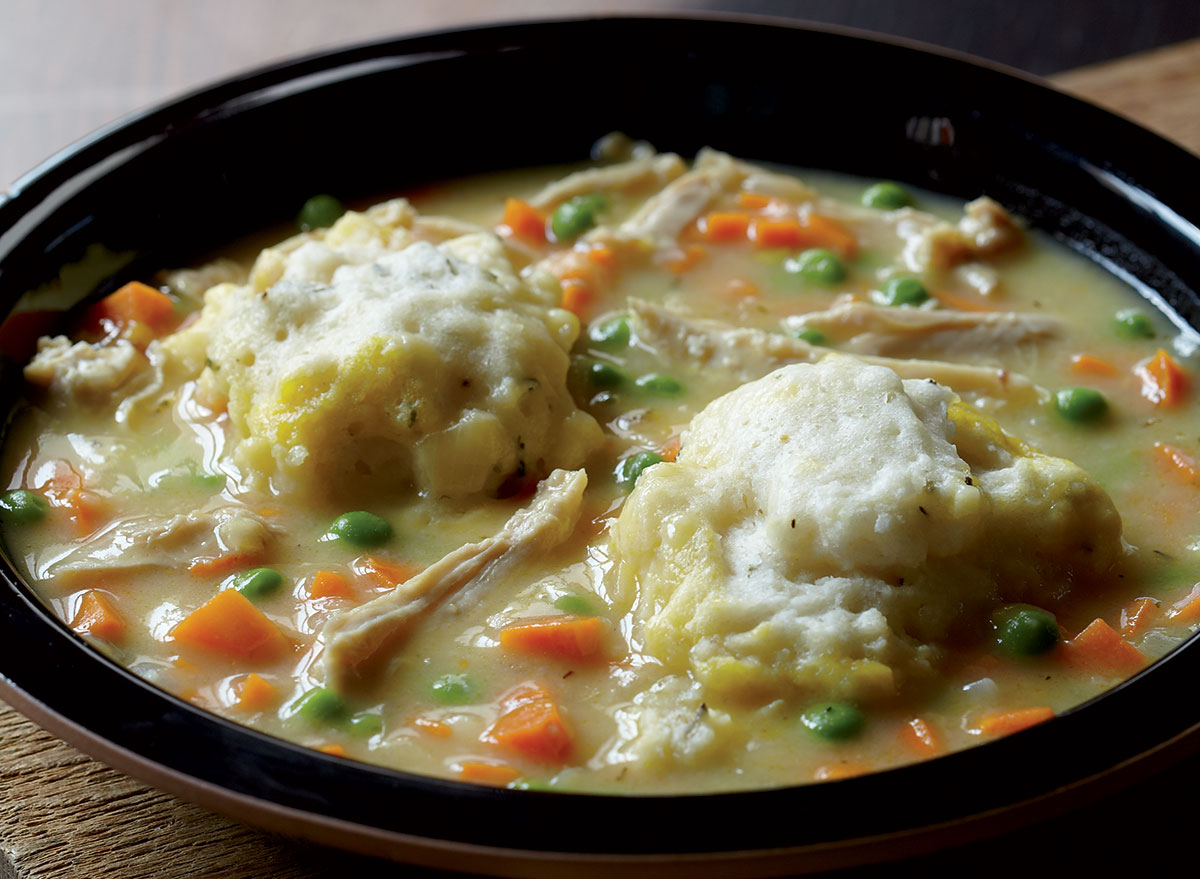 When you need to conjure up a classic recipe that has graced tables since pioneer days, why not make some chicken and dumplings? This American classic has been prepared countless ways, but this take on the staple remains an easy-to-make hit. Succulent chicken thighs float in a dish of creamy gravy alongside fluffy flour dumplings. When it's seasoned just right, you know you can't get enough.
Get our recipe for Chicken and Dumplings. 
Grilled Pork Chops and Peaches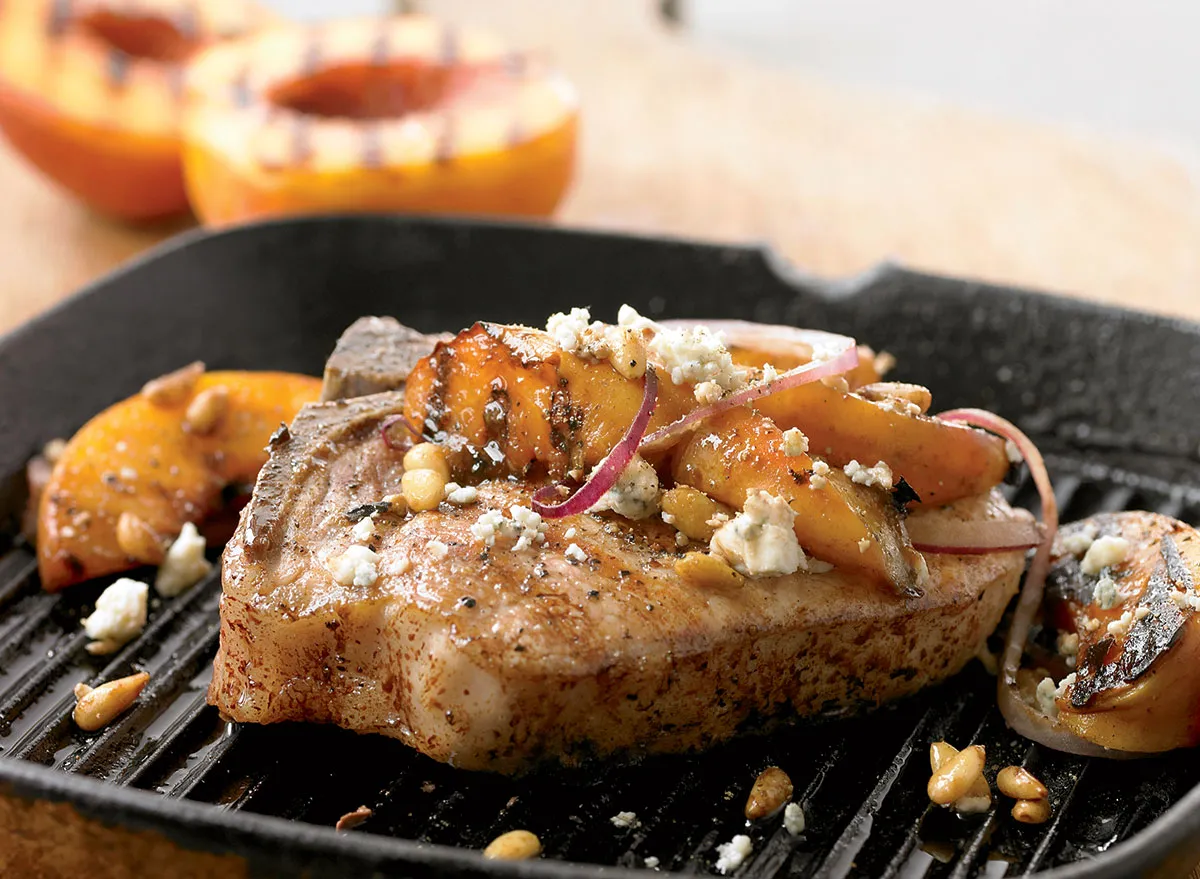 Recipes come and go, but nothing has stuck around quite like the classic pork chop. These crispy pork cuts will bring you straight back to your childhood. Their versatility and juicy, succulent flavors can liven up any Sunday dinner, and with such a stress-free preparation, you know you will look forward to this meal all week.
Get our recipe for Grilled Pork Chops and Peaches. 
Slow Cooker Corned Beef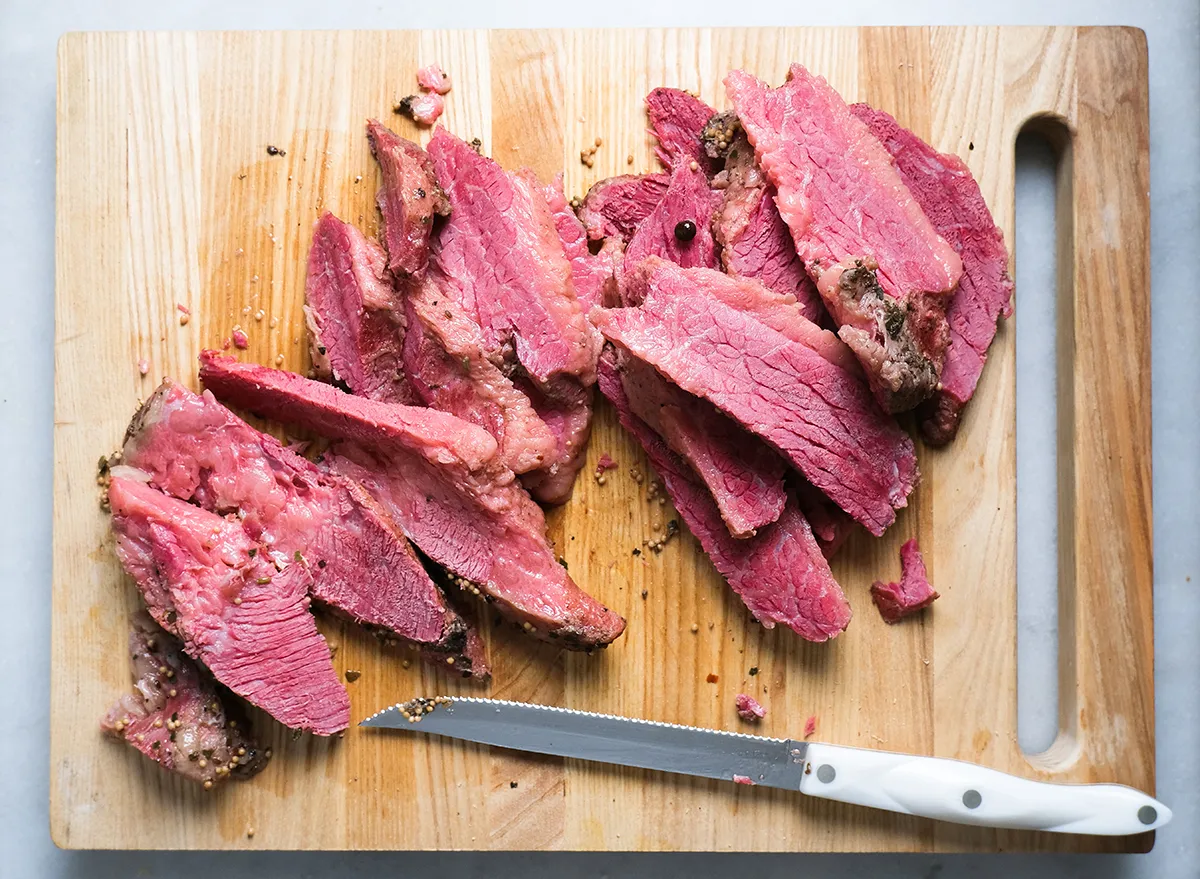 Corned Beef doesn't have to be reserved for St. Patrick's Day. With this vintage classic, you can enjoy a recipe that has enticed taste buds since before your grandparents were born. This recipe features slow-cooked beef brisket, seasoned with a pickling packet filled with peppercorns and mustard seeds. The result is a flavorful meal you could dish out anytime.
Get our recipe for Slow Cooker Corned Beef. 
Chicken Noodle Soup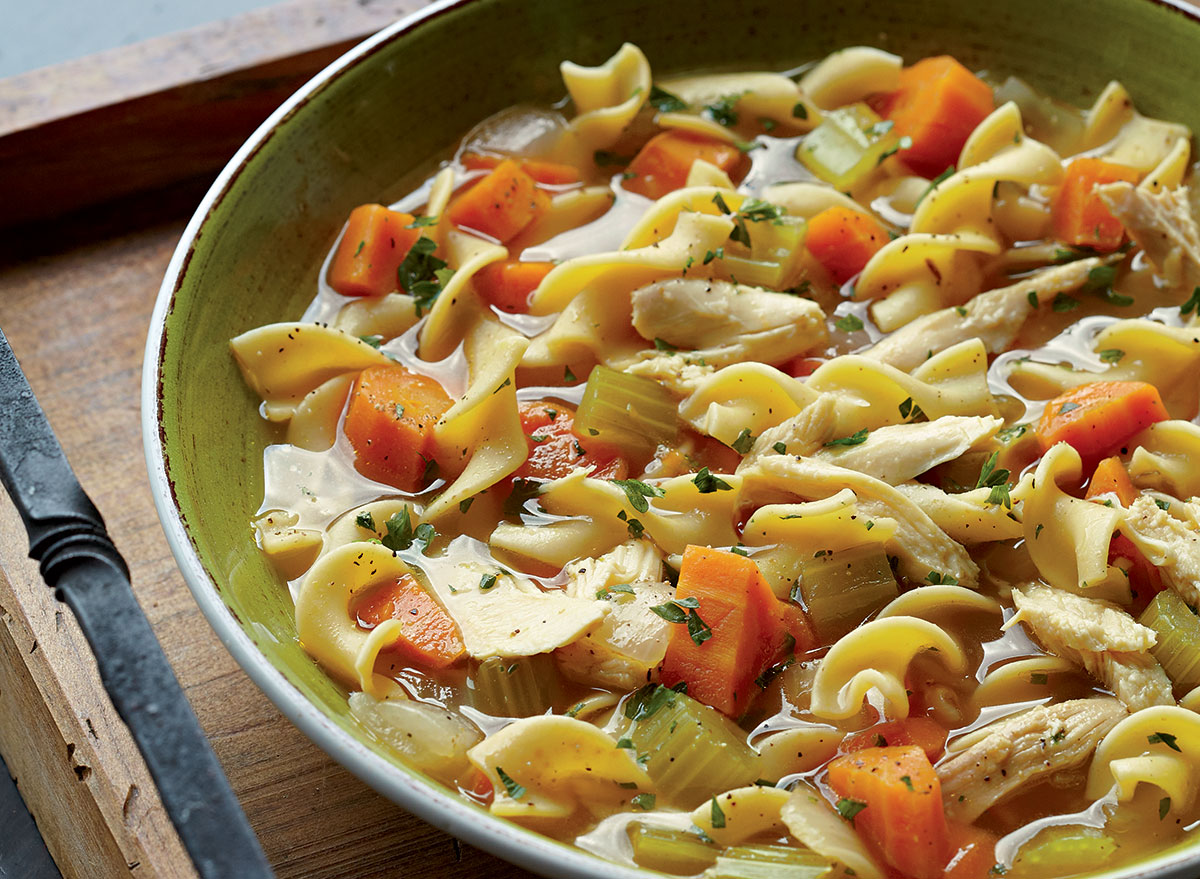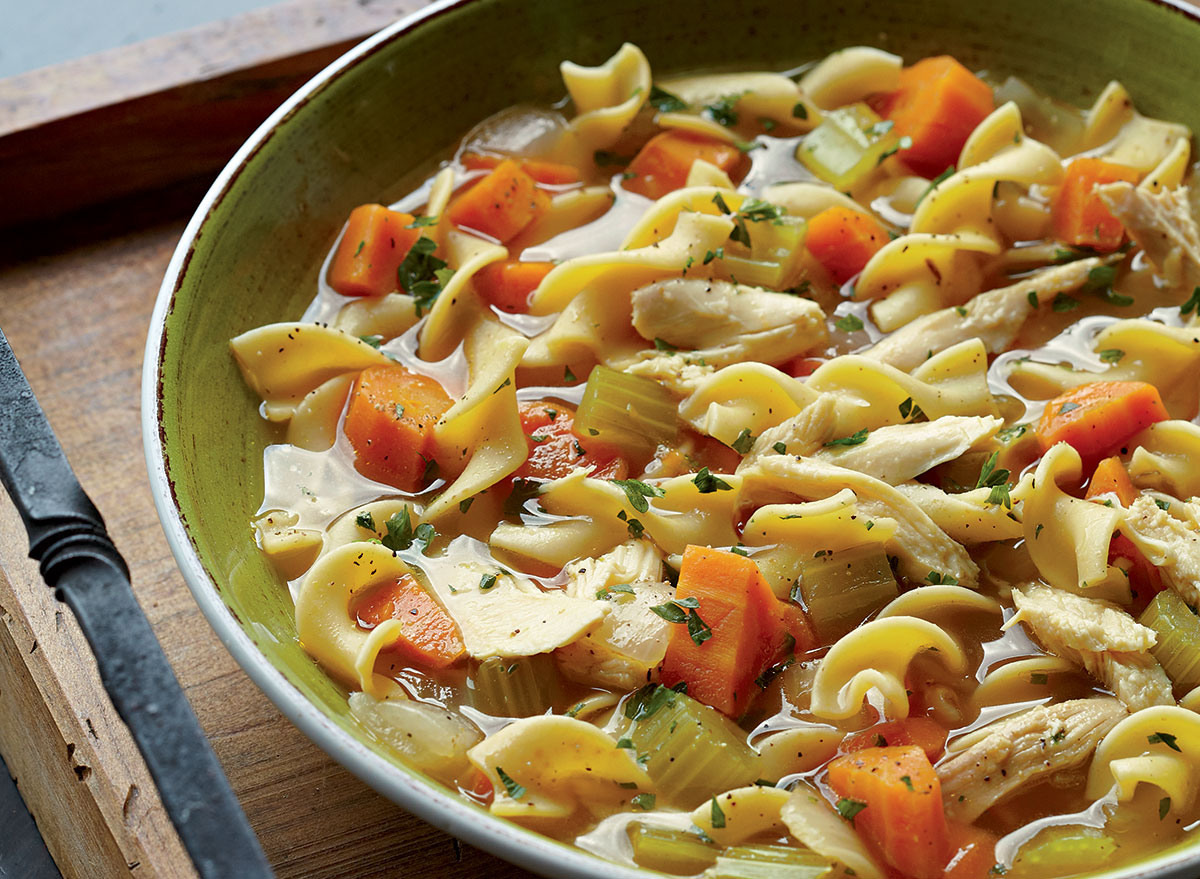 If you feel ill or just want a pick-me-up, a bowl of chicken noodle soup can't be beaten. The rich, velvety broth balances out the fresh vegetables and roasted chicken to guarantee you feel better after just one bowl. If that isn't enough to hook you on this vintage classic, you might just need to save room for seconds and have a bit more.
Get our recipe for Chicken Noodle Soup. 
Curried Egg Salad
Whether you eat it as a sandwich or as a side to a larger meal, few foods have the same versatility as egg salad. This historic favorite stands the test of time and can't be easier to make at home. Whip this up whenever you need to eat in a hurry or just need something extra, and you know you'll have a full belly afterward.
Get our recipe for Curried Egg Salad. 
Meatloaf
Meatloaf stands as the iconic weekend dinner for a reason. Its deep, rich flavor has become the watermark that we judge heartiness by, so why settle for less when you can enjoy this old-fashioned favorite. This no-frills recipe guarantees to keep you occupied enjoying the dish and out of the kitchen as much as possible.
Deviled Eggs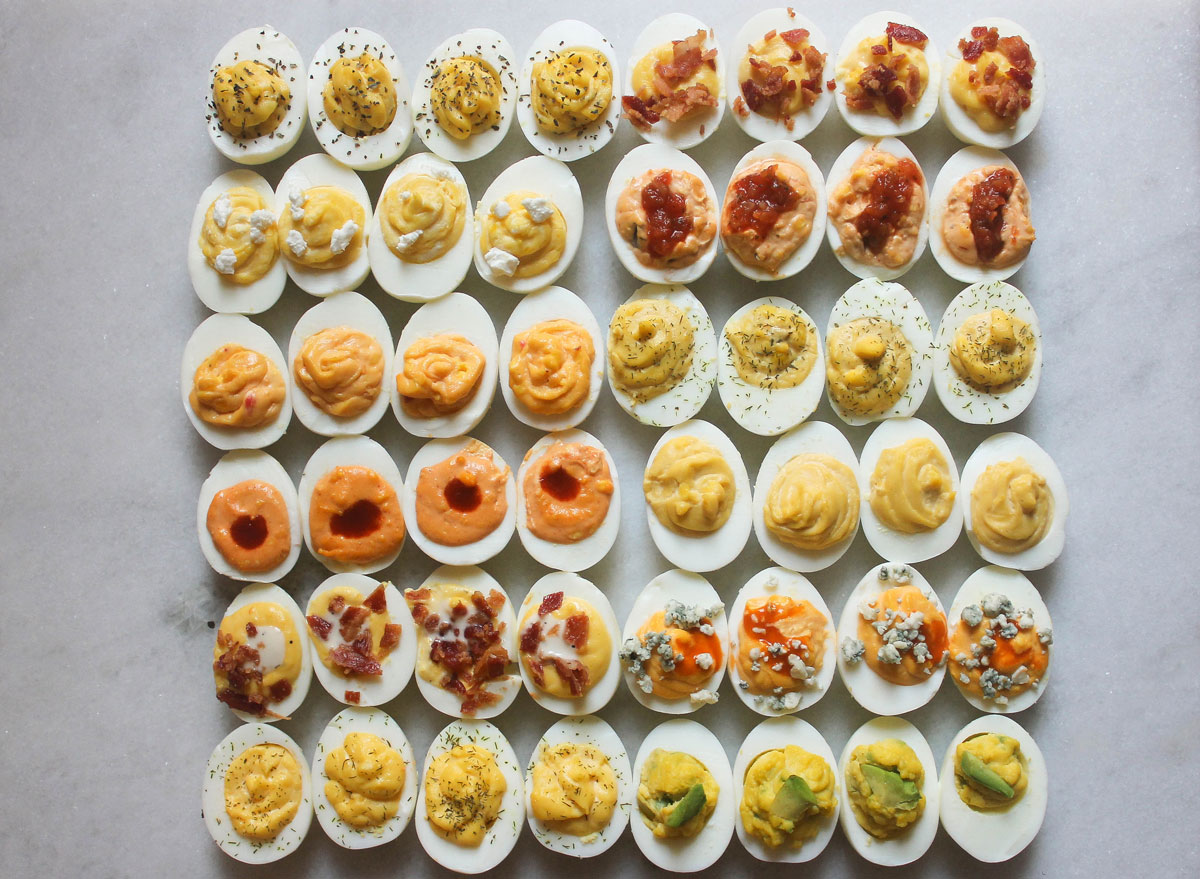 If you need to throw a party or want a side dish for any occasion, deviled eggs have become a gold standard everyone enjoys. This finger food has truly earned its status and can live on in your kitchen for years to come.
Get our recipes for Deviled Eggs.
Mini Yorkshire Puddings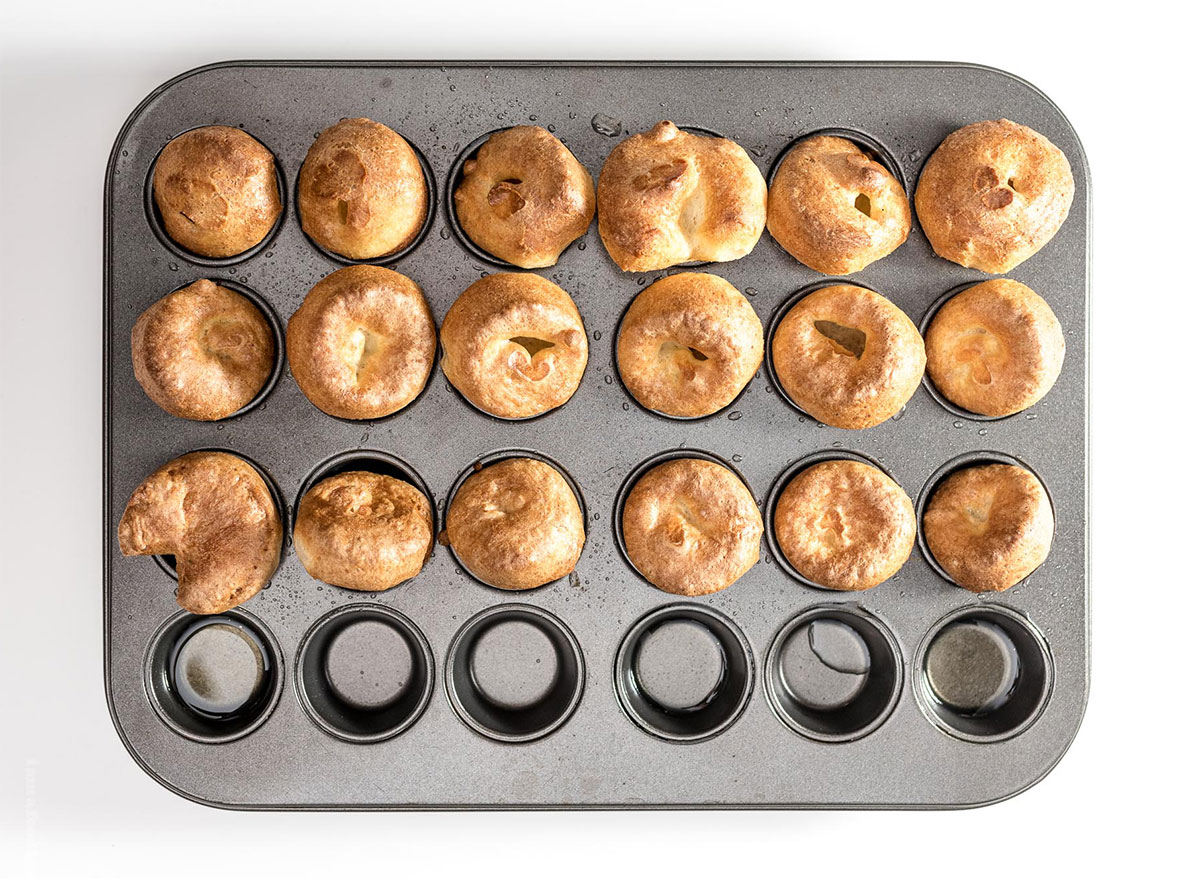 Nothing screams "vintage" like serving up a dish of Yorkshire puddings topped with a savory drizzle of beef gravy. These fluffy delights have been around for centuries, and if you have never dished out a side of these treats with a Sunday roast, you need to try it. Even though you might think this recipe fell out of fashion due to difficult preparation, fear not! Nothing could be easier than whipping up a tray of these puddings in your oven. They cook up quickly, so you can serve them anytime.
Get the recipe from I Am a Food Blog. 
Prime Rib
This country-club classic deserves another shot in the limelight, especially because prime rib pairs so well against almost any side dish you can throw at it! Pair this recipe up with a spicy horseradish sauce to cut through the richness and you have a meal that can make any mouth water.
Get the recipe from Recipe Tin Eats. 
Sunday Chili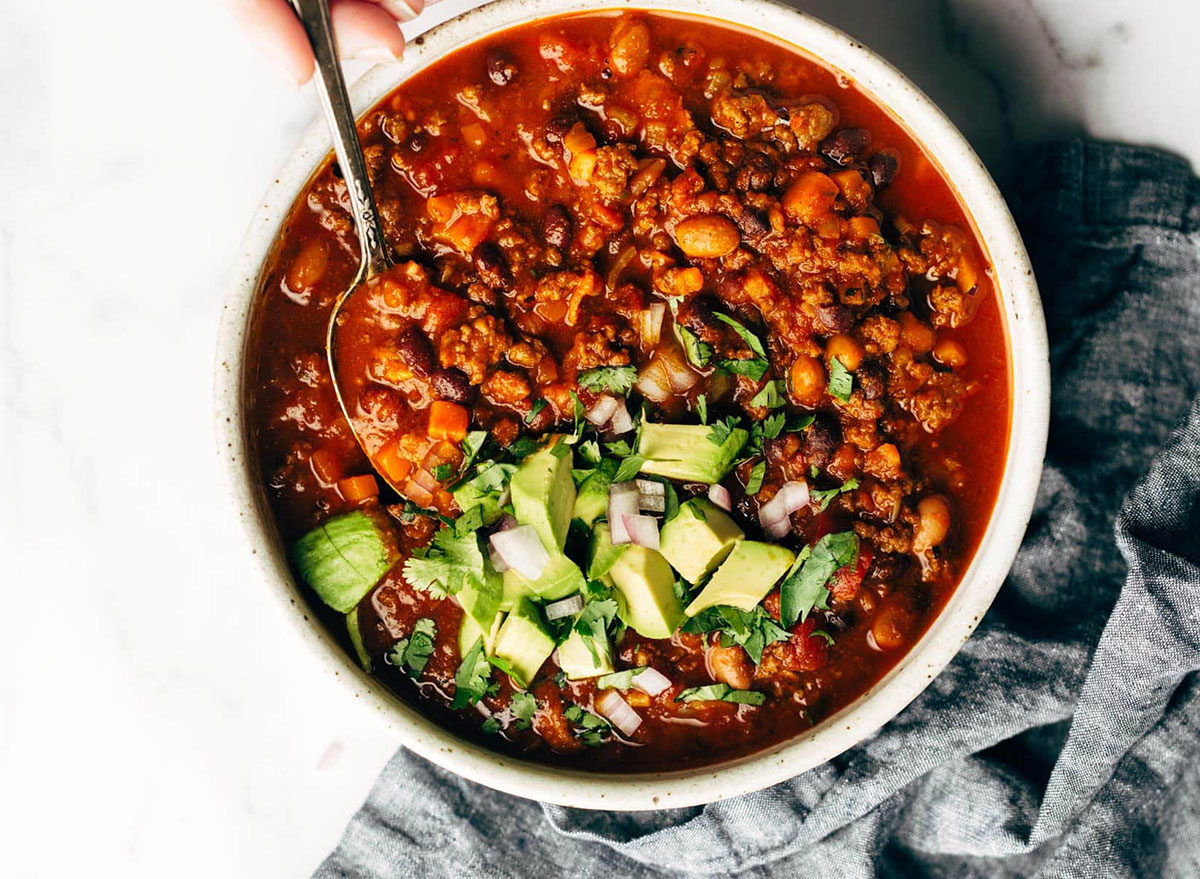 Ever since the days of cowboys, chili has entered the American diet and found its way to tables nationwide. While chili has fallen out of vogue, there's no time like the present to bring back this classic vintage recipe that made families nationwide fall in love with its bold, tomato-cumin flavors and punches of protein to keep you running all day. With such a hearty dish and a recipe that makes so many servings, expect to leave the table stuffed.
Get the recipe from Pinch of Yum.
Steamed Clams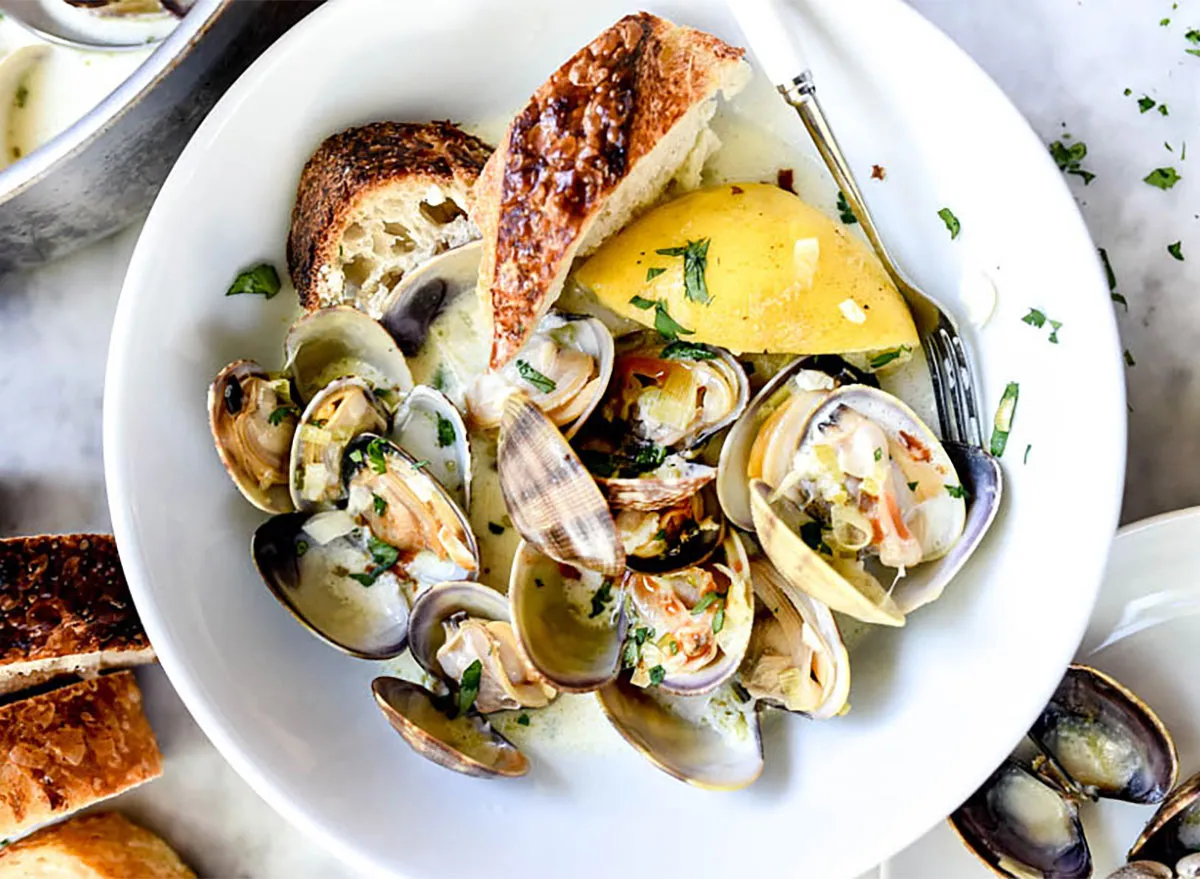 Steaming has fallen to the wayside in recent years, but if you think this technique requires precise technical skill, have no fear! Nothing can top steamed clams, and these restaurant favorites can now make an appearance on your dinner table, thanks to this take on an age-old recipe. Each clam is cooked to perfection, and when you make the recipe with fresh seafood, you barely need any seasoning at all to pull off this foolproof vintage classic.
Get the recipe from Foodie Crush.
Braised Short Ribs with Sage Butter Mashed Potatoes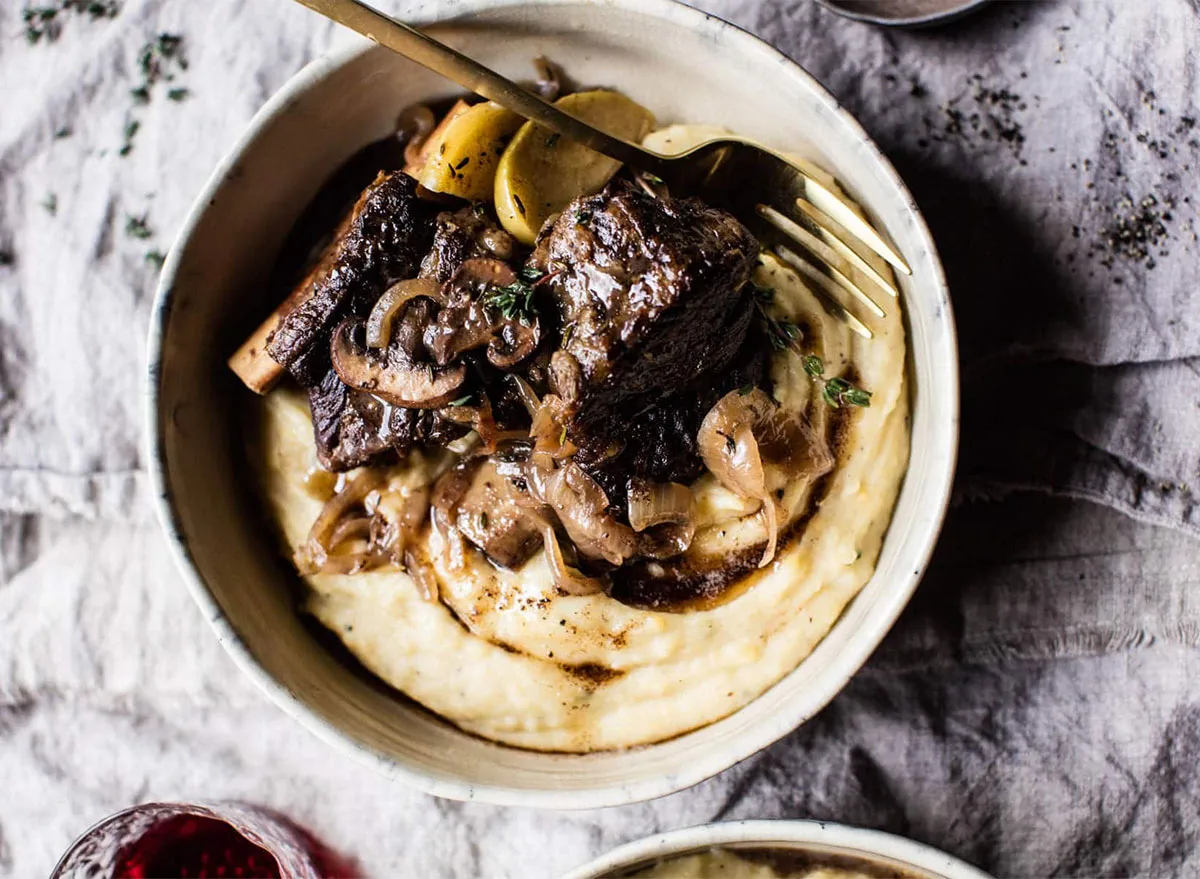 Meat and potatoes go back for years, and the braised short rib reaches the pinnacle of this timeless combo. These luscious short ribs lock in their moisture from the pan braising and pair well with creamy mashed potatoes brought to the next level by the earthy flavor of sage. For a refined classic that takes you back, nothing can compete with this meal.
Get the recipe from Half Baked Harvest. 
Roasted Butternut Squash
You have seen squash grace countless holiday spreads, so why not give this seasonal gourd a permanent spot on your table? The squash roasts to a crisp perfection that melts in your mouth the moment you bite down. The only thing easier than eating this classic dish is making it! With a few ingredients and very simple prep work, this easy and delicious dish easily earns its place on your dinner table.
Get the recipe from Well Plated.
Stuffed Peppers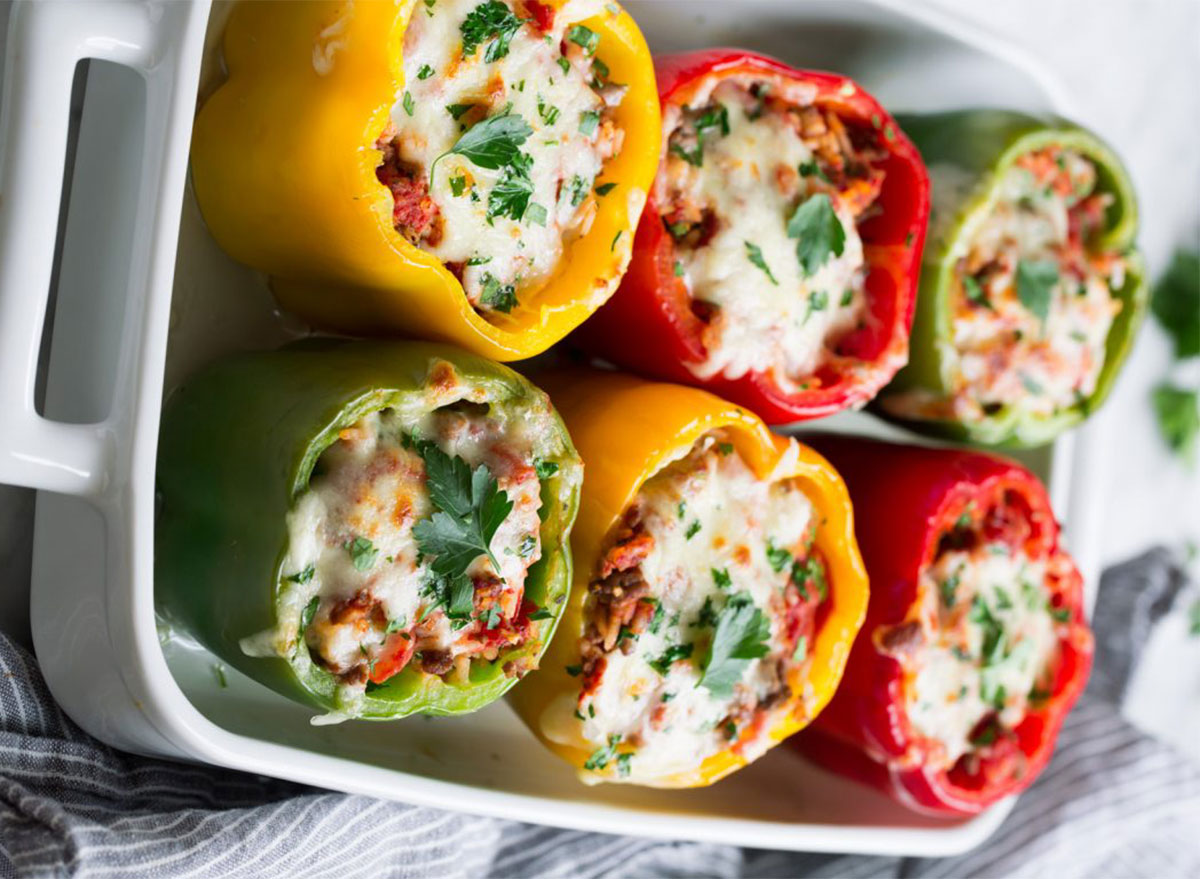 Nothing beats the ease of combining vegetables and protein into a simple meal, and this vintage-inspired hit makes sure to remind you why it became so beloved in the first place. The peppers lock in moisture and bake the combination of spiced ground beef, rice, and mozzarella to the point of perfection, leaving you with an all-in-one hit.
Get the recipe from Cooking Classy.
Roasted Asparagus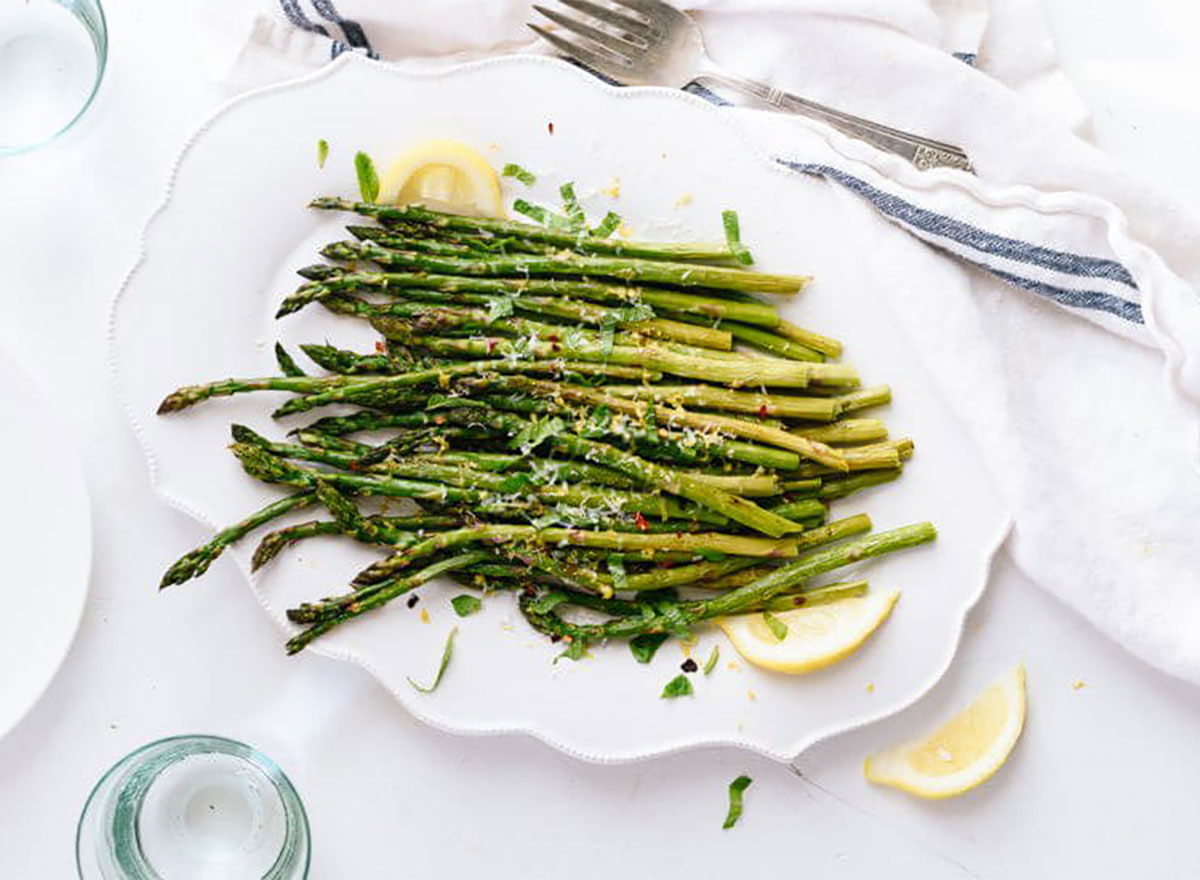 Roasting veggies makes life easier, and chefs from yesteryear took this knowledge to heart. This age-old favorite dates back to antiquity and it makes sense why it has stuck around. When you start with fresh asparagus and bring out the flavors by roasting the spears until they are soft on the inside with a delicate char, nothing can compare. Make sure to add this to your tried-and-true menu.
Get the recipe from Cookie and Kate.
German Potato Salad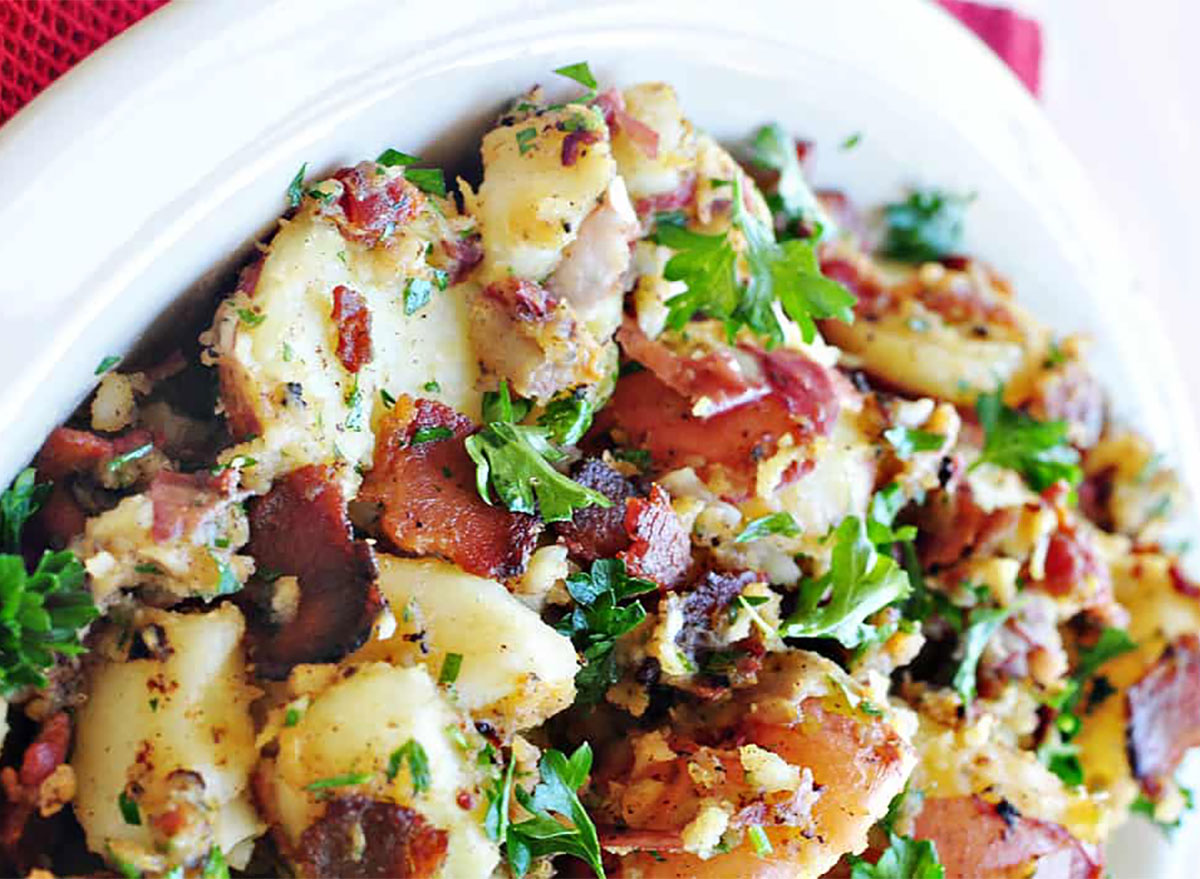 This potato salad has appeared on countless American tables over the centuries and has truly become a classic recipe. Even if you don't claim any German ties, your tastebuds will thank you when you try this combo of hot, creamy scalloped potatoes mixed with a tart sauce, eggs, and bacon that can spruce up any gathering and pairs well with any main course offering. Just make sure to cook enough for everyone, as this dish gets scooped up fast!
Get the recipe from Five Heart Home.
Coleslaw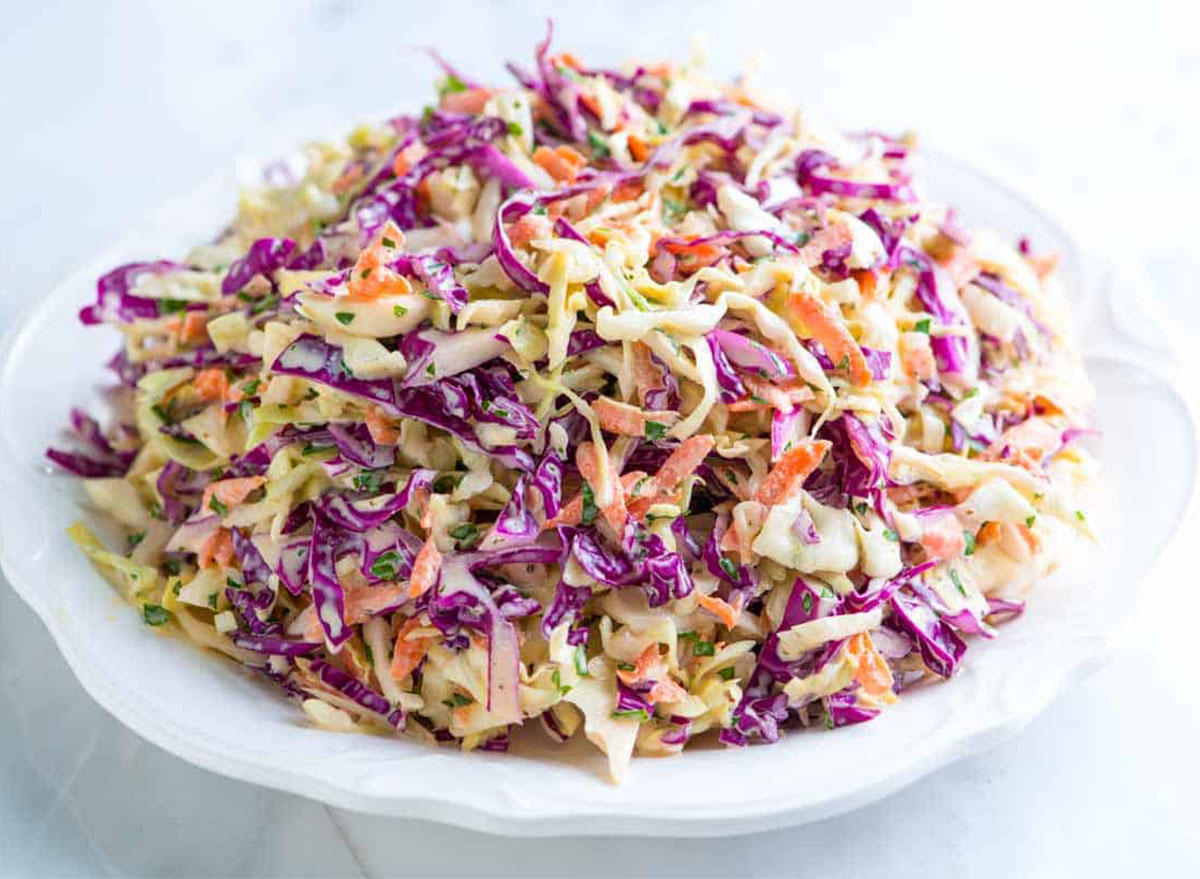 If you think coleslaw should only make an appearance at cookouts in the summer, just wait until your mouth tastes this take on the century-old favorite. When you dress cabbage with any kind of vinaigrette or mayonnaise dressing, you know you're in for a good side that can hold its own against any meat. And with the perfect seasoning, coleslaw can even take center stage in a meal.
Get the recipe from Inspired Taste.
Fruit Salad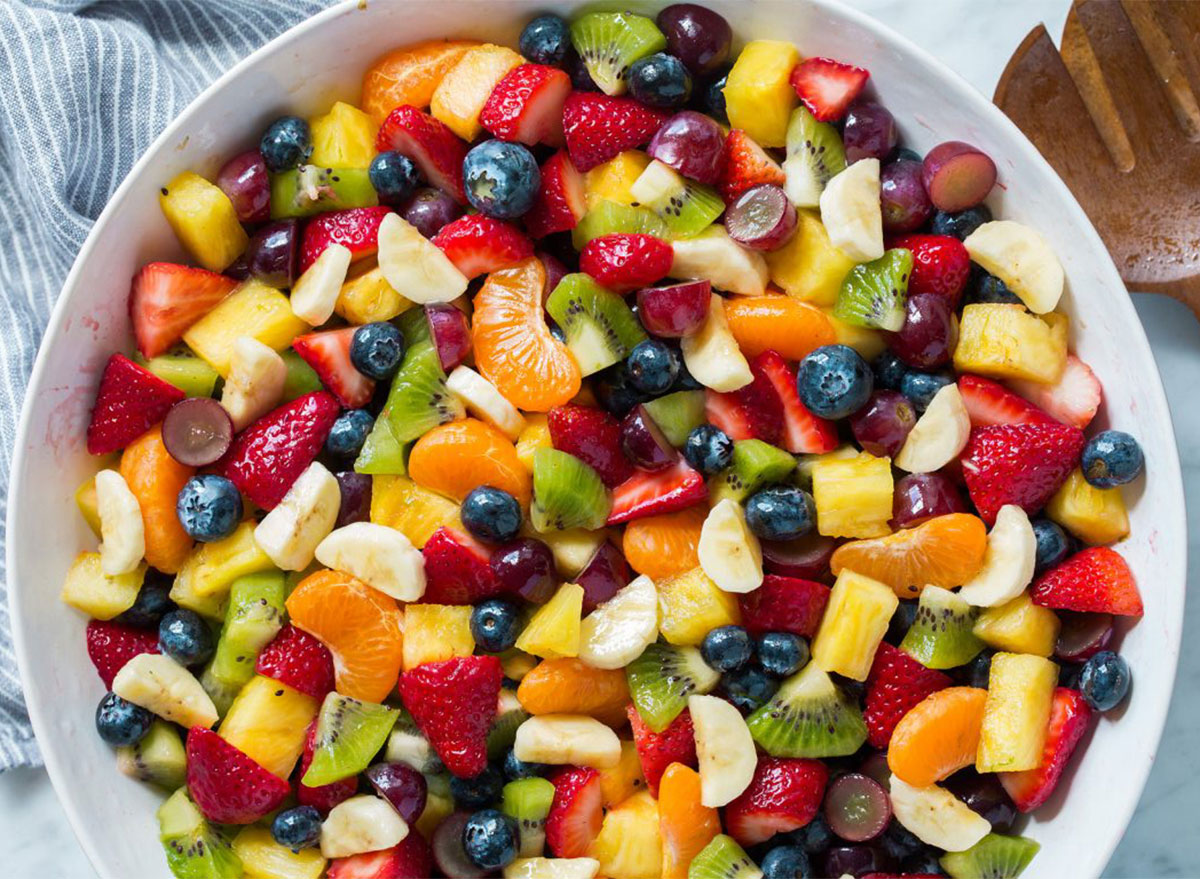 If you haven't thought about fruit salad for years, just wait until you get to indulge in this treat again. This combination of mixed fruit dates back for centuries and has stuck around for a reason. Whether you host a backyard barbecue or just need a good pairing to go with dinner, this melange of all your favorite fruits will have everyone excited for seconds. The sweet and tart notes balance against saltier meats and sides at a meal.
Get the recipe from Cooking Classy.
Spicy Weekend Gumbo
For centuries, gumbo has enticed eaters all over the Gulf Coast, but why should they have all the fun? Whipping up this classic Southern staple takes little skill and provides an immediate blast of flavor the moment you put the first bite of cayenne-seasoned soup in your mouth. Make it a true classic and serve it over rice, like many families have been serving it up at home for generations.
Get the recipe from the Pinch of Yum.
Roasted Garlic Chicken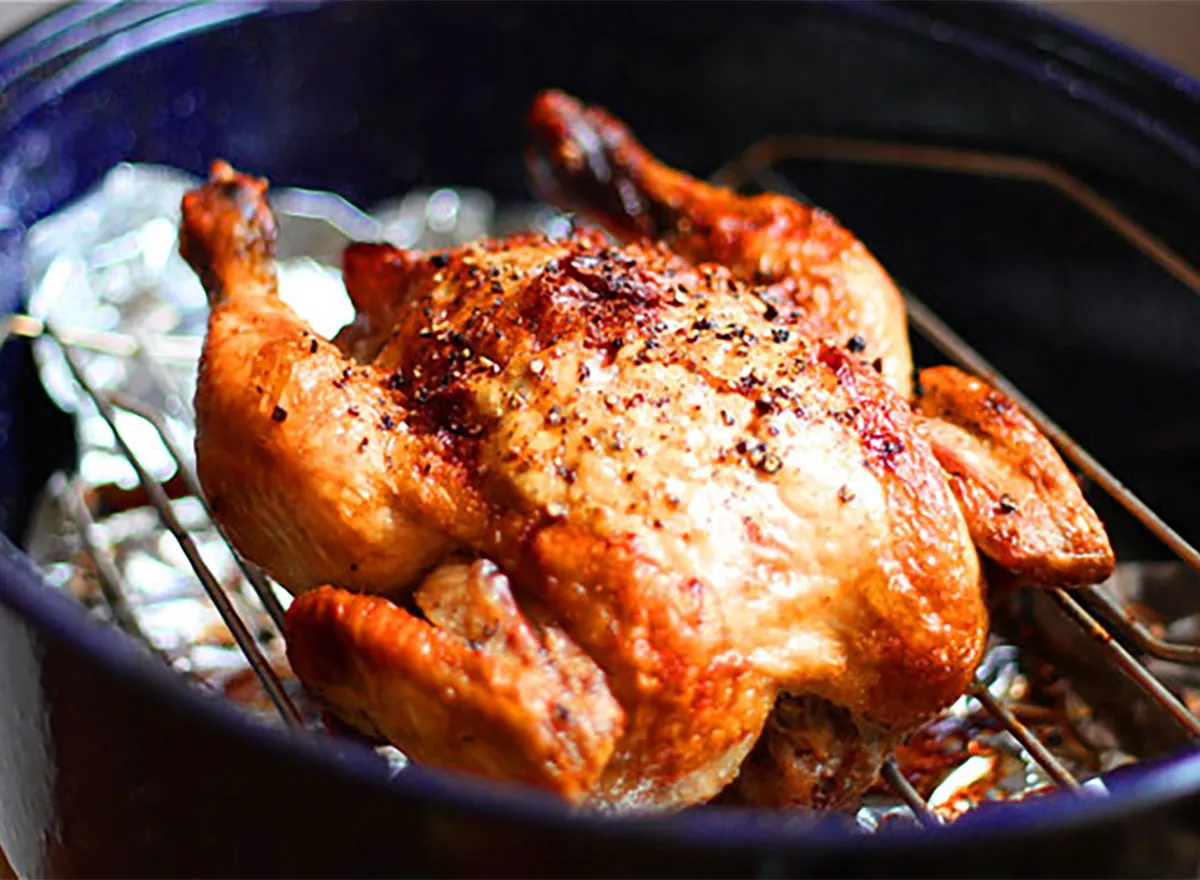 You can't argue with a roast, and this take on the roast chicken knows what it's doing. The skin of the bird is basted with butter, meaning you will have a delectably moist and flavorful foul, as pieces of garlic bake under the skin, infusing the chicken with extra flavor. Few roasts can compare to how flavorful this bird turns out.
Get the recipe from Gimme Some Oven.
Stuffed Tomatoes
If you start to run out of culinary ideas, why not take a page from your grandparents' cookbooks and roast these summer staples in the oven, stuffed with all of your favorite fillings? This recipe packs in fresh, sweet corn and basil alongside rice and cheese to make the perfect all-in-one dish that will send your taste buds on a journey to the past. Just make sure to save some room for seconds!
Get the recipe from Pinch of Yum.
Orange Creamsicle Jello Molds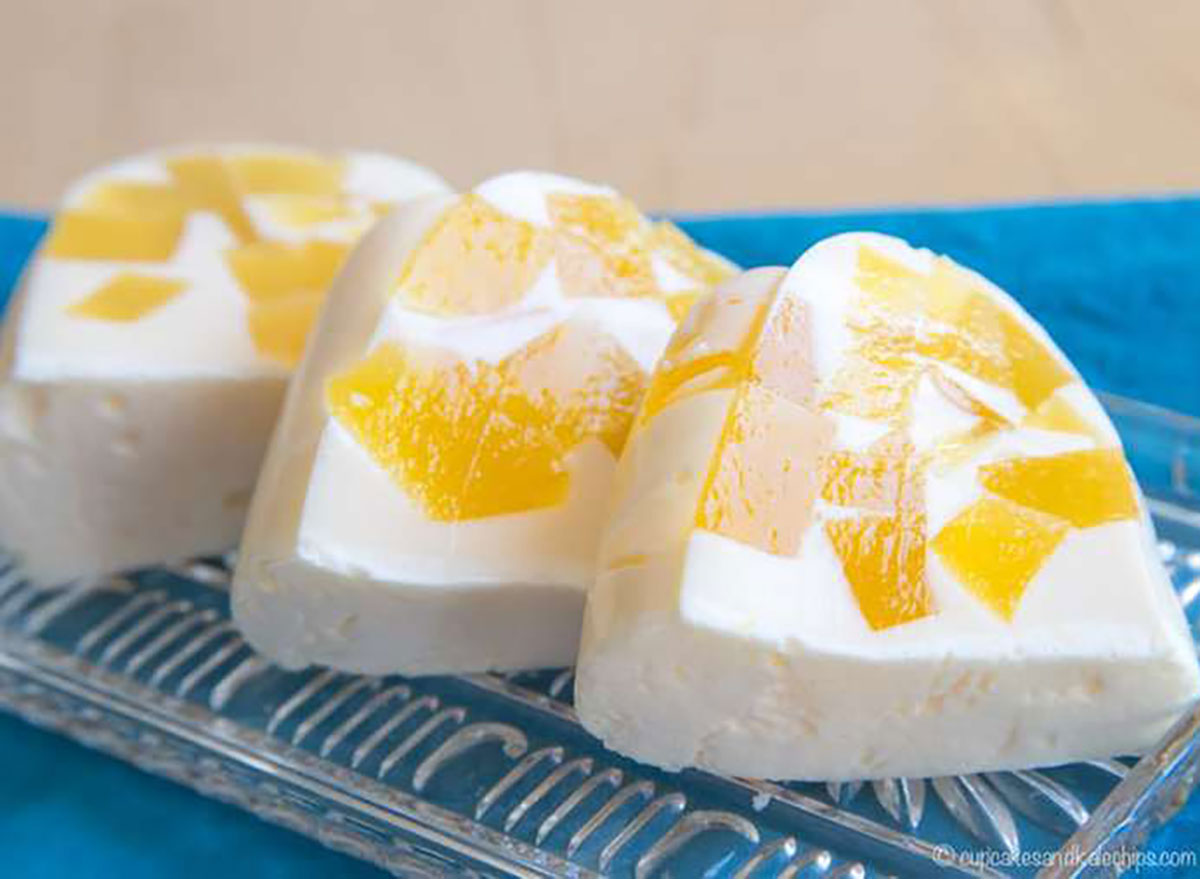 Gelatin molds are a vintage classic, and there's no reason you can't serve them on your dinner table today. Kids of all ages will love these fun treats!
Get the recipe from Cupcakes and Kale Chips.
Ginger Molasses Cookies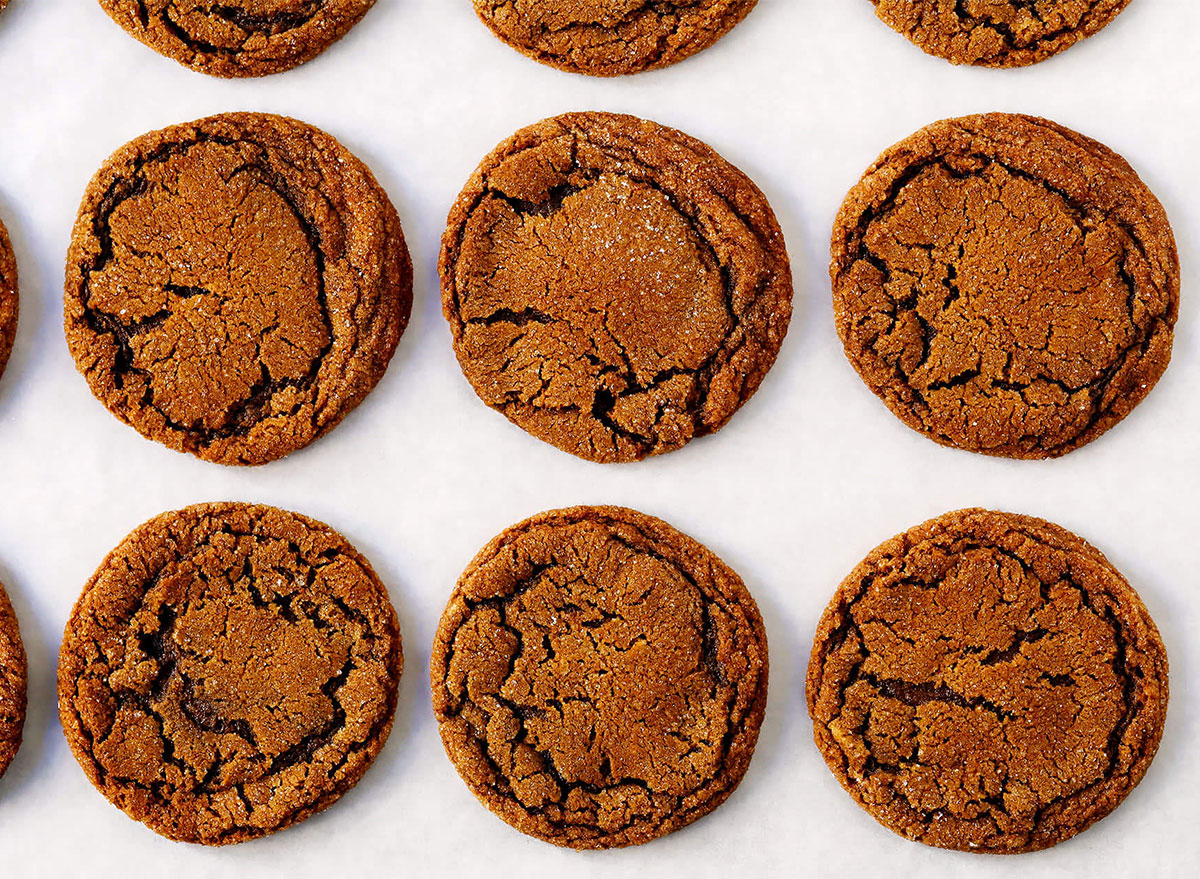 Everyone loves a good cookie, and many recipes featuring this retro dessert can trace their pedigree back for centuries to Europe. The modest yet flavorful combination of molasses and ginger harken back to yesteryear, but still provide the same excitement they did in the 17th or 18th century. This classic won't disappoint and helps you carry on a great baking tradition.
Get the recipe from Gimme Some Oven.
Grilled Lamb Chops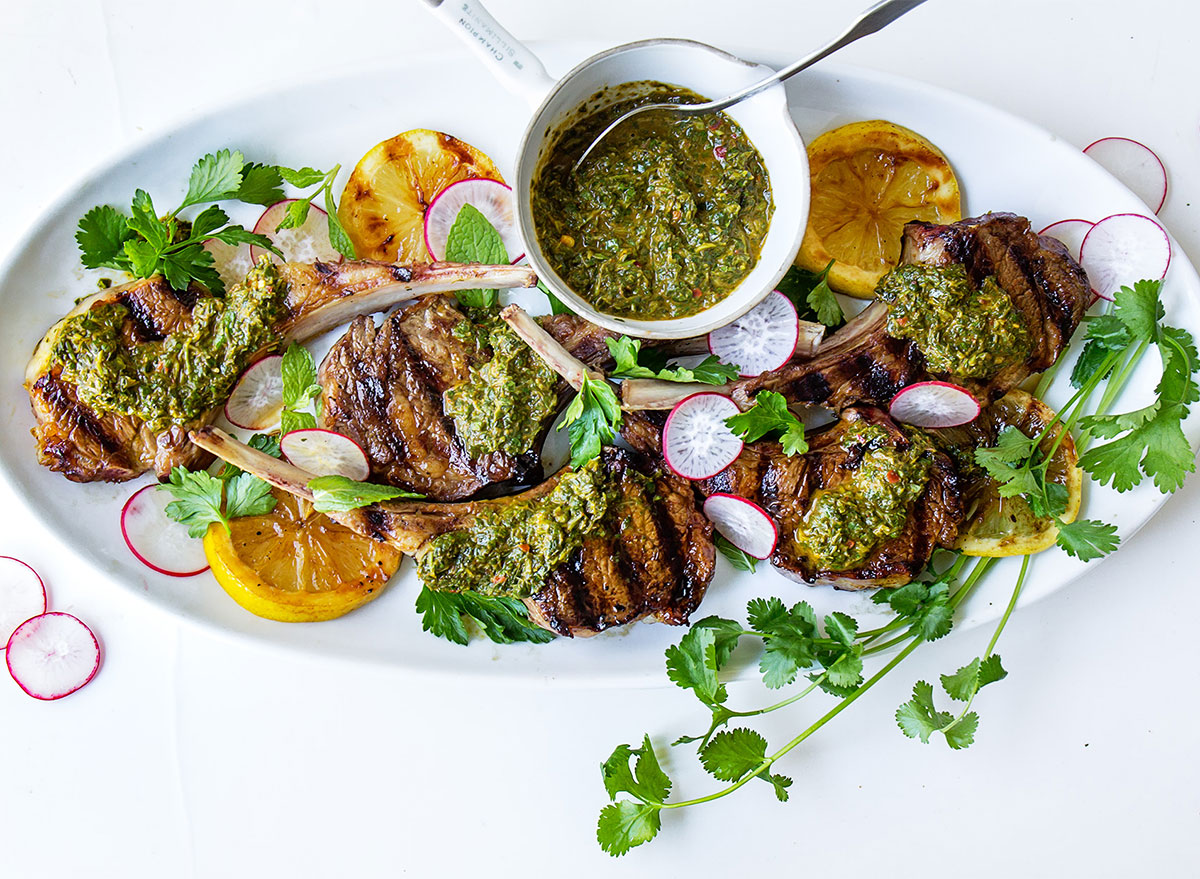 Nothing feels as retro as grilling up some lamb to serve as the main course for a meal. This recipe for grilled lamb chops reminds us why lamb chops have survived into the modern age. The crispy salt crust gets spruced up with a homemade chimichurri that replaces the traditional mint jelly. When you can pack in so much flavor, any other meat seems boring by comparison.
Get the recipe from Real Food By Dad.
Bread Pudding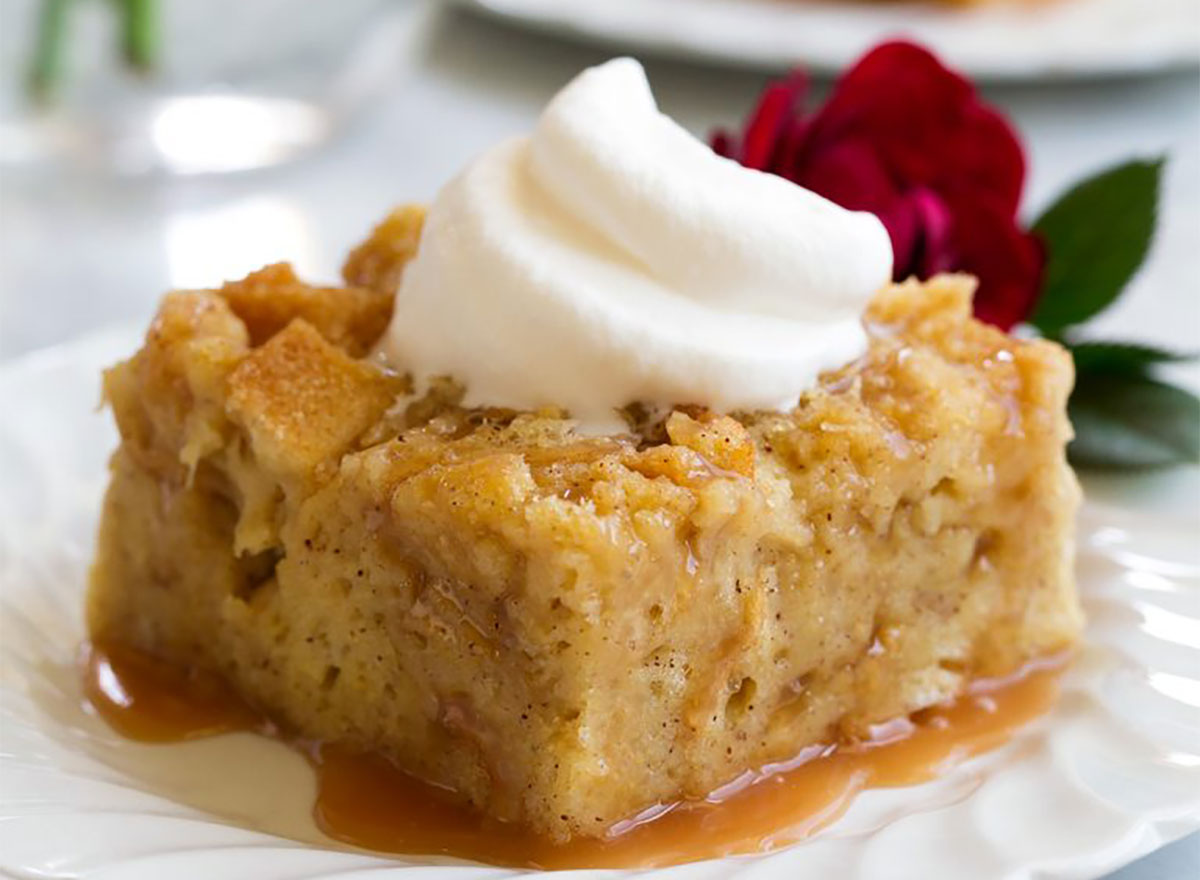 Some of the best cooking came from the need to use every bit of food, and this age-old recipe based around turning stale bread into a fantastic dessert still appears on menus across the country to this day. In place of cooking with old bread, you can opt to toast fresh bread cubes in the oven to dry them out, while enhancing the overall flavor of the dish. When it comes to vintage recipes that have stood the test of time, nothing checks out better than bread pudding.
Get the recipe from Cooking Classy.
Tomato Soup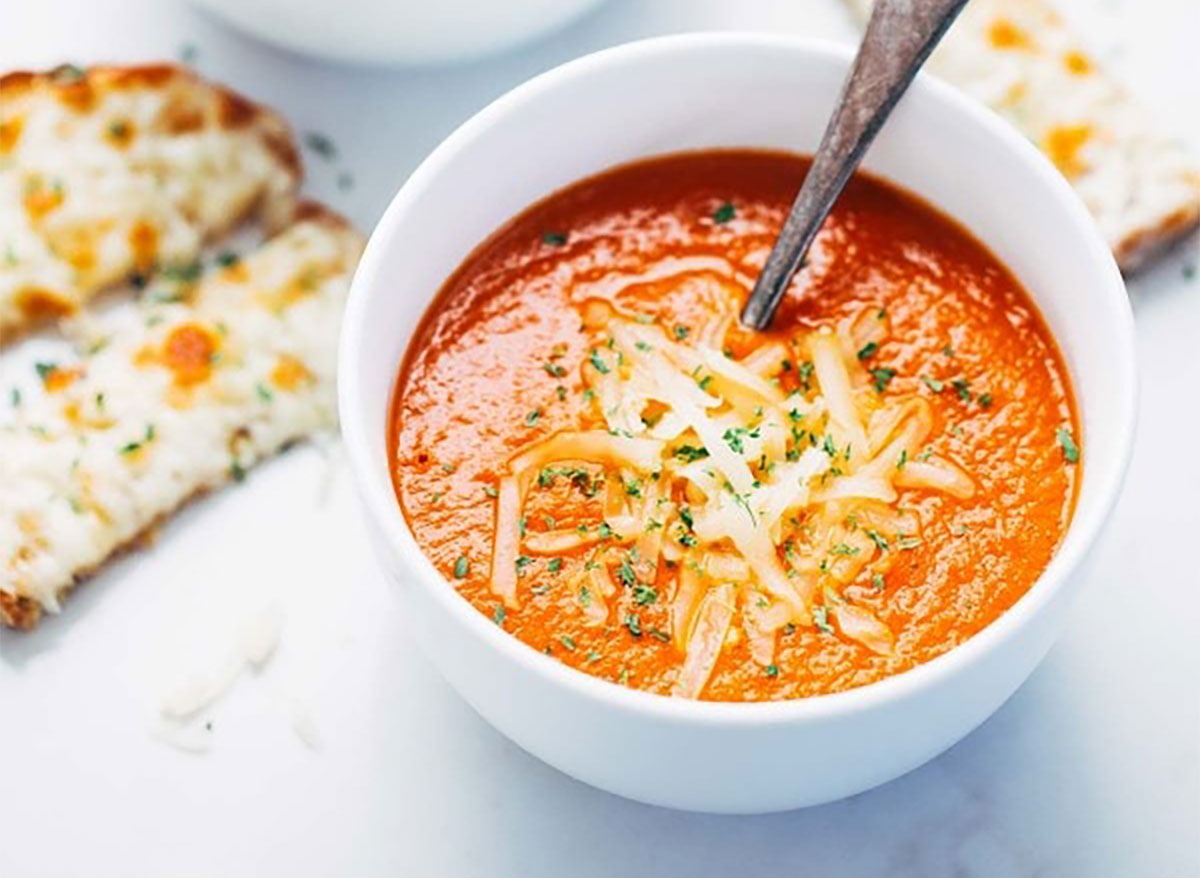 When you need to dip your grilled cheese into something saucy, the iconic tomato soup reigns supreme. Don't just count on this soup to serve as a side to your sandwich—a rich and hearty tomato soup can hit just the right craving when you want to spend a night in or take cover on rainy days. After gracing tables across the country for generations, it's no wonder tomato soup remains a favorite to this day.
Get the recipe from Pinch of Yum.
Biscuits and Gravy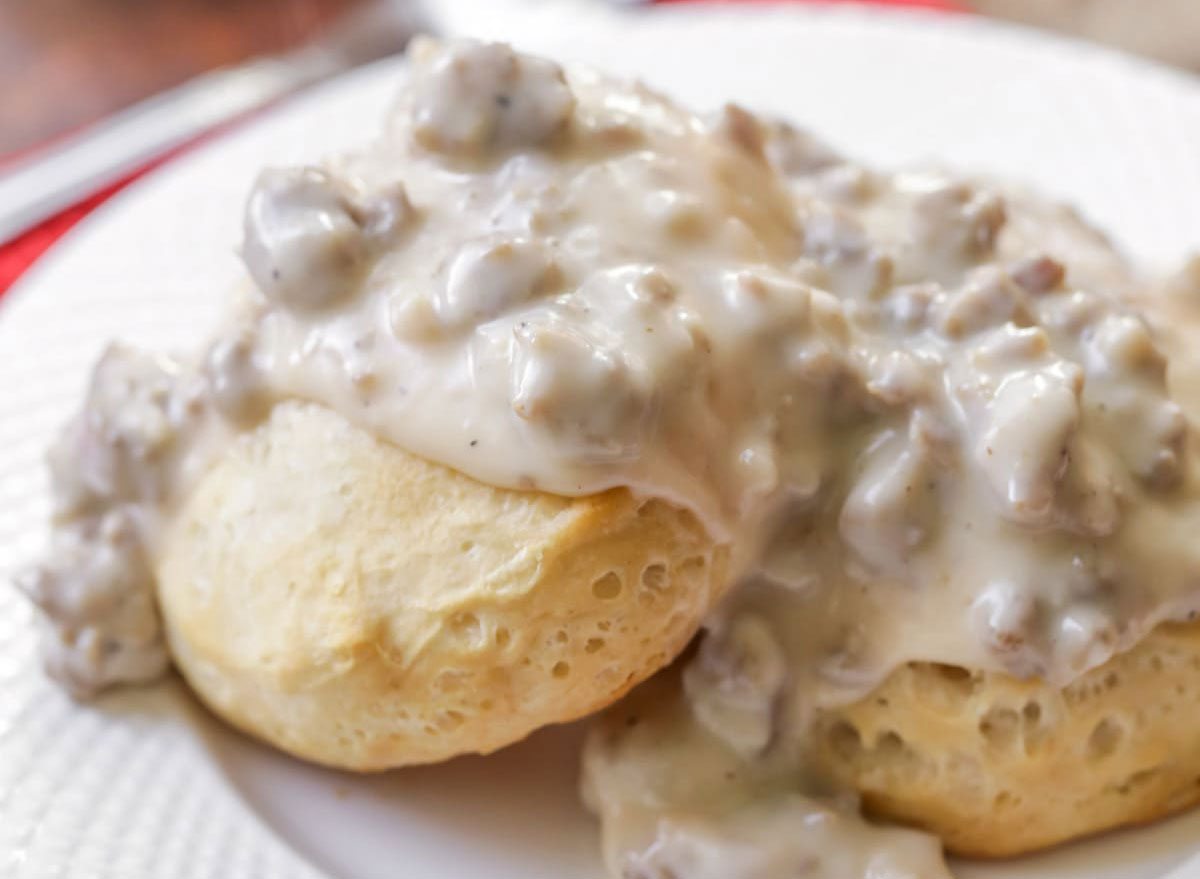 Whether you crave a hearty breakfast or want to have a filling dinner, biscuits and gravy have survived the test of time. You can serve up massive biscuit portions from just a few ingredients, and making homemade gravy from sausage drippings requires little skill to pull off.
Get the recipe from Lil' Luna.
Classic Stuffing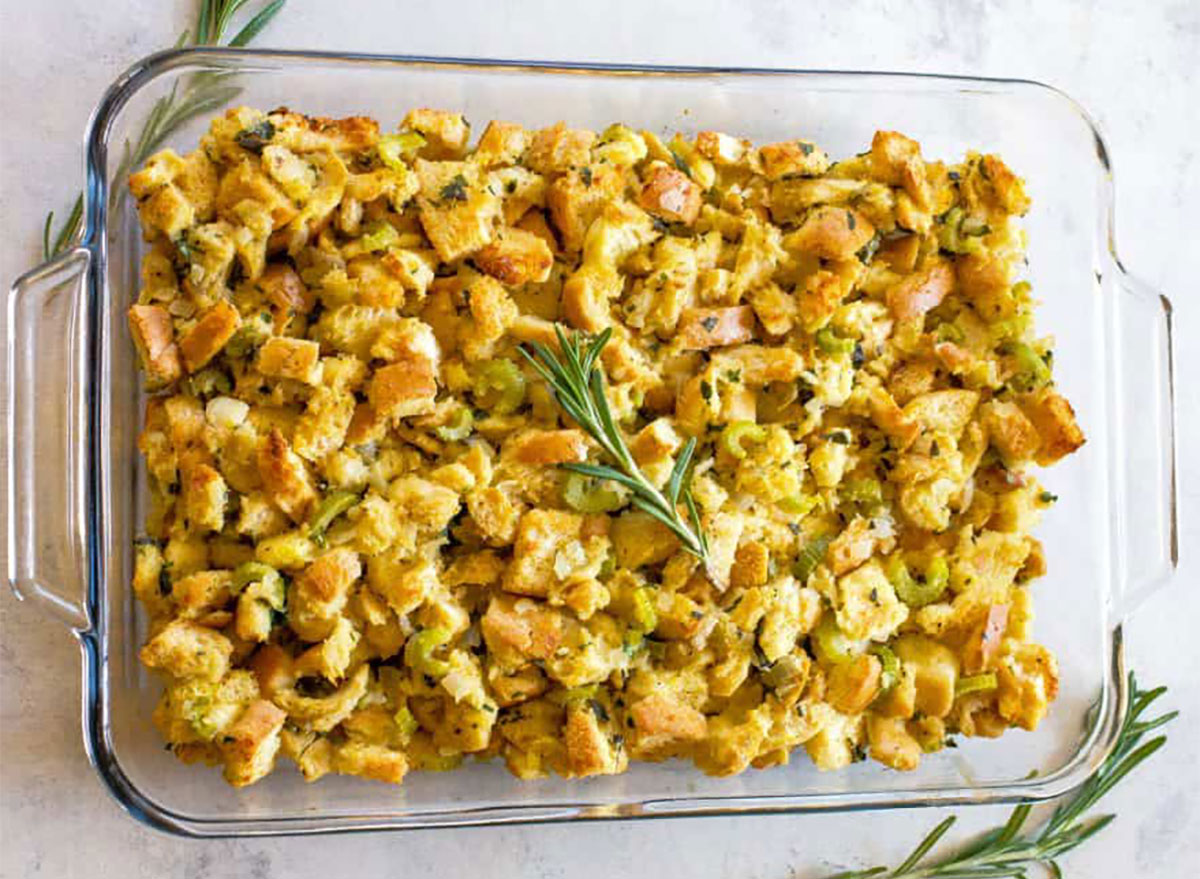 Who says you can only eat stuffing at Thanksgiving? This time-tested favorite has stuck around for a reason—it makes any turkey meal a hit and can do wonders as a dish paired with any roast or main centerpiece. The bold, herbal flavors of sage and rosemary complement the roasted, crispy bread.
Get the recipe from The Girl Who Ate Everything. 
Beef Stew
When you want to fill up on a hearty meal, beef stew does the trick. It's lasted into the modern age of cooking for a reason! Chunks of tender beef meld with the umami-filled broth as potatoes, carrots, and celery melt in your mouth with every bite. If you haven't treated yourself to this classic lately, do yourself a favor and re-experience why this stew became a favorite in the first place.
Get the recipe from Recipe Tin Eats. 
Cornbread
When flour was in short supply, finding an alternative to this staple grain took precedence. Thanks to the use of cornmeal, the classic cornbread came to fruition and has graced tables since the time of the pioneers. Why not take some time and celebrate this dish by serving up this warm classic? It pairs well with a swathe of butter on top.
Get the recipe from Sally's Baking Addiction.
Corn Soufflé
Soufflés have haunted the nightmares of cooks everywhere since they fell into fashion years ago, but that hasn't stopped their popularity with diners. But not all soufflés need to induce stress. This easy corn soufflé provides the light, airy texture diners expect the dish while eliminating your fears of a premature deflation.
Get the recipe from The Girl Who Ate Everything.
Dutch Baby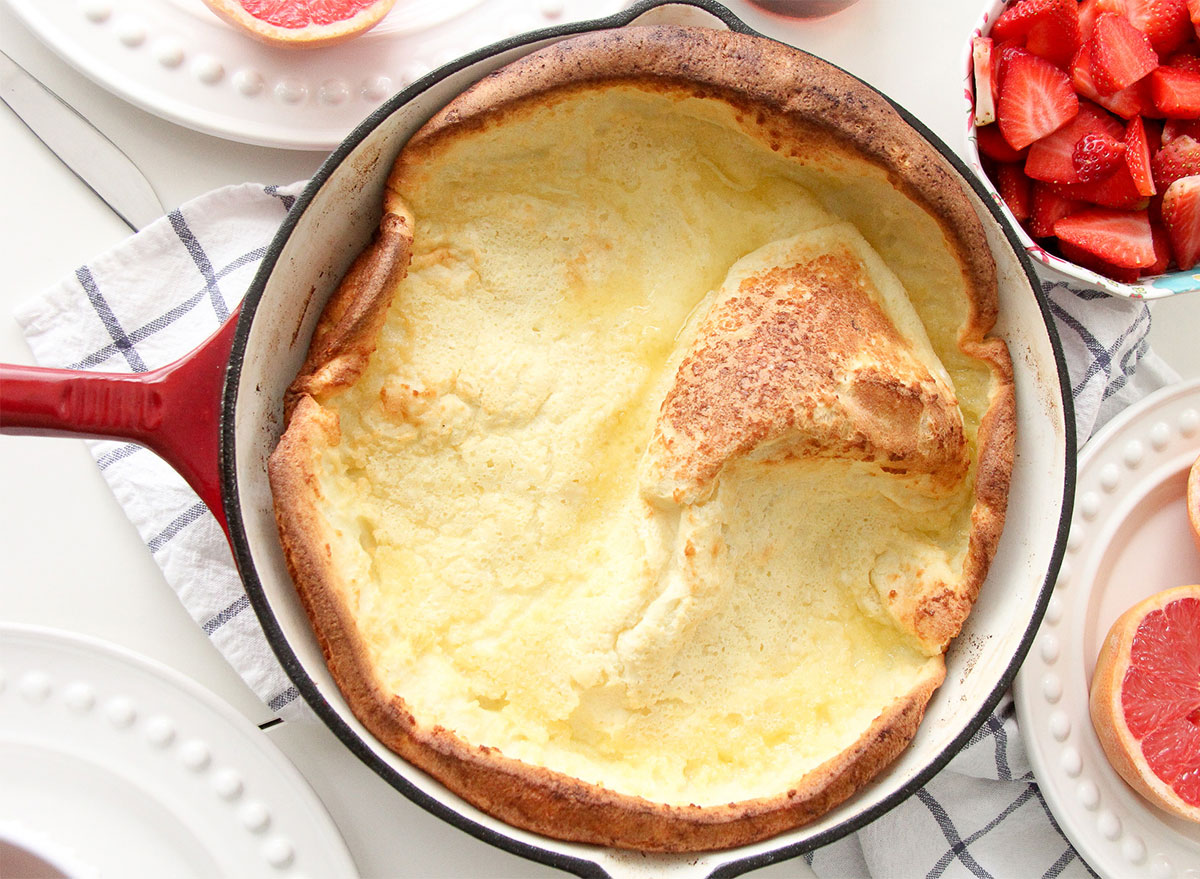 When you want a classic griddle recipe you can eat anytime, the generations-old recipe for Dutch babies will leave everyone happy. These easy-to-make variations on pancakes result in a crispy, thin treat you can top with sugar, butter, and more for the perfect pick-me-up. Whether you crave one of these vintage favorites as a dessert or a breakfast treat, you'll know you made the right choice the moment you take your first bite.
Get the recipe from A Pretty Life In The Suburbs.
Cabbage, Sausage, and Potato Soup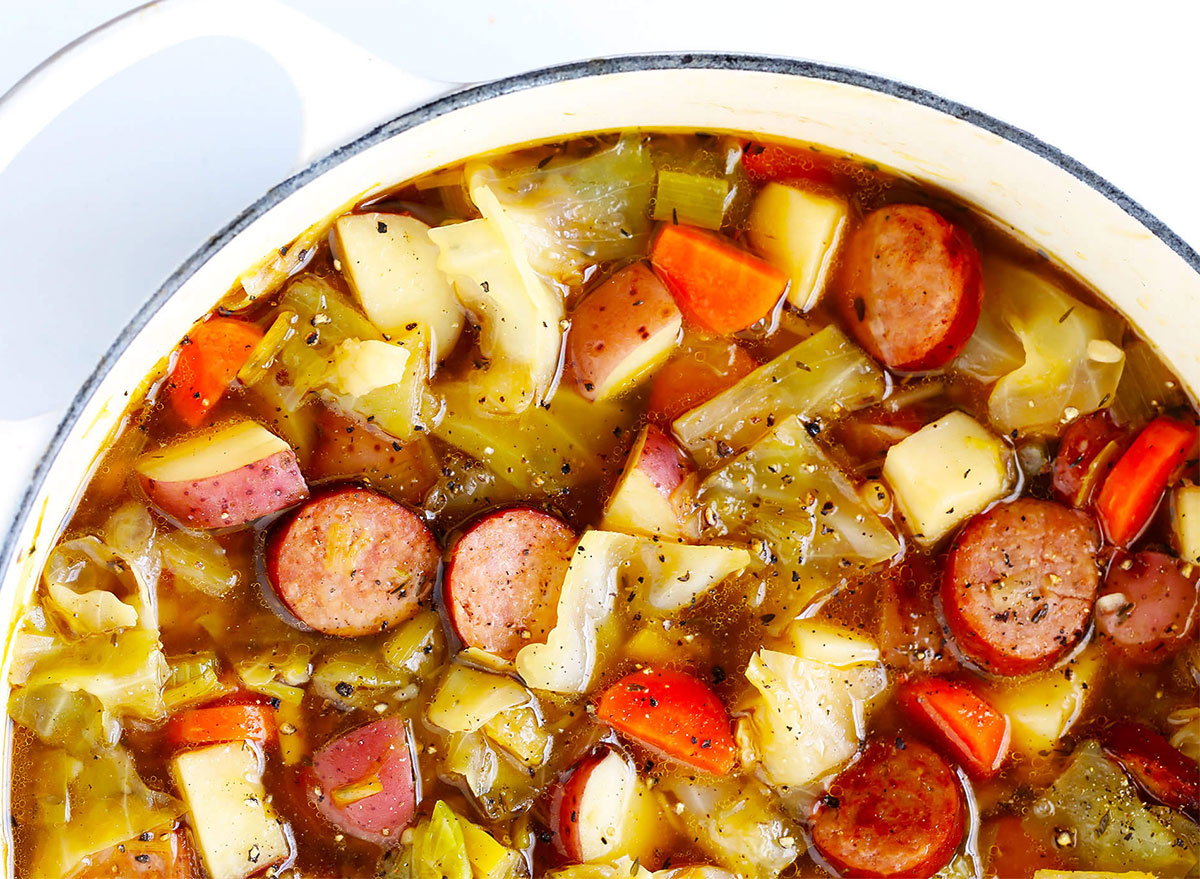 This oldie but goodie serves up a spoonful of nostalgia in each bite. The smoky sausage pairs up with savory cabbage and slow-cooked potatoes to give you your fill of meat and potatoes for the day. Whipping up this traditional meal can get you excited for dinner again, especially knowing you get to experience the same meal that generations before yours enjoyed.
Get the recipe from Gimme Some Oven. 
Chicken Cordon Bleu
Whether you have tasted this dish at a restaurant or partaken in a pre-packaged version of Chicken Cordon Bleu, you already know why this vintage recipe continues to remain popular with Americans. A juicy chicken breast pan-fried to crispy perfection and filled with cheese and ham makes a perfect delicacy. If this dish has always seemed too finicky to make yourself, prepare to experience the easiest take on this classic that any home cook can manage.
Get the recipe from The Girl Who Ate Everything.
Frito Pie
Nothing inspires memories like this throwback recipe for Frito pie, a homeland staple of Frito corn chips baked with chili and cheese. Take your mouth on a trip down memory lane by breaking out this classic again. You'll immediately remember all of the great tastes that came alongside this classic and keep a slice of American culture alive.
Get the recipe from The Seasoned Mom.
Sausage-Stuffed Eggplant
If you think stuffed eggplant has gone the way of the dinosaurs, you might have missed out on this classic recipe that keeps on delivering. Each melt-in-your-mouth bite of this dish will make you reconsider your opinion about eggplant and will guarantee you'll come back for a second helping. With a spiced sausage filling, this dish hits your cravings in all the right spots.
Tuna Noodle Casserole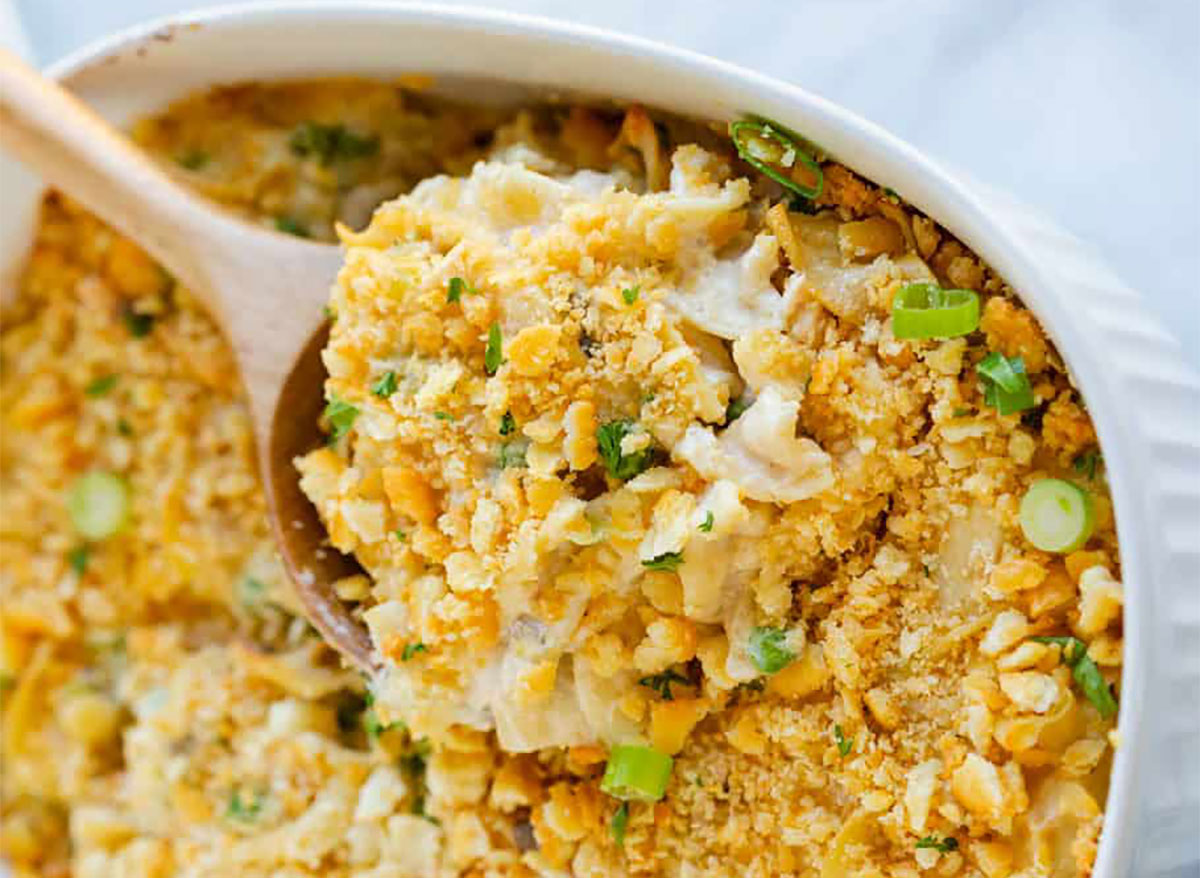 Whether you grew up with this retro favorite or want to discover a classic meal of yesteryear, tuna noodle casserole begs to enter your weekly meal rotation. The hearty portions can please a crowd and require a minimal amount of skill, so you can offer up an easy meal to pull together that fits your hectic schedule. Either way, give this rich and flavor-packed recipe a shot to see why Americans have loved it so much for years.
Get the recipe from The Cozy Cook.
Potatoes Au Gratin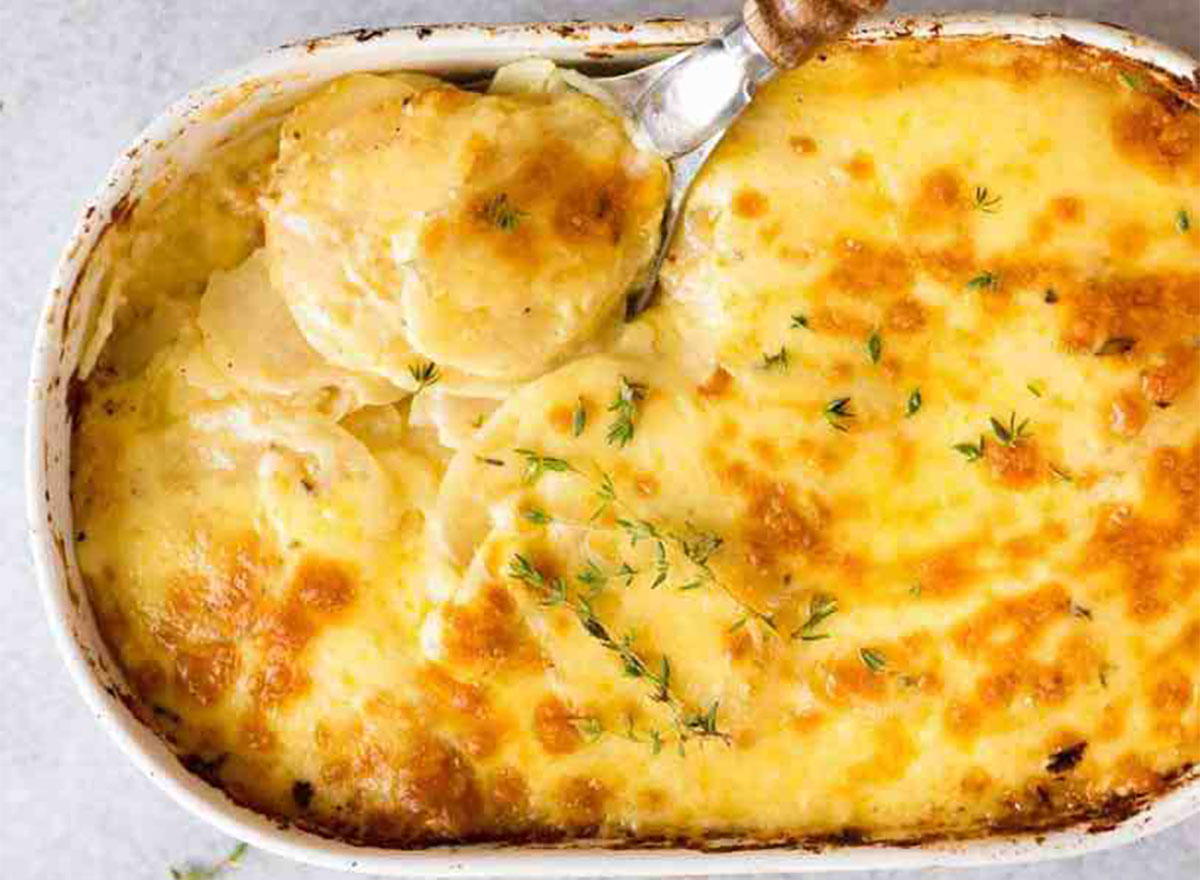 For a taste of refinement that appeared on dinner menus for centuries, the creamy, saucy potatoes au gratin can't be beaten. Scalloped potatoes bake alongside a creamy sauce and get coated with cheese, leaving your mouth watering for this timeless pairing. When you need an additional side to add to your meal, this quick and easy take on this favorite can't be beaten.
Get the recipe from Recipe Tin Eats.
Baked Halibut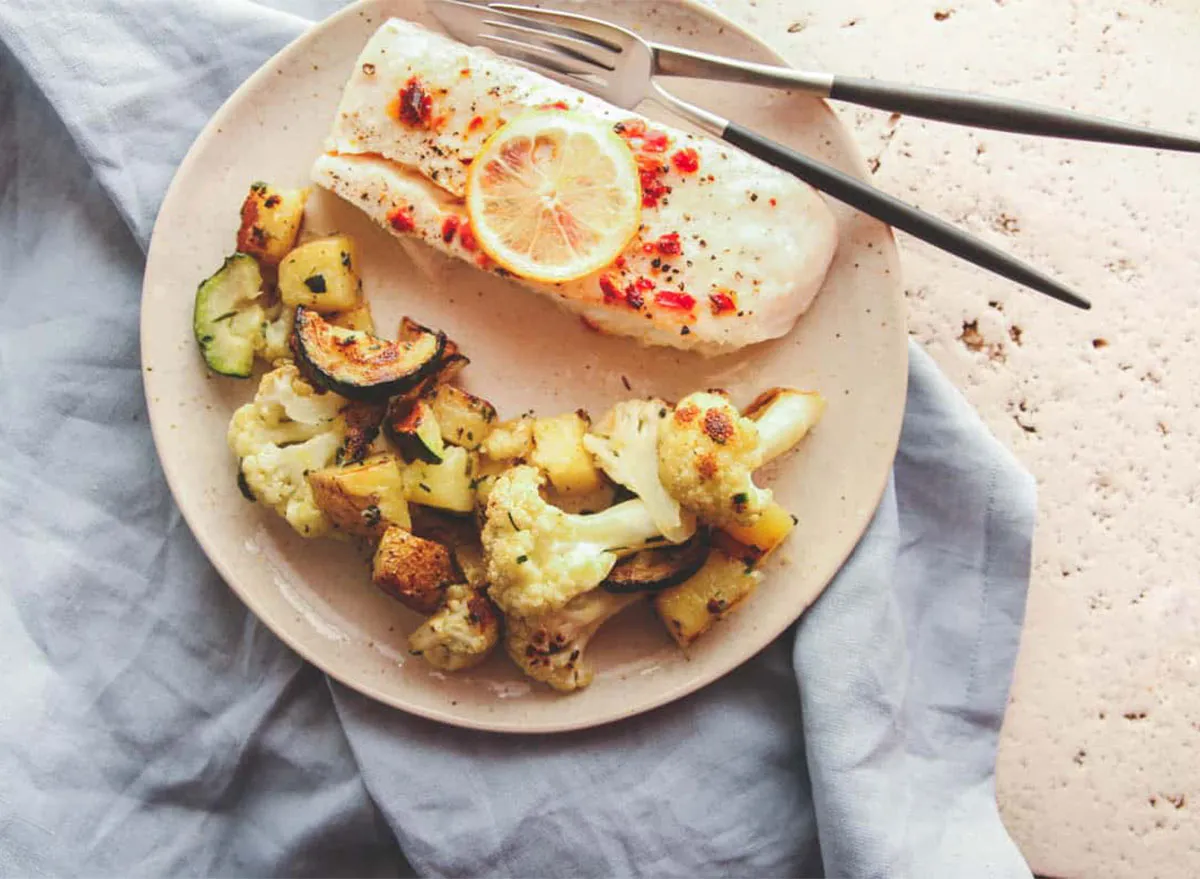 Baked fish dates back for millennia, and classic baked halibut has been cooked by home chefs the world over for centuries. With such staying power, it's little surprise that this perfect combination of flaky halibut and tart lemon can make any night hassle-free when it comes to cooking. With only five ingredients, you could probably even whip this one out tonight with the ingredients you have in your pantry!6254a4d1642c605c54bf1cab17d50f1e
Twice Baked Potatoes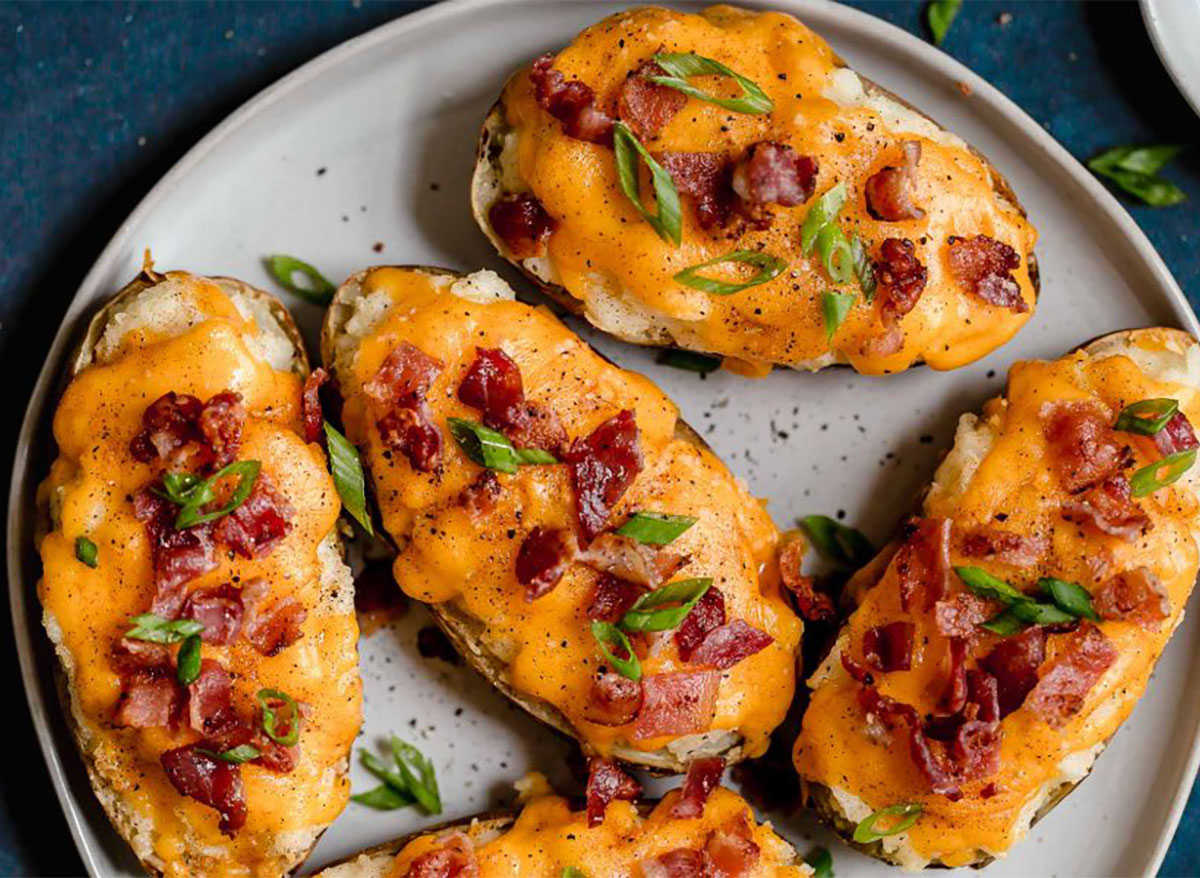 Even if you eat baked potatoes frequently, you haven't lived until you sink your teeth into a buttery-smooth twice baked potato. The cooking method lives up to the name—these baked potatoes enter the oven twice to develop that iconic soft texture that begs you to eat two, three, or five more. When you need the perfect sidekick for a roast, these staples that have survived for years won't let you down.
Get the recipe from Cooking Classy.
Cornmeal Pancakes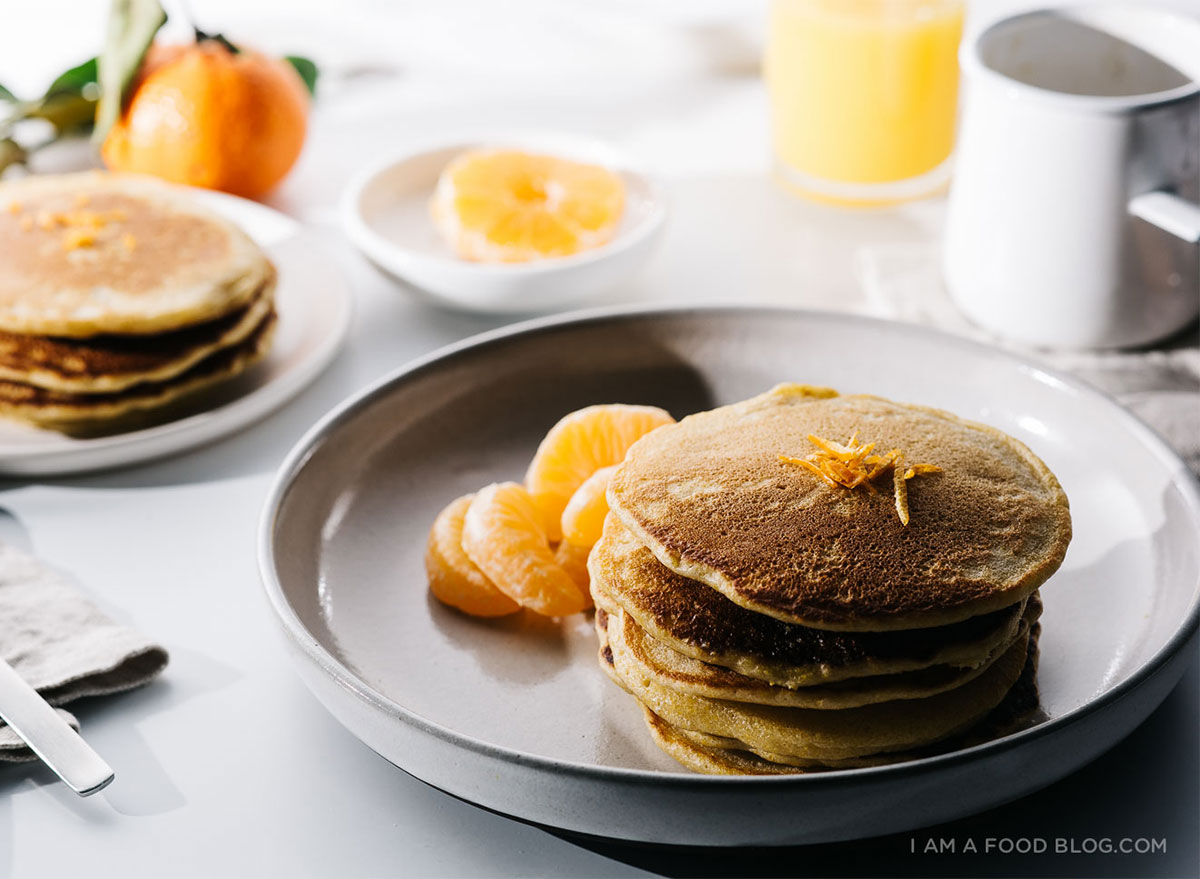 Pancakes come and go, and after a while, you might need to switch up your breakfast menu. If you crave a new twist, go after this age-old recipe of crafting the perfect pancakes out of cornmeal. The bold flavor begs to be cooked on repeat and gives your mouth a break when it wants to try a new flavor that your ancestors also loved.
Get the recipe from I Am A Food Blog.
Applesauce
This versatile dish truly earns its reputation as a timeless favorite. This recipe came about when farmers needed to make use of damaged apples they couldn't sell, and the results couldn't be tastier. Opt to make this classic at home instead of settling for jarred applesauce to truly understand the lasting appeal of this classic dish.
Get the recipe from Cookie and Kate.
New England Clam Chowder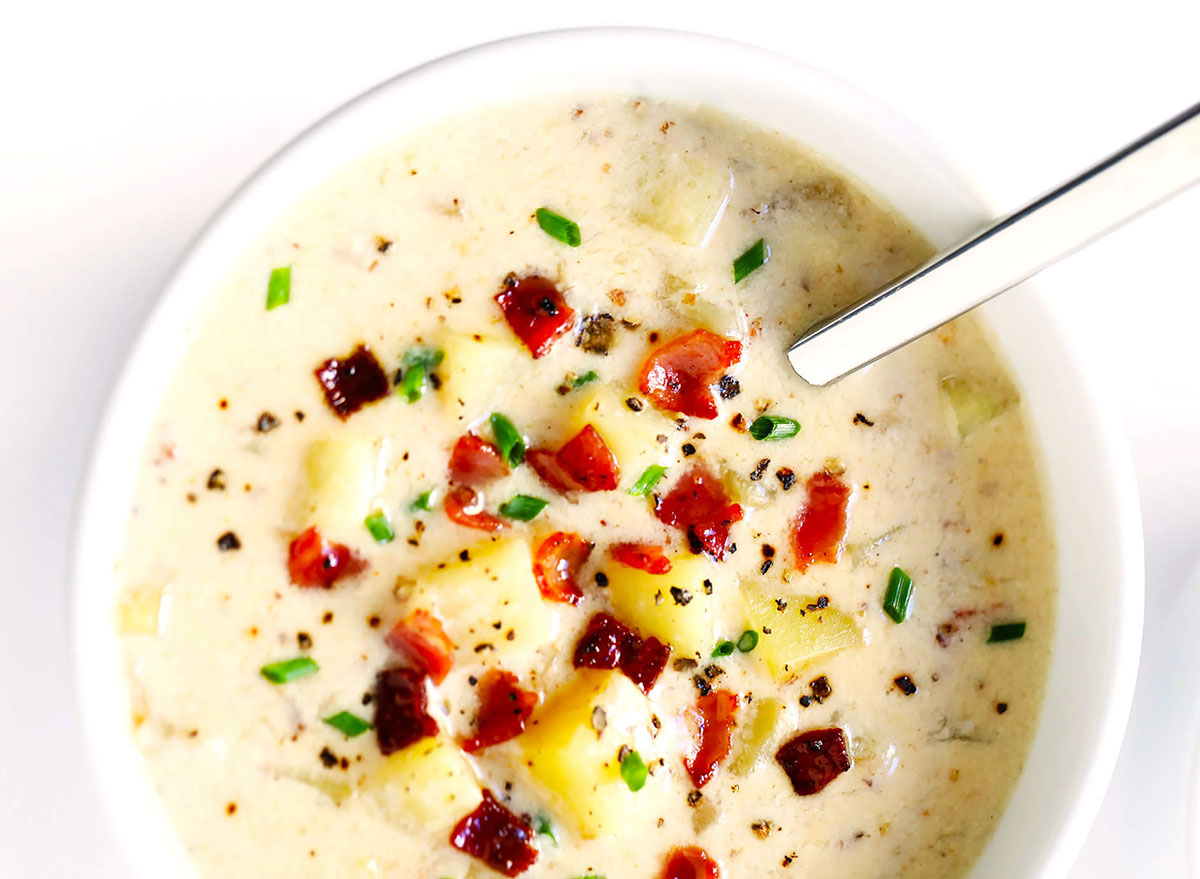 Soups come and go, but the age-old favorites reign supreme for good reason. The classic New England clam chowder has survived for generations thanks to its creamy base and excellent use of fresh clams to enliven a chowder that everyone can love. When you add in a few potatoes, you end up with a hearty soup that can leave you full all day long.
Get the recipe from Gimme Some Oven.
Berry Compote
Compote dates back to pre-medieval times and has been enjoyed as a standalone dish, as well as a topping for everything from bread to ice cream. Why not indulge in this sweet treat by making your very own berry compote at home? With a few ingredients and a little bit of time spent at the stove, you end up with a dish that your distant ancestors loved.
Get the recipe from The Minimalist Baker.
Roasted Brussel Sprouts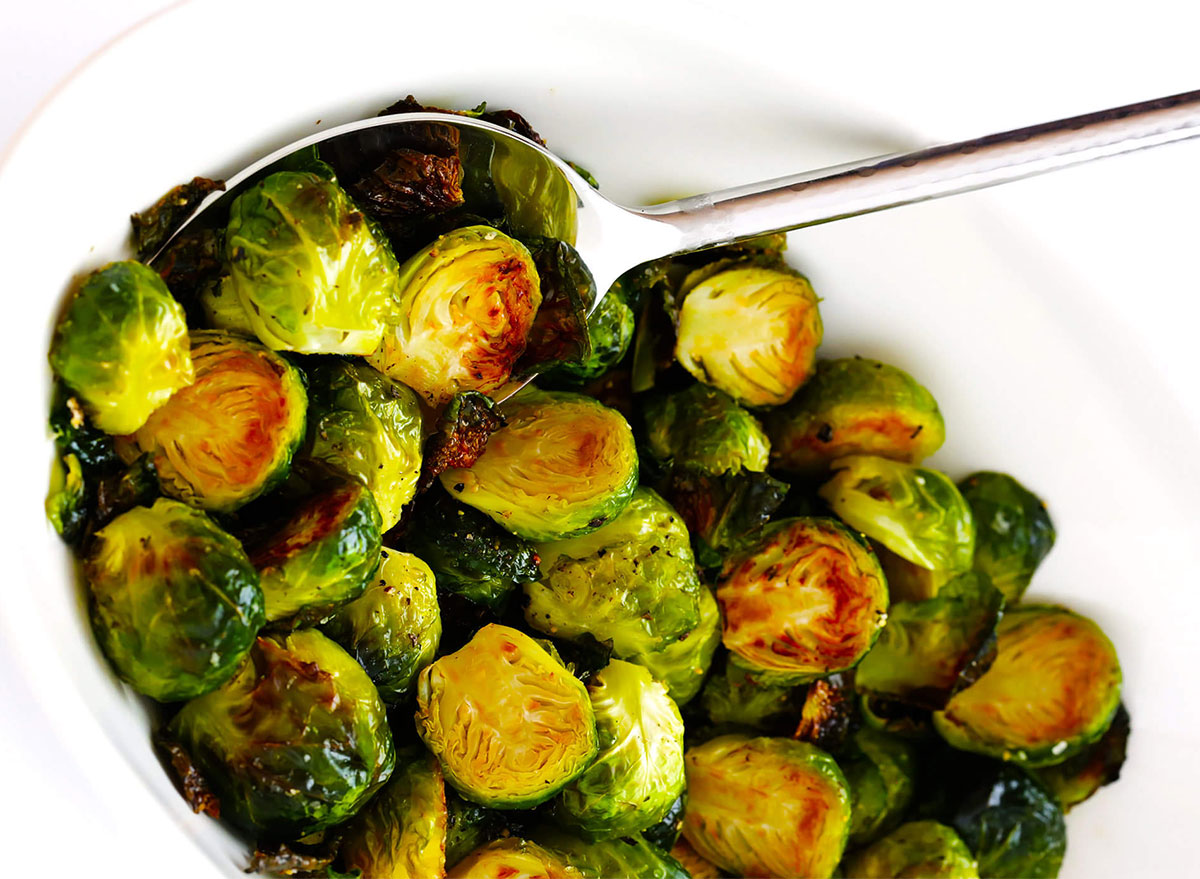 If you still have traumatic memories of Brussels sprouts, now is the time to face your fears and embrace the best way to experience this vegetable. By roasting the Brussels sprouts to a crisp and seasoning them with lemon, you draw out a world of flavors, while embracing a recipe that has existed as long as humans have used fire.
Get the recipe from Gimme Some Oven.
Marinated Roast Beef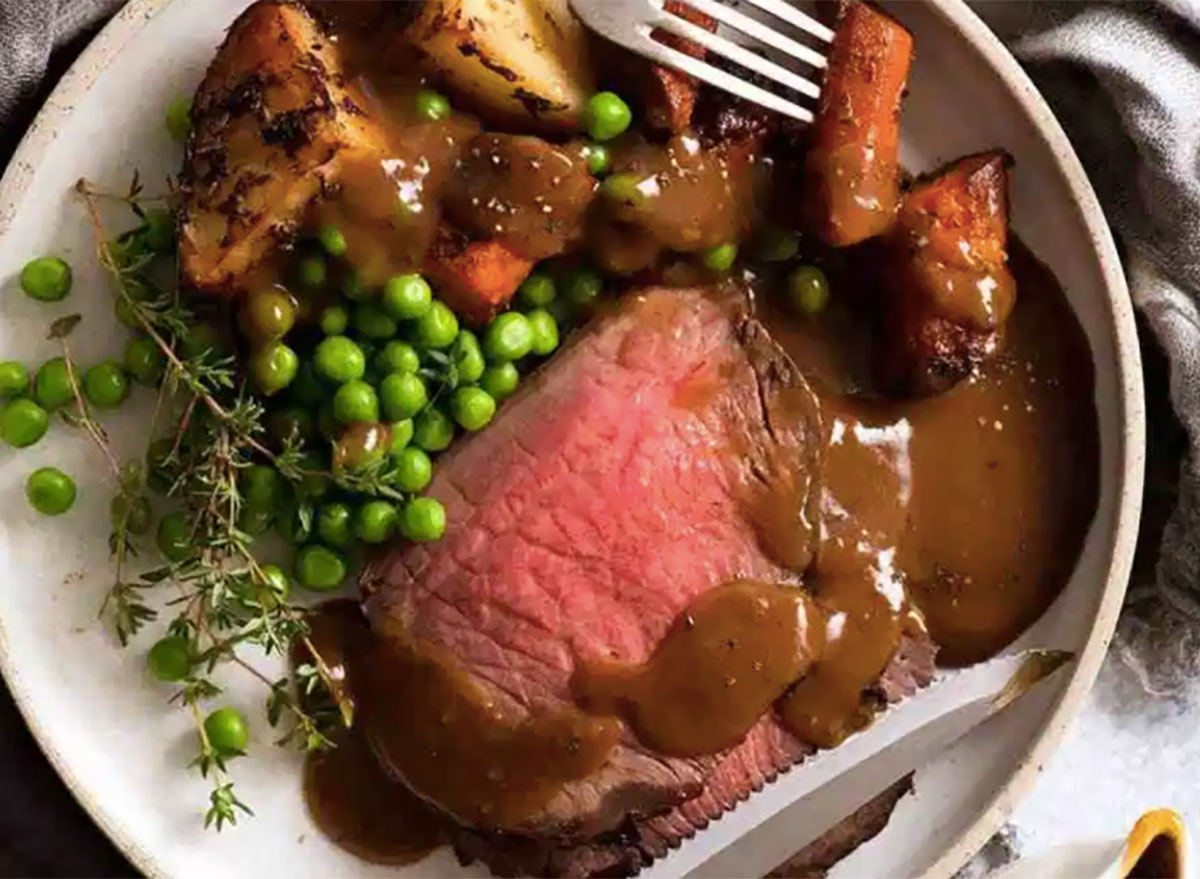 Whether you need to feed a crowd or just want to celebrate, roast beef can answer all of your dilemmas. This take on the classic allows the roast to marinate to tender perfection and creates the juiciest roast your mouth has ever experienced. The tangy mustard-Worcestershire marinade provides the perfect touch of tang to the dish, ensuring this dish will stay in your menu rotation for years to come.
Get the recipe from Recipe Tin Eats. 
And for more ways to up your cooking game, don't miss these kitchen hacks that'll make you enjoy cooking again.