9 Worst Fast-Food Drinks You Should Never Order
Stay far away from these decadent beverages.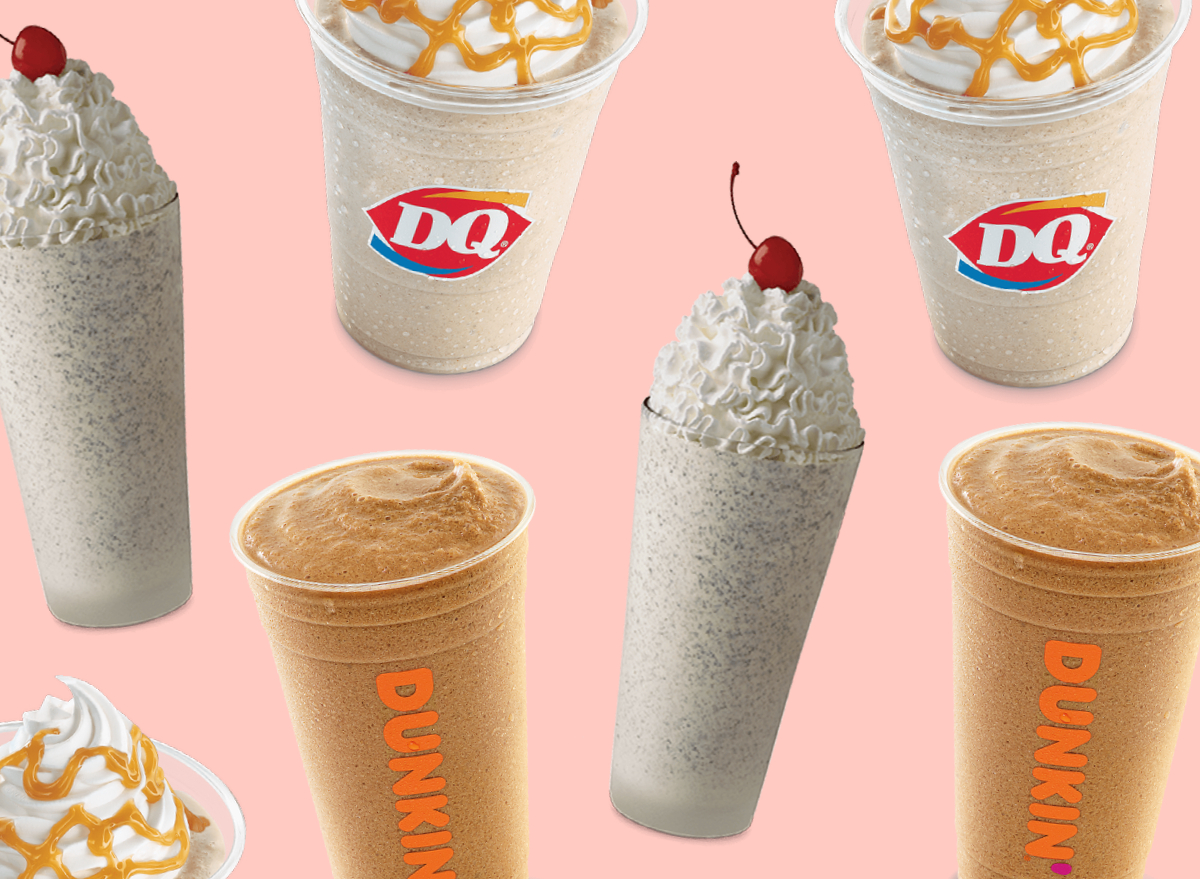 Fast food has always had a pretty bad reputation health-wise, and while we hear a lot about which burgers and breakfast items to avoid, we don't often hear as much about drinks, which can be hidden calorie bombs. Generally, beverages always seem to get lost in the nutritional calculations we do when thinking about what we should and shouldn't be eating, and it's especially so at fast-food chains, where no order is complete without a soda or an indulgent slushie or milkshake.
So we decided to highlight the worst beverages offered at nine popular fast-food chains, so you can be mindful about what you're consuming in that combo order. We took calories, sugar, and saturated fats into consideration for this ranking, in order to find out which drinks are truly not worth the indulgence.
These are the worst fast-food drinks you should never order, ranked from bad to absolute worst. And don't miss Popular Fast-Food Items to Never Order, According to Dietitians!
Taco Bell Baja Blast Colada Freeze
Per large (20 ounces)
: 250 calories, 1 g fat (0.5 g saturated fat, 0 g trans fat), 60 mg sodium, 63 g carbs (0 g fiber, 60 g sugar), 0 g protein
Just to be clear, this isn't even close to the worst drink you can get at fast-food restaurants—250 calories is child's play. Still, we thought Taco Bell's latest beverage drop deserved a spot on this list, as one 20-ounce cup packs in 60 grams of added sugar. For context, that's as much sugar as you'd get from about 107 M&Ms.
Our advice, skip the Mountain Dew-flavored spin on the traditional piña colada at Taco Bell if you want to keep your sugar levels in check this summer.
Chick-fil-A Cookies and Cream Milkshake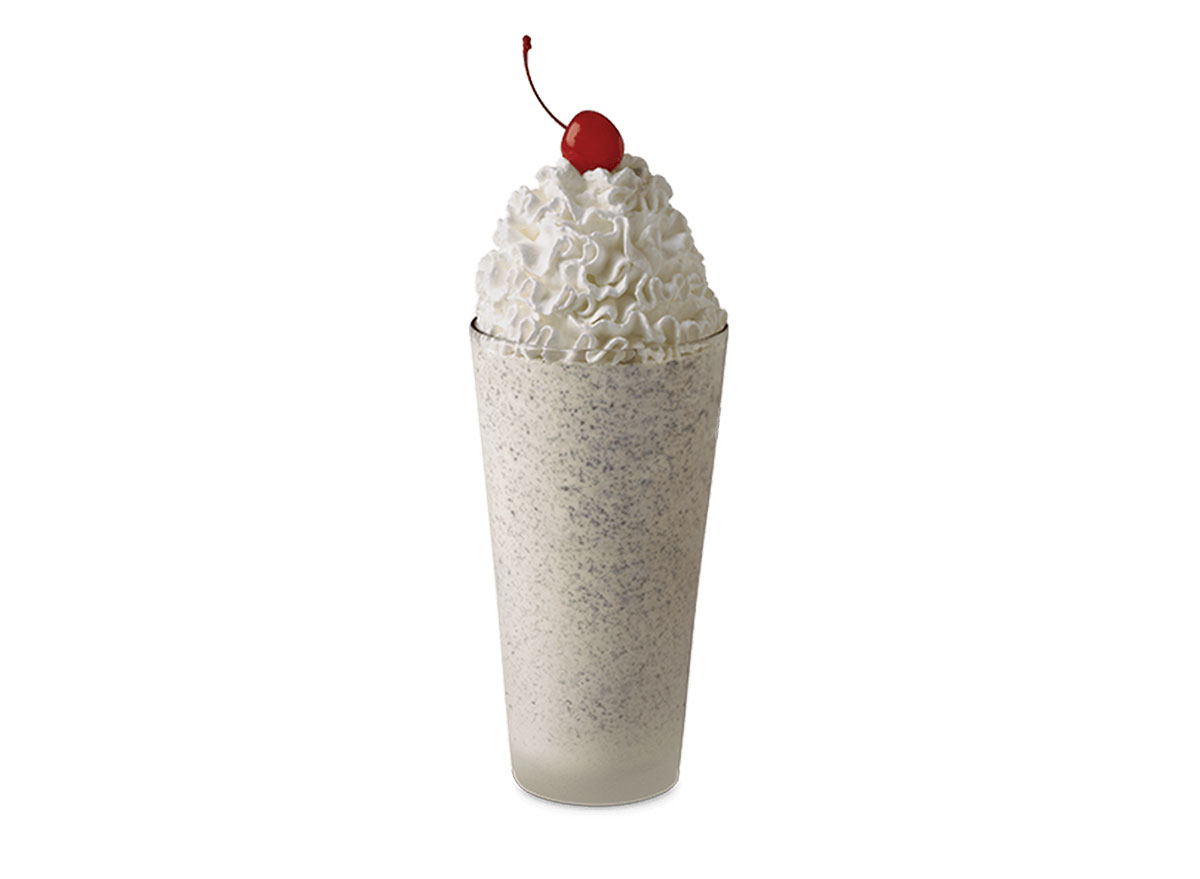 630 calories, 25 g fat (15 g saturated fat, 1 g trans fat), 410 mg sodium, 90 g carbs (0 g fiber, 84 g sugar), 13 g protein
You're probably not going to Chick-fil-A just for its milkshakes, but many will admit pairing a savory entrée (like chicken nuggets and French fries) with something sweet makes for a satisfying meal. What's not so sweet? Consuming 84 grams of sugar in one sitting.
The American Heart Association recommends that women consume no more than 25 grams (6 teaspoons) of added sugars daily, while for men, the cap is at 36 grams (9 teaspoons). With this beverage alone, women consume more than triple the recommended amount, and men consume over double. Yikes!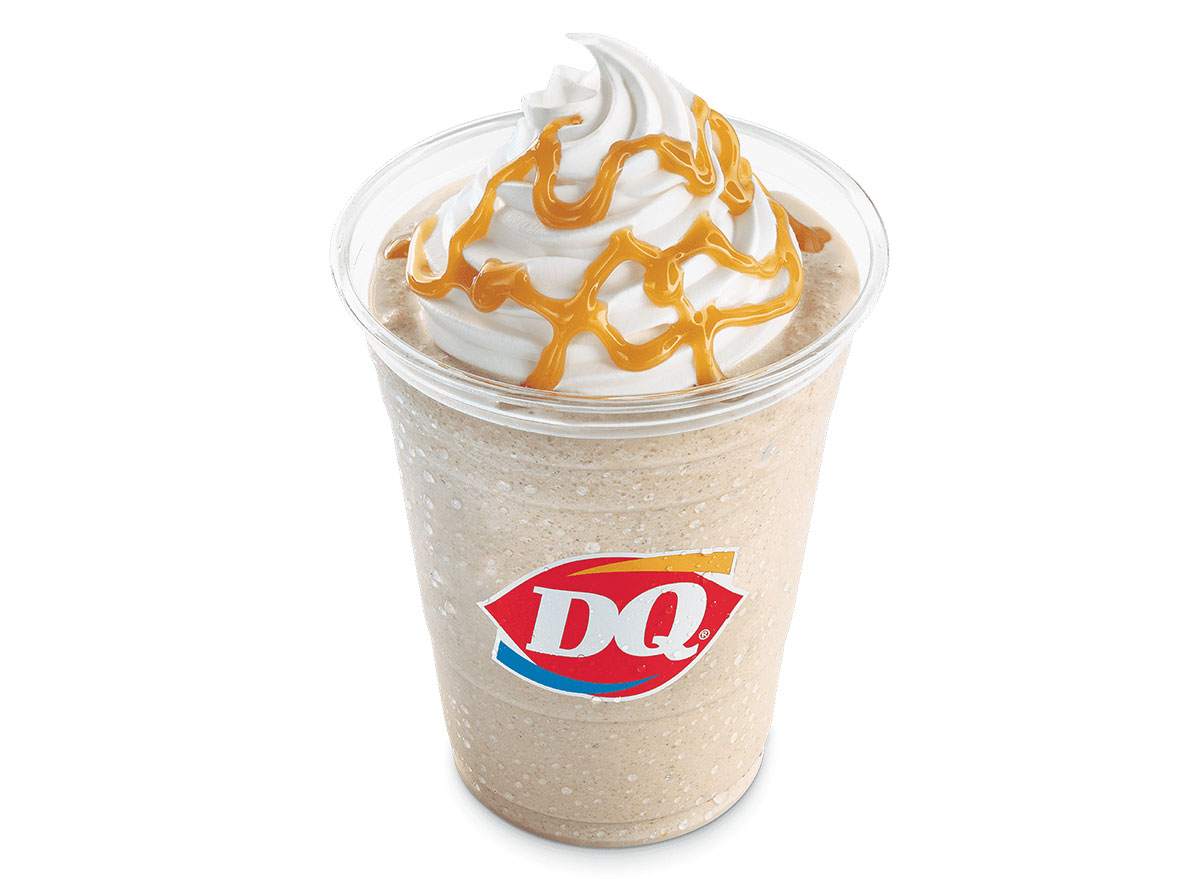 Per large
: 780 calories, 21 g fat (15 g saturated fat, 0 g trans fat), 320 mg sodium, 135 g carbs (0 g fiber, 113 g sugar), 13 g protein
If you take a look at Dairy Queen's menu, you'll notice that some of the MooLattés are just as caloric and sugar-laden as some of the chain's iconic Blizzards. It makes sense though. A MooLatté consists of soft-serve ice cream, whipped topping, coffee, and for this flavor, caramel flavor and drizzle. It's no surprise a large order clocks in at over 110 grams of sugar.6254a4d1642c605c54bf1cab17d50f1e
Steak n' Shake Birthday Cake Milkshake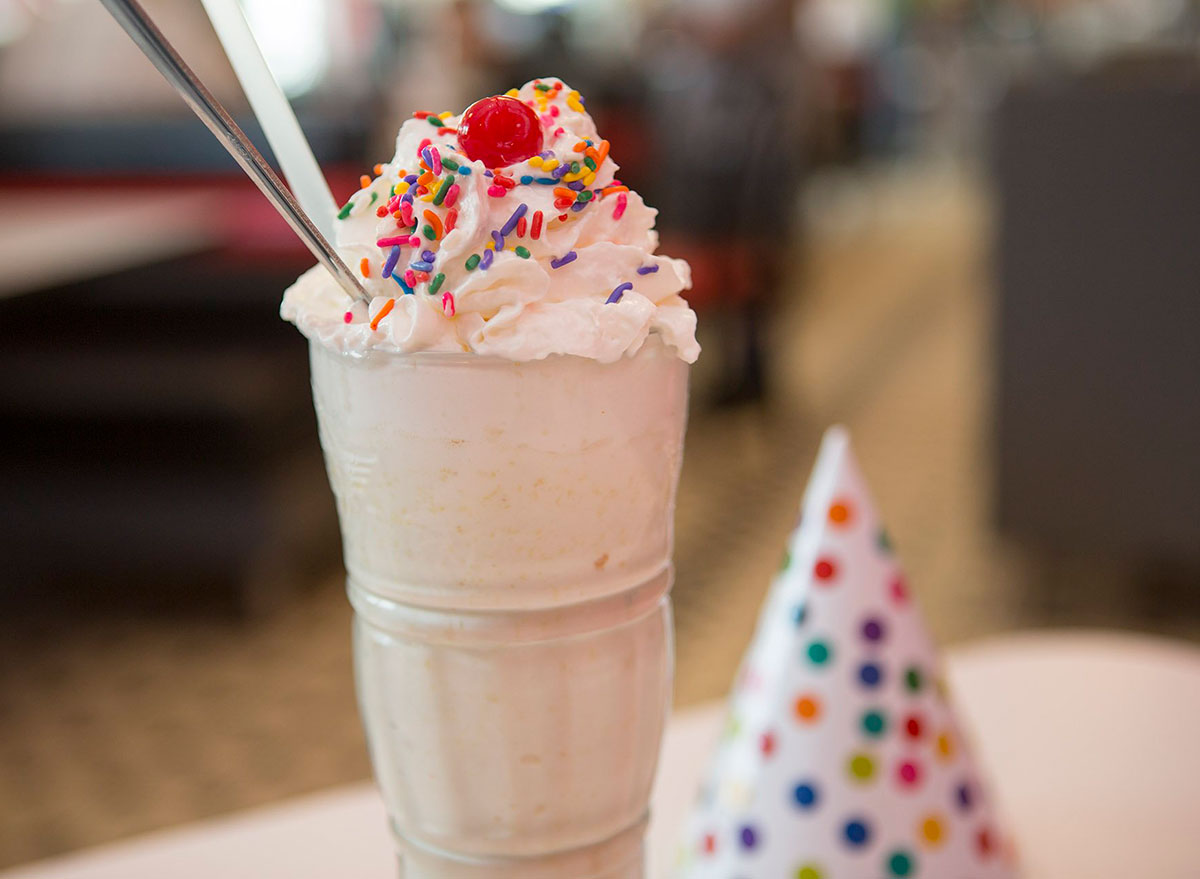 Per regular
: 840 calories, 26 g fat (15 g saturated fat, 0 g trans fat), 410 mg sodium, 136 g carbs (0 g fiber, 115 g sugar), 39 g protein
A steakburger with fries and a milkshake is a go-to order for many who visit Steak n' Shake. There's no shortage of milkshake flavors, either, with about 17 options consistently offered on the menu. And while the birthday cake variety isn't the most caloric, it certainly has the most sugar of any other staple milkshake at the fast-casual chain. Even a small size contains 70 grams of sugar. Sorry, but not even on your birthday, Steak n' Shake!
McDonald's Strawberry Shake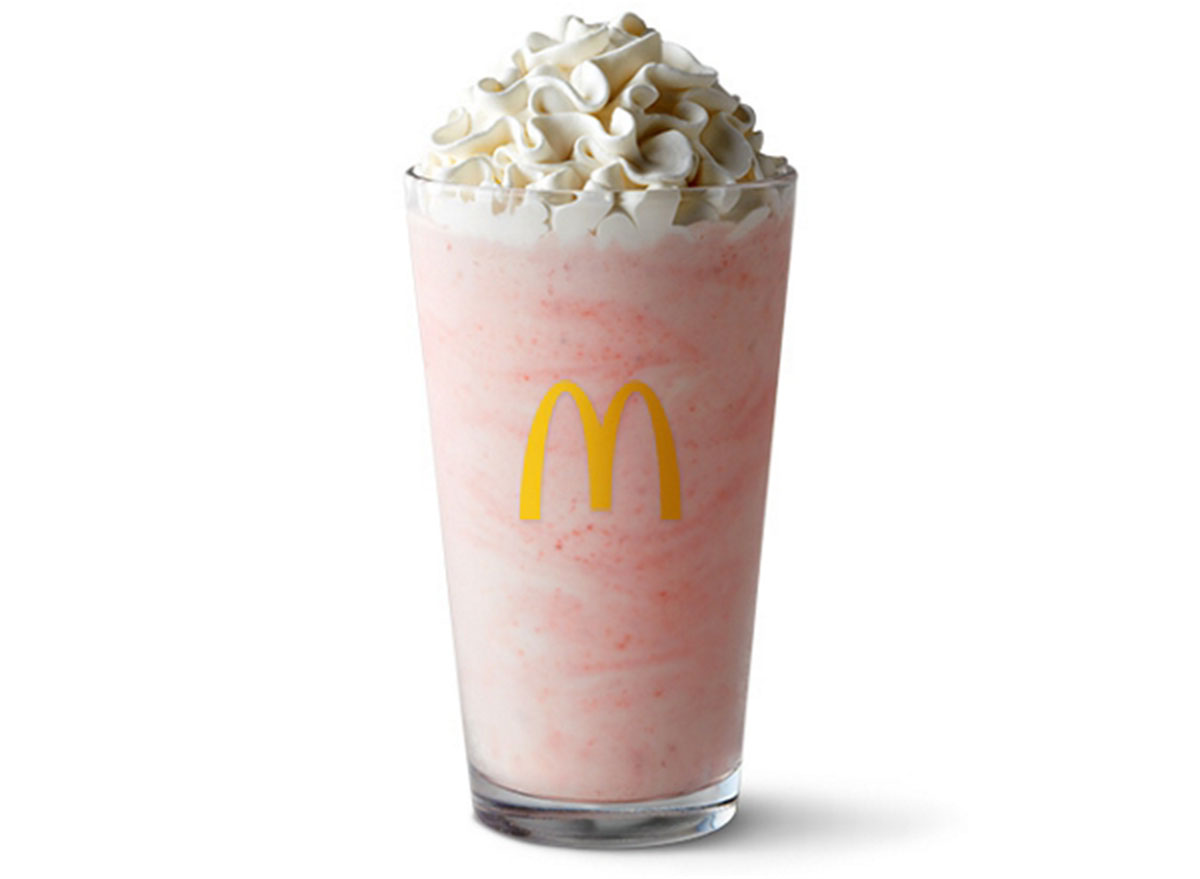 Per large
: 840 calories, 21 g fat (14 g saturated fat, 1 g trans fat), 310 mg sodium, 139 g carbs (0 g fiber, 106 g sugar), 19 g protein
Don't let the strawberry flavor deceive you, because this "fruit-flavored" shake at Mickey D's is far from nutritious. Even if you order a small size, you still consume 530 calories and 65 grams of sugar. Our suggestion? Skip it altogether.
Don't miss The #1 Healthiest Order at McDonald's, According to a Nutritionist.
Arby's Ultimate Chocolate Shake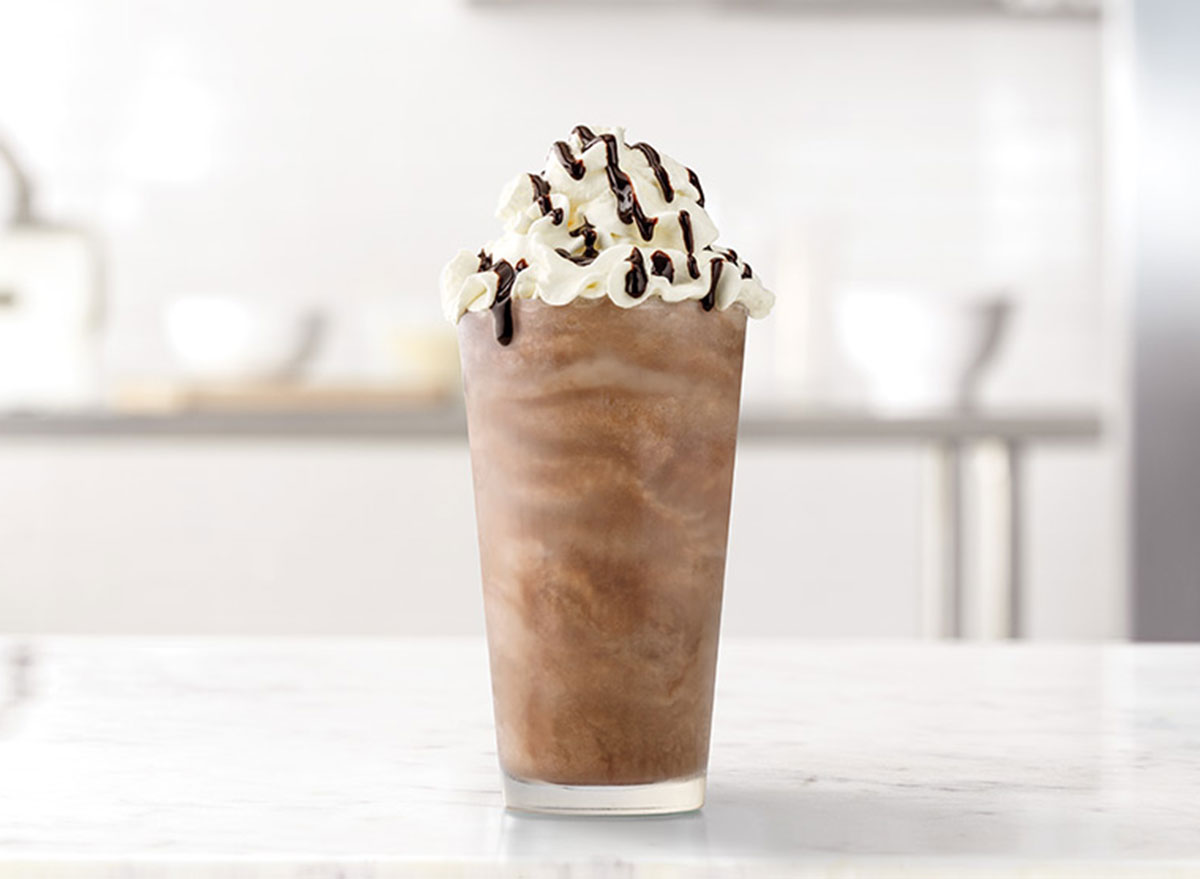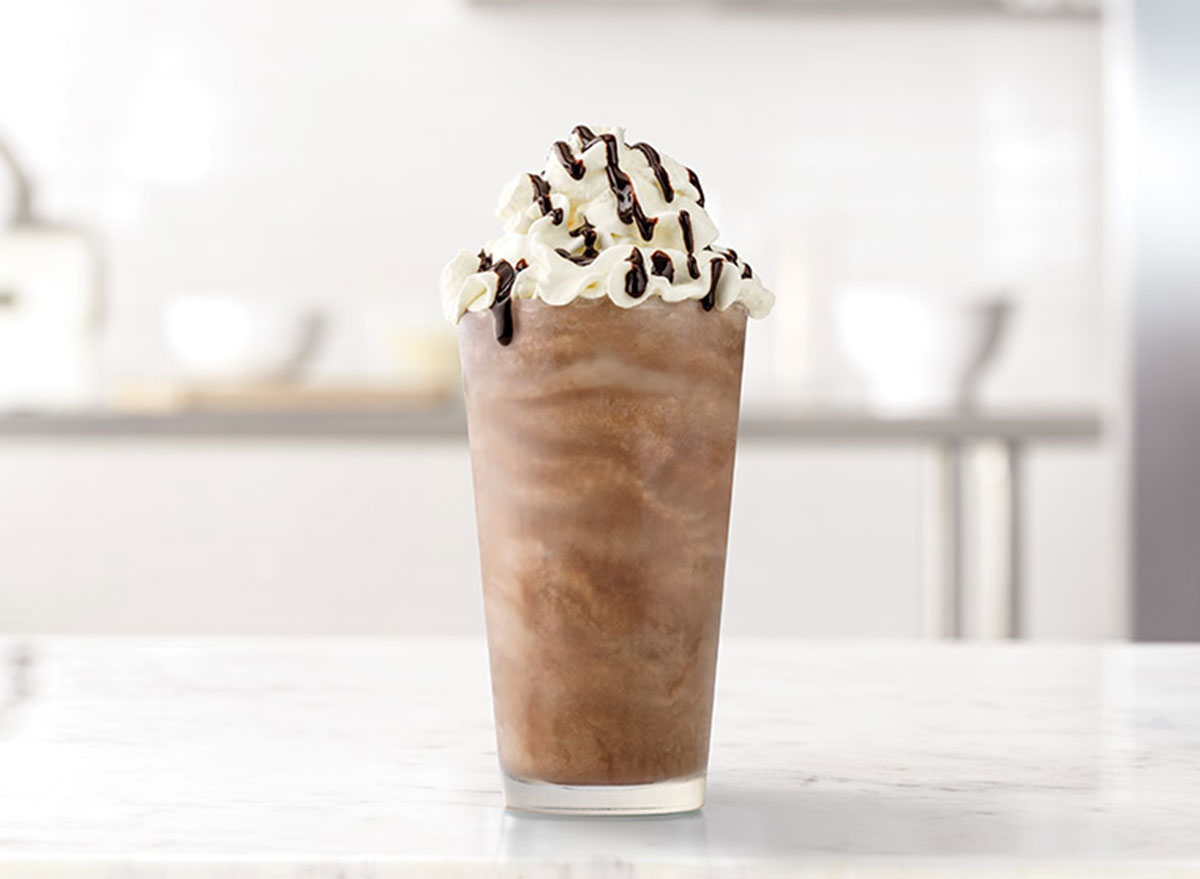 Per large
: 970 calories, 31 g fat (20 g saturated fat, 0.5 g trans fat), 700 mg sodium, 158 g carbs (2 g fiber, 140 g sugar), 24 g protein
The home of some of the most delicious curly fries is also home to one of the worst fast-food beverages you can buy. Arby's, did you have to go and make a near-1,000 calorie beverage? Not to mention, this drink contains an entire day's worth of saturated fat—in one cup. Do we even have to talk about the 140 grams of sugar? Hard pass!
Dunkin' Butter Pecan Swirl Frozen Coffee with Cream
Per large
: 1,160 calories, 40 g fat (22 g saturated fat, 1.5 g trans fat), 480 mg sodium, 191 g carbs (1 g fiber, 144 g sugar), 12 g protein
Leave it to Dunkin' to turn a frozen coffee drink into one of the most caloric things on the entire menu. Seriously, you can eat three Berry Powdered Donuts from Dunkin' and it will still be 170 calories fewer than what's in this drink alone.
Shake Shack Loaded Cookies and Cream Shake
Per large
: 1,160 calories, 56 g fat (32 g saturated fat, 1.5 g trans fat), 450 mg sodium, 126 g carbs (0 g fiber, 108 g sugar), 17 g protein
This milkshake is, dare we say, so heart-stopping that it's not even offered at all Shake Shack locations. However, the regular Cookies & Cream Shake isn't all that better at 850 calories and 86 grams of sugar. Ditch the shakes and instead, consider getting a cup of chocolate ice cream at 310 calories and 29 grams of sugar.
Also, be sure to check out Shake Shack Just Added These New Burgers.
Sonic Peanut Butter Shake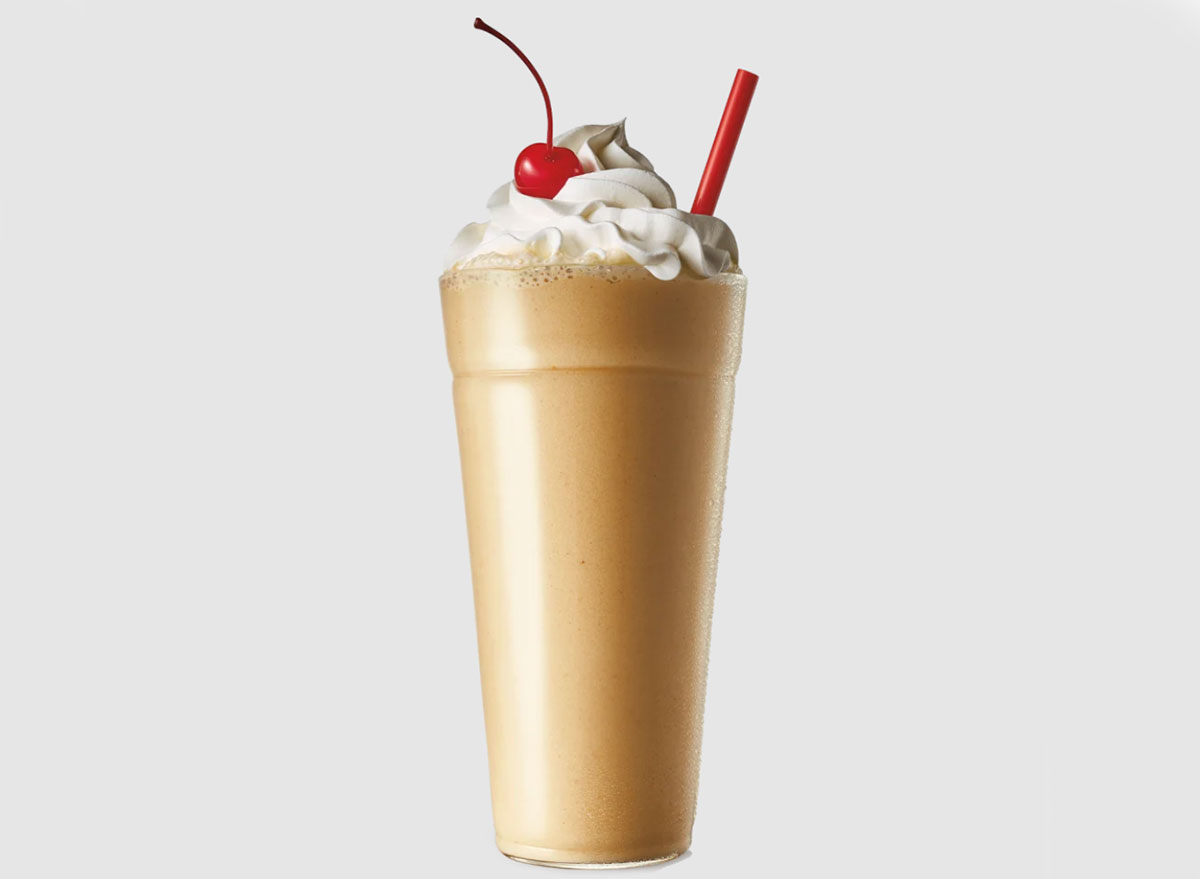 Per large
: 1,490 calories, 97 g fat (45 g saturated fat, 2 g trans fat), 860 mg sodium, 132 g carbs (4 g fiber, 87 g sugar), 29 g protein
Sonic takes the cake (or should we say shake) for the worst fast-food beverage. The large size of its peanut butter shake contains just under 1,500, which for some people is their entire day's worth. Not to mention, this shake packs in nearly 100 grams of total fat. You'd have to consume 12 tablespoons of Jif Creamy Peanut Butter to consume an equivalent amount of fat.
For more, check out the 108 Most Popular Sodas Ranked By How Toxic They Are.