The 9 Worst New Grocery Items on Shelves in 2021
Skip putting these on your next grocery list thanks to high calorie, fat, and/or sugar content.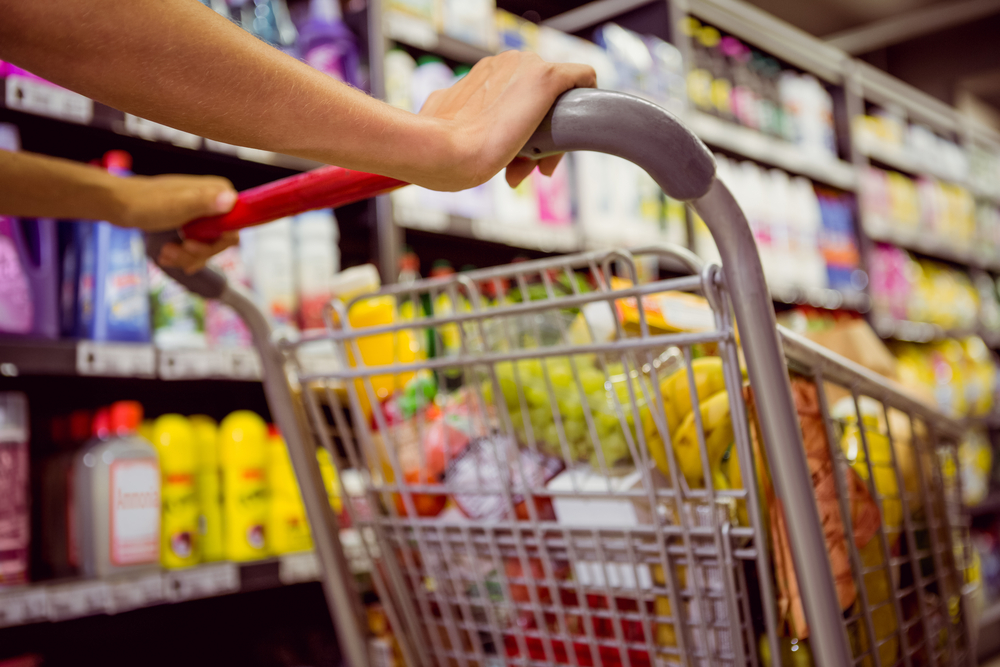 Kicking off the new year is always a great opportunity to start fresh and stock up your fridge and cupboards with new, healthy meals and snacks. You've probably noticed some new products at the grocery store, and of course, some are healthy and some are…not.
We've rounded up a list of the worst grocery store foods that have made their debuts in 2021 and talked to some registered dietitians about why you may not want to try them. If you're dying to, though, consider splitting it or only eating half and saving the rest for another day. (Related: Grocery Shortages To Expect in 2021, According to Experts.)
Here are nine products to leave on the shelf in favor of healthier options. And to get all the latest grocery store news delivered right to your email inbox every day, sign up for our newsletter!
Jimmy Dean Plant-Based Patty, Egg & Cheese Croissant Sandwich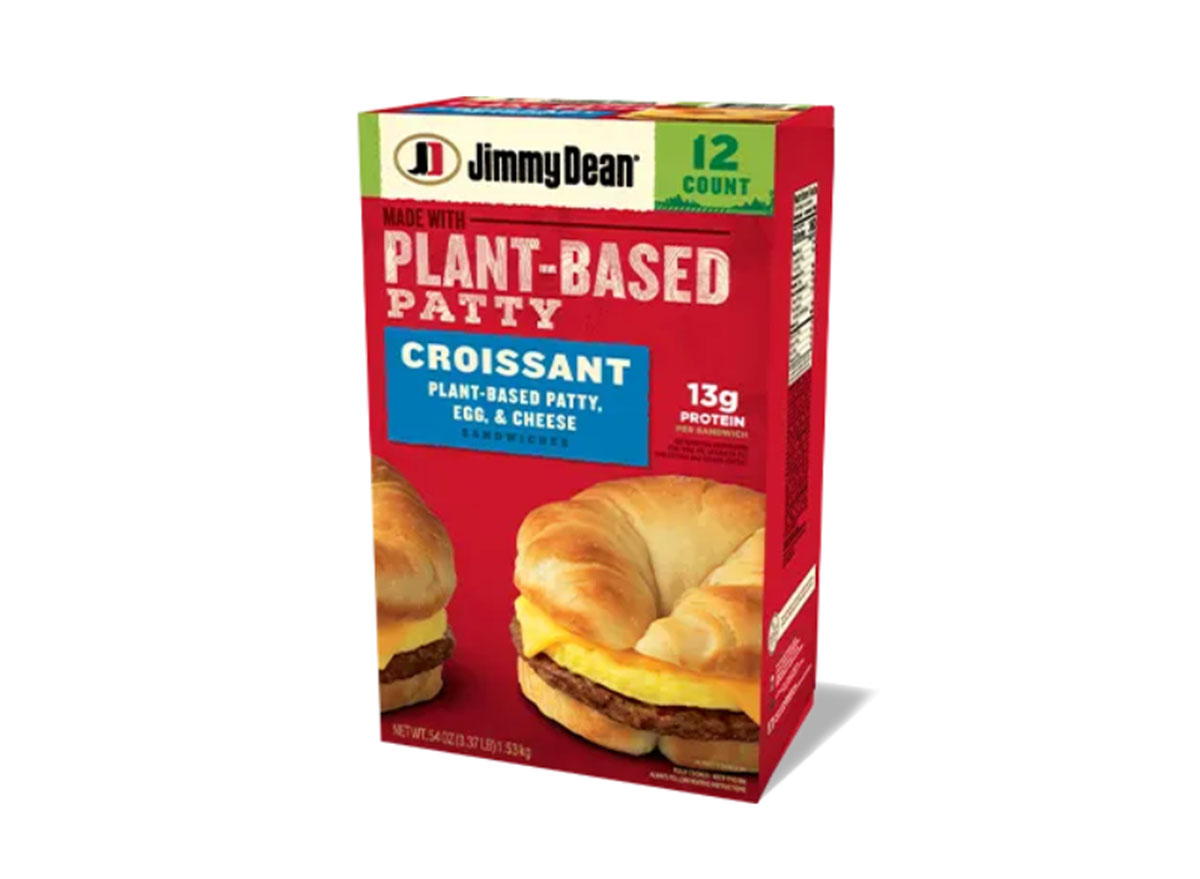 PER SANDWICH
: 360 calories, 21 g fat (9 g saturated fat), 520 mg sodium, 31 g carbs (3 g fiber, 6 g sugar), 13 g protein
If you're in search of a healthy, vegetarian breakfast sandwich, Jimmy Dean's new Plant-Based Patty, Egg & Cheese Croissant Sandwich may seem like a healthy option — but Gretchen Zimmermann, RD and Director of Clinical Dietetics at Vida Health, says clever marketing makes this product appear healthier than it actually is.
"Labeling something as 'plant-based' does not always equate to a healthier meal," Zimmerman explains. "The Jimmy Dean breakfast sandwich has a long list of ingredients offering little nutritional value, including high fructose corn syrup, preservatives, and artificial flavors."
She adds that, although the sandwich seemingly provides enough protein to make a satisfying meal, it's also high in sodium and added sugars — so it's not an ideal meal to start the day.
Related: 103+ Best Healthy Vegetarian Recipes for Weight Loss
Kellogg's Keto-Friendly Snack Bars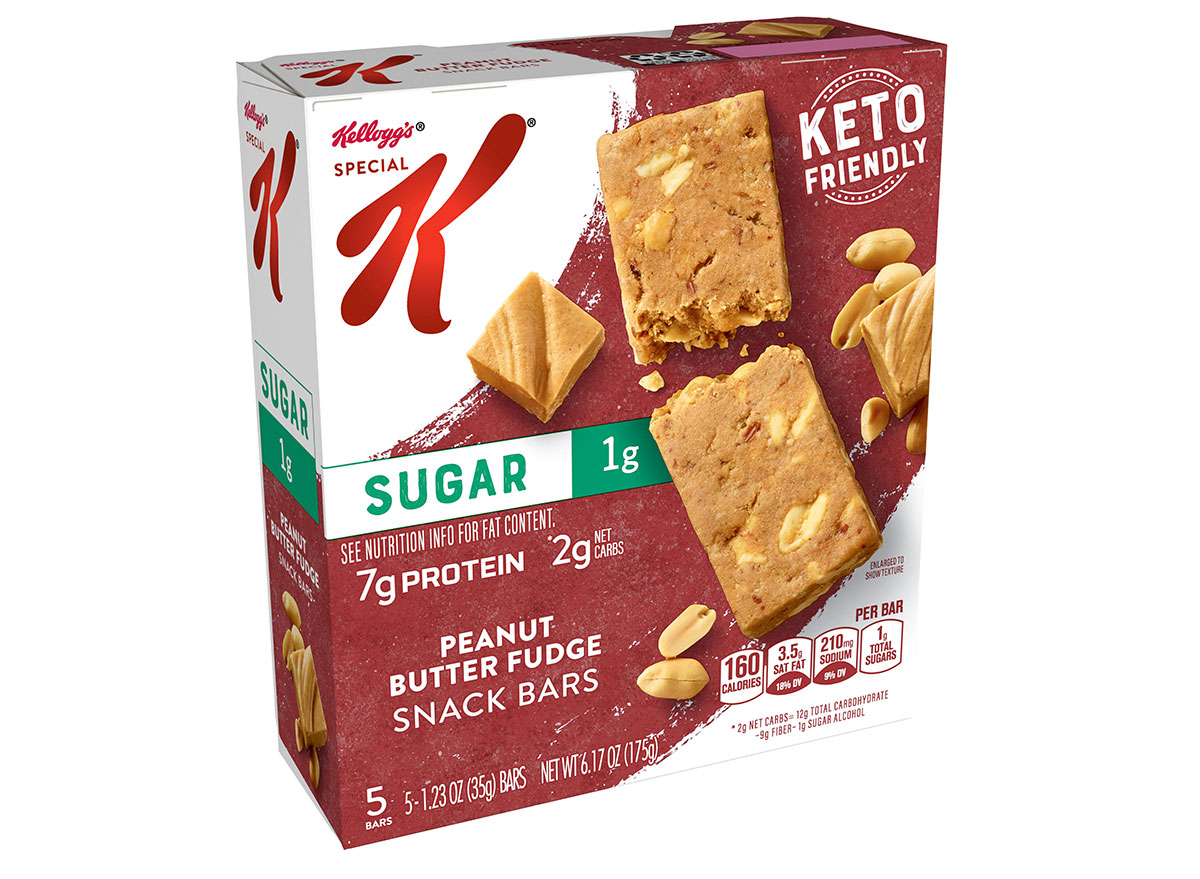 PER BAR
: 160 calories, 12 g fat (3.5 g saturated fat), 210 mg sodium, 12 g carbs (9 g fiber, 1 g sugar), 7 g protein
The keto diet has become an increasingly popular choice for weight loss, so naturally, new keto-friendly products land on supermarket shelves every day. "Savvy marketing and product labeling lures consumers into thinking that if something is labeled as 'keto,' it is a healthy, 'diet-friendly' choice," says Zimmerman.
She explains that although these bars boast 7 grams of protein and 9 grams of fiber, the other main ingredients are highly processed which results in a less filling, satisfying snack.
"Your best bet [is to] choose whole food sources of protein and fat when you can," Zimmerman advises. "If you do choose a keto-friendly bar, look for a bar with fats like medium chain triglycerides (MCTs), avocado, nuts and seeds and protein sources such as poultry, eggs, or fish."
For alternative keto snacks, here are the 22 Best Keto Snacks to Buy For Fat Loss.
Jones Soda Variety Packs
PER BOTTLE
: 180 calories, 15 mg sodium, 46 g carbs (45 g sugar)
Shana Hussin, RDN and author of Fast to Heal, says that with 39 grams of sugar (or 13 teaspoons) per serving, this soda will drive up your insulin "very high and very quickly."
"Some may be deceived because the primary sweetener is 'inverted cane sugar,'" says Hussin. "Don't be fooled; this is still a ton of sugar and it will be digested much the same as any other sugar."
Hussin suggests less than 100 grams of total carbohydrates per day for her clients with metabolic issues and she notes that just one of these sodas contains almost half that amount.
Related: 5 Subtle Signs You're Drinking Too Much Beer
Ben & Jerry's "Topped" Ice Cream Line
PER AVERAGE SERVING OF ⅔ CUP
: 370 calories, 21 g fat (12 g saturated fat), 110 mg sodium, 43 g carbs (2 g fiber, 37 g sugar), 5 g protein
Ben & Jerry's has released a new "Topped" line that features seven ice cream flavors, and although they sound creamy and delicious, there's more to them than meets the eye. "Packed with calories, saturated fat, carbohydrates, and sugar, [they're] one of the unhealthiest pints of ice cream on the market," says Gilstrap.
For context, Gilstrap says that, with 130 grams of carbohydrates and 110 grams of sugar, a pint of these ice creams contains more carbs and sugars than a Big Mac and a liter of Coke. Instead, try one of these 8 Healthiest Fast-Food Desserts, According to an RD.
Old Trapper's Jumbo Kippered Beef Steak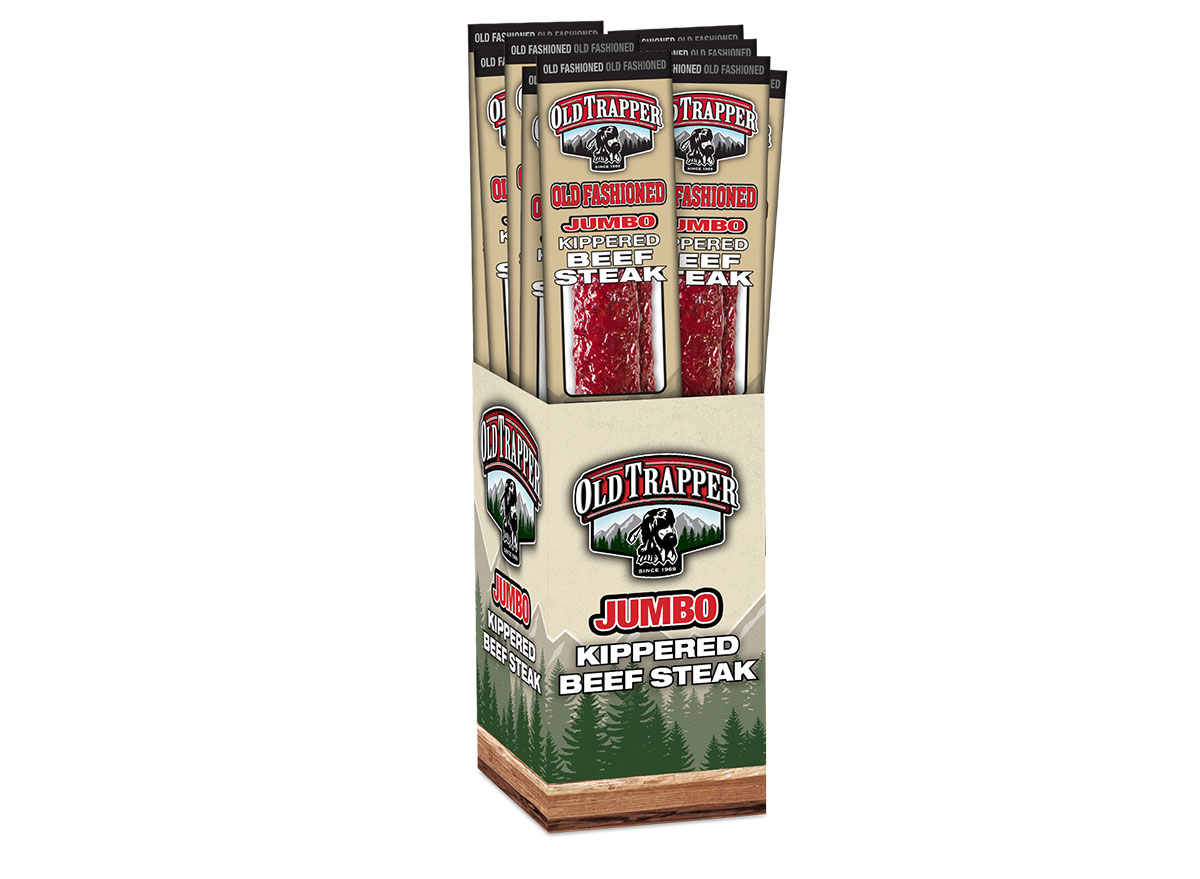 PER 1 OUNCE SERVING
: 70 calories, 0.5 g fat, 800 mg sodium, 5 g carbs (5 g sugar), 11 g protein
"One ounce of the beef steak contains 33% of the recommended sodium intake per day," says Amanda Terillo, MS, RD, of Amanda Terillo Nutrition Counseling, LLC.
Terillo explains that there are two forms of salt in the jerky, one of which is monosodium glutamate. "Monosodium glutamate has been labeled as an excitotoxin and causes headaches in many people," she says.
Kelsey Lorencz, RDN of Graciously Nourished, also says the excessive amount of sodium makes this a poor choice for snacking. "Routinely eating a diet high in sodium can increase your risk of stroke, high blood pressure, stomach cancer, and osteoporosis," says Lorencz. So skip or split this one, and consider picking up some of the 10 best low-sodium lunch meats to buy.
Mighty Sesame Harissa Tahini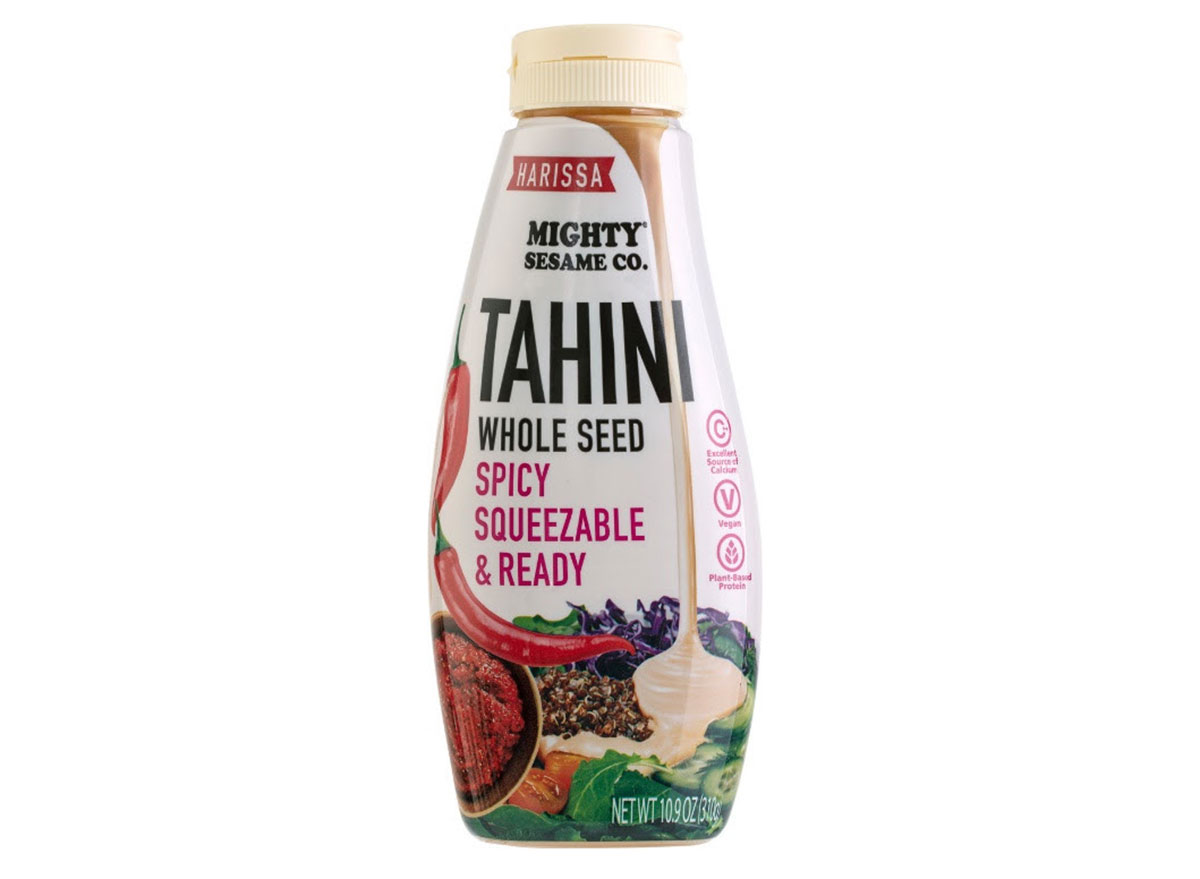 PER SERVING (2 TABLESPOONS)
: 190 calories, 17 g fat (2.5 g saturated fat), 45 mg sodium, 4 g carbs (3 g fiber), 7 g protein
Tahini is a popular choice for good reason. Erica Fand, MS, RD, CDN, CEO and Founder of Jeweled Nutrition, says most tahini options are healthy and a great source of protein, fiber, healthy fats, and omega-3s. However, Fand says a closer look at the ingredients of Mighty Sesame Harissa Tahini gave her pause.
"Natural flavors are a bit of a confusing topic. Natural flavors often have added ingredients in them such as preservatives and stabilizers to make the food more palatable and functional," Fand explains. "However, because the FDA doesn't require companies to disclose the specific ingredients included in the natural flavoring, it is difficult to know what ingredients have been used in this umbrella term of 'natural flavors.'"
Fand says this is particularly concerning for people with medical issues such as food allergies, and consumers who have chosen to avoid animal food sources. She explains that without transparency, people who need to avoid certain potentially harmful ingredients don't have the proper information to make informed decisions.
"When looking at ingredient labels for a harissa tahini, you'd ideally like the harissa ingredients to be disclosed," says Fand. "For now, I'd skip this product and add your own harissa paste and some lemon juice to create your own harissa tahini sauce!'" And here's a step by step guide to do just that.
Cinnamon Toast Crunch Remix Snacking Mix
PER SERVING (¾ CUP)
: 130 calories, 3.5 g fat, 180 mg sodium, 25 g carbs (2 g fiber, 18 g sugar), 2 g protein
Dan Ferrato, a sports nutritionist at Club Sweat, says sugary cereals are often overlooked in conversations about unhealthy foods — and now Cinnamon Toast Crunch, one of the unhealthiest cereals, is available as a snack mix. It'll likely become a go-to for people craving a sweet afternoon or nighttime snack.
"With 25 grams of carbs and 18 grams of sugar and only 2 grams of protein, you're getting virtually zero nutritional benefits out of it," says Ferrato. "Avoid the sugar and you avoid the midday crash."
Instead, Ferrato recommends snacking on yogurt with berries if you're looking for a sugar kick. "At least the berries give you good sugars and keep you fuller and feeling better throughout the day," he says.
Related: 20 Worst 'Healthy' Cereals
Coca-Cola With Dark Coffee Blend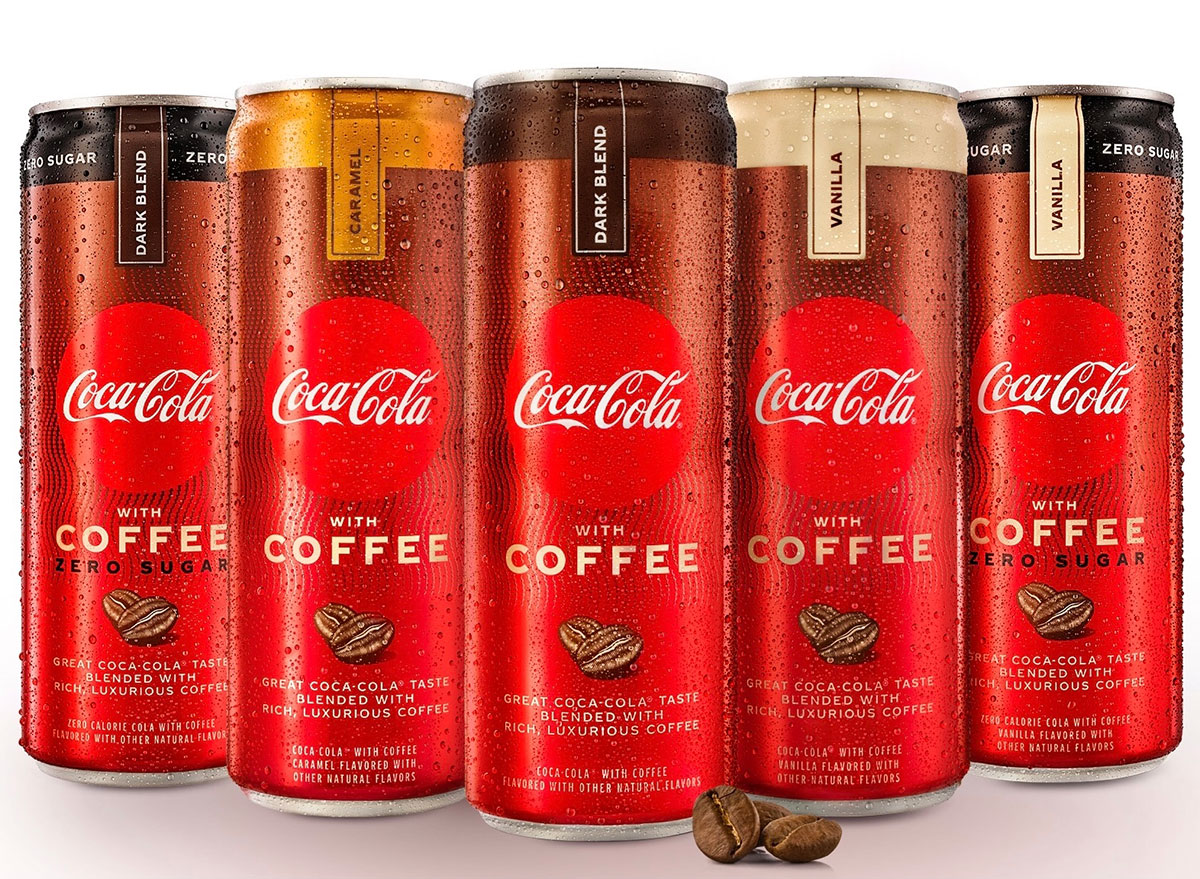 PER CAN
: 70 calories, 40 mg sodium, 18 g carbs (18 g sugar)
Although the caffeine boost is tempting, each can contains three types of sweeteners. One of them is sucrose, which can interfere with your appetite and make it difficult to assess whether or not you're full after a meal or a snack and lead to unnecessary caloric intake.6254a4d1642c605c54bf1cab17d50f1e
Pillsbury Funfetti Premium Cake Mix With Oreo Pieces
PER SERVING (PREPARED)
: 280 calories, 15 g fat (3 g saturated fat), 370 mg sodium, 34 g carbs (2 g fiber, 18 g sugar), 4 g protein
This decadent mix is about as healthy as it sounds. In addition to its high fat content, it's extremely high in sugar, taking up 36%t of the maximum recommended sugar intake per day.
And for more on what sugar does to your body, here's why 80% of Americans Are Deficient in This Mineral That Controls Sugar Cravings.
Caitlin Flynn
Caitlin Flynn is an award-winning writer and reporter who experienced early age corporate burnout in 2015 and traded New York City for the misty air and superior coffee of Seattle.
Read more about Caitlin