You Can Get Unlimited Pasta from Olive Garden for a Year—Today
The chain's Never Ending Pasta Pass goes on sale today for $300.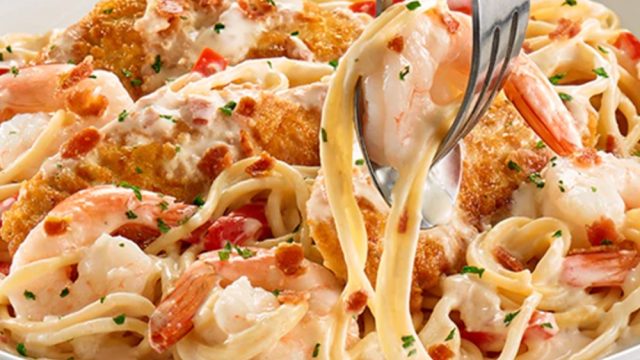 Good news for pasta lovers: Olive Garden is offering its Never Ending Pasta Pass for $300. This offer lasts for an entire year, so you can load up on all the fettuccine, breadsticks, and chicken parm you want. But you'll want to sign up ASAP because the Italian restaurant chain is giving away only 1,000 pasta passes, so have your credit card ready at 2 p.m. ET today on the pasta pass site.
But how can you stay healthy with spaghetti on overload? We ranked every pasta dinner at Olive Garden so you can make smarter choices. Top tip: You want to steer clear of any heavy, cream sauces, avoid the bread basket, and stick with a small salad as your appetizer.
If possible, choose a dish served with some lean protein, like grilled chicken, salmon, or seafood, and order extra veggies on the side so help you stay fuller longer. Building your own pasta dish? The cavatappi, gluten-free rotini, and rotini are the most caloric noodles on the menu. We recommend the whole-wheat linguine because it has 14 grams of fiber and 17 grams of protein. For more guidance on how to design your plate, be sure to consult the nutritional info before ordering. Mangia!