The One Healthy Meal You Need in Order To Lose Weight
Don't worry, you won't have to eat the same meal every day.
You can ditch every single dieting tip you've ever heard. Get rid of any lies you've believed about detoxes or crazy restrictions. Because to be quite honest with you, there's only one nutrition tip you need in order to make a healthy meal for yourself every time you sit down to eat. All you have to do is look to build this one healthy meal to lose weight, and you'll find yourself getting healthier and shedding the pounds in no time.
Here's all you have to do: Set up your plate using the following formula.
Fill 1/2 your plate with vegetables and/or fruits
Fill 1/4 of your plate with a lean protein
Fill 1/4 of your plate with a fiber-rich carb or whole grain
Pretty simple, right? This particular formula is a recommendation from the USDA MyPlate Guidelines, straight from the Dietary Guidelines for Americans. Not only does this formula work for putting together a healthy meal to lose weight, but it also helps with ensuring you're getting a variety of nutrients into your diet regularly. (Related: The 7 Healthiest Foods to Eat Right Now)
This particular formula works because it provides your body with the three macronutrients it needs in order to feel full: protein, fiber-rich carbs, and healthy fats.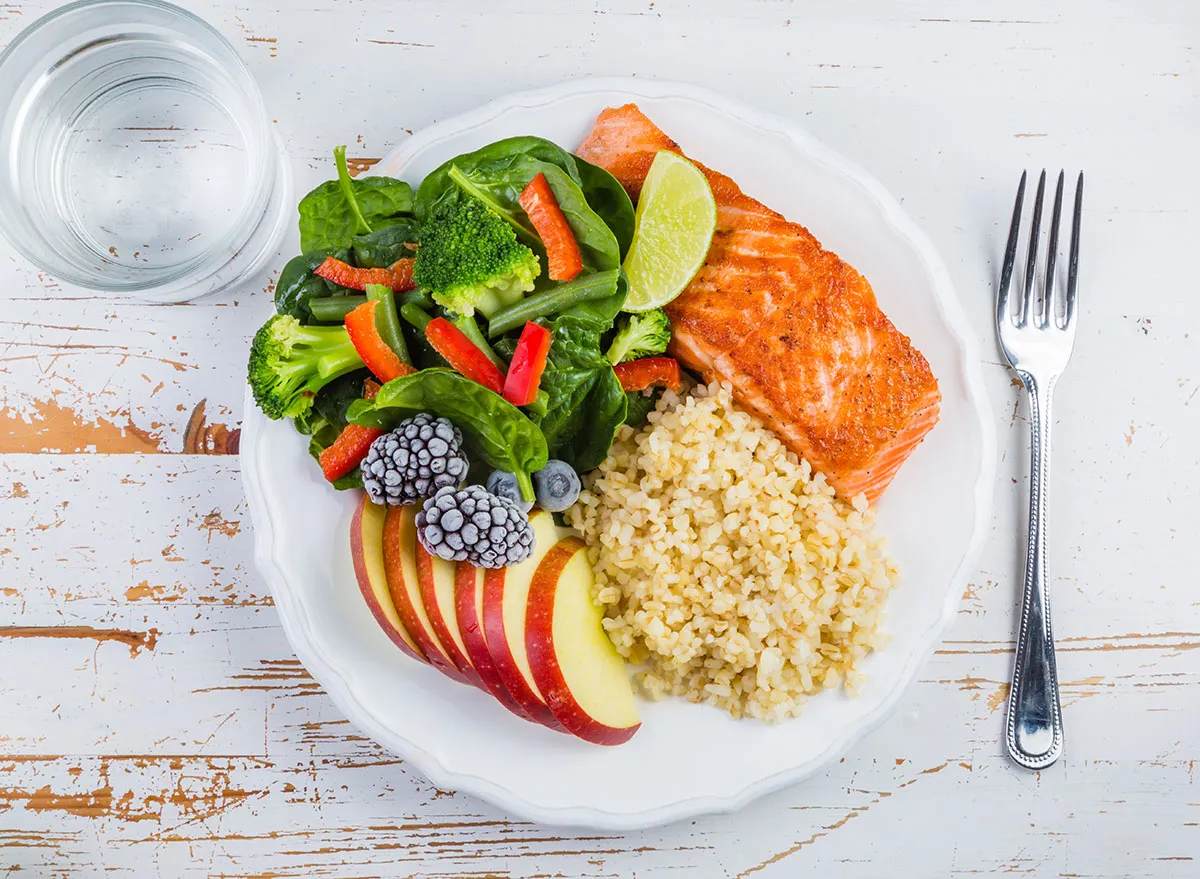 Protein is one of the most important parts of your plate because it helps with keeping you fuller for longer and for muscle recovery after a workout. According to the Journal of the Academy of Nutrition and Dietetics, higher protein intake in a diet is linked to feelings of fullness and better body weight management overall. Great sources of lean protein to include in your diet include chicken, fish, seafood, eggs, grass-fed lean beef and steak, turkey, tofu, pork, and even beans and legumes.6254a4d1642c605c54bf1cab17d50f1e
Fiber is coming from a variety of sources on your plate, but a majority of it is likely going to come from the fiber-rich carb or whole grain. Fiber is indigestible, meaning it will latch on to other carbs you are consuming—leaving you with a lower number of "net carbs" later. Fiber helps your body with digestion and fullness and is the best thing to eat regularly for weight loss. Different sources of fiber-rich carbs include starchy vegetables (potatoes, squash) whole-grain bread products, brown rice, oatmeal, quinoa, nuts, seeds, and more.
Along with your designated carbohydrate, there's likely a small amount of fiber in the vegetables and fruit you decide to add to your plate. This continues to add more of a fullness factor to your plate, while also providing your body with all kinds of nutrients. Fruits and vegetables are the best sources of micronutrients that you need in your diet including vitamins and minerals. Look for non-starchy vegetables (including leafy greens) and your favorite fresh fruits.
While this plate is filling enough, finding ways to incorporate healthy fat into your diet is also important. Most of the time the cooking oils you use will provide healthy fats to your meal (like olive oil, coconut oil, or avocado oil), but there are other sources of fat you can include as well. Eating different types of seafood (like tuna or salmon) provides omega-3 fatty acids into your diet. Adding slices of avocado can also be an easy way to add monounsaturated fat into your diet. Even sprinkling some seeds to your toast with nut butter can make a huge difference! Here's a list of 20 healthy fats you can easily incorporate into your healthy meal to lose weight.
Get even more healthy tips straight to your inbox by signing up for our newsletter!