31 Best Healthy Instant Pot Soup Recipes for Weight Loss
You'll want to keep these soup recipes in your weekly meal prep rotation after one spoonful.
There's nothing more comforting and delicious than a bowl of hearty soup. With so many different varieties, you can always find one to suit your mood perfectly. Whether it's something more filling like chili, perfect for wintertime, or something lighter like chicken zoodle soup, ideal in the spring or summer, soup is always a great option. The one thing that can be challenging with making soup is usually the time it takes to make them—but with these Instant Pot soup recipes, that isn't the case!
Instead of spending hours perfecting a soup recipe, these options can instead be prepared and served in record time thanks to the Instant Pot. Plus, soup is a great meal when you're trying to lose weight! These are our favorite Instant Pot soup recipes that are easy to mix into your weeknight meal rotation. Plus, don't miss 23 Cozy Soup Recipes That Are Perfect For Weight Loss This Fall.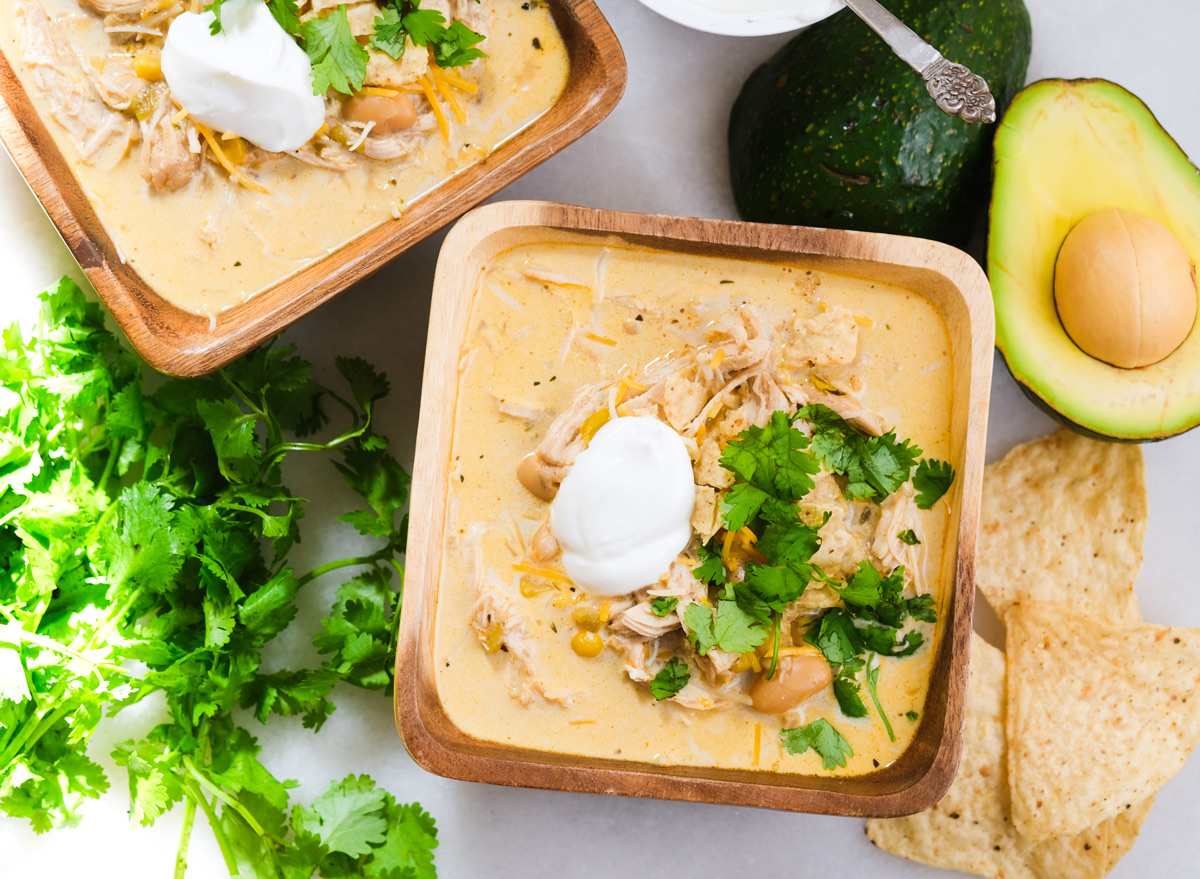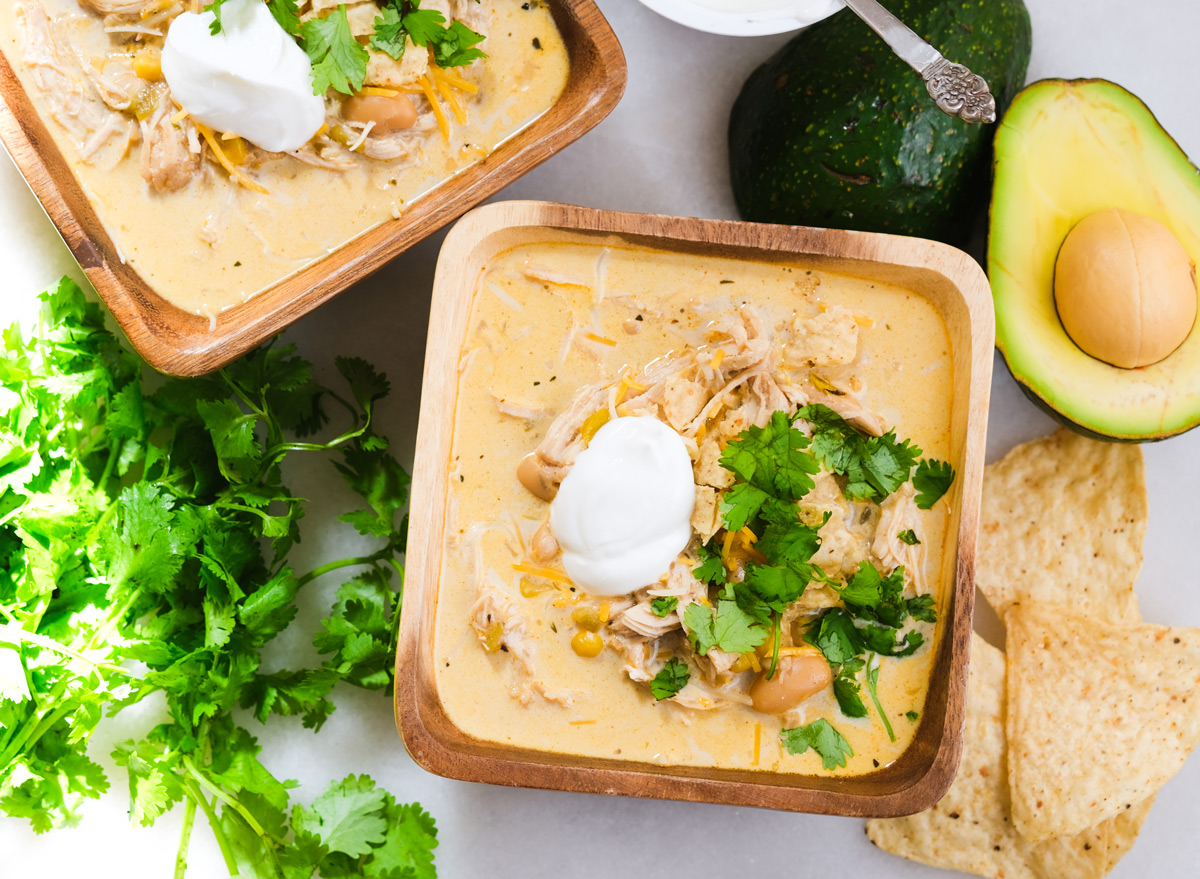 If you're looking for a variation on your typical beef-based chili that you can make from start to finish in under 30 minutes, this white chicken chili is your answer. Not only will it leave you full for hours, but using chicken instead of beef makes the dish much healthier, too. The combo of a creamy base with the spice of green chiles and cayenne pepper makes this recipe truly dynamic in flavor.
Get our recipe for Instant Pot White Chicken Chili.
Sign up for our newsletter for more healthy eating tips and great recipes.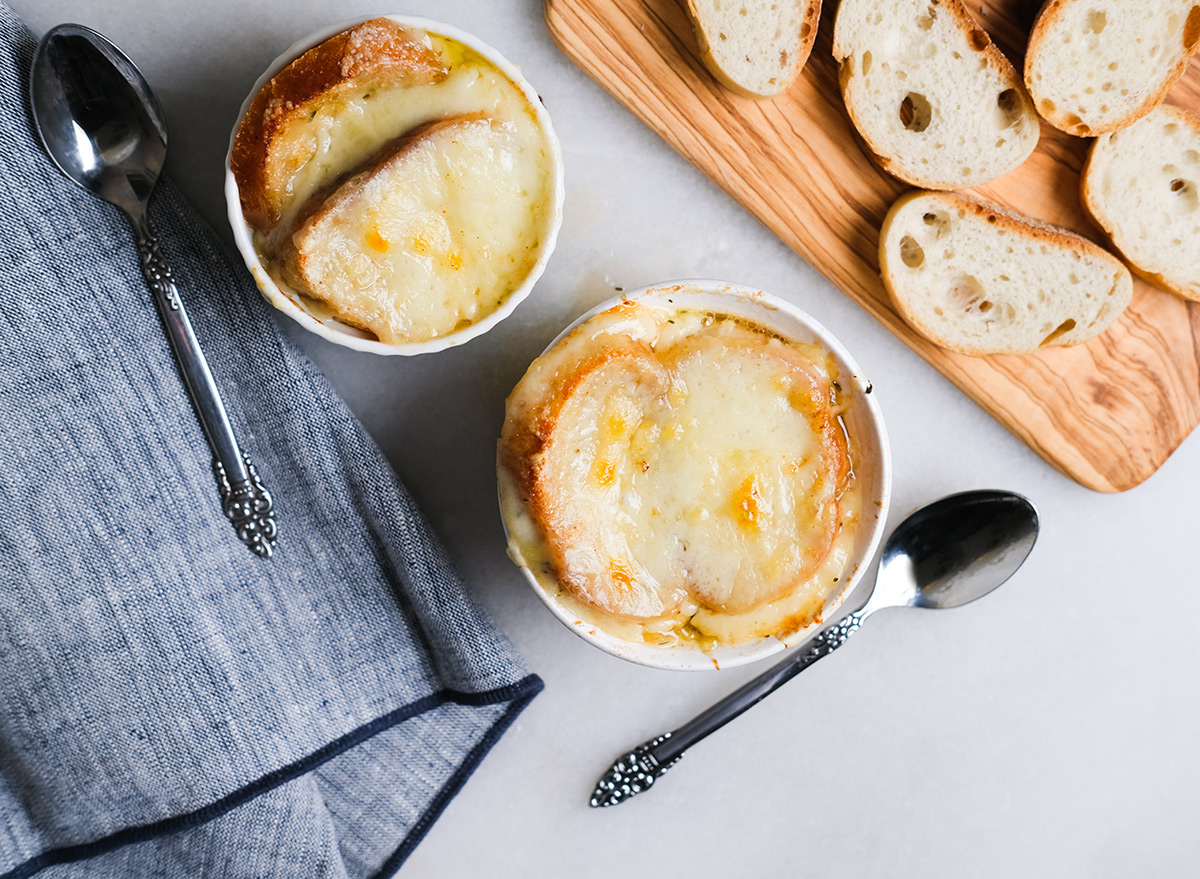 Nothing beats a classic, and with this recipe, French onion soup has never been easier. Say goodbye to the stresses of having to caramelize the onions perfectly, thanks to your Instant Pot. Breaking through the layer of melted gruyere and baguette to reveal the rich, flavorful soup will have you feeling like you're in France—bon appetit!
Get our recipe for Instant Pot French Onion Soup.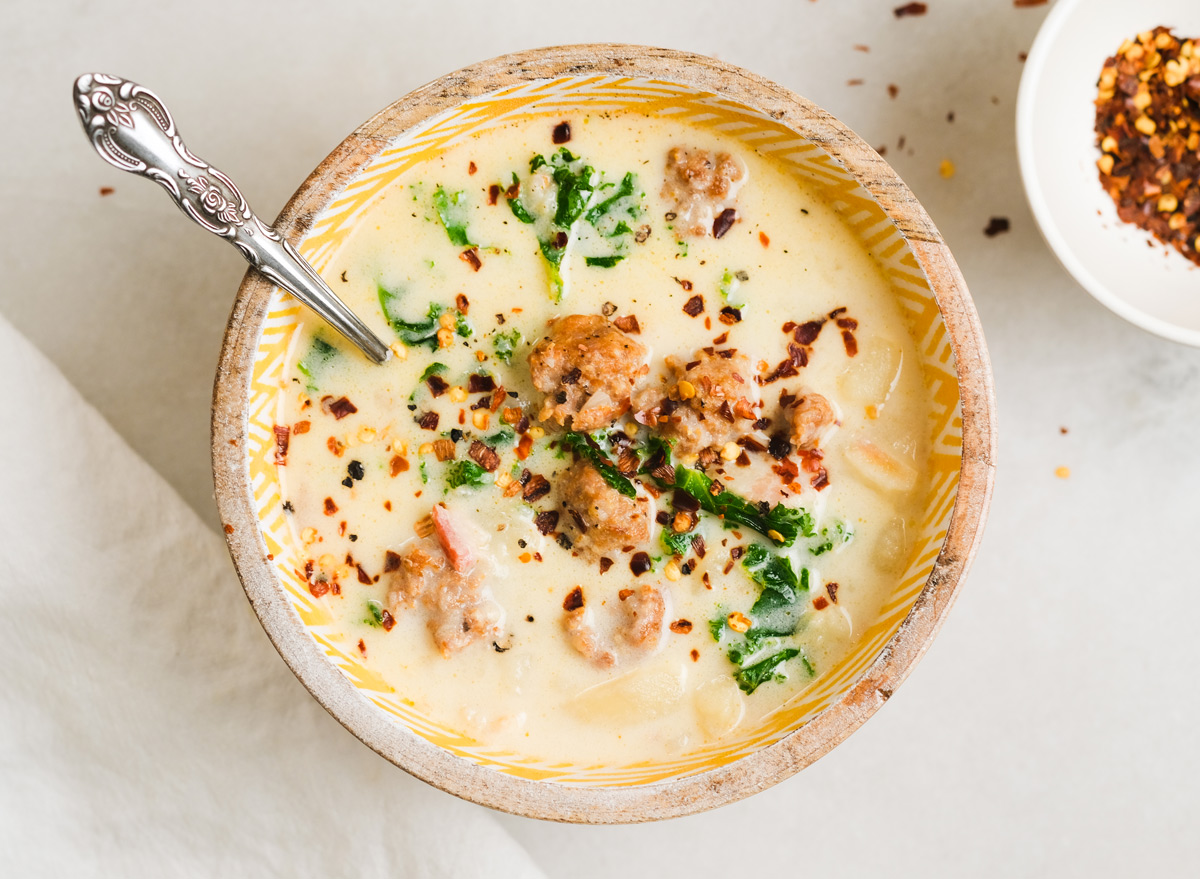 This should go down in history as one of the most filling soups of all time. Packed with potatoes, Italian sausage, bacon and kale, this zuppa toscana meal requires absolutely no side dish. The creaminess of this one (instant) pot wonder will truly make it melt in your mouth. This is the soup you want to whip up if you want to feel all warm and cozy inside.
Get our recipe for Instant Pot Zuppa Toscana.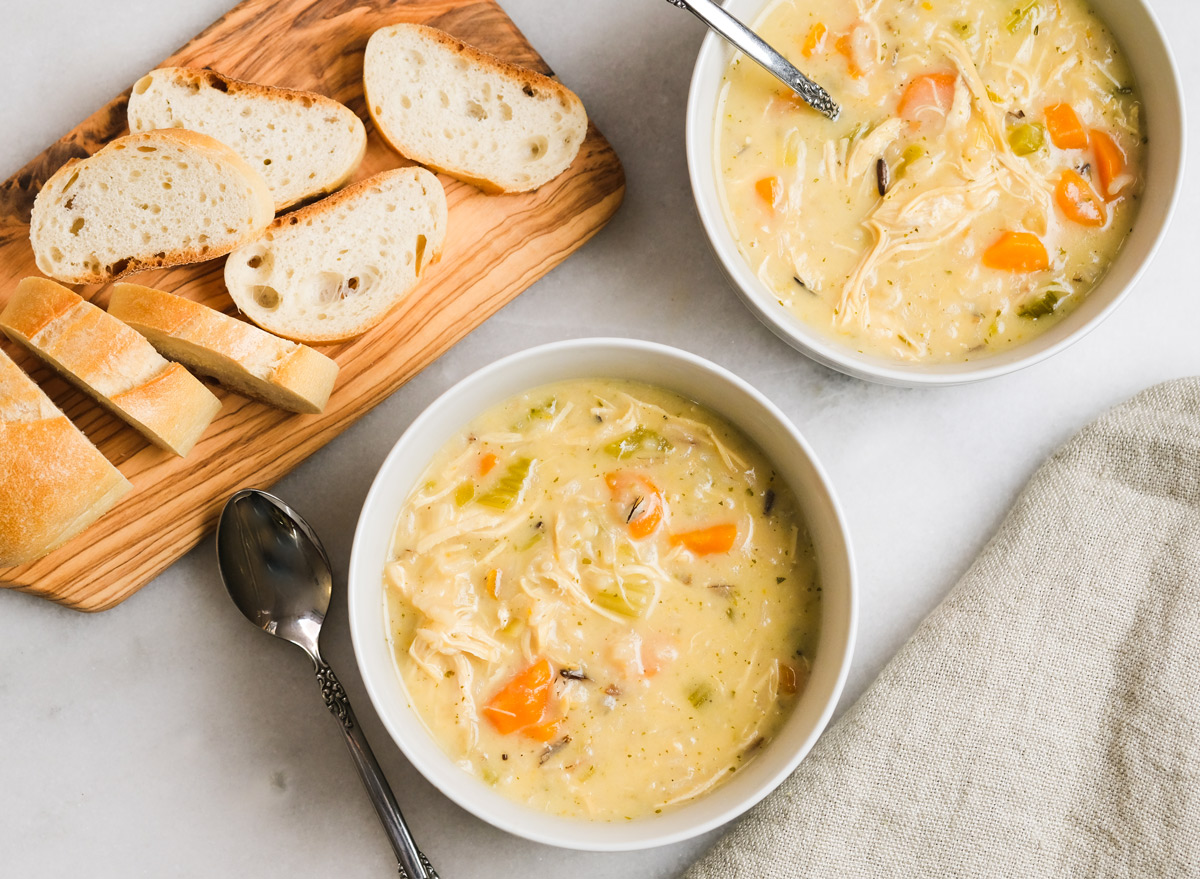 There's just something about chicken soup—it tastes like childhood, in the best way. The addition of rice to this version is just another thing to love about it. It's packed with all your classic chicken soup veggies: onion, carrots, and celery. The milk makes it even creamier than your typical chicken and rice soup. Sign us up.
Get our recipe for Instant Pot Chicken and Rice Soup.
This chili recipe ditches the beans and instead loads up on the ground beef. This is the perfect lunch or dinner for that rainy day. In this recipe you can expect all the typical delicious chili flavors you love so much from the tomato base to the onions and green bell peppers packed within.
Get our recipe for Instant Pot Chili.
If you're on the keto diet, but getting tired of the same old recipes, this cheeseburger soup is the one for you. Not only is it keto-friendly, but it's incredibly easy to make and can be done in under 20 minutes. We swapped out the potatoes normally found in cheeseburger soup recipes for lots of healthy veggies—and you'll be shocked at how filling it remains.
Get our recipe for Instant Pot Cheeseburger Soup.
Instant Pot Chicken Zoodle Soup
This is another recipe that fits so perfectly into the diet lifestyle. Whether you're gluten-free, paleo, Whole30 or just looking for a light comfort food item, this chicken zoodle soup recipe is the answer. Switching the noodles for zoodles (zucchini noodles) in this recipe not only enhances the flavor but will show you you're not missing a thing.
Get our recipe for Instant Pot Chicken Zoodle Soup.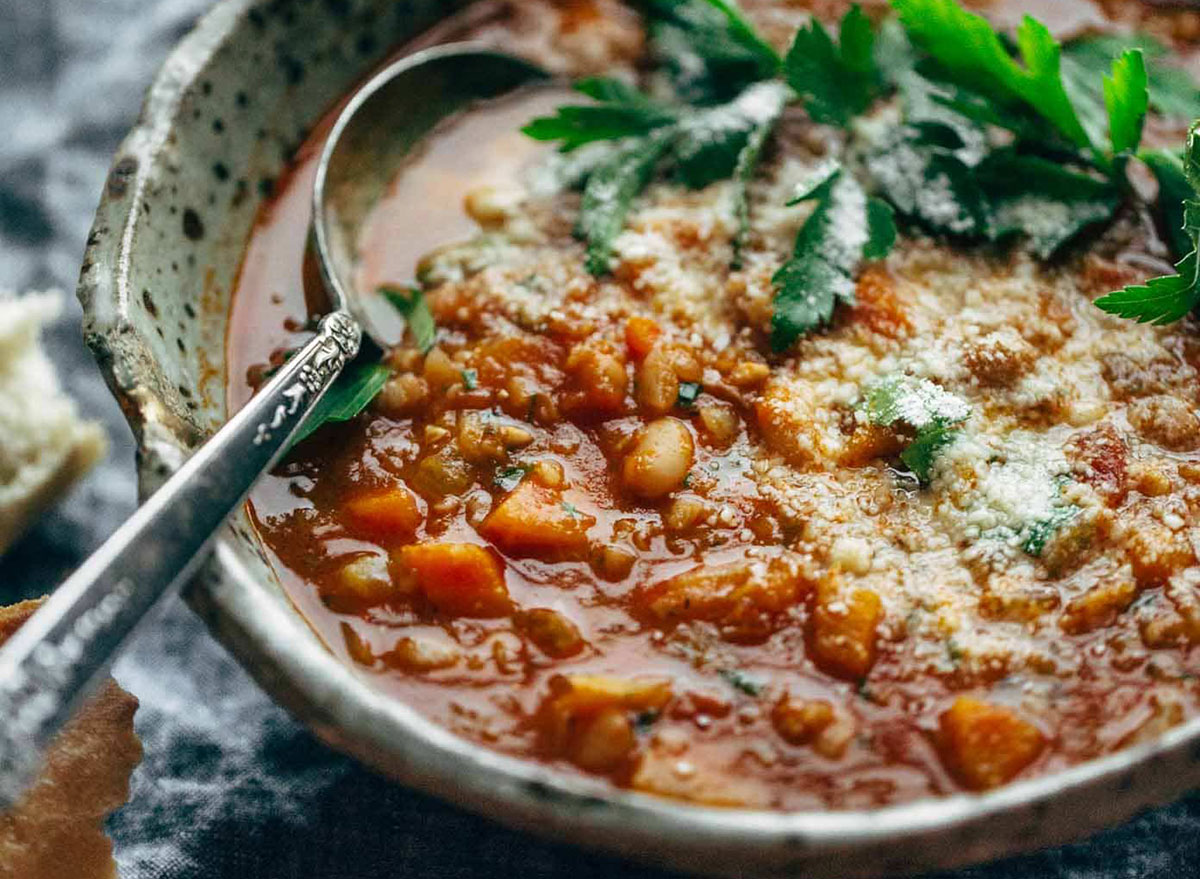 If you don't have a classic minestrone soup recipe, you absolutely need one. It's a filling, delicious, beautiful meal packed with veggies upon veggies. What could be better? This recipe also features some special additions like pesto, bulgar, and parmesan cheese to top it off. Once you take a bite, we're sure you'll be part of the clean bowl club in minutes.
Get the recipe from Pinch of Yum.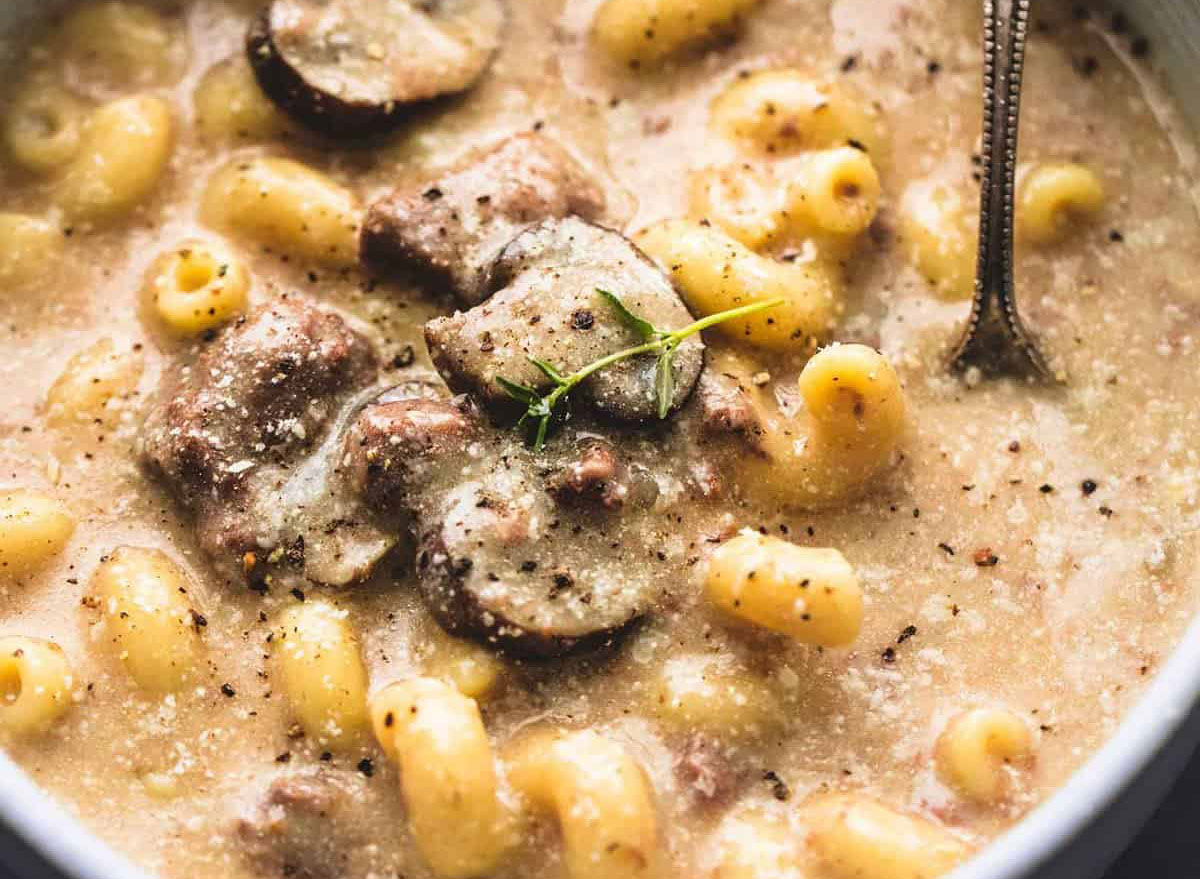 This recipe takes comfort food and turns it into a soup, which we'd argue is even more comforting. Using beef broth as a base, this recipe truly makes it taste like you're eating regular Beef Stroganoff, just with a spoon instead of a fork. This is the perfect soup to keep in the freezer at all times to whip out and heat up at a moment's notice.
Get the recipe from Le Creme De La Crumb.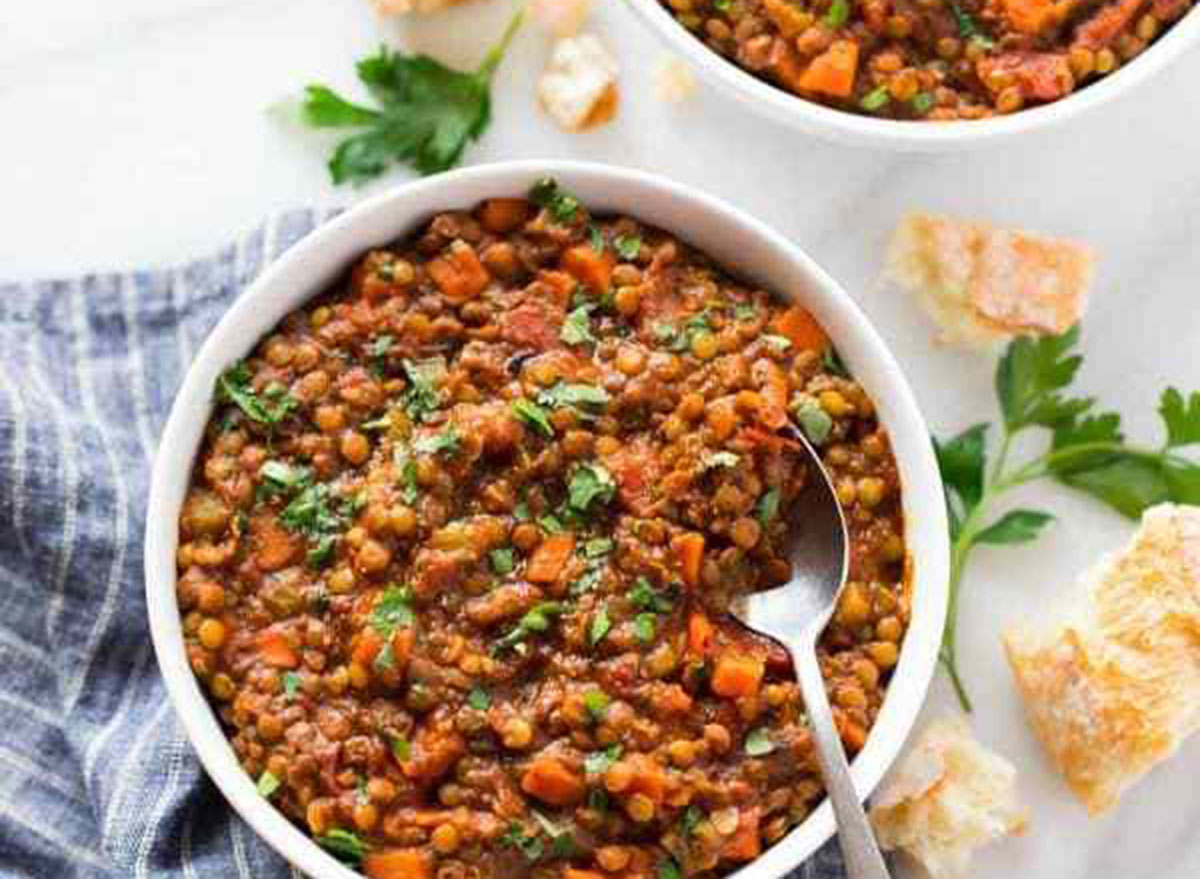 The hearty texture of this lentil soup really makes it a stand-alone dish for any meal. The lentils cook so perfectly in the Instant Pot and you don't even need to soak them beforehand. That means you're looking at a whole lot less time and effort on your end. Plus adding onions, carrots, celery, and garlic really takes the flavors of this recipe to the next level.
Get the recipe from Well Plated.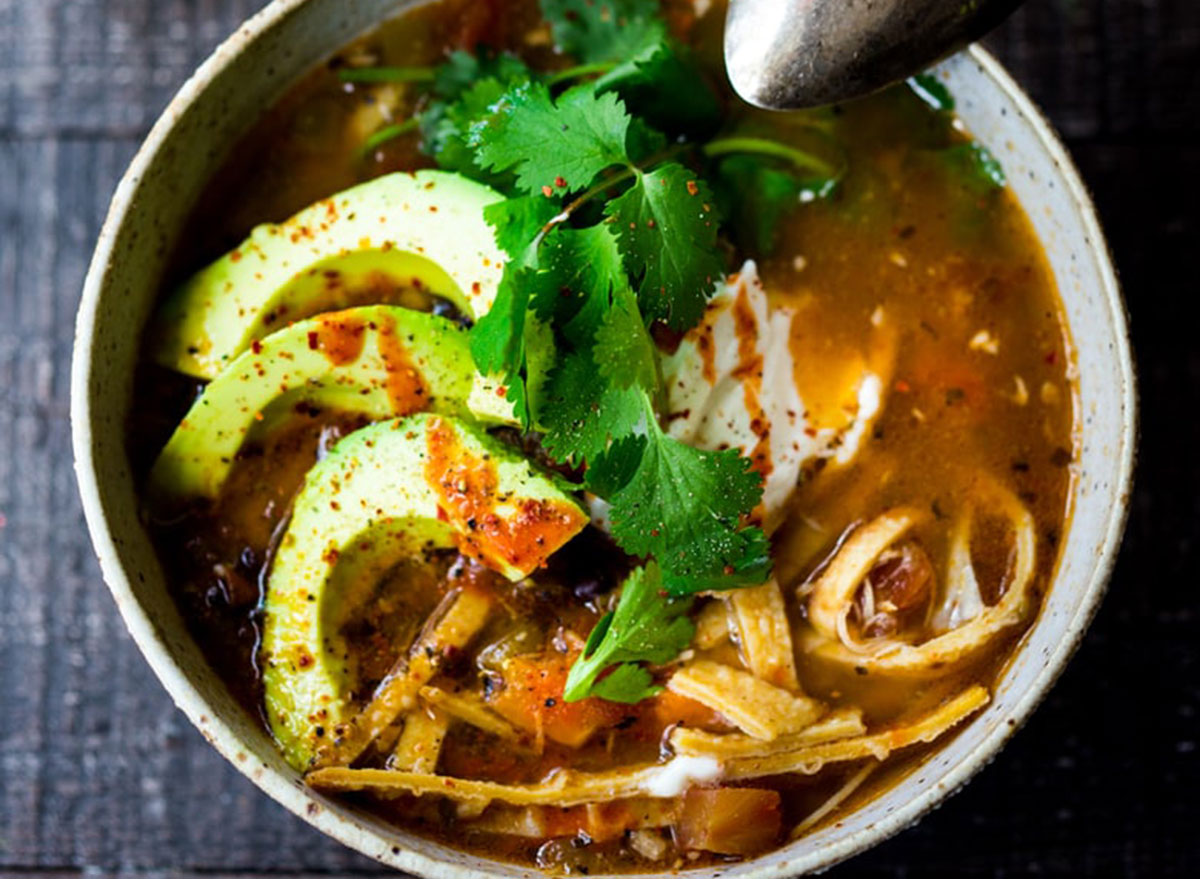 Of all the delicious components to this chicken tortilla soup recipe, it's the garnishes that literally and figuratively top it off in the best way. When you take a bite of those homemade tortilla strips, you'll see why. This soup can be easily adapted to what you have in your kitchen, which is ideal if you, like us, would prefer to stay in your pajamas all day.6254a4d1642c605c54bf1cab17d50f1e
Get the recipe from Feasting At Home.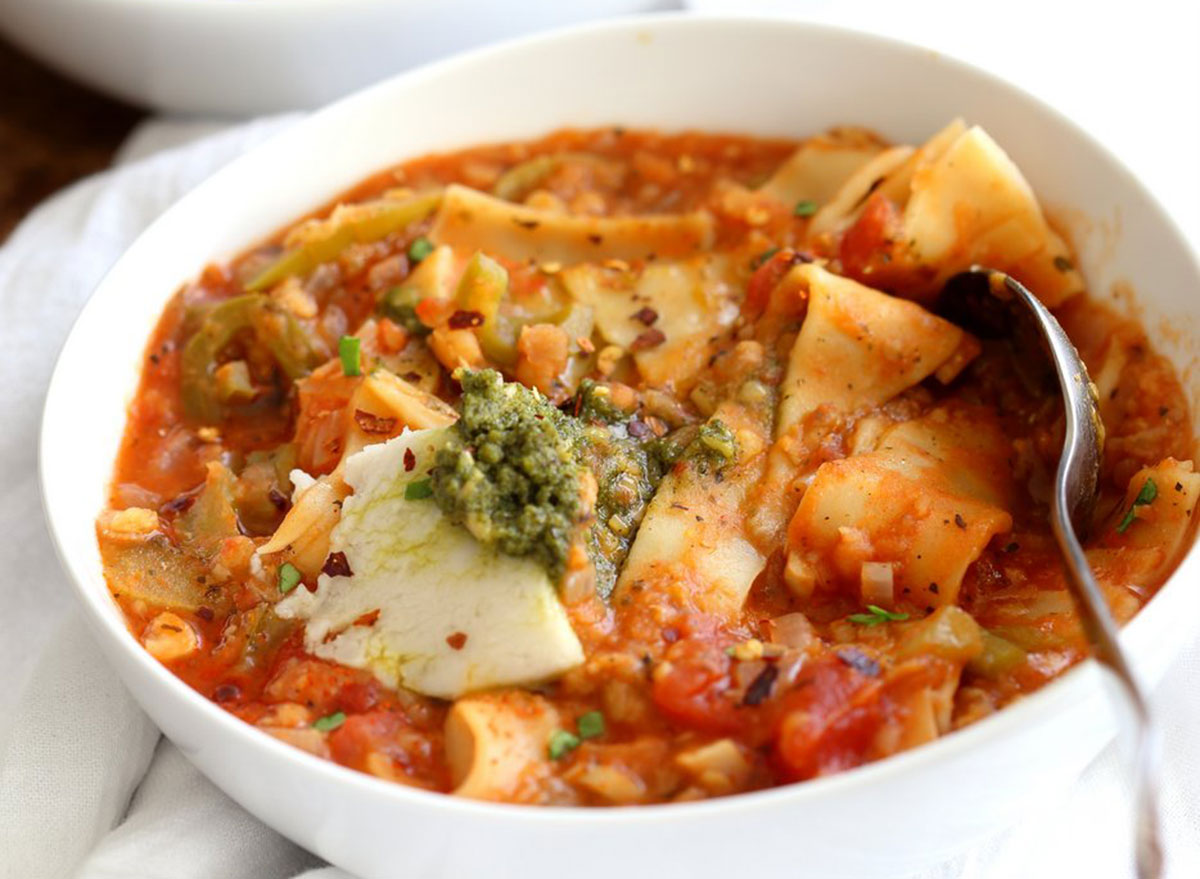 This vegan lasagna soup will prove to you that not all lasagna's need to have meat—or even packed in a casserole dish. Filled with ribbons of lasagna sheets, tomatoes, lentils, peppers, carrots, zucchini, onion, and spinach, there is truly nothing this soup is missing. Topped with pesto and vegan cheese, this soup recipe is one of our new favorites.
Get the recipe from Veganricha.
Broccoli Cheddar and Zucchini Soup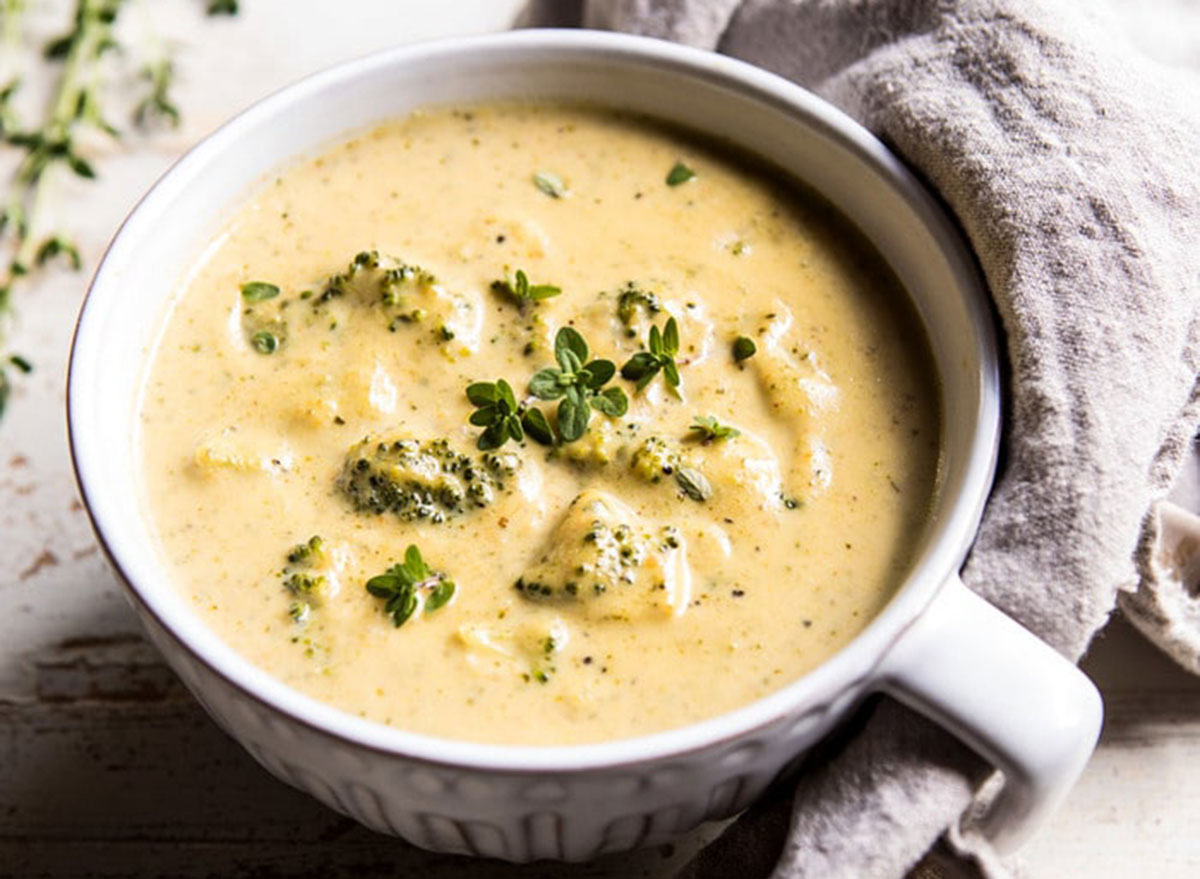 Adding zucchini to the traditional Broccoli Cheddar soup is an addition that the world didn't know we needed—until now. Panera Bread should start taking notes, cause even though this recipe lacks the bread bowl, it still comes out on top. The zucchini replaces the heavy cream and flour, giving this soup the healthy creamy flavor you love in a Broccoli Cheddar soup.
Get the recipe from Half Baked Harvest.
Chicken and White Bean Soup
If you have lots of dried beans in the pantry, boy do we have the soup recipe for you. Other than the base of chicken stock and white beans, this soup recipe is fully customizable. Feel free to add in any veggies that you have in the kitchen, or not, totally up to you how you create your version of this soup.
Get the recipe from Feasting at Home.
This is a recipe not just for sick days. If you're looking for a soup recipe that's perfect for any time of year, lunch or dinner, you've come to the right place. Despite its simplicity, this chicken noodle soup recipe is dynamic in flavor. It's a recipe that everyone is sure to love, which is great because one batch makes up to six servings for all to enjoy.
Get the recipe from Cooking Classy.
There's nothing easier than throwing everything in one pot and having it cook in less than 20 minutes. This Sausage Tortellini Soup just does that, and it'll have your kitchen smelling unbelievable, too. A bowl of this with a baguette on the side sounds like a dream meal to us.
Get the recipe from FoodySchmoody Blog.
If you've never considered putting wild rice into a soup, think again. This abstract version of a chicken and rice soup, ditches the chicken and instead fills the pot with in-season vegetables and chicken stock. Once you take a bite, you'll never put normal rice in soup again.
Get the recipe from Gimme Some Oven.
Now, you don't need to be a seasoned Italian chef to whip up an unbelievable pot of pasta e fagioli. In just 40 minutes, you could have this classic Italian soup ready for your next meal. The beans and kale give this soup endless protein and nutrients that might make you want to hoard the leftovers for yourself for later. No sharing here.
Get the recipe from Half Baked Harvest.
Cajun Butternut Squash Soup
Though chunky soups are often packed with delicious vegetables or hearty meats, there is something to be said for a soup that goes down smooth. This Cajun Butternut Squash soup does just that, with the creaminess of the butternut squash and the intense flavors of the cajun seasoning.
Get the recipe from Little Spice Jar.
This is the rendition of a traditional lentil soup that you never knew you needed. First of all, it's vegan and gluten-free, which is always great because that means more people can enjoy this recipe. The lemon flavor absolutely shines in this Instant Pot recipe, which makes it different from any soup of its kind.
Get the recipe from Gimme Some Oven.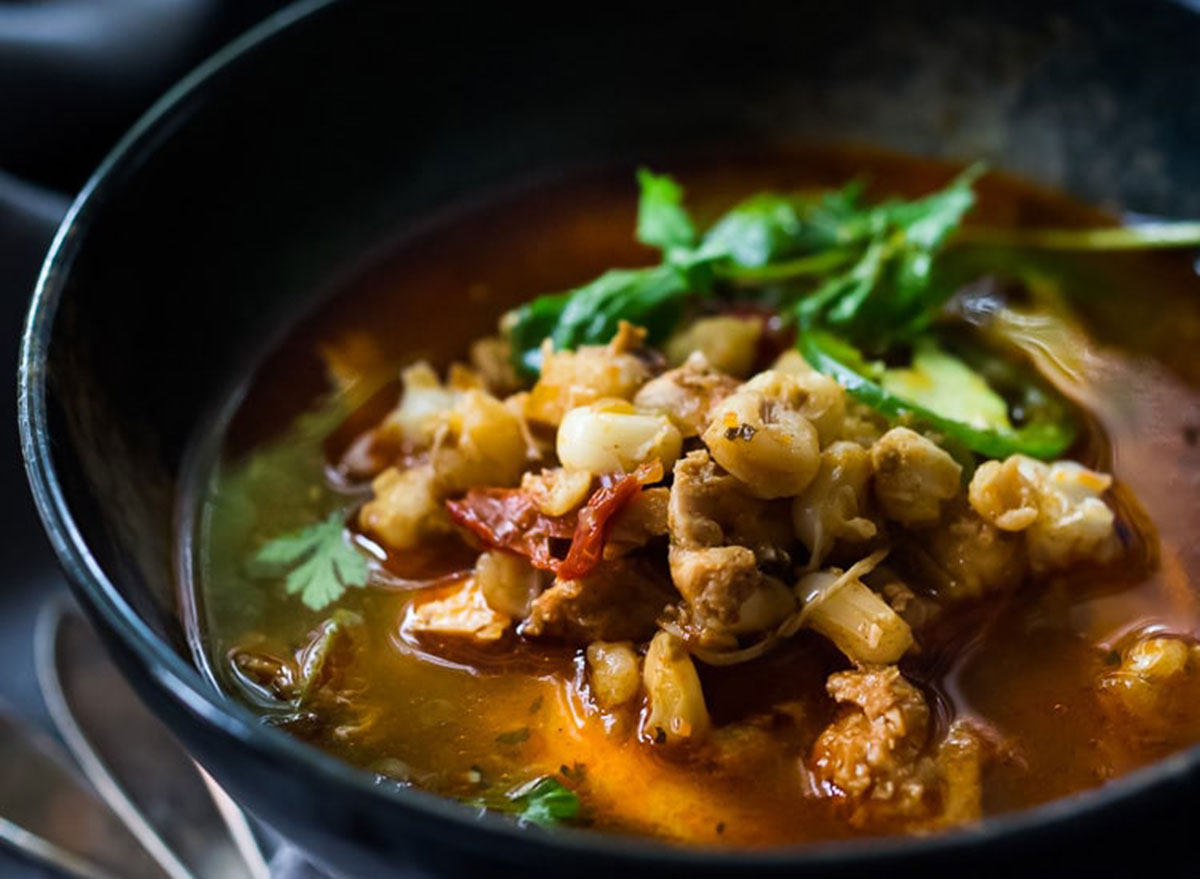 This Mexican-inspired Instant-Pot soup is definitely a hidden gem. Though you may not have heard of Chicken Pozole before this, we're letting you know that it's something you should definitely try out. Cooked with chicken thighs, the broth is packed with an abundance of spice thanks to the chili powder, green chiles, cumin, and chipotle powder. It's filling and delicious, and did we mention it lasts up to five days in the fridge? We're sold.
Get the recipe from Feasting At Home.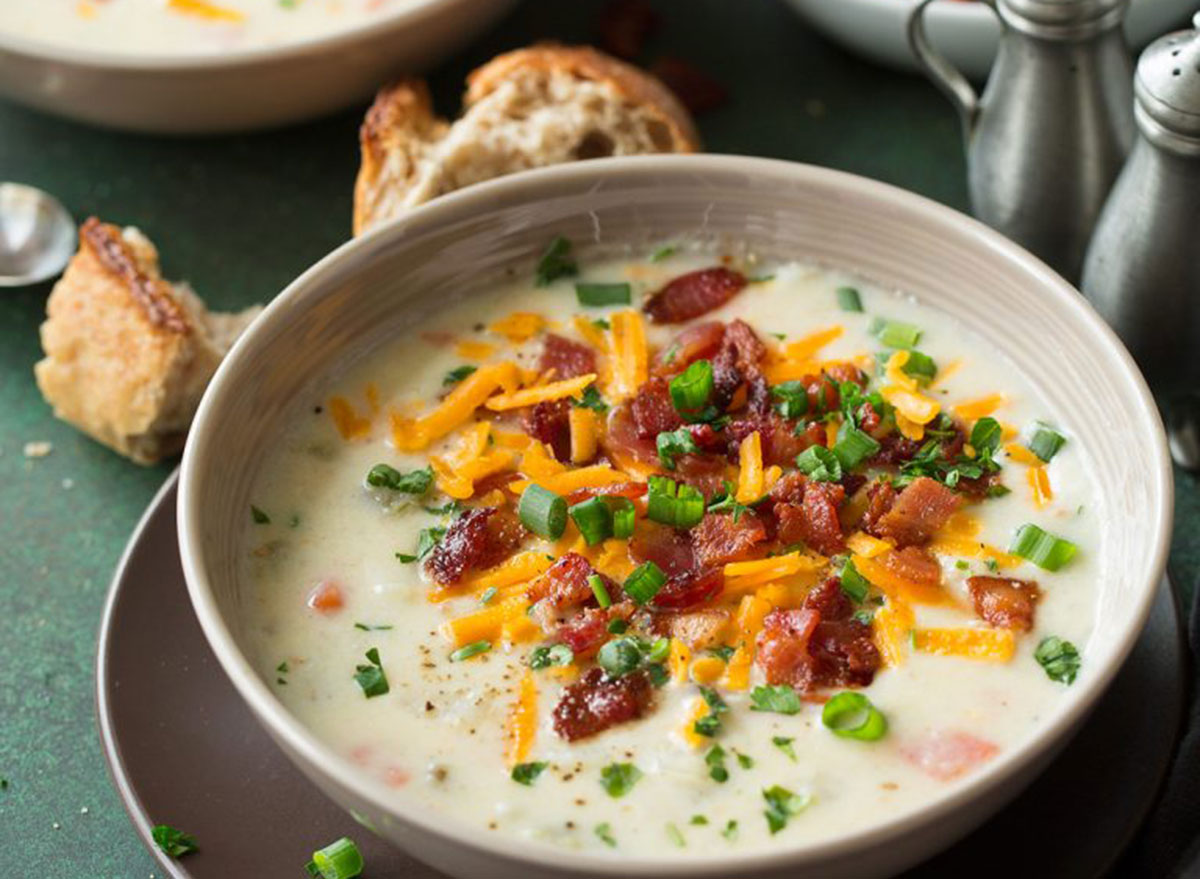 This creamy potato soup is a Southern classic. The combination of potatoes and cheese is truly heavenly. It's definitely a soup that everyone at the table will love, because what's not to like? And each person can top it off with all their favorite garnishes, from bacon to green onions to even more cheddar cheese, nothing's off-limits.
Get the recipe from Cooking Classy.
Cauliflower Broccoli Soup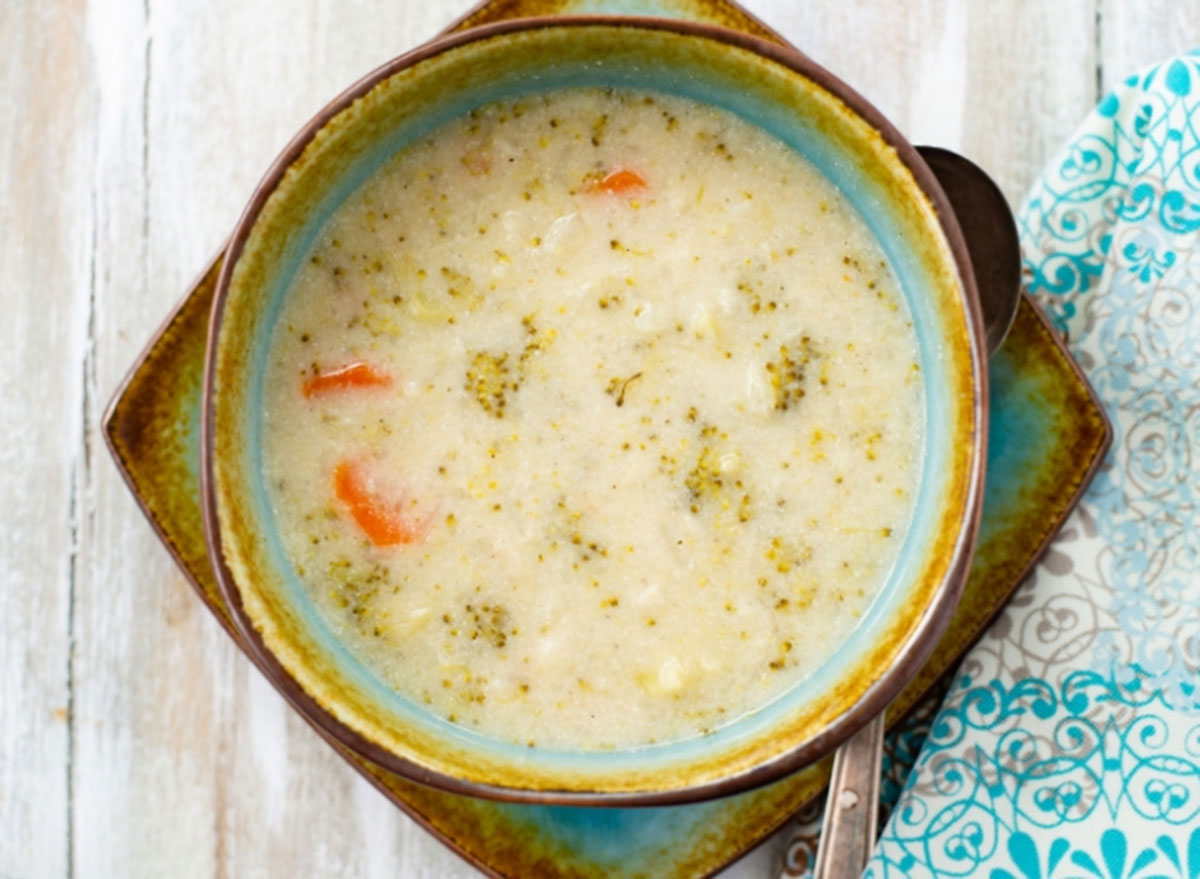 Want to hear the greatest thing about this soup? The creaminess comes from the cauliflower. That's right, there's absolutely no heavy cream involved in this rich Instant Pot soup. Instead, it's the veggies that take center stage, and we're totally here for it.
Get the recipe from Flour On My Face.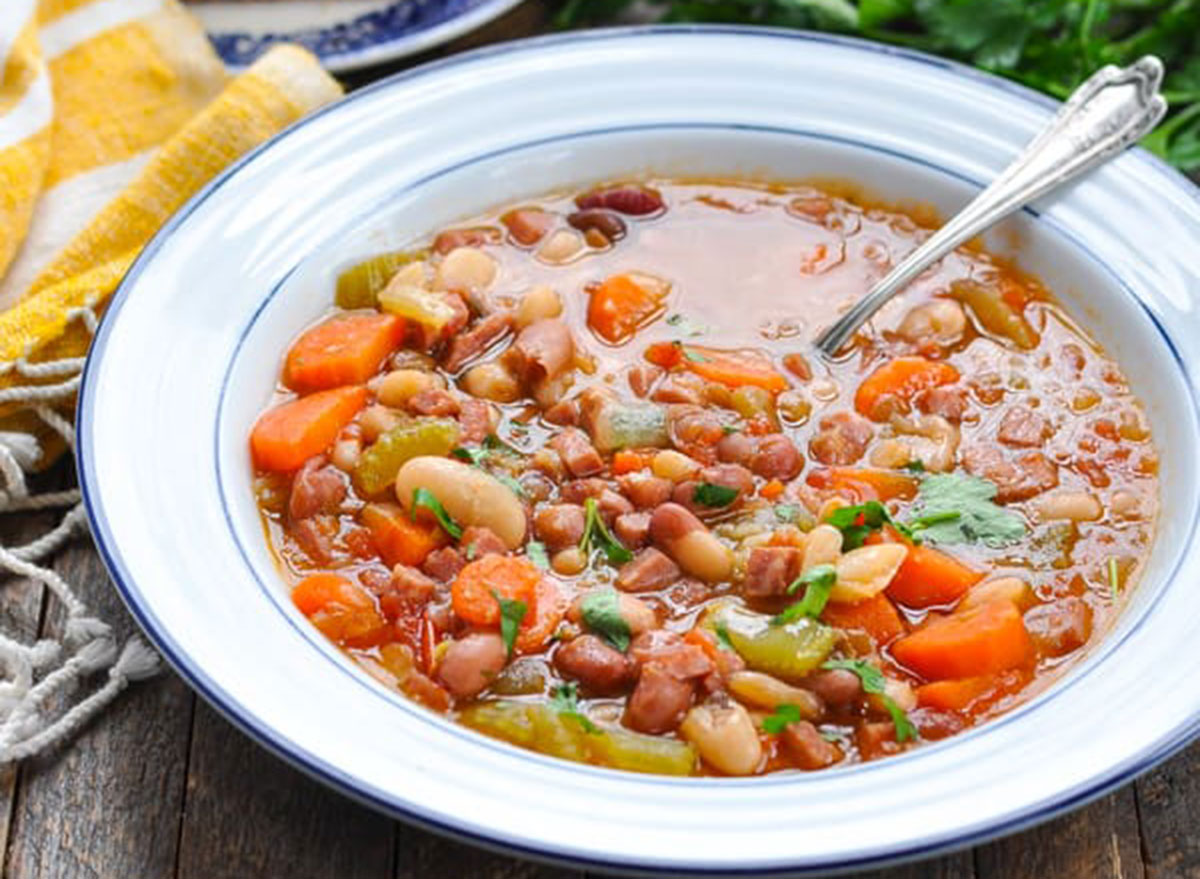 It would make sense for the beans to truly shine in a Bean Soup, but using the 15-bean mix really helps them do that because the variety makes the dish so colorful and dynamic. The beans give this soup tons of texture, while the veggies and ham pack it with an abundance of flavor.
Get the recipe from The Seasoned Mom.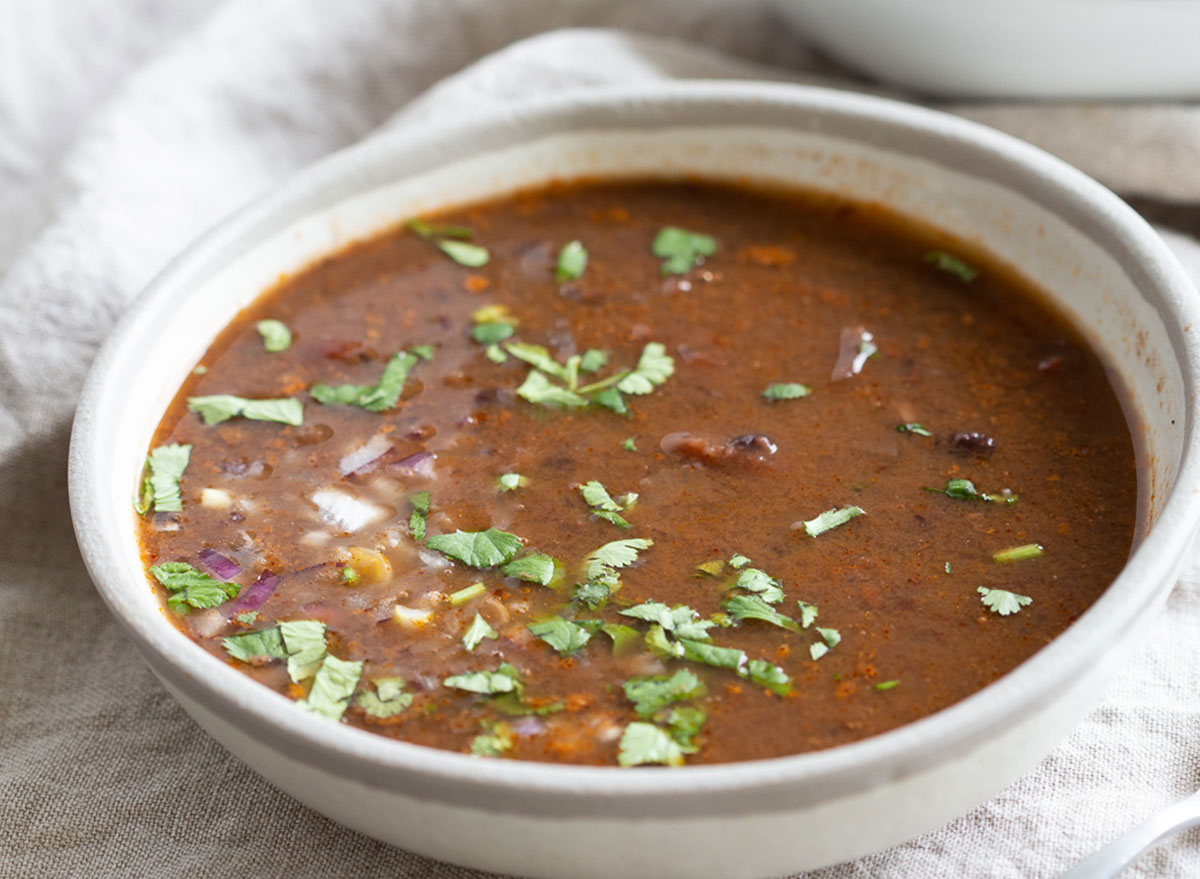 Easy is an understatement for this Vegan Black Bean Soup. Not only can it be made with five ingredients plus the seasonings, but it's a great way to get some plant-based protein in your diet. It's also less than 150 calories per serving. Once you give this recipe a try, it's sure to be a staple in your kitchen.
Get the recipe from VeganRicha.
Split Pea Soup with Harissa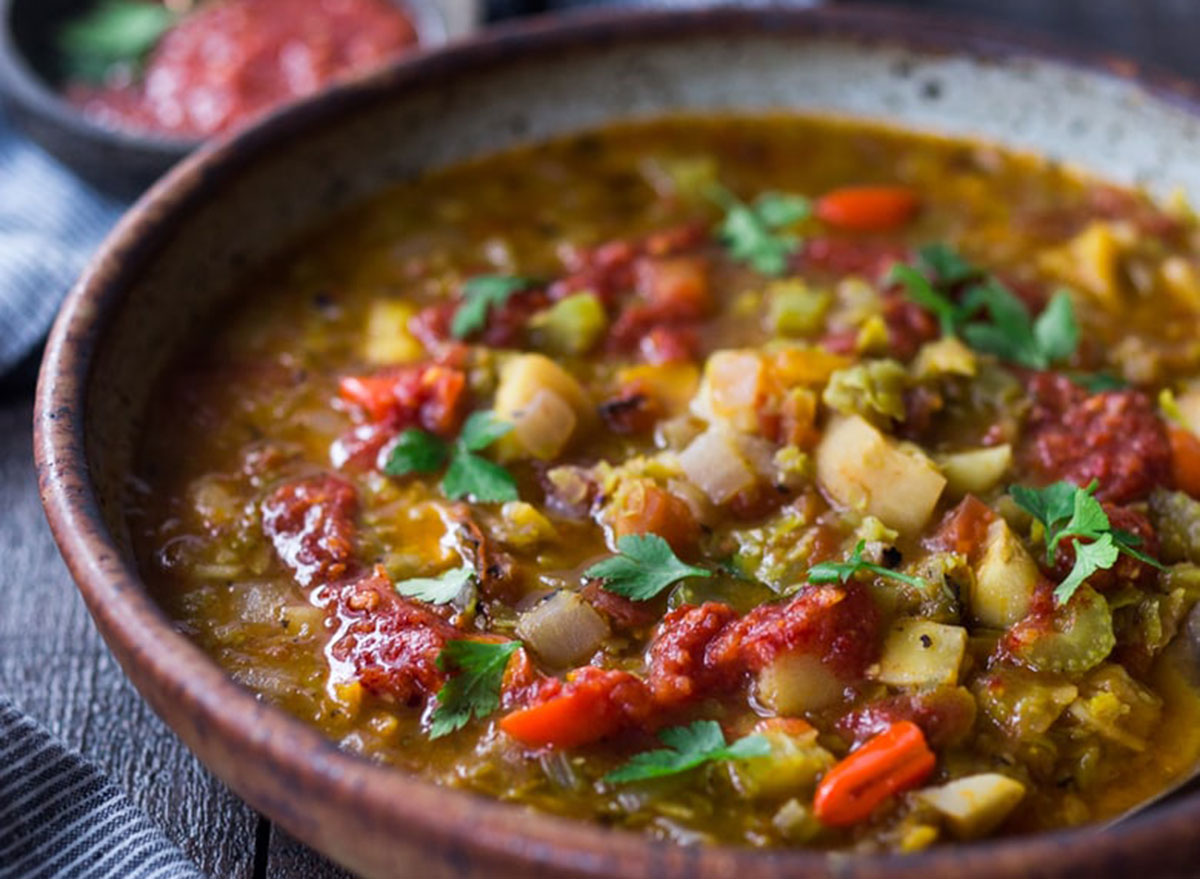 If you've never thought to top off your split pea soup with harissa, then we're about to blow your mind. Also the fact that this soup also features tons of other vegetables like bell pepper, celery, tomatoes, and onion makes it far better than one of your average Instant Pot soup recipes. This recipe will have everyone at your table begging for the recipe.
Get the recipe from Feasting at Home.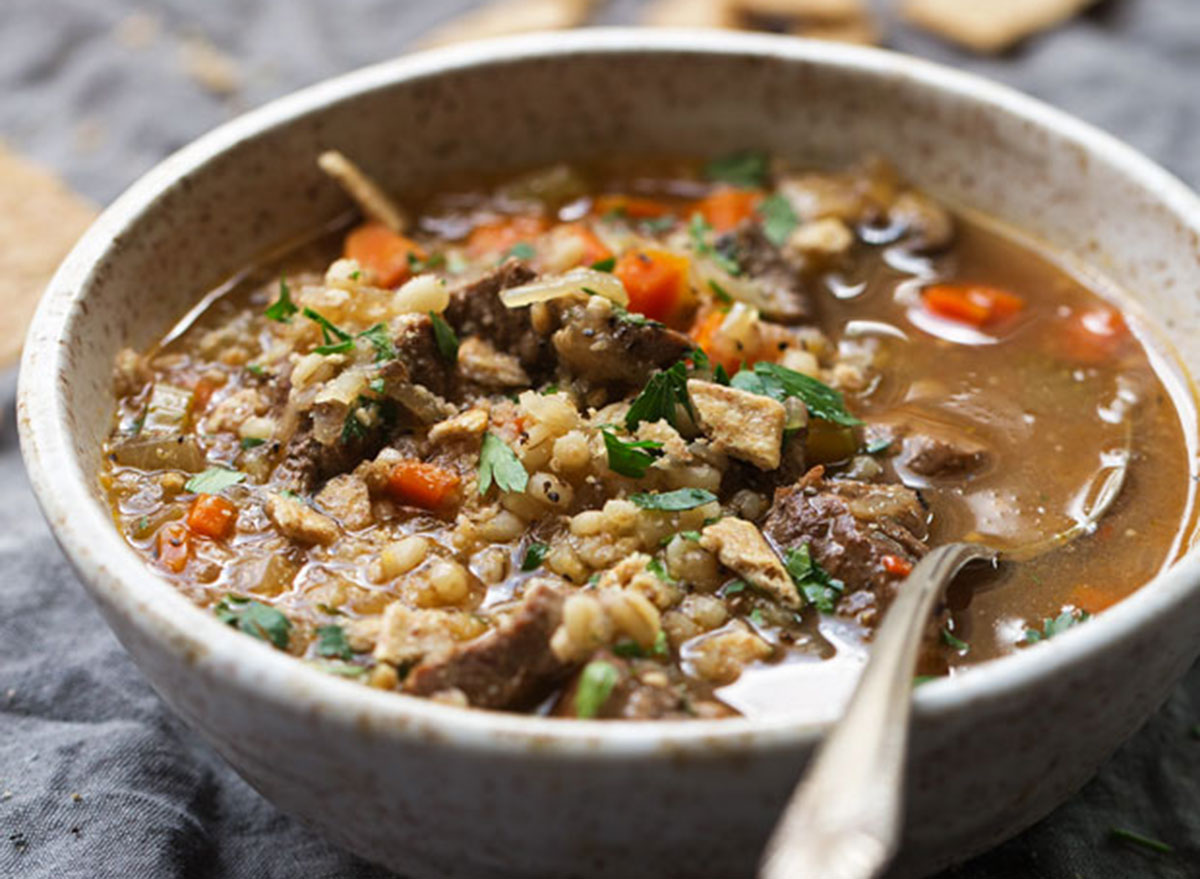 Looking for a soup to fill you up all day? This beef barley soup recipe is filled to the brim with mushrooms, carrots, celery, beef, potato and barley that will make you forget about your next meal entirely. There is nothing better than tasting the way all of those flavors come together in one of the simplest Instant Pot soup recipes ever.
Get the recipe from Little Spice Jar.
This vegetarian gumbo is an unbelievable budget-friendly option that will absolutely give you a taste of that Southern comfort food. If you've never tried okra, this recipe will give you the excuse to see what it's all about. The abundance of vegetables, lentils, and spices will leave you in awe of all the flavors.
Get the recipe from Cotter Crunch.
Creamy Garden Tomato Soup
Smooth is the name of the game when it comes to tomato soup, and this recipe literally redefines smooth. The creaminess of this soup is completely unmatched and the addition of pesto and balsamic vinegar introduce flavors you might not think to add to a typical tomato soup. We'll have the whole pot, please.
Get the recipe from The Creative Bite.
Spicy Peanut Soup with Sweet Potato and Kale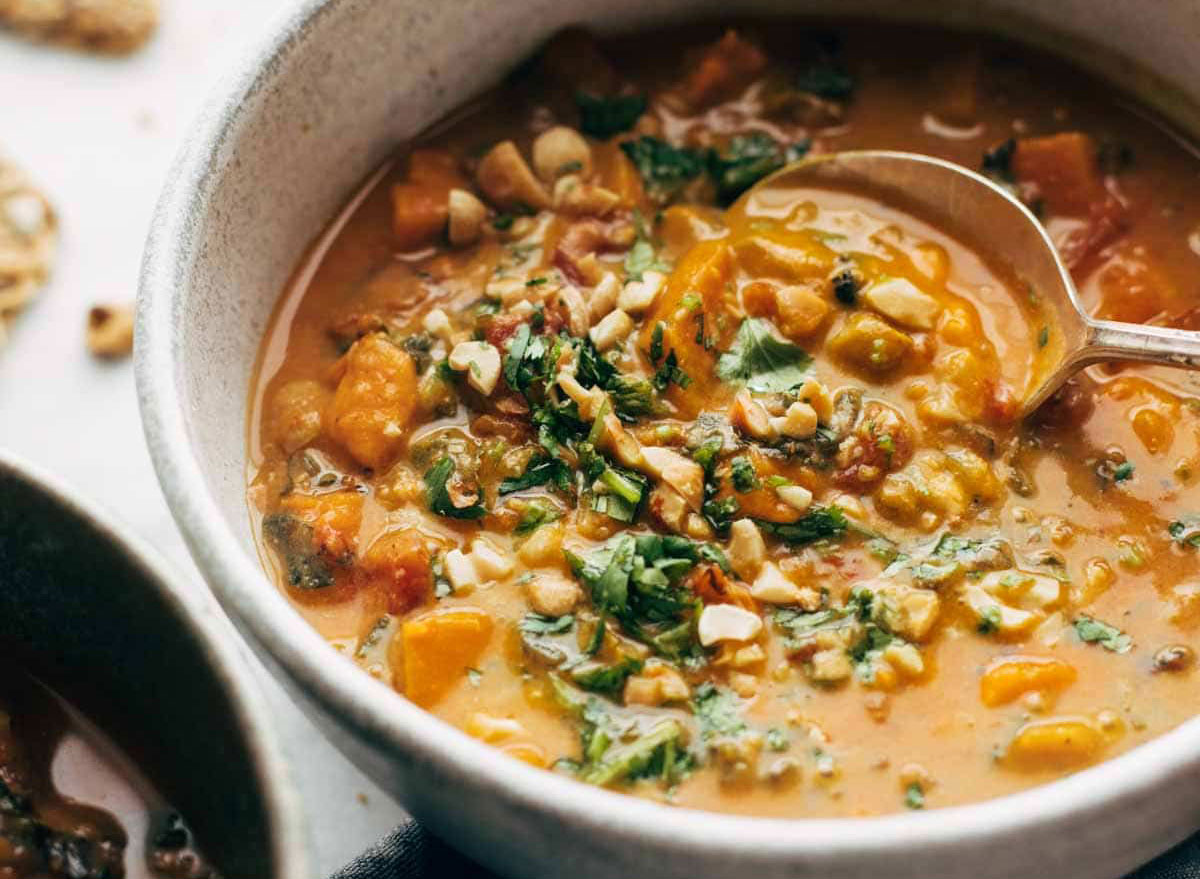 Here are some ingredients that we bet you never thought to put together: sweet potato, peanuts, tomatoes, jalapeño, and cilantro. They come together in a way that totally makes sense in this Spicy Peanut Soup recipe that you can make from start to finish in less than 35 minutes. Not to mention it's vegan and gluten-free. All good things.
Get the recipe from Pinch of Yum.
Spicy Vegetarian Cabbage Soup
Cabbage doesn't always have to go with meat! This vegetarian cabbage soup is just paired with more veggies and the combo is completely delicious. You can make it just as spicy as you'd like, which makes it perfect for all palates. There's just something about a soup that's so colorful—we love to see it.
Get the recipe from Gimme Some Oven.
Read more:
20 Best Slow Cooker Soup Recipes
35+ Sheet Pan Recipes That Are Beyond Easy to Make
Rachel Linder
Rachel is an Associate Editor responsible for compiling the daily Eat This, Not That! newsletter, making TikTok and YouTube videos for the brand, writing articles for the site, creating original graphics and providing direct assistance to the editors when needed.
Read more about Rachel