The #1 Best Canned Soup for Weight Loss, Says Nutritionist
This soup hits all the right marks!
Canned soup may not be the most glamorous of foods, but there's nothing more convenient than the heat-and-eat ease of opening a can on a busy weeknight or for a workday lunch. Canned soups keep in your pantry for ages, so even if you're all out of fresh ingredients, having a few options on hand might keep you from grabbing less-than-nutritious takeout. If you're looking to lose weight, their combination of convenience and lengthy shelf life is a major plus.
In fact, even though canned soups get a bad rap for their high sodium content, the right options can be surprisingly healthy—not to mention weight loss-friendly. As a nutritionist, I'm always happy to share my tips on selecting the one that'll help, not hinder, your weight loss goals.
First, you'll want to keep your eye on a few specific line items on the nutrition facts label, starting with calories per serving. Though calorie counting can be an overly restrictive weight loss strategy, calories do, of course, matter. My advice: look for a canned soup with about 400 calories per can or less. For most people, this is enough to make soup feel like a real meal.
While it may seem like calories per serving is the most important value to zero in on, there's more to the weight loss equation than scaling back on them. I recommend looking at a soup's content of fiber and protein, too. Studies show that a higher intake of fiber is associated with lower body weight. What's that about, you may ask? Some research shows that fiber increases feelings of fullness, which makes us eat less. Meanwhile, fiber serves as "food" for the healthy bacteria in your gut. A thriving microbiome has been linked to lower body mass index (BMI).
Getting enough protein in your diet is another key component of weight loss.  Protein promotes satiety (aka feeling full) even more than carbs and fat, while also boosting the body's metabolic rate. This is where many canned soups don't deliver, however. Many are extremely low in protein, so always take a look at this entry on the nutrition label of your favorite can.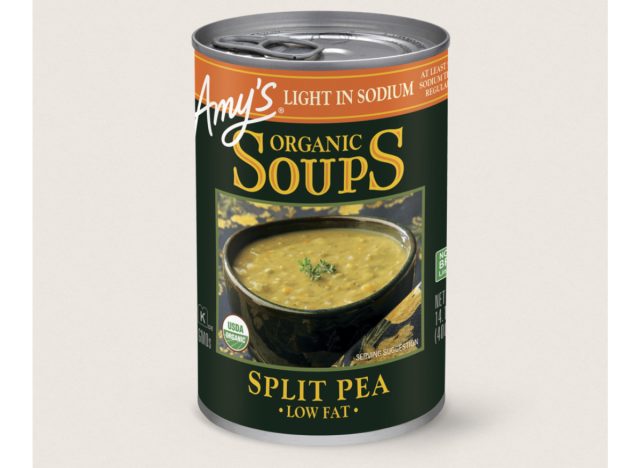 Looking for an example of a canned soup that checks all the weight loss boxes? Try a cozy bowl of Amy's Organic Split Pea Soup, Light in Sodium. With just 120 calories per cup (and 200 in the entire can), it's extremely low in calories—so low, in fact, that you may want to supplement it with a salad or side of whole wheat bread to round out your meal. A sizable 5 grams of fiber and 7 grams of protein per serving add to the pro-weight loss package.6254a4d1642c605c54bf1cab17d50f1e
Not only does this split pea soup make a weight loss-friendly choice, it also comes with some extra bonuses, too. One serving provides just 13% of the daily value of sodium—a far cry from many sodium-bomb canned soups you'll find on grocery shelves.
Plus, its organic ingredients are a better choice for the environment than conventionally grown ones. If you live with food allergies or intolerances, this soup can likely stay on your menu, since it's free of gluten, dairy, lactose, soy, corn, and tree nuts. Last but not least, the flavors of basil, garlic, and bay leaves make for savory sipping and spooning.
Whether weight loss is your goal or you'd just like a warm-you-up bowl of flavor, you can't go wrong with this hearty classic.
For even more soup tips, read these next:
Sarah Garone, NDTR
Sarah Garone, NDTR, is a registered nutrition and dietetic technician, and a health, nutrition, and food writer.
Read more about Sarah