15 Best Frozen Fruits & Vegetables to Keep on Hand
You can do SO much with a bag of frozen peas.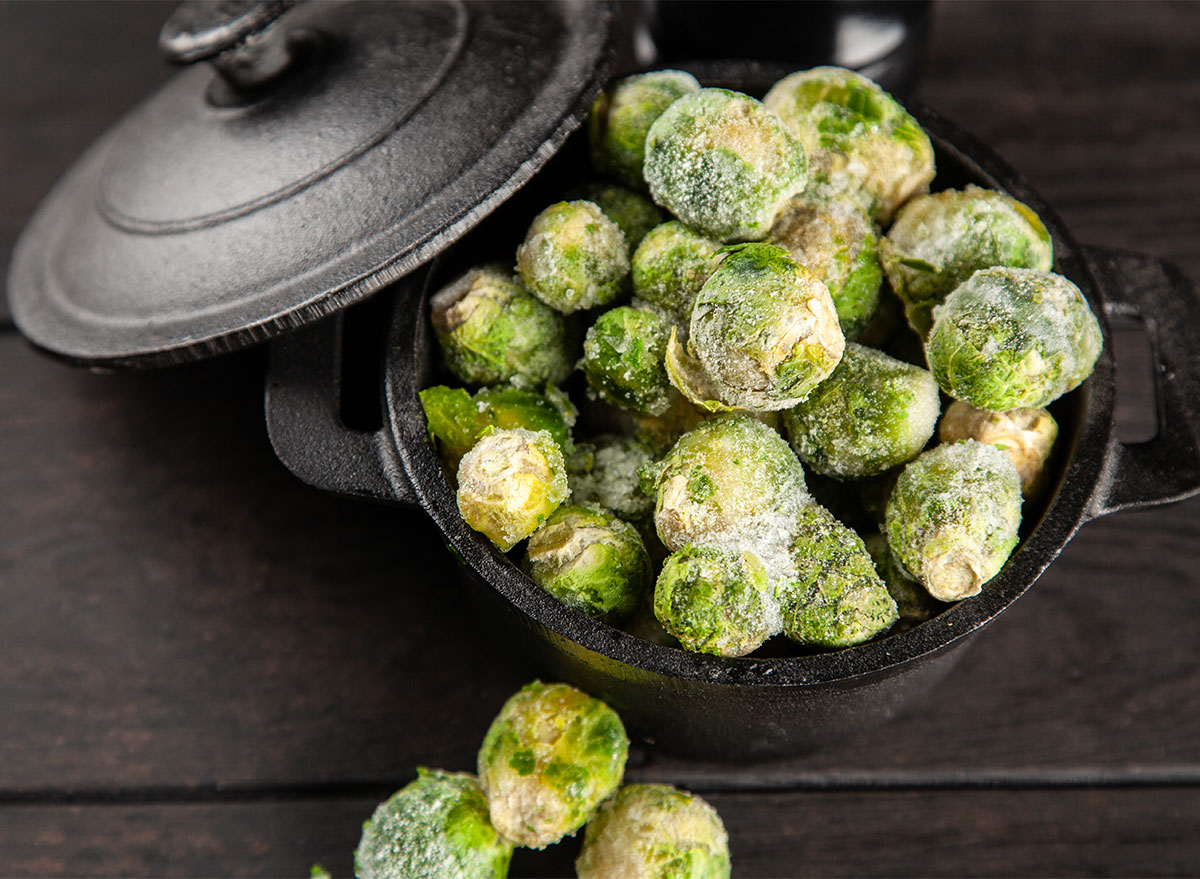 Whether your grocery store is out of your favorite produce or you're trying to limit your trips to the grocery store, frozen fruits and vegetables are a great alternative. They can be more nutritious than their fresh counterparts, as they're flash-frozen and will retain nutrients without spoiling. And they're great to have on hand when you want to incorporate some healthy elements into your meals.
While you can't go wrong with fruits and vegetables, here are a few great options to have on hand. They're nutrient-rich and will work in countless different recipes—we've even included some recipe ideas to get you started.
Strawberries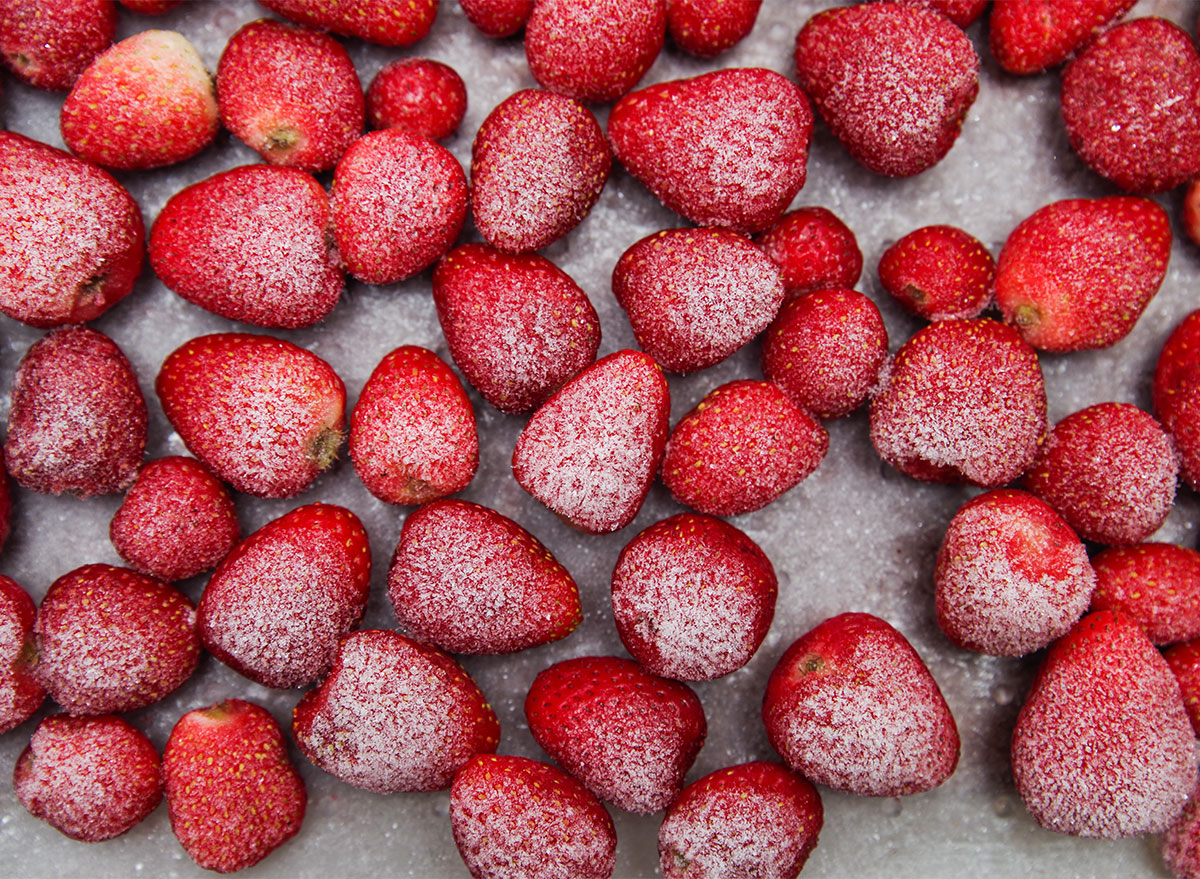 Strawberries are a breakfast (and dessert) classic for a reason. They're high in vitamin C and are delicious in baked goods, blended into smoothies, or served atop yogurt or oatmeal for a hearty breakfast.
For a sweet treat, try frozen strawberries in this Grilled Strawberry Shortcake With Balsamic Recipe.
Butternut Squash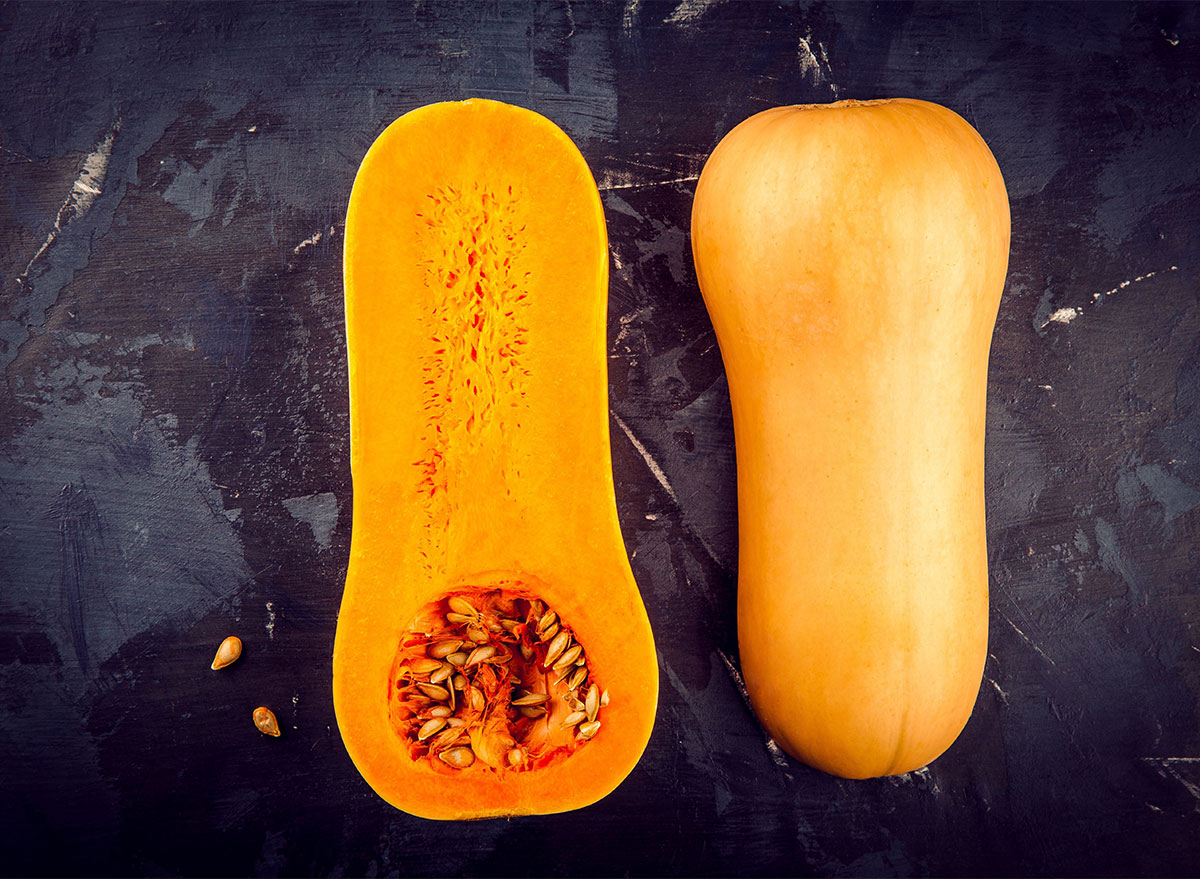 If you can find frozen butternut squash at your local grocery store, it's worth a buy! You can add the cubes to baked mac and cheese for a nutritional boost, or roast the cubes and serve them atop a salad. The best part? You don't have to do the work of chopping the squash yourself.
One place to find frozen butternut squash cubes is Wegman's. Here are 20 Hard-to-Find Groceries—And Where to Find Them.
Peas
Frozen peas are good for more than soothing your aches and pains! Adding peas to your meals will give you an extra protein boost and provide you with more than three grams of fiber, too. Enjoy them in stir-fries or added to soups.
Try adding frozen peas to this Quick Gnocchi With Peas and Prosciutto Recipe.
Spiralized Vegetables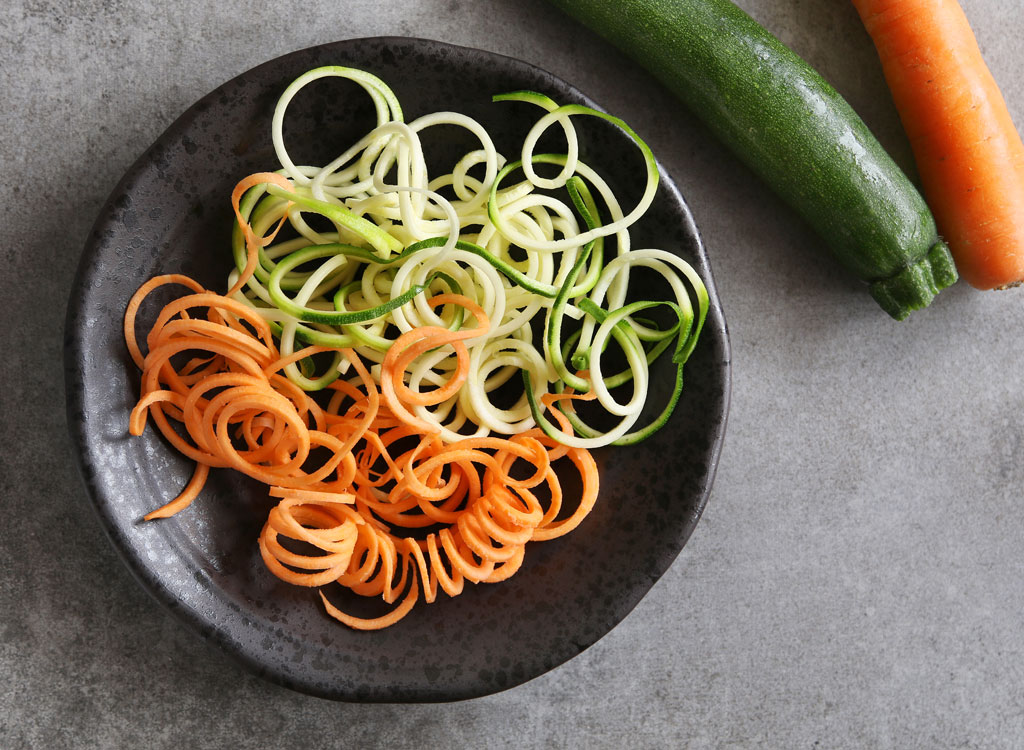 You don't have to break out the spiralizer every time you want a pasta substitute. Brands like Trader Joe's and Green Giant sell spiralized zucchini, carrots, and more. Toss them with pasta sauce or stir-fry them for a low-carb dinner.
Try out your spiralized veggies in this recipe for Zucchini Spaghetti with Turkey Meatballs.
Spinach
Whether you're cooking it stovetop for a savory meal or tossing a bit into your morning smoothie, frozen spinach is essential to keep on hand anytime, not just during the pandemic.
Still not sold on this green veggie? You might change your mind after trying this Garlic-Lemon Spinach Recipe.
Bananas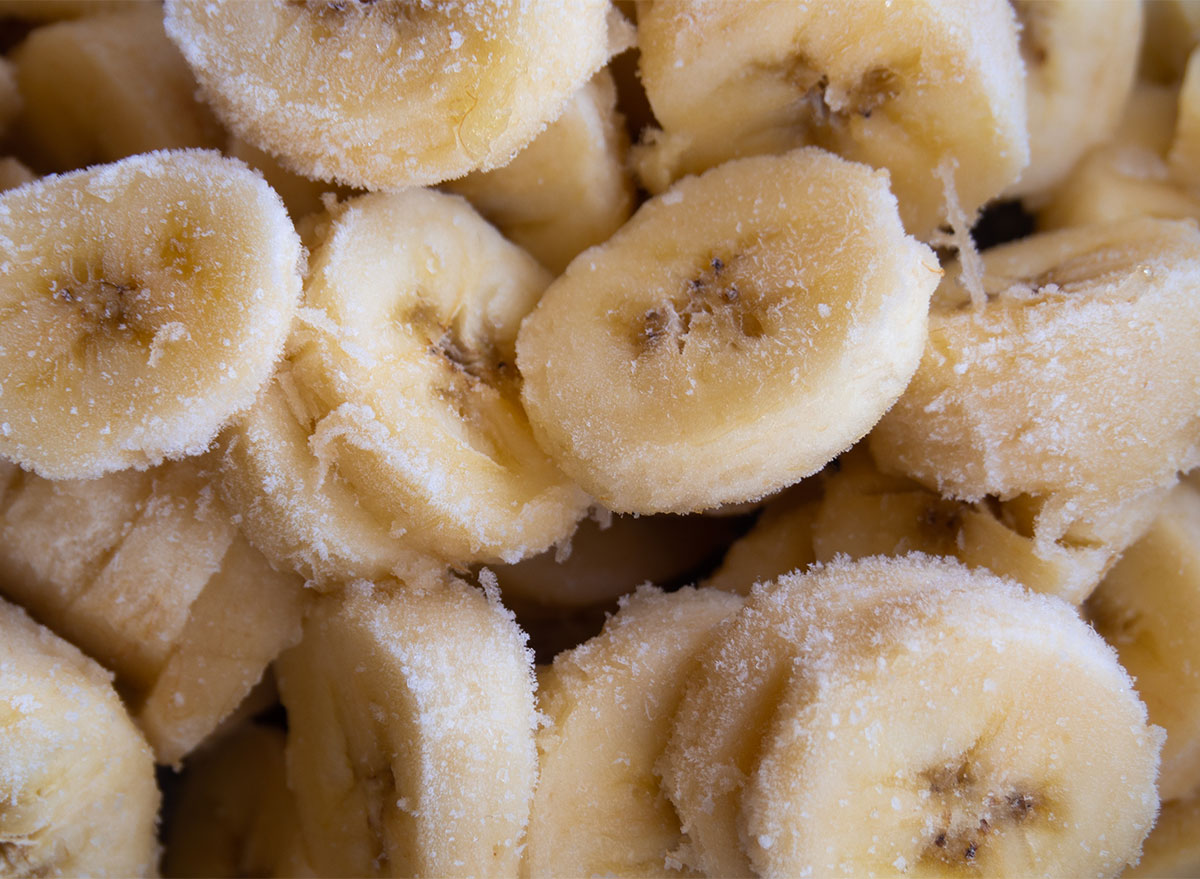 You might not see frozen bananas at your local grocery store (unless they're sliced and covered in chocolate), but you can freeze bananas on your own! That way, you'll prevent food waste if you don't eat them all in time, and you can use them to make smoothies or baked good down the line.
Try using frozen bananas in these delicious Frozen Banana Ice Cream Recipes.
Corn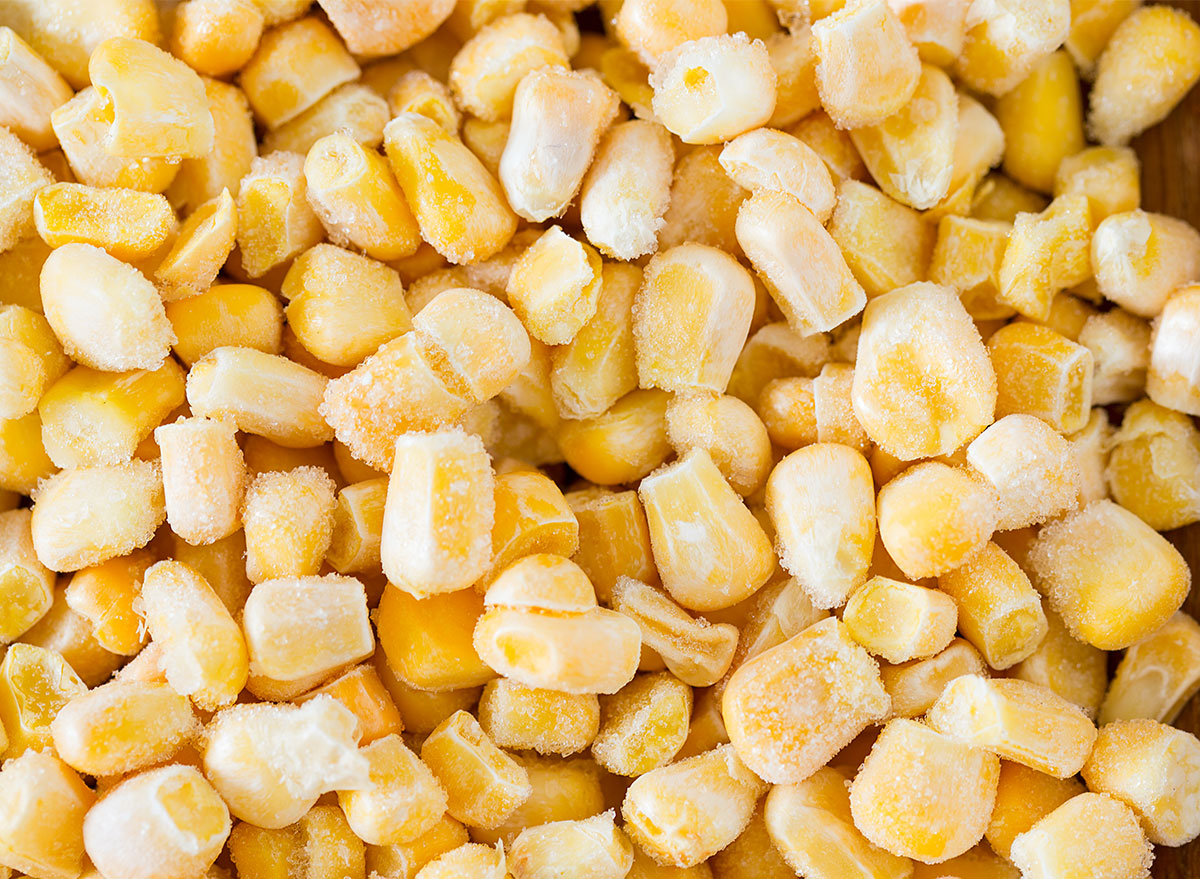 Whatever way you buy it—canned, frozen, or fresh—corn is a tasty way to add more flavor and nutrients to your meal. Use frozen corn in homemade salsas or white chili recipes. We love these 20 Corn Recipes That Crush It.
Broccoli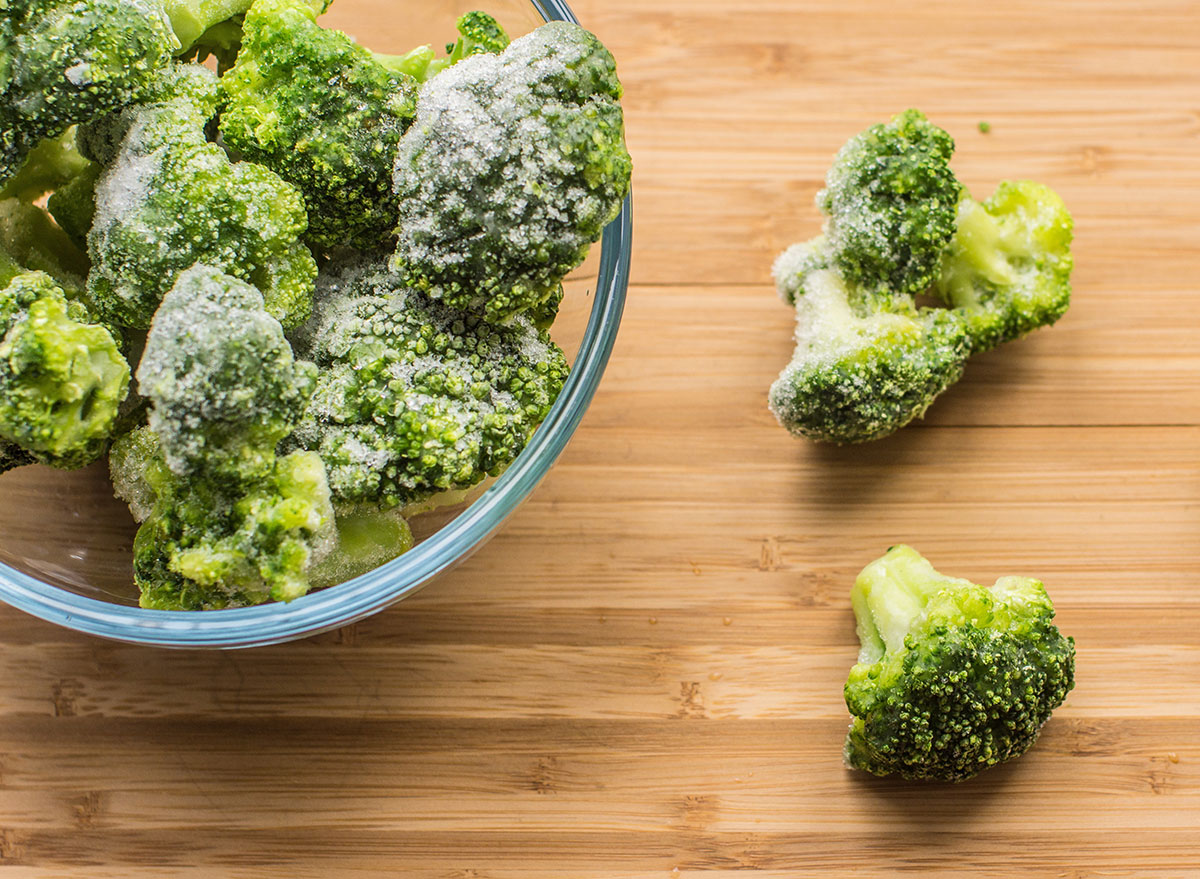 Broccoli is a good source of vitamin C, vitamin A, and vitamin K. And you'll get all those nutrients from frozen broccoli, too. Try roasting it with garlic or sautéing it stovetop for an easy side dish.
For a super-easy recipe, try these Broccoli-Cheese Eggs in a Mug.
Cherries
Fresh cherries can be expensive, so keeping the frozen variety on your shopping list is a must if you're trying to save money. Put the fruit to good use in this Sweet and Creamy Chocolate-Covered Cherry Smoothie Bowl Recipe.
Cauliflower Rice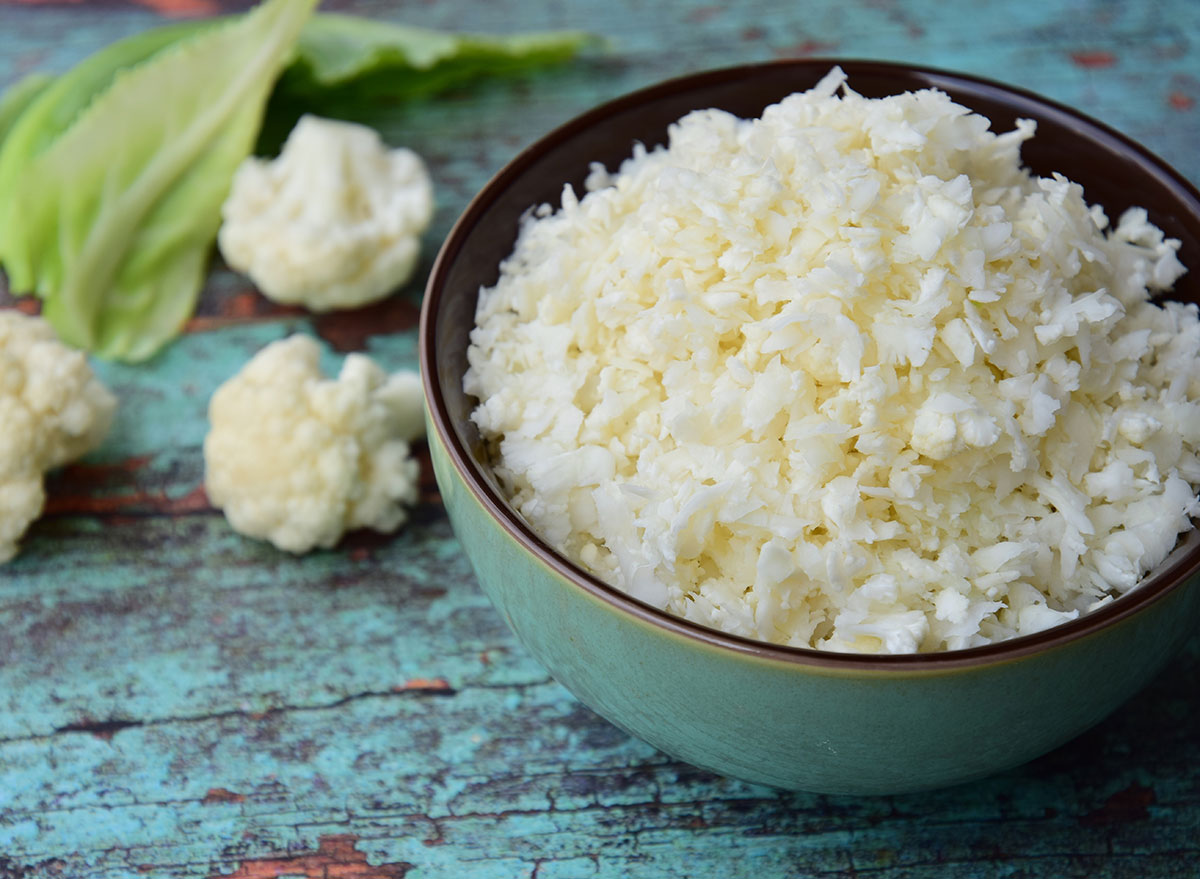 There's no need to go through the trouble of ricing your own cauliflower when you can buy a bag of frozen riced cauliflower at the grocery store. Use it in any recipes where you'd use regular rice! These 20 Cauliflower Rice Recipes are a great place to start.
Edamame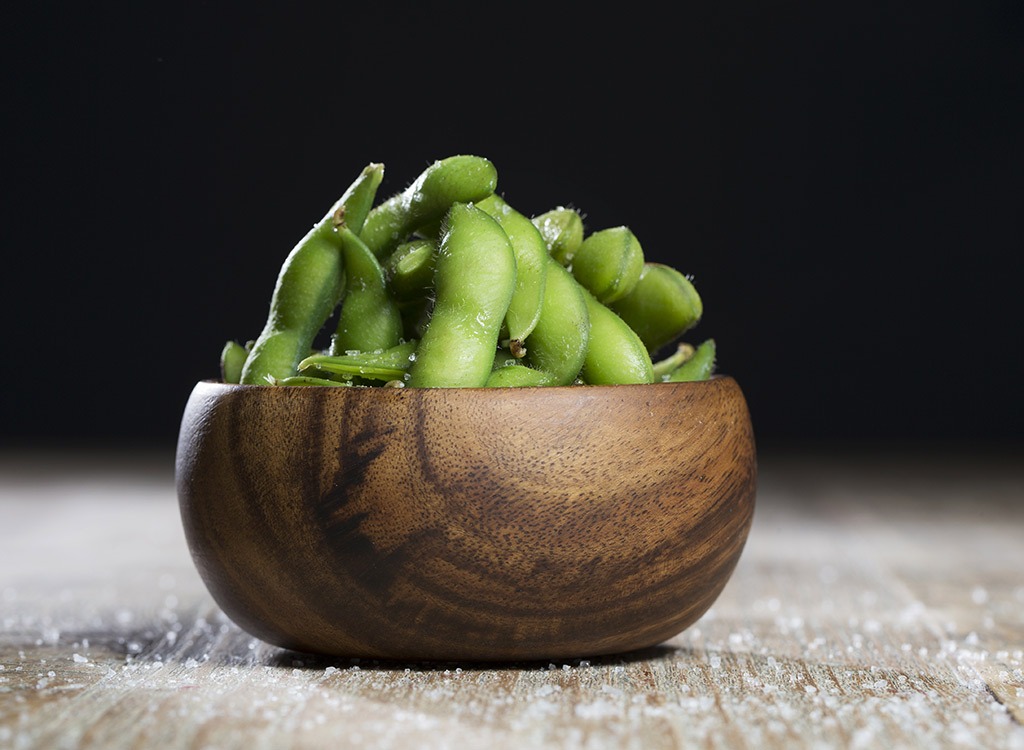 No, you can't go to your favorite sushi place during quarantine, but you can still make a delicious bowl of edamame at home. Just microwave some frozen edamame, add a little salt, and you're good to go.
Want something a little fancier? Use the frozen edamame in this Brown Rice Congee with Chicken, Edamame, and Crispy Mushrooms.
Brussels Sprouts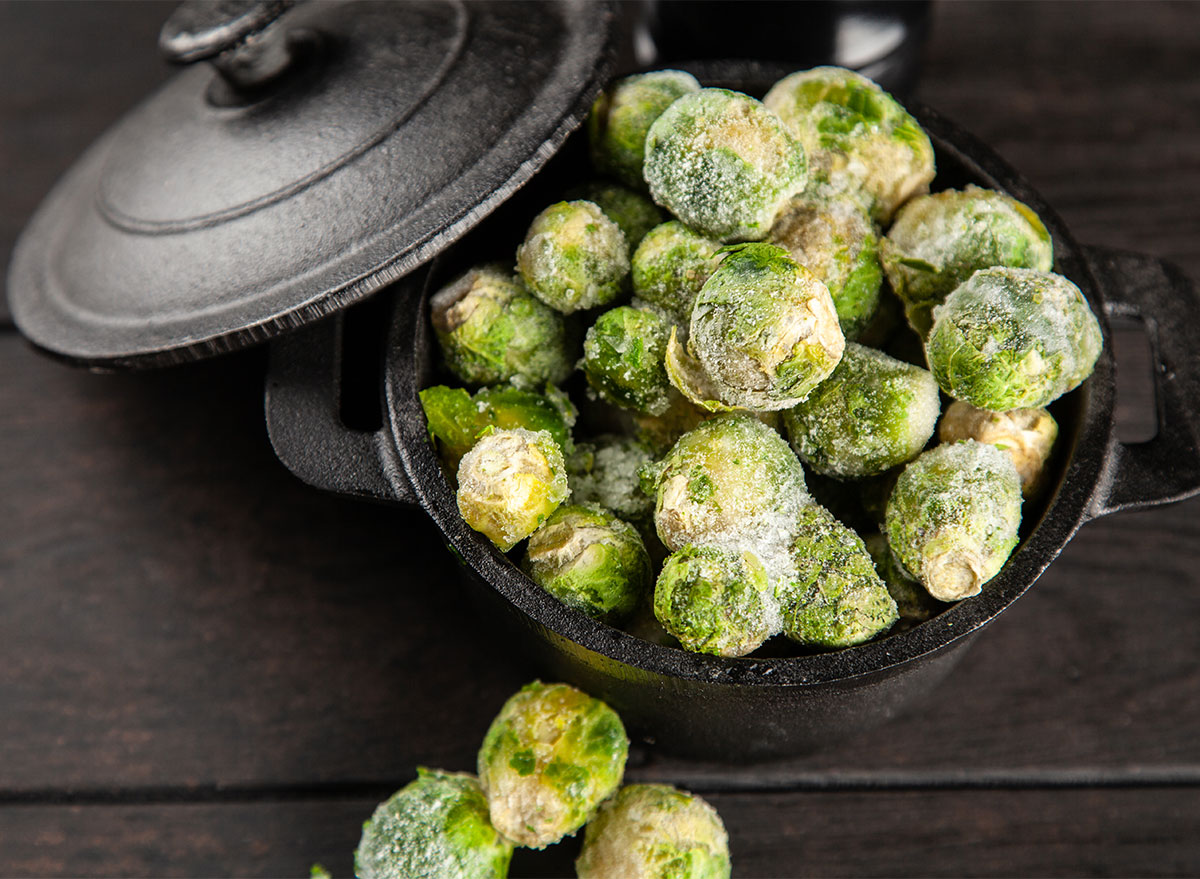 You don't have to wait until Thanksgiving rolls around to enjoy a delicious side dish of Brussels sprouts. If you buy them frozen, they're great any time of year! Try cooking them with bacon for a tasty addition to any meal.6254a4d1642c605c54bf1cab17d50f1e
Try the veggie in this Brussels Sprouts Garnished With Bacon and Almonds Recipe.
Green Beans
Green beans are another Thanksgiving vegetable that doesn't get its due during the rest of the year. They don't have to be baked into a casserole—you can cook frozen green beans for a simple side dish to any poultry dinner. Try these 17 Good-for-You Green Bean Recipes.
Grapes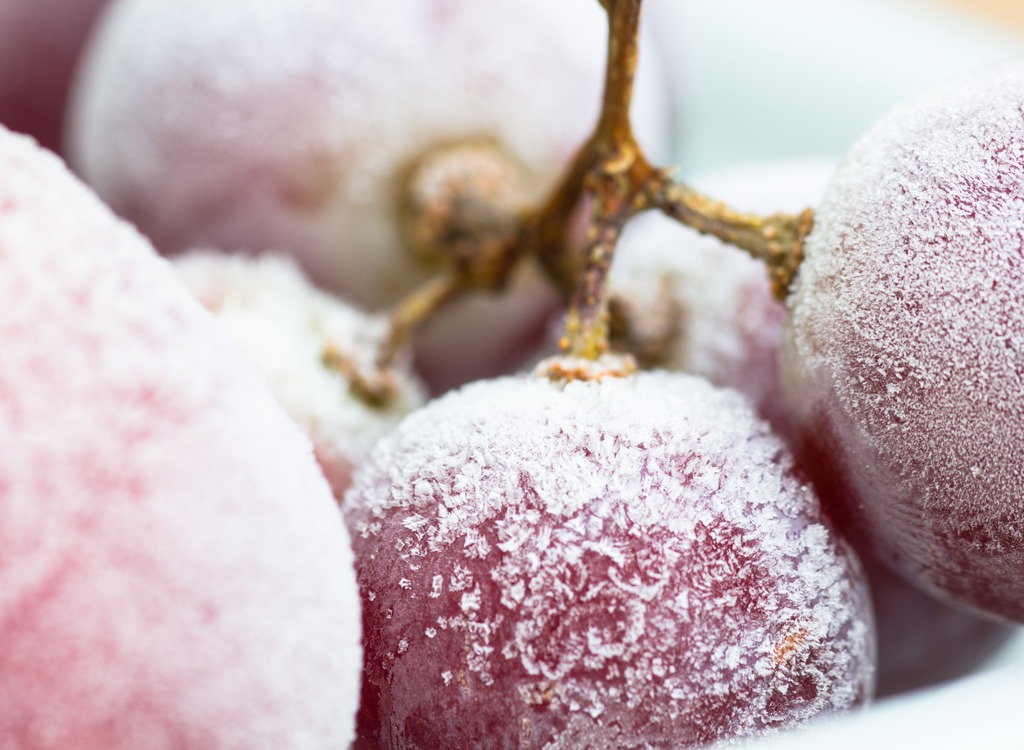 As with bananas, you may not find frozen grapes in your grocery store. But you can freeze fresh grapes for a quick and easy treat! You can even use them to cool off your wine without watering it down—all of these uses are why grapes are one of the 50 Foods You've Been Eating Wrong Your Whole Life.
Mango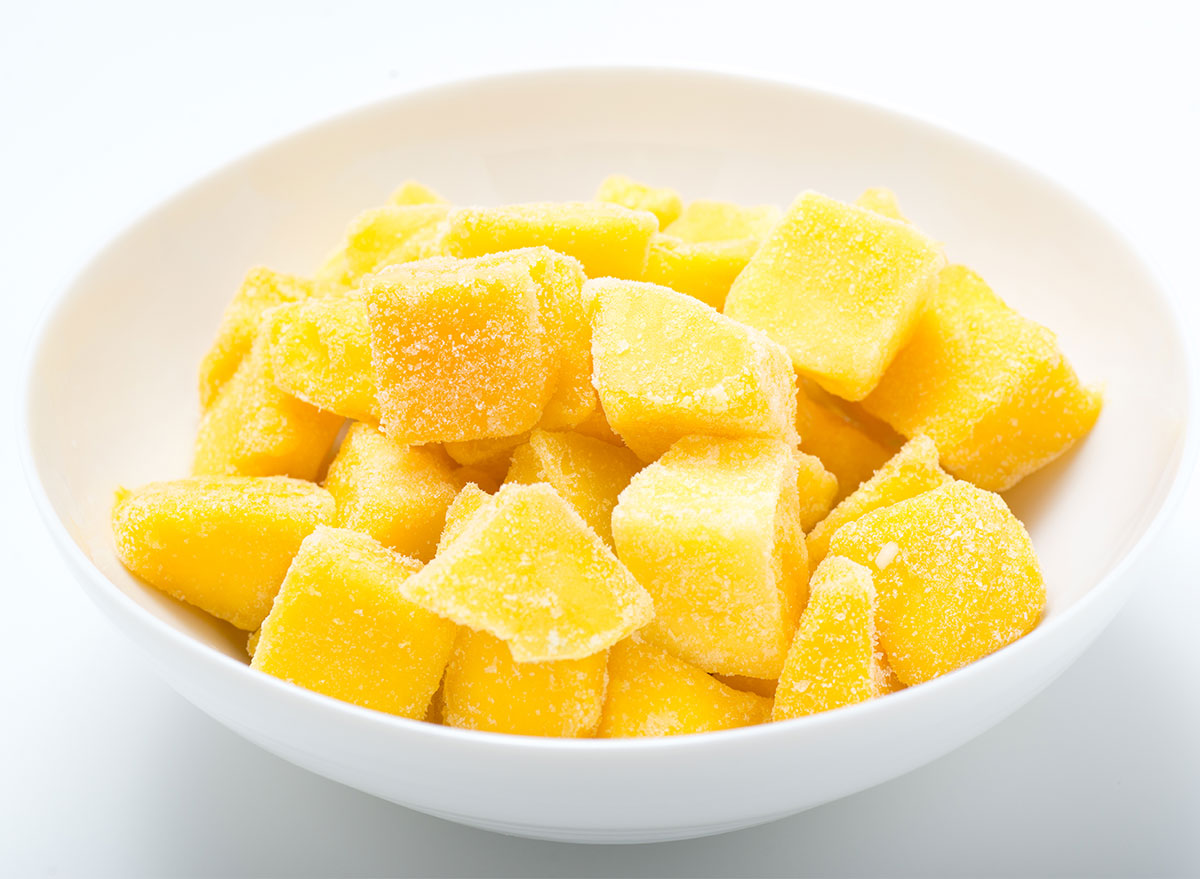 Don't want to deal with cutting a mango? You can still add this fruit to your smoothie recipes by buying it frozen! Try adding it to this Healthy, Fruity Golden Mango Smoothie Bowl Recipe.
Eat This, Not That!
Inspired by The New York Times best-selling book series, Eat This, Not That! is a brand that's comprised of an award-winning team of journalists and board-certified experts, doctors, nutritionists, chefs, personal trainers, and dietitians who work together to bring you accurate, timely, informative, and actionable content on food, nutrition, dieting, weight loss, health, wellness, and more.
Read more about Eat This