The Best Soup In Every State
Gather 'round everybody, we are officially in soup season.
There is no denying it—soup is universally loved. Enjoyed in a cup or in a bowl, at home or out on the go, soup is one of the few versatile dishes that tastes magnificent no matter what the setting. And the stats can attest this: According to 2017 research done by Campbell's Soup Co., the original trailblazers of canned soup, a staggering 95% of people either like or love soup. Out of this study, millennials came in first place as the largest group (64%) to declare themselves major soup fans.
Even though nothing is quite like simmering your own soup at home, we came up with a list of places where you can either order in (or enjoy out) a delicious bowl of soup. This list is perfect for those days when you may feel low on time or energy.
From dreamy phos to incredible lentil options, here are some of the best soups in each state based on enthusiastic Yelp reviews. (Plus, if you're buying soup instead of making it check out The Best & Worst Chicken Soups on the Shelves—Ranked!)
ALABAMA: Birmingham Breadworks in Birmingham
Right in the historic Southside section of Birmingham is Birmingham Breadworks, a friendly neighborhood cafe that uses all-natural ingredients to create its menu dishes. One of their most praised items includes their vegetarian cream of tomato soup, which is made using tomatoes, smoked paprika, and cream.
ALASKA: Snow City Cafe in Anchorage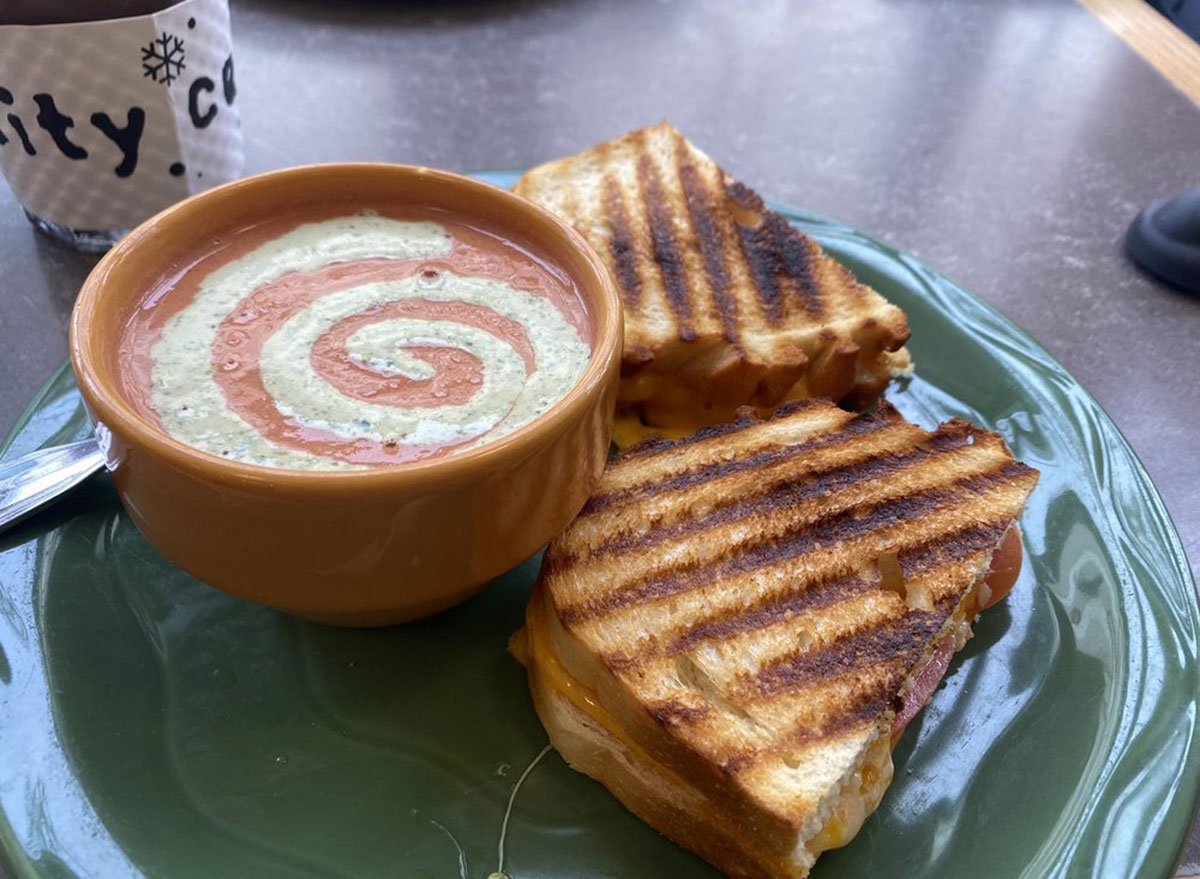 Snow City Cafe, in the heart of Anchorage, has been keeping the community fed since 1998. If you stop by, be sure to try out their grilled cheese and creamy tomato soup, which Yelp reviewers describe as "outstanding" and "just the right portion for a cold day".
ARIZONA: Flower Child in Scottsdale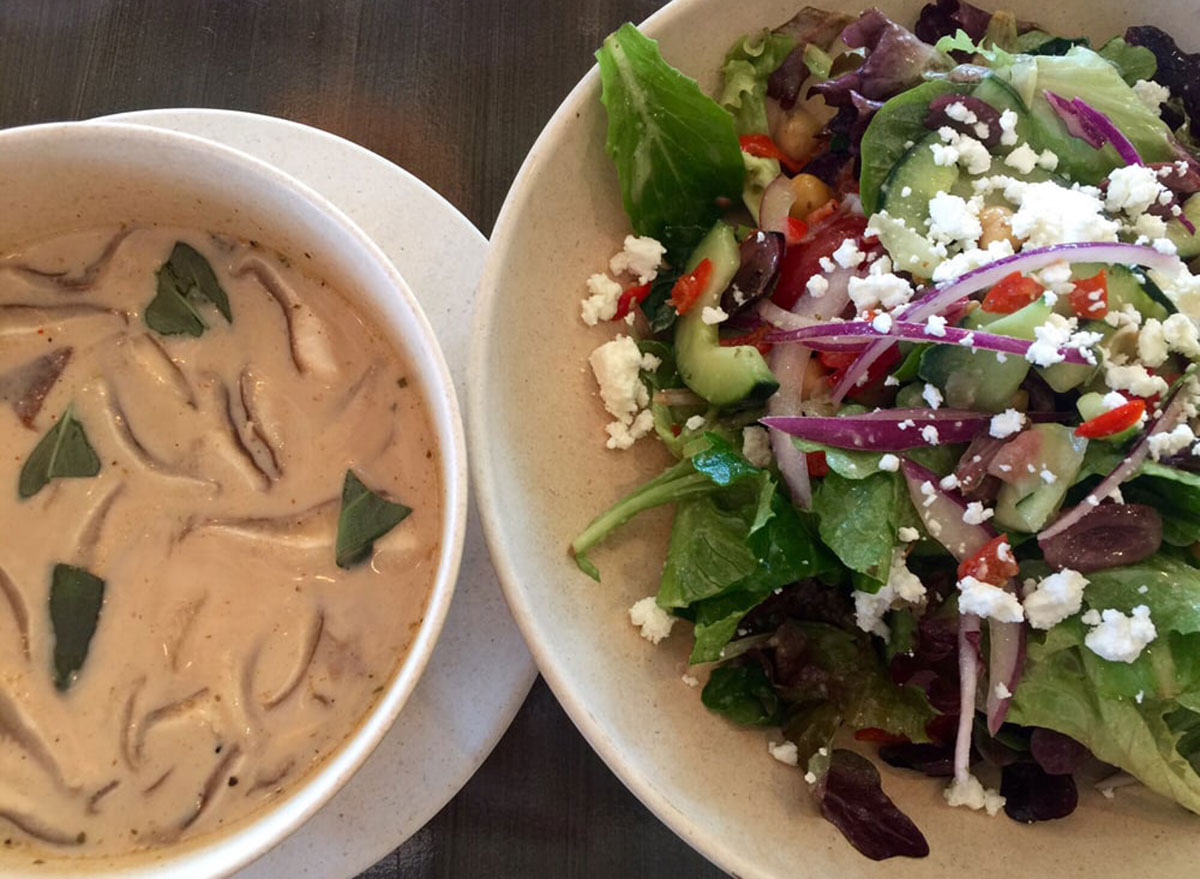 Flower Child, which has a number of locations throughout the U.S., is known for its simple dishes that are both healthy and delicious. Their rotating daily soup selection, which features favorites, such as mushroom and beef barley and chicken tortilla, is a must-try if you ever find yourself in their neck of the woods.
ARKANSAS: Hammontree's Grilled Cheese in Fayetteville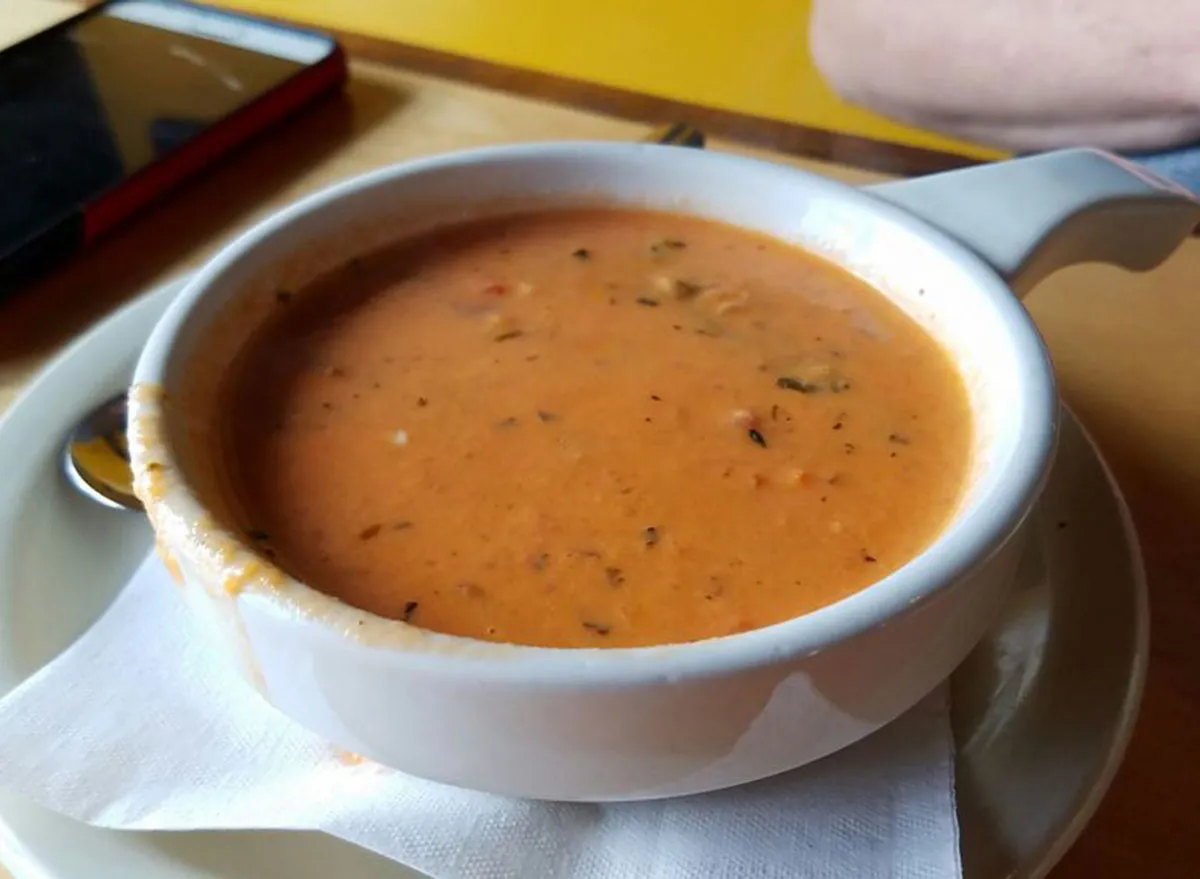 At Hammontree's is all about the grilled cheese, but the soup is pretty amazing, too. Try out any of their 15 variations of grilled cheese with a bowl of one of their delicious soups that include options such as tomato basil, black bean tortilla, and spinach gorgonzola.
CALIFORNIA: Han Bat Sul Lung Tang in Los Angeles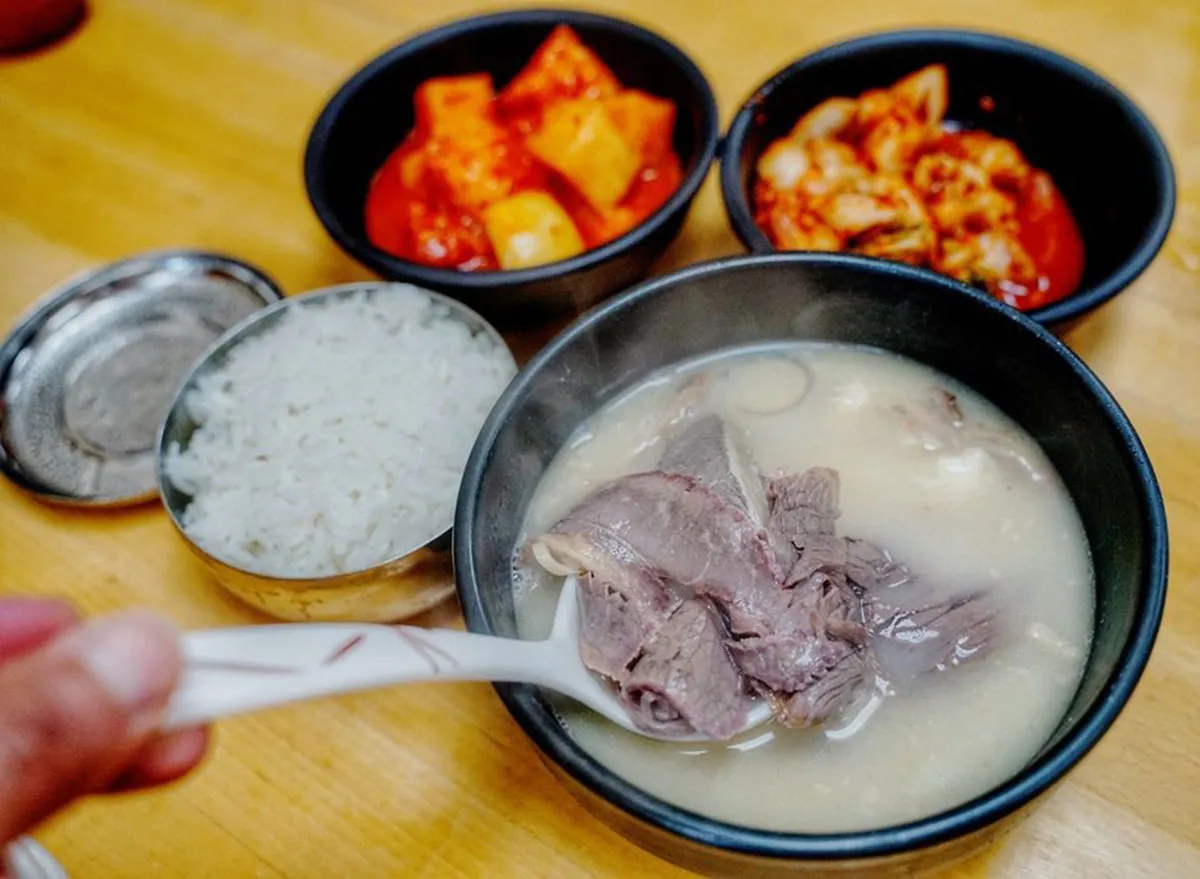 People travel far and wide to get a taste of Han Bat Sul Lung Tang's perfectly prepared and incredibly comforting Korean soups. Restaurant goers' go-to is the traditional Korean oxtail soup, but their beef brisket, ox bone, and beef tongue options also have people talking. There's a reason why they have over 2,300 reviews and 4.5 stars on Yelp.
COLORADO: The Bagel Deli and Restaurant in Denver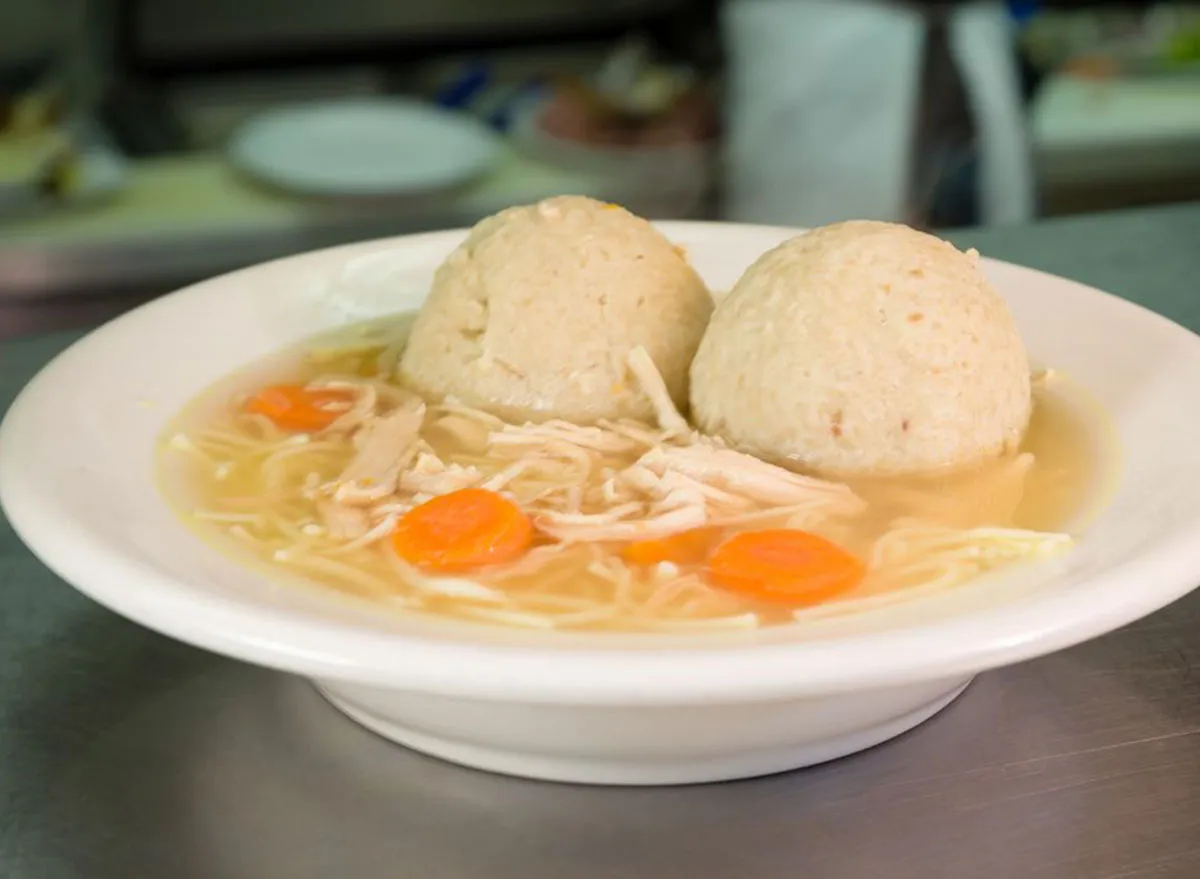 The Bagel Deli and Restaurant has been consistently making delicious food for decades—in fact, it has been recognized as Denver's best deli for 53 years and counting. One of their menu items that keep people hooked is their homemade matzo ball soup, which is available in a cup or bowl.
REALTED: 50 Restaurants Across the U.S. That Have Cult Followings
CONNECTICUT: The Soup Girl in Hamden
Spicy tomato posole, golden split pea, chicken noodle—you name the soup and The Soup Girl in Hamden probably has it in its daily soup rotation. Each day this quaint shop on Whitney Avenue offers a selection of 4 different soups, with a vegetarian, vegan, or gluten-free option always included in the mix. One reviewer raved about the spot, "The soups are always fresh and tasty; I've loved every flavor I've tried so far. They're also always packed with stuff, no overly brothy soups here."
DELAWARE: Ramen Kumamoto in Newark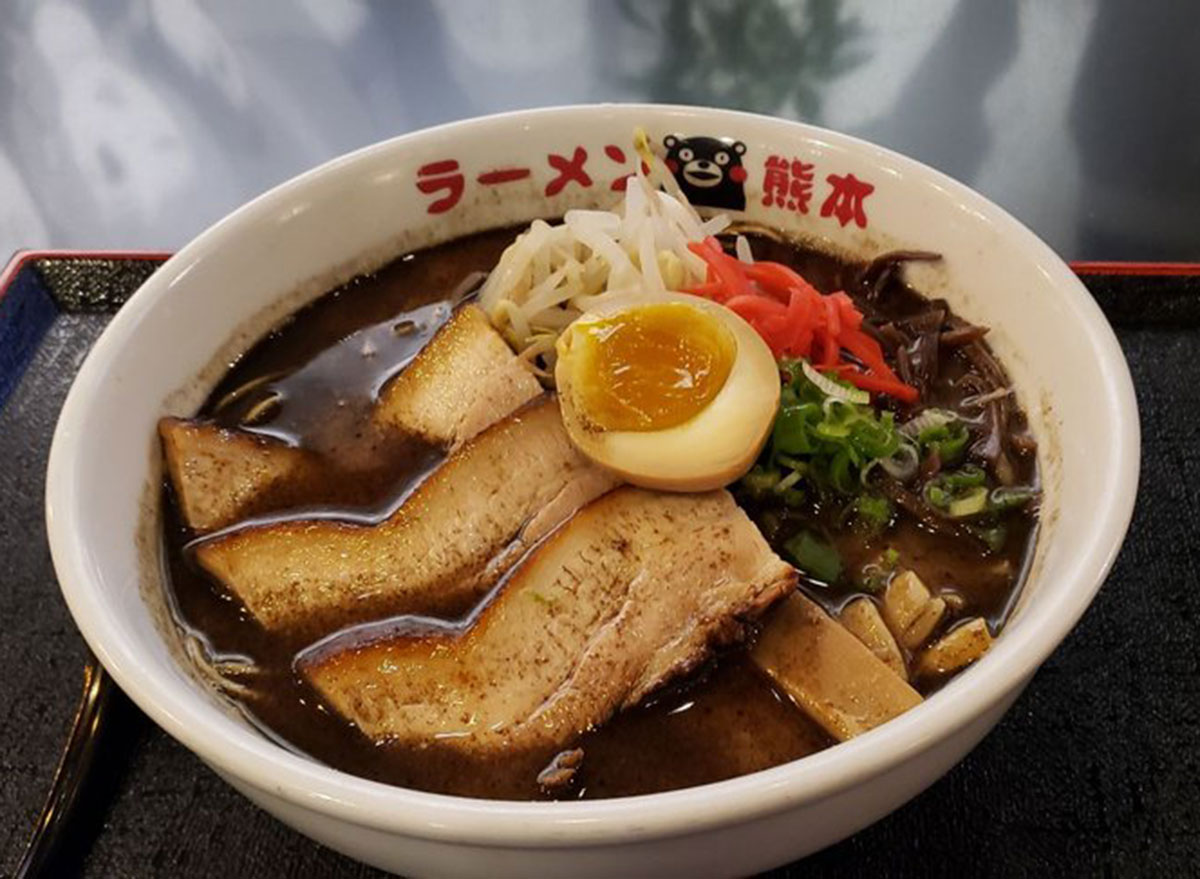 Ramen Kumamoto's veteran chefs, who have over 20 years of experience in fine food, have mastered the art of creating the most perfect bowl of ramen. The restaurant's main focus, ramen, is made using a savory broth that has been simmered for two days and traditional noodles that are made by hand. Reviewers rave about the options, one saying, "A true gem in Newark full of options and flavors. As a vegan I love that there are multiple choices. My meat loving husband and friend always finds something amazing."
FLORIDA: Mondongo's in Doral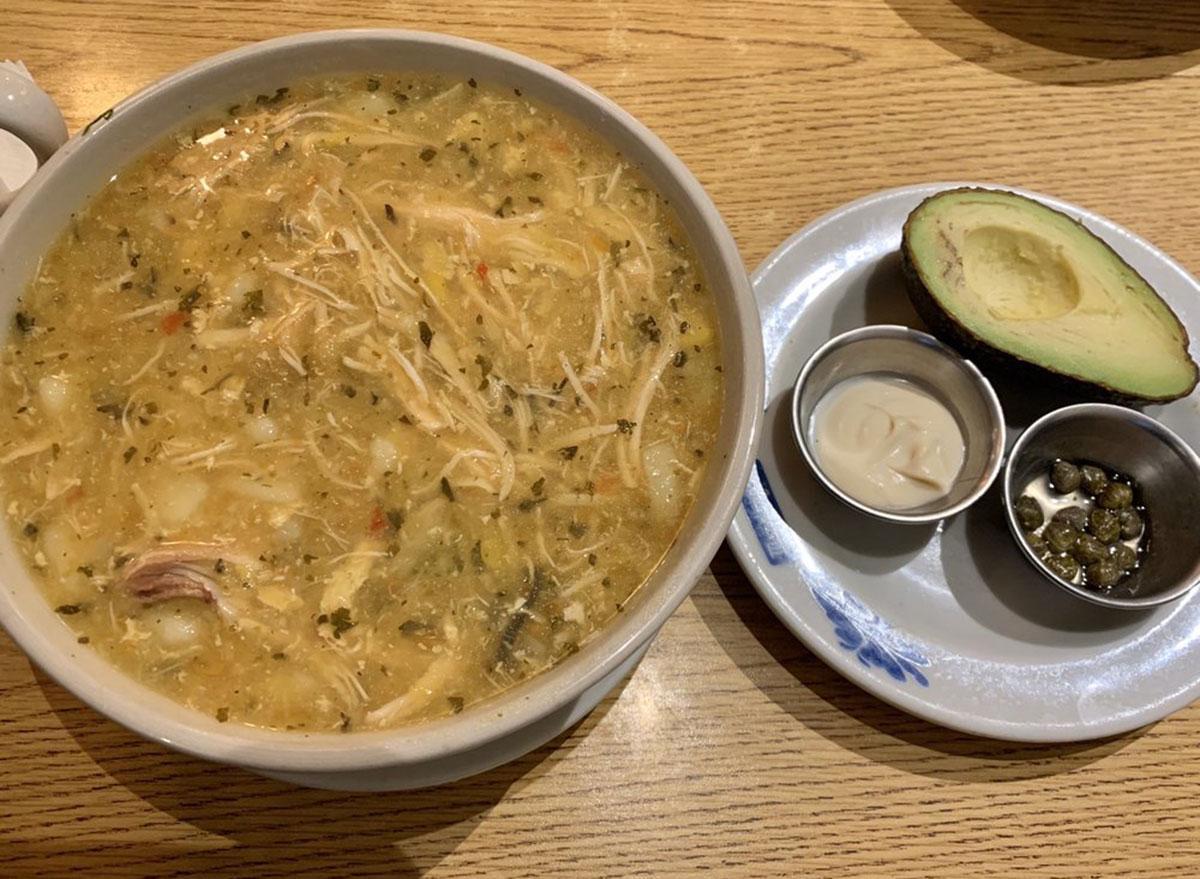 Ajiaco, the traditional Colombian soup that is made using chicken, potatoes, and corn on the cob, is one of Mondongo's most popular go-to's. It pairs wonderfully with one of their arepas or an order of their sweet fried plantains. If you visit Mondongo's you may just leave feeling like this Yelp reviewer who excitedly posted, "I tried the ajiaco and it was ABSOLUTELY AMAZING! I will definitely be ordering this dish again!"
GEORGIA: The General Muir in Atlanta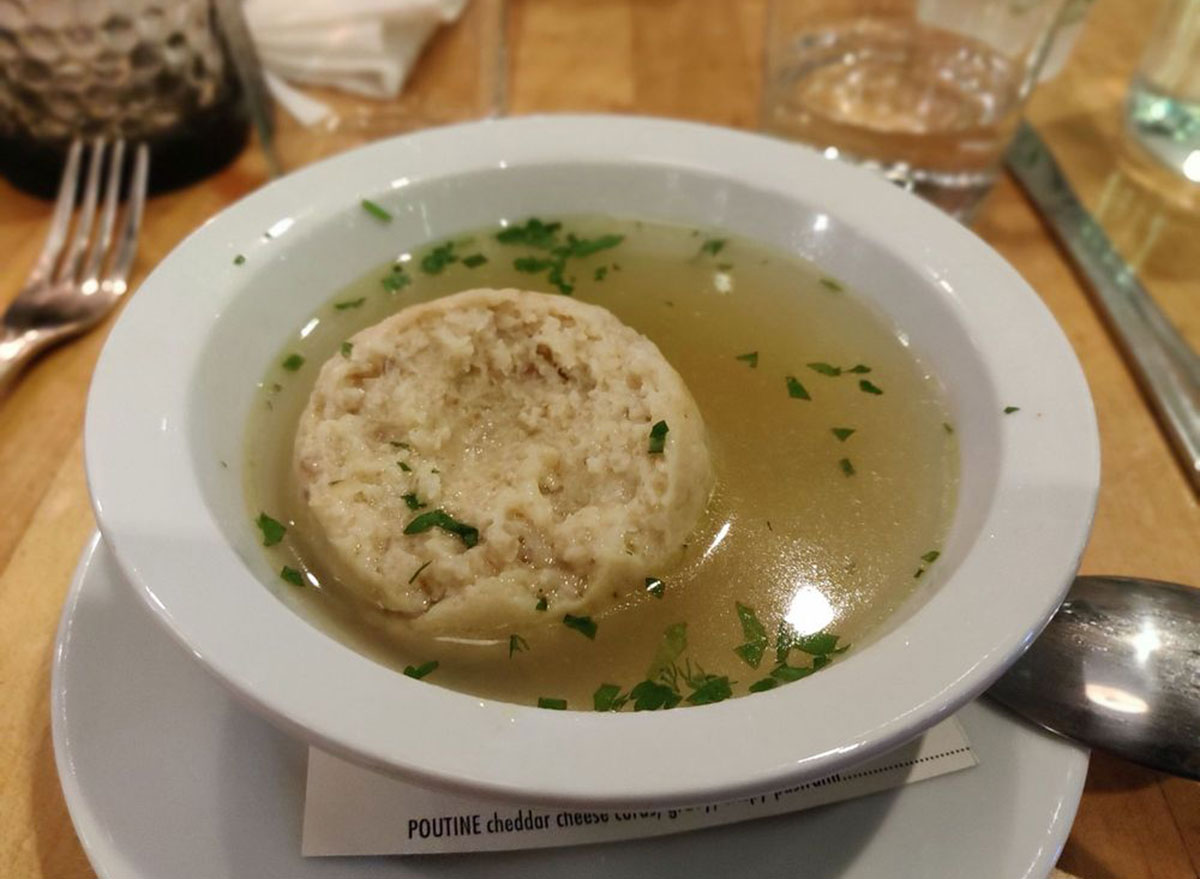 Inspired by classic New York Jewish delis, The General Muir in Georgia makes some of the best matzo ball soup in town. One reviewer even took two orders to go and wrote, "My wife makes delicious Matzoh Ball soup, don't tell her but The General Muir's was the best I've had." Enjoy it with an order of one of their vegetarian Reubens or double stack burgers.
HAWAII: Wagaya in Honolulu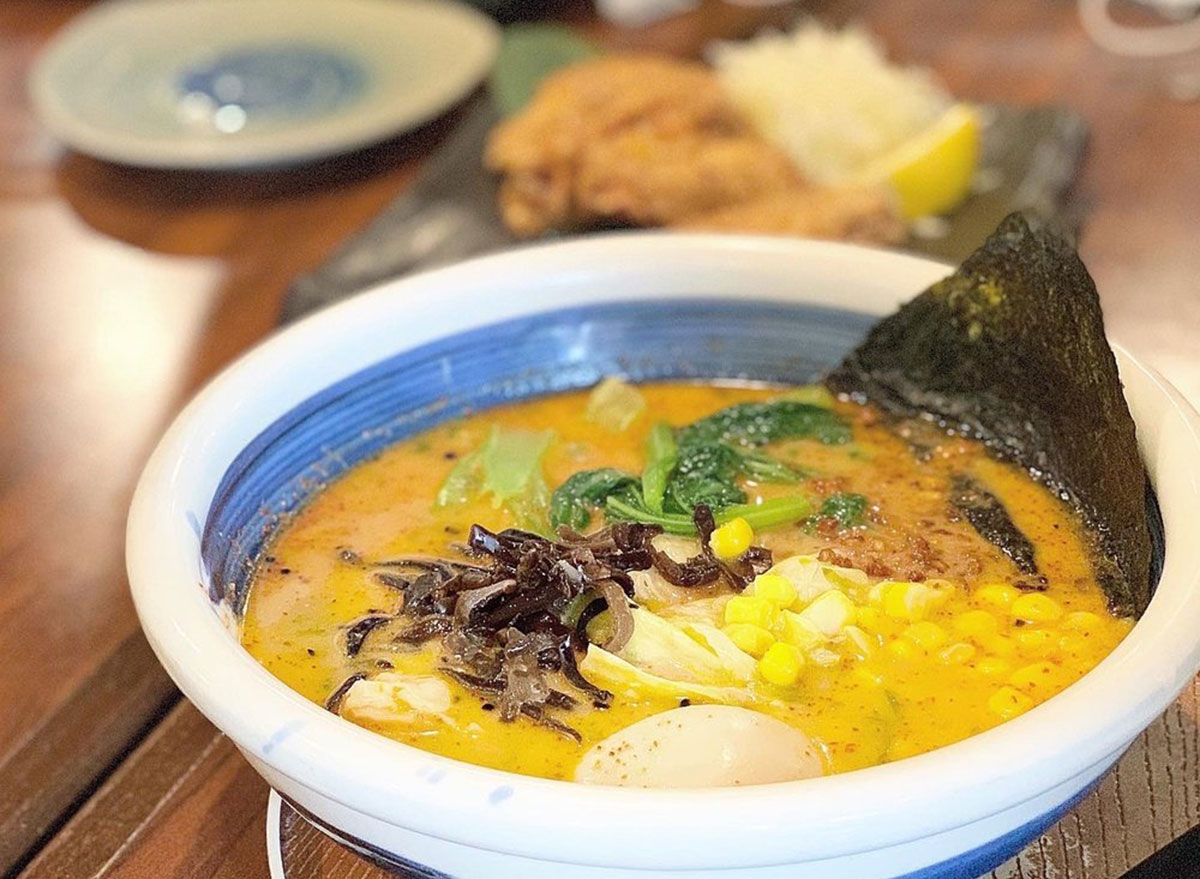 Wagaya, which translates to "Our Home" in Japanese, is a welcoming neighborhood spot to enjoy a bowl of steamy ramen. Yelp reviewers suggest trying out their vegetarian ramen and gyodashi shoyu ramen, although you can't go wrong with any dish you order. Bonus: Although the broth is not totally gluten-free, they do offer sweet potato starch noodles as a gluten-free noodle option.
IDAHO: A Tavola in Boise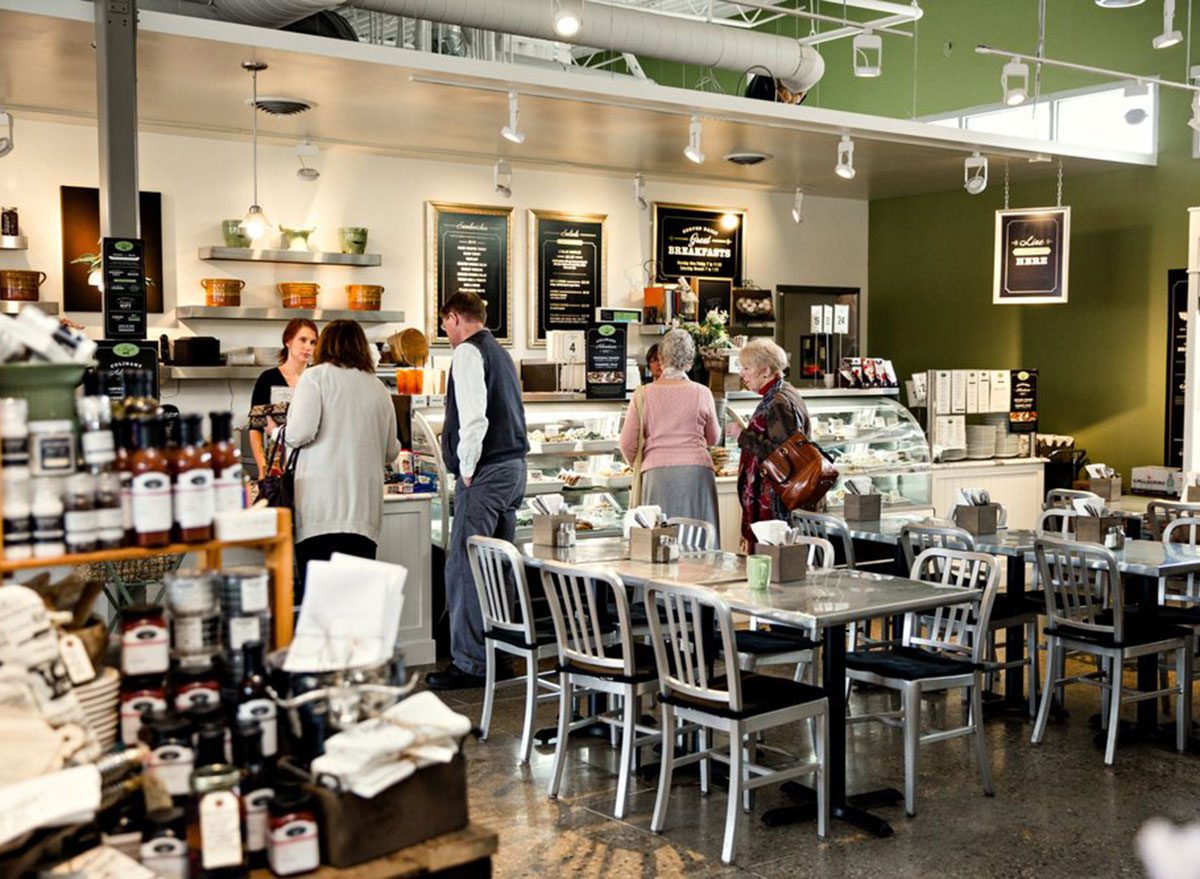 Just steps away from the Boise River is A Tavola, a bustling cafe and gourmet marketplace that serves up amazing sandwiches, freshly made breakfast items, and, of course, sumptuous soups. Each day a selection of some of their most-loved signature soups, including tomato orange, watermelon gazpacho, and chicken noodle variations, appear on their menu.
ILLINOIS: Taste of Lebanon in Chicago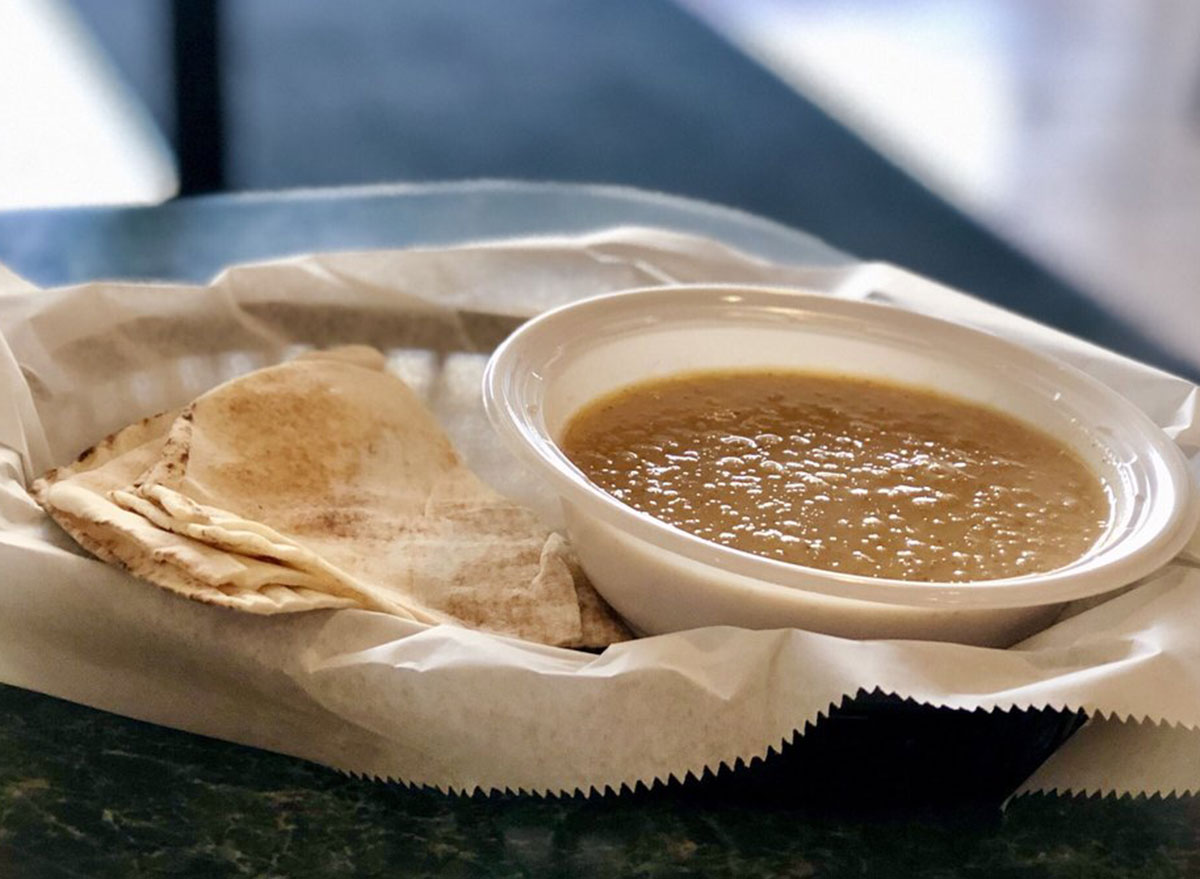 A Taste of Lebanon in Chicago crafts a hearty homemade lentil that, enjoyed alone or with a fattoush salad, is sure to hit the spot. One Yelp reviewer proudly proclaimed that Taste of Lebanon's lentil soup is, "without question the best lentil soup."
INDIANA: Subito in Indianapolis
Since 2015, Subito in Indiana has been preparing flavorful soups that are influenced by Italian cuisine. On any day of the week, you can expect to find a nourishing selection of soups and stews, such as broccoli cheddar, classic beef stew, creamy sausage tortellini, and more. Check their website ahead of time to see what they are whipping up this week.
IOWA: Her Soup Kitchen in Iowa City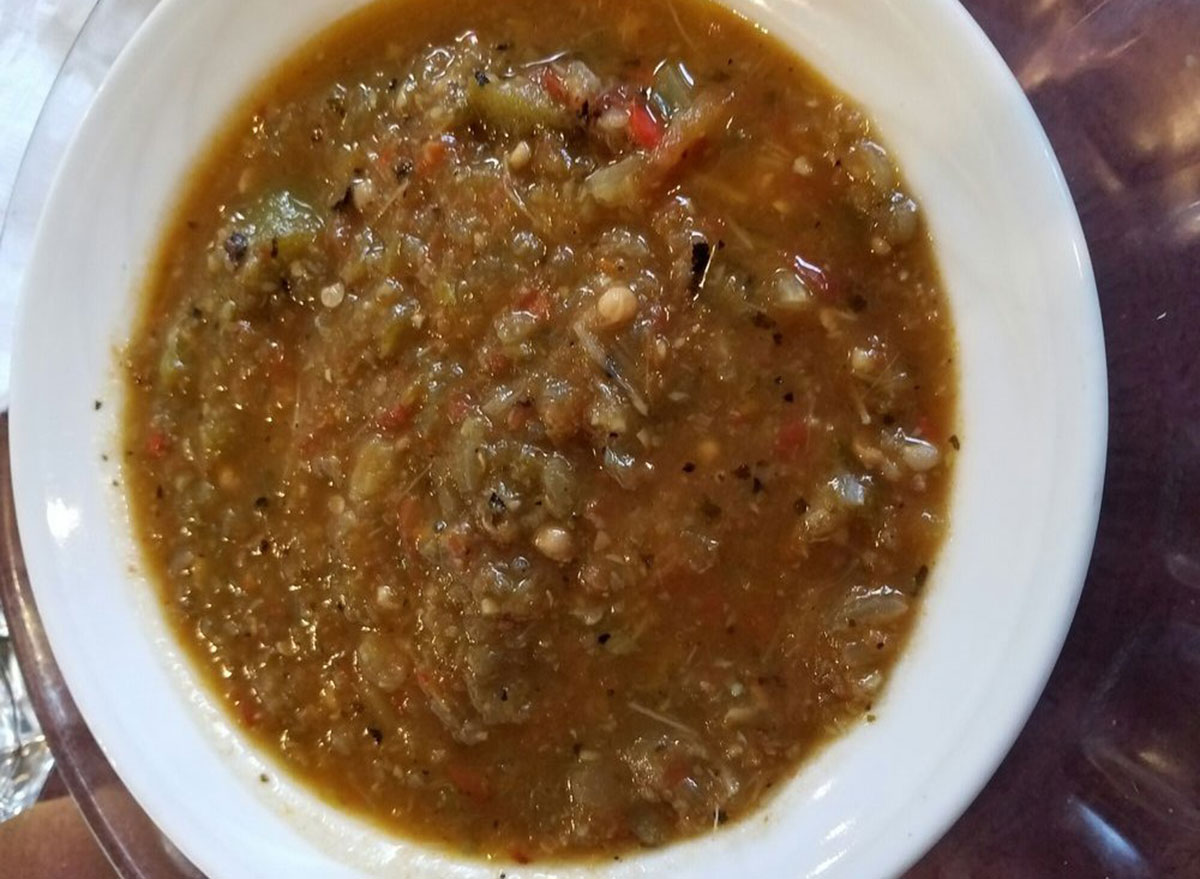 Founded in 2009, this family-owned and operated soup shop creates some of the best health-focused dishes without skimping out on flavor. At Her Soup Kitchen you can expect nourishing soups, such as tomato okra, mushroom bisque, and minestrone, in their rotation. Some favorites among Yelp reviewers include the gazpacho, poblano corn chowder, and the ham and potato soup.
KANSAS: Tanya's Soup Kitchen in Wichita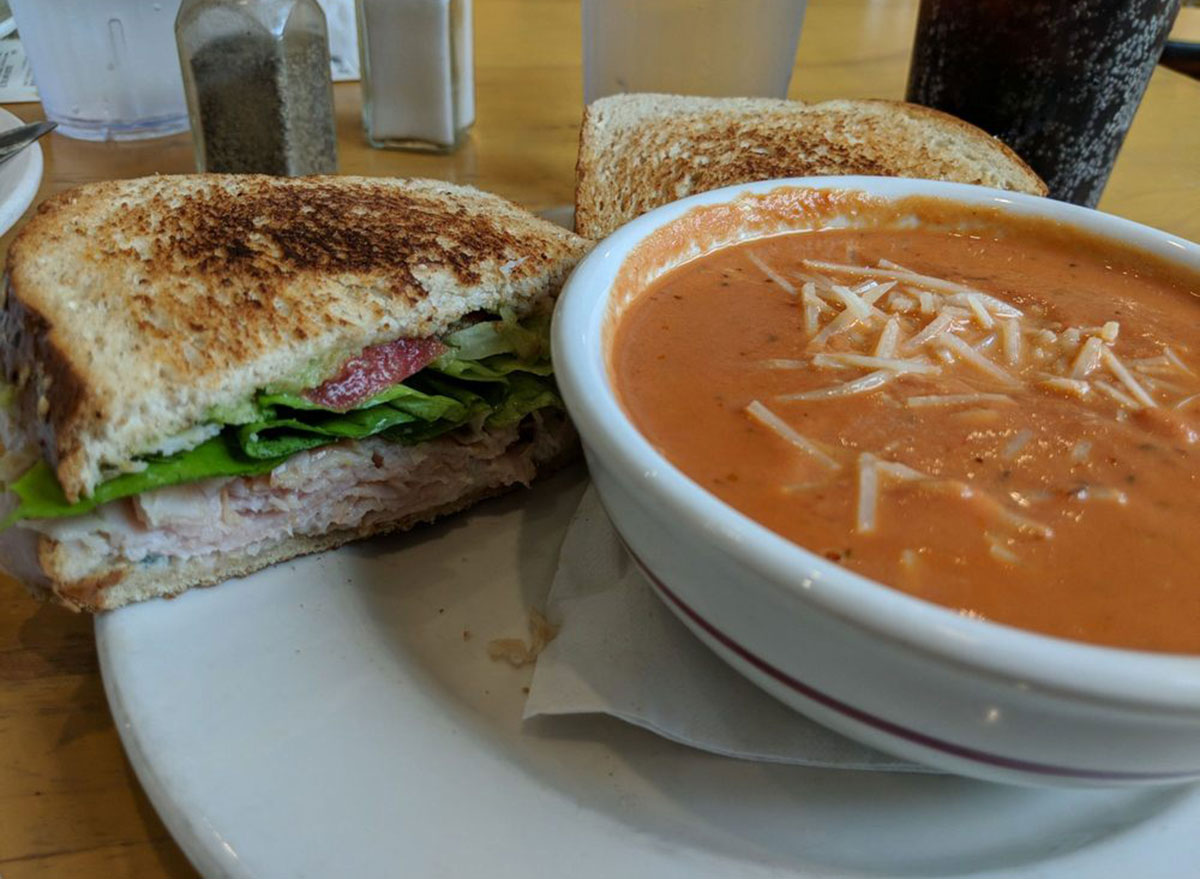 Tanya's Soup Kitchen's handcrafted, small-batch soups will warm you up on even the chilliest of evenings. Up to 4 different soup selections are available daily and may include out-of-this-world options such as tomato bisque, chicken tortilla, and chicken curry. Each order is served with a fresh roll. One reviewer raved, "the tomato-curry soup is embarrassingly good, as is the tomato-basil."
KENTUCKY: Chuy's in Louisville
Chuy's, which was founded in 1982 in Austin, Texas, has become one of the most popular Mexican eateries in the country. In fact, what started as a restaurant housed in an old barbecue spot has grown into a 100-plus restaurant enterprise, and understandably so—their food is delicious. One of their most popular soups, chicken tortilla, is filled with roasted chicken, corn, green chiles, and avocado, and is made fresh daily. One reviewer called it, "hands down the best chicken tortilla soup I've ever had. Very flavorful with big chunks of chicken, hearty pieces of onion, tomato, avocado, corn, and more."
LOUISIANA: Cafe Amelie in New Orleans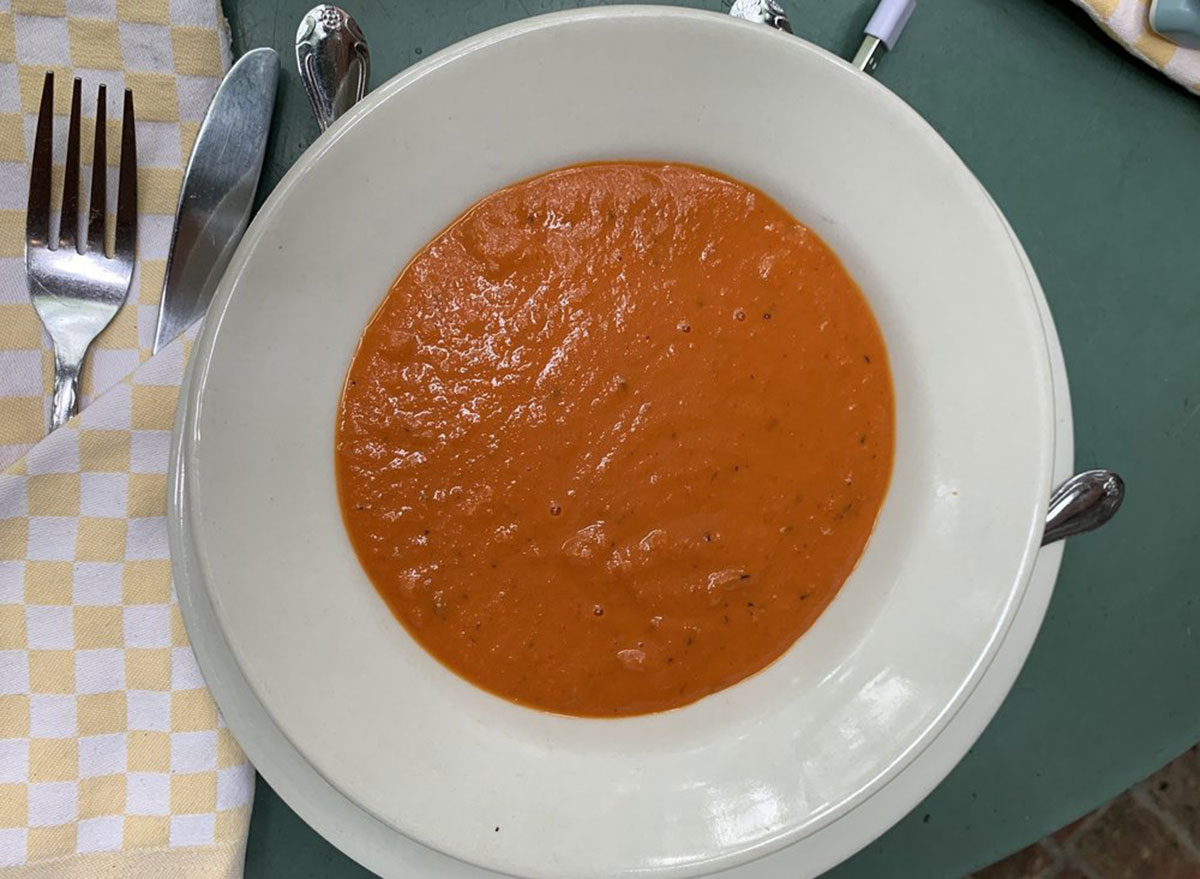 Cafe Amelie in New Orleans prepares delectable soups that are fit for a royal. In fact, the cafe is named after Amelie Miltonberger, who was the mother of Princess Alice, the first American princess of Monaco. Cafe Amelie is housed right where Amelie and Alice once lived and is known for their beautiful atmosphere. Come for the soups, stay for the gorgeous courtyard views.
MAINE: Eventide Oyster Company in Portland
What is a trip to Maine without having some of their signature clam chowder? Eventide Oyster Company, a quintessential Portland oyster bar, has a New England clam chowder, packed full of potatoes and salt pork, that Yelpers cannot get enough of. Reviewers have described this seafood-centric soup as "beautiful," "innovative," and "delicious."
MARYLAND: Soup's On in Baltimore
Soup's On is the Baltimore-based gourmet soup shop that makes flavorful soups using fresh produce and aromatic spices. This family-owned business, which has been around for over a decade, has over 200 soups in its repertoire. Expect an eclectic variety of soups on the daily menu, such as African peanut, Hungarian mushroom, chicken noodle, and French onion. One reviewer, a self-proclaimed "avid soup lover" called the restaurant "perfection."
MASSACHUSETTS: Hokkaido Ramen Santouka in Boston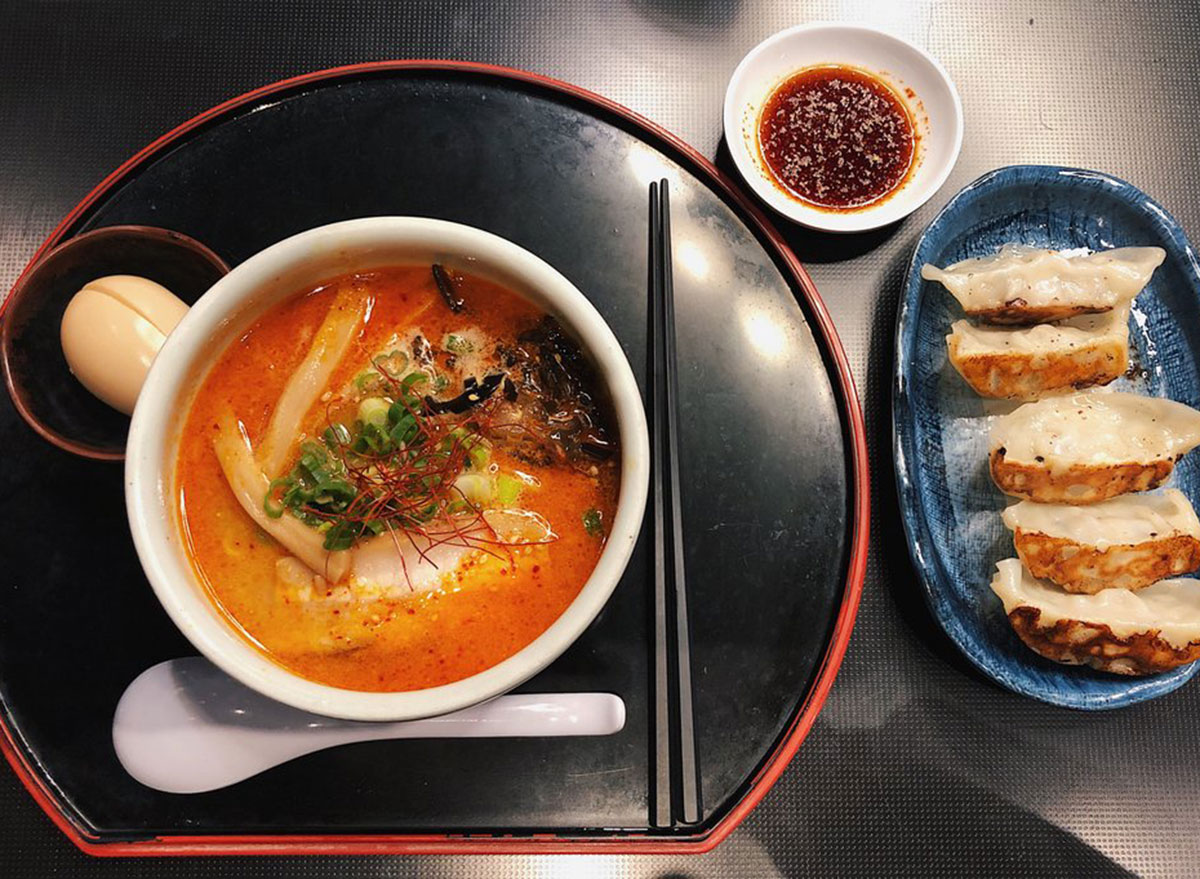 Shio ramen, spicy miso ramen, kara miso ramen—these are just a handful of the long list of popular soups at Hokkaido Ramen in Cambridge's Harvard Square area. Their tonkotsu broth is made from pork bones that have been simmered for 20 hours, so you know it is going to be tasty.
MICHIGAN: Ima in Detroit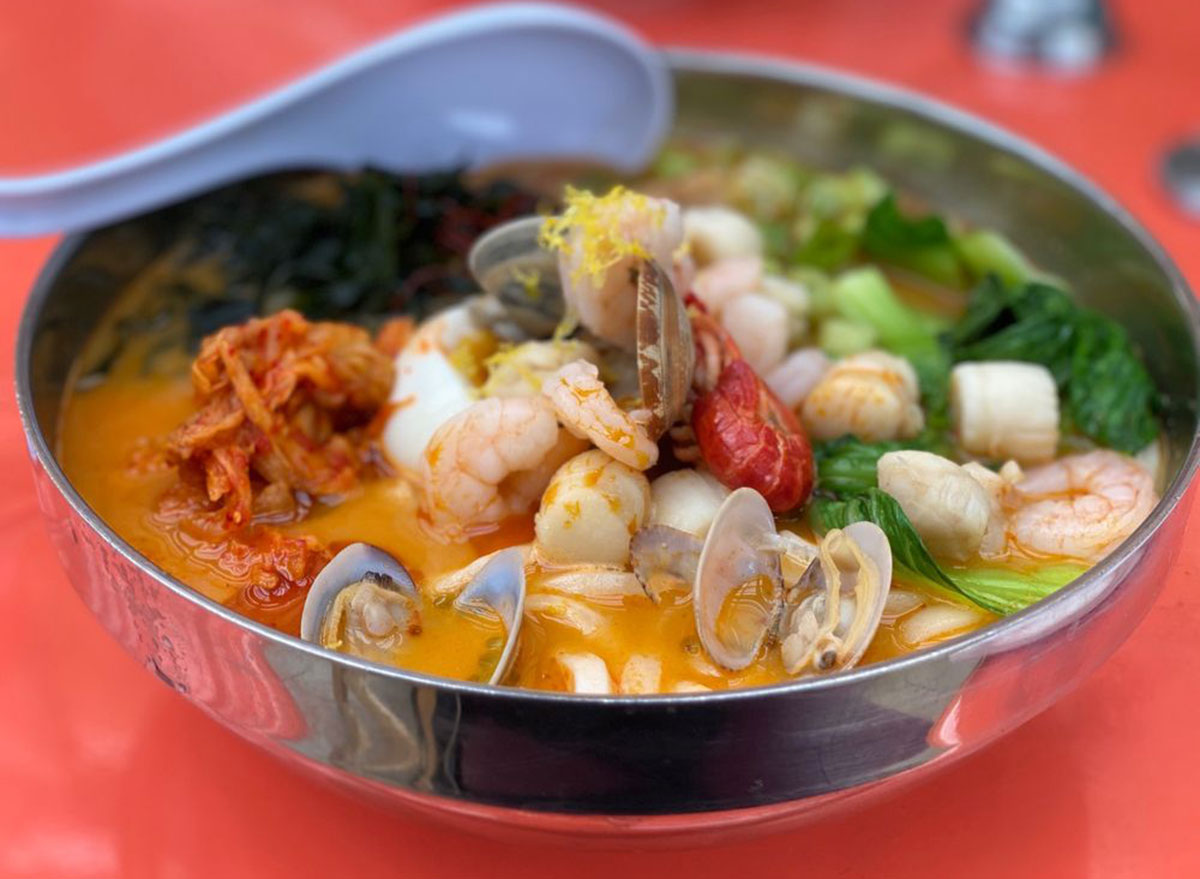 Sure, Ima has a ton of delicious dishes, but soup is the name of the game at this award-winning, Japanese-inspired Detroit eatery. Feast on one of their many mouth-watering noodle soups, which include options such as yaki udon, curry udon, lobster udon, and vegan pho.
MINNESOTA: Quang Restaurant in Minneapolis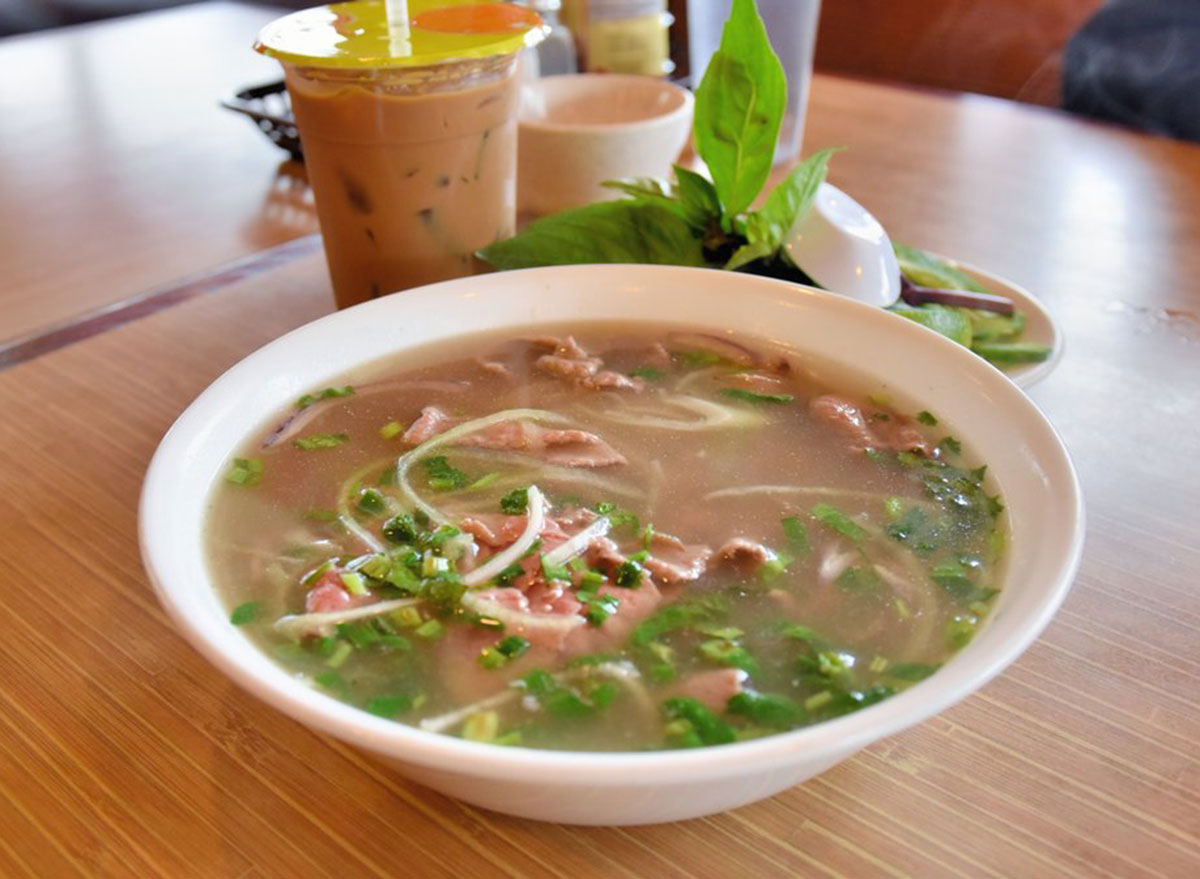 This family-operated restaurant in Minnesota has been making delicious Vietnamese dishes since 1989. A favorite among customers is Quang's Pho Combo, which is a tasty bowl of beef broth brimming with fresh beef, brisket, tripe, rice noodles, jalapeno, and other filling ingredients.
MISSISSIPPI: Aladdin Mediterranean Grill in Jackson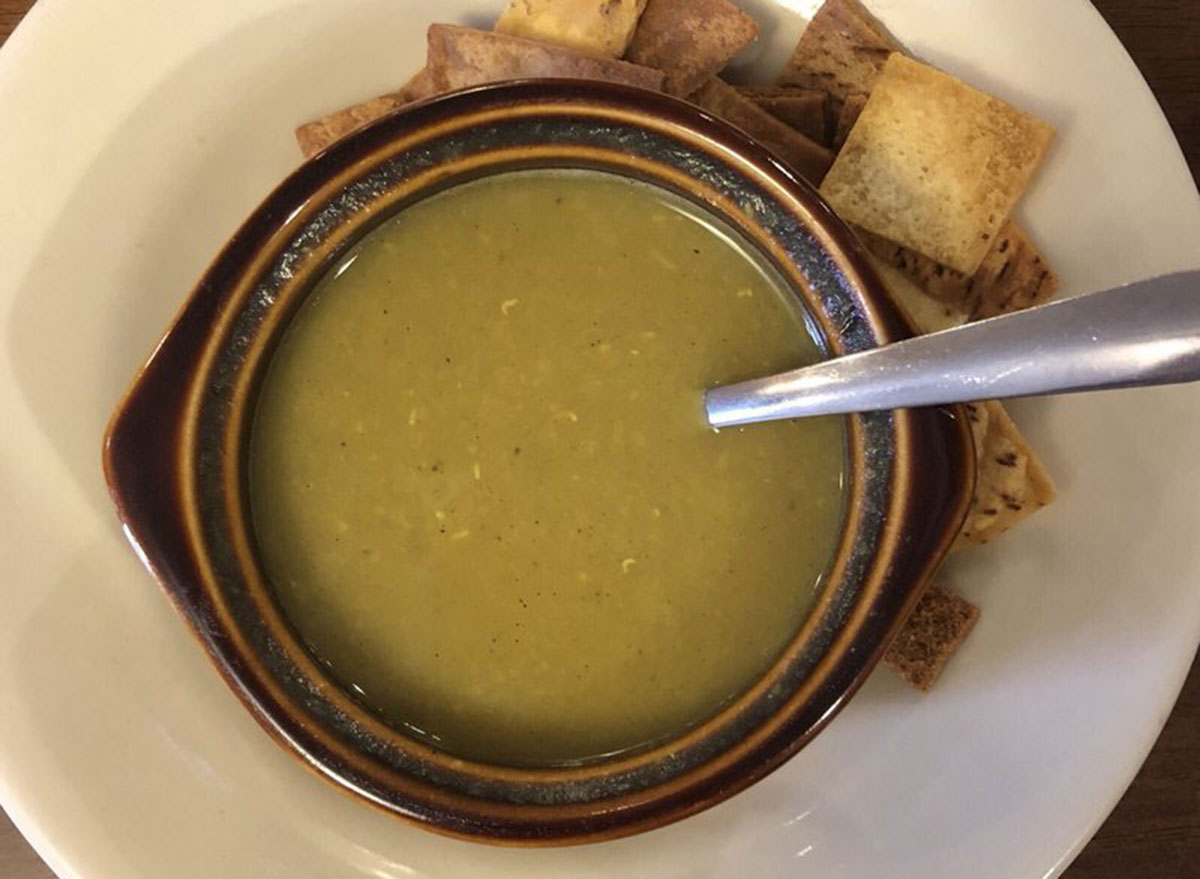 Aladdin's red lentil soup is the perfect partner to their falafel and lamb shank platters. One reviewer called it "out of this world."
MISSOURI: Vietnam Cafe in Kansas City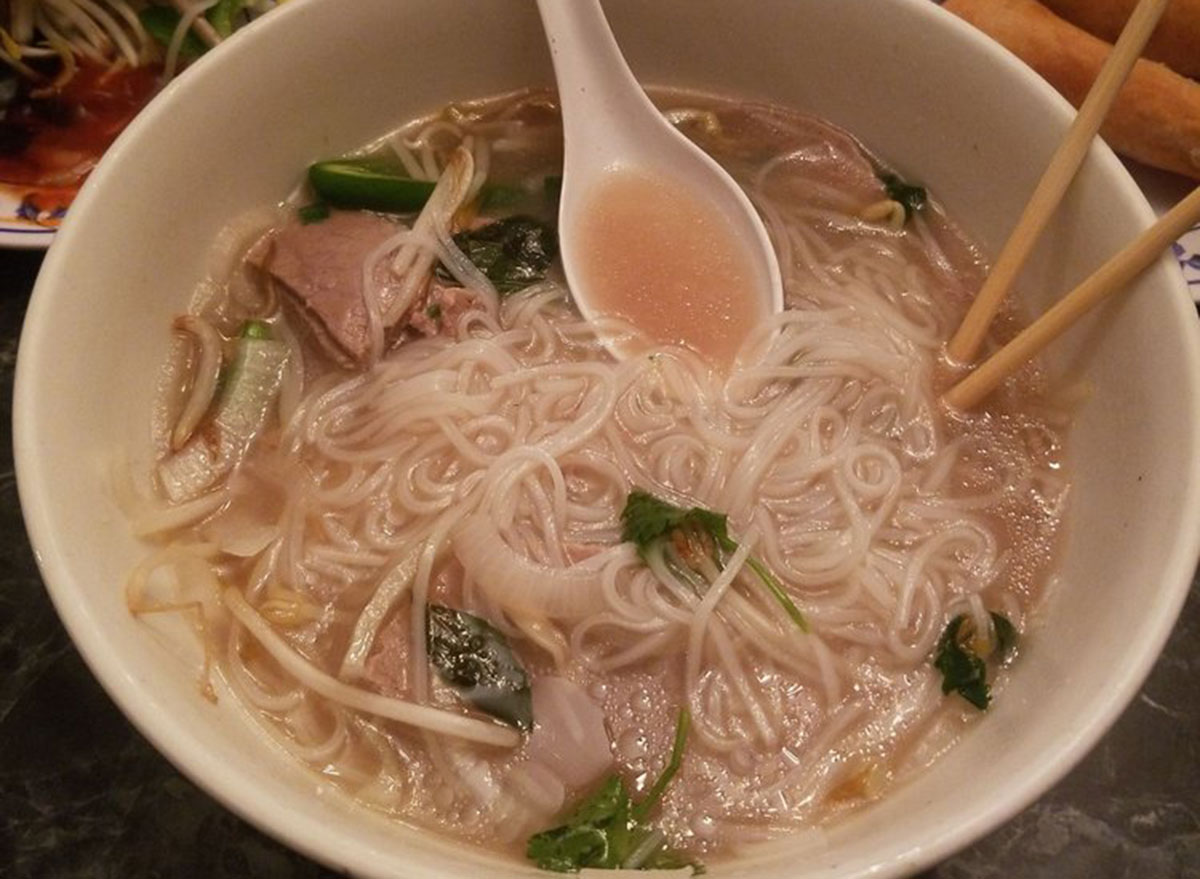 Just one taste of Vietnam Cafe's flavorful food and you will soon find out why they are known as Kansas City's #1 Vietnamese restaurant. Try out their Pho Ga, which is a rice noodle soup filled with shredded chicken, or Pho Bo Vien, a rice noodle soup filled with beef meatballs, if you are looking for a satisfying lunch or dinner dish. One reviewer gushed, "It's my personal belief that everyone should make this their go to place for Vietnamese/ Thai/ Chinese food."
MONTANA: Market on Front in Missoula
Market on Front in Montana sources their ingredients and products for their deli and marketplace from local vendors—that's why all of their menu offerings are delicious, fresh, and healthy. Stop in for a taste of their chicken and dumpling soup, which can be served in a freshly baked ciabatta bread bowl upon request.
NEBRASKA: Railcar Modern American Kitchen in Omaha
Found off of a main road in Omaha's Lindenwood neighborhood is Railcar Modern American Kitchen, a welcoming downhome cookery that makes all of their food from scratch. A must-try on their menu is the French onion soup, a savory soup made with roasted chicken stock, white wine, and a gruyere cheese blend.
NEVADA: Shang Artisan Noodle in Las Vegas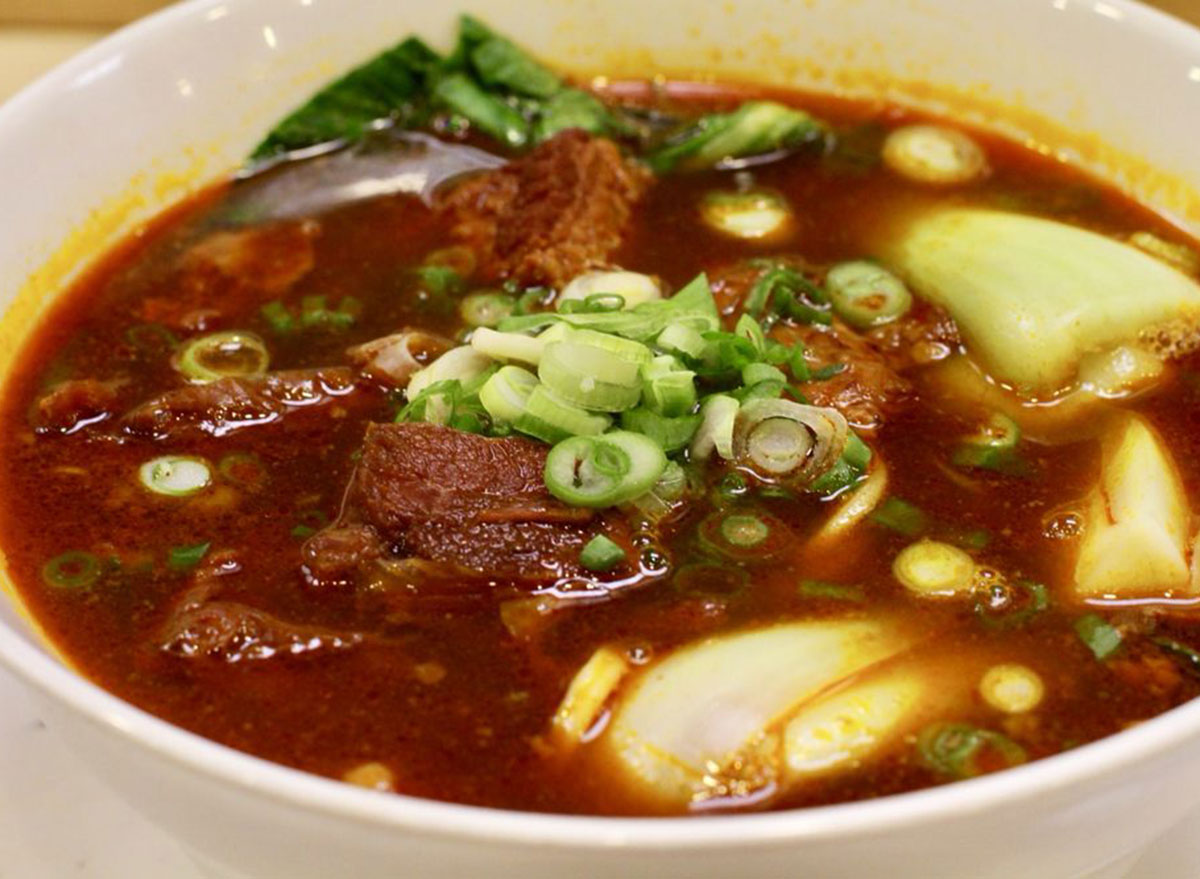 Las Vegas—the land of neon lights, packed casinos, and…handmade artisanal noodles. Shang Artisan Noodle's culinary artistry draws on the traditions of Shan-Xi, a province in Northern China that specializes in wheat cultivation. One Yelp reviewer wrote, "The BEST beef noodle soup I have ever had. I traveled all the way from Boston just to eat this, and it exceeded my expectations".6254a4d1642c605c54bf1cab17d50f1e
NEW HAMPSHIRE: Seacoast Soups in North Hampton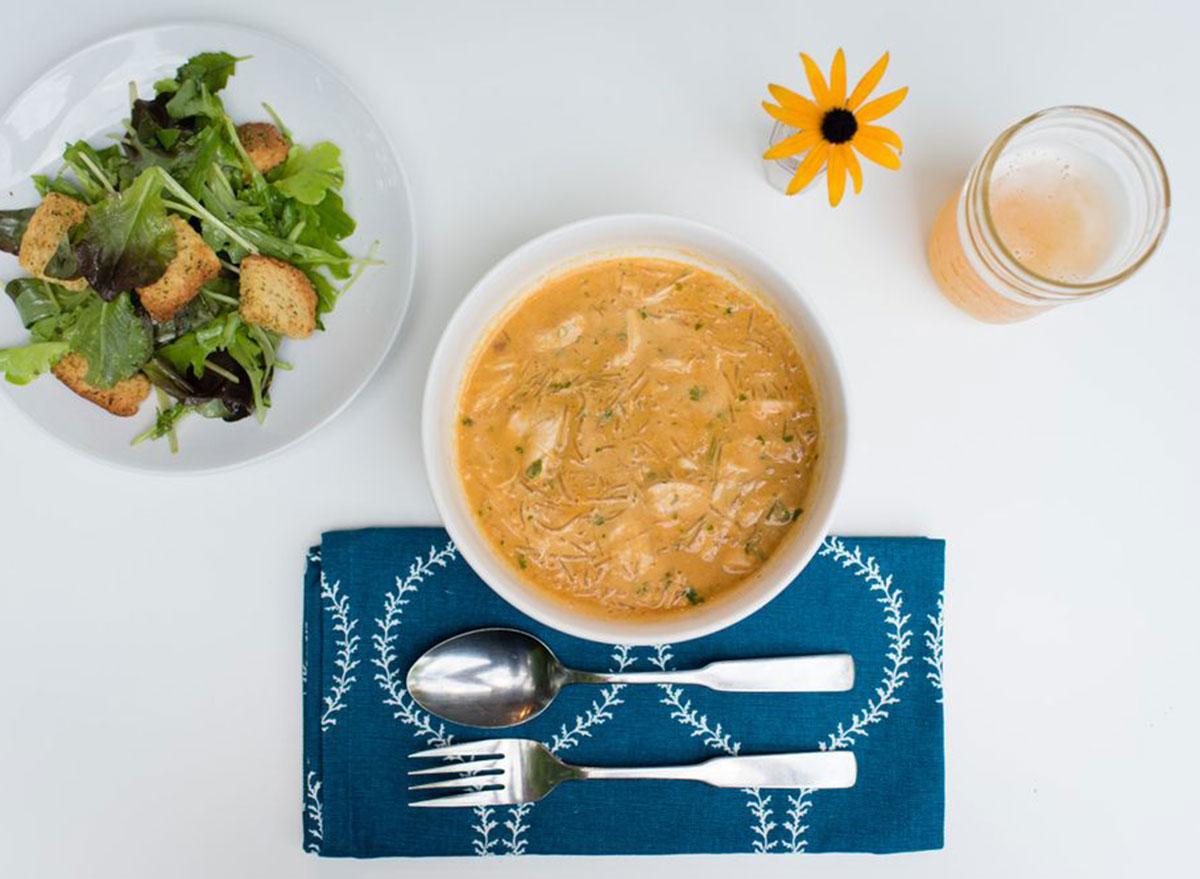 Seacoast Soups is a quaint New Hampshire eatery that has a concentration in soups of all kinds. One of their most ordered soups is their Spicy Thai option, which has been described as "off the charts delicious" by customers. One enthusiastic Yelp reviewer even recounted their experience of trying this covetable dish in their review: "I had the spicy Thai soup and it was incredible. I ate the whole thing and don't remember coming up for air!"
NEW JERSEY: Top's Diner in East Newark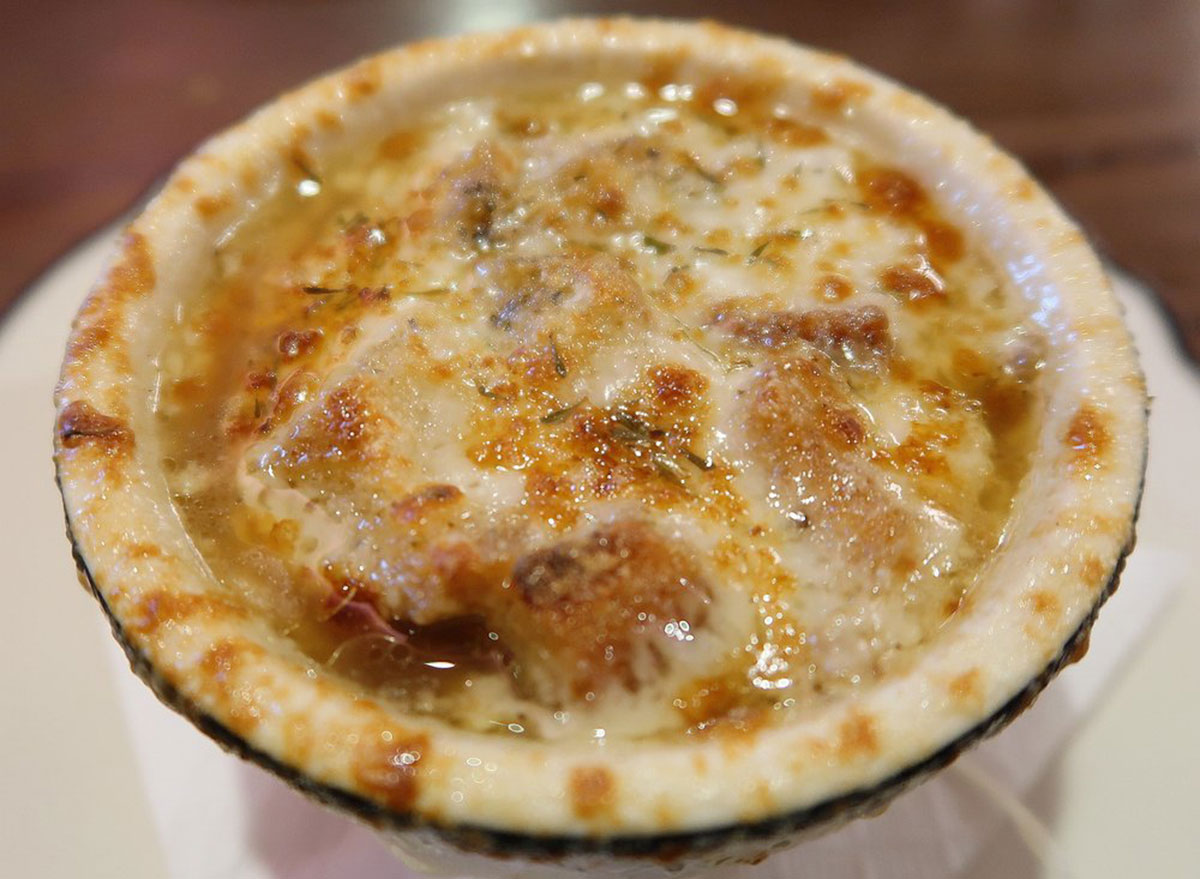 Is it us, or are diners the perfect place to grab a club sandwich, juicy cheeseburger, or warm cup of soup? Top's Diner, which has been an East Newark staple since 1942, cooks up an array of flavorful soups, such as clam chowder, cream of chicken, and a fan favorite, French onion. After trying this soup, one reviewer exclaimed, "The French onion soup was soooo good, I would literally go back just for the soup! The cheese was sizzling and bread croutons on [the] bottom were baked perfectly, just writing this review is making me crave it again."
NEW MEXICO: Jambo Cafe in Santa Fe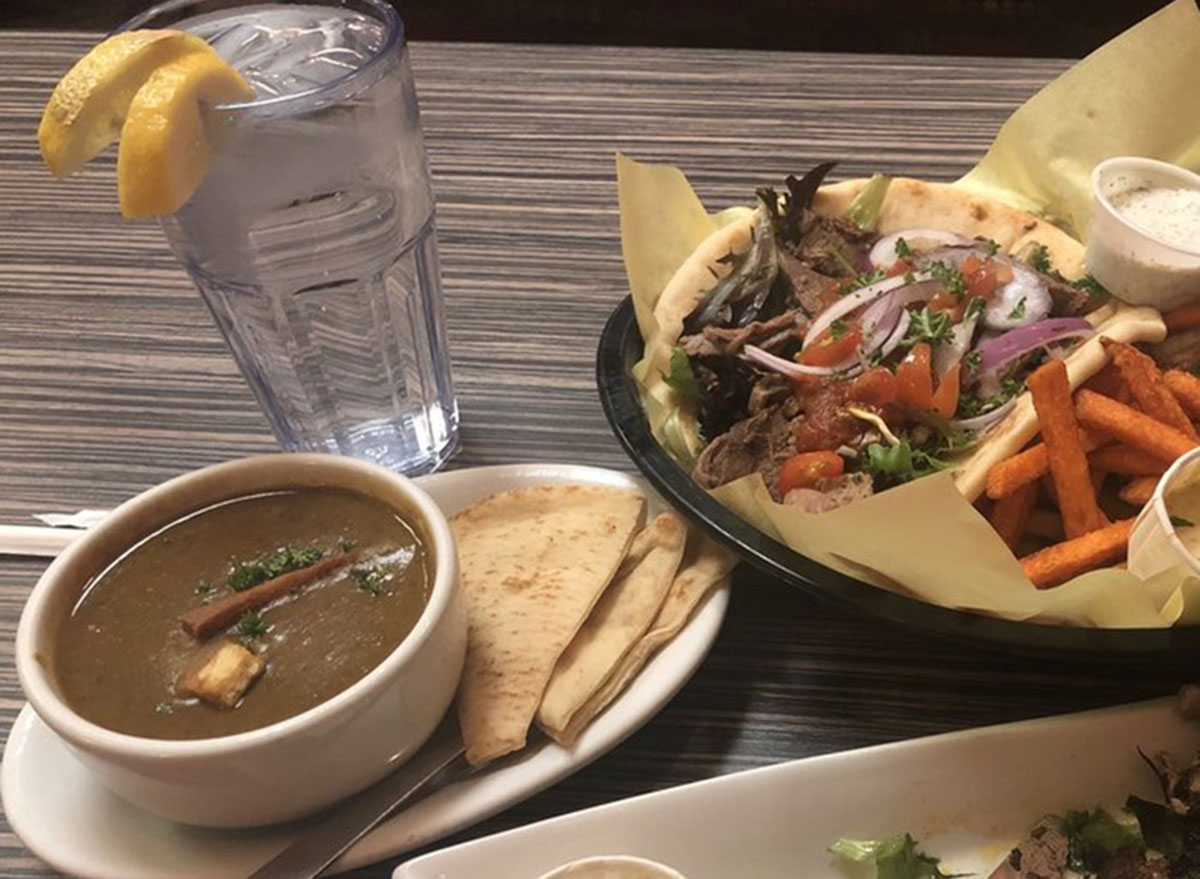 Jambo Cafe is a Santa Fe restaurant that offers exquisite African cuisine that has quite the following. If you take a look at their Yelp reviews (yes, that is a 4.5 star rating) you will find a common thread in many of them—the mention of their black bean soup. This outstanding soup, which is made using curried black beans, sweet potatoes, and is served with a pita, has people scrambling to try it.
NEW YORK: The Original Soupman in New York City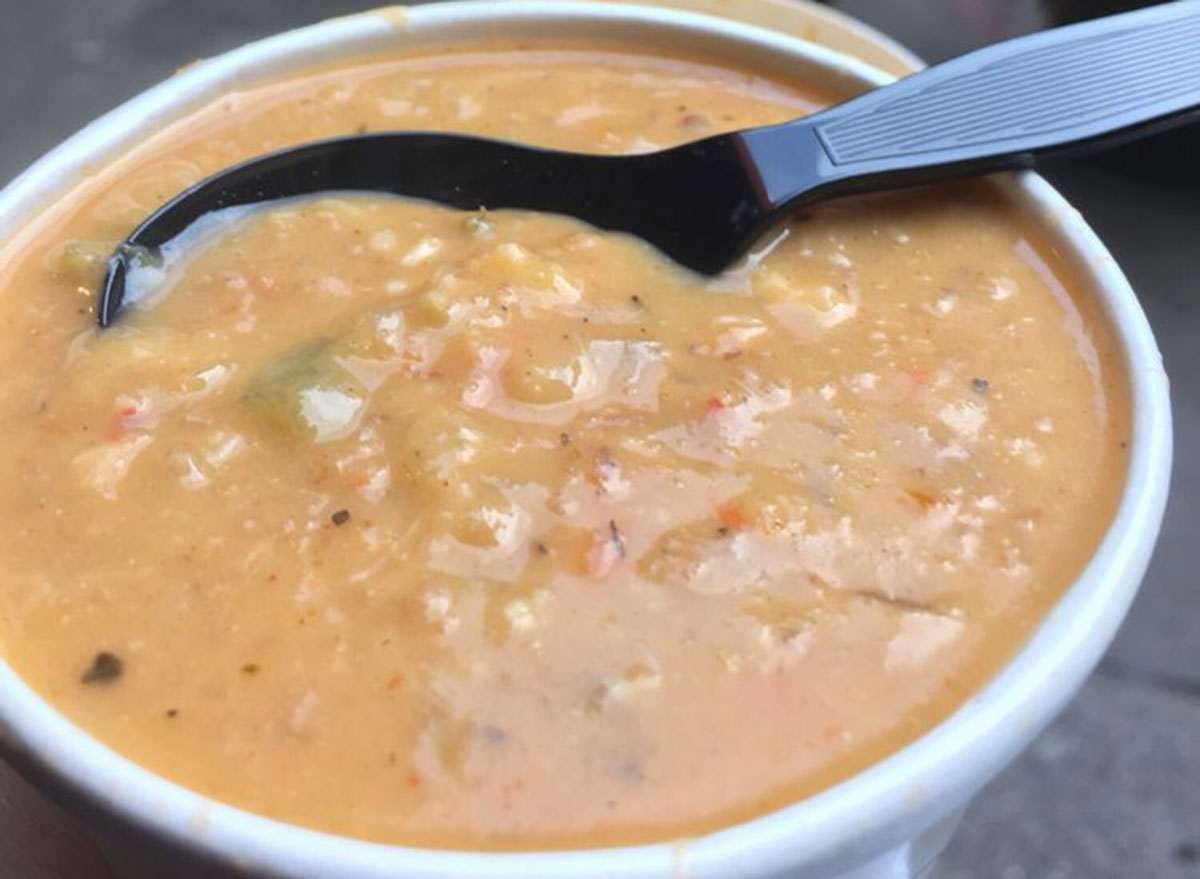 What is a visit to New York City without trying The Original Soupman, the inspiration behind an iconic Seinfeld character? Any soup here is pretty much a guaranteed win, but according to Yelp patrons have a special affinity for their lobster bisque.
NORTH CAROLINA: Mami's in Raleigh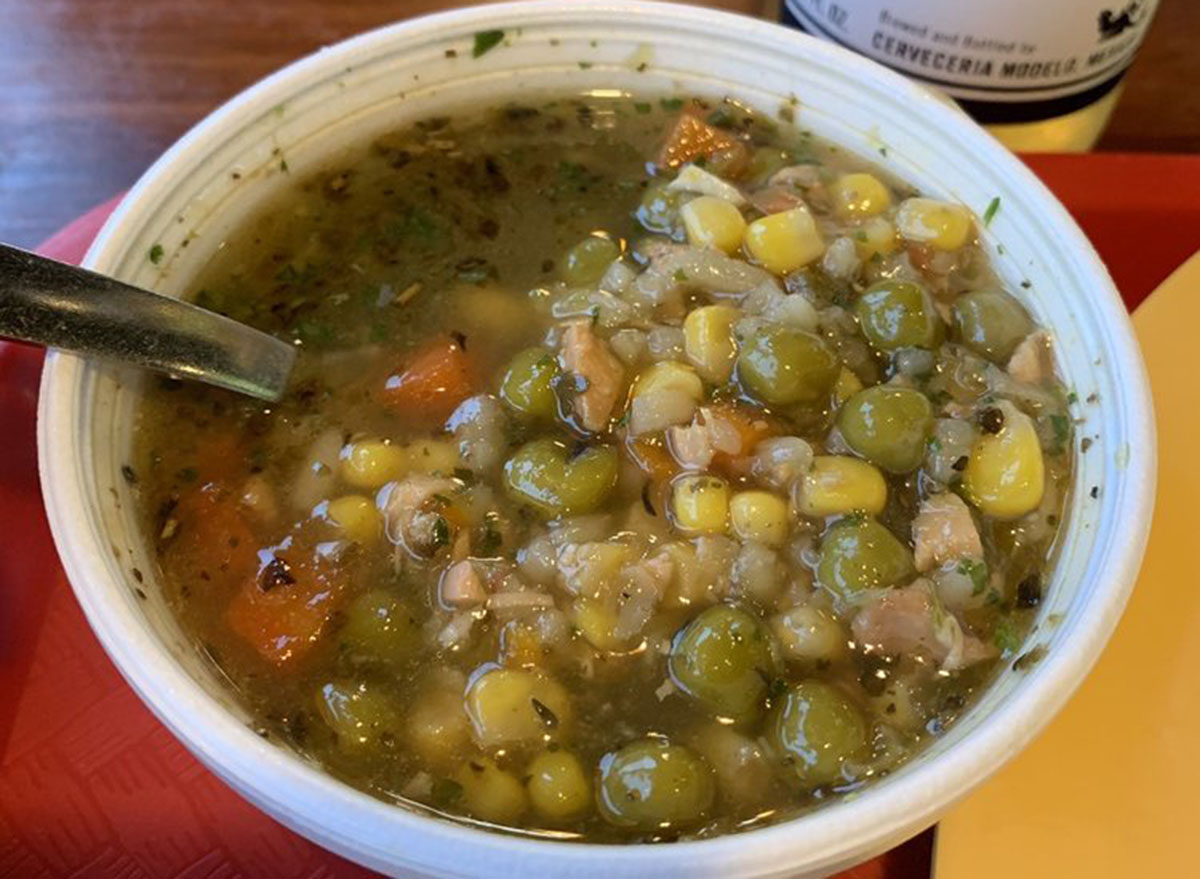 Mami's, the buzzy Peruvian rotisserie chicken joint in Raleigh, makes such good soup that you may just become a regular. One Yelp reviewer exclaimed, "​​The chicken is delicious! They also have the most amazing chicken soup and black beans. The staff is friendly and the place is consistent."
NORTH DAKOTA: Mezzaluna in Fargo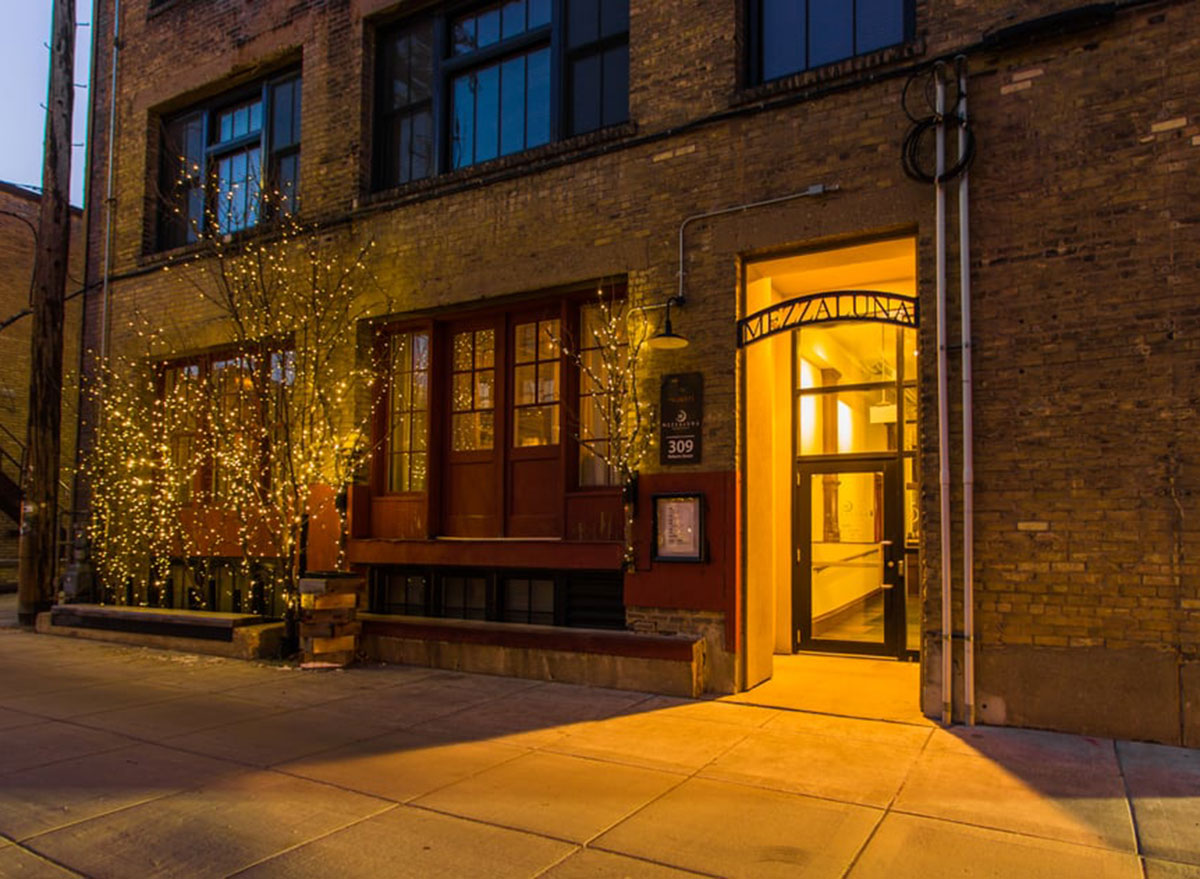 If you are looking to try some top-tier soup then you must give Fargo's Mezzaluna a visit. This polished, upscale eatery, which specializes in Italian fare, creates gourmet soups that taste right out of a cooking show. As one Yelp reviewer puts it, "We tried an appetizer, grilled cheese and tomato soup, and it was like something from Top Chef."
OHIO: Scotty's Cafe in Columbus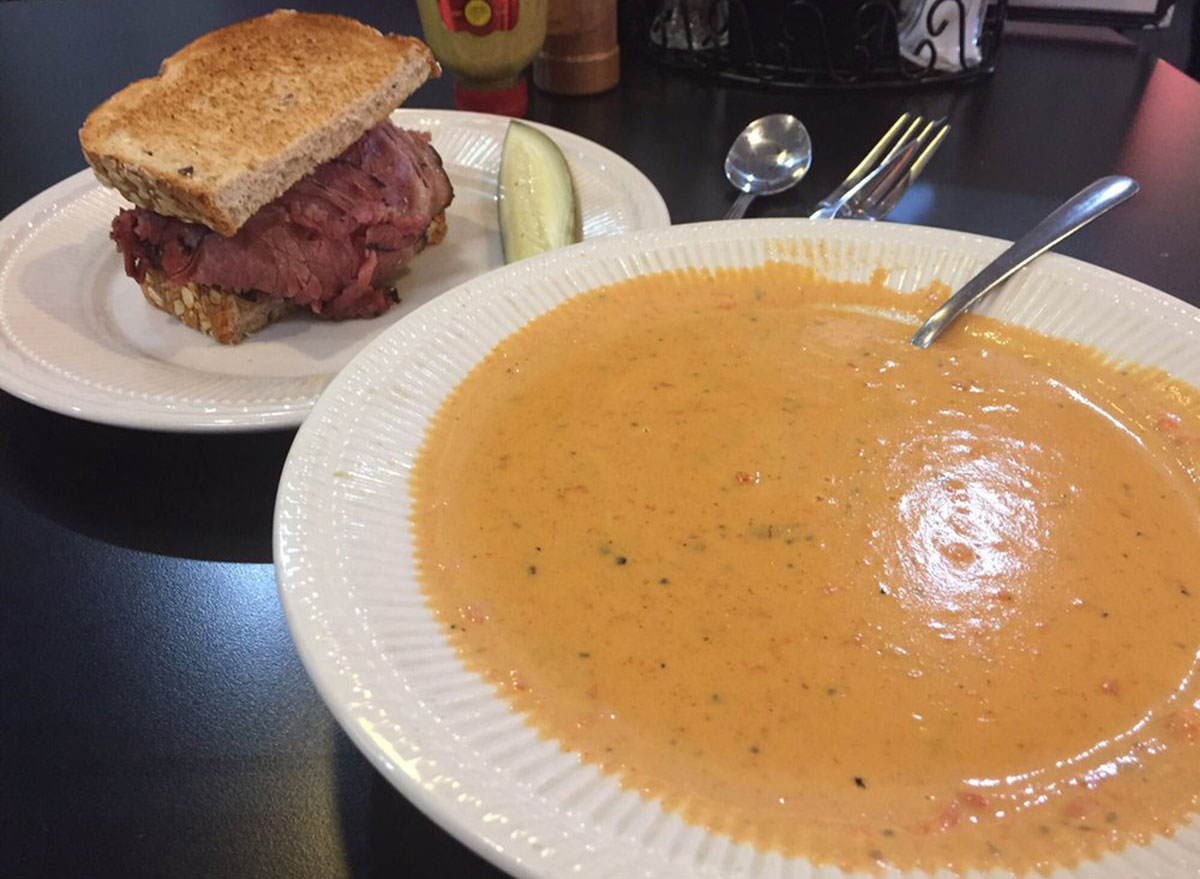 Scotty's Cafe was voted the #1 cafe in Columbus—and it is no surprise why as their food is exceptionally good. If you find yourself in the area, make sure to order their tomato basil soup, which one Yelp reviewer described as, "to die for!"
OKLAHOMA: Kilkenny's Irish Pub in Tulsa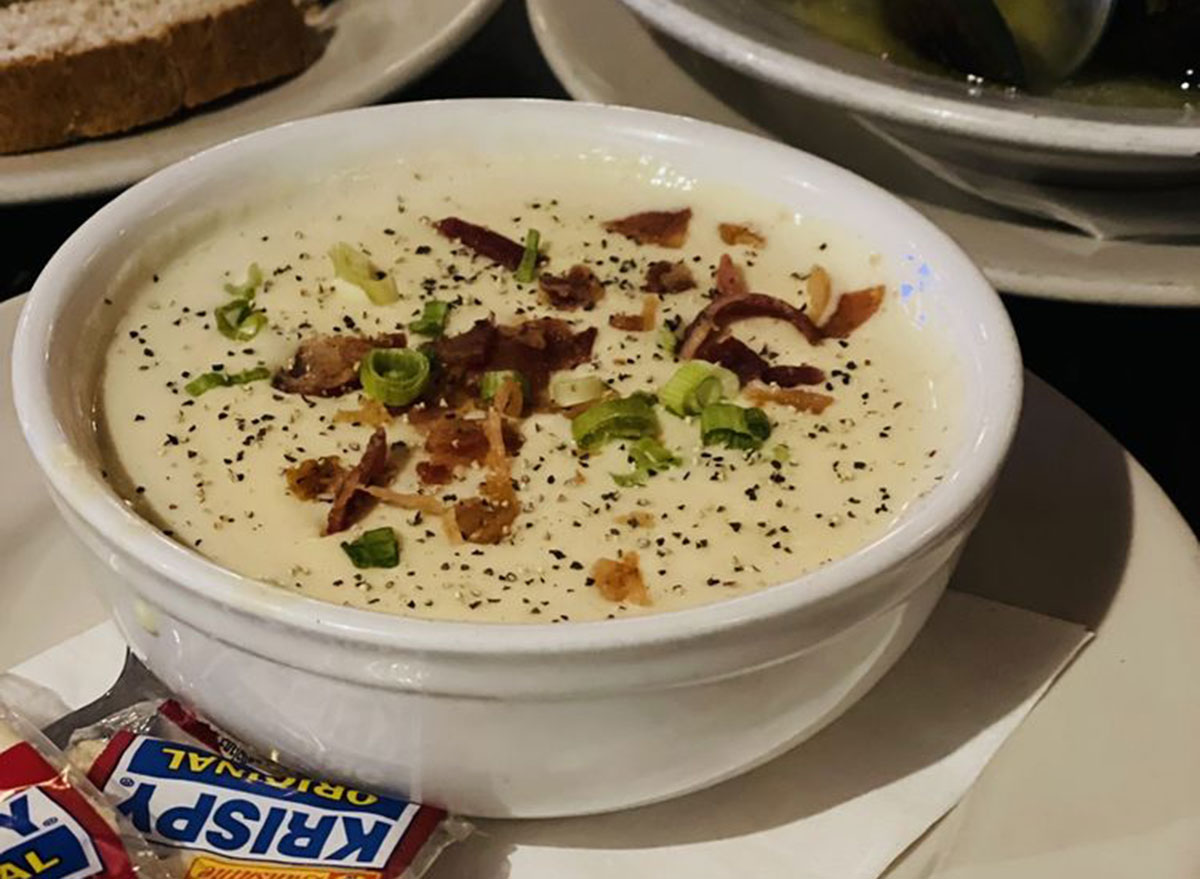 Get your bangers and mash, potato soup, and cold Guinness brews all at Kilkenny's Irish Pub in Tulsa. Their potato soup, which is a favorite among customers, is a creamy combination of potatoes, onions, leeks, and carrots.
OREGON: Paadee in Portland
Paadee, which got its name from a Thai phrase meaning "to bring good things", is a Portland mainstay that consistently serves remarkably good Thai food in a cozy setting. A real standout is their Tom Kha Gai, which is made with chicken, oyster mushrooms, galangal, scallion, and cilantro.
PENNSYLVANIA: Smiling Banana Leaf in Pittsburgh
You can't not feel happy while having a meal at Smiling Banana Leaf in Pittsburgh. Their phenomenal Tom Yum, which is a spicy and sour lemongrass soup packed with spinach and mushrooms, is just one of the many indulgent, freshly-made dishes available each day. As one Yelp reviewer put it, "The flavor profile of the Tom Yum soup was the best I ever had."
RHODE ISLAND: Camp Nowhere in Providence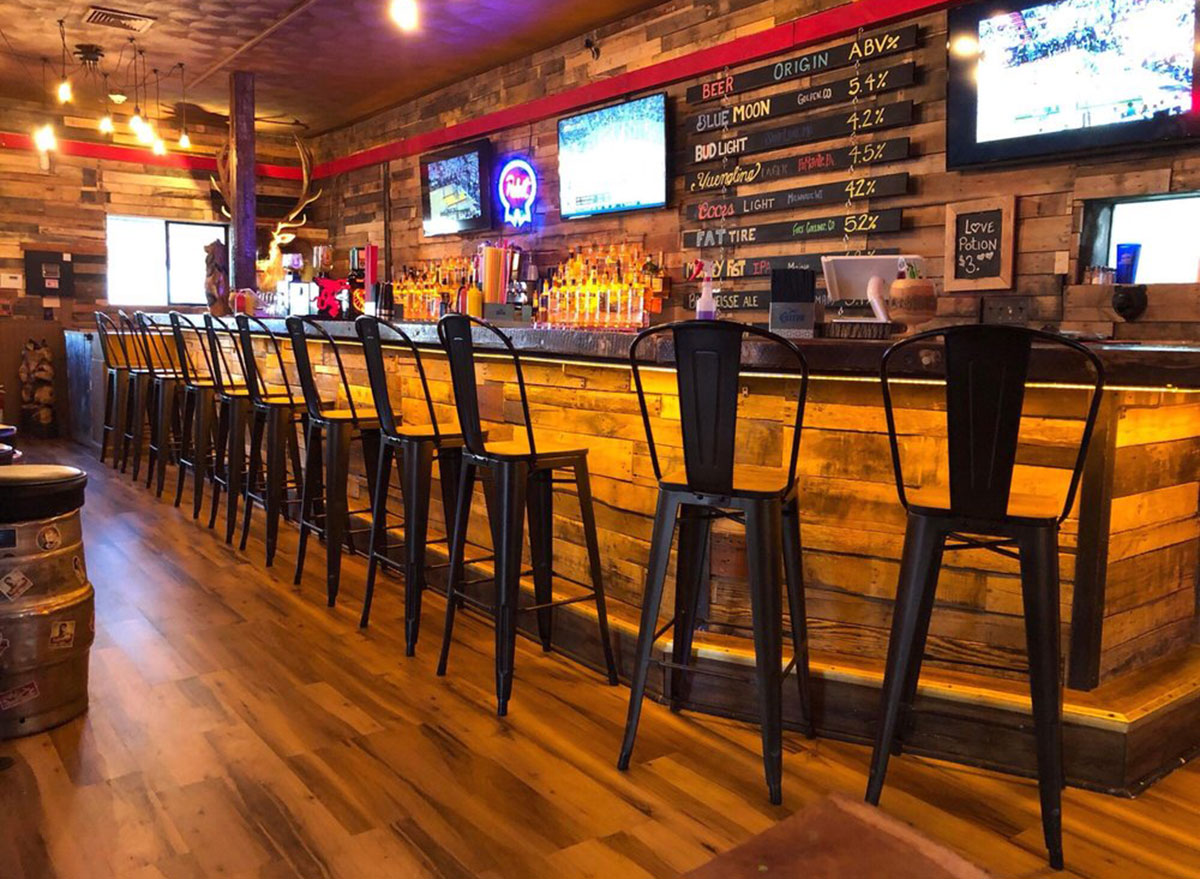 Warm soup and a hearty sandwich—is there a more perfect lunch combo out there? UMelt, which is located right in the center of downtown Providence, not only makes grilled cheeses bursting with flavor but also delicious soups. One Yelp reviewer loves this place so much that they wrote, "OMG!!! Sooooooooooo good. I would eat here everyday! The grilled cheese was amazing and the tomato soup was a perfect compliment."
SOUTH CAROLINA: Hook and Barrel in Myrtle Beach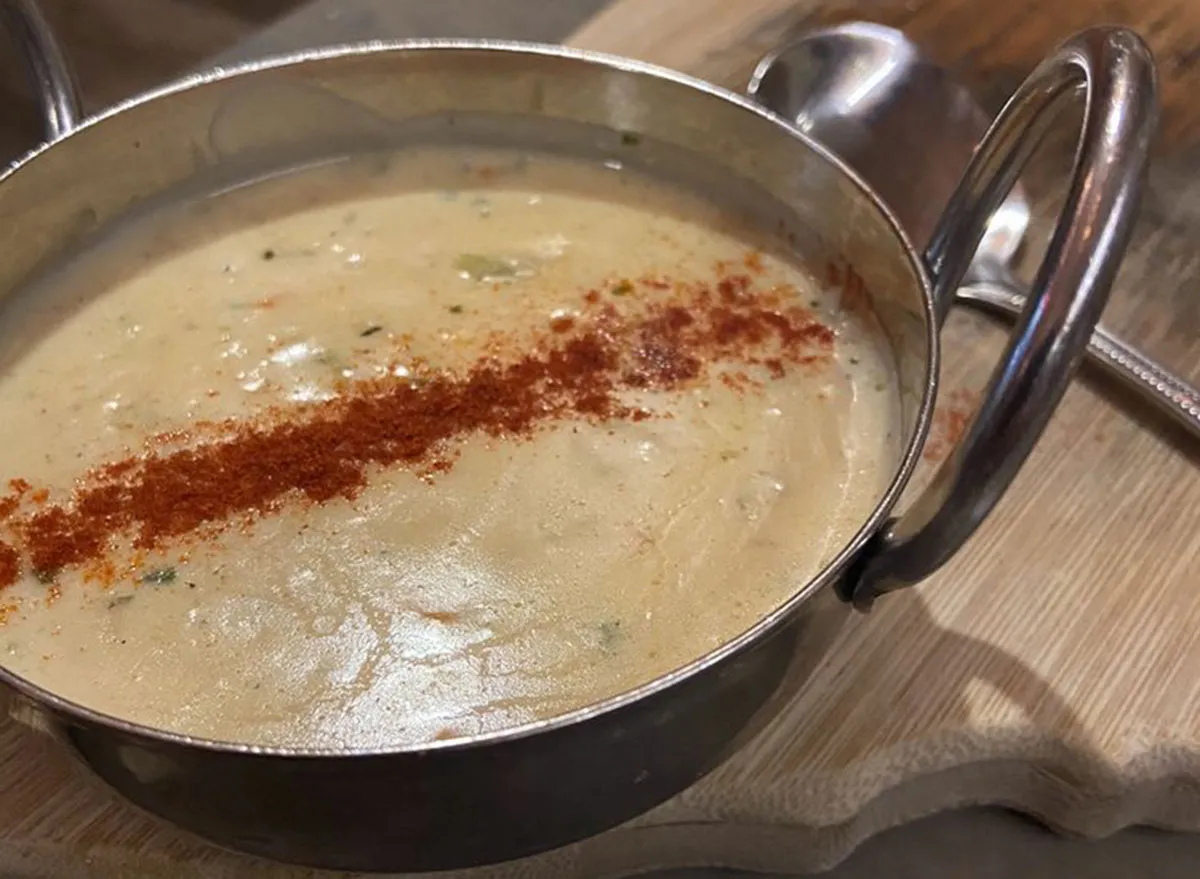 Hook and Barrel is Myrtle Beach's eco-friendly eatery that crafts impressive seafood-focused dishes from local ingredients. A menu standout is their She-Crab Soup, which is served as a delightfully large portion. One Yelp reviewer thinks it is the best crab soup they have ever had, stating, "The she-crab soup is made fresh when you order it and was the best we have ever eaten."
SOUTH DAKOTA: Josiah's Coffeehouse and Cafe in Sioux Falls
This local coffeehouse and cafe not only brews some of the best coffee in Sioux Falls, but also is known for their great breakfast and lunch fare which includes items such as soups, sandwiches, and flatbreads. Yelp reviewers especially love their chicken fajita, tomato basil, and chicken quinoa lentil soups.
TENNESSEE: Mas Tacos Por Favor in Nashville
Patrons of Mas Tacos Por Favor in Tennessee are pretty adamant about this neighborhood Mexican restaurant having the best soup around. For instance, one Yelp reviewer jokingly stated, "Best damn tortilla soup EVER. I will fight any naysayers in the American gladiator symposium. Thank you.", while another animatedly advised, "Order the Chicken Tortilla Soup. If you get nothing else from the reviews listed, ORDER THE CHICKEN TORTILLA SOUP!"
TEXAS: Wabi House in Dallas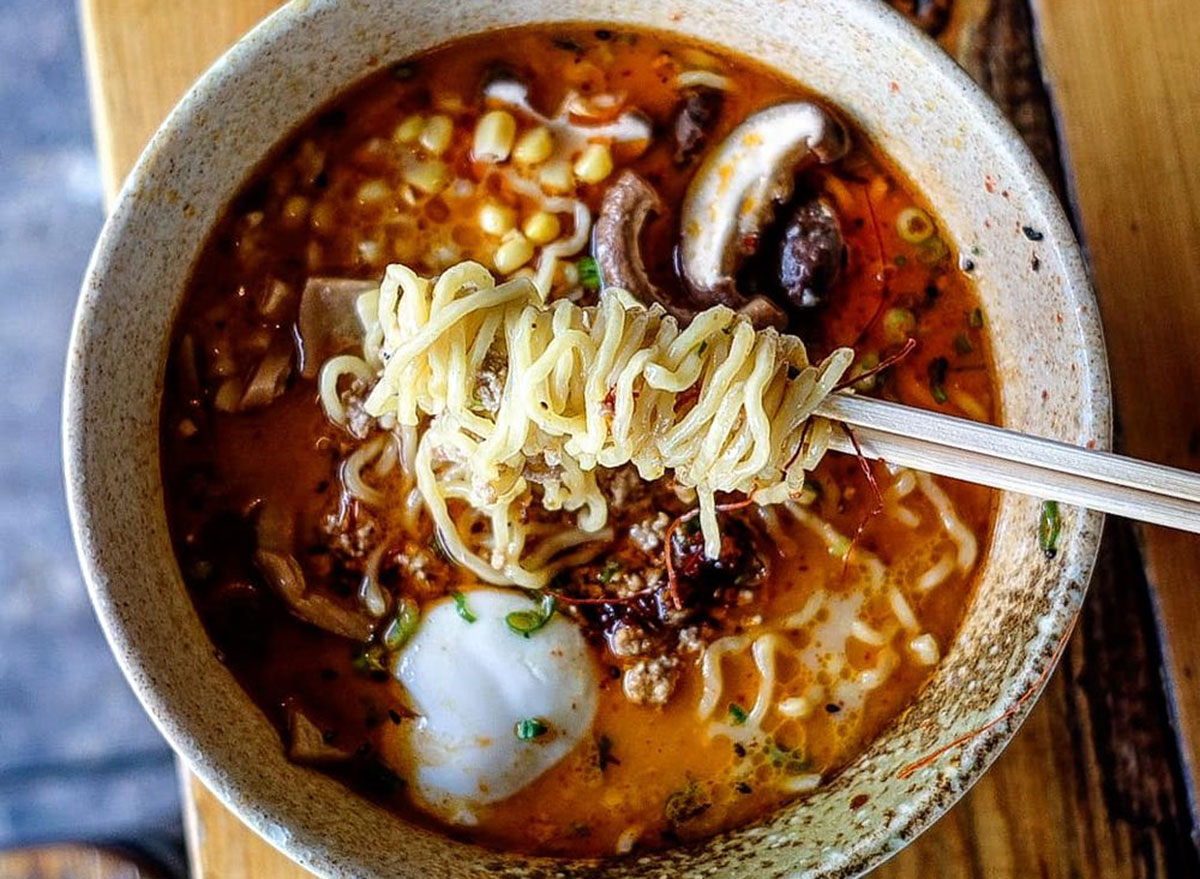 Wabi House in Texas prepares a long list of Japanese specialties, including ramen, all presented in an industrial setting. One of their most reviewed dishes is their Spicy Miso, which one Yelp reviewer has described as, "[The] spicy miso is literally like a warm bowl of heaven. This ramen smokes every other place in the area and it isn't close."
UTAH: Porcupine Pub and Grille in Salt Lake City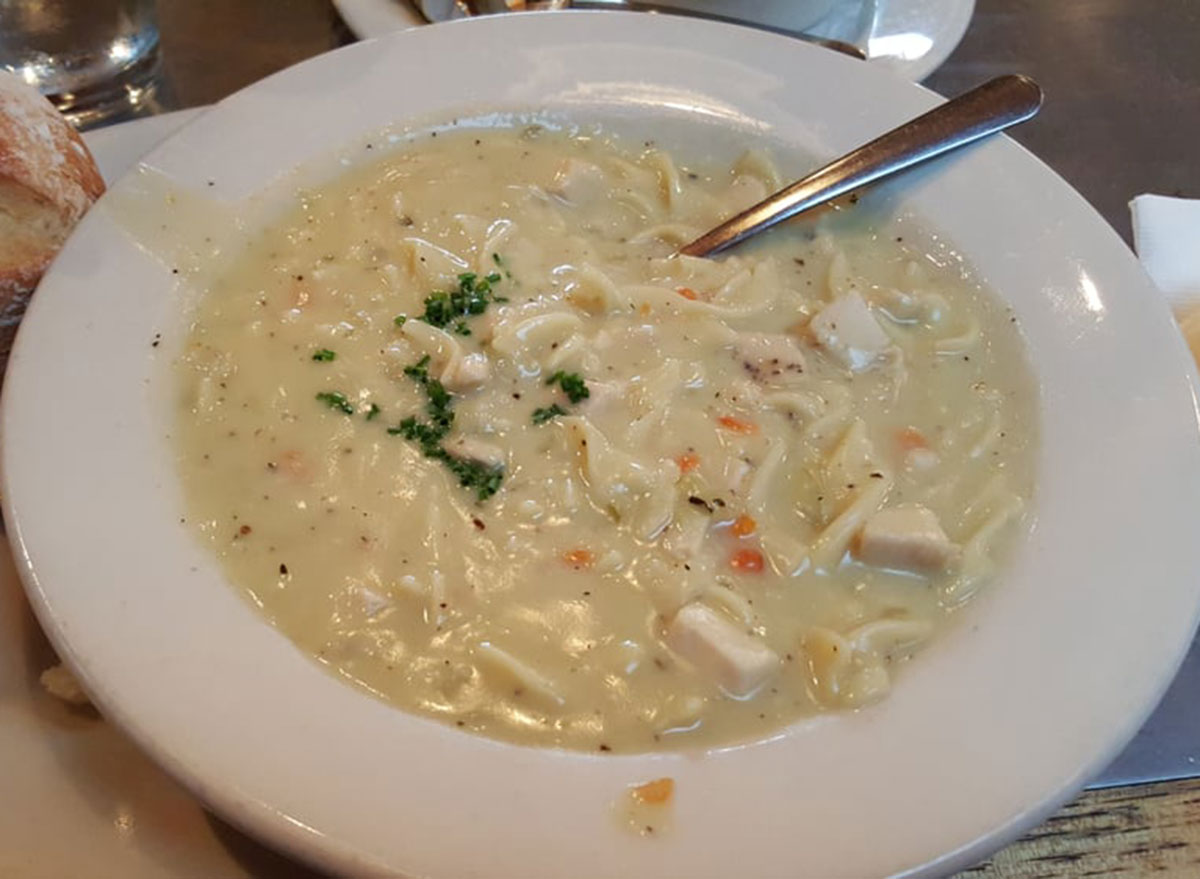 Utah's Porcupine Pub and Grille opened its first location in 1998, and ever since then, it has become a popular meeting place for the Cottonwood Canyon community. Each day it offers a selection of homemade soups, which may include ones such as chicken noodle and seafood curry, that are perfect to enjoy after a long day hitting the ski slopes.
VERMONT: Zabby and Elf's Stone Soup in Burlington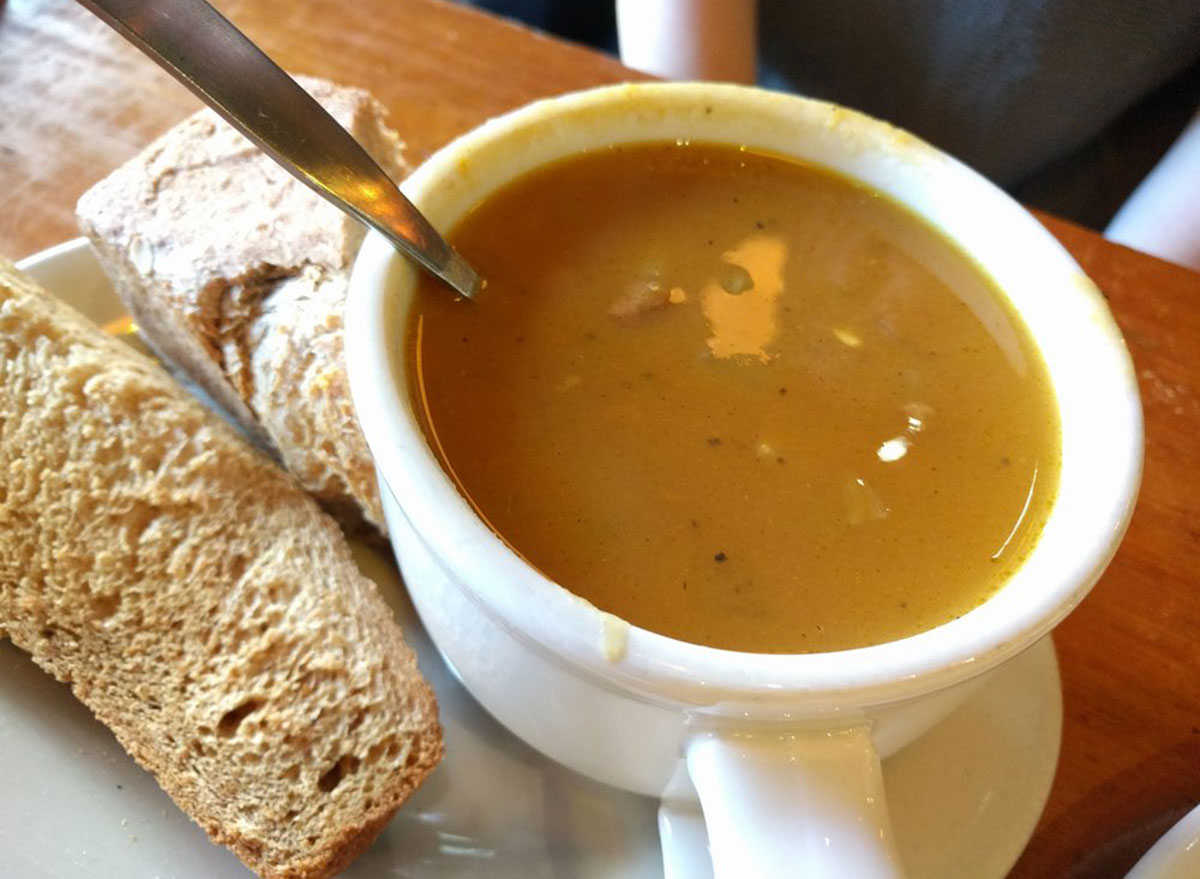 Burlington—the perfect place for snowy cabin weekends and delicious bowls of homemade soup. Simply said, people from all over Vermont just really love Zabby and Elf's—as one Yelp reviewer puts it: "I love Stone Soup. Love love love love LOVE Stone Soup. It's quite possibly my favorite go-to restaurant in Vermont. Whole food ingredients and they have something for everyone!"
VIRGINIA: The Ten Top in Norfolk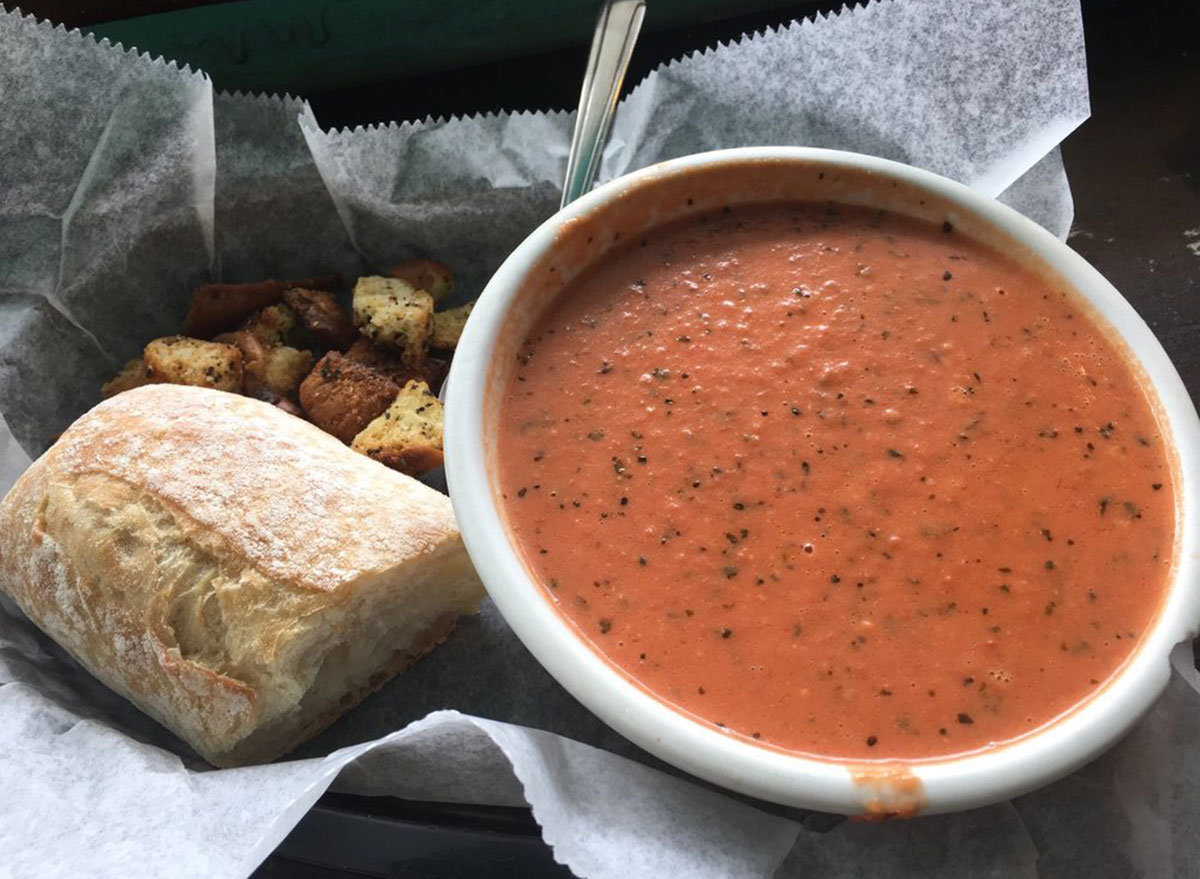 Once you start visiting The Ten Top, it is hard to stop. This colorful local establishment, which is housed in an unassuming storefront on Shirley Avenue, may just become your go-to soup spot. One Yelp reviewer even traveled from way out of state to experience their soup firsthand. "The soup was rich and flavorful. It was perfectly seasoned with a nice balance of parmesan. I flew from Detroit just to come here," they wrote.
WASHINGTON: Pike Place Chowder in Seattle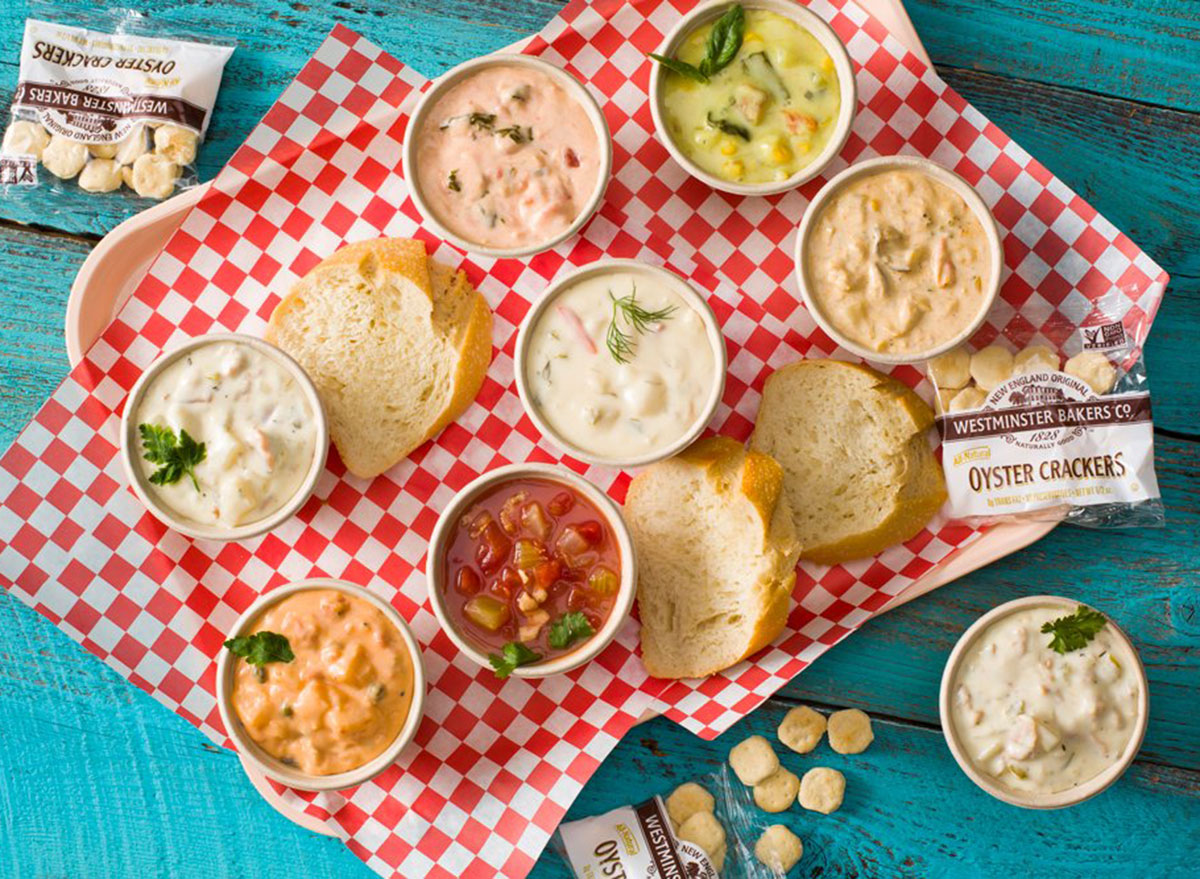 With a 4.5 Yelp rating and close to 8,000 reviews (yes, you read that number right), it is no surprise that Pike Place Chowder is the home of Washington's most delectable soup. Not to mention they are also famously known as America's #1 destination for chowder. Whether you opt for their classic New England variation or prefer to try something a little bit more out of the box, such as their Lime and Coconut Chowder, Pike Place is sure to become a quick favorite. One Yelp reviewer emphatically stated, "Pike Place Chowder is amazing. It turned my fiance, who previously hated clam chowder, into a huge fan."
WEST VIRGINIA: Saigon Pho Kitchen in Morgantown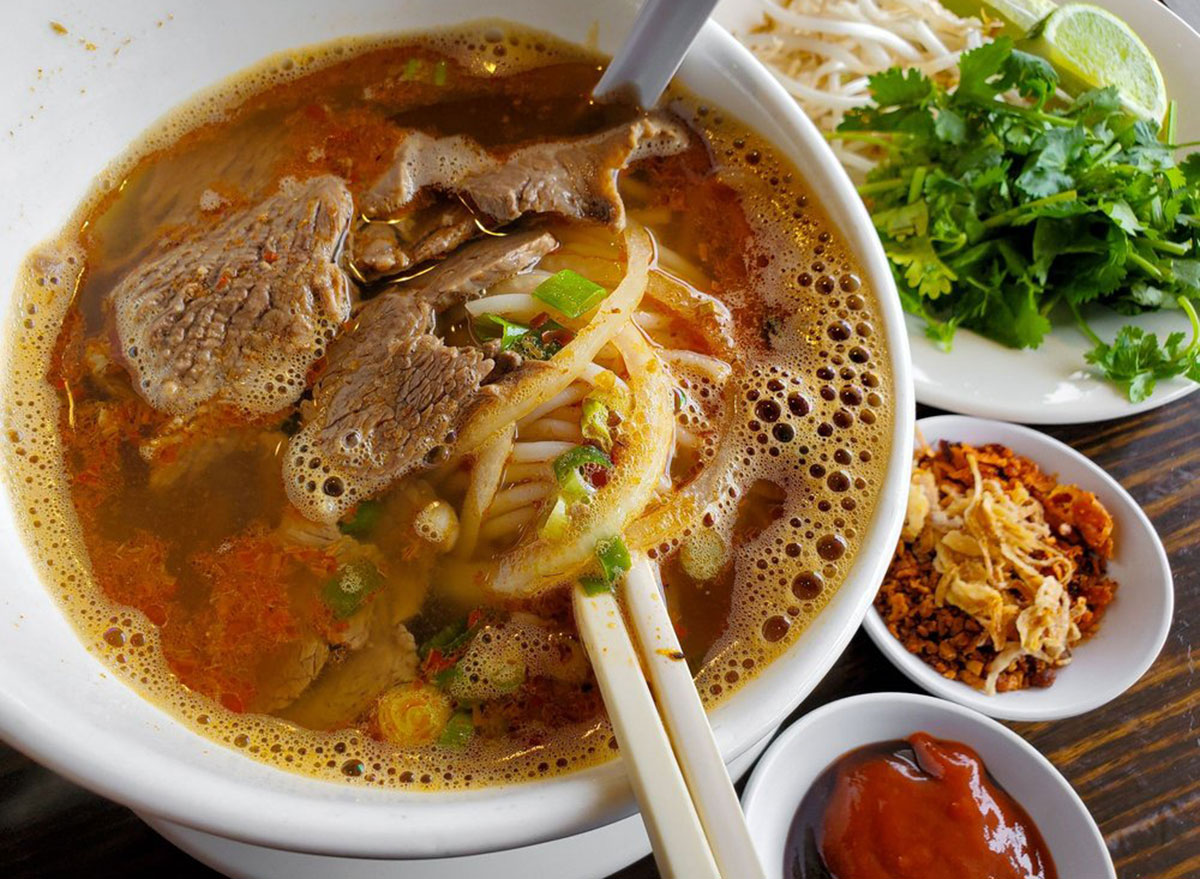 Saigon Pho, which is located just a short walk from the lush Core Arboretum, is Morgantown's top spot to pick up a giant bowl of pho. Yelp reviewers, such as this one, have made the restaurant their go-to: "Wanted a big bowl of soup tonight on such a cold night, and that's exactly what I got—a BIG bowl of soup. I love good pho, and this really hit the spot."
WISCONSIN: The Soup Brothers in Milwaukee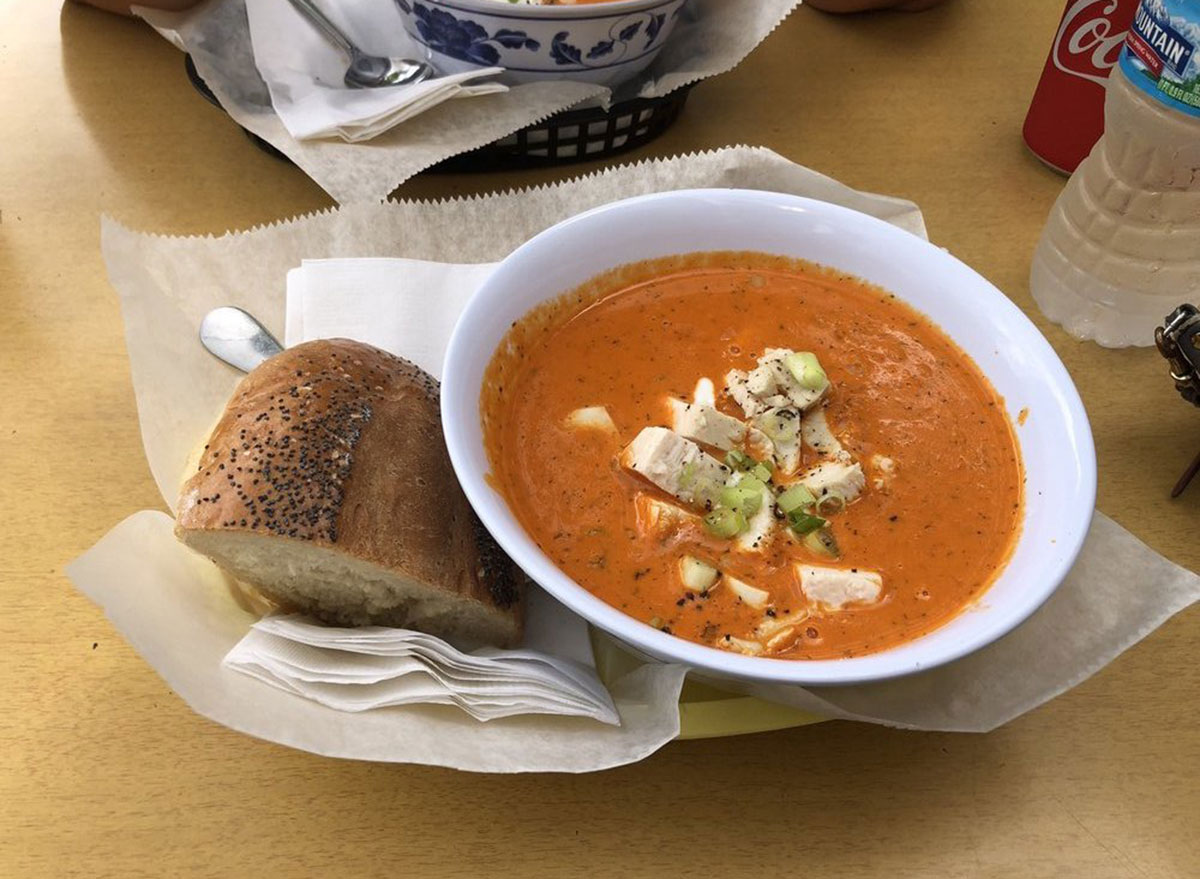 The amazing Fire Roasted Red Pepper Bisque at The Soup Brothers, a creamy soup served with rice and sour cream in it, has quite the following. As one Yelp reviewer put it, "Their best and home special is the Fire roasted red pepper bisque, a soup to die for!"
WYOMING: Local Restaurant and Bar in Jackson
Is there any soup more decadent than the always-delicious French onion soup? Local Restaurant and Bar in Wyoming makes an out-of-this-world French onion that Yelp reviewers have described as "a must!" and "outstanding."
Read more about these best spots in your state:
The Best Expensive Restaurant in Every State
The Best Steakhouse in Every State