20 Instant Pot Meals You Can Make in 20 Minutes or Less
Get a quick and easy dinner ready on the table in less than a half-hour with these savvy recipes.
Think about all the things you can do in 20 minutes: Get a manicure, grab a cup of coffee from that nice place down the street, and drive to work (if you're lucky).
But if "make dinner" didn't score a spot on that list, you've probably never met the Instant Pot. This all-in-one pot can cook meat straight from the freezer as easily as it can make yogurt.
The multi-use pressure cooker is faster than a Crock-Pot and involves way less cleanup than traditional cooking. What's more, the pot produces food that's restaurant-quality good, so you're sure to knock the socks off of whomever you're cooking for.
If you're seeking a quick and easy meal, the set-and-forget recipes below will save you from spending hours in the kitchen when you'd rather be binge-watching your favorite sitcom. In less than the amount of time it takes to rewatch an episode of Friends on HBO Max, your Instant Pot meal will be ready to serve and enjoy! Plus, don't miss 22 Meals to Melt Belly Fat in 2022.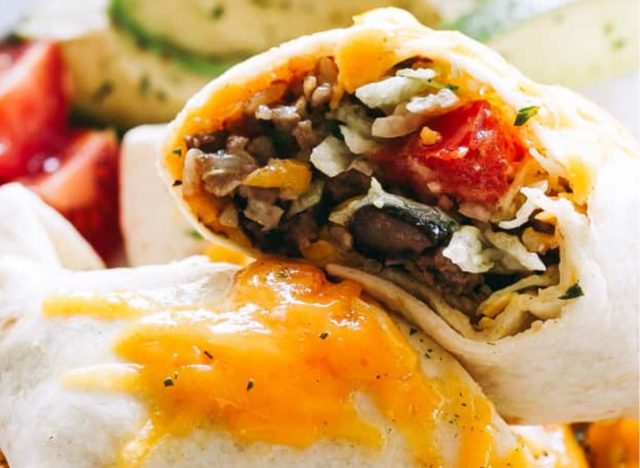 This awesome recipe is full of flavors and is a hearty and healthy dinner option for any night of the week. The beef burritos are ready in 20 minutes and involve minimal prep time because you can throw all the ingredients into the pot together. Plus, they pack in only 301 calories per serving! You can serve them with a smorgasbord of toppings and freeze some for later, deeming this dish perfect for meal prep Sundays.
Get the recipe from Diethood.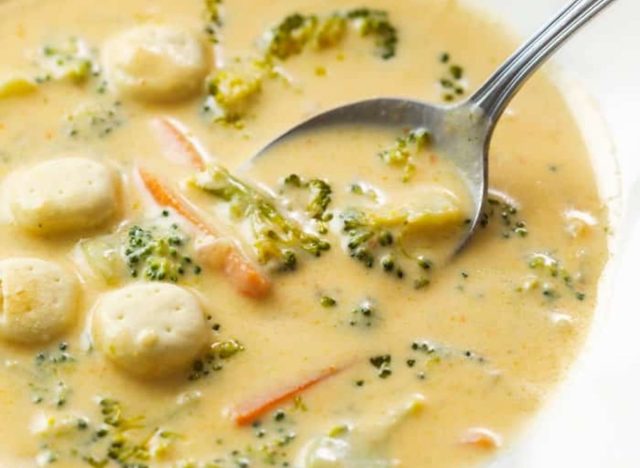 Instead of waiting in line at Panera, whip up a batch of broccoli cheddar soup in your Instant Pot at home in just 12 minutes. This recipe is a game-changer: It's stocked with plenty of veggies and an array of spices and ingredients that give it a unique flavor. Soup season may be on its way out, but one spoonful of this springtime blend may have you wishing it was winter again.
Get the recipe from The Cozy Cook.
The name of this dish is pretty self-explanatory, but the many ways it can be served make it the perfect dinner to meal prep! It can be served over whole-wheat pasta, zoodles, risotto, salad—the possibilities are endless, and the main event is delicious. And get this: It takes just 15 minutes to cook the entire thing. The red peppers and basil give the dish a fresh taste and a gorgeous color, and it's low in calories, boasting less than 300 per serving. Winner, winner, chicken dinner!
Get the recipe from The Seasoned Mom.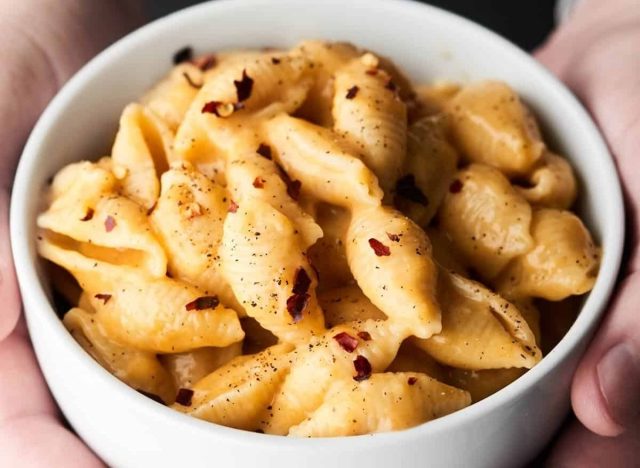 Let's be honest: Mac and cheese is a necessity in an Instant Pot recipe roundup like this one. There are so many ways to cook one of America's favorite comfort foods, but this recipe earned its spot on this list because it only has 8 ingredients and takes 10 minutes to make. (Bonus points for the nostalgic shell-shaped noodles this blogger uses.) The secret to this dish? Vegetable broth and three types of cheeses including a smoky gruyere that will put Kraft to shame.
Get the recipe from Show Me the Yummy.
Mussels With White Wine and Garlic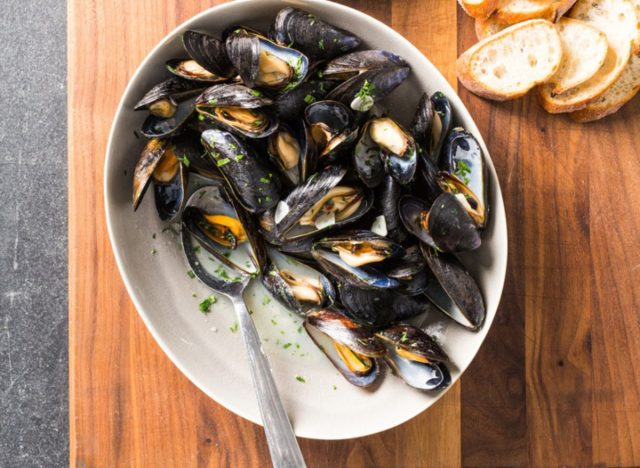 This recipe sounds all kinds of gourmet. It's perfect for a date night or to whip up when you need to impress your in-laws in a jiffy. The mussels are seasoned with garlic, butter, and bay leaves to add delicious flavor without masking the natural taste of the seafood. Serve with crusty bread and a glass of red wine. You'll be smiling the whole time, too, because mussels are one of the 20 foods that make you happy! Anyone else drooling? Thank the editors of America's Test Kitchen, because they've given us permission to reprint their delicious recipe right here!
Ingredients
Serves 4 to 6
Total time: 20 minutes
4 tablespoons unsalted butter
4 garlic cloves, sliced thin
4 sprigs fresh thyme
1/4 teaspoon salt
Pinch red pepper flakes
2 bay leaves
3 pounds mussels, scrubbed and debearded
1/2 cup dry white wine
2 tablespoons minced fresh parsley
Directions
1. Using highest sauté or browning function, melt butter in multicooker. Add garlic, thyme sprigs, salt, pepper flakes, and bay leaves and cook until fragrant, about 30 seconds. Stir in mussels and wine.
2. Lock lid in place and close pressure release valve. Select high pressure cook function and cook for 1 minute. Turn off multicooker and quick-release pressure. Carefully remove lid, allowing steam to escape away from you.
3. Discard thyme sprigs, bay leaves, and any mussels that have not opened. Stir in parsley and transfer to large serving bowl. Serve.
You can find more recipes like this in the new cookbook from America's Test Kitchen: Multicooker Perfection ($18.62, on Amazon).
Spaghetti With Meat Sauce
The best part about spaghetti is that it's almost sure to please even the pickiest of eaters. This variation is creamy, versatile, and ready in 15 minutes. You can choose your favorite jarred pasta sauce, swap ground beef for turkey or tofu, and use whole-grain pasta in place of the enriched white stuff. One of the coolest things about the Instant Pot is that it can cook all the ingredients simultaneously, and this dish is no different. Gone are the days of cooking pasta, sauce, and meat in separate pots and pans. Just throw all the ingredients in one place and press the start button, and you're mere minutes away from dinner time.
Get the recipe from The Cozy Cook.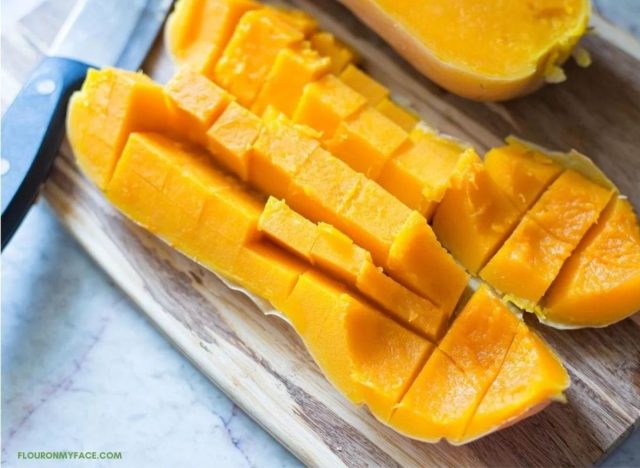 While this isn't technically a full-fledged meal, it certainly has the makings of one. Whether you throw it in a soup or chili or inside ravioli, squash takes almost an hour to cook in the oven, and your Instant Pot can do it in an impressive 5 minutes. Once it's ready to go, you can add it to any one of these 20 Healthy Butternut Squash Recipes.6254a4d1642c605c54bf1cab17d50f1e
Get the recipe from Flour on My Face.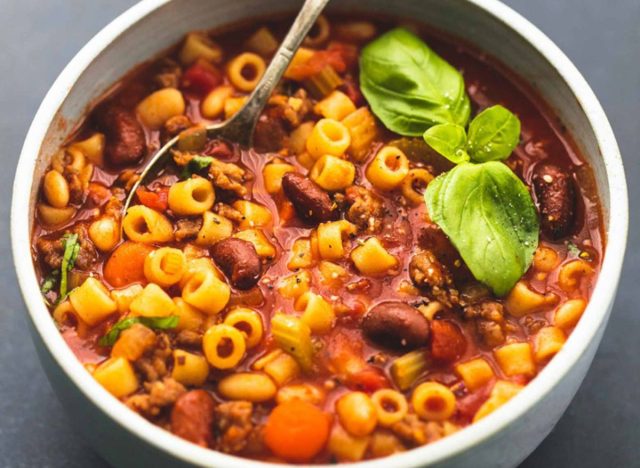 Simply saying the name of this dish makes us feel Italian. This hearty soup is full of protein and includes two kinds of legumes, great northern and kidney beans. The spices and Italian sausage give the dish the perfect kick, and the pasta makes it feel even more like something you'd eat in the Tuscan countryside. Since it's ready in 20 minutes, you'll have time to start planning your trip.
Get the recipe from Creme de la Crumb.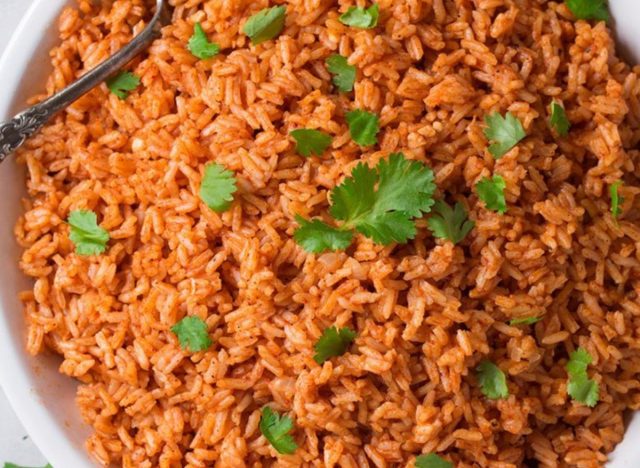 We should all be more thankful for rice. It seamlessly accompanies any meal and adds texture to everything from soup to sushi. This Mexican rice is no exception. The tomato-based dish can be made with white or brown rice and served alongside tacos, inside a casserole, or in a burrito. It requires only 10 ingredients, most of which are the spices that give it its amazing flavor, and is ready to go in 20 minutes. Garnish with cilantro for extra fresh flavor!
Get the recipe from Cooking Classy.
Staying in the South American family, this dip is absolutely to die for and is just in time for Cinco de Mayo celebrations! It takes 10 minutes to make and is served with your favorite tortilla chips. We'll admit that this is not the healthiest recipe in the world, but splurging on creamy, cheesy dip is allowed in moderation. The best part about this recipe is that, along with your typical Mexican spices and herbs, the secret ingredient—basil—really makes the dip stand out from the crowd. It's like Mexican Street Corn in a bowl, and we are here for it.
Get the recipe from Show Me the Yummy.
Sweet Potato Steel-Cut Oats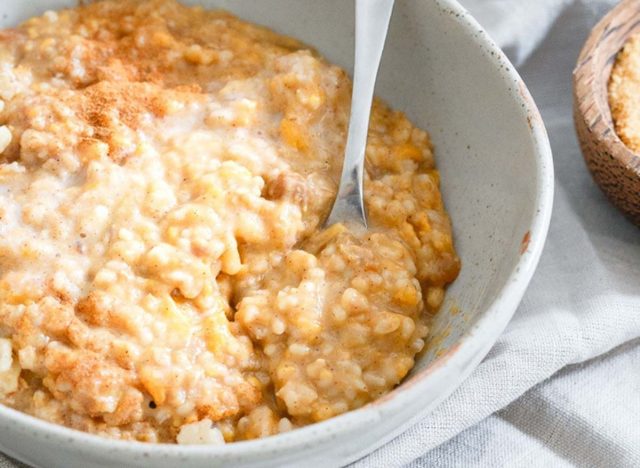 It's about time we threw some breakfast into the mix! Instant Pots are great for helping you speed through dinner time, but they also make breakfast a breeze. And these oats are the coziest, yummiest way to wake up. The thick texture and the nutty taste of steel-cut oats are a game-changer, especially when combined with sweet potatoes. It takes 15 minutes to cook and is a perfect make-ahead breakfast, just like your favorite overnight oats.
Get the recipe from Running to the Kitchen.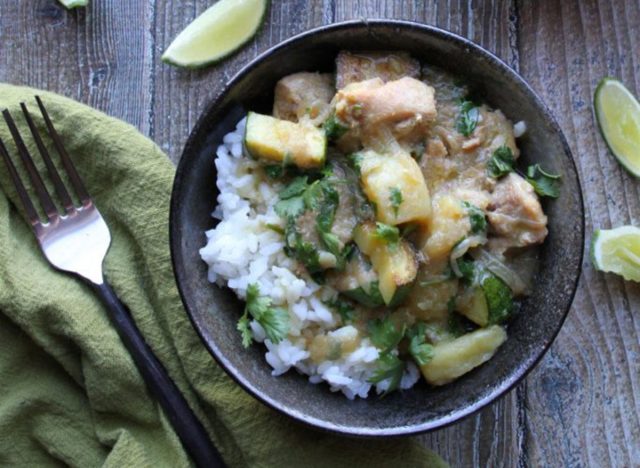 Curry is available in many colors and styles, which is what makes it one of the most fun and interesting dishes around. The green variety tends to lean heavily on coconut products, and this recipe is no exception. Coconut milk, coconut palm sugar, and coconut oil are all found on the ingredient list along with the green curry paste that finishes off the flavor and makes this Thai-inspired plate an aromatic masterpiece.
Get the recipe from Zenbelly.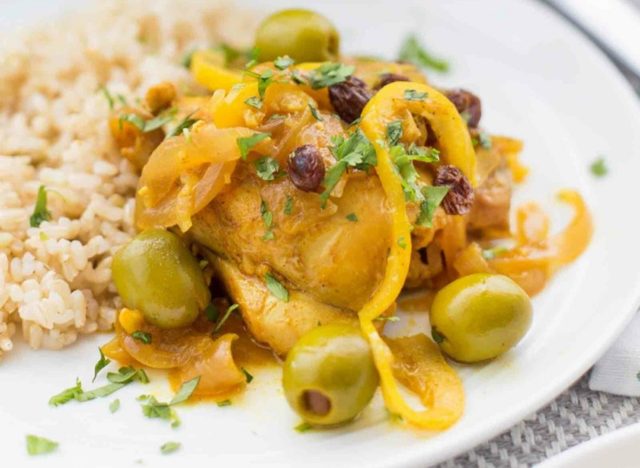 This delicious dish is not your average weeknight meal, yet the unique flavors in the spice blend will have you scribbling this into your recipe book in no time. It combines salty olives with juicy, boneless chicken thighs to create a dinner you'll never forget. And an added bonus? If you choose to serve with rice or couscous, you can use the "Pot-in-Pot" feature of your Instant Pot to cook everything simultaneously and save yourself even more time.
Get the recipe from Simply Recipes.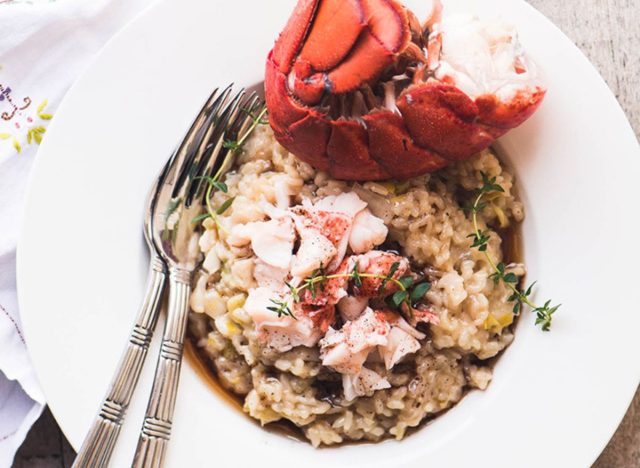 Any meal that includes lobster sounds decadent and delicious, and this risotto recipe is no exception. It's creamy, cheesy, and ready in just six minutes. Risotto is notoriously tricky to make on the stove and often includes all kinds of stirring and slaving away. However, this blogger swears that this ready-in-minutes recipe results in a significantly better side than the one you spent all night tending to last time you made a fancy dinner. The secret to this recipe is a drizzle of brown butter on top of the flaky shellfish. Can't find lobster or don't want to spend a chunk of change on high-end tails? Swap it for scallops or shrimp instead.
Get the recipe from The View from Great Island.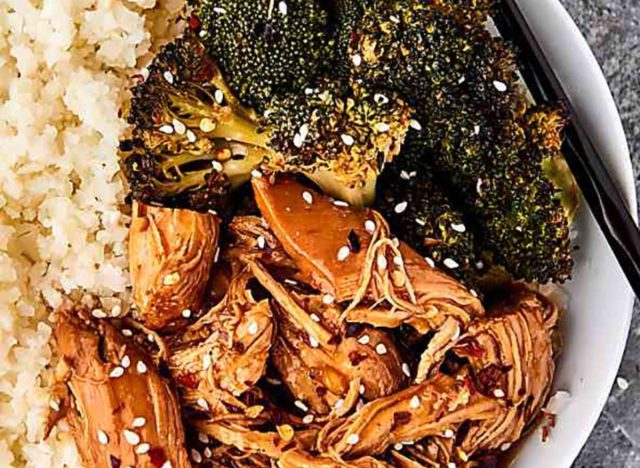 See ya never, Panda Express. Orange chicken is a staple of Chinese takeout, but it's also notoriously bad for you, thanks to the scary amounts of sodium and fat many dishes boast.Crave the flavor but don't want the belly-busting qualities? This recipe is for you. Made with fresh juice and zest, this faux takeout is ready in 12 minutes and pairs well with steamed broccoli and brown rice. You'll never go back to soggy breading again.
Get the recipe from Show Me the Yummy.
Creamy Chicken Gnocchi Soup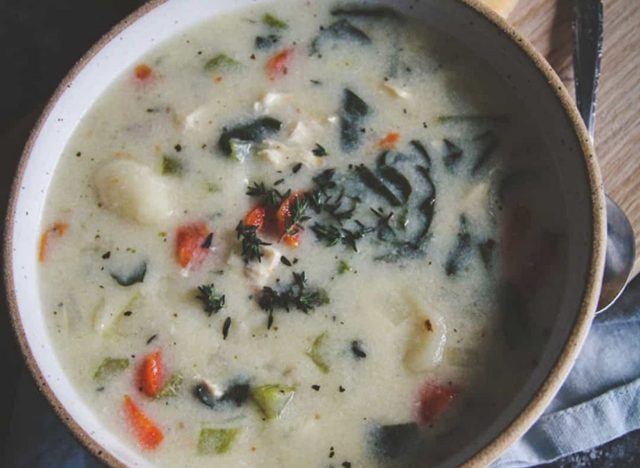 "Healthy" and "gnocchi" are not often used in the same sentence. The little potato balls are a delicious treat but used in this veggie-filled soup, they make for a good-for-you dinner option! One bowl packs in less than 200 calories. Plus, it requires only 10 minutes in the Instant Pot and is a better deal than the all-you-can-eat soup at Olive Garden.
Get the recipe from Sweet Phi.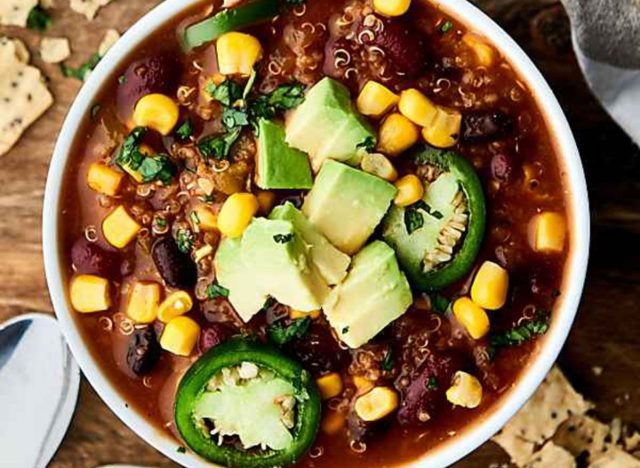 Vegan meals are sometimes underwhelming when it comes to flavor, but that's not the case with this veggie chili. The 20-minute meal is filled with beans, corn, and quinoa, and gets its zesty flavor from spices and jalapenos galore. Everything is better in a bowl, especially when a bowl-full is less than 300 calories.
Get the recipe from Show Me the Yummy.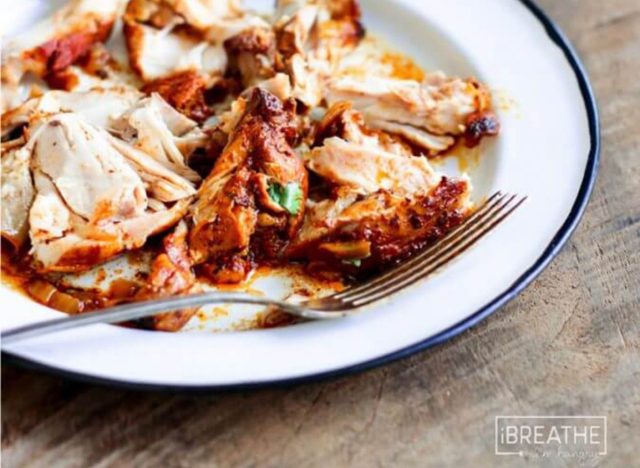 Let's not forget how truly incredible it is that an Instant Pot can cook an entire chicken in minutes as opposed to hours, and it comes out just as good as an oven-roasted one. And this flavorful meal is no exception! This recipe is keto-approved for everyone looking for low-carb dinner options and is ready in (you guessed it) 20 minutes. To keep it keto, this blogger recommends serving with nutrient-dense cauliflower rice.
Get the recipe from I Breathe I'm Hungry.
Garlicky Braised Swiss Chard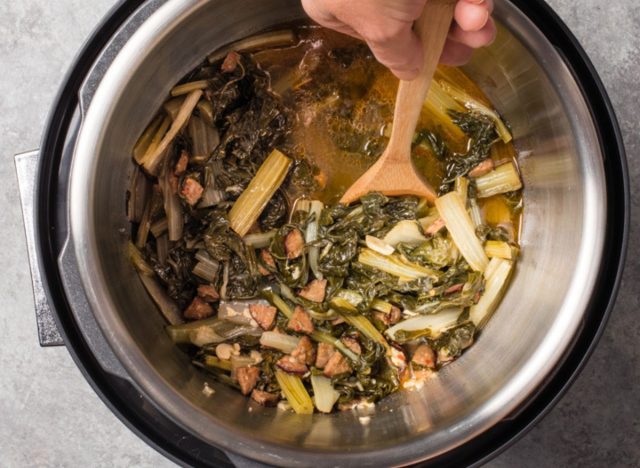 v
Swiss chard is an underrated superfood similar to kale in its green, leafy consistency and wonderful health benefits. It's commonly used in Mediterranean cooking and is a common salad base or side for other dishes, too. This recipe would pair well with anything because it highlights savory garlic complemented by lemon juice and spices. So whether you're whipping this up to serve with steak or adding it to soup, don't sleep on chard!
serves 4 to 6
total time: 20 minutes
Ingredients
1/4 cup extra-virgin olive oil
5 garlic cloves, sliced thin
1/8 teaspoon red pepper flakes
1/2 cup chicken or vegetable broth
Salt and pepper
2 pounds Swiss chard, stems cut into 2‑inch lengths, leaves sliced into 2‑inch-wide strips
1 tablespoon lemon juice, plus extra for seasoning
Directions
1. Using highest sauté or browning function, cook 2 tablespoons oil, garlic, and pepper flakes in multicooker until fragrant, about 1 minute. Stir in broth and 1/4 teaspoon salt, then stir in chard stems and leaves, 1 handful at a time.
2. Lock lid in place and close pressure release valve. Select high-pressure cook function and cook for 5 minutes. Turn off multicooker and quick-release pressure. Carefully remove lid, allowing steam to escape away from you.
3. Stir in lemon juice and remaining 2 tablespoons oil. Season with salt, pepper, and extra lemon juice to taste. Serve.
You can find more recipes like this in the new cookbook from America's Test Kitchen: Multicooker Perfection ($18.62, on Amazon).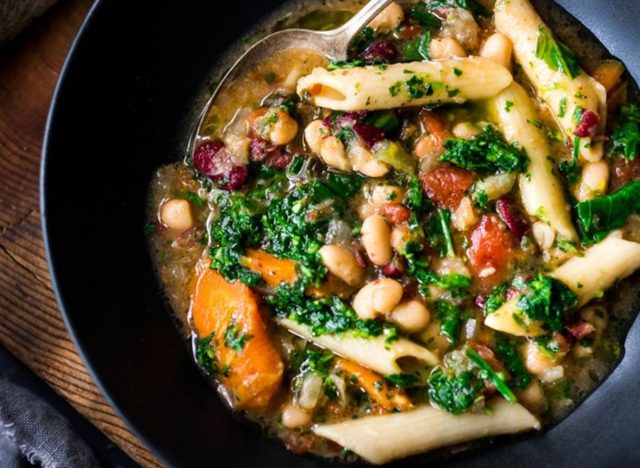 Last but not least, this 15-minute Minestrone is another good-for-you soup that's low-calorie, vegan-friendly, and gluten-free. The Mediterranean mix will also give you an extra kick of protein thanks to the beans in the recipe. This blogger recommends serving with crusty bread baked with garlic, lemon, and oil to complete the meal. Once you're done slurping, don't miss these 50 Cheap and Easy Slow Cooker Recipes.
Get the recipe from Feasting at Home.