14 Chain Restaurant Breakfasts Under 500 Calories
Wake up to a breakfast that won't break your calorie budget for the day.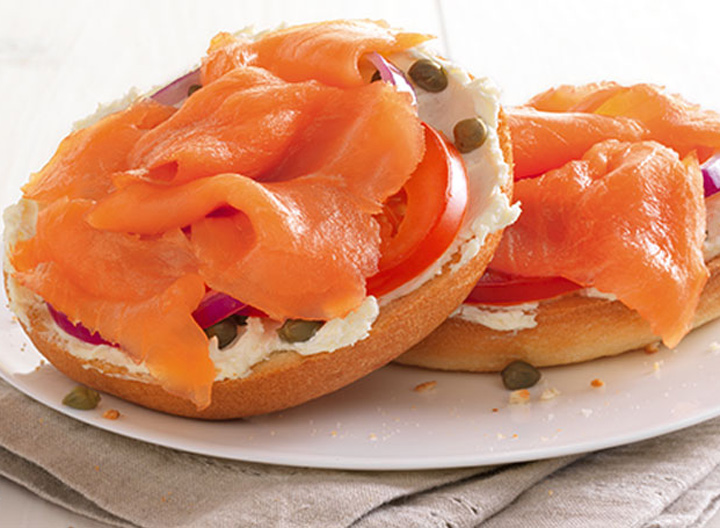 When you're looking to enjoy breakfast outside your own kitchen, navigating restaurant menus can get pretty daunting—especially when you're watching your weight.
But just because you've decided to dine out doesn't mean you have to subject yourself to downing an entire day's worth of calories before noon. To help streamline your choices, we've rounded up the 14 best chain restaurant breakfasts that round out under 500 calories. What's more, most of them feature our 37 Best Breakfast Foods for Weight Loss.
390 calories, 11 g fat (2.5 g saturated fat), 830 mg sodium, 52 g carbs (4 g fiber, 20 g sugar), 26 g protein
If you're starting your day at America's Diner, choose the Fit Slam over the Grand Slam. The former packs in protein-rich egg whites scrambled with fresh spinach and grape tomatoes and served with a side of lean turkey bacon strips, an English muffin, and seasonal fruit. Love dining at Denny's? Then you won't want to miss our exclusive story: 16 Things You Don't Know About Denny's.
Bonefish Grill California Omelet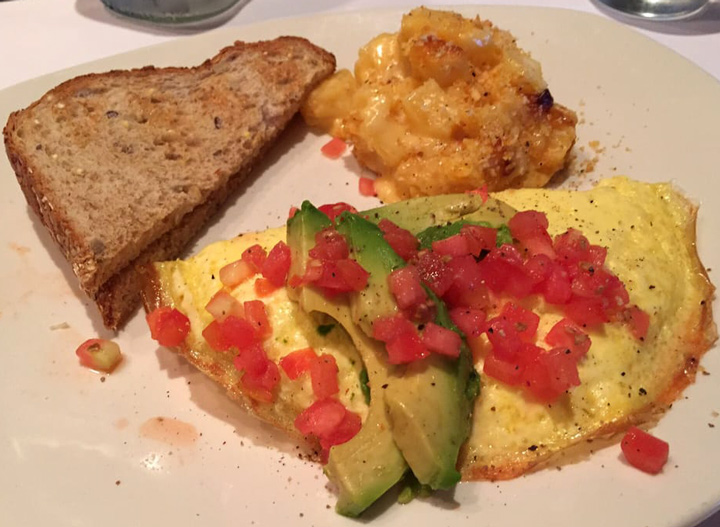 400 calories, 31 g fat (13 g saturated fat), 870 mg sodium, 5 g carbs (2 g fiber, <1 g sugar), 26 g protein
For just 400 calories, you can dig into an omelet dish studded with crunchy applewood bacon, creamy cheddar, caramelized onions, tomatoes, and avocado. Bonefish Grill's breakfast packs in just three grams of net carbs and 26 grams of metabolism-spiking protein.
Friendly's Breakfast Sampler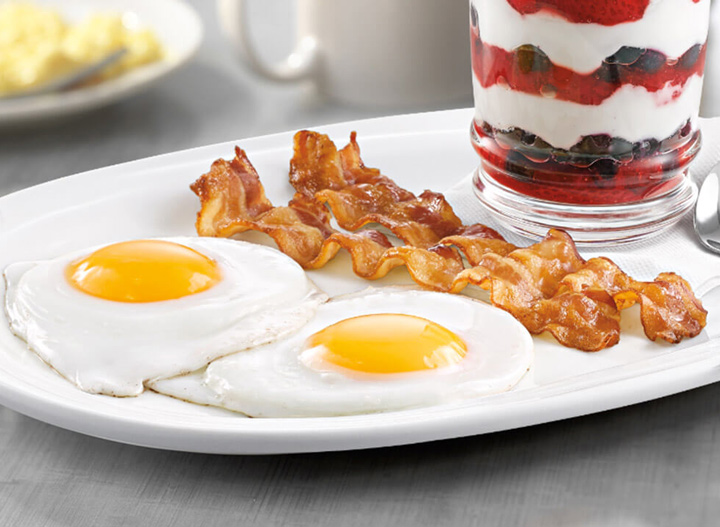 481 calories, 23 g fat (8 g saturated fat), 435 mg sodium, 45 g carbs (3 g fiber, 36 g sugar), 22 g protein
If you're one to always pick at your friends' food, look no further than Friendly's versatile breakfast sampler. It features two made-to-order eggs (we recommend keeping the yolks!), your choice of either two bacon strips or sausage links, and a mini fruit and granola parfait. If you're looking to lighten up this meal even further, ask for the parfait without the granola. Bonus: You'll cut back on added sugars, too.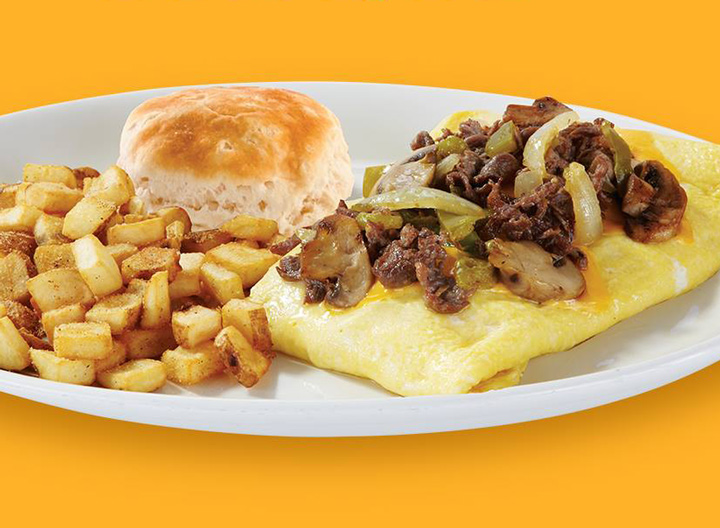 440 calories, 36 g fat (11 g saturated fat), 450 mg sodium, 5 g carbs (0 g fiber, 3 g sugar), 25 g protein
A veggie omelet is almost always a safe bet, especially when you're dining at Shoney's. This rendition is folded with onions, bell peppers, mushrooms, and tomatoes for a healthy dose of plant-based vitamins and nutrients. The eggs are then topped off with a generous helping of cheddar cheese.
Au Bon Pain's Superfood Cranberry Almond Hot Cereal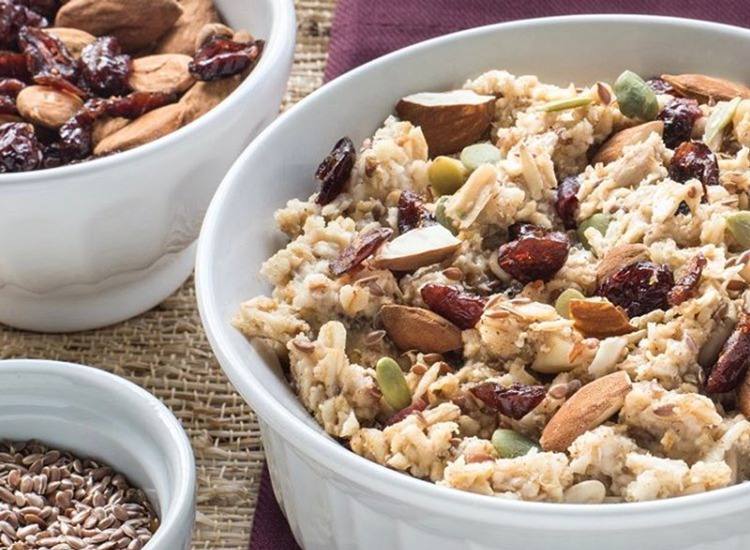 6254a4d1642c605c54bf1cab17d50f1e
Per medium size
: 270 calories, 10 g fat (1 g saturated fat), 25 mg sodium, 38 g carbs (7 g fiber, 4 g sugar), 9 g protein
When you don't have much time to sit down to a meal, Au Bon Pain's superfood oatmeal is the perfect pick to grab on the go. It's stuffed with heart-healthy flax seeds, almonds, and whole-grains such as oats, quinoa, and puffed amaranth—all of which lend this hearty bowl a healthy dose of fiber, protein, and healthy fats that'll keep you satiated past lunchtime.
IHOP Egg White Vegetable Omelette With Side of Pineapple, Apples, Oranges, and Strawberries
380 calories, 20 g fat (6 g saturated fat), 790 mg sodium, 26 g carbs (8 g fiber, 12 g sugar), 29 g protein
Although we love our egg yolks for their slimming choline and mood-boosting B vitamins, the egg white veggie omelet is a smart choice at IHOP. Skip the toast and spoon into some seasonal fruit for added fiber.
Huddle House 3 Slices of Plain French Toast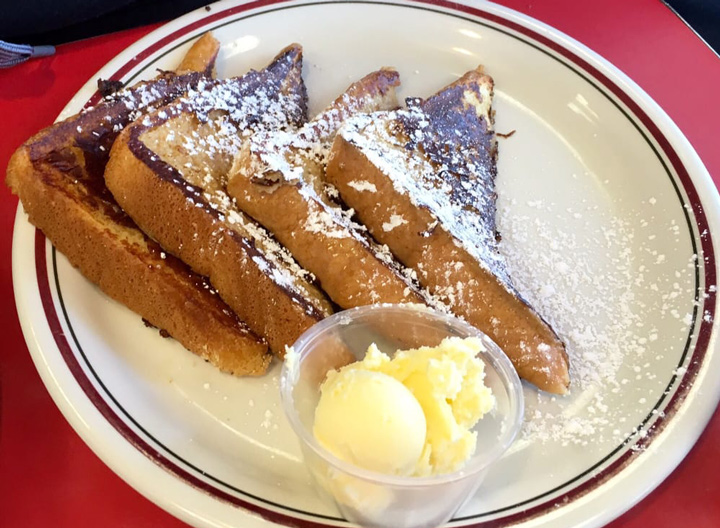 440 calories, 9 g fat (2.5 g saturated fat), 590 mg sodium, 71 g carbs (3 g fiber, 19 g sugar), 15 g protein
The homey scent of baked waffles and fresh maple syrup wafting through the booths at Huddle House will definitely deter your plans to order the omelet, which is why we included this French toast option. As long as you refrain from drizzling syrup or sprinkling powdered sugar, these battered slices make for a solid low-cal breakfast that's sweet on its own. If you get the chance, sneak in some berries or veggies once you get home to get in a bit of produce for your morning meal.
Perkins Blueberry Banana Pancake Breakfast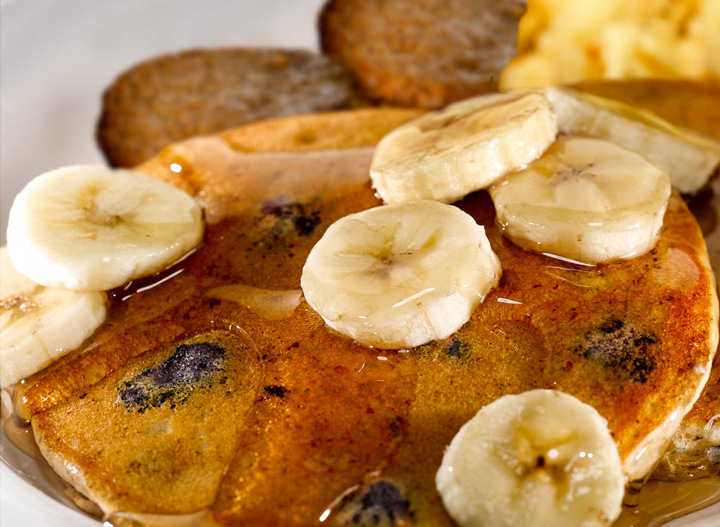 Calculated without Turkey Breakfast Sausage Patties
: 450 calories, 14 g fat (3 g saturated fat), 1,300 mg sodium, 62 g carbs (2 g fiber, 18 g sugar), 17 g protein
Who knew you can eat pancakes without breaking your calorie budget for the day? Perkins' hot cakes are packed with blueberries and topped with fresh banana slices and accompanied with scrambled Egg Beaters for added protein. We recommended leaving the sausage on the side and be sure to drink lots of water (or save half for later) to offset the higher-than-average amount of sodium in the buttermilk pancake batter.
Einstein Bros Bagels Nova Lox and Bagel
480 calories, 17 g fat (9 g saturated fat), 1,300 mg sodium, 60 g carbs (2 g fiber, 9 g sugar), 22 g protein
Rather than opting for your usual bagel and schmear, go for a heartier breakfast that will prevent awkward midday tummy grumbles. Einstein Bros' Nova lox bagel is a solid choice—albeit one that is pretty high in sodium. Clocking in at just under 500 calories, this sandwich manages to provide you with heart-healthy omega-3s and 22 grams of protein—two macros essential for healthy hair. Although those with high blood pressure or people watching their sodium intake should be weary.
IHOP Original Buttermilk Pancakes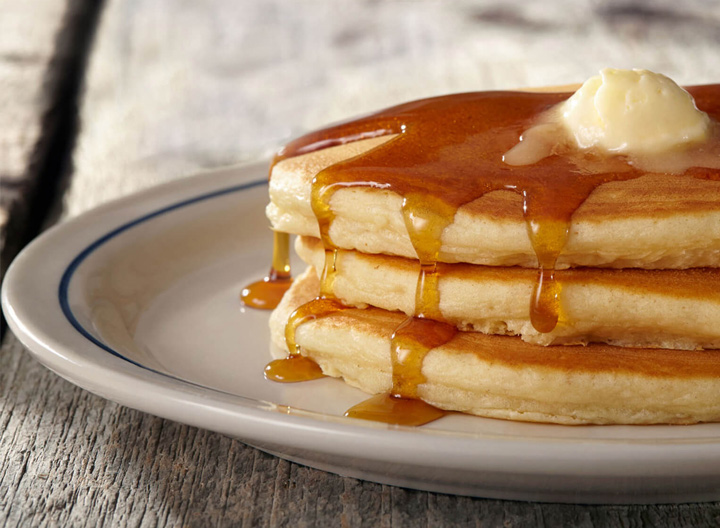 Per 3 pancakes
: 430 calories, 17 g fat (7 g saturated fat), 1,390 mg sodium, 57 g carbs (3 g fiber, 12 g sugar), 12 g protein
What's a trip to the iconic pancake house without a fluffy short stack? Although a plain stack of empty-calorie pancakes isn't our first pick for a morning meal, if you HAVE to have them, Original Buttermilk Pancakes will satisfy your flapjack cravings while keeping your breakfast under 500 calories. Considering the buttermilk batter contains quite a bit of sodium, you may want to nag the wait staff to continue refilling your water glass.
Denny's Fit Fare Loaded Veggie Omelette
480 calories, 14 g fat (5.5 g saturated fat), 650 mg sodium, 58 g carbs (6 g fiber, 24 g sugar), 33 g protein
Break your night-long fast with Denny's slimming vegetable omelet topped with melted Swiss. We love that this pick is cooked with sautéed zucchini and tomatoes—two fresh ingredients that can fight off the flu thanks to their superb vitamin C content.
Perkins Oven-Baked Vegetable Frittata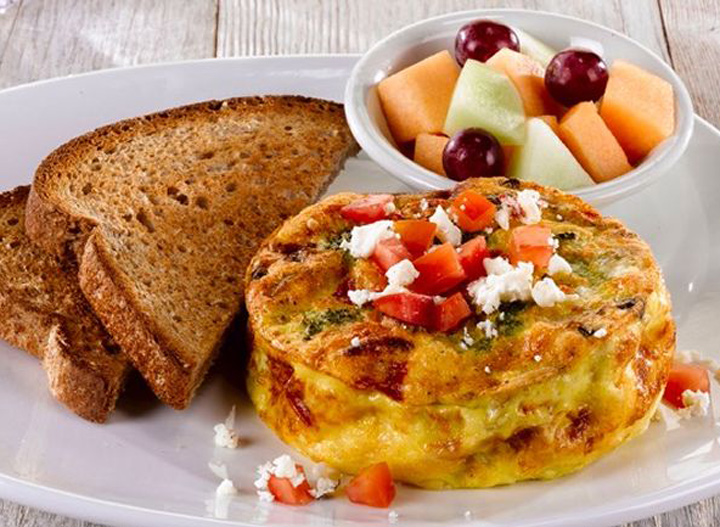 Calculated without toast
: 470 calories, 28 g fat (12 g saturated fat), 810 mg sodium, 32 g carbs (5 g fiber, 18 g sugar), 26 g protein
You don't always have to opt for the omelet. Perkins' oven-baked veggie frittata offers a delicious twist on your average egg and comes loaded with broccoli, mushrooms, red peppers, onions, Mediterranean Feta cheese, and served with fresh fruit for a balanced breakfast.
Starbucks Hearty Blueberry Oatmeal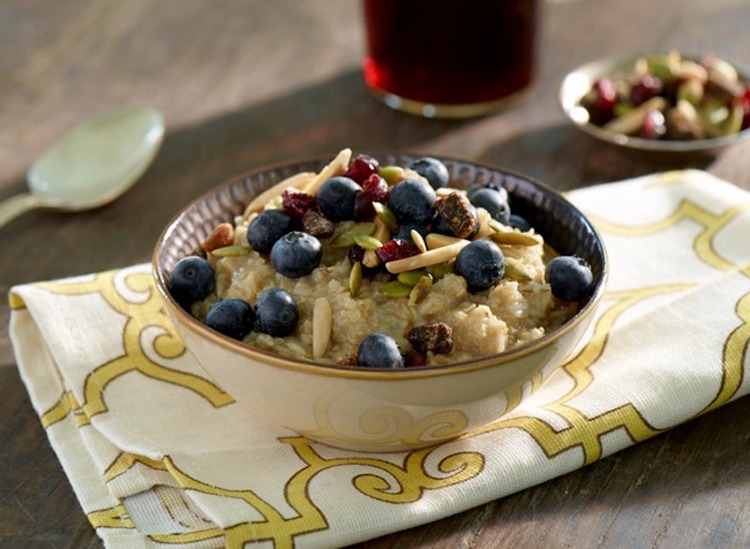 220 calories, 2.5 g fat (0.5 g saturated fat), 125 mg sodium, 43 g carbs (5 g fiber, 13 g sugar), 5 g protein
We love Starbucks' hearty blueberry oatmeal option because it's made with cholesterol-lowering whole grains and sweetened with dried fruits and fresh blueberries. To skip the added sugars, we suggest doing without the agave syrup altogether.
Chick-Fil-A's Egg White Grill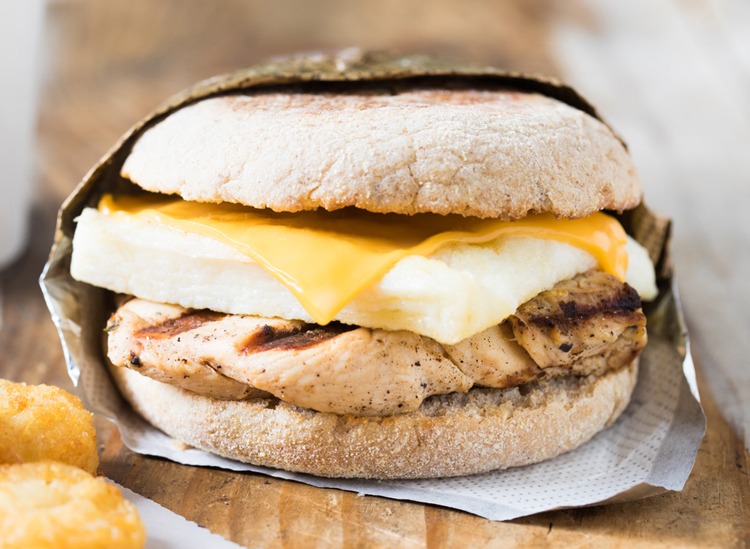 300 calories, 7 g fat (3 g saturated fat), 970 mg sodium, 31 g carbs (1 g fiber, 1 g sugar), 25 g protein
Chick-fil-A is notorious for its satisfying, juicy chicken sandwiches—so why not start your day with one? The Egg White Grill stacks lean grilled chicken, egg whites, and American cheese on a toasted multigrain English muffin that's sure to kickstart your appetite and metabolism bright and early. Want to see how the rest of your chicken chain favorites stack up? Don't miss Every Item on the Chick-fil-A Menu—Ranked!
April Benshosan
April is a born-and-raised Brooklynite who has a passion for all things health, wellness, and tastebud-related.
Read more about April