13 Easy Sandwich Recipes For Weight Loss
You don't have to sacrifice your favorite sandwich in order to stay healthy and lose weight.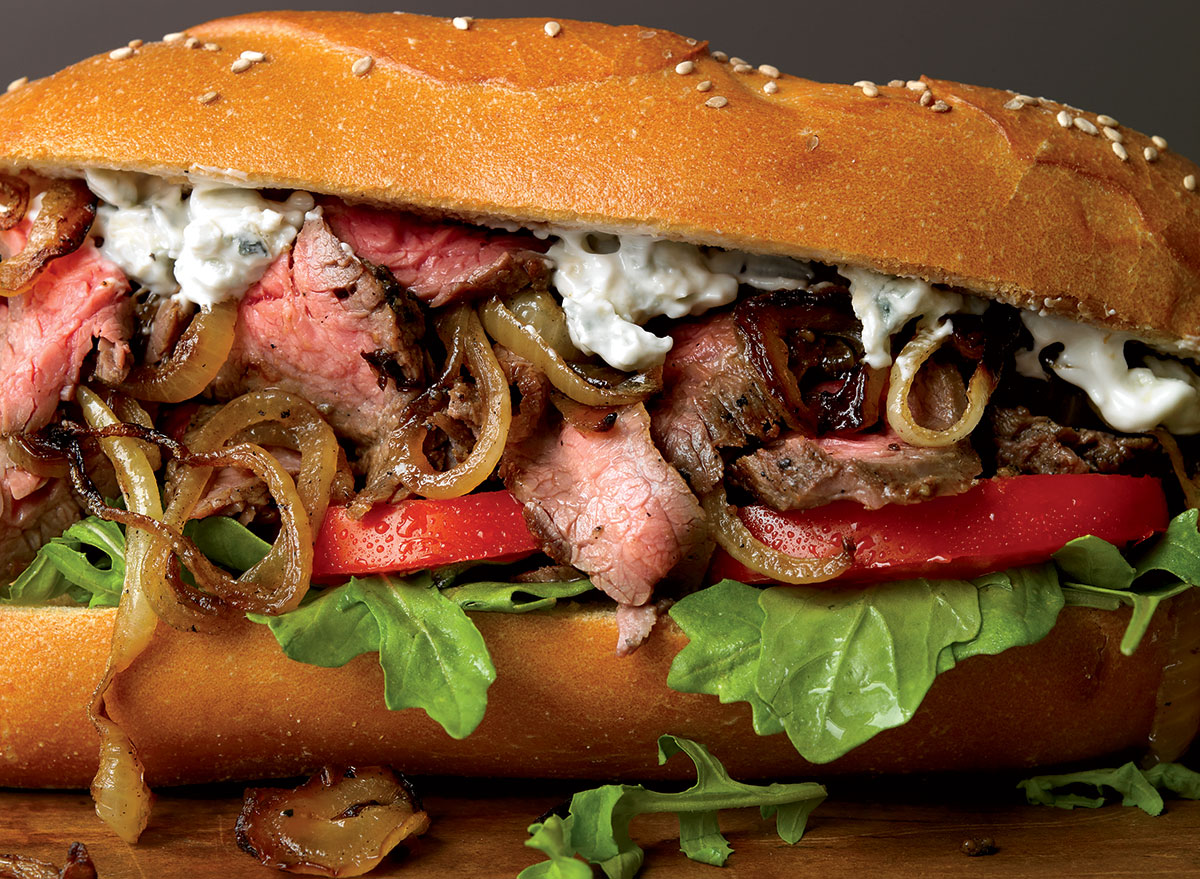 It's safe to say that most people love sandwiches. They're easy to make and take on the go, and you can fit your favorite ingredients in between two delicious slices of bread.
Even though people love sandwiches, they're often afraid to eat them when they're trying to lose weight because many people have been taught that all types of carbs are bad for weight loss.
While moderation and balance are key, it's still perfectly acceptable to fit your favorite type of sandwich into your healthy diet when you're trying to lean out. That's why we found these 13 healthy sandwiches that you can enjoy without having to sacrifice your health goals. Read on, and for more on how to eat healthy, don't miss 15 Underrated Weight Loss Tips That Actually Work.
The Ultimate BLT
Some people load their BLTs with mayo, but you really don't have to do that in order to get a juicy, flavorful sandwich. This recipe calls for oven-baked bacon, which helps to cook the bacon more evenly, resulting in better-tasting meat than usual.
Get our recipe for a BLT.
Spicy-Sweet Grilled Chicken and Pineapple Sandwich Recipe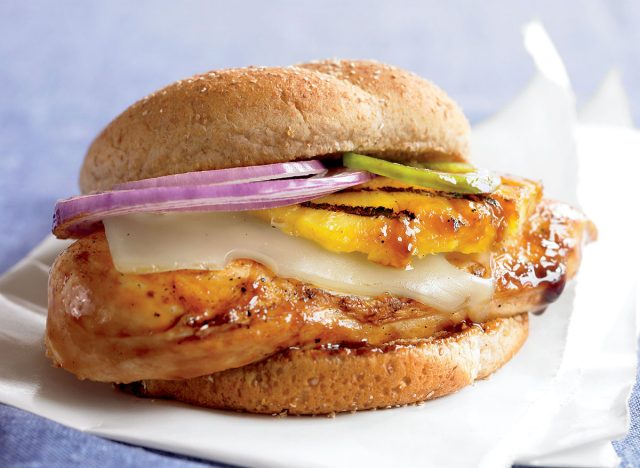 This healthier chicken sandwich recipe is great for your weight loss goals because you get a boost of protein and sweetness without the overflow of calories. For another better-for-you swap, choose a whole wheat bun that is higher in fiber and low in added sugar.
Get our recipe for the Spicy-Sweet Chicken Sandwich.
Turkey Sloppy Joe Sandwich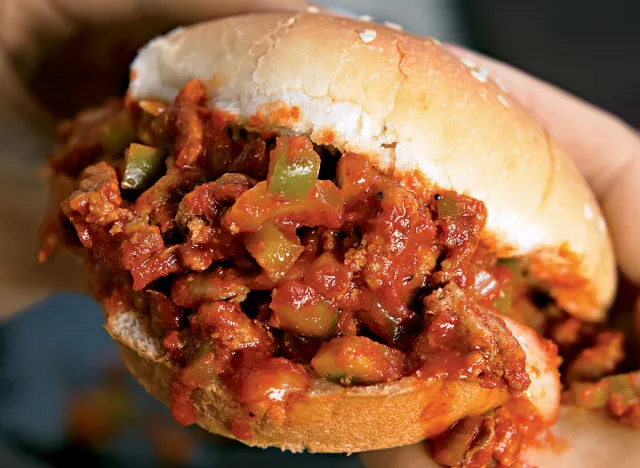 You can relive your childhood memories and still be in line with your weight loss goals with this sloppy Joe recipe. The use of ground turkey, natural spices, and whole wheat buns keeps the sugar count low and the calories at around only 340 per serving.
Get our recipe for the Turkey Sloppy Joe.
Asian-Inspired Tuna Burger with Wasabi Mayo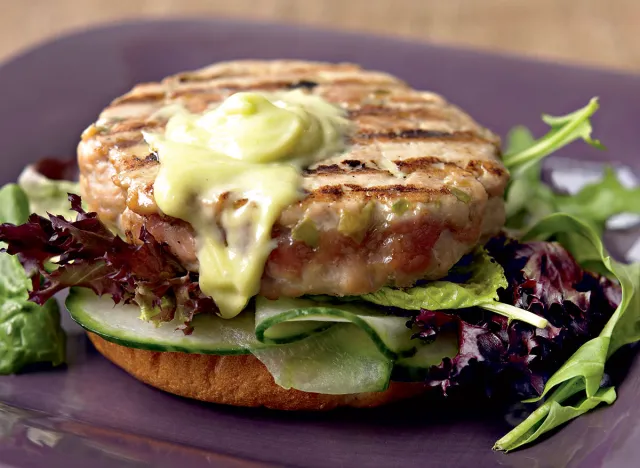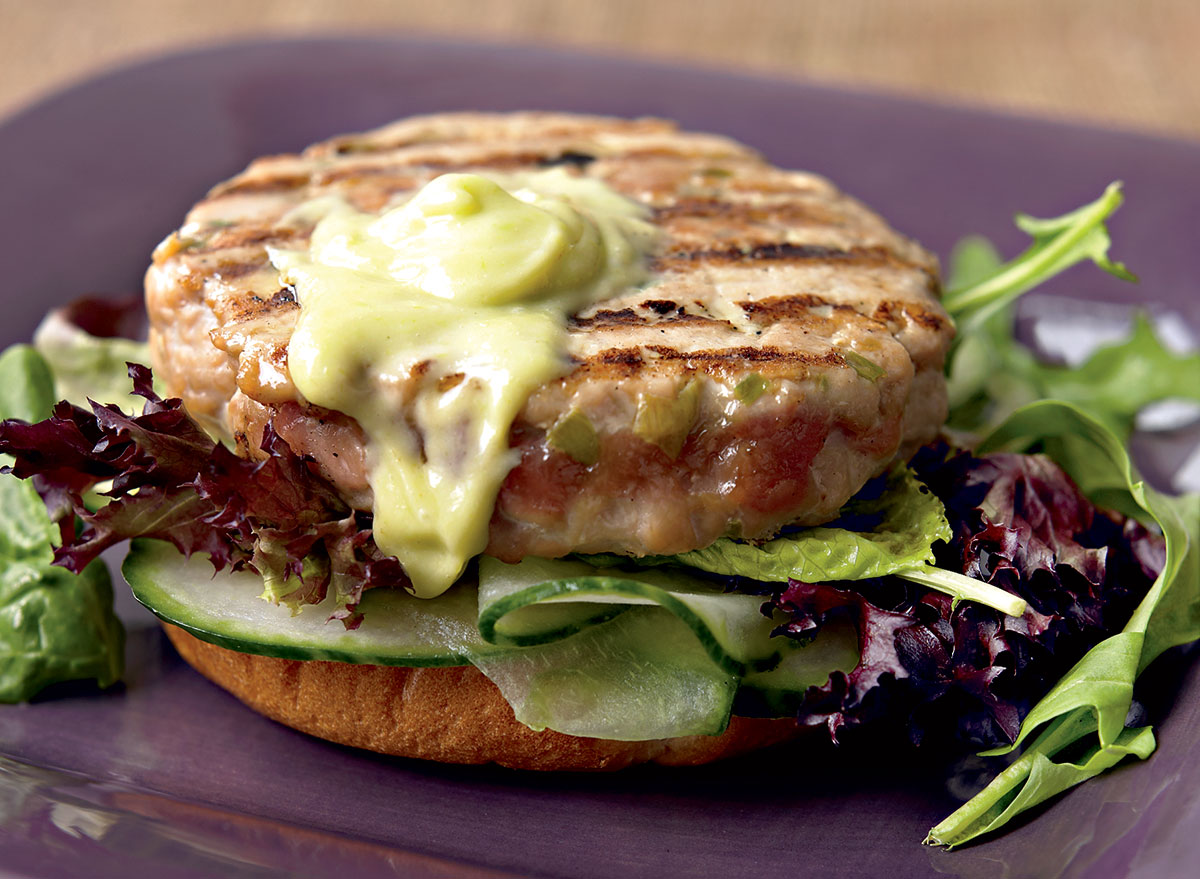 This tuna burger might require a bit more work upfront, but the end result is absolutely worth it. You can also mix your favorite olive oil mayo with some wasabi for a healthier sauce on the side.
Get our recipe for the Tuna Burger.
Chicken Burger with Sun-Dried Tomato Aioli
You can enjoy your favorite juicy burger without the red meat and added calories with this chicken burger recipe. The best part about this recipe is the delicious sun-dried tomato aioli you can put on top.
Get our recipe for the Chicken Burger.
Easy Panini
This panini recipe is delicious, easy to make, and only about 350 calories per sandwich! This way you won't have to sacrifice any flavor to get a healthy meal option.
Get our recipe for the Easy Panini.
Grilled Chicken Sandwich with Chimichurri Sauce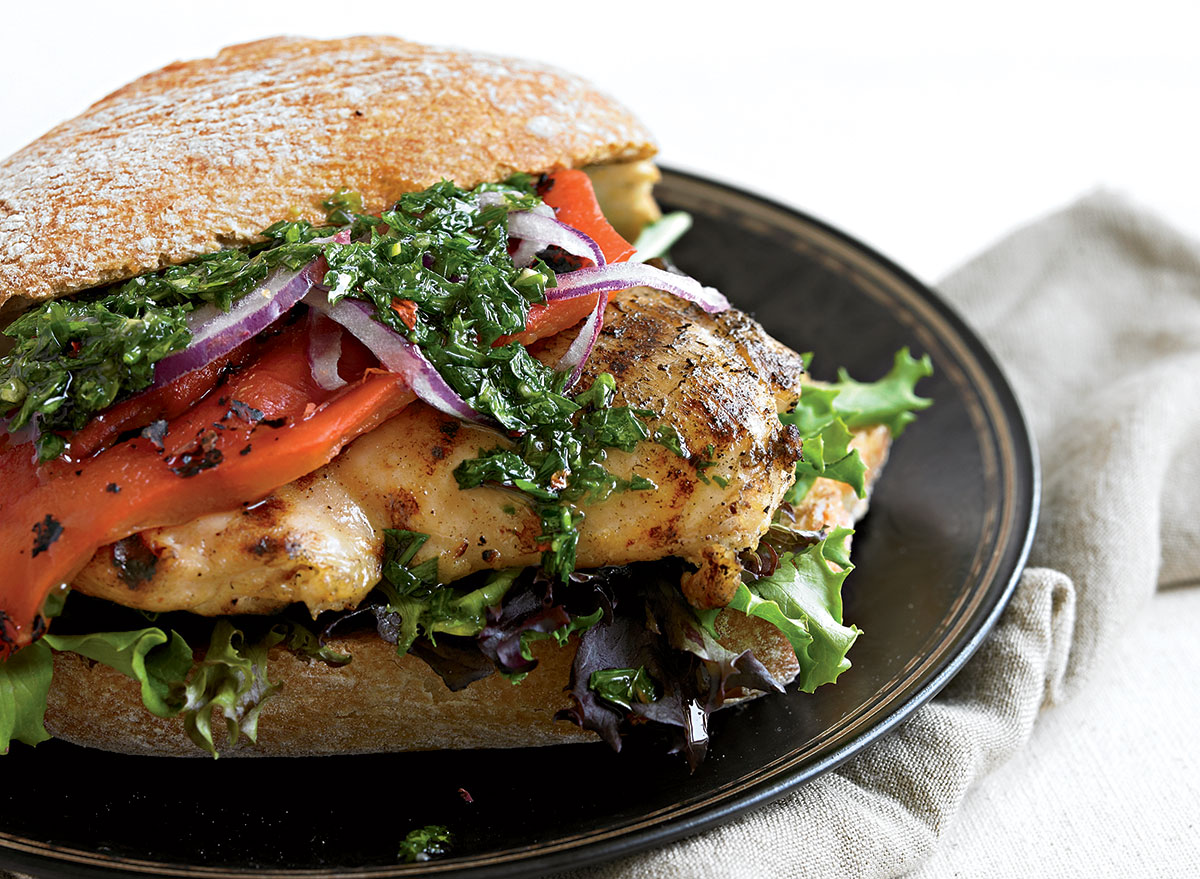 This grilled chicken sandwich is a great alternative to your favorite fried chicken sandwich but with fewer calories. You'll also get the added health benefits from the greens and bell peppers, and the chimichurri sauce is packed full of flavor.
Get our recipe for the Grilled Chicken Sandwich.
Chicken Salad Sandwich with Raisins and Curry Powder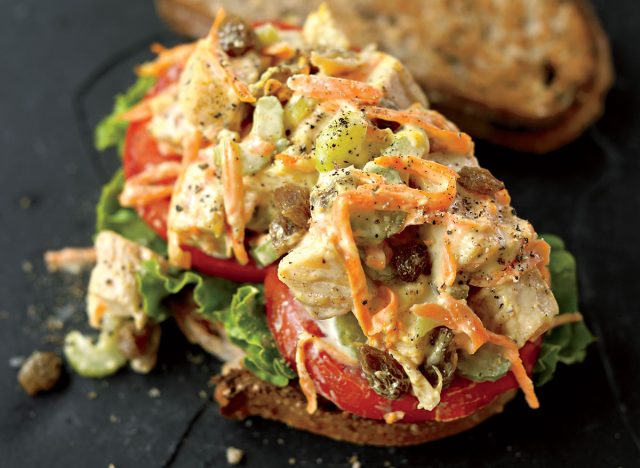 Chicken salad doesn't have to always be unhealthy and full of fat. With this sandwich recipe you'll get the creaminess and bold flavors of your favorite chicken salad but with far fewer calories and fat.
Get our recipe for the Curry Chicken Salad Sandwich.
Blackened Fish Sandwich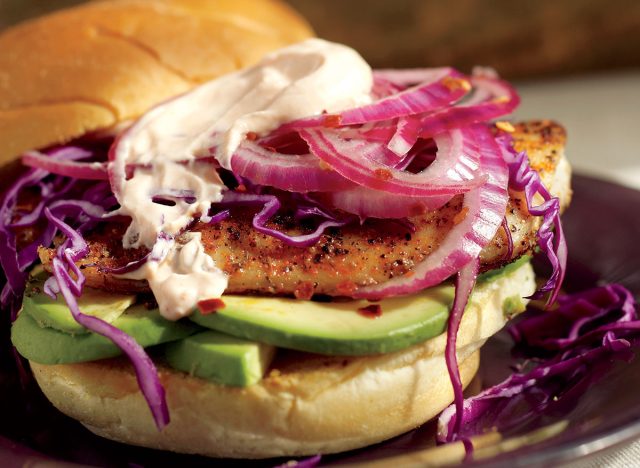 Fish is a great source of "healthy fats" and makes for an excellent addition to your diet when you're trying to lose weight. This blackened fish sandwich recipe is easy to make and a better choice than grabbing a fried fish sandwich from your favorite fast-food chain.
Get our recipe for the Blackened Fish Sandwich.
Grilled Buffalo Chicken and Blue Cheese Sandwich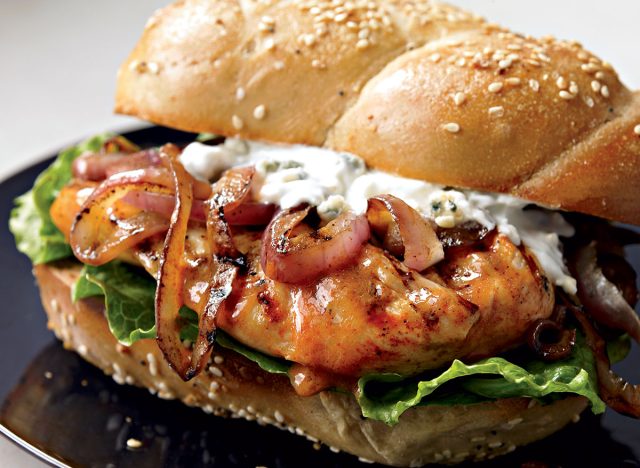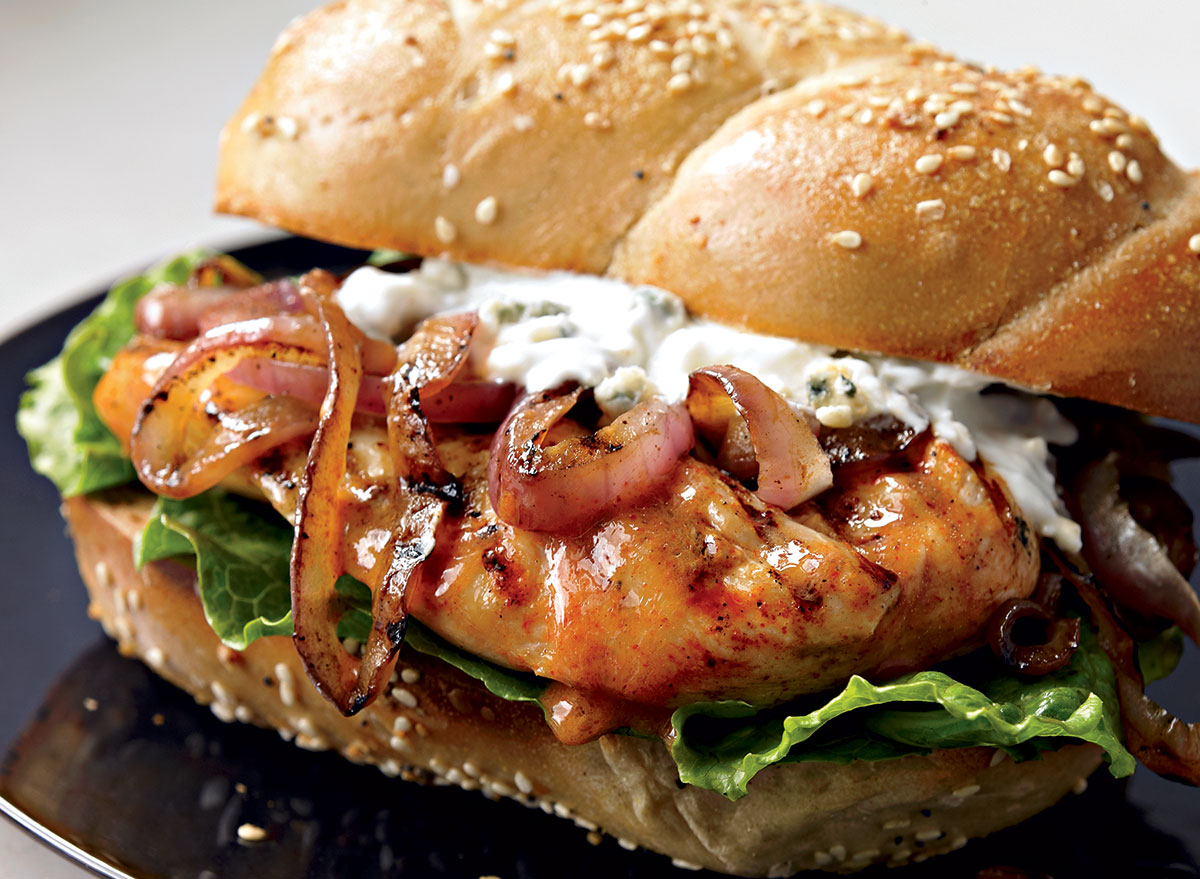 Most buffalo chicken sandwiches come breaded and fried with tons of added fat calories. But this recipe is great for weight loss because you'll save plenty of calories by grilling your chicken instead of frying it. That way you can still enjoy the creamy blue cheese totally guilt-free.6254a4d1642c605c54bf1cab17d50f1e
Get our recipe for the Buffalo Chicken Sandwich.
Low-Calorie Philly Cheesesteak Sandwich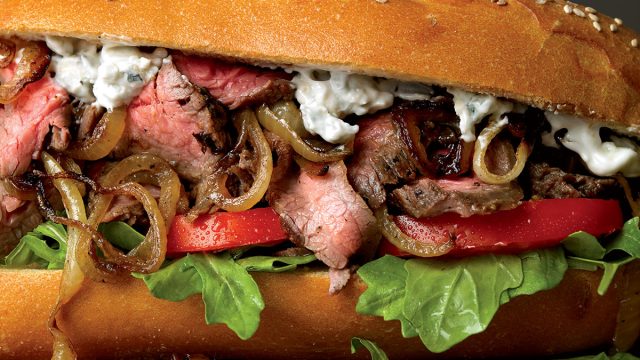 This healthy Philly Cheesesteak gives you the comforting flavors of this classic sandwich but with a lower calorie count. One of the ways it achieves this is by using 2% Greek yogurt as its main base, with only a couple of tablespoons of olive oil mayonnaise.
Get our recipe for the Philly Cheesesteak Sandwich.
Sunrise Sandwich with Turkey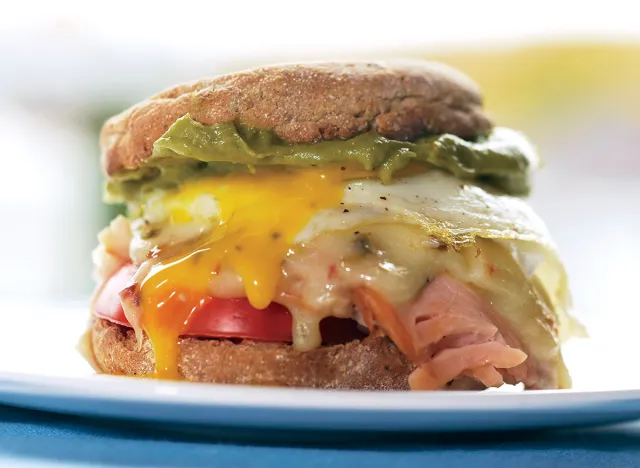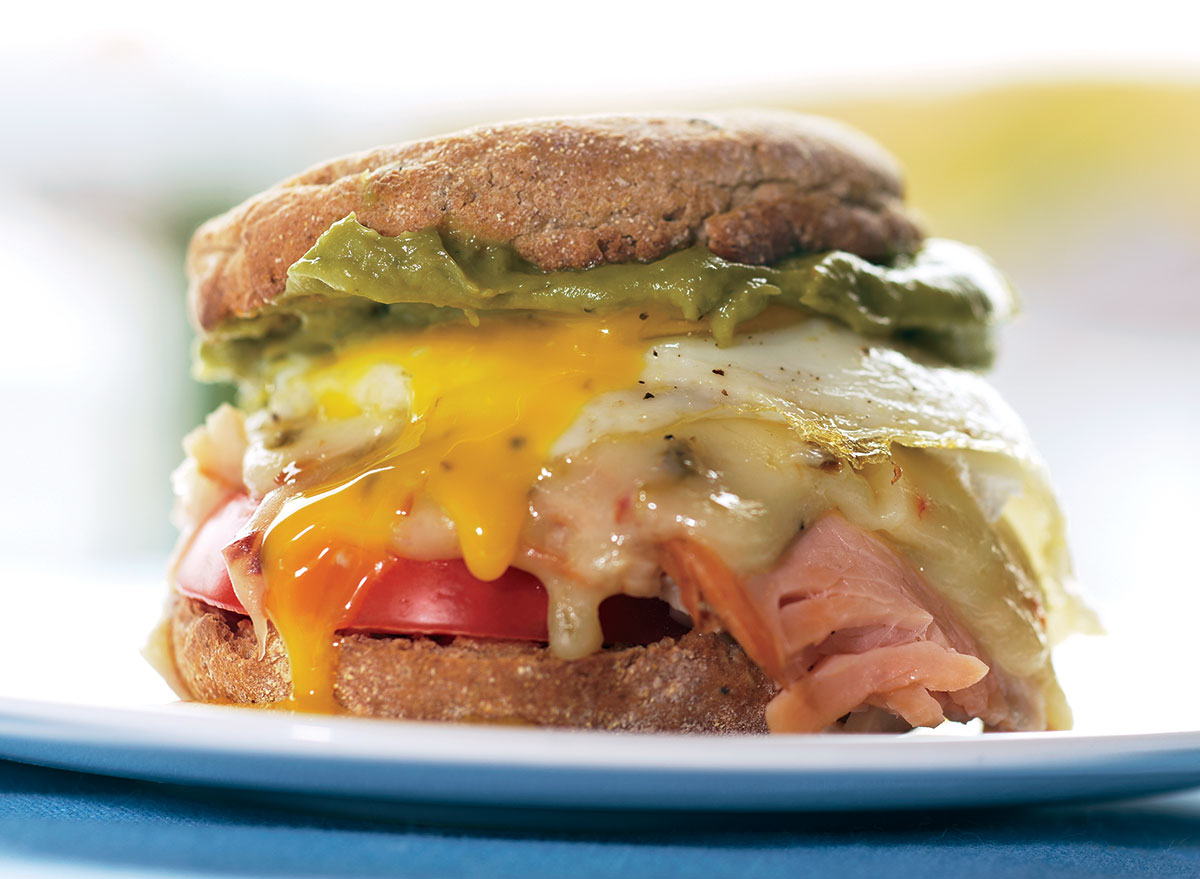 This healthy breakfast sandwich is a great way to kick-start your day and your weight loss goals with tons of lean protein and healthy fats.
Get our recipe for the Sunrise Sandwich.
Smoked Salmon Sandwich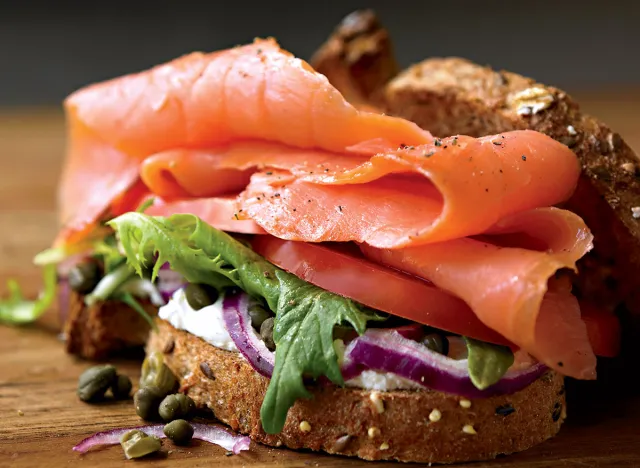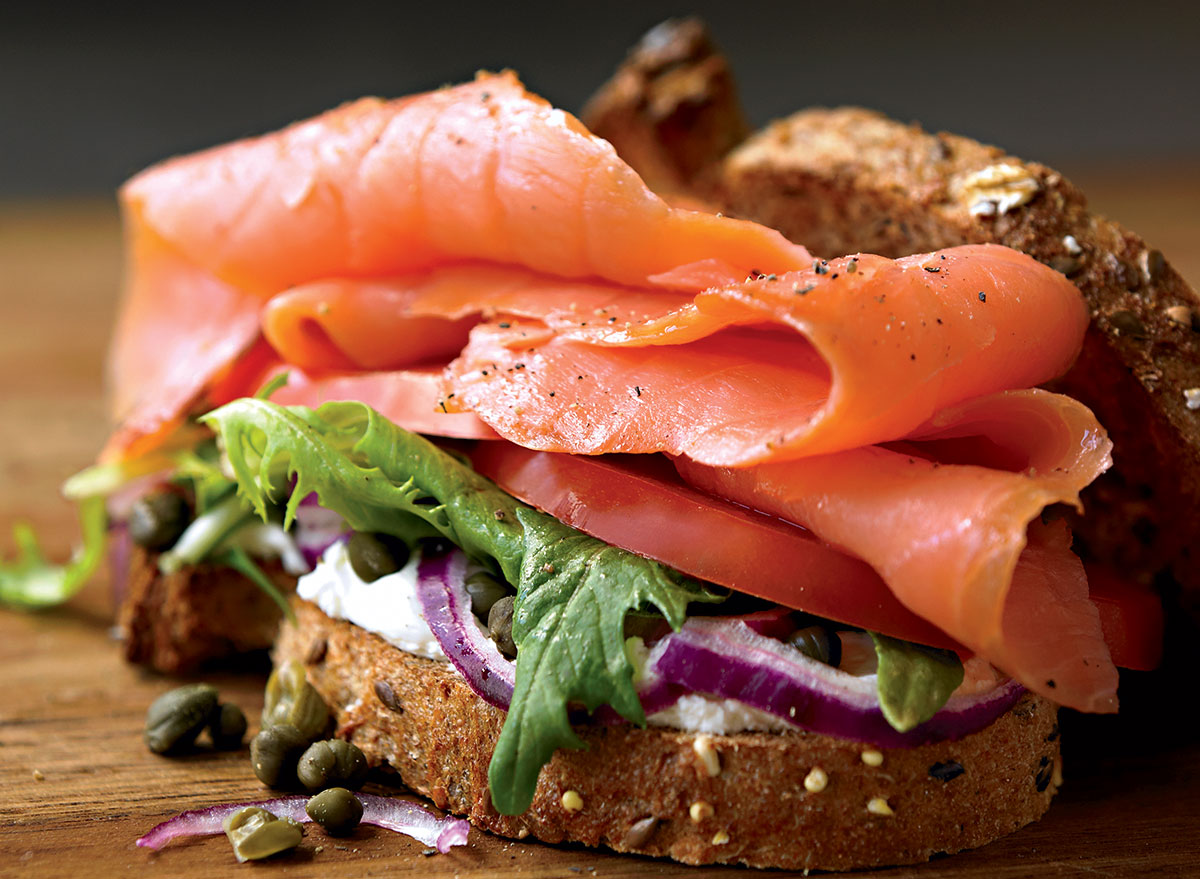 And finally, a deliciously classic smoked salmon sandwich recipe. Not only is this one full of flavor, but salmon is a healthy source of lean fat and protein to keep you going throughout the day.
Get our recipe for the Smoked Salmon Sandwich. 
Read this next: