6 Steakhouse Chains With the Best T-Bone
Two tender cuts in one, the mighty T-bone is a supper table stunner, and these restaurants serve it right.
The product recommendations in this post are recommendations by the writer and/or expert(s) interviewed and do not contain affiliate links. Meaning: If you use these links to buy something, we will not earn a commission.
If you ever find yourself struggling over the menu at a steakhouse, unsure of whether to order the strip or the filet, there's a simple solution: order the T-bone instead.
Essentially, you are getting both steaks in one order, with a big T-shaped bone in the middle. "The NYC strip is on one side of the bone, and a small portion of the tenderloin is on the other (which includes a small portion of the filet mignon)," explains chef and culinary producer Sarah Blair, whose extensive TV credits include popular shows Bar Rescue and BBQ Pitmasters.
The mighty T-bone not only gives you the best of both beefy worlds, flavor-wise, but it's visually stunning as well. It's always a treat to see this massive steak delivered to your table. Some steakhouses even jazz up the presentation, serving the meat perfectly pre-sliced and neatly arranged along the severed bone.
A very similar steak with a comparable T-shaped bone is the porterhouse. Though technically different—the porterhouse includes a bit more of the tenderloin—both cuts come from the same short loin of the steer, and some restaurateurs seem to speak of these steaks interchangeably. One popular steakhouse chain even refers to its version as a "Porterhouse T-bone."
While some cooks may feel comfortable tackling T-bone steaks at home, it's also a great choice to sample in high-end and family-style steakhouses. This large slab of meat is often an ideal cut for two or three people to share, making its usually higher price a little more palatable.
Of course, in order to find out which steakhouse chains are knocking out the best T-bones, we turned to our favorite food experts: Chefs. Ahead, find their picks for their favorite restaurants to order this highly desirable cut of beef.
Ruth's Chris Steakhouse
USDA Prime T-Bone (24 oz)
: 1220 calories (additional nutrition information unavailable)
The history of Ruth's Chris Steakhouse stretches back nearly 100 years. The progenitor of the modern chain was established in 1927 in New Orleans, and it's been going strong ever since. William Rosenberg, executive chef at B|stro 38 in New York City, says it's his pick for T-bone steak, and he loves the restaurant's craveable sides paired with it.6254a4d1642c605c54bf1cab17d50f1e
"T- bone goes to Ruth's Chris Steakhouse," says Rosenberg. "They have a great sweet potato casserole with pecans and asparagus with hollandaise, which I 'accidentally drop' a slice of steak in. On the side, a one pound baked potato sour cream, butter and chives. Yes please!"
STK Steakhouse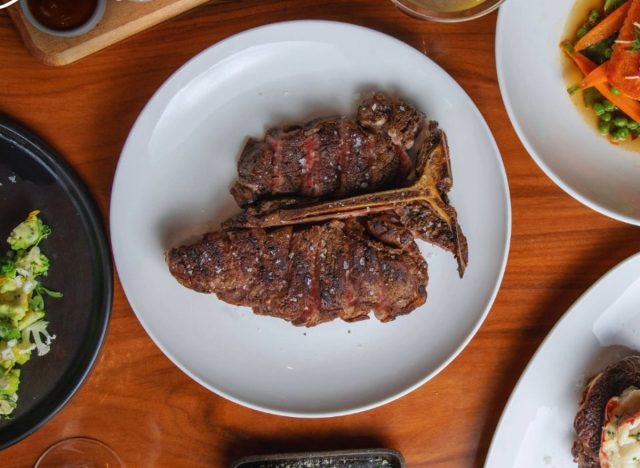 Dry-Aged Porterhouse (28 oz)
: Nutrition information unavailable
Known for its sexy decor and self-described "vibe dining," the increasingly popular chain STK has enough faith in its product that it will sell steaks direct to consumers who can't make it into one of its 15-plus locations. STK is a favorite spot for Jeff Allen, executive chef at Millers All Day in Charleston, S.C. "T-bones are a little big for my taste but I did have a fantastic one at STK Steakhouse NYC," says Allen. "It was cooked to a perfect Medium rare and seasoned to perfection."
Blair agrees: "Because this restaurant showcases its USDA prime meat and the T-bone and NY Strip are on the menu, I don't think you can go wrong with either. The T-bone is often a better value because it includes the NY Strip and a small portion of the filet mignon."
Alexander's Steakhouse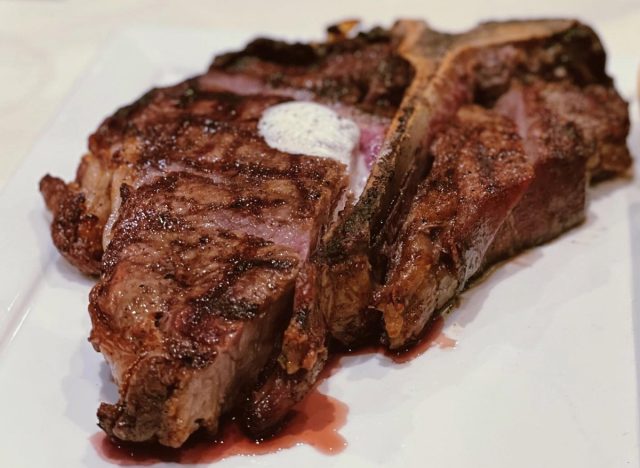 prime dry aged porterhouse (28 oz)
: Nutrition information unavailable
This Northern California chain prides itself on offering a classic American steakhouse experience with touches of Japanese influence, and Christina Ferrari, chef and owner of the Shoreline Lake Boathouse & American Bistro in Mountain View, Calif., is a fan of the T-bone steak.
"What makes them so good, besides getting two great cuts of meat—filet mignon and NY strip—at the same time? The truffle butter (mmm) on the prime dry aged T-Bone at Alexander's," says Ferrari. "And, they start off with high quality beef and end up with a good char on the meat. This is not easy to do right, as you generally have to cook the meat indirectly, because the meat near the bone, compared to the meat further away from it, cook at different rates. It takes some skill to ensure you don't overcook it and have too high a heat other than for searing."
Smith & Wollensky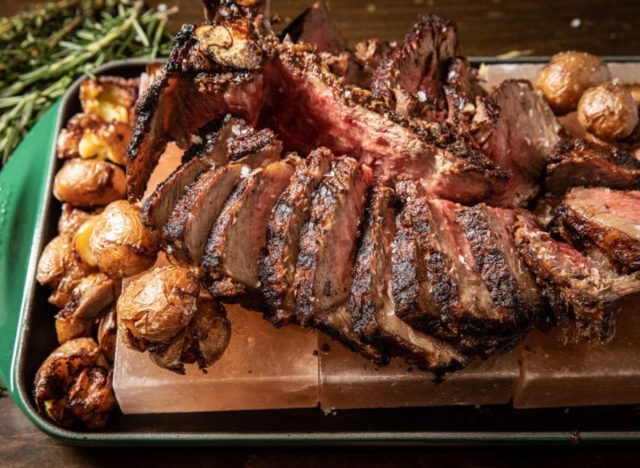 USDA PRIME DRY-AGED T-BONE

(26 oz)
: Nutrition information unavailable
This iconic, always on point steakhouse with outposts in New York, Boston, Chicago, Columbus, Houston, Miami Beach, Las Vegas, and London, is a consistent favorite among diners and chefs, and their T-bone is a top pick.
"There are many iconic steakhouses that serve T-bone steak, but one of my favorites is Smith and Wollensky in Miami Beach," enthuses chef Rudi Sodamin, head of culinary arts for Princess Cruises. "They offer prime quality meat, cooked on a great grill and broiler, by a great chef—not unlike what is found at Crown Grill onboard Princess ships. This iconic specialty restaurant features premium aged beef and fresh seafood items in a classically elegant setting, and an open kitchen where chefs prepare and cook to order top-quality cuts of beef, chops and seafood."
Blair, too, is impressed by the quality of the high-end chain's meats. "They carry outstanding meat purveyors," she says. "Snake River Farms out of Idaho and Double R Ranch Northwest Beef out of Washington State, and have both USDA Prime and American Wagyu. I would 100% order the Tbone because of the bone; you will get to sample two excellent cuts of meat in one order!"
Texas Roadhouse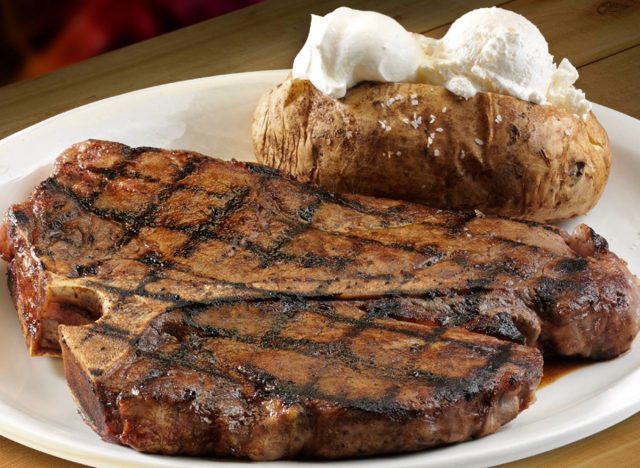 Porterhouse T-Bone (23 oz)
: 100 cal, 12 g fat (1.5 g saturated fat), 125 mg sodium, 1 g carbs (2 g fiber, 4 g sugar), 139 g protein
Texas Roadhouse is a casual steakhouse chain that is best known for offering steaks, ribs, and other "made-from-scratch" American cuisine at a great value, and the T-bone is no exception. Priced at under $29 at most locations, Blair says, "I would probably order the T-bone because the bone provides more flavor and juiciness to the steak."
Longhorn Steakhouse
Fire-Grilled T-Bone (18 oz)
: 1130 cal, 62 g fat (24 g saturated fat), 2030 mg sodium, 1 g carbs (2 g fiber, 1 g sugar), 123 g protein
Slightly upscale, but totally jeans-friendly, LongHorn originated in Atlanta back in 1981. Since then, the chain has grown to over 500 locations around the US, and is a favorite for work lunches and easy dinners with the whole family. Blair loves the flavorful T-bone, which is fire grilled, and is priced under $30 at most locations. "If you are okay with eating around the bone, I would always go with the T-bone, to impart as much flavor as possible into the meat," she says.
Tanya Edwards
Tanya Edwards is a seasoned food and health journalist, who has held roles at Yahoo Health as Managing Editor and at Food Network as Programming Director.
Read more about Tanya