9 Steakhouse Chains With the Best Potato Dishes
At some especially stellar establishments, the satisfyingly starchy spuds even upstage the steaks.
The product recommendations in this post are recommendations by the writer and/or expert(s) interviewed and do not contain affiliate links. Meaning: If you use these links to buy something, we will not earn a commission.
While steak is obviously the main attraction at any good steakhouse worth its sea salt, potatoes are the supporting star: a quintessential steakhouse side dish, one that's become so ubiquitous in the American dining lexicon that the notion of "meat and potatoes," an iconic combo on par with mac & cheese and PB&J, immediately conjures a sense of comfort.
While dishes like mashed potatoes and french fries are famed at fast-food franchises, they are just as prolific—and even better—at full-service steakhouses, often amped up with decadent toppings and unique techniques.
"While the steak is usually the star of the show at a steakhouse, the sides are the supporting actors, so make sure you add your favorites to your meal," advises Ray Rastelli, Jr., butcher and president of New Jersey-based Rastelli Foods Group. "I always recommend ordering several sides to share amongst the table, as this allows everyone to be a part of a true steakhouse experience."
Juan Rivera, chef at Miami's Addikt Modern Kitchen, agrees: "Ideally, steak is frequently paired with potatoes because they serve as a canvas for savory meat." So does John Manion, chef and owner of El Che Steakhouse & Bar in Chicago. In fact, he hypothesizes that spuds are one of the main reasons folks flock to steakhouses. "Chances are the portions are huge, but you're going to need variety," says Manion, suggesting two different textural potato choices for variety: "One crunchy (fries) to soak up the meat juices, and one creamy (mashed, gratin, baked) because you need to."
No matter the textural route you choose, from crispy fries to creamy au gratin, here are nine steakhouses serving the best potato dishes.
Best Mashed Potatoes
When it's not done right, the mighty mashed potato can be a dud. But when it's right, made in-house from scratch and loaded with indulgent accoutrements, it's the ultimate steakhouse side. According to Nathan Pets, owner and executive chef of Sear Steakhouse in Solvang, Cali., "proper whipped potatoes should be luxuriously creamy, sinfully salty, and fluffy."
Del Frisco's Double Eagle Steakhouse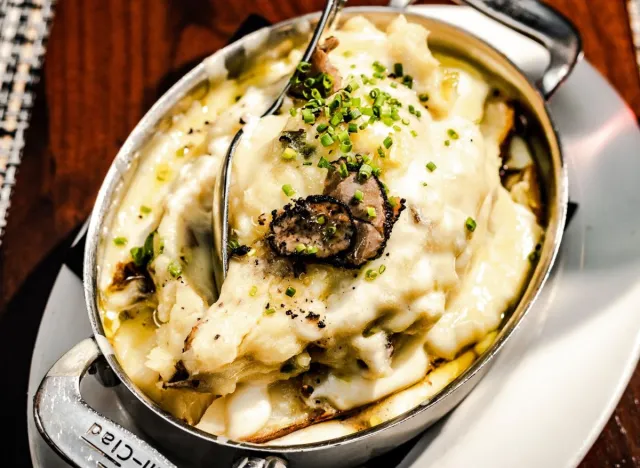 Per Serving
: Nutrition facts unavailable
One place doing it right is Del Frisco's Double Eagle Steakhouse, where the ornately dubbed Chateau mashed potatoes more than meet muster. To pair with its stellar wine list, this mighty popular chain is serious about its spuds, hand-mashing Russet potatoes with scallions and an ample amount of butter.
Per Serving
: 230 cal, 11 g fat (4 g saturated fat), 540 mg sodium, 28 g carbs (3 g fiber, 1 g sugar), 4 g protein
For something a little more classic and casual, but no less decadent, Outback Steakhouse serves loaded mashed potatoes as one of its premium sides. And premium it is! As one of the best steakhouse side dishes out there, it's enhanced with bacon, cheese, and sour cream—basically like a loaded baked potato, but in puréed form.
Best Baked Potatoes
Even if they're not topped with caviar, baked potatoes are another steakhouse stalwart that never goes out of style. Essentially a blank canvas for flavor enhancements and layers of texture, there's a reason they pair so perfectly alongside a ribeye or filet.
Per Serving
: 800 cal (additional nutrition facts unavailable)
One place that perfects the form, according to chef Rafael Gonzales, is Ruth's Chris Steak House. As the chef at the JW Marriott Houston Downtown explains, the baked potato is his favorite side to order with a porterhouse. "I love steak on the bone, I feel it has much better flavor," he notes. "Pair this with a classic baked potato, with all the fixings, and its just a simple dish that tastes great." Of course, there's nothing particularly "simple" about a one-pound baked potato decked out with bacon, butter, and sour cream, but it's certainly Americana comfort food at its finest, served at a chain that's renowned for its top-tier quality.
Loaded Idaho Potato
: 470 cal, 20 g fat (12 g saturated fat), 2570 mg sodium, 65 g carbs (6 g fiber, 4 g sugar), 11 g protein
Then there's LongHorn Steakhouse, a chain that serves low-key "gourmet" food, which turns to the great state of Idaho as its potato purveyor. Using fresh spuds from the ultimate potato state, loaded baked potatoes come heaped with applewood-smoked bacon, sour cream, aged yellow cheddar, butter, and green onions.
Best French Fries
French fries may be more synonymous with fast-food and burgers, but these gilded goodies are just as essential at a steakhouse, where cooks get crafty to exceed expectations.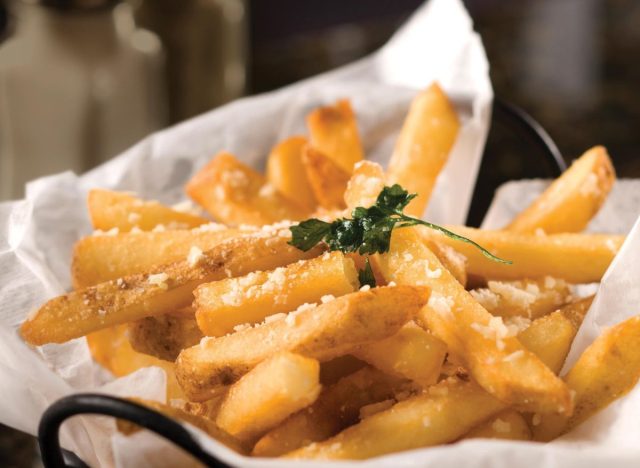 Per Serving
: 350 cal, 18 g fat (3.5 g saturated fat), 860 mg sodium, 41 g carbs (4 g fiber, 0 g sugar), 5 g protein
Among the best are the fries served at the Capital Grille. Revered as one of the foremost steakhouse chains in America, this is the kind of place that takes fries seriously, going to great lengths to fresh-cut each batch from scratch, and accentuating each crispy morsel with freshly grated Parmesan and white truffle oil.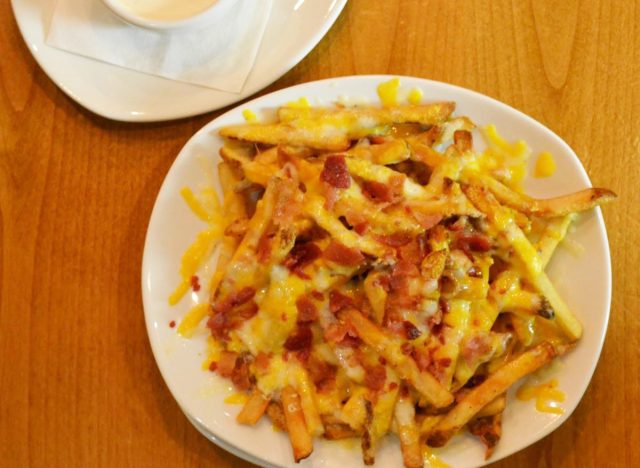 Per Serving
: 500 cal, 23 g fat (10 g saturated fat), 1940 mg sodium, 67 g carbs (7 g fiber, 0 g sugar), 7 g protein
When it comes to overloaded appetizers, the infamous Bloomin' Onion at Outback Steakhouse reigns supreme—but the chain also serves a plate of fries that comes in a close second. The Aussie Cheese Fries are the stuff of guilty pleasure fantasies, served slathered in melted Monterey Jack and cheddar cheeses, along with chopped bacon and housemade ranch dressing.
Best Au Gratin Potatoes
One particular form of potato that feels signature to steakhouses is au gratin. Made with thinly sliced potatoes baked in creamy cheese sauce until molten and tender, they're the type of ritzy side dish that almost steals the show from the steak itself.
Per Serving
: 860 cal (additional nutrition facts unavailable)
Along with its killer fries and high-quality meat, the ritzy restaurant Morton's the Steakhouse features a few "signature" sides, including an opulent plate of smoked gouda and bacon au gratin potatoes. The smokiness from the cheese, mixed with the crispy sweetness of the bacon and the creaminess of the melted gouda, makes for a symphony of flavor and harmonious texture.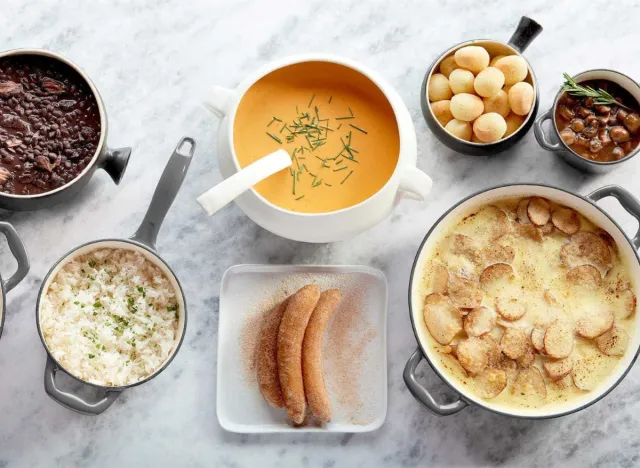 Per Serving
: 130 cal, 11 g fat (5 g saturated fat), 120 mg sodium, 6 g carbs (1 g fiber, 0 g sugar), 3 g protein
Of all the eclectic sides at Texas de Brazil, from fried bananas to lobster bisque, one reigns supreme. The potatoes au gratin at this feast-worthy—and value-packed—chain is a standout side that arrives bubbling in ooey-gooey cheese and is good enough to earn rave reviews from customers and bloggers alike. "[T]he sauce on these bad boys was just… heaven," wrote one fan. "Seriously. Heaven."
Best Potato Skins
It doesn't get much more Americana than potato skins. Like a happy medium between a french fry and a loaded baked potato, it's a best-of-both-worlds type of dish that works both as an appetizer or a side dish.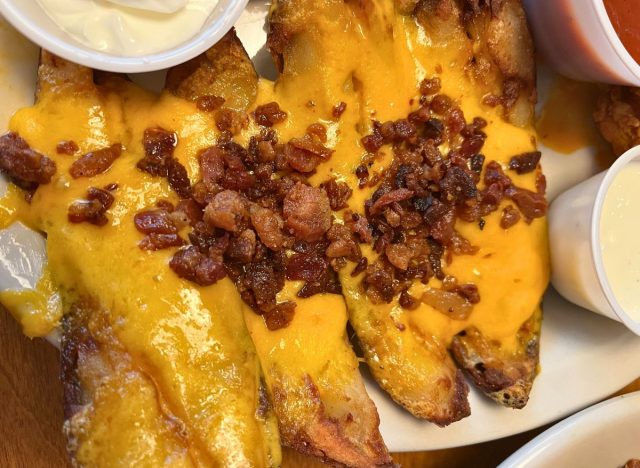 Per Serving
: 1320 cal, 88 g fat (49 g saturated fat), 2470 mg sodium, 63 g carbs (7 g fiber, 5 g sugar), 63 g protein
One place doing it right is Texas Roadhouse, where the skins rank as the best appetizer on the meaty menu. On its way to becoming the top restaurant chain in general, this prolific franchise is clearly doing something right, and that includes its approach to potato skins. Sparing no expense, orders come strewn with golden-brown cheese and crispy bacon atop thick wedges of potato, altogether lending an evenly baked flavor with richness from the cheese and crunchy contrast from the bacon bits.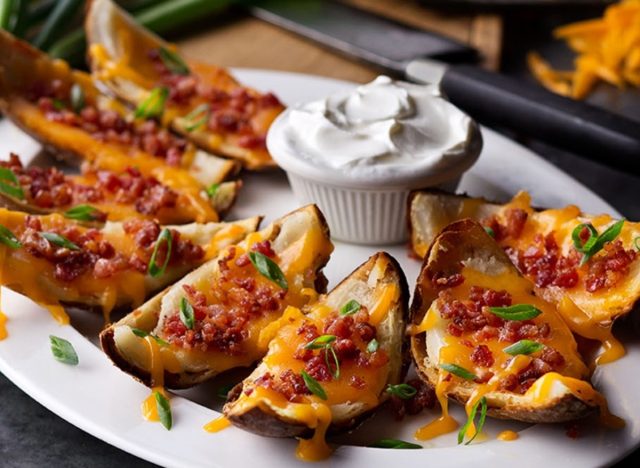 Per Serving
: 1090 cal, 76 g fat (36 g saturated fat), 1536 mg sodium, 56 g carbs (9 g fiber, 4 g sugar), 46 g protein
Once deemed outdated, Logan's Roadhouse is making a comeback—and part of that might have something to do with starch. In addition to serving some of the best steakhouse bread, baked in-house, the chain puts the same scratch-made diligence into its taters. Noted as one of restaurant's signature appetizers, these scratch-made beauties come layered with melted cheddar, bacon bits, green onions, and sour cream for some cooling, creamy contrast.6254a4d1642c605c54bf1cab17d50f1e
Best Sweet Potatoes
When it comes to potato dishes at steakhouses, or any restaurant for that matter, it's important not to forget their sweeter counterpart. Sweet potatoes, for all their differences in flavor and texture, afford a whole new realm of menu creativity, and offer a nice sweet-and-savory balance as a side to steak.
Per Serving
: 350 cal, 9 g fat (3.5 g saturated fat), 105 mg sodium,62 g carbs (10 g fiber, 19 g sugar), 6 g protein
The colorful orange tubers reign as one of the best steakhouse side dishes at Texas Roadhouse, where baked sweet potatoes arrive overflowing with marshmallows, and taste just as good as a family recipe at Thanksgiving.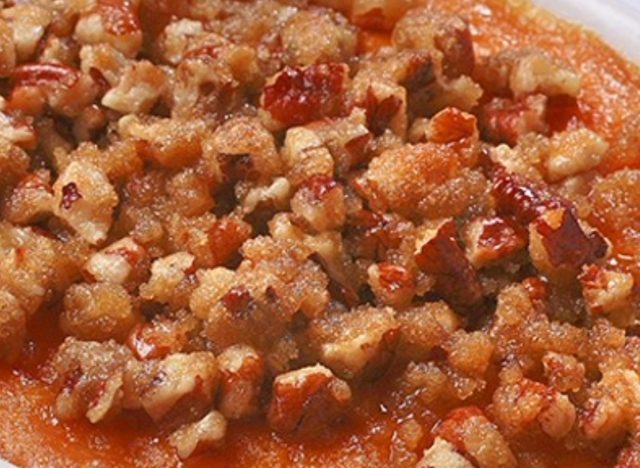 Per Serving
: 770 cal (additional nutrition facts unavailable)
Similarly, Ruth's Chris Steak House serves its own riff on the Thanksgiving-esque tradition, with its pecan-crusted sweet potato casserole. Buttery, creamy, and sweet, it achieves an optimal balance of silky-smooth and crunchy thanks to the marriage of melted marshmallow and crunchy pecans.
Matt Kirouac
Matt Kirouac is a travel and food writer and culinary school graduate, with a passion for national parks, all things Disney, and road trip restaurants.
Read more about Matt