8 Steakhouse Chains With the Best Toppings
Sure, a great steak doesn't really need added toppings, but when you're dining out, why not live it up?
The product recommendations in this post are recommendations by the writer and/or expert(s) interviewed and do not contain affiliate links. Meaning: If you use these links to buy something, we will not earn a commission.
The best steakhouse chains are ones that can grill any cut of meat to perfection. After all, a high-quality cut of steak should be able to stand on its own without any unnecessary flavors. Ask any good chef and they'll tell you:  all it really needs is salt and pepper. This philosophy can be applied to any cut of steak as long as it is cooked to order.
However, every once in a while, it is nice to jazz things up and throw a few extra ingredients on top for good measure. The right toppings will enhance the steak flavor, not mask it. Moreover, some beautifully arranged toppings can also liven up the presentation.
There are plenty of great steakhouse chains out there across the country, but not all of them offer tasty add-ons that are served atop the steak itself. From savory butter and sauces to entire portions of additional protein that could otherwise qualify as a meal on its own, here are great steakhouse chain options when hunger strikes and the occasion calls for more than just a steak.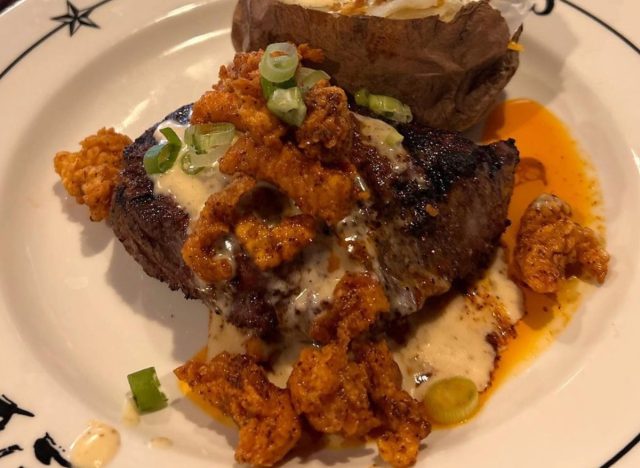 Many steakhouse chains will stick to more basic toppings on their steaks and chops, including everything from garlic butter and blue cheese to jumbo shrimp. At Saltgrass Steak House, however, guests will find a few different topping options that are hard to come by at most other places. Saltgrass offers three main topping options on its menu. There's a Cajun Topping, with shrimp, crawfish, tomatoes, lemon butter, and green onions. There's an Urban Cowboy Topping, with grilled shrimp, lemon butter, and green onions. And there's the Oscar Topping, with lump crab meat, lemon butter, red pepper flakes, green onions, capers, and fried asparagus.
It's the dealer's choice at Morton's when it comes to steak toppings. The high-end steakhouse chain offers an array of butter and sauce choices for topping a steak, more than most other steakhouse chains on this list. Options include everything from Béarnaise Sauce and Bordelaise Butter to Black Truffle Butter. For toppings with more substance, be on the lookout for enhancements on the menu, which include Nueske's Bacon Steak, "Oscar Style" Crab, and Bacon Wrapped Sea Scallops. These will all add an additional fee to an already-pricey cut of steak, but when dining at a steakhouse like Morton's, guests may feel inclined to go all-out.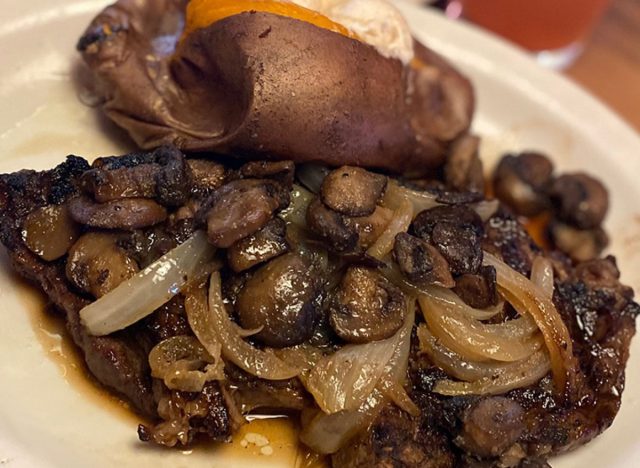 When looking for a steakhouse that doesn't feel at all stuffy, hungry customers head to Texas Roadhouse. Beyond its hand-cut steaks, the casual-style restaurant chain is known for its fishbowl margaritas and line-dancing wait staff. No matter which steak you order off the menu, it can be topped with a choice of sautéed mushrooms and onions, bleu cheese crumbles, grilled shrimp, or jack cheese. Guests can also take the guesswork out of choosing a topping by going for the Road Kill option on the menu: a chopped steak smothered with sautéed onions, sautéed mushrooms, and jack cheese.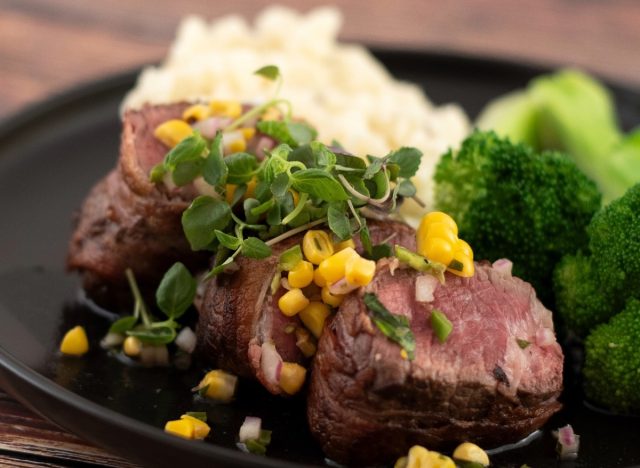 If the idea of a perfect steak includes a tasty mushroom sauce or topping, look no further than Black Angus Steakhouse. The restaurant chain includes a few variations of this particular ingredient on its menu to complement any steak order. Available steak toppings include sautéed sweet onions, sautéed fresh baby portobella mushrooms, sautéed onion and mushrooms, and melted bleu cheese and mushrooms. Or, to keep things simple, guests can order the Mushroom and Bleu Filet, which comes topped with sautéed baby portabella mushrooms and melted bleu cheese.
Fleming's Prime Steakhouse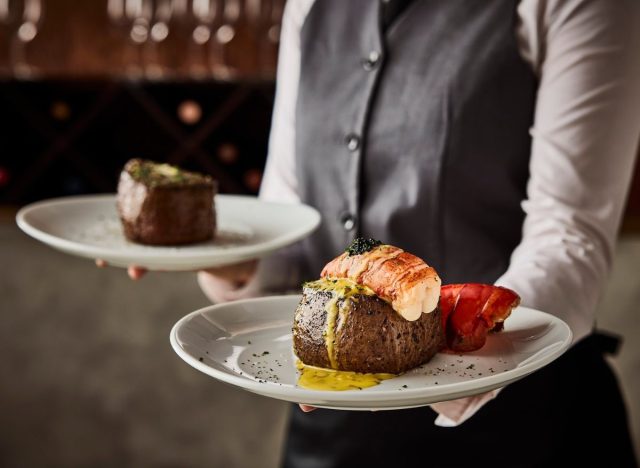 Anyone looking for a signature steakhouse experience will likely consider a trip to Fleming's Prime Steakhouse if there is one in the area. Guests can choose between classic cuts of steak as well as specialty USDA Prime cuts on the menu. No matter the choice, each steak comes with one of several flavorful sauces on top: béarnaise, smoked chili, or herbed horseradish. For an additional fee, however, guests can choose from an array of mouth-watering toppings, which include Diablo Shrimp, Jumbo Lump Crab Meat, Crispy Maitake Mushroom, or Truffle-Poached Lobster.
Claim Jumper Steakhouse & Bar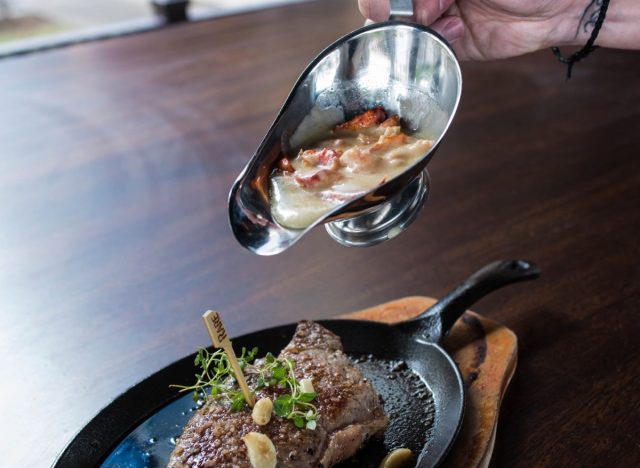 Claim Jumper Steakhouse & Bar is a smaller West Coast chain of restaurants offering a casual dining atmosphere for family dinners, date nights, and everything in between. The menu contains all of the usual suspects found at any good steakhouse, including steak toppings.6254a4d1642c605c54bf1cab17d50f1e
All of the steaks guests at Claim Jumper are USDA Prime cuts, served with smoked sea salt, garlic confit, and clarified butter. If the occasion calls for adding something extra to the steak, there are several complements available to add on top. Those include fresh Atlantic salmon, lobster beurre blanc sauce, sautéed mushrooms, or caramelized onions.
Outback Steakhouse has stood the test of time as an affordable, casual-style chain serving memorable dishes that keep customers coming back, like the Bloomin' Onion. Also memorable on the menu are the unique toppings that guests can order on their steaks—toppings that are hard to come by anywhere else. Guests can "Plus It Up" when ordering a steak, from a more basic but still drool-worthy Roasted Garlic Butter Topping to the more Outback-esque Toowoomba Topping, which comes with seasoned shrimp, mushrooms, and a creamy creole sauce.
Perhaps the most unique topping can be found on the Filet Sheila. The dish is comprised of two filet medallions topped with melted provolone cheese, sautéed mushrooms, savory peppercorn sauce, and a fried Bloomin' Carrot Crunch. This Sheila topping can be ordered with any cut of steak, as well.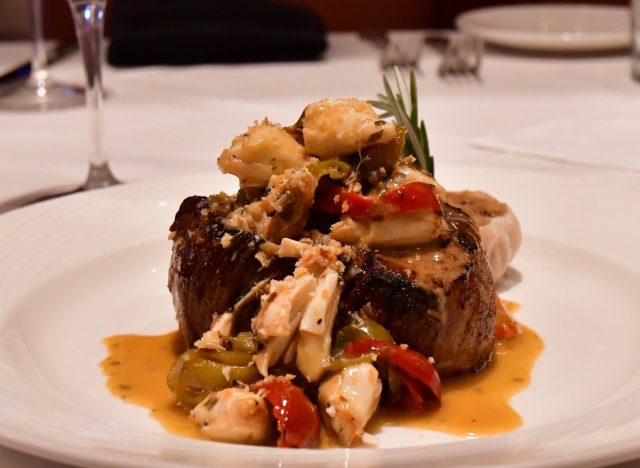 The Palm may not be the largest steakhouse chain in America, but it is certainly one of the most sought-after by hungry customers. All steaks and chops on the menu come with the option of adding delicious toppings. Diners can start out with sauces, which include classic chimichurri, 1926 Steak Sauce, and béarnaise. From there, premium sauces include Blue Cheese Crust, Black Truffle Butter, and Brandy Peppercorn. Go all-out with signature toppings which include a choice of Crab & Shrimp Bruno, Lobster Béarnaise, and Classic Oscar. These all come at an additional fee, of course, but your already stellar steak will be made even more memorable as a result.
Carly Neil
Carly Neil is a freelance writer specializing in all things food, travel, Disney, and theme parks.
Read more about Carly