The Difference Between Stock and Broth Every Cook Should Know
A celebrity chef breaks it all down.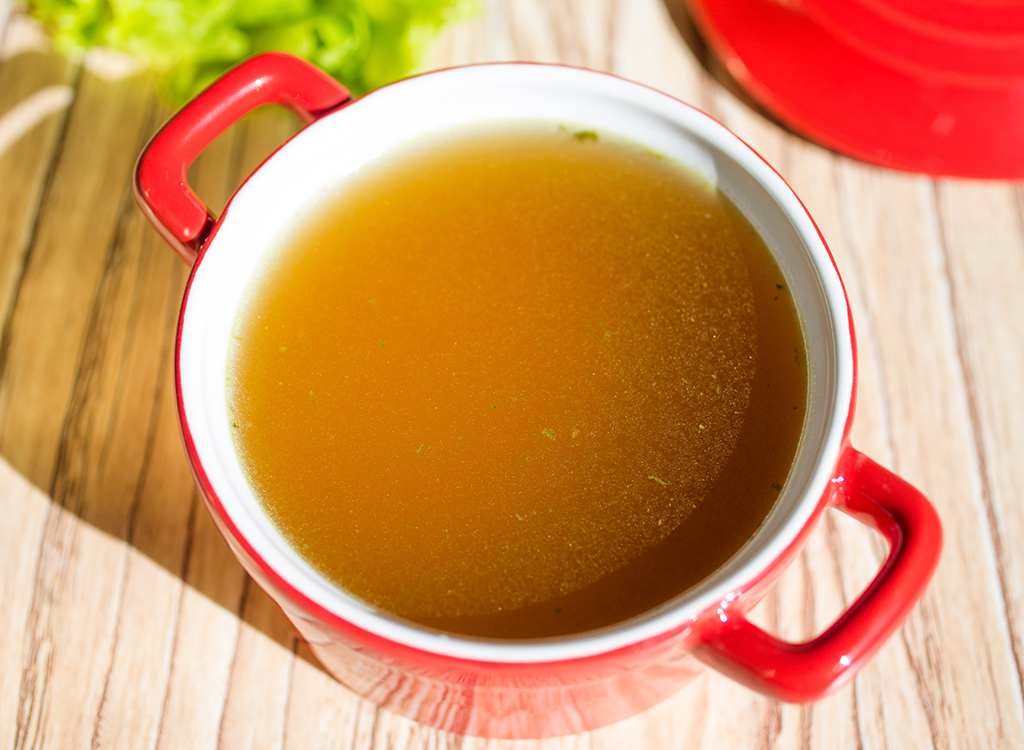 When the temperatures drop, we all appreciate a hearty stew or a creamy sauce. But if you're preparing to make some soup at home, you may not know which base to use: a stock or a broth. While nearly identical in appearance, there are several differences between stock and broth every home cook should know. We spoke with Eden Grinshpan, the host of Top Chef Canada and the co-founder and executive chef of DEZ, for insight.
What's the difference between stock and broth?
"People often make the mistake of thinking stock and broth are the same thing," says Grinshpan. "There are three main differences between stock and broth; the first one being the ingredients used. Stock is cooked down with animal bones, while broth often includes bigger scraps of meat in addition to the bones. Broth [is] generally a bit thicker than stock."
Another difference is the time in which it takes to cook. "Since broth is cooked with the added flavor of meat, it is usually simmered for a shorter amount of time than stock, around 2 hours, leaving you with a more flavorful cooking liquid," says Grinshpan. "On the flip side, stock can be cooked anywhere from two to six hours to pull out the flavor of the animal bones."
The third difference between the two liquids has to do with seasoning. Grinshpan says stock is typically not seasoned, while broth usually always is.
But there is one similarity ingredients-wise between the two. Both broth and stock typically start with a blend of aromatics and mirepoix—a mix of diced carrots, celery, and onion—in water.
So, how do I make chicken stock?
Hungry for a piping hot bowl of something delicious? Grinshpan has you covered with a simple chicken stock recipe.
"I love roasting the chicken bones before making my stock for a deeper flavor," says Grinshpan. "But this step is not necessary if you're in a pinch."
If you want to keep it simple and traditional, she suggests coarsely chopping about two carrots, two yellow onions with the skin on, and three to four stalks of celery. But Grinshpan herself enjoys tossing in any vegetables she has in her kitchen. "I love adding parsnip, two halved-lemons, fresh turmeric, and a head or two of garlic (without the tops) for added flavor," she says.6254a4d1642c605c54bf1cab17d50f1e
Note: this recipe calls for roughly four pounds of chicken bones.
1. Preheat your oven to 450 degrees.
2. Toss chicken bones and whatever vegetables you have on hand with olive oil in a large roasting pan.
3. Put the mixture in the oven for 30-40 minutes, until golden brown and fragrant.
4. Add bones to a large pot of water and bring to a boil.
5. Turn the heat down and let simmer for hours.
More content from
Healthy Eating