10 Grocery Items That Help Save the Planet
Show support for these sustainable products and brands on Earth Day and beyond.
The product recommendations in this post are recommendations by the writer and/or expert(s) interviewed and do not contain affiliate links. Meaning: If you use these links to buy something, we will not earn a commission.
Earth Day is upon us yet again—a time to give thanks for the beautiful planet we call home and to raise awareness about the need to protect it and its valuable resources. But, as we see and hear about the surge of sustainability efforts and environment-focused events from companies all across the globe, it's important to also give special attention to those who prioritize Earth-friendly practices all year long–especially those in the food industry.
In addition to changing the way we think about and consume food, the guiding mission for these companies is to find a less harmful way to produce the food. It's a much-needed mission, given the fact that food production accounts for over one-quarter of the world's greenhouse gas emissions, largely contributes to plastic waste, and uses an extremely high percentage of the world's freshwater supplies.
To combat this, these green companies are going against the grain to find more sustainable alternatives for some of our staple foods. They are making waves in order to keep waste out of our oceans and conserve fresh water. And, they're doing it all while continuing to make food and drink products that are incredibly tasty while being better for your body as well.
In honor of these driven and innovative businesses, we're highlighting just a couple of the best eco-friendly grocery items on the market right now that you can help to spread the word about and support this Earth Day and beyond.
Lundberg Family Farms Regenerative Organic Certified Rice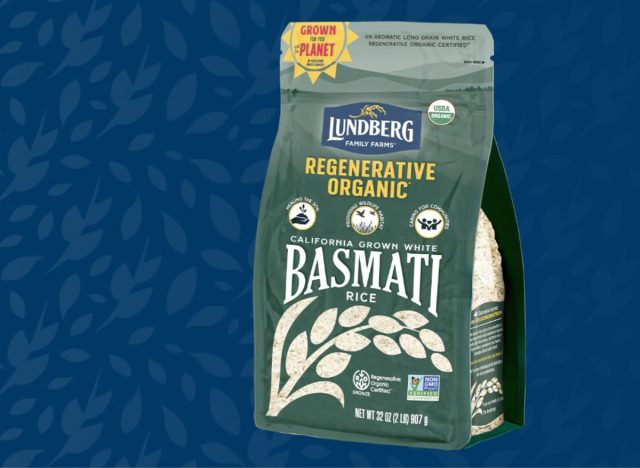 Lundberg Family Farms specializes in one thing: rice. But man, do they do it well. Since 1937, the family-owned company has been changing the way rice is cultivated. It has prioritized eco-friendly practices which preserve soil, water, air, and wildlife in the process–operating under the slogan "Leave the land better than you found it."
All of Lundberg's products including rice sides, seasoning mixes, rice cakes, and even rice syrup already sport some kind of sustainability label including USDA Organic, Non-GMO Project, vegan, and gluten-free certifications. But, the company has recently put its innovation cap on once more to introduce the very first U.S.-grown Regenerative Organic Certified Rice. The certification was awarded by the Regenerative Organic Alliance (ROA) and asserts that the white basmati rice product was farmed in a way that prioritizes soil health, recycles and uses water for multiple benefits, and the fields where it is cultivated simultaneously provides for the surrounding wildlife.
As of April 4, this first-of-its-kind rice is now available at Whole Foods Market locations nationwide.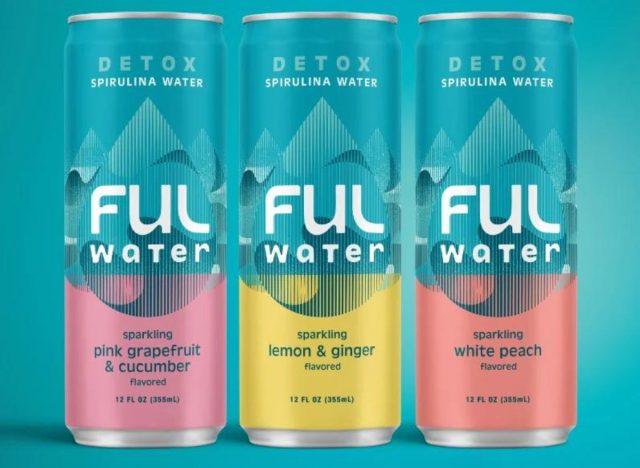 This women-owned, Netherlands-based food tech startup is encouraging people to live life to the Ful-est and also to go green by drinking blue. The company's breakthrough product, called FulWater, is a refreshing ready-to-drink sparkling water that is low-calorie, low-sugar, caffeine-free, and includes one very important ingredient which gives it its bright blue coloring: spirulina.
Spirulina is a blue-green algae that grows in both fresh and saltwater. It is well-known for the health benefits it provides for people, but it can also help the planet due to its ability to effectively convert CO2 to oxygen and nitrogen. The founders at Ful have developed their own sustainable production process that recycles CO2 to create a spirulina variation that is highly versatile and doesn't come with a strong algae taste–we give that a big (green) thumbs up!
FulWater is available online and comes in three subtle flavors of pink grapefruit & cucumber, lemon & ginger, and white peach.
Bee's Wrap Beeswax Food Wraps
Okay, this grocery item isn't edible. But, it's making a big difference in kitchens across America and for our planet in general–so it deserves a mention. The Bee's Wrap company's name and start was, in fact, inspired by the black and yellow insects and the way in which they all come together to reach one goal. But, for founder Sarah Kaeck and the entire Bee's Wrap hive, that shared goal is to reduce plastic waste and to find a more sustainable way to store our food. And so, Bee's Wrap food wraps were born.
The food wraps are made of either beeswax or plant-based wax, organic cotton, organic plant oil, and tree resin. They are 100% plastic and silicone free and are also 100% reusable. Plus, they come in multiple fun and bright prints and a wide variety of sizes to fit any food you could imagine from fruits and veggies to sandwiches and snacks.
But, what's most impressive, is the success Bee's Wrap has had in just over 10 years in business, and the global impact it's capable of. According to company's website, "Just one pack of Bee's wrap can save 1,667 sq. feet of plastic wrap from entering our oceans and landfills each year." And, what's more, "If every American household swapped plastic wrap with Bee's Wrap we'd save a staggering 212 million square feet (4.8 million acres) of plastic from the planet each year."
Bored Cow's Animal-Free Dairy Milk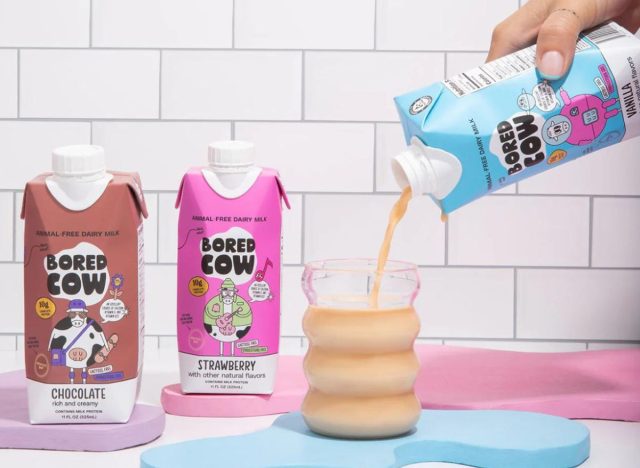 Tomorrow Farms is a company on a mission to reinvent food in a way that protects animals, our planet, and our overall health. Under its very first brand line, dubbed Bored Cow, the company has just released a new product that is anything but boring. The product in question is a new milk alternative which is real dairy, but does not come from a cow–or any other animal for that matter.
You may be wondering how this is possible. Well, the milk–available in original, chocolate, vanilla, and strawberry exclusively at Sprouts–is made with Perfect Day's animal-free milk protein that is made from fermentation rather than factory farming. This means the dairy drink looks, tastes, and behaves like cow milk, but is also animal-free, lactose-free, cholesterol-free, antibiotic-free, and hormone-free.
It's also much better for the environment. With this new method of milk production, Bored Cow is able to use "up to 96% less land, up to 67% less water, and emits up to 44% fewer greenhouse gas emissions than conventional and organic dairy milk", according to a press release.
Alter Eco classifies its products as "the cleanest, greenest chocolate," and has the data and certifications to prove it. The company focuses purely on regenerative agriculture (similar to Lundberg Family Farms with its new organic rice), and specifically dynamic agroforestry because it helps to nourish the soil, mitigate climate change, and even improve farmer working conditions and livelihood.
The company is a proud Certified B Corporation. Plus, it is USDA Organic certified, Gluten-Free certified, Fair Trade certified, carbon neutral, and is low-to-no waste with its compostable and recyclable packaging. You may be thinking it doesn't get any better than that. But, Alter Eco also makes green taste good with its mouth-watering assortment of milk and dark chocolate bars, chocolate truffles, chocolate nut butter bombs, and even chocolate granola.
Make sure to try the company's newest show-stopping flavors of truffle thins including crème brûlée, raspberry crème, and orange crème, and the new almond and orange flavors from its dark chocolate line called the Blackout Collection, released in March.
Yolélé Fonio-Based Products
The mission of the revolutionary African food company Yolélé is two-fold. On one side, founder and chef Pierre Thiam aims to share West African culture and ingredients–namely the grain fonio–with U.S. cooks and consumers. And, in order to do this, the company connects rural West African smallholder farmers, mostly women, with local and global markets to create economic opportunity and "to support their biodiverse, regenerative, and climate-resilient farming systems."6254a4d1642c605c54bf1cab17d50f1e
The previously mentioned grain fonio is drought-resistant, gluten-free, nutrient-dense, and can be used just like any other grain–a truly underused and underappreciated crop of the West African region. Yolélé uses it specifically in products like chips, flavored pilafs, and, more recently, spice rubs and dip mixes. You can also find a wide variety of fonio recipes on the company's website.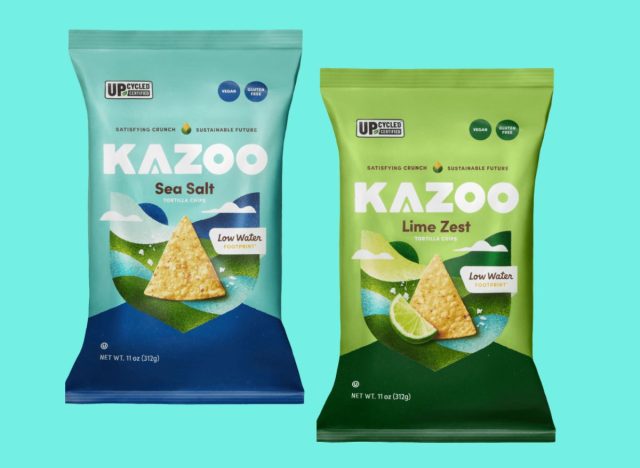 Kazoo Snacks is working to save the world through the sale of delicious lime zest- and sea salt-flavored tortilla chips. The company is hyperfocused on the conservation of water and claims that each 11-ounce bag of chips sold is equal to 16 gallons of water saved. Each sale brings Kazoo closer to its goal of conserving one billion gallons of freshwater by 2025–the current tally stands at around 1.5 million gallons saved.
The secret sauce which allows for this massive water savings is in the upcycling of ingredients. Kazoo tortilla chips are made from only 60% virgin corn and 40% upcycled food-grade corn germ, which is not as unpleasant as it sounds. Corn germ is essentially just the innermost layer of the kernel, but is typically a part of the corn which just either goes to waste or to animal feed, under standard manufacturing processes. Instead, Kazoo helps to make use of the entire corn harvest for its vegan, kosher, and gluten-free tortilla chips.
Try them for yourself by purchasing online through Kazoo, at Sprouts or Whole Foods, or more regional specialty markets such as Pete's Market, Caputo's, or Arbor Farms Market.
Barnana Plantain and Banana Chips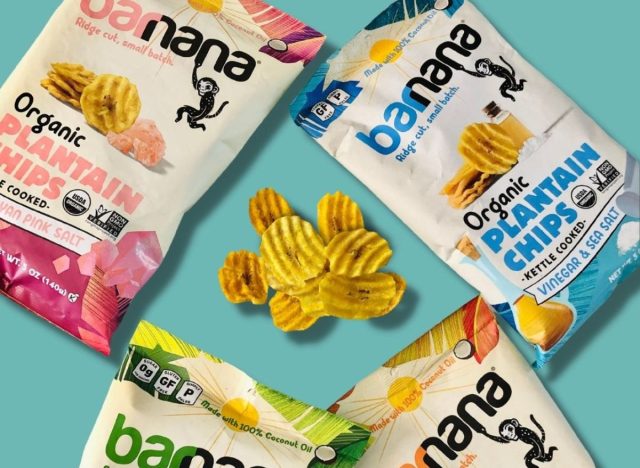 People are going bananas for these new potato chip alternatives. The company Barnana (don't forget the 'R' in there), has created the perfect sustainable snacks with just bananas, plantains (the banana's larger and less sugary cousin), and a handful of other organic ingredients. Variations of the company's organic plantain chips and crisps include simple flavors such as sea salt and garlic or more adventurous flavors like spicy mango salsa. Other products also include dipped banana bites for all the sweet tooths out there.
But, Barnana isn't just creating a new and refreshing way to snack. The company also strives to minimize its impact on the environment by "upcycling and rebalancing farm land by organic regenerative agriculture." By partnering directly with small farms in Latin America, Barnana is also able to source and make use of millions of plantains and bananas that would otherwise go to waste. The company even helps to guide these smaller farmers through the process of becoming certified organic.
So, if all of this sounds too a-peel-ing to pass up, you can find the salty and sweet snacks at stores like Whole Foods, Costco, Target, Kroger, Giant Eagle, and more.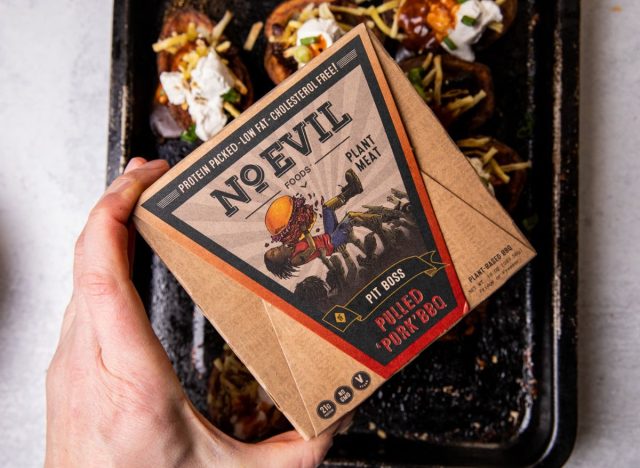 Plant-based meat has taken over in the past couple of years, with a strong presence in both restaurants and on grocery store shelves. And, if you shop at stores like Whole Foods, Hy-Vee, Sprouts Farmers Market, or other health food stores, the No Evils Foods brand may be among the meatless meat options available. The brand offers five craftily named plant meat options including The Stallion Italian "Sausage," Comrade Cluck "No Chicken," Best Life "Beef" Strips, El Capitan "Chorizo" Crumbles, and Pit Boss Pulled "Pork." All five are chock-full of protein, low fat, and made with simple, recognizable ingredients.
Beyond being animal-free, No Evil Foods is helping the environment in other ways as well. The product comes in a certified paperboard carton that is recyclable or compostable, and all of its packaging is printed with plant-based ink and by using renewable wind power.
Plus, No Evil Foods is additionally the very first plant meat brand in the world to be plastic-negative. This means, for every single pound of plastic used in its packages, the company removes two pounds from the environment. Since making this pledge to be plastic-negative, the company says it has "helped remove the equivalent of 4.3 million plastic bottles" and "have empowered 54 waste workers and their families in Aurangabad, India."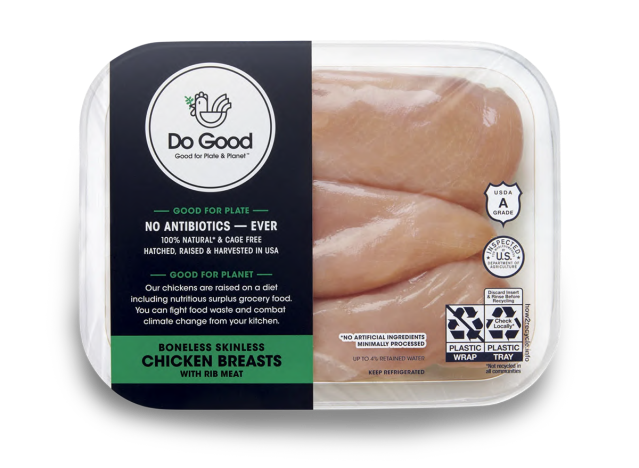 Do Good Chicken is giving consumers something to cluck about. The delectable chickens are raised in a wide-open, cage-free environment without the use of steroids.
But, the old saying "you are what you eat" may also come into play here. The chickens are not being fed a diet of chicken feed. No, they are actually munching down on surplus groceries and food waste that would otherwise end up in a landfill. So, whether the chickens know it or not, they are actually doing their own part to save the planet, with each one preventing four pounds of surplus groceries from going to waste and thus reducing about three pounds worth of greenhouse gasses.
When it comes to organic chicken options, Do Good is actually quite affordable as well, adding one more line to its list of benefits–priced at around $7.99 per pound. You can find it at retailers like Safeway, Target, Acme, Morton Williams, and Jewel-Osco.