Chili's serves up some of the country's saltiest, fattiest, most calorie-laden fare, from tacos and salads to baby back ribs. Worst among the offenders are the burgers, fajitas, and appetizers, including the 1,760-calorie Texas Cheese Fries. The Lighter Choices menu is Chili's attempt at healthier meals, but with only a handful of options and a sky-high average sodium count, nothing at Chili's will make you look particularly hot.
Eat This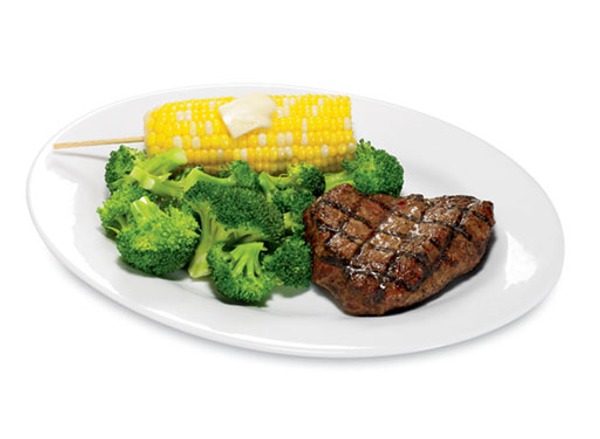 Classic Sirloin (6 oz) with Sweet Corn on the Cob, Butter, and Steamed Broccoli
| | |
| --- | --- |
| Calories | 520 |
| Fat | 9 g |
| Saturated fat | 5.5 g |
| Sodium | 2,280 mg |
Not That!
Guacamole Burger with Homestyle Fries
| | |
| --- | --- |
| Calories | 1,680 |
| Fat | 87 g |
| Saturated fat | 26 g |
| Sodium | 4,590 mg |
At Chili's—where the average burger plate packs more than 1,700 calories—creating your own steak combo is the safest way to meet your meat craving. Just be sure to stay away from 400-calorie accompaniments like the fries and Loaded Mashed Potatoes.
ALL NEW FOR 2015! Enjoy All Your Favorite Foods—And Watch the Pounds Disappear! Click here to buy the new Eat This, Not That! book, the authoritative guide to all your favorite restaurant and supermarket foods.
Inspired by
The New York Times
best-selling book series,
Eat This, Not That!
is a brand that's comprised of an award-winning team of journalists and board-certified experts, doctors, nutritionists, chefs, personal trainers, and dietitians who work together to bring you accurate, timely, informative, and actionable content on food, nutrition, dieting, weight loss, health, wellness, and more.
Read more