5 Toning Exercises for a Slimmer Stomach, Fitness Expert Reveals
Challenge and activate your core to achieve a slimmer stomach.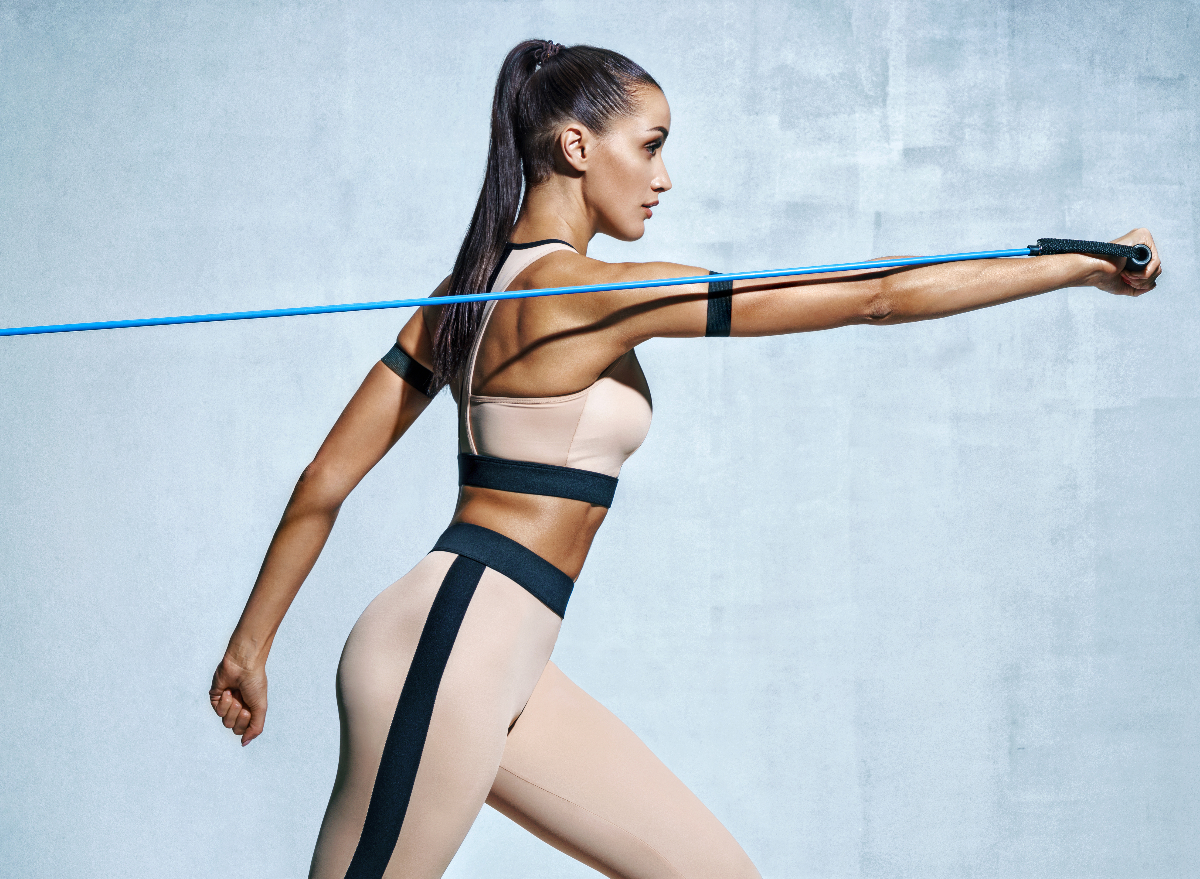 If trimming down your midsection is a priority on your fitness agenda, you've come to the right place. We've rounded up the very best toning exercises for a slimmer stomach you'll want to start doing ASAP. And better yet—we're going to make sure you don't make any common errors along the way.
When trying to lose fat and tone up, many individuals default to running and performing endless ab exercises. Crunches and situps have their place, but doing those alone won't give you the results you're looking for. Strength training is the name of the game here, as it will help you burn more fat and speed up your metabolism so you can start to shrink belly fat.
When it comes to exercise selection, opting for movements that challenge and activate your core is key. I recommend choosing a combination of both compound movements and exercises that directly train your abs, allowing them to be fully stimulated.
So without further delay, here are five toning exercises for a slimmer stomach that you can incorporate into your workout. Aim for 3 to 4 sets of the following.
Kettlebell Squat to Reverse Curl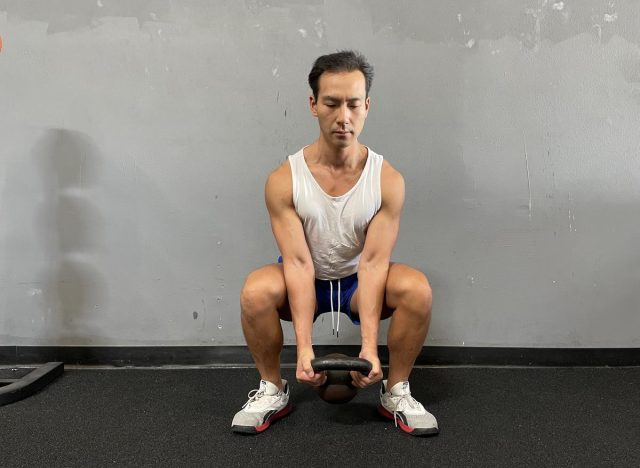 Begin this first movement by standing tall and holding a kettlebell to your chest. Keep your core tight as you squat down to parallel and lower the weight down until your arms are completely extended. Curl the weight back up, and come back up to finish. Complete 3 to 4 sets of 6 to 8 reps.
Related: The #1 Floor Workout To Lose Belly Fat and Slow Down Aging, Says Trainer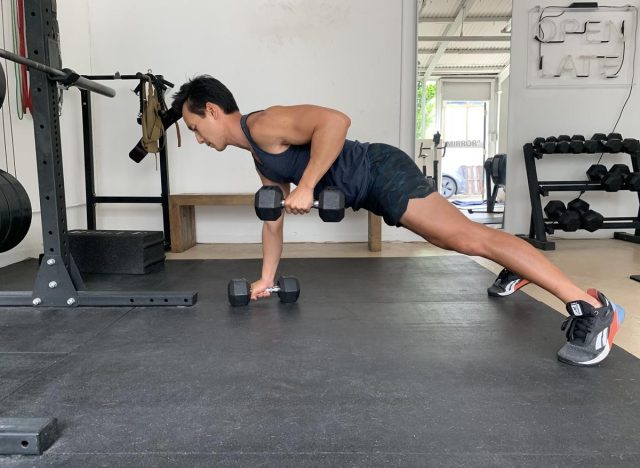 Start your Dumbbell Renegade Row in a pushup position with a wide stance and a dumbbell in each hand. Keeping your core tight and glutes squeezed, take one hand, and row the weight up by driving your elbow towards your hip and squeezing your lat. Return the dumbbell back to the floor, and then perform a row with the other arm. Complete 3 to 4 sets of 6 to 8 reps for each arm.
Related: The Best Cardio Exercises To Lose Visceral Fat and Slow Aging, Trainer Says
Hollow Body Hold with Dumbbell Reach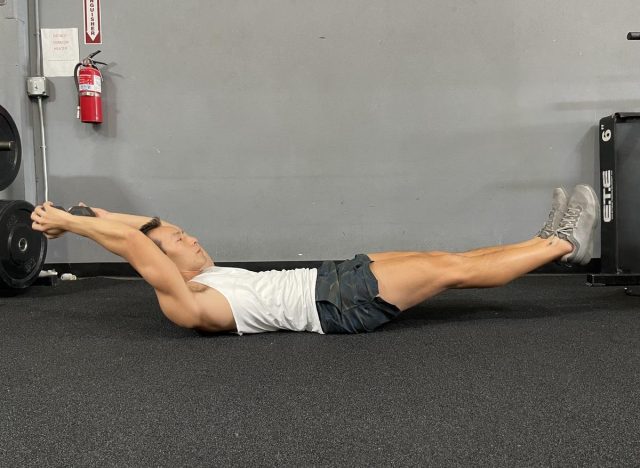 This next exercise starts with you holding a single dumbbell and assuming a hollow hold position with your feet above the ground and your lower back flat. Position the dumbbell slightly above your chest, then pull it back behind your head, and fully straighten out your arms. Flex your abs hard at the end of the movement, then bring the dumbbell back to the starting position. Perform 3 to 4 sets of 10 to 15 reps.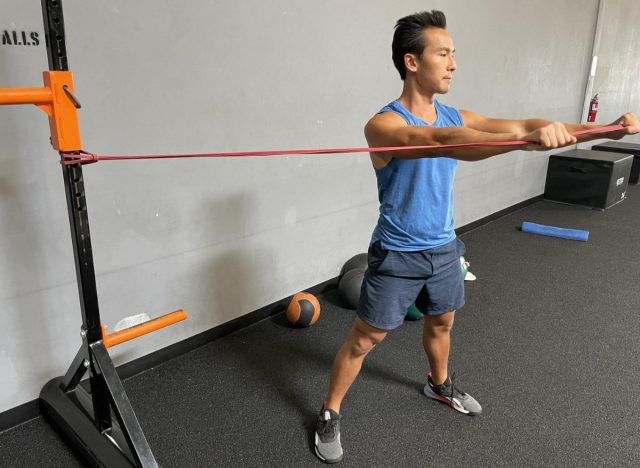 For the Band Rotation Chop, tie a resistance band around a sturdy beam, and take a step out to the side to get tension on it. Hold the end of the band with both hands utilizing a pronated (overhand) grip, and make sure your feet are in a wide stance. Keeping your core tight, rotate the band across your body from your upper back (thoracic spine). Flex your obliques during the entire range of motion, then return back to the starting position. Perform 3 to 4 sets of 15 prescribed reps before repeating on the other side.6254a4d1642c605c54bf1cab17d50f1e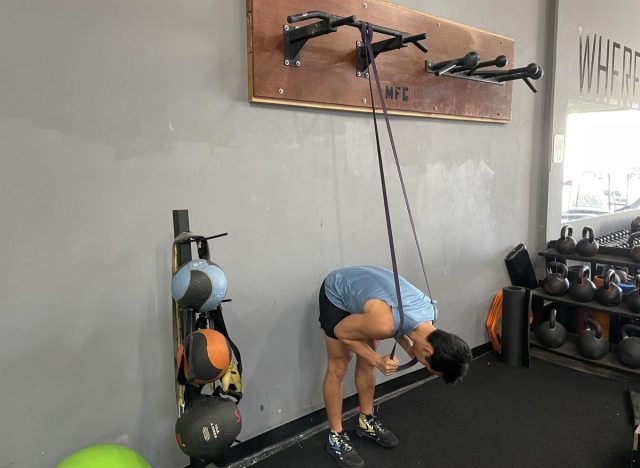 Begin this final exercise by wrapping a resistance band around and tying a knot over a sturdy pole or beam above you. Stand below the band, grab it with both hands, and pull it down to your chest. Keep your core tight and legs straight as you perform a standing crunch, curl all the way down, and flex your abs hard at the bottom. Resist on the way back up before performing another rep. Complete 3 to 4 sets of 15 to 25 reps.
Tim Liu, C.S.C.S.
Tim Liu, CSCS, is an online fitness and nutrition coach based in Los Angeles
Read more about Tim