7 Unhealthiest Subway Orders, According to Dietitians
Dietitians pick the worst Subway sandwiches, which are high in sodium, saturated fat, and calories.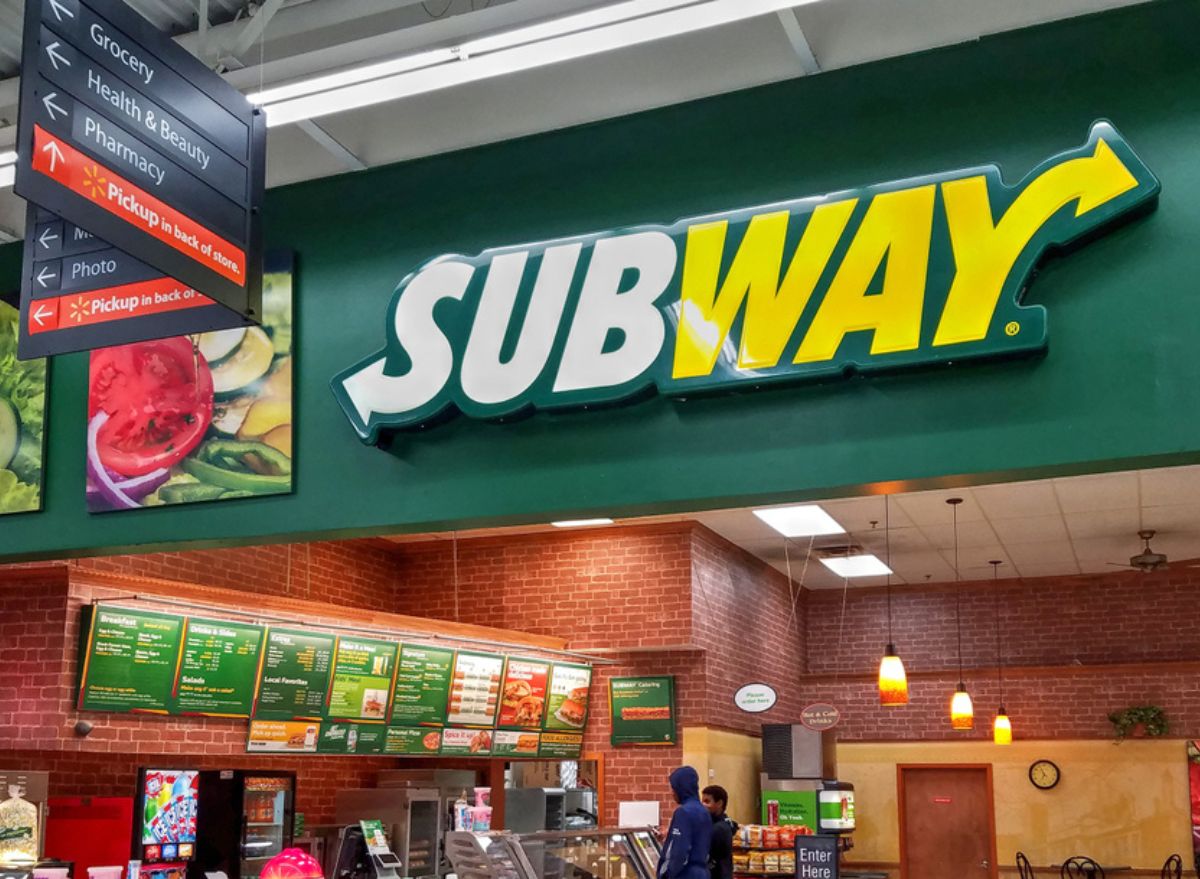 Subway quickly gained a rap of being one of the healthier fast-food chains thanks to its vast vegetable offerings and customization options. The fact that Subway is not only customizable, but you can stand directly in front of your server while he/she is preparing your food to make any requests you may want is a huge bonus in terms of 'fast food,' says Jaime Windrow, RD, CSSD, with Top Nutrition Coaching. Still, there are many ways to easily rack up the calories in your sandwich order if you're not mindful, which is why we gathered information on seven of the unhealthiest Subway orders.
"While customization is great, going overboard with portions of meat, cheese, and high-calorie toppings can lead to a higher calorie meal," says Crystal Scott, RD, CSSD, a dietitian with Top Nutrition Coaching. And the final step in the sandwich-building process—squirting on high-fat condiments like mayo, ranch dressing, and creamy sauces—which often leads to tacking a boatload of extra calories from fat onto your meal.
How to Choose a Healthy Subway Order
Instead of falling prey to these ordering mistakes, here are a few dietitian-recommended tips to order a nutrient-dense meal at Subway:
Try to order a 6-inch sub instead of a foot-long. And if you decide to order a foot-long, request that they wrap them separately. "Drink some water with your first 6-inch and really check in with yourself to see if you are truly hungry for the second half," Windrow says. "If you are, go for it! But note that it is okay if you don't finish it, and it's okay if you do."
Order nine-grain wheat bread for a bit of extra fiber to help with fullness and satiety.
Pack the sub with vegetables. When you see a variety of colorful vegetables right in front of you, it might encourage you to add more to your sub that you would otherwise not have thought about, Windrow says. After all, we eat with all our senses, including our eyes. "While there is only so much room between those two slices of bread, prioritize adding veggies first before condiments, cheese and sauces," Windrow says. "Subway offers a variety of fresh vegetables, which provide vitamins, minerals, and fiber, which can help increase the nutrient density of your meal," Scott says.
Choose lighter condiments like mustard or vinaigrettes. But keep in mind if you love mayo or their special sauce, just ask the server to put on half of what they normally do, as they can have a heavy hand, says Windrow.
Choose leaner proteins such as grilled chicken and deli turkey, and try to avoid the processed meats that are cured and filled with nitrates, preservatives, and additives.
When adding toppings, try to get at least three colors in your sandwich, not including the bread, protein, or sauces, and get those colors from the vegetable offerings, Windrow recommends. "Prioritize protein and fiber (from vegetables) first before the cheese, sauces, and dressings."
Below, read on for the worst Subway orders on the chain's menu. And for the inside scoop on what's best to order, check out 9 Healthiest Subway Sandwiches To Order, According to Dietitians.6254a4d1642c605c54bf1cab17d50f1e
The Unhealthiest Subway Orders
Meatball Marinara Sub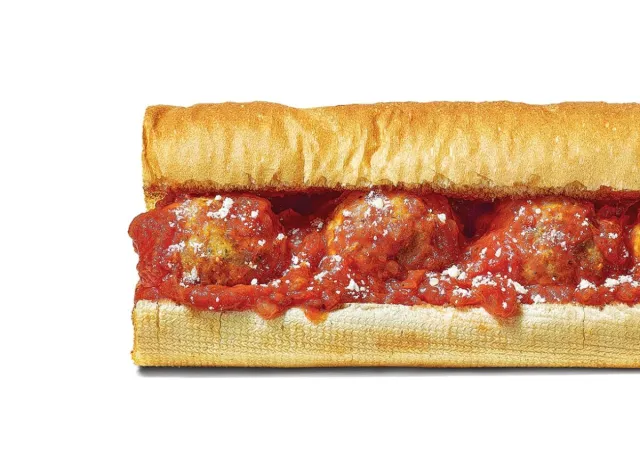 440 calories, 18 g fat (7 g saturated fat), 1100 mg sodium, 50 g carbs (4 g fiber, 8 g sugar), 20 g protein
Save the marinara-slathered meatballs for Sunday afternoon at grandma's. "The meatballs [in this order] are high in saturated fat and sodium," Scott says. Overconsumption of saturated fats can contribute to heart disease, so it's important to keep your daily limit to less than 10% of your total calories, or under 22 grams if you eat 2,000 calories a day, Windrow says. What's even worse, though, is that this sub contains one gram of trans fat—the worst type of fat that can raise your risk of heart disease when eaten frequently.
Chicken & Bacon Ranch Sub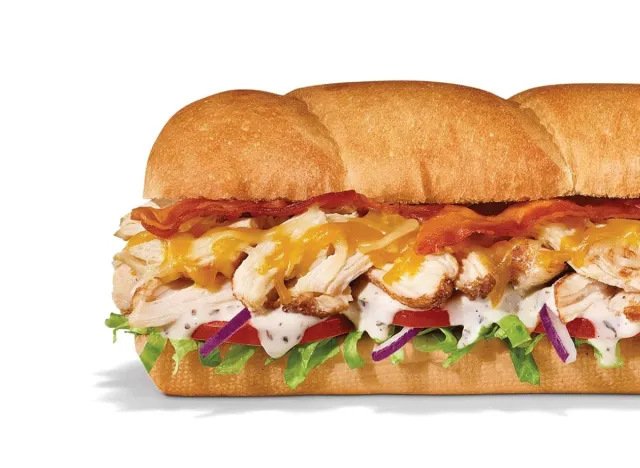 570 calories, 29 g fat (10 g saturated fat), 1220 mg sodium, 43 g carbs (3 g fiber, 6 g sugar), 34 g protein
Chicken, bacon, and ranch are one of those match-made-in-heaven combos that are hard to resist, but you're better off saving this sub for a special occasion. "This choice is loaded with high-fat ingredients like bacon and ranch dressing, contributing to excessive calories, sodium, and unhealthy fats," Scott says. Eating too much sodium and saturated fat regularly is linked to poor heart health, so you'll want to limit your intake when you can.
Italian B.M.T. Wrap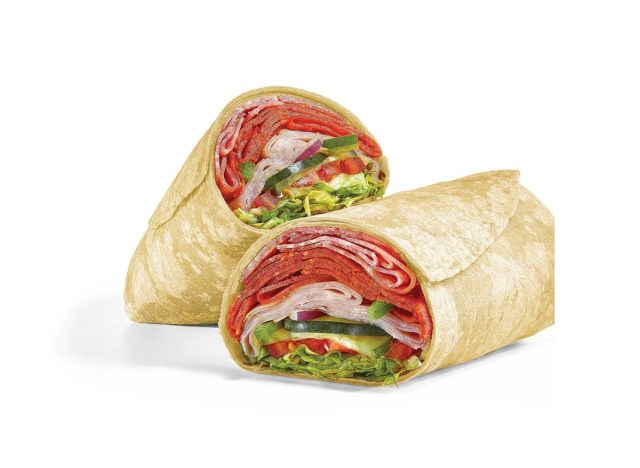 400 calories, 16 g fat (6 g saturated fat), 1180 mg sodium, 43 g carbs (3 g fiber, 6 g sugar), 19 g protein
Short for "Biggest, Meatiest, Tastiest," the Italian B.M.T. lives up to its name, given that it's stacked with a double portion of Genoa salami, spicy pepperoni, and Black Forest ham. We'll give it points for including a slew of colorful vegetables like lettuce, tomatoes, cucumbers, green peppers, and red onions, but this six-inch sub still gets the red light because it contains more than half of your daily recommended amount of sodium and over a fourth of your daily value for saturated fat.
The Beast Sub
730 calories, 44 g fat (14 g saturated fat), 2080 mg sodium, 45 g carbs (3 g fiber, 7 g sugar), 40 g protein
This sandwich is stacked high with turkey plus four types of red processed meats (pepperoni, salami, ham, and roast beef). Here's why that's not great news: Processed meat is now classified as a Class 1 carcinogen by the World Health Organization (WHO), which recommends people limit their intake of processed meats to help reduce the risk of colorectal cancer. "Heavy consumption of these products has been linked to health issues such as type 2 diabetes, cardiovascular disease and some types of cancer," Windrow says. And all that processed meat majorly hikes up the sodium content, which is at 2,080 milligrams—almost the max daily recommendation for sodium.
The Boss Sub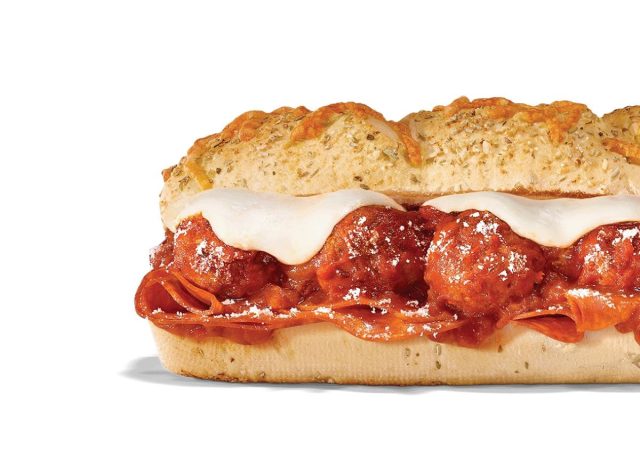 650 calories, 34 g fat (16 g saturated fat), 1690 mg sodium, 54 g carbs (4 g fiber, 8 g sugar), 32 g protein
Marinara-drenched meatballs and slices of pepperoni, mozzarella, and parmesan are piled high on Italian Herbs & Cheese bread for a sandwich that will rival grandma's Sunday supper. However, this sub is sky-high in sodium and saturated fat. "This 6-inch sub provides 34 grams of fat and 16 grams saturated fat, which is half of your total recommended fat intake for the day, even though it's only a 6-inch," Windrow says. What's more, the sodium content hits 1,690 milligrams, "which is extremely high considering your total daily recommendation for sodium of 2,300 milligrams," says Windrow.
Buffalo Chicken Sub
380 calories, 12 g fat (3 g saturated fat), mg sodium, 42 g carbs (3 g fiber, 6 g sugar), 25 g protein
Your favorite pizza topping turned into a sandwich, this order is packed with that spice and tang we all crave from time to time. And while it's okay to enjoy the foods we love occasionally, this sub sandwich should be saved for a special treat. "The buffalo sauce and ranch dressing can add extra calories and unhealthy fats, while the processed chicken strips might also be high in sodium," Scott says.
Big Hot Pastrami Sub
510 calories, 27 g fat (9 g saturated fat), 1,790 mg sodium, 41 g carbs (2 g fiber, 5 g sugar), 27 g protein
This is a limited time sub and not offered at all locations, but it appears to be a fan favorite and many folks are disappointed to hear it's not a mainstay. However, we're glad it's not a permanent menu item, considering this order is packed with a ton of processed meat. All that pastrami gives this sub 1,780 milligrams of sodium, which is about 75% of your daily sodium value. Plus, you'll get nine grams of saturated fat, which is almost half of your total recommended fat intake for the day, Windrow says.
April Benshosan
April is a born-and-raised Brooklynite who has a passion for all things health, wellness, and tastebud-related.
Read more about April
Sources referenced in this article