8 Worst Taco Bell Orders, According to Dietitians
These menu items are full of egregious amounts of sodium, saturated fat, and empty calories.
No one is pretending that Taco Bell is a healthy place to pick up fast food, but you have to be particularly vigilant when ordering at the Mexican fast-food chain if you don't want to blow out your calorie intake. Taco Bell is infamous for some of the most indulgent fast-food menu items ever created: the Naked Chicken Chalupa, which replaced a taco shell with a piece of deep-fried chicken; the XXL Grilled Stuft Burrito, which featured steak, a three cheese blend, rice, beans, sour cream, guacamole, avocado ranch, and pico de gallo (quite the mouthful); and the fan-favorite Quesalupa, which made a cheesy quesadilla out of two crispy chalupa shells stacked on top of each other and then filled it with beef, lettuce, more cheese, tomatoes, and a dollop of sour cream. You can thank Taco Bell's "laboratory-like" Innovation Kitchen for these extravagant creations, which is a team of food product developers who are tasked with designing the most over-the-top, outside-the-box menu items.
After reading what these menu items are comprised of, it should come as no surprise that navigating the Taco Bell menu to avoid these diet bombs can be tricky, as some choices are much less healthy than others. We spoke to dietitians and nutrition experts to find out exactly which orders they recommend against the next time you're pulling through the taco drive-through.
What makes these the unhealthiest orders at Taco Bell:
In general, there are going to be a few big nutrients of concern when it comes to the least healthy products at Taco Bell:
Sodium: Many of the menu items are so high in sodium that you can hit your recommended daily allowance for sodium—2,300 milligrams—in just one meal. A diet high in sodium and low in fruits and vegetables can contribute to high blood pressure problems and heart disease risk.
Unhealthy fat: Fast food is notorious for its high fat content, and Taco Bell is no exception. Be on the lookout for options that are fried or have unhealthy oils in the form of added sauce or processed meat.
Total calories: Fast food can rack up some serious calories if you're not paying attention. Browse the menu ahead of time to look for lower-calorie fast-food options if you regularly frequent the drive-thru.
Added sugars: Soda and drinks with added sugar are a source of empty calories and extra sugars that you may not need, especially if you're eating these foods regularly. Keep added sugars low by ordering diet drinks or low-sugar beverages, and be mindful of your sauce on the side.
The unhealthiest Taco Bell menu items to never order.
Read on to find out exactly which menu items at Taco Bell are not dietitian-approved, and for more on what you should be ordering, don't miss 9 Healthiest Dishes to Order at Taco Bell, According to Dietitians.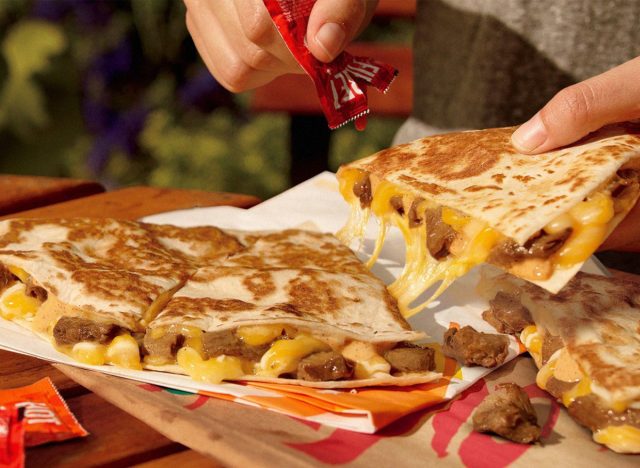 PER QUESADILLA
: 520 calories, 27 g fat (14 g saturated fat), 1270 mg sodium, 42 g carbs (3 g fiber, 4 g sugar), 26 g protein
This menu item looks innocent enough, but its sodium content will knock your socks off. Once in a while, a dish like this is no problem. But if you regularly are resorting to high-sodium menu items at Taco Bell, it might be time to make a healthier swap.
"Although this menu item may be filling it has the worst nutrition profile. One quesadilla has 520 calories, 26 grams of protein, 14 grams of saturated fat, and 1,270 milligrams of sodium," says Joanna Ayalloore, MS, RD, LDN, owner of Nutrition Kept Simple. Consuming this high-fat, high-sodium item puts you at higher risk for cardiovascular disease, she adds.
RELATED: 21 Best Low-Sodium Fast-Food Orders, According to Dietitians6254a4d1642c605c54bf1cab17d50f1e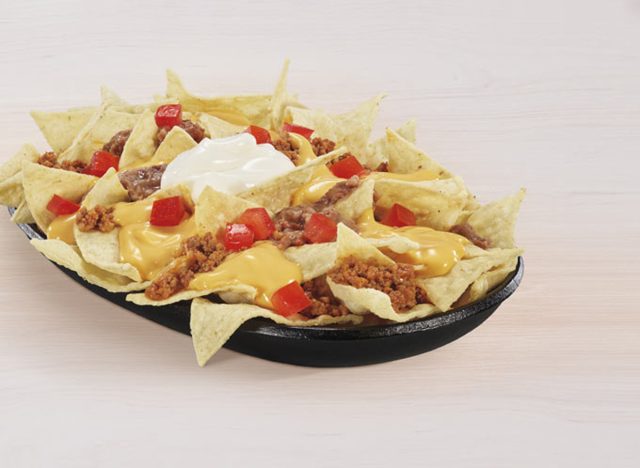 PER NACHO
: 730 calories, 38 g fat (6 g saturated fat), 1130 mg sodium, 81 g carbs (14 g fiber, 5 g sugar), 20 g protein
It's not all that surprising that something with the name "grande" delivers a whopping 38 g of fat and nearly half of your daily sodium needs. We recommend staying away from this option or swapping it out for a healthier choice instead.
Dr. Su-Nui Escobar, DCN, RDN, FAND chimes in: "Beware of the Nacho Bell Grande… This menu item contains a whopping 38 grams of fat and a staggering 1,130 grams of sodium per serving. A great way to make healthier choices at Taco Bell is to use their online nutrition calculator. By entering the menu items of your order, this calculator will show you exactly how much fat and sodium is in your meal, along with other important nutrition facts."
Taco Bell Crunchwrap Supreme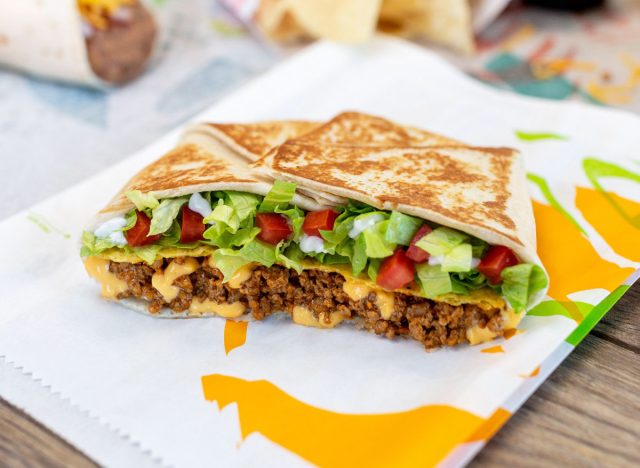 PER CRUNCHWRAP
: 540, 21 g fat (7 g saturated fat), 1210 mg sodium, 73 g carbs (6 g fiber, 6 g sugar), 16 g protein
We love a classic crunch wrap as much as the next person, but unfortunately, this one made our no-no list. The crunchwrap is a relatively small amount of food with a surprisingly large amount of added salt. Your blood pressure would not be very happy after this meal.
"I would stay away from the Taco Bell Crunchwrap Supreme. One wrap contains 540 calories, 7 grams of saturated fat, and 1,210 mg of sodium, which is over half of the recommended maximum daily intake of sodium. For a healthier option, choose a soft taco topped with shredded lettuce, tomato, onions, and salsa," recommends Mandy Tyler, M.Ed., RD, CSSD, LD.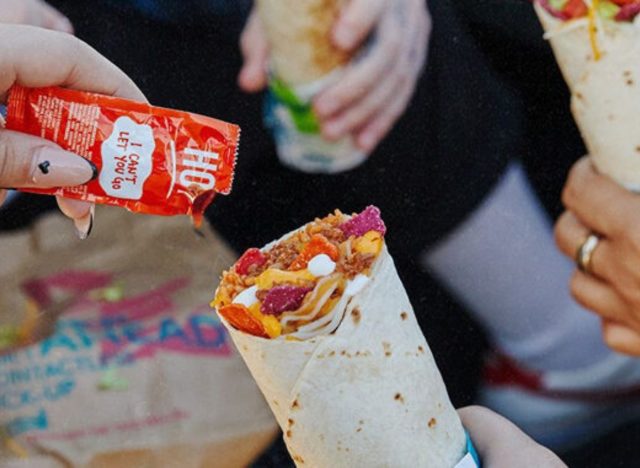 PER BURRITO
: 620 calories, 29 g fat (11 g saturated fat), 1190 mg sodium, 70 g carbs (6 g fiber, 4 g sugar), 20 g protein
The Grilled Cheese Burrito available at Taco Bell stands out as one of the least healthy selections on the menu. Packing an astonishing 38 grams of fat in each serving, this option alone covers nearly half of your daily recommended fat intake. Consistently indulging in such a high-fat meal could result in unfavorable health consequences, including weight gain and heightened susceptibility to heart disease. By selecting more nourishing options from the menu, you can actively prioritize your health while savoring the delectable tastes that Taco Bell presents.
Shredded Beef Grilled Cheese Dipping Taco Deluxe Box
PER BOX
: 1505 calories, 75g fat (20 g saturated fat), 1850 mg sodium, 96 g carbs (12 g fiber, 16 g sugar), 24 g protein
This entire box of food could easily meet the majority of your requirements for calories in a day. In a pinch, options like this are totally fine once in a while but we would encourage you to refrain from ordering them regularly.
"I strongly caution against indulging in the Shredded Beef Grilled Cheese Dipping Taco Deluxe Box at Taco Bell. This meal, with its calorie range of 1505 to 1785, poses a significant risk of exceeding daily calorie limits in a single sitting. Packed with various tacos, a burrito, chips, and nacho cheese sauce, it offers a high-calorie, high-fat, and high-sodium combination that can be detrimental to your health when consumed regularly," offers Jessie Hulsey, RD, LD an Atlanta-based registered dietitian.
Breakfast Crunchwrap Sausage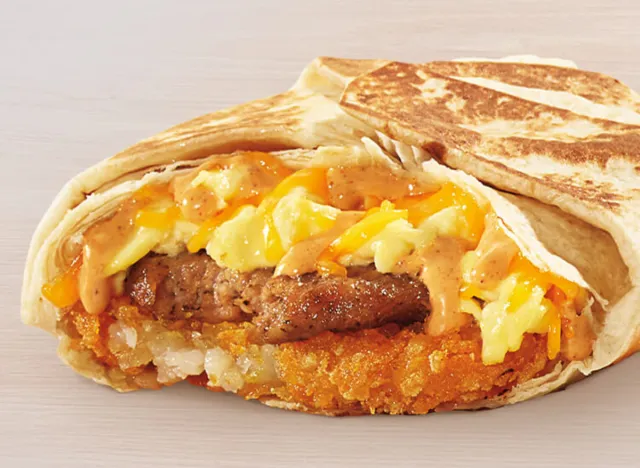 PER CRUNCHWRAP
: 750 calories, 49 g fat (16 g saturated fat), 1220 mg sodium, 53 g carbs (4 g fiber, 3 g sugar), 21 g protein
The breakfast crunchwrap situation will start your day off on the wrong foot. With nearly half of your daily needs for fat and sodium, this order is not our favorite choice.
"The Breakfast Crunchwrap Sausage at Taco Bell falls under the category of the worst menu options. Its excessive 47 grams of fat per serving can contribute to weight gain and negatively impact heart health when consumed regularly," Hulsey comments.
She continues, "Additionally, with only 4 grams of fiber, this meal lacks the essential nutrients needed for proper digestion and satiety, leaving you feeling unsatisfied and potentially leading to overeating later in the day. Opting for more balanced breakfast choices with higher fiber content can help support your digestive health and overall nutritional goals."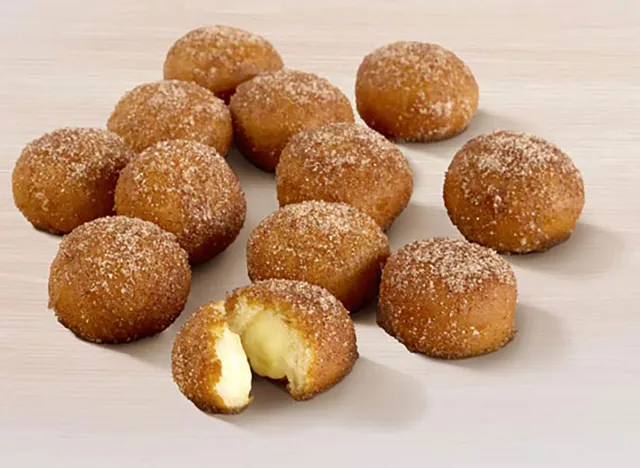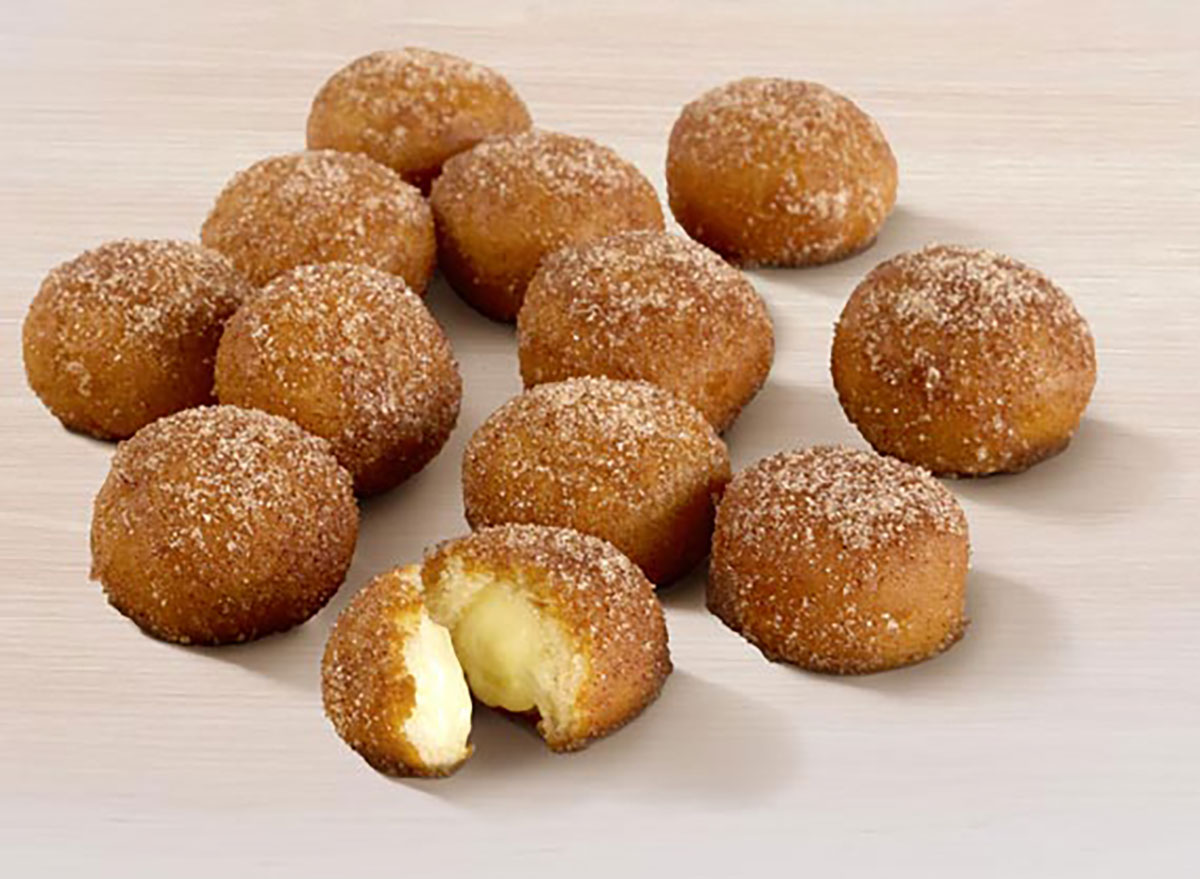 PER DELIGHTS
: 1010 calories, 68 g fat (22 g saturated fat), 430 mg sodium, 88 g carbs (5 g fiber, 52g sugar), 11 g protein
What's not delightful about the Cinnabon delights is the total amount of empty calories you'll consume in an entire order. We hate to admit it, but the 1,010 calories per order is not very balanced or nutrition-packed and will likely leave you feeling hungry again very soon.
"The Cinnabon Delights are deep-fried dough balls filled with cinnamon and cream cheese frosting. They are high in calories, with approximately 50 grams of sugar per 12-pack. They are also high in saturated fat, which is a risk factor for many chronic diseases," Wan Na Chun, RD, CPT of One Pot Wellness tells us.
Grande Toasted Steak Breakfast Burrito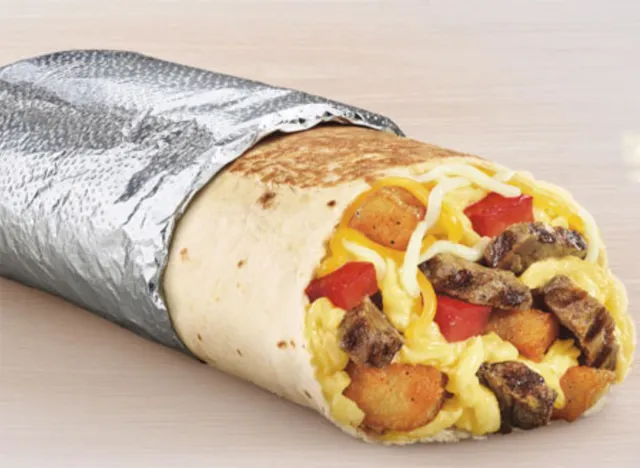 PER BURRITO
: 570 calories, 28 g fat (10 g saturated fat), 1370 mg sodium, 52 g carbs (4 g fiber, 4 g sugar), 27 g protein
With over half your entire day's worth of sodium packed in this order, we had to include it on this list. A high sodium diet puts you at a greater risk for high blood pressure and heart disease and eating choices like this one at Taco Bell regularly will contribute to raising your sodium levels significantly.
The Grande Toasted Steak Breakfast Burrito weighs in at 570 calories, 28 grams of fat, 1,370 milligrams of sodium, 52 grams of carbohydrates, and 27 grams of protein. And this doesn't include a soft drink!
Caroline Thomason, RDN
Caroline is a women's health Registered Dietitian and diabetes educator based in Northern Virginia.
Read more about Caroline