12 Frozen Breakfasts to Always Leave on Grocery Store Shelves
When you're looking to stock up on quick meals to start your day with, be sure to leave these options in the freezer aisle.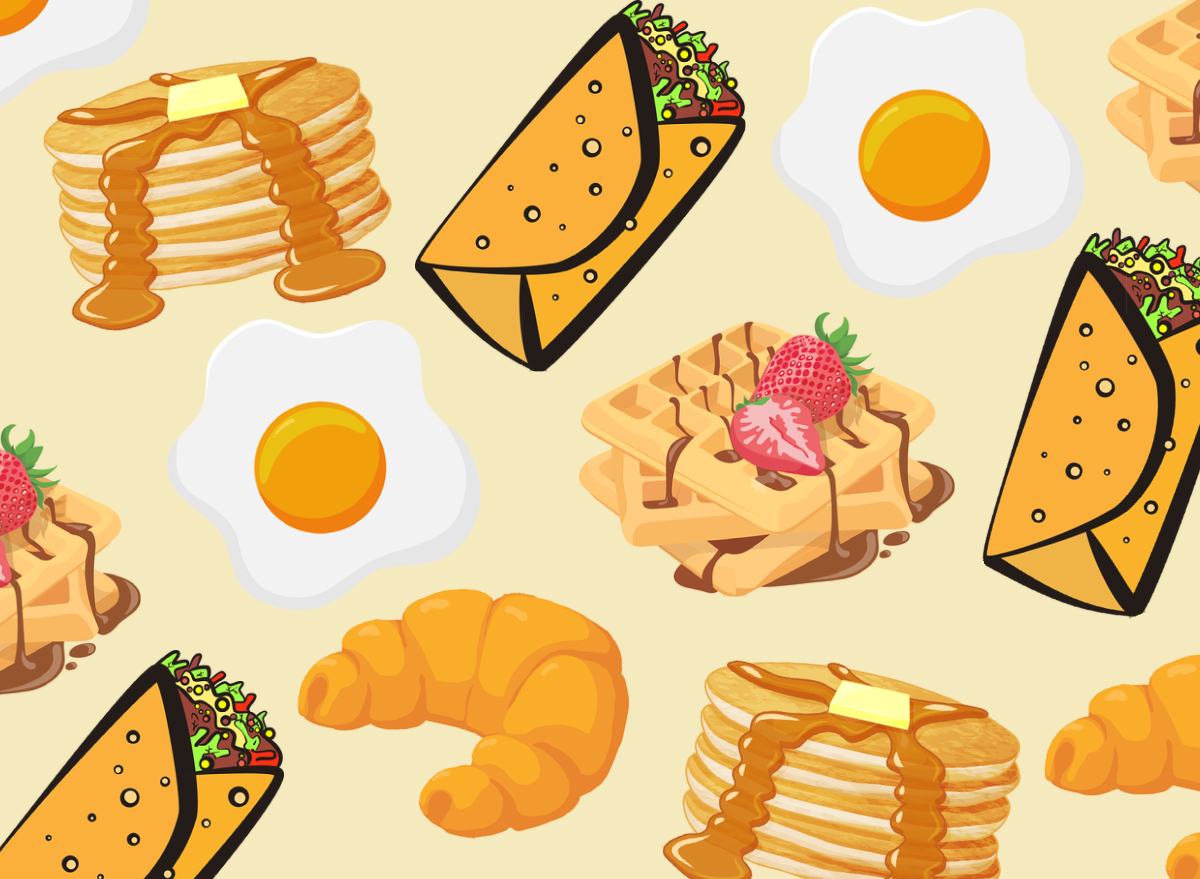 Deciding what exactly is the best meal to kickstart your day with can sometimes be an overwhelming task. Maybe you don't have all the time in the world to whip up a full breakfast from scratch. So stocking up on frozen options seems ideal! Until you quickly realize there are plenty of foods lining the freezer aisle in the grocery store that are simply just going to do your health more harm than good…
So to help you really narrow down that grocery list, we've rounded up some of the biggest frozen breakfast food offenders. Be sure to keep these out of your shopping cart and instead, try these 22 Meals to Melt Belly Fat in 2022.
Jimmy Dean Bacon Breakfast Bowl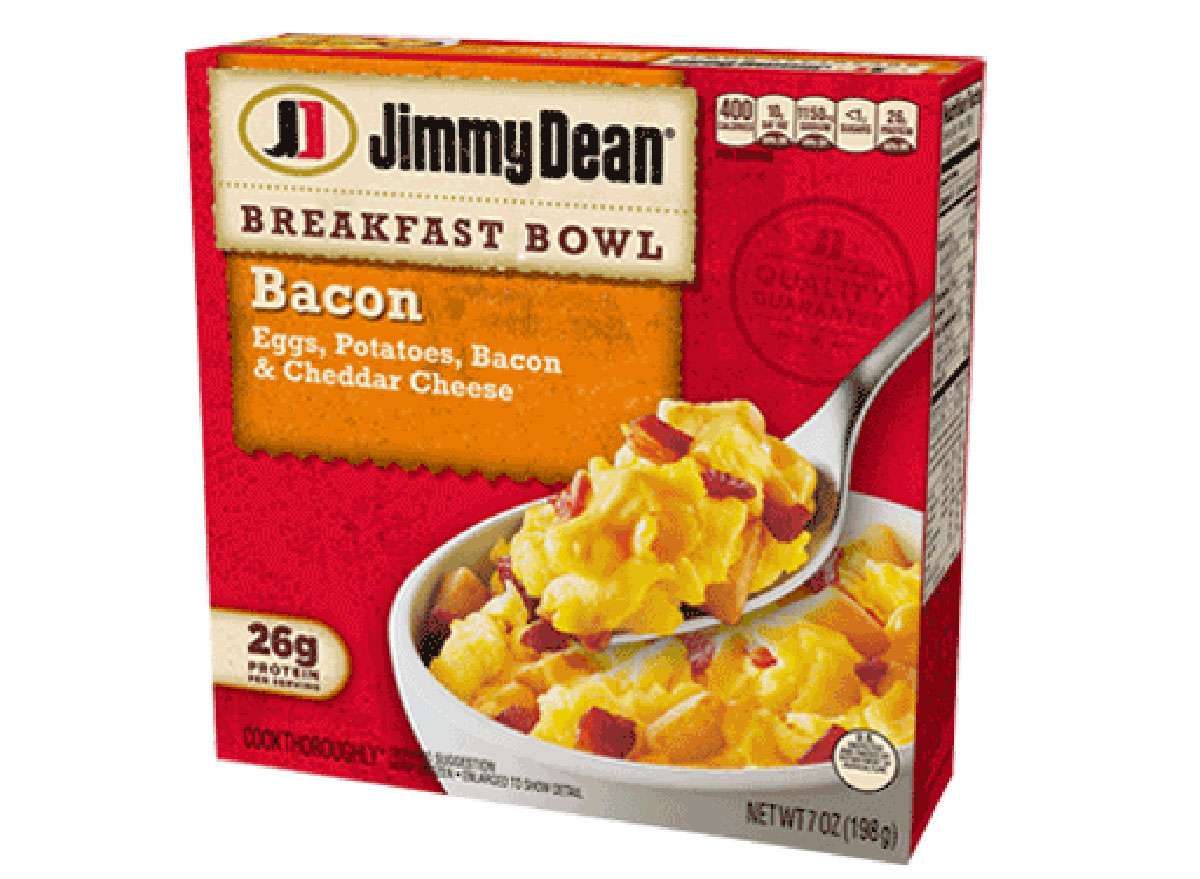 Per bowl
: 400 calories, 25 g fat (10 g saturated fat, 0 g trans fat), 1,150 mg sodium, 18 g carbs (2 g fiber, <1 g sugar), 26 g protein
Bacon, eggs, potatoes, and cheddar cheese all in one bowl? This does sound quite delicious, but it's best if you don't make this an every morning go-to option. It's serving up a whopping 1,150 milligrams of sodium—that's exactly half of the sodium you should eat in one entire day, as The American Heart Association recommends the average person consume no more than 2,300 milligrams per day.
Great Value Monte Carlo Breakfast Sandwich
6254a4d1642c605c54bf1cab17d50f1e
Per 1 sandwich
: 420 calories, 19 g fat (8 g saturated fat), 1,120 mg sodium, 46 g carbs (1 g fiber, 19 g sugar), 17 g protein
Having a frozen breakfast sandwich ready in minutes sounds pretty perfect. And this sandwich sounds like something you would get in a restaurant: bacon, cheese, and strawberry jam between cinnamon French toast slices. A rather fancy morning meal! But, again, the sodium content alone is shocking, and then you factor in 19 grams of sugar, too. No thanks.
Bob Evans Sausage & Potatoes Brunch Bowl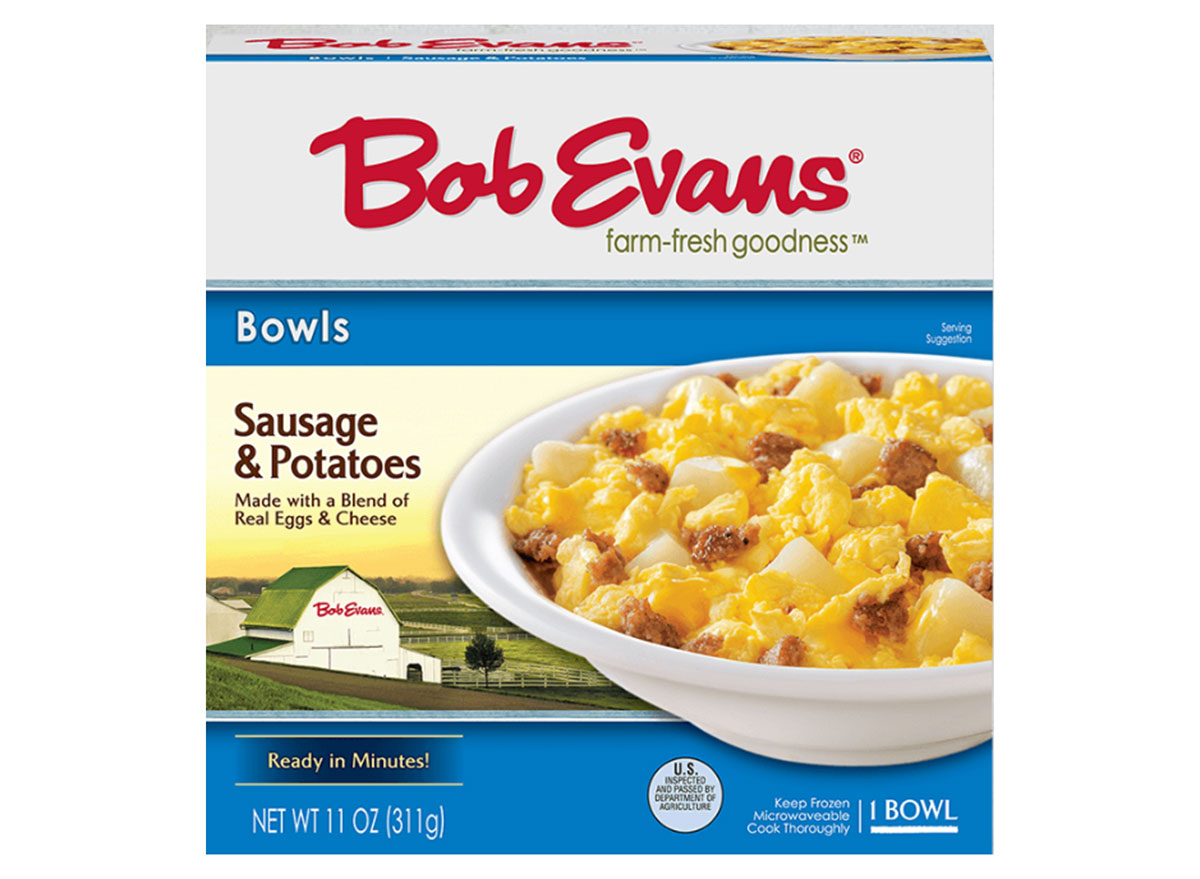 Per bowl
: 440 calories, 25 g fat (12 g saturated fat), 1,470 mg sodium, 17 g carbs (1 g fiber, 0 g sugar), 36 g protein
The Bob Evans restaurant chain is known for its rather decadent breakfast options, so it really shouldn't come as much of a surprise that the frozen versions aren't necessarily healthy. This bowl is loaded up with sodium and that 36 grams of protein? Don't get too excited.
While starting your day with a protein-packed dish is the goal, this is an example of too much of a good thing. Ideally, you don't want to eat more than 30 grams of protein at any meal, and this one dish clearly blows that serving out of the water.
In case you were wondering, this is the easy way to make healthier comfort foods.
Hot Pockets Pancake Crust Stuffed with Bacon, Egg, & Cheese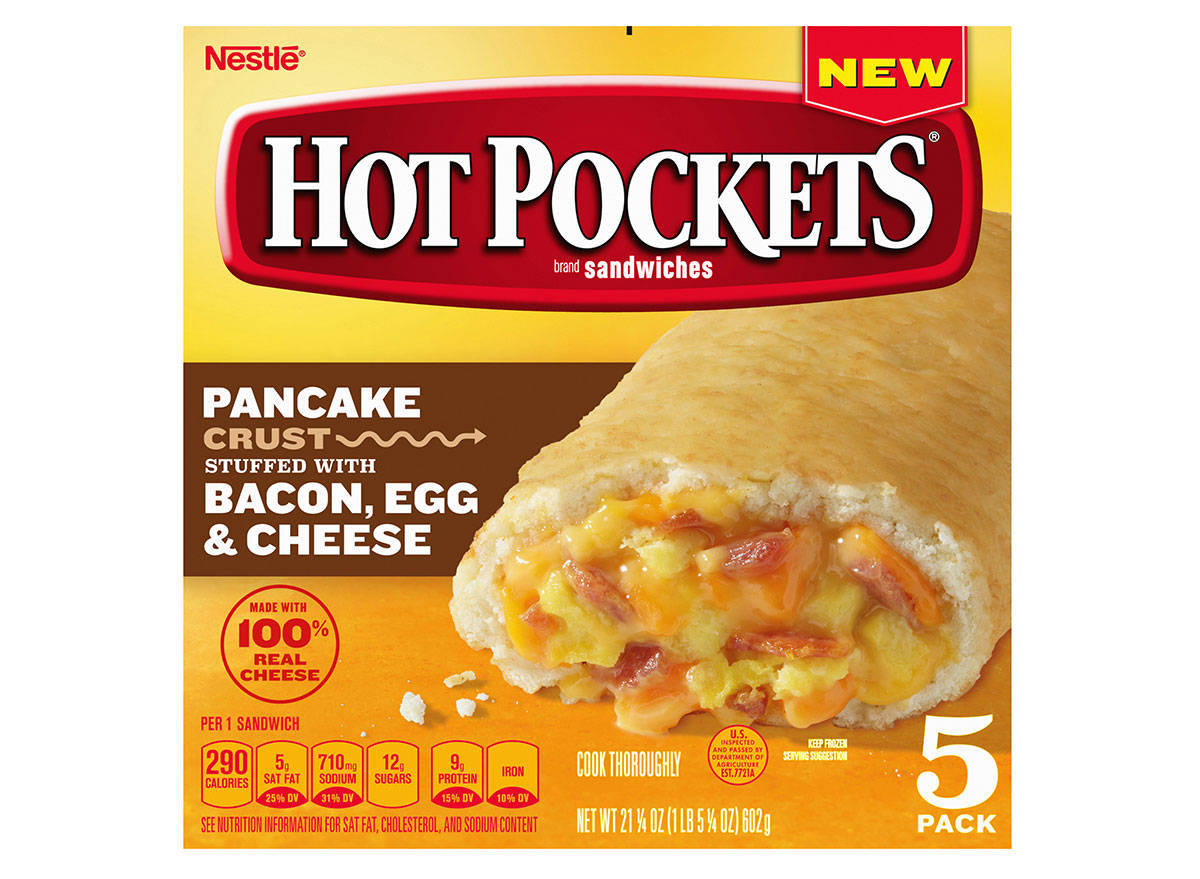 Per sandwich
: 290 calories, 10 g fat (5 g saturated fat), 710 mg sodium, 41 g carbs (1 g fiber, 12 g sugar), 9 g protein
Hot Pockets went ahead and took an actual pancake and used it as the crust of this sandwich, which is stuffed with bacon, egg, and cheese. Yikes. It's clocking in more than 700 milligrams of sodium, or as much as you would get if you ate seven pretzel rods for breakfast…
Special K Sausage, Egg & Cheese Flatbread Breakfast Sandwich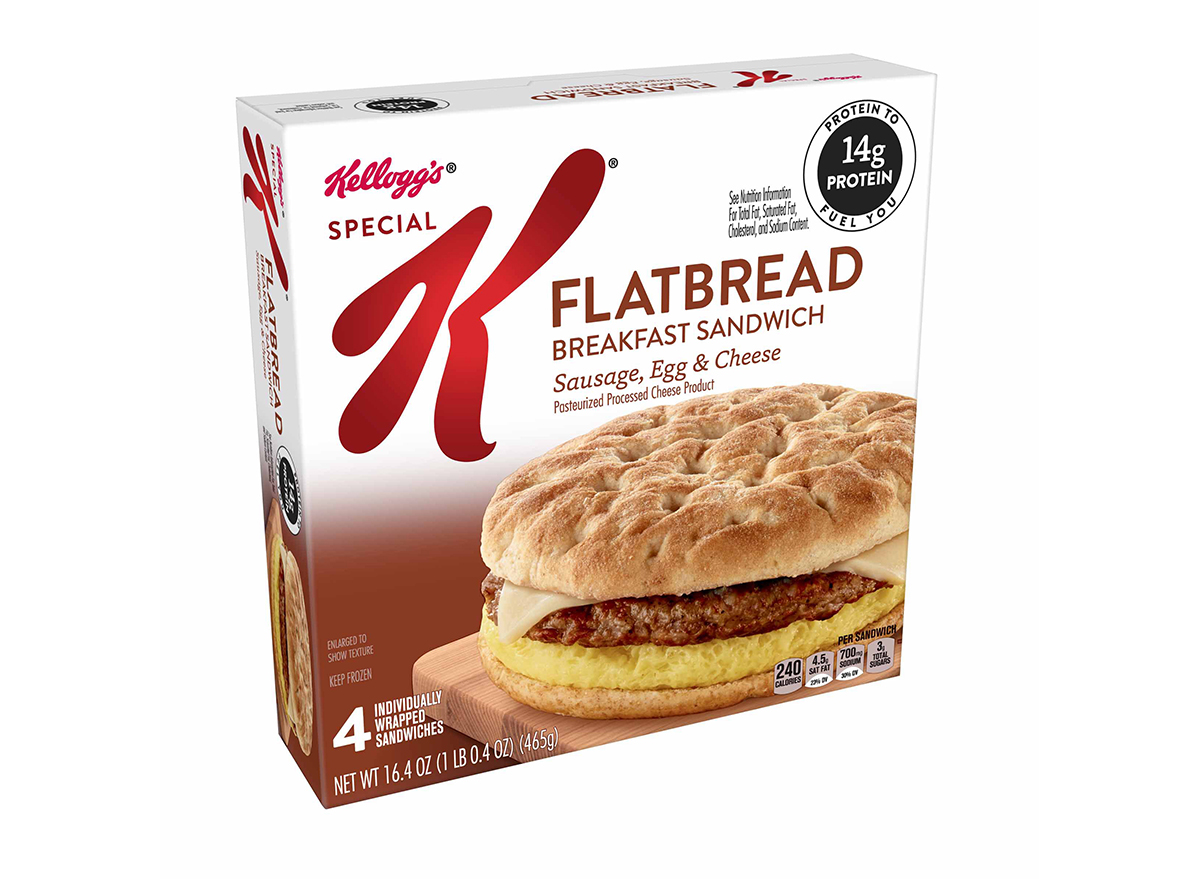 Per sandwich
: 240 calories, 12 g fat (4.5 g saturated fat), 700 mg sodium, 20 g carbs (3 g fiber, 3 g sugar), 14 g protein
Special K's flatbread breakfast sandwich is promising, but the sodium just adds up here. If you have this once in a while, you'll be OK—just don't eat this every morning.
Jimmy Dean Meat Lovers Breakfast Burritos
Per burrito
: 340 calories, 19 g fat (7 g saturated fat), 920 mg sodium, 30 g carbs (1 g fiber, 2 g sugar), 12 g protein
A burrito is a great way to fill your breakfast with plenty of hearty foods, but Jimmy Dean's Meat Lovers is one to avoid. More than 900 milligrams of sodium? Not worth it.
Amy's Bowls Mexican Breakfast Bake
Per bowl
: 430 calories, 22 g fat (7 g saturated fat), 780 mg sodium, 36 g carbs (6 g fiber, 4 g sugar), 23 g protein
This breakfast bowl from Amy's features potatoes, refried black beans, and a tofu scramble. Sounds like a winning combination, but the fat and sodium counts? They're telling a much different story…
Pillsbury Cream Cheese & Strawberry Toaster Strudel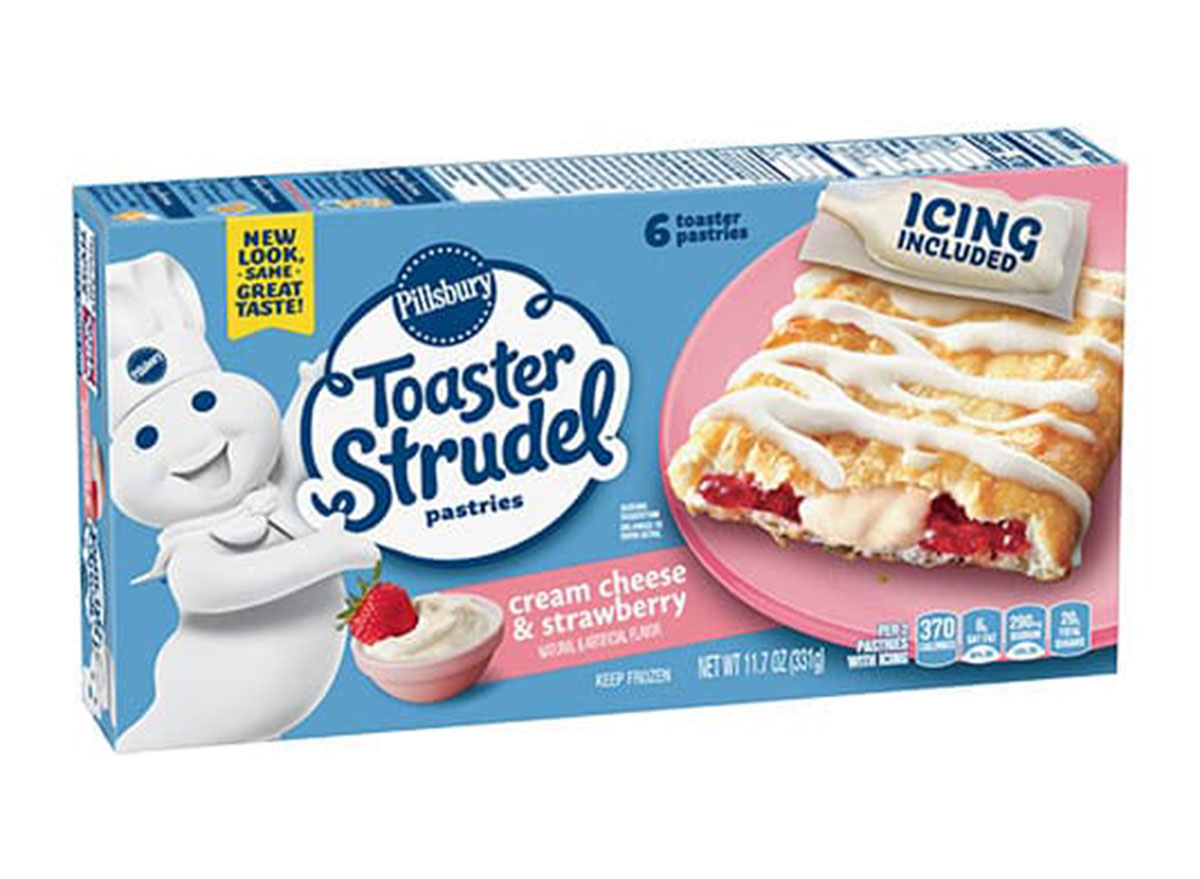 Per 2 pastries
: 370 calories, 15 g fat (6 g saturated fat), 290 mg sodium, 54 g carbs (1 g fiber, 20 g sugar), 5g protein
Don't let this Toaster Strudel flavor fool you. The combination of cream cheese and strawberry just means this frozen pastry is overloaded with sugar.
Kellogg's Eggo Blueberry Waffles
Per 2 waffles
: 180 calories, 6 g fat (1.5 g saturated fat, 0 g trans fat), 370 mg sodium, 29 g carbs (1 g fiber, 6 g sugar), 4 g protein
Oh, the Eggo waffle. It might've been a childhood staple, but now that you're an adult, you know better. The scary part is that real blueberries are the 15th ingredient on the list. Talk about a whole lot of processed junk you're in for here!
Jimmy Dean French Toast & Sausage On a Stick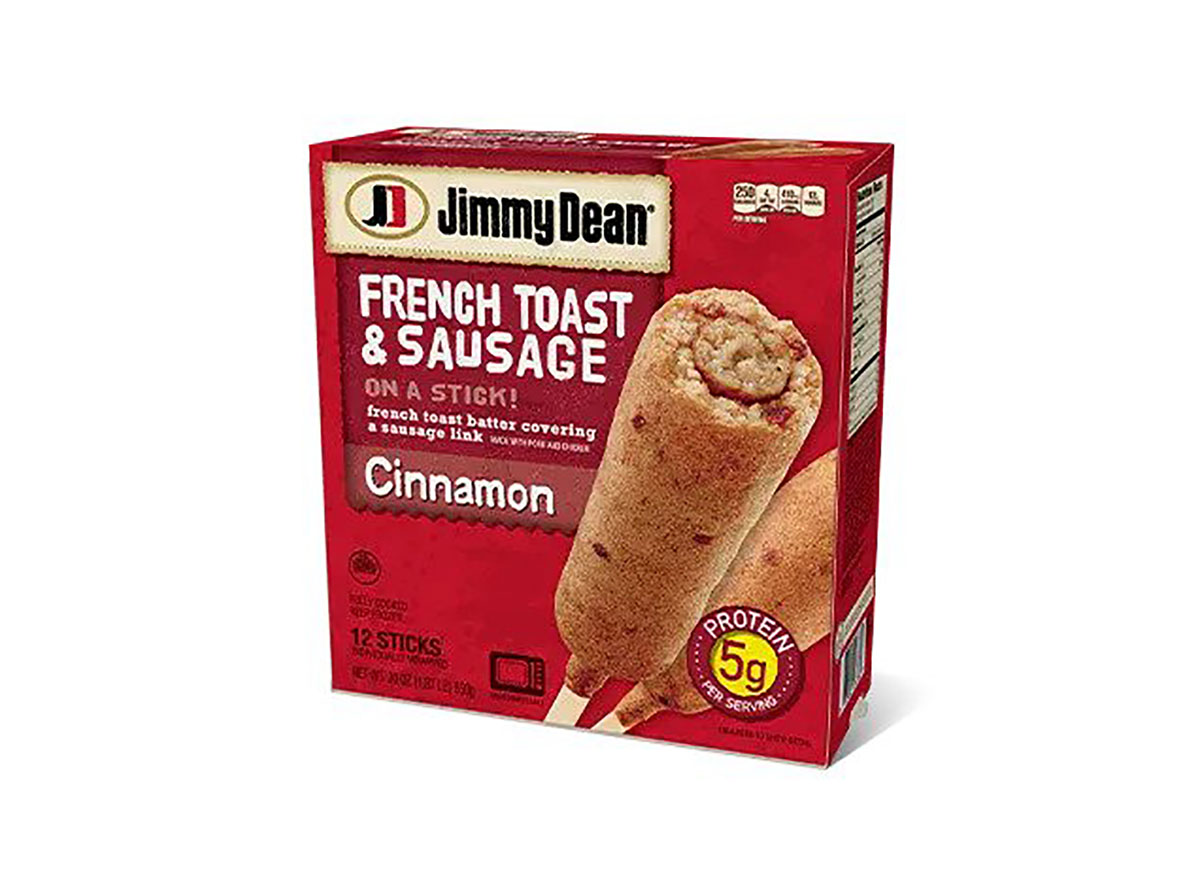 Per stick
: 250 calories, 15 g fat (4 g saturated fat), 410 mg sodium, 24 g carbs (1 g fiber, 12 g sugar), 5 g protein
If you're a fan of the savory and sweet combination, Jimmy Dean wrapping French toast around a sausage seems like the perfect combination. Overall, this breakfast isn't really doing much for you. It's low in fiber, which means that soon enough, you'll most likely be hungry again, reaching for more to eat.
Special K Ham, Cheese & Quinoa Quiche
Per quiche
: 310 calories, 18 g fat (8 g saturated fat), 1,110 mg sodium, 13 g carbs (2 g fiber, 4 g sugar), 22 g protein
Special K's individually wrapped Crustless Quiches seem tasty, especially if you aren't the best at making a quiche from scratch. Again, though, the sodium is just far too high. If you eat overly salty foods quite often, there's a good chance you just might start packing on the pounds. Researchers at Deakin University found that those who consumed excess salt ended up craving and ultimately eating more fatty foods overall.
Great Value Parma Melt Breakfast Sandwich
Per 1 sandwich
: 540 calories, 27 g fat (11 g saturated fat), 1,190 mg sodium, 48 g carbs (2 g fiber, 2 g sugar), 26 g protein
This is yet another sandwich you're going to want to leave in the freezer aisle. It's packing more than 500 calories and 1,190 milligrams of sodium. You're much better off making a breakfast sandwich yourself!
Jennifer Maldonado
Jennifer Maldonado is a senior editor at Eat This, Not That!, specializing in food and health content.
Read more about Jennifer