The Best & Worst Menu Items at Carrabba's
A registered dietitian chooses the meals you should and shouldn't eat the next time you find yourself dining at this Italian grill.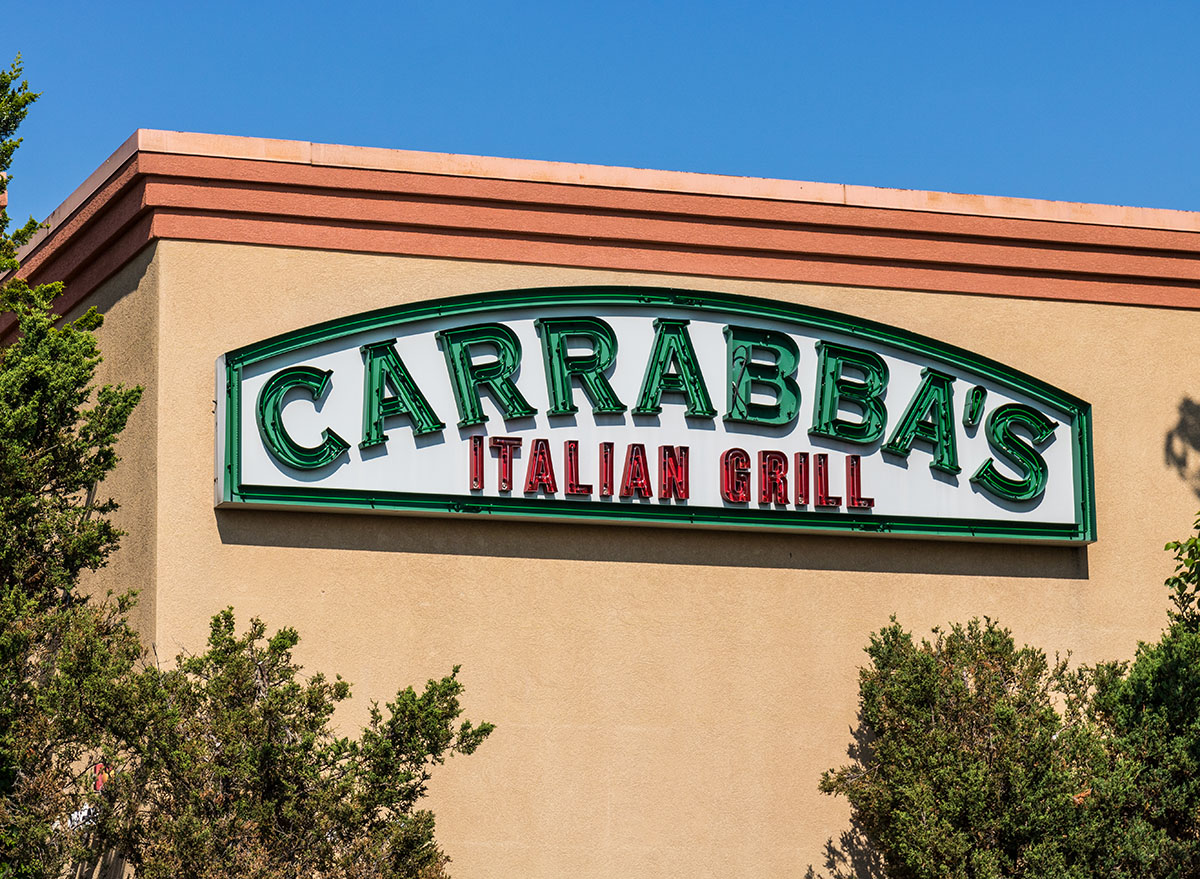 Serving up Italian fare with Western flare, Carrabba's Italian Grill is a popular family dinner or date-night spot around the country. From pastas to an array of grilled meats and seafood, there are plenty of tasty dishes to try at this restaurant chain. But as it goes with most restaurants, it can be hard to monitor the amount of butter, salt, creams, and other fats that go into making those meals off the Carrabba's menu so delicious.
We spoke with Lindsey Pine, MS, RDN, CLT, to help decipher the dishes on the Carrabba's menu to find the healthiest and least-healthy options available to you.
Small Plates/Appetizers
Best: Grilled Asparagus with Prosciutto
250 calories, 16 g fat (9 g saturated fat, 0 g trans fat), 1,090 mg sodium, 6 g carbs (2 g fiber, 3 g sugar), 22 g protein
The grilled asparagus wrapped in prosciutto is a small plate, similar to a side, that offers an appealing way to infuse some veggies and protein into your meal.
"Most of us don't focus on veggies when eating out, but this is a really tasty way to get in some vegetables, but with the additional protein from prosciutto," Pine says.
It's also ideal for anyone limiting carbs in their diet, too.
Worst: Calamari with Marinara and Ricardo Sauce
1,200 calories, 89 g fat (28 g saturated fat, 6 g trans fat), 3,390 mg sodium, 72 g carbs (8 g fiber, 14 g sugar), 30 g protein
Typically, appetizers are shared among everyone at the table. But even so, the calamari paired with two decadent sauces can really blow past your daily nutritional goals in just one meal, and that's before the main course comes out.
"Unless you're sharing this appetizer with a bunch of friends, it's best to skip this one," Pine says. "Not only does it have 1,200 calories, but also six grams of trans fat. We want to avoid trans fat at all costs because it can raise LDL (bad) cholesterol, lower HDL (good) cholesterol, and increase your risk for heart disease. To see one dish with six grams of trans fat is obscene. It also contains the same amount of sodium as approximately 300 potato chips!"
Even divided among friends, this trans-fat-loaded appetizer is one to avoid, especially if you want to keep your cholesterol at a healthy level.
Pizzas, Soups, and Salads
Best: Cup of Minestrone Soup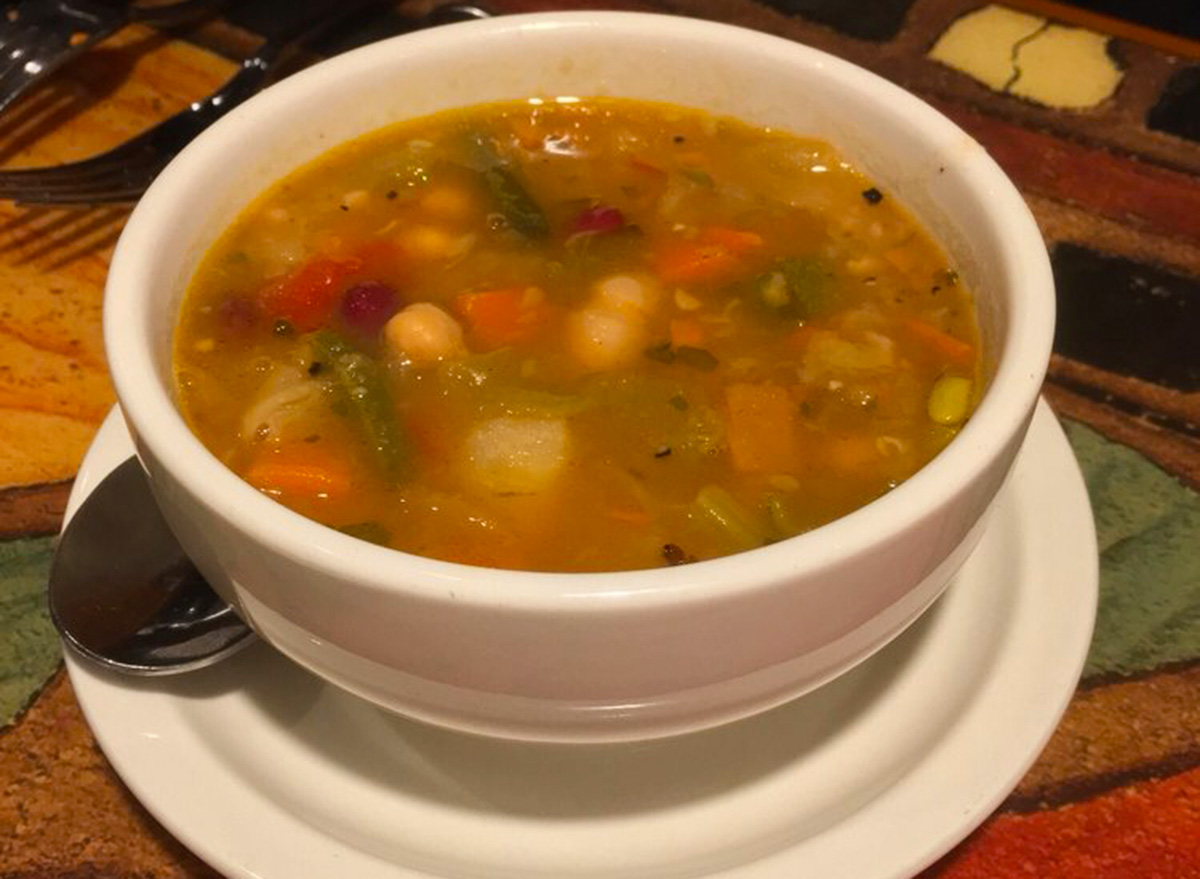 120 calories, 4.5 g fat (2.5 g saturated fat, 0 g trans fat), 680 mg sodium, 16 g carbs (5 g fiber, 0 g sugar), 5 g protein
Soup is a great option as either a side, starter, or an entire meal. Pine recommends the cup of minestrone soup for a healthier, lighter option to start your meal.
"It's low in calories, doesn't contain any sugar, and has 5 grams of fiber to help fill you up so you eat less of your entrée," she said. From there, you can take leftovers home for another meal. Win-win.
If you prefer a salad as your entree, though, the Johnny Rocco is a delicious option packed with protein, although it should still serve as an occasional choice because of its high sodium count, coming in at 1,800 milligrams.
"Besides the sodium, the numbers on this entrée salad look pretty good," Pine said. "Five hundred and forty calories is a respectable amount for an entree, as is the 28 grams of protein from the seafood, in addition to a dose of healthy omega-3 fatty acids. At 11 grams of carbs, it can even satisfy the low-carb crowd."
Worst: Chicken Bryan Pizza
890 calories, 37 g fat (21 g saturated fat, 0.5 g trans fat), 1,640 mg sodium, 87 g carbs (5 g fiber, 3 g sugar), 45 g protein
It's no secret that pizza isn't typically going to be a healthy option on a menu, so you could probably guess that the famous Chicken Bryan Pizza at Carrabba's is one of the least-nutritious options available in the pizzas, soups, and salads sections.
"Pizza isn't exactly a health food, but if you're opting for a pie, Chicken Bryan Pizza probably isn't the best choice," Pine says. "It's the only pizza that contains trans fat and has about the amount of saturated fat the average person eating 2,000 calories per day would aim for in an entire day."
But don't trust just any salad as a good-for-you option, either. Some of the salads, such as the Italian entree salad with chicken, is actually one of the worst meals for your health, even though it sounds like a healthy pick.
"Eleven grams of sugar in a salad seems a bit high to me, as do the 870 calories and 12 grams of saturated fat. There [are] more calories in this salad than in the chicken Parmesan," Pine says.
Pastas
Best: Whole Grain Spaghetti with Pomodoro Sauce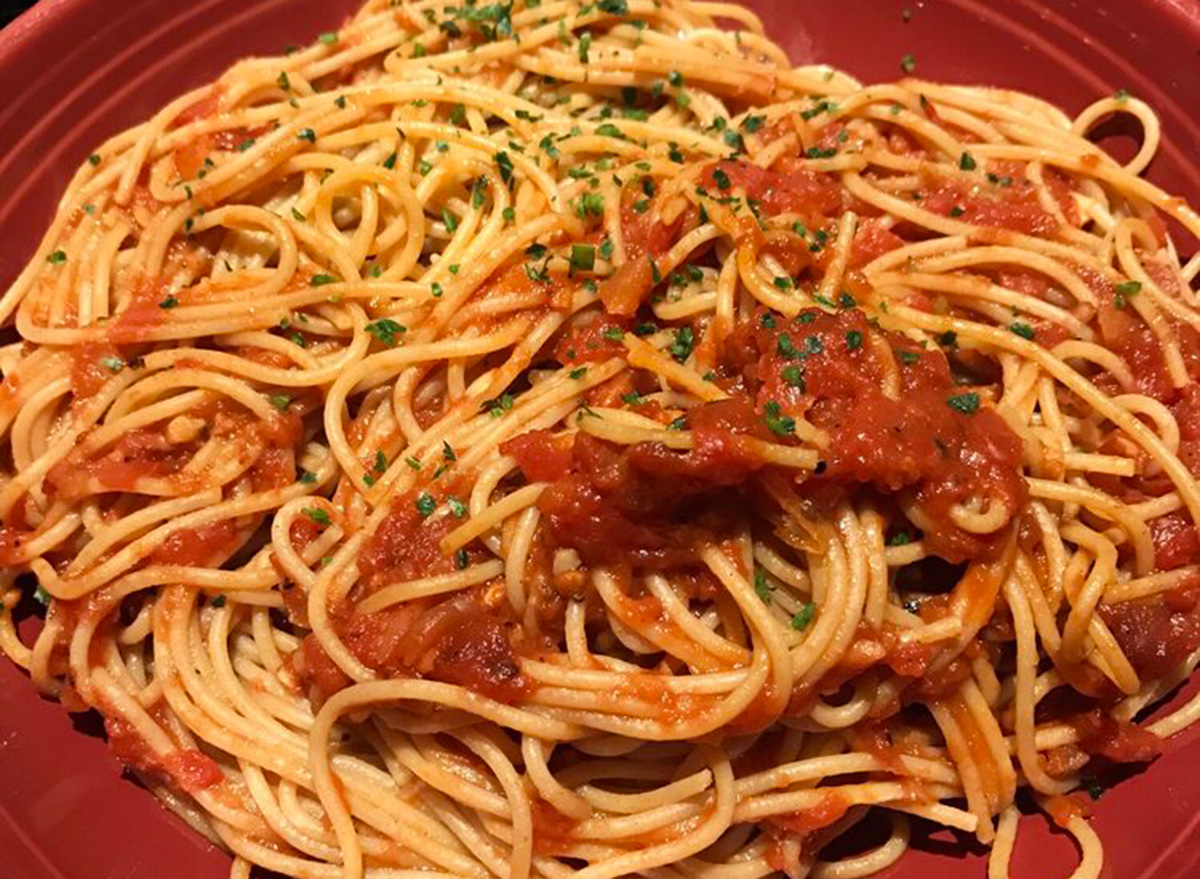 630 calories, 11 g fat (2 g saturated fat, 0 g trans fat), 2,010 mg sodium, 112 g carbs (23 g fiber, 17 g sugar), 23 g protein
Pasta isn't always a bad option! Sometimes, the high amounts of fat and excessive calories are actually hiding in the sauce. That is why options like the whole grain spaghetti with Pomodoro sauce are a bit healthier, although you still want to be aware of the sodium levels.
"At 630 calories, this whole-grain pasta dish is still high in sodium, but has the lowest number of calories and saturated fat than any other pasta dish on the menu," Pine says. "Plus, it has a whopping 23 grams of fiber. The portions are large, so it is best to ask for a to-go box."
Worst: Pasta Georgio with Whole Grain Pasta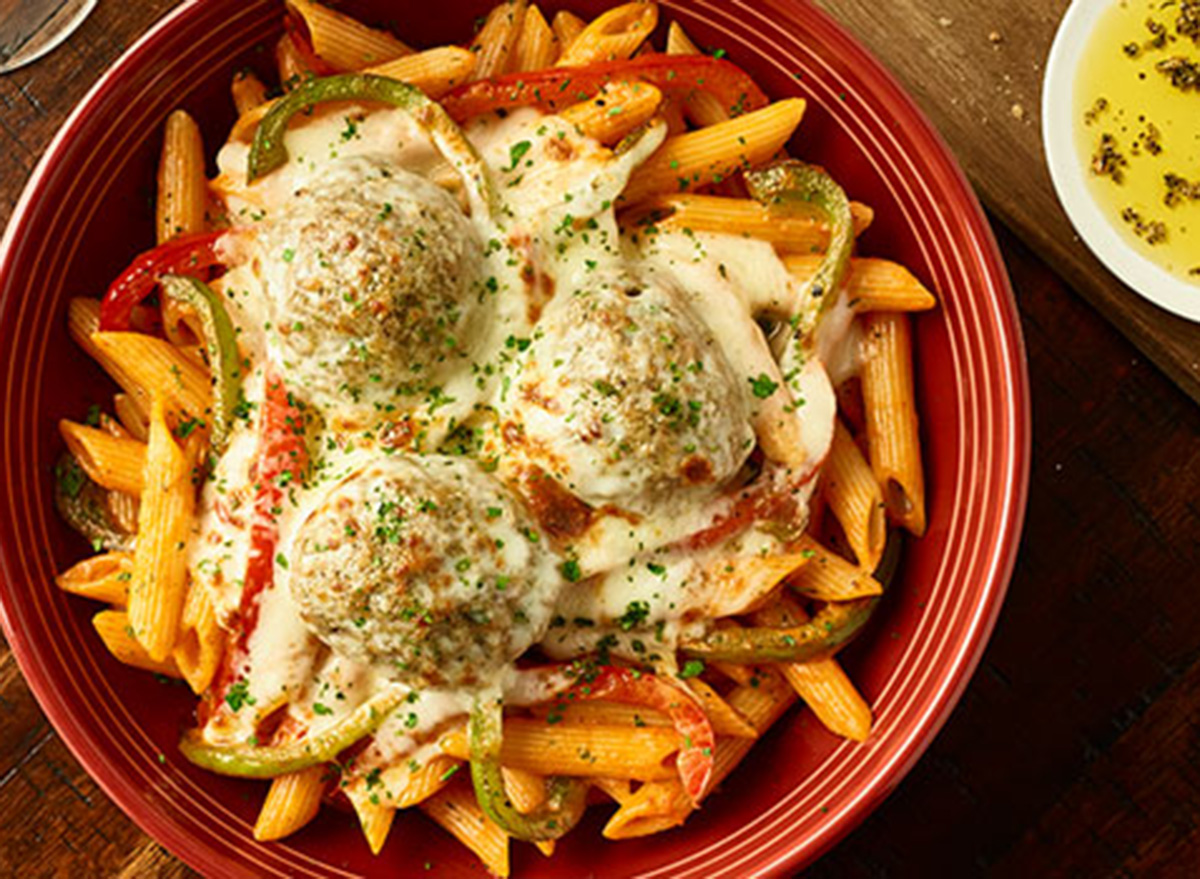 1510 calories, 81 g fat (42 g saturated fat, 1 g trans fat), 3,610 mg sodium, 118 g carbs (24 g fiber, 16 g sugar), 76 g protein
Whole grain pasta sounds healthy, and it can be, but this deceptive dish is filled with unhealthy fats, sodium, and calories.
"Just because this pasta dish has whole grain pasta, doesn't mean it's good for you," Pine says. "There's the equivalent amount of saturated fat in six tablespoons of butter, and the same amount of salt as eating approximately 15 dill pickle spears!"
Chicken & More
Best: Tuscan Grilled Chicken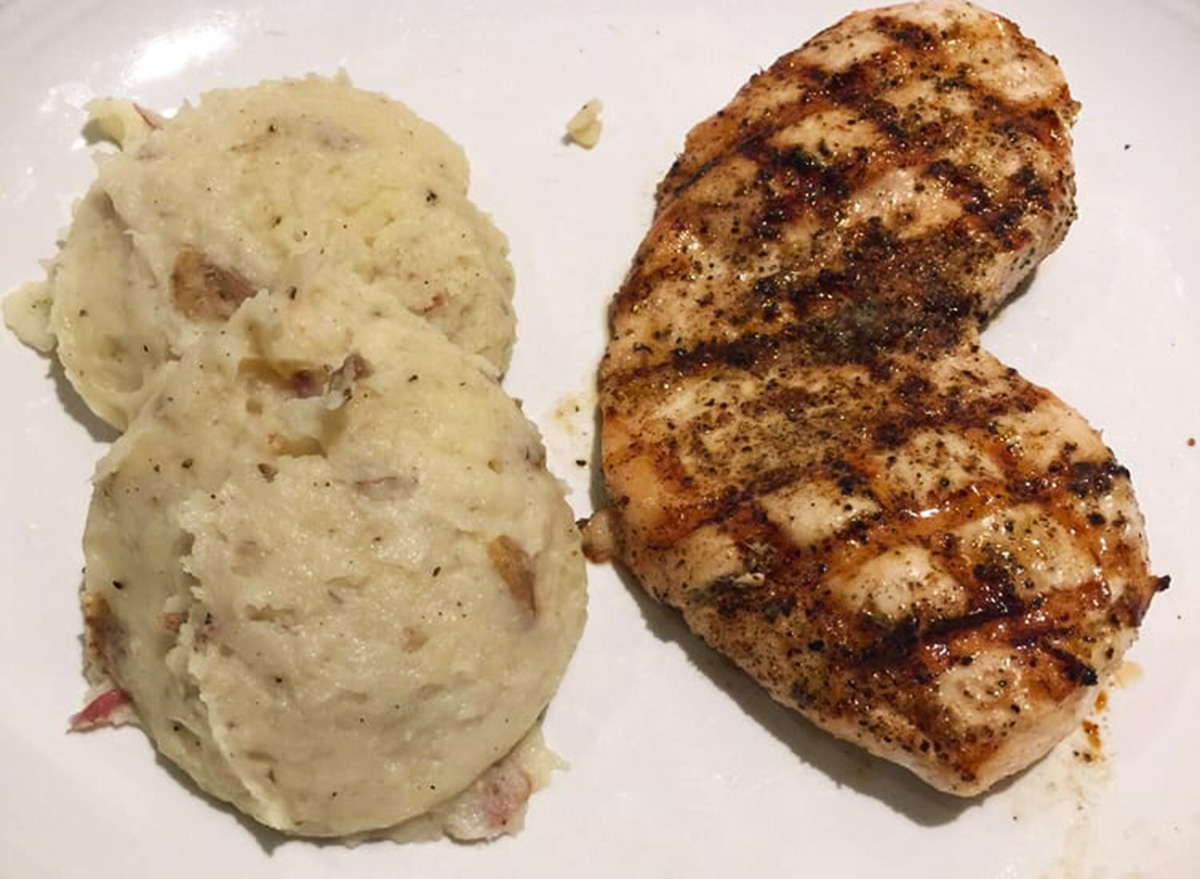 290 calories, 7 g fat (2 g saturated fat, 0 g trans fat), 790 mg sodium, 1 g carbs (0 g fiber, 0 g sugar), 52 g protein
Grilled chicken is often touted for its health benefits, and luckily, Carrabba's offers a delicious Tuscan grilled chicken that is very low in carbs and calories and will pair well with the healthier small plates, sides, or salads.
Pine said that those who are concerned with sodium intake might try asking for the meat sans added salt on the chicken.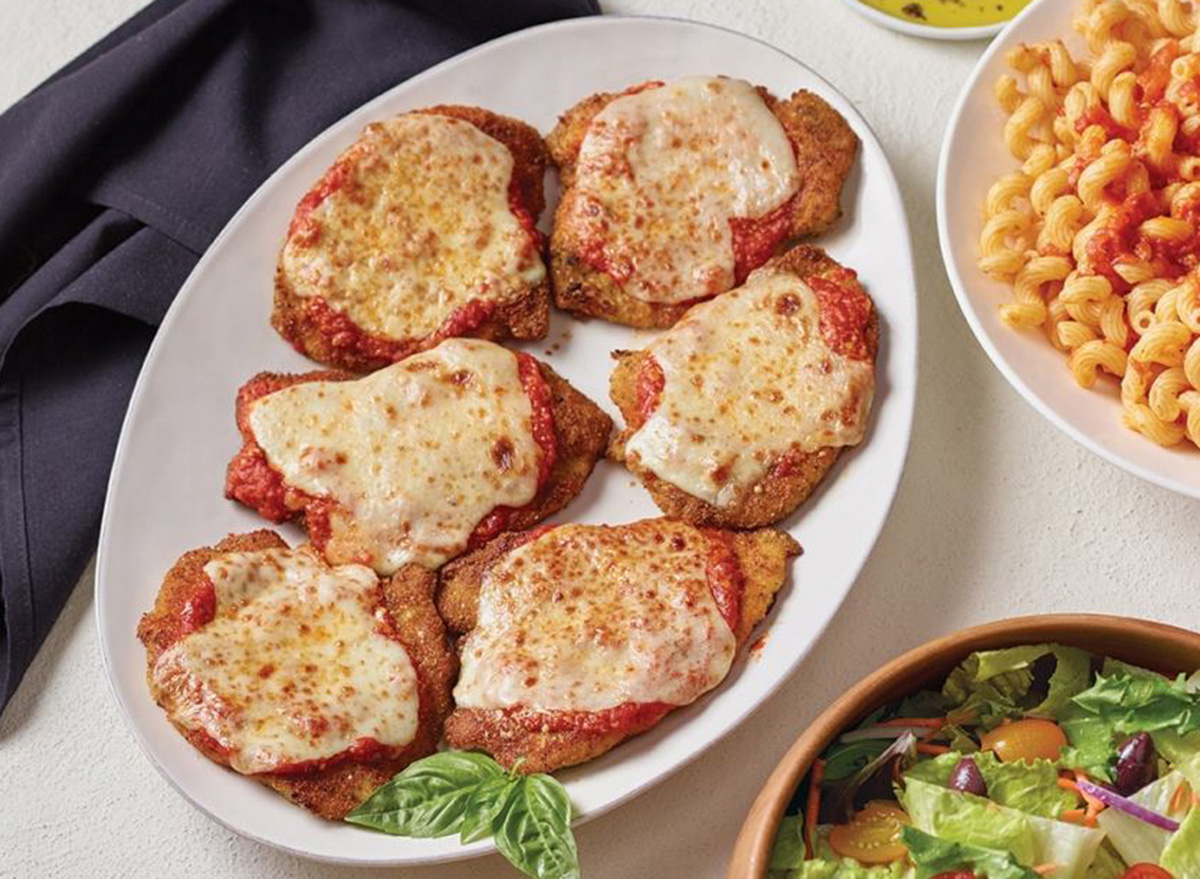 690 calories, 34 g fat (15 g saturated fat, 0.5 g trans fat), 1,950 mg sodium, 26 g carbs (7 g fiber, 12 g sugar), 69 g protein
Chicken is typically regarded as a lean protein that is good for health, but when it is smothered in sodium-laden sauce and oodles of greasy, melted cheese, the health benefits quickly go out the window.
Pine noted that the chicken Parmesan doesn't have the highest number of calories in this menu category, but calories don't always determine nutritional value. She explained that this dish has the highest amounts of both saturated and trans fats, as well as sodium, that nearly exceeds the higher end of the recommended daily limits.
Seafood
Best: Simply Grilled Mahi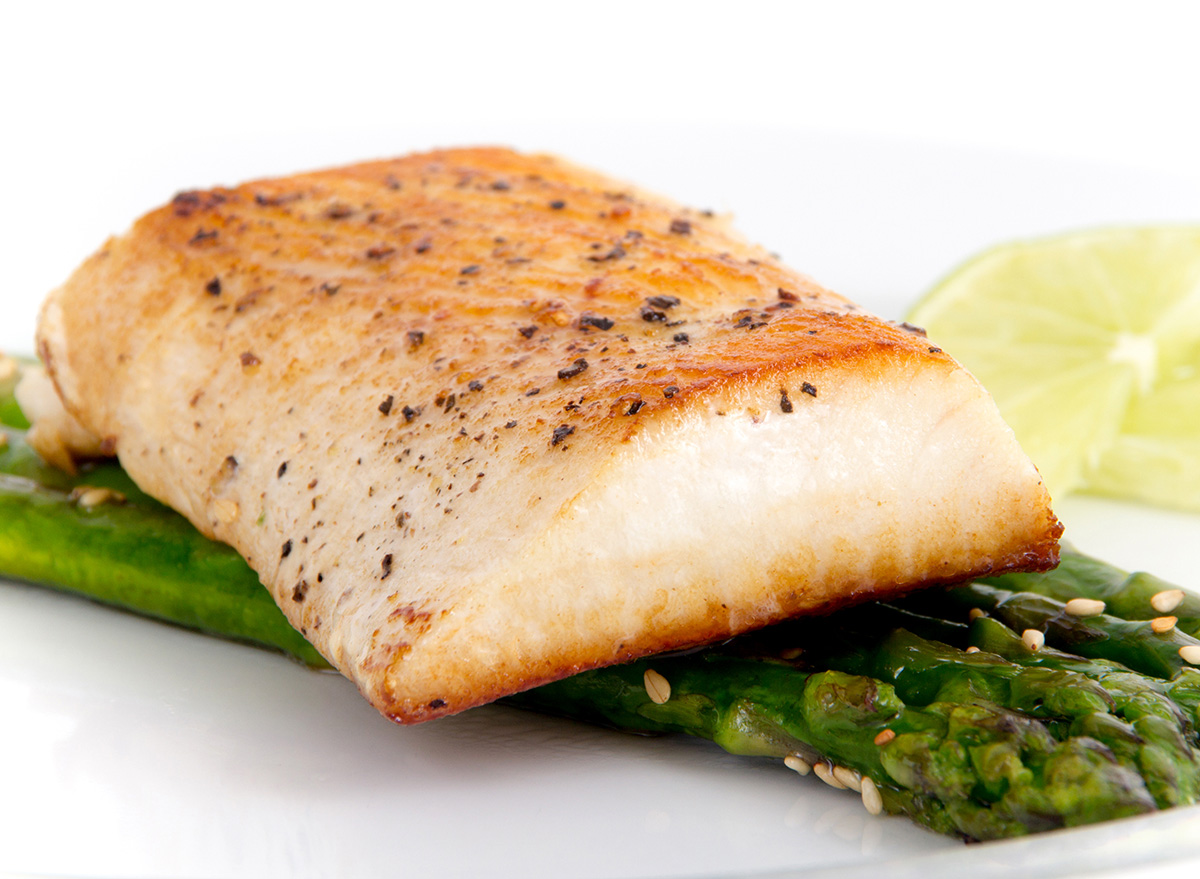 210 calories, 6 g fat (1 g saturated fat, 0 g trans fat), 1780 mg sodium, 3 g carbs (1 g fiber, 1 g sugar), 37 g protein
For a lean option that is low in calories and fat, the Mahi still offers plenty of flavor, thanks to its grilled exterior.
"At only 210 calories, this entree gives you quite a bit of wiggle room for other items in the meal," Pine explained. "My only complaint is the high amount of sodium at 1,780 milligrams. Try asking the kitchen to use less salt than usual when salting the fish."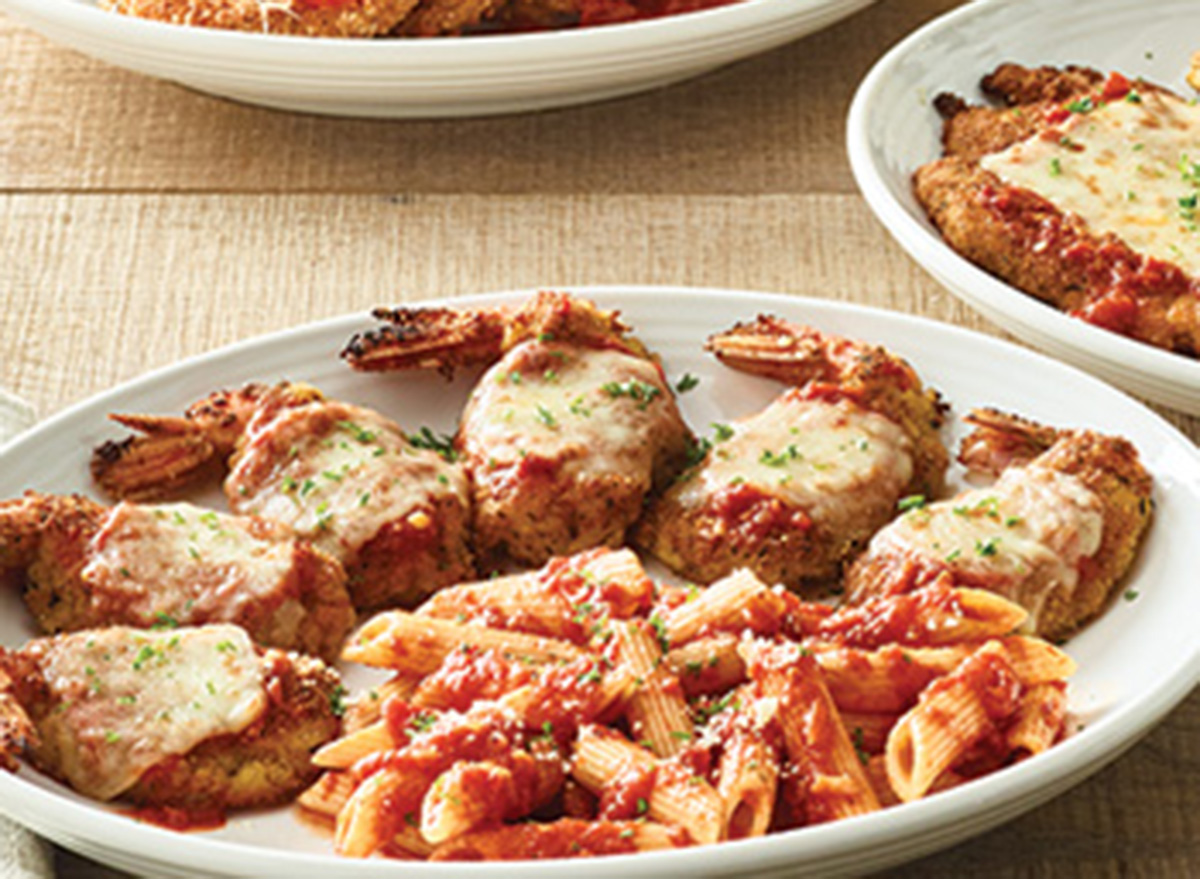 970 calories, 65 g fat (18 g saturated fat, 0 g trans fat), 2610 mg sodium, 37 g carbs (4 g fiber, 8 g sugar), 55 g protein
Just as the chicken Parmesan is the unhealthiest option in the chicken category, the shrimp Parmesan does not bode well for the seafood category. Pine explained that the calories in this dish alone are about half of what the average person should consume in an entire day, and the amount of sodium is similar to pouring a full teaspoon of salt on your meal.
Steaks & Chops
Best: 6 oz Tuscan Grilled Sirloin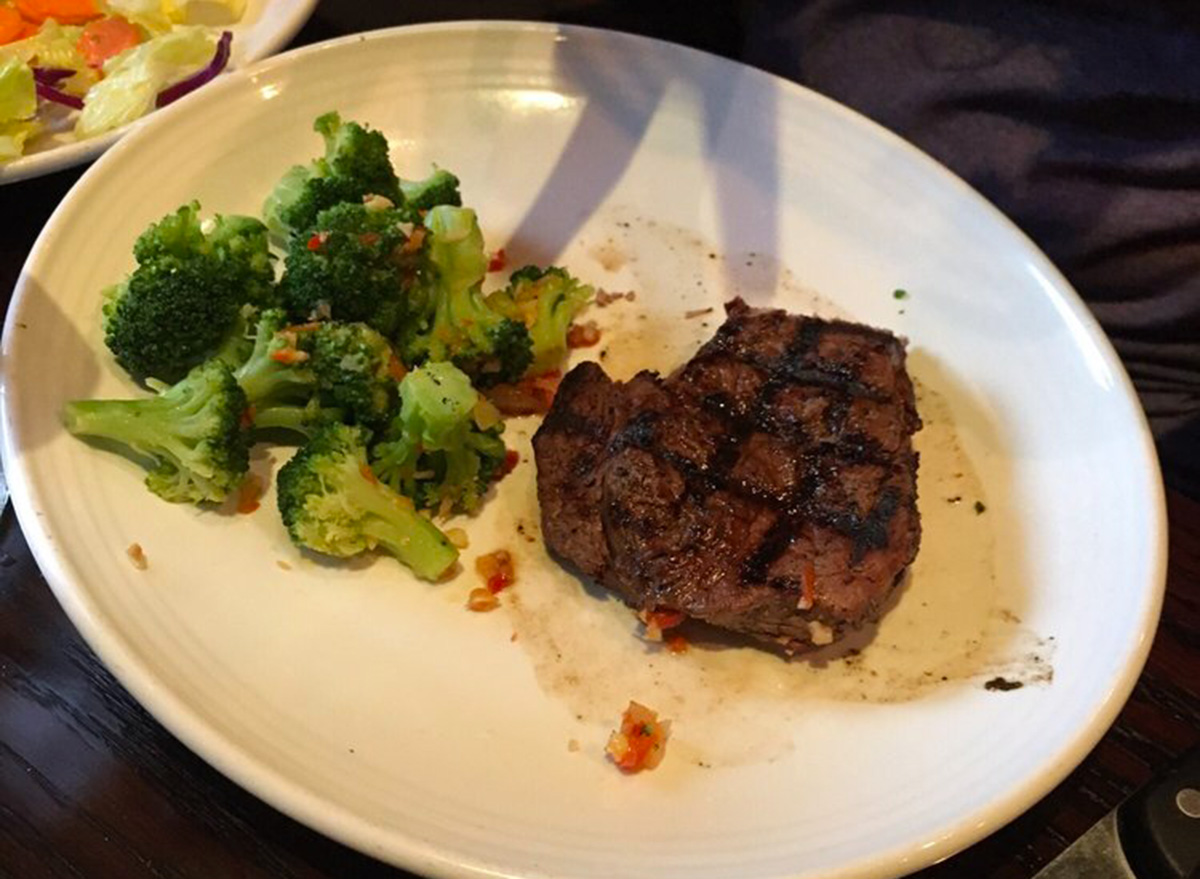 320 calories, 19 g fat (8 g saturated fat, 0 g trans fat), 400 mg sodium, 1 g carbs (0 g fiber, 0 g sugar), 34 g protein
Grilled meat is a flavorful way to meet your protein needs, and the 6-ounce Tuscan grilled sirloin is the ideal size that is lower in calories and sodium than most other things in this category and on the entire menu.
"Protein portions in restaurants are usually too large, so I would opt for this 6-ounce sirloin at 320 calories," Pine said. "Sirloin is also a leaner option, with less fat than the ribeye. Since the entrees come with soup or salad, this steak would allow for one of those without breaking the calorie bank. Or, for an extra charge, you can substitute grilled asparagus for the soup or salad. I really love that there are only 400 milligrams of sodium in this option, which is pretty good for a restaurant dish. I would order the simply grilled version, which is prepared with Mr. C's Grill Baste, olive oil, and herbs."
Although there is the option to add a topping, Pine suggests skipping it to avoid excess calories, fat, and sodium.
Worst: Tuscan Grilled Pork Chops with Scampi Topping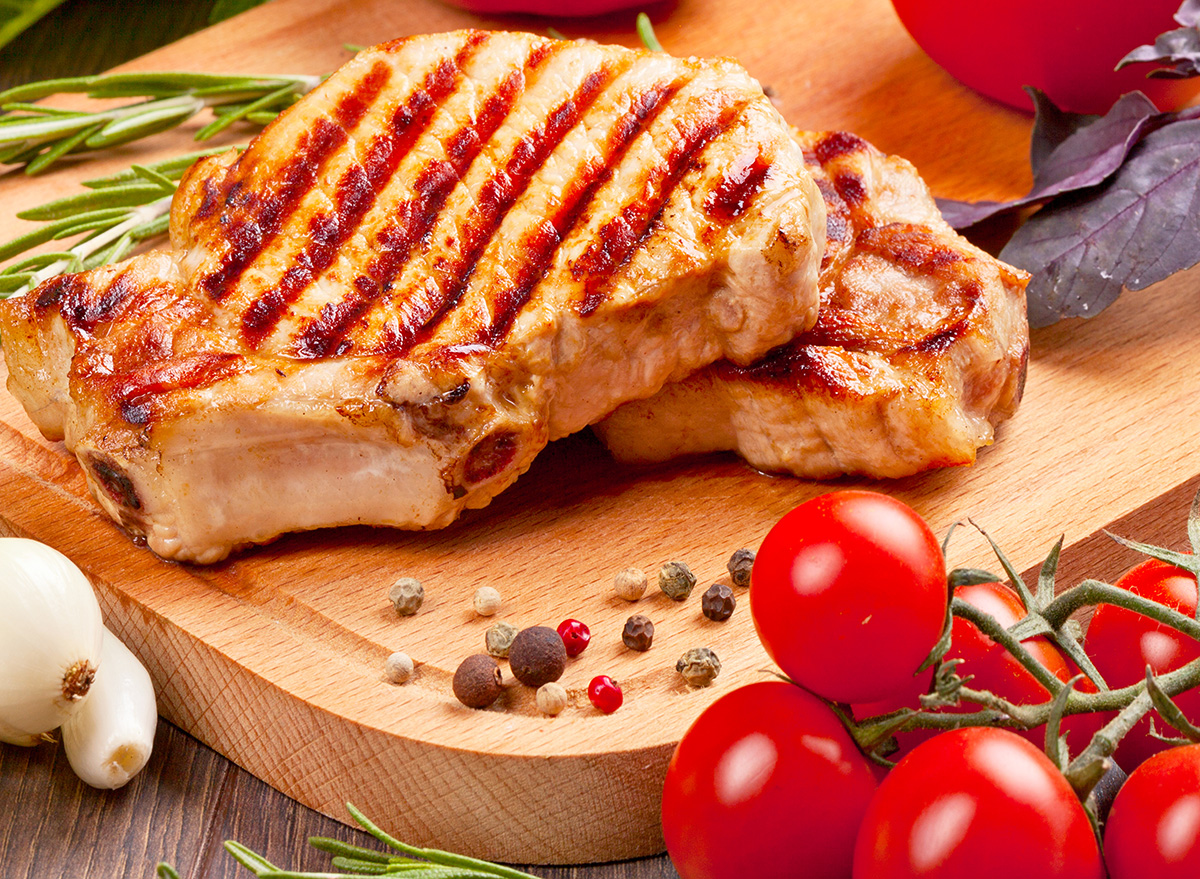 1030 calories, 59 g fat (21 g saturated fat, 0 g trans fat), 2430 mg sodium, 9 g carbs (1 g fiber, 2 g sugar), 108 g protein
It's obvious that ordering two pork chops, a fatty cut of meat, with a rich, creamy topping will be loaded with fat and sodium. If you do decide to indulge, it's best to share the dish with someone.
"This monstrous protein portion of two chops with the extra topping will set you back 1,030 calories, 21 grams of saturated fat, and 2,430 milligrams of sodium," Pine warns. "And that's without the soup or salad that comes with the dish. That's more sodium than what is recommended in an entire day and equivalent to eating approximately seven dill pickle spears."
Sides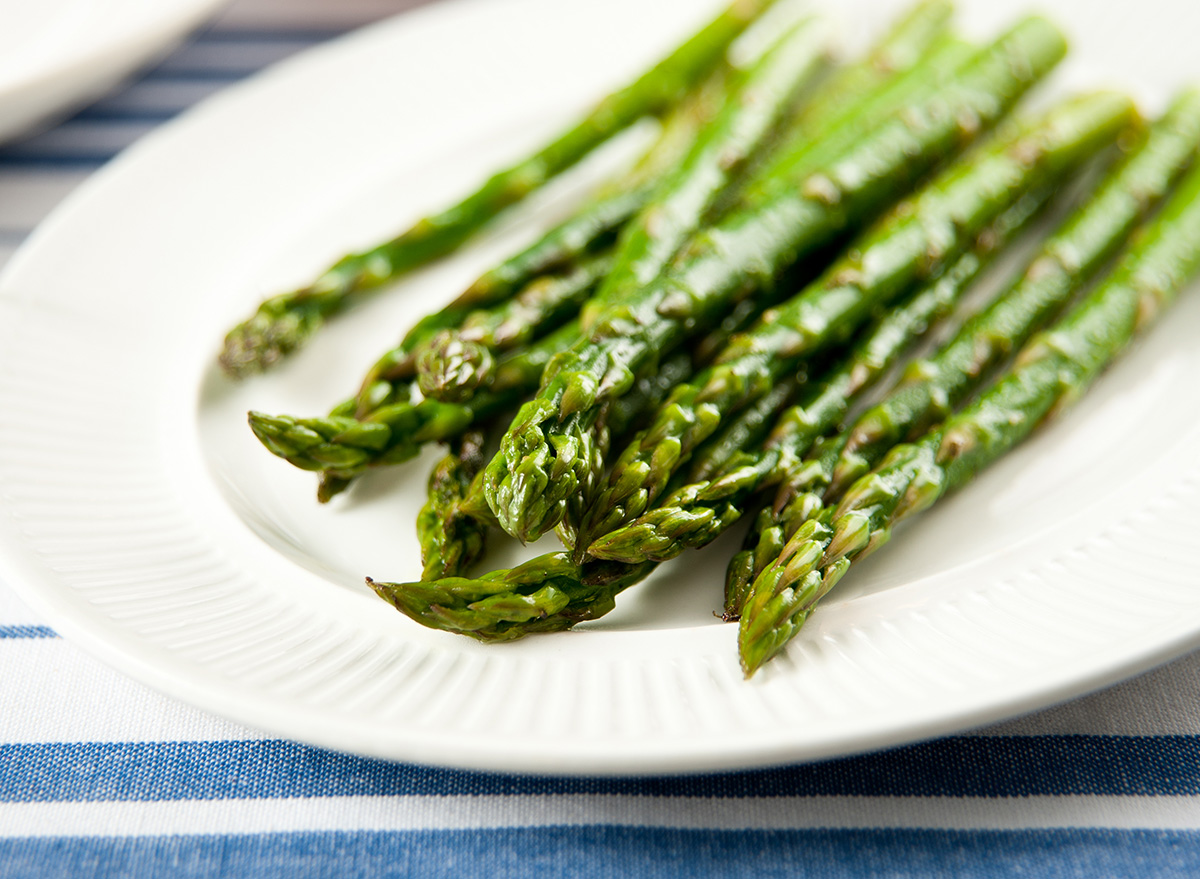 25 calories, 0 g fat (0 g saturated fat, 0 g trans fat), 0 mg sodium, 4 g carbs (2 g fiber, 2 g sugar), 2 g protein
If you're looking for a side dish that is delicious and filled with nutritional benefits, the steamed asparagus is your best bet.
"Steamed asparagus is the perfect choice for a healthy side dish," Pine said. "It's packed full of vitamins like C, A, K, and folate, and it's super low in calories. This is the perfect choice to accompany your protein."
Worst: Fettuccine Alfredo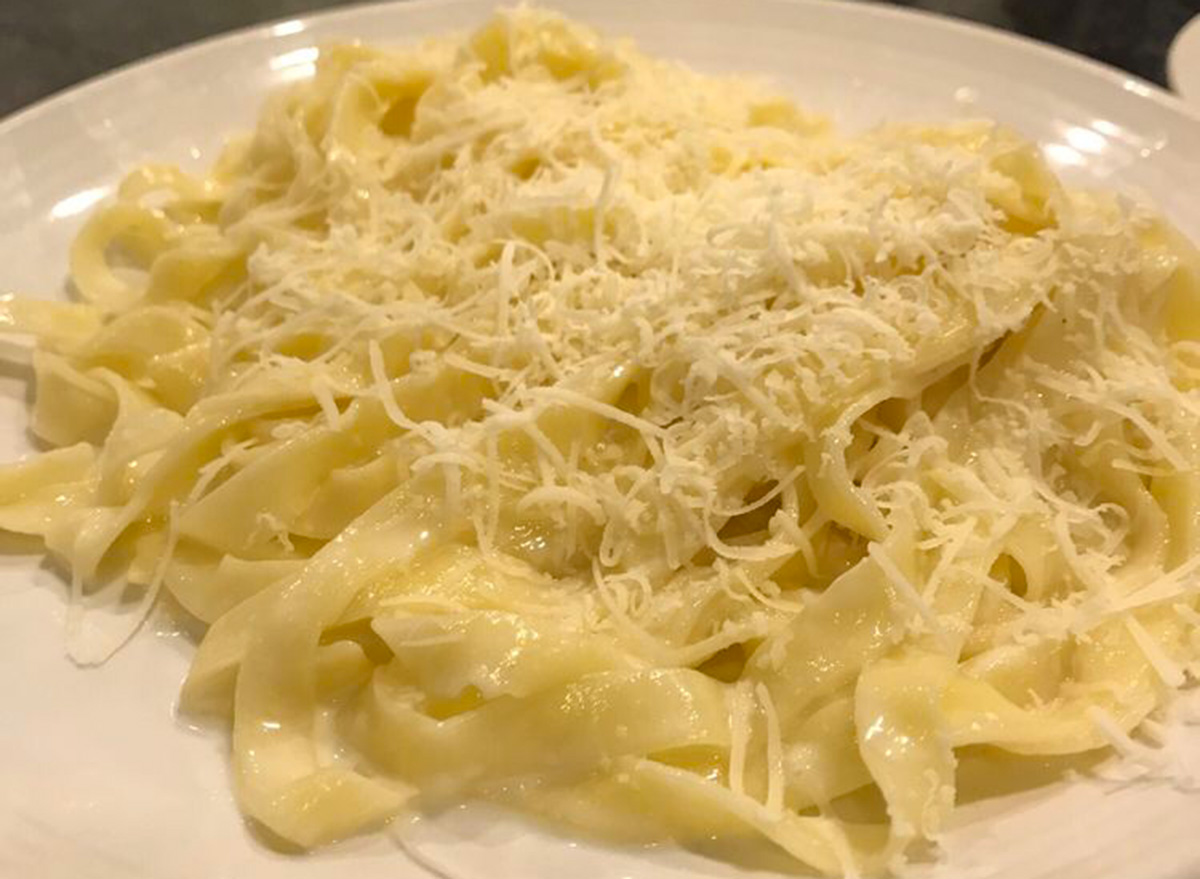 6254a4d1642c605c54bf1cab17d50f1e
690 calories, 49 g fat (33 g saturated fat, 1 g trans fat), 860 mg sodium, 39 g carbs (2 g fiber, 3 g sugar), 18 g protein
Fettuccine Alfredo is known for its creamy, cheesy, high-calorie, and fatty sauce. This side dish is no exception, which is alarming especially because it is meant to be just that—a side dish accompanying a full meal.
"This side dish is more like an entree at almost 700 calories and 33 grams of saturated fat from the cream and cheese," Pine says. Comparatively, for someone eating 2,000 calories a day, it is recommended to consume a maximum of 20 grams of saturated fat. This excess saturated fat can spell trouble for your heart and arteries.
Desserts
Best: Traditional Cannoli
470 calories, 186 g fat (22 g saturated fat, 1 g trans fat), 85 mg sodium, 40 g carbs (2 g fiber, 24 g sugar), 7 g protein
You don't have to completely avoid the cannoli if you want a treat after dinner. Just be sure to reserve it for occasional consumption—and forgo the cake option.
"At 470 calories and 24 grams of sugar, the cannoli is by far the least offensive choice on the dessert list," Pine said.
Following a meal of lean protein, like the Simply Grilled Mahi or Tuscan Grilled Chicken, with a side salad or steamed asparagus, the cannoli can play an important role in a nourishing meal at Carrabba's—it can nourish your soul!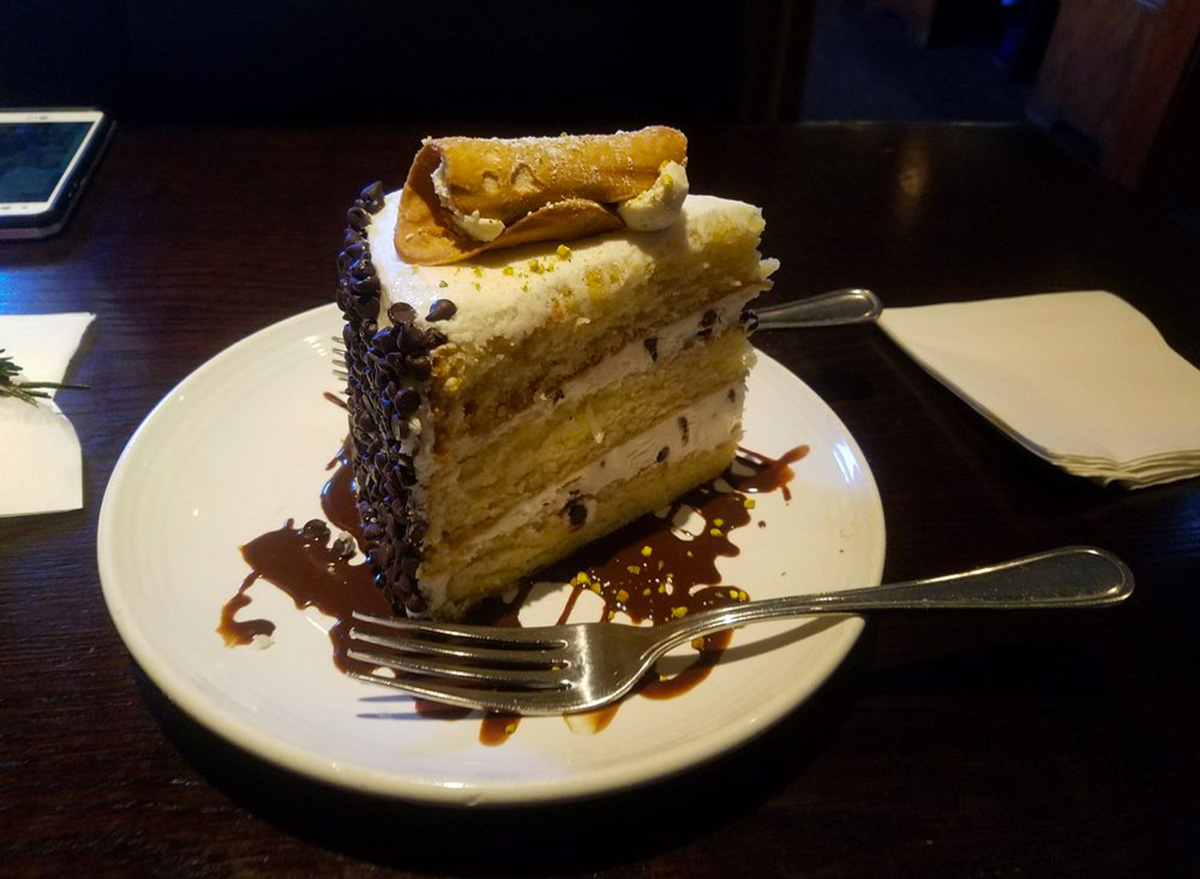 1,440 calories, 154 g fat (40 g saturated fat, 1.5 g trans fat), 780 mg sodium, 181 g carbs (5 g fiber, 128 g sugar), 19 g protein
As we already mentioned, you're going to want to save the cannoli cake for a very special celebration, and be sure to split the slice up so quite a few people are eating it. Even someone with the most intense sweet tooth will be shocked by the amount of sugar in one slice of this cake.
"I hope you're sharing this cake with multiple people, because it comes in at 1,440 calories and 128 grams of sugar—that's like dishing out 32 teaspoons of sugar to yourself!" Pine said. "To put that in perspective, men and women should limit added sugars to about 9 and 6 teaspoons per day, respectively."
Paige Bennett
Paige is a Los Angeles-based editor and freelance writer. In addition to writing for Eat This, Not That!, she works as the content editor for Inhabitat.
Read more about Paige