The Starbucks Pumpkin Spice Latte Has as Much Sugar as 3 Twinkies
We take a closer look at the nutrition for the Starbucks Pumpkin Spice Latte—and the results are shocking!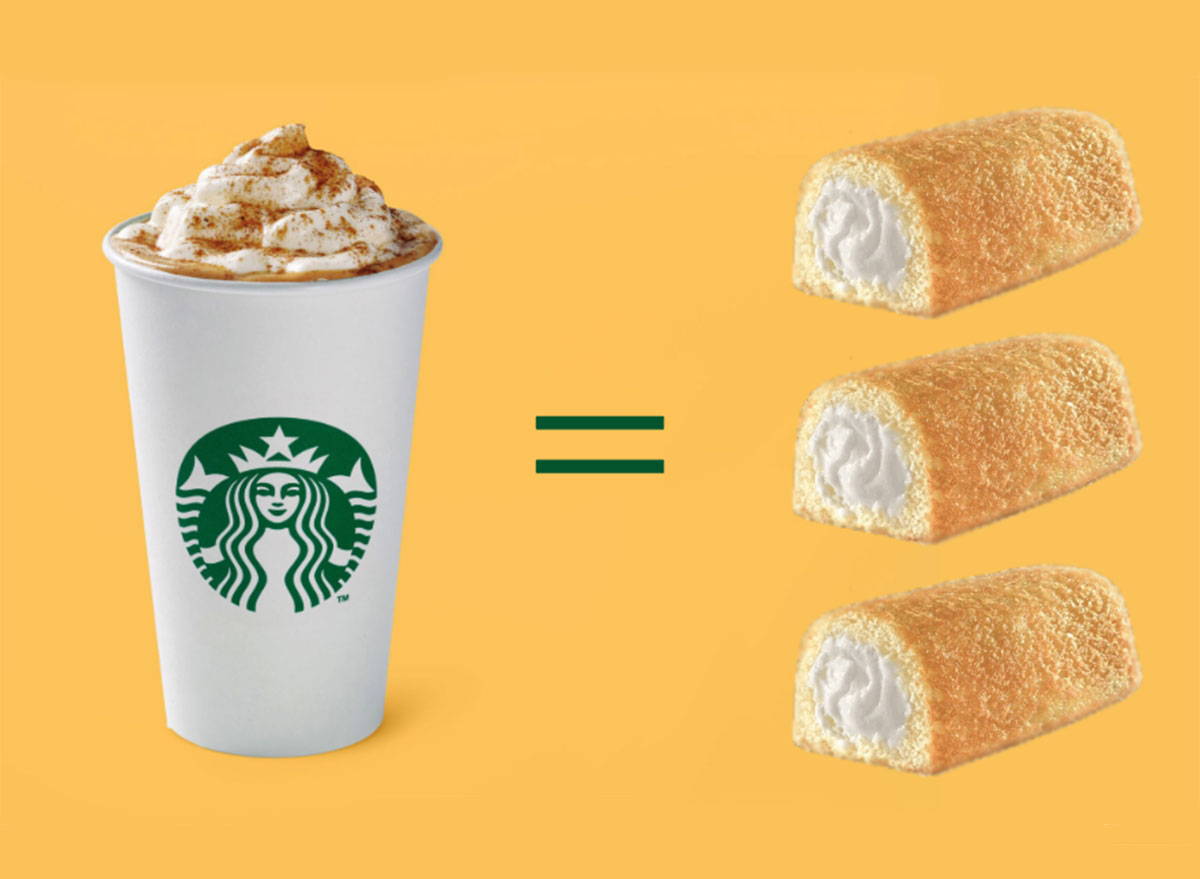 Although fall technically starts in late September, we all know that the season really starts during the annual release of the Pumpkin Spice Latte at Starbucks. Even if that means the release happens in the heat of summer, which took place earlier than ever this year on Aug. 27. While this pumpkin dream of a drink is tempting to cozy up with, we can't help but wonder how unhealthy the Pumpkin Spice Latte really is with its whip, its syrups, and its decadent sauces we all know and love. We took a look at the nutritional information, and here's what we found.
So how much sugar is in the Pumpkin Spice Latte?
Even though the Pumpkin Spice Latte doesn't have nearly as much sugar as the Tie-Dye Frappuccino, which was released for a limited time, the sugar content for the PSL is still pretty high up there. A grande (16 oz.) size PSL made with 2 percent milk and whipping cream racks up a total of 50 grams of sugar. To put this into perspective, that's more than the amount of sugar in three Twinkies cakes, which total at 16.5 grams of sugar each.
Having a treat every now and then is obviously OK, it's just important to learn moderation and portion control. Consuming 50 grams of sugar is actually the recommended limit of added sugars for someone who consumes a 2,000 calorie diet. So if you plan on indulging in a PSL, just make sure to balance out the rest of your meals for the day.
What's really in the PSL?
The PSL has a few ingredients that hide a ton of those added sugars. The full ingredient list for a PSL includes milk, Pumpkin Spice Sauce, brewed espresso, whipped cream, vanilla syrup, and pumpkin spice topping. The Pumpkin Spice Sauce and the vanilla syrup are the two ingredients causing your drink to equate to three Twinkies (or five Krispy Kreme donuts) worth of sugar. The first ingredient in both of the sauce and syrup is sugar.
Grande size
: 380 calories, 14 g fat (8 g saturated fat), 240 mg sodium, 52 g carbs (0 g fiber, 50 g sugar), 14 g protein
Yes, you can try cutting down the sugar.
Now if you're in the mood for some pumpkin spice but don't feel like consuming all of that sugar, there are a few ways to cut down sugar and still enjoy the delicious pumpkin flavor you consume.6254a4d1642c605c54bf1cab17d50f1e
Order a tall (12 oz.) size instead of a grande (16 oz.) latte, and don't add the extra whipping cream. You'll save 140 calories, 9 grams of fat, and 13 grams of sugar.
Order the new Pumpkin Cream Cold Brew instead! This brew only has 31 grams of sugar per 16 oz. cup, and if you order a 12 oz. it's only 17 grams. The Pumpkin Cream Cold Brew also cuts down the calories at just 250 per 16 oz. cup, compared to the PSL with 380 (with whipped cream).
You could skip the line at Starbucks and enjoy that delicious Pumpkin Spice flavor right at home with some of our healthy pumpkin spice recipes.