13 Recipes You Didn't Know You Could Make on a Sheet Pan
A few unusual meals that have easy clean-up!
If asked, any busy cook would probably list the sheet pan as one of the most indispensable tools in the kitchen. A sheet pan is not just for baking cookies, it also serves a multitude of needs. With a lip that holds in liquids and a shape that fits perfectly in the oven, it was no surprise when it became popular for one-pan dinner recipes. Since then, home cooks have been making platters of roasted chicken and vegetables, seafood bakes, and more. But did you know there is so much more the humble sheet pan can do?
From breakfast to dessert, see what delicious recipes your sheet pan can make so much easier. Plus, don't miss 21 Healthy One-Pot Chicken Recipes for Busy Weeknights.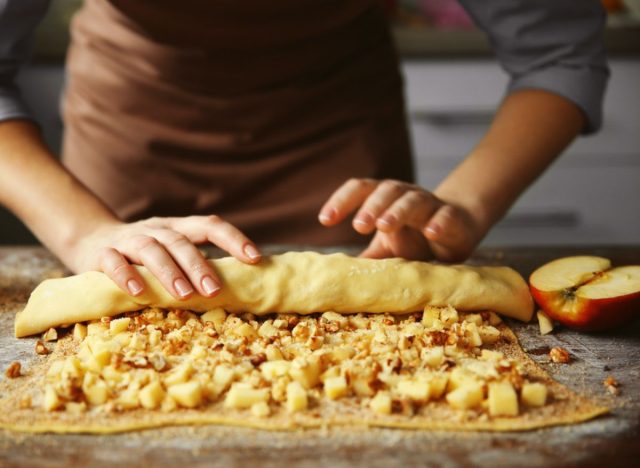 Sometimes, making a giant apple pie and topping it with cold vanilla ice cream is all you have to do to satisfy a crowd. This recipe from Tip Buzz uses tortillas and pie filling to make a thin-crust slab pie that fills the whole space of a sheet pan. Don't feel limited to ice cream. Other suggested toppings are caramel sauce and whipped cream.
Get the recipe from Tip Buzz.
Making fajitas on a sheet pan is the easiest way to get all of the veggies and meat together in one place. You basically take everything toss it on a sheet pan with olive oil and seasoning and cook until caramelized and browned. Then everyone puts together their own fajitas with guacamole, cheese, and sour cream.
Get our recipe for Sheet Pan Chicken Fajitas.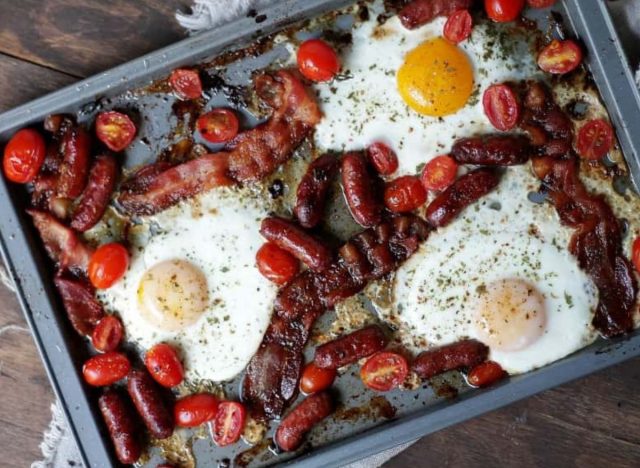 A popular recipe in this roundup of sheet pan meals called Bacon and Eggs Breakfast Bake is the best way to make breakfast for a crowd. The recipe, originally published on Diethood is a one-pan mashup of sausage, bacon, eggs, and tomatoes.
Get the recipe from Diethood.6254a4d1642c605c54bf1cab17d50f1e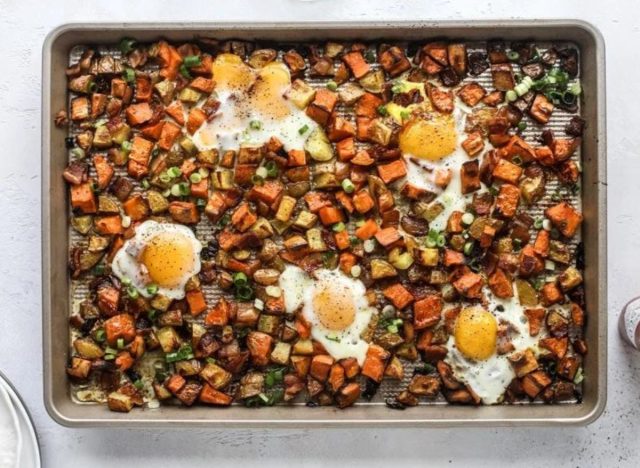 Making breakfast hash takes a long time on the stove. You're looking for crispy browned bits that inevitably turn into a charred mess if you don't keep an eye on the pan. Using a sheet pan keeps the temperature steady so you can forget about it and come back to perfect. This recipe from How Sweet Eats is perfection.
Get the Sweet Potato Sheet Pan Breakfast Hash from How Sweet Eats.
We didn't really have a name for this next recipe, but it is certainly unique. This sheet pan creation by Hip2Save has not one, but four decadent cream cheese dips, separated by balls of pizza dough. Baked in the oven, these crusts come out baked and ready to use for dipping.
Get the recipe from Hip2Save.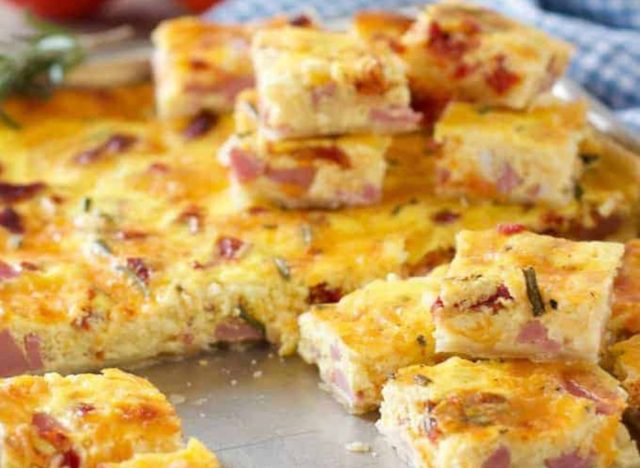 Sheet pan quiche gives you more than just a few servings. This recipe for egg goodness from Laughing Spatula can feed a crowd or be cut into small bites for an easy appetizer.
Get the recipe from Laughing Spatula.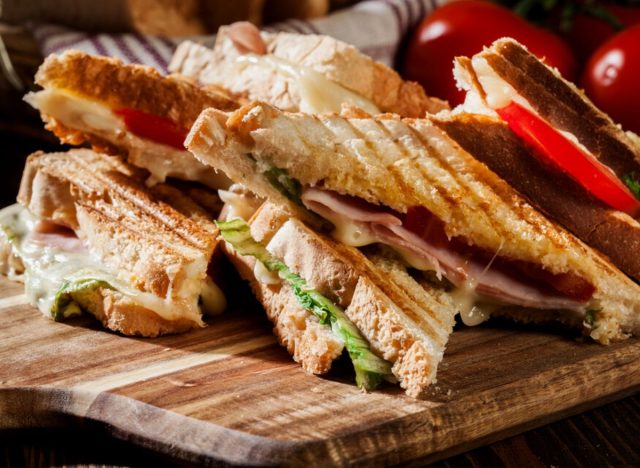 Tasty brings us this easy way to make panini variations like Chicken Bacon Ranch Cheesesteaks, Turkey Bacon Avocado, Roast Beef, and Tomato Bacon Mozzarella all on the same sheet pan. This roundup pretty much takes care of every sandwich need.
Get the recipe from Tasty.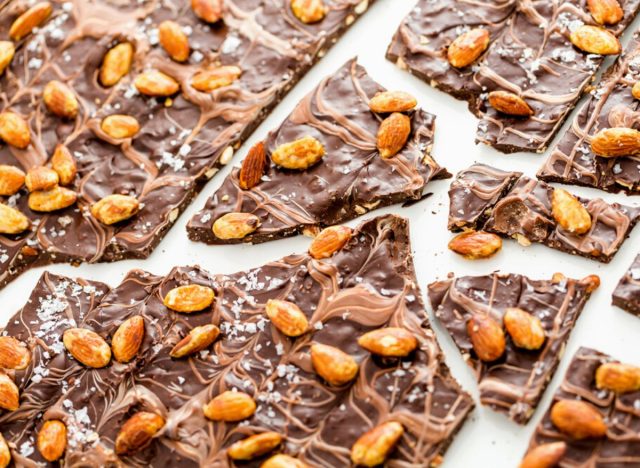 Just like the sandwich recipe, this sheet pan video by Tastemade makes many different candy bars at once. Try their copycat Reese's, Almond Joy, Butterfinger, and Snickers recipes.
Get the recipe from Tastemade's YouTube.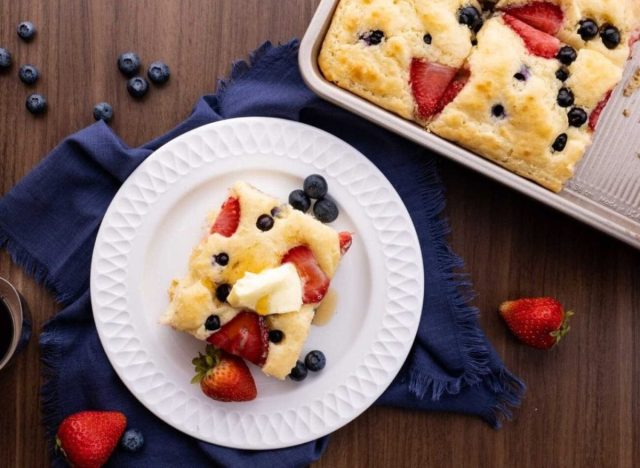 Nothing makes a big family breakfast possible like a sheet pan. No more standing around the stove making pancake stacks. This recipe by Dinner Then Dessert makes the process one simple step.
Get the recipe from Dinner Then Dessert.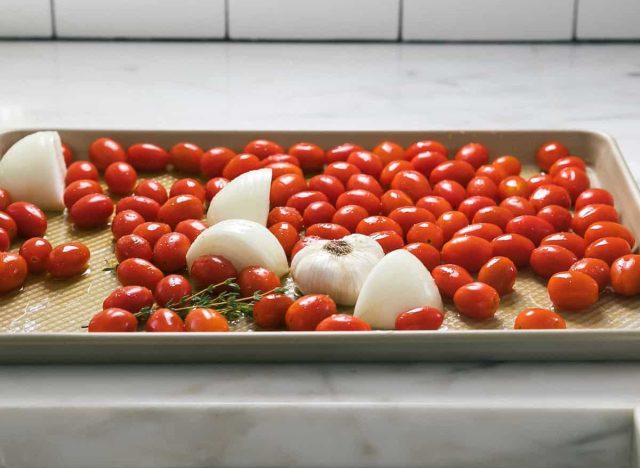 What? You can make soup on a sheet pan? A Cozy Kitchen says we can! Once everything is deliciously roasted in the oven, simply process it in a blender. So easy.
Get the recipe from A Cozy Kitchen.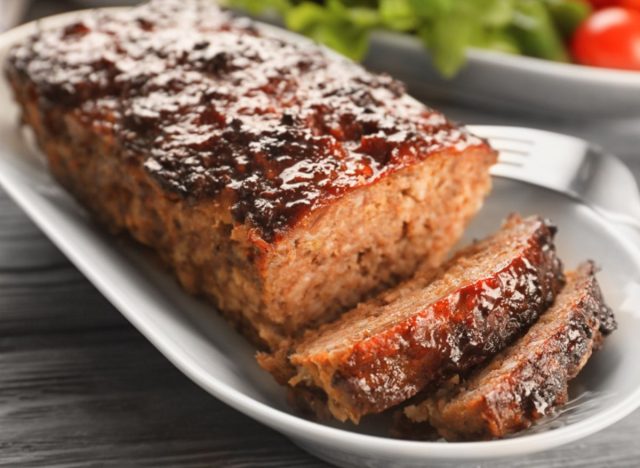 We're not talking about a mound of meatloaf on a sheet pan. This recipe spread the meat out so that it cooks evenly in a fraction of the time. Plus, you get more of the amazing glaze that makes meatloaf irresistible.
Get the recipe from Food Network.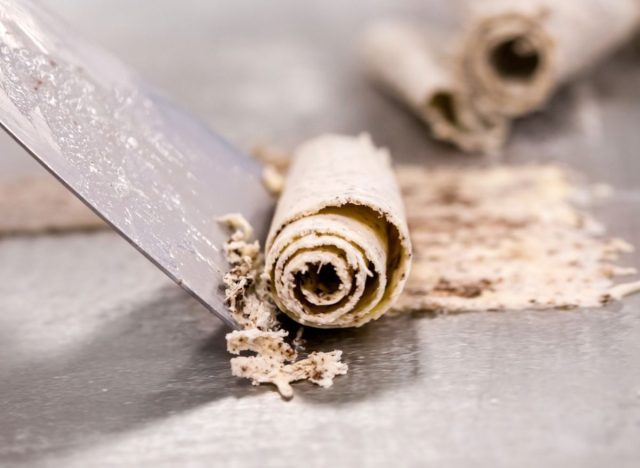 Get the recipe from The Kitchn.
There's no giant marble slab required for this do-it-at-home recipe by The Kitchn. It's important to make sure you have the freezer space before you try it. Sheet pans are a little large and for ice cream, need to be level. The end result is perfect served with some whipped cream on top and a few extra sprinkles.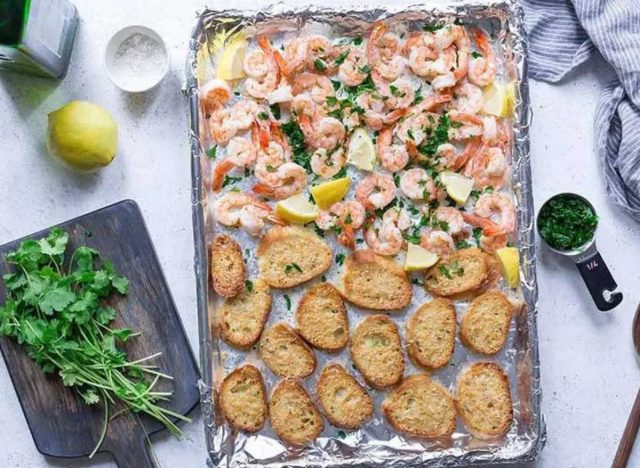 Don't stand over a hot stove to make perfect lemony shrimp scampi, just use your sheet pan! As this easy Savory Simple recipe says, "using tongs to flip 15+ shrimp quickly when I'm trying to cook them perfectly can make preparing an easy protein feel a little stressful." Cooking everything on a sheet pan takes the kitchen aerobics out of the process. 
Get the Sheet Pan Shrimp Scampi from Savory Simple.
If you have a beloved recipe that just takes too long or has too many things to clean up at the end, try to adapt it to your trusty sheet pan. You never know, you could find a whole new recipe to add to your weekly rotation.