20+ Healthy Sheet Pan Chicken Recipes Perfect for Weight Loss
These sheet pan recipes are not only healthy, but also make for easy cleanup.
We'll just come right out and say it—sheet pans are a lifesaver. Easy to use, and even easier to store, sheet pans are a total game-changer. Want a quick, healthy dinner dish with a simple clean-up? Just chop up some vegetables, marinate some chicken, and toss it all on a sheet pan. In close to no time you'll have a scrumptious meal that took little to no effort to put together.
Because sheet pans are the ultimate tool to use during a time crunch, we put together a whole list of chicken sheet pan recipes that are perfect to make during those busy weeknights or action-packed weekends. From options that incorporate warming details, such as ginger and garlic, to others that require only a handful of ingredients (hello, 5-ingredient BBQ Chicken!) these simple sheet pan chicken recipes will become your new go-to's any night of the week. Plus, don't miss 13 Recipes You Didn't Know You Could Make on a Sheet Pan.
This dinner dish has all that tangy barbecue flavor without having to fire up the grill. Made using fresh broccoli florets, diced sweet potato, and barbecue sauce-smothered chicken legs, this 5-ingredient recipe is both delicious and convenient.
Get our recipe for 5-Ingredient BBQ Chicken.
For this simple recipe, which can be ready to eat in just 30 minutes, all you need to do is throw some chicken, chopped bell pepper, and sliced onion onto a sheet pan and into the oven. We love how customizable this recipe is—get creative and load up your fajitas with sour cream, cheese, and other tasty toppings.
Get our recipe for Chicken Fajitas.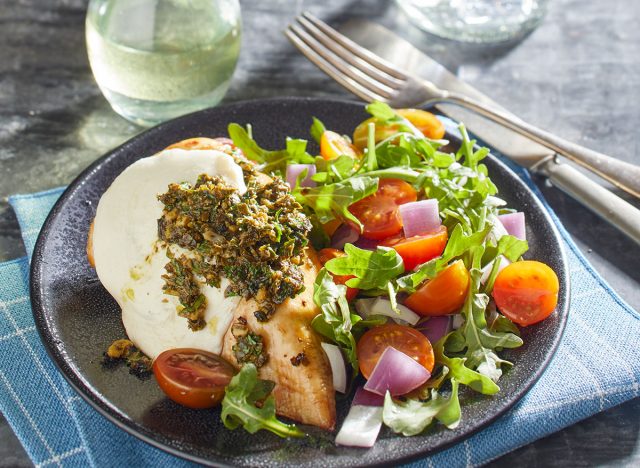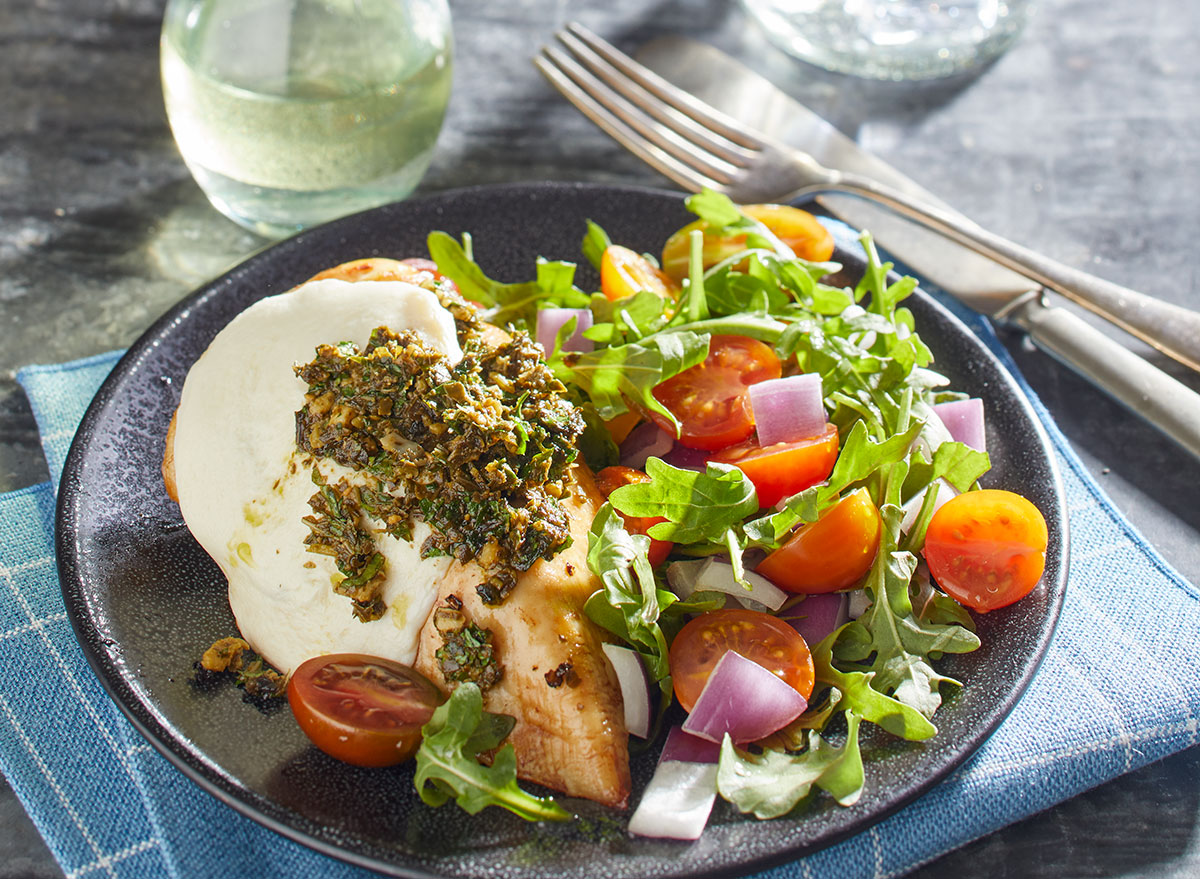 This easy-to-make recipe, which calls for boneless chicken breasts, basil pesto, and whole-milk mozzarella, is perfect if you are looking for a keto-friendly chicken dish. Plate over a bed of arugula and halved cherry tomatoes for the full effect.
Get our recipe for Keto Pesto Chicken.
Chicken with Rainbow Vegetables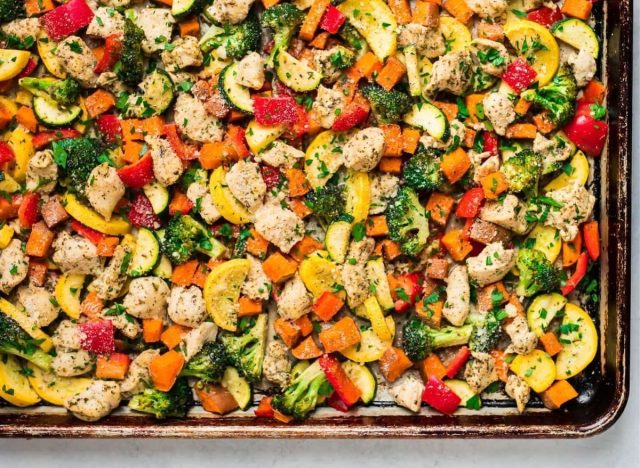 If you have a ton of vegetables in your refrigerator that are on their way out then we have the perfect recipe for you. Full of juicy chicken breasts and a medley of nutrient-rich veggies, such as chopped sweet potatoes, bell pepper, zucchini, and yellow squash, this colorful dish is one that will leave you satisfied.
Get the recipe from Well Plated.
Balsamic Chicken with Potatoes and Carrots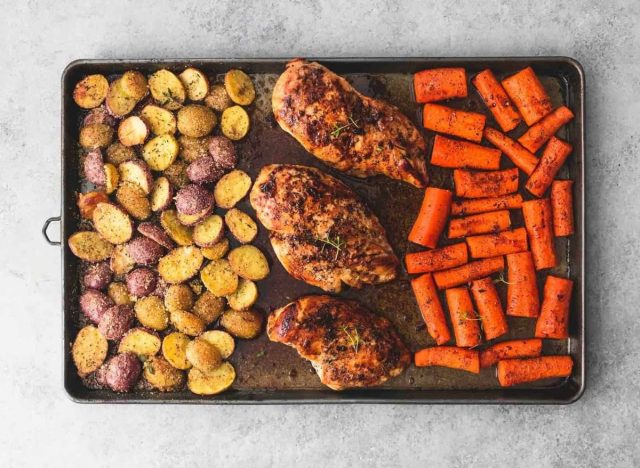 Crispy chicken, Parmesan potatoes, and roasted carrots join together to create a one-pan dinner dish that is perfect for those nights when you are low on time. Feel free to add more vegetables into the mix for this one—we imagine diced sweet potatoes and fresh broccoli would work great.
Get the recipe from Le Creme De La Crumb.
Lemon Rosemary Dijon Chicken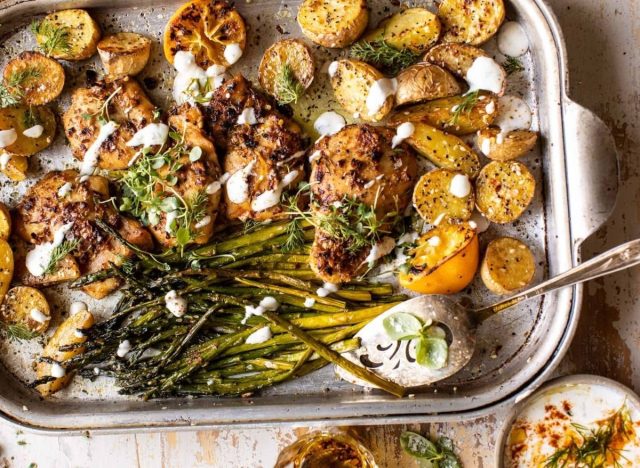 Homemade feta goddess sauce, made with Greek yogurt, grated garlic, and lemon juice, takes this easy sheet pan recipe to new heights. The best part is that this recipe takes just an hour to make, which means less time spent toiling in the kitchen.
Get the recipe from Half-Baked Harvest.
Easy Chicken Souvlaki with Potatoes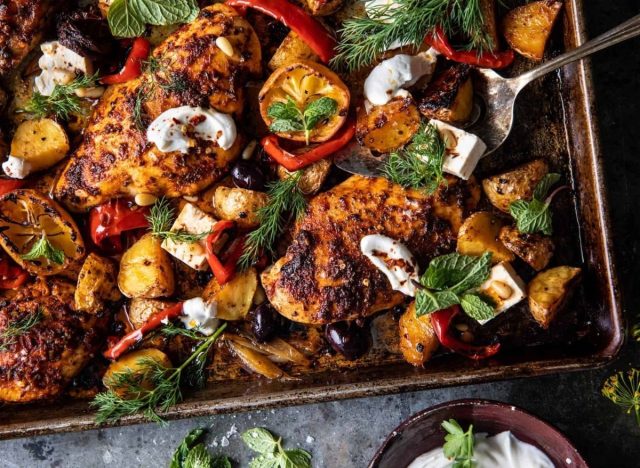 Bring Greece right to your countertop with this quick and easy chicken souvlaki and potatoes sheet pan recipe. Full of olives, creamy feta, colorful vegetables, and mouth-watering herbs, this vibrant dish tastes as good as it looks.
Get the recipe from Half-Baked Harvest.
Garlic Ginger Chicken and Broccoli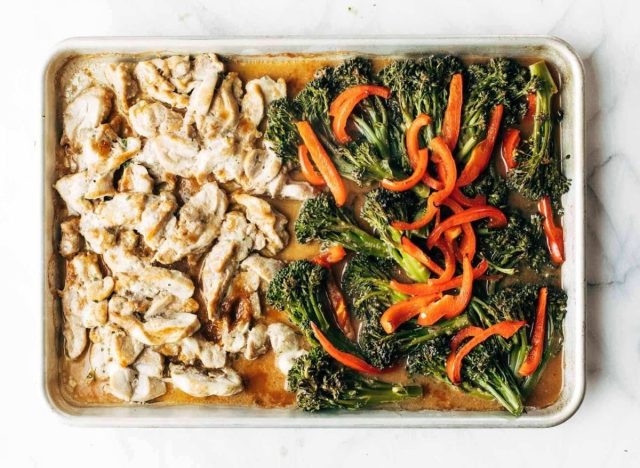 This low-effort meal, which takes only 30 minutes to make, is full of healthy ingredients such as fresh ginger, broccoli, and sliced red peppers. Cook some up for dinner or use it for meal prepping weekday lunches.
Get the recipe from Pinch of Yum.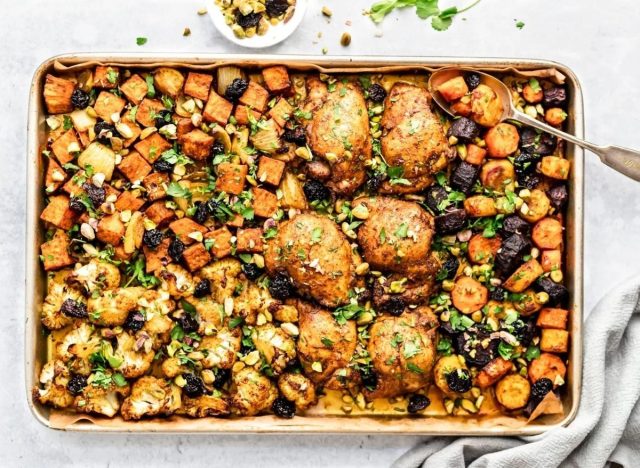 This Moroccan chicken dish, which is made with seasoned sweet potatoes and roasted cauliflower, and then served with a knockout feta dressing, is a recipe you will want to eat every day of the week. Be sure to sprinkle each serving with dried cranberries, pistachios, and cilantro while plating for the full at-home restaurant experience.
Get the recipe from Ambitious Kitchen.
Italian Chicken with Zucchini and Tomatoes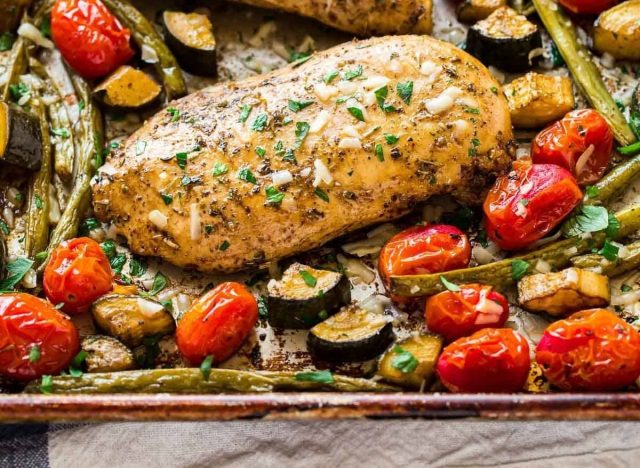 Full of fresh veggies, such as zucchini and tomatoes, this low-maintenance Italian sheet pan recipe is perfect for those looking for a quick dinner dish that doesn't skimp on flavor. Tip: Leftovers for this recipe last for 4 days in the fridge, making it a great option for packed work lunches.
Get the recipe from Well Plated.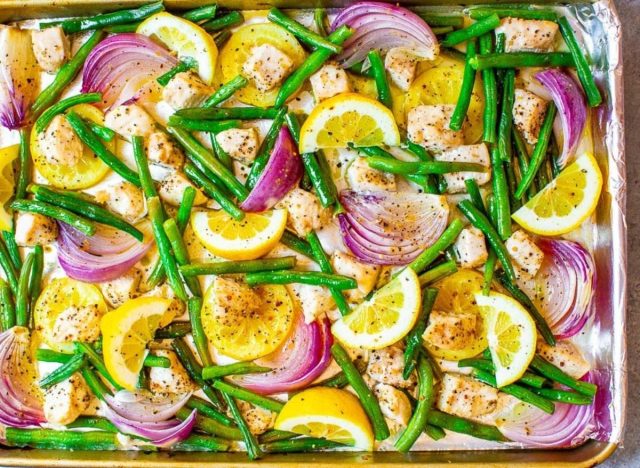 Can you believe this lemon pepper sheet pan recipe takes a mere 15 minutes to make? A dream! Whether made during chilly winter evenings or warm summer nights, this dish is sure to be a hit no matter the time of year.
Get the recipe from Averie Cooks.
Chicken Shawarma with Sesame Sweet Potatoes and Hummus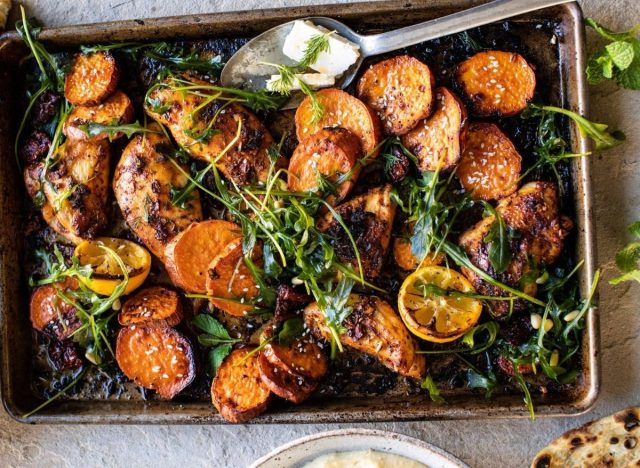 Skip the takeout shawarma and instead make your very own variation of it at home using this quick and easy chicken shawarma sheet pan recipe. Loaded with tender chicken, charred sweet potatoes, and a dash of sesame seeds, this recipe is perfect to throw together for dinner parties.
Get the recipe from Half Baked-Harvest.
Hawaiian Chicken with Peppers and Pineapple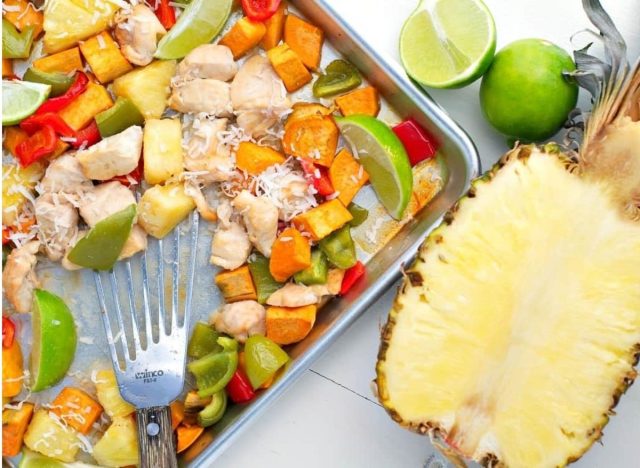 What better way to liven up sheet pan chicken than by adding juicy pineapple and warming sweet potato? Ready in just 40 minutes, this recipe is a clear winner. Make sure to top with dried coconut flakes and a dash of lime juice before serving.
Get the recipe from The Seasoned Mom.
Chicken Pitas with Tzatziki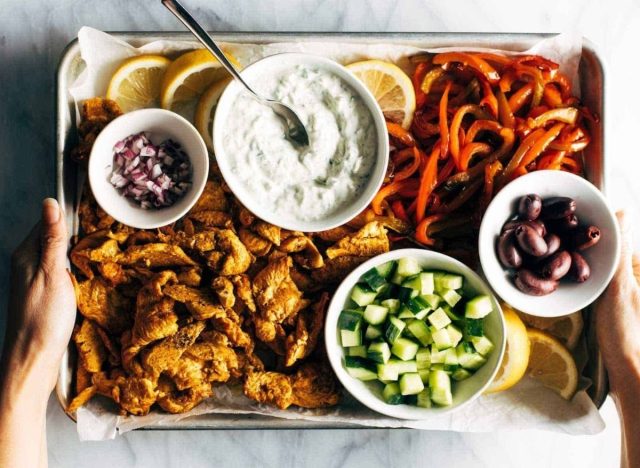 We not only love how easy this recipe is to make, but also the recommendation on how to serve it—Pinch of Yum suggests serving it family style by laying out the cooked chicken, bell peppers, diced cucumber, tzatziki sauce, red onion, and olives so that your family can each build their own chicken pita. Delish!
Get the recipe from Pinch of Yum.
Harissa Chicken with Chickpeas and Sweet Potatoes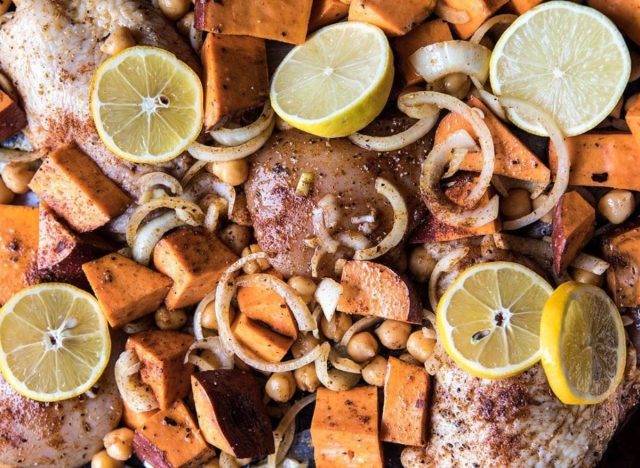 If you like spice then you will love this harissa chicken recipe that is made with sweet potatoes. Make sure to serve the finished dish with feta and Greek yogurt—the creamy texture tastes heavenly when paired with the roasted chicken.
Get the recipe from Half-Baked Harvest.
5-Ingredient Sheet Pan Chicken with Potatoes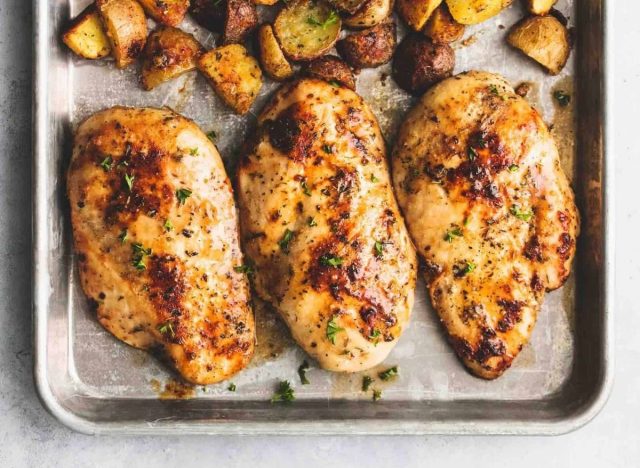 Only 35 minutes, 5 ingredients, and one sheet pan lie between you and your next dinner dish. Made with simple, clean ingredients, such as chicken breasts and potatoes, this low-maintenance recipe is one that may just become a kitchen staple.
Get the recipe from Le Creme de la Crumb.
Baked Chicken and Mushrooms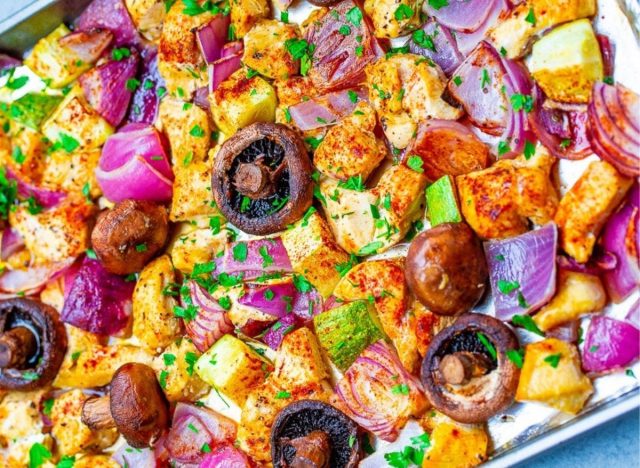 Paprika, flat parsley, and oregano help season this tasty chicken and mushroom dish that takes only 30 minutes to make. Tip: This recipe recommends chopping vegetables in larger, chunkier pieces to avoid overcooking.6254a4d1642c605c54bf1cab17d50f1e
Get the recipe from Averie Cooks.
Tarragon Chicken with Asparagus
This tarragon chicken recipe, which is also made with asparagus and sliced lemon, is a sophisticated dinner dish that doesn't involve heavy ingredients or hours of prep. This, served before a decadent flourless chocolate cake, is our idea of a perfect dinner at home!
Get the recipe from Feasting at Home.
Baked Tandoori Chicken with Vegetables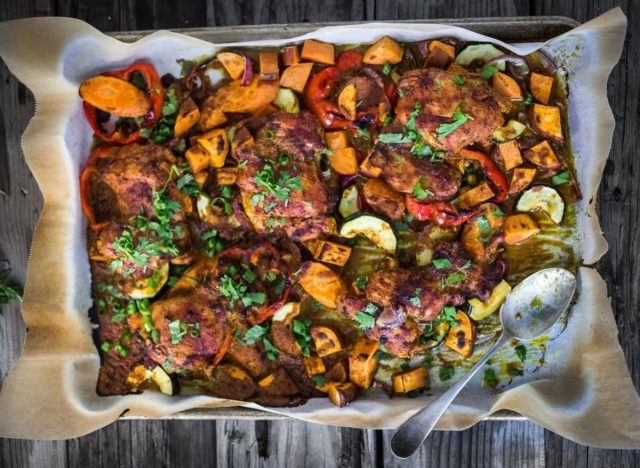 Hearty vegetables, such as carrots, sweet potatoes, and cauliflower, are layered with chicken thighs and then covered in a homemade tandoori marinade to make for a quick, yet scrumptious, dinner option.
Get the recipe from Feasting at Home.
Sheet Pan Korean Chicken Bowl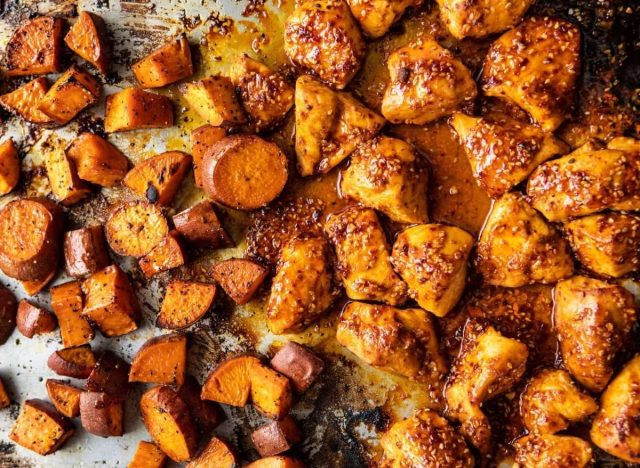 This meal, which is packed with both flavor and color, can be enjoyed on its own or served over a serving of white or brown rice. It's so good that you're going to want to make extra!
Get the recipe from Half-Baked Harvest.
Once you marinate chicken in ginger-scented spiced yogurt, you'll never go back to an oil-based marinade. The chicken gets so tender and juicy, everyone will want seconds. Roasted Yukon Gold potatoes and cauliflower are the perfect veggies to roast alongside. Don't skip the big dollops of yogurt on top to counterbalance all those savory spices.
Get the recipe from Smitten Kitchen.
A healthy meal is just a sheet pan supper away. You can use all sorts of cuts of chicken to get dinner on the table fast, add your favorite vegetables and a little sauce and everything will be perfectly balanced.
A previous version of this article was originally published on February 18, 2022.