5 Ways To Cut Sugar Out of Your Favorite Holiday Beverages
A registered dietitian shares helpful tips on how to cut back on the sweet stuff this winter season.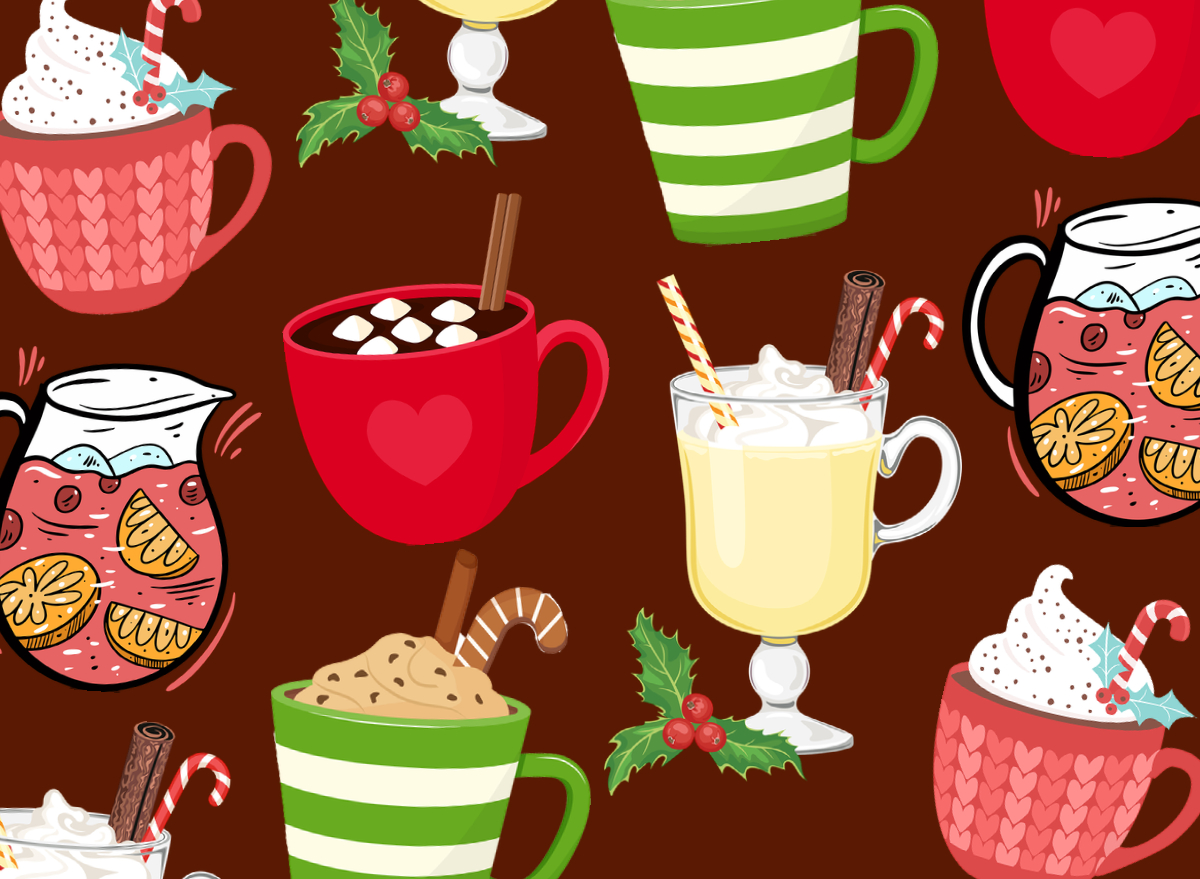 The holidays may be celebrated with fewer loved ones this year, but that doesn't mean you can't mix up your favorite festive beverages for your social bubble.
While we live for the sweet, creamy drinks that make us think of mistletoe and chestnuts roasting on an open fire, it's no secret they're loaded with added sugars. Thankfully, Kelli McGrane MS, RD and Lose It! consultant, has a few tricks up her sleeve on how to cut down the sugar content in five of your favorite holiday drinks. And don't worry, they'll still keep their nostalgia-inducing flavors.
For more nostalgia, check out 15 Classic American Desserts That Deserve a Comeback.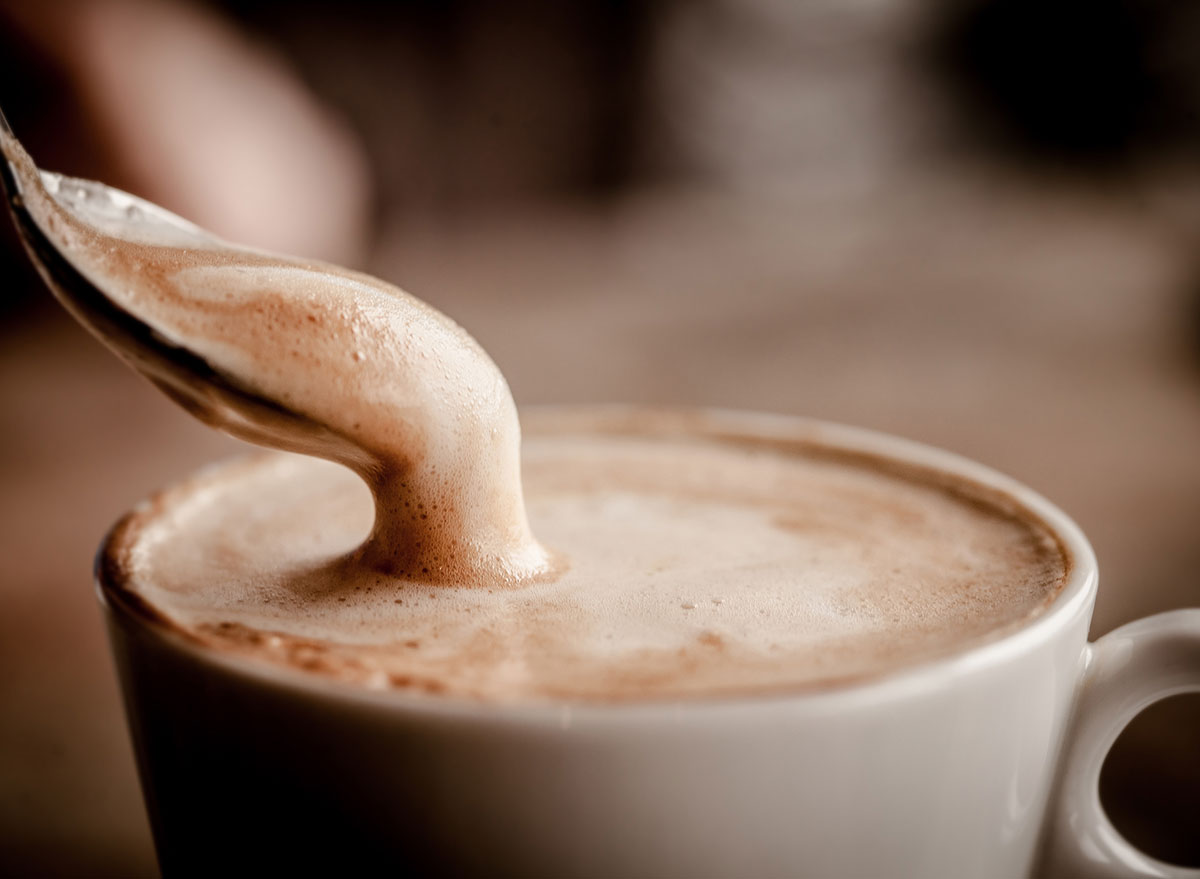 There's nothing quite like curling up on the couch with a piping hot mug of hot cocoa on a frigid winter evening. Unfortunately, hot chocolate can be an extremely caloric beverage—and one that's especially high in added sugars. However, McGrane assures us that hot chocolate is actually one of the easiest holiday drinks to make healthier, without sacrificing the flavor.
"First, I recommend using milk, rather than water, as it'll make your drink creamier and lend a natural sweetness. In particular, I like to use unsweetened vanilla almond milk for an added vanilla flavor," she says.
McGrane also adds that the type of sugar you choose to sweeten your beverage with matters.
"I find that maple syrup has a stronger flavor than white sugar, so you can get away with using less," she says. "And finally, an additional ingredients, like a splash of vanilla extract, cinnamon, freshly grated nutmeg, or cardamom can also add a great flavor to your cocoa."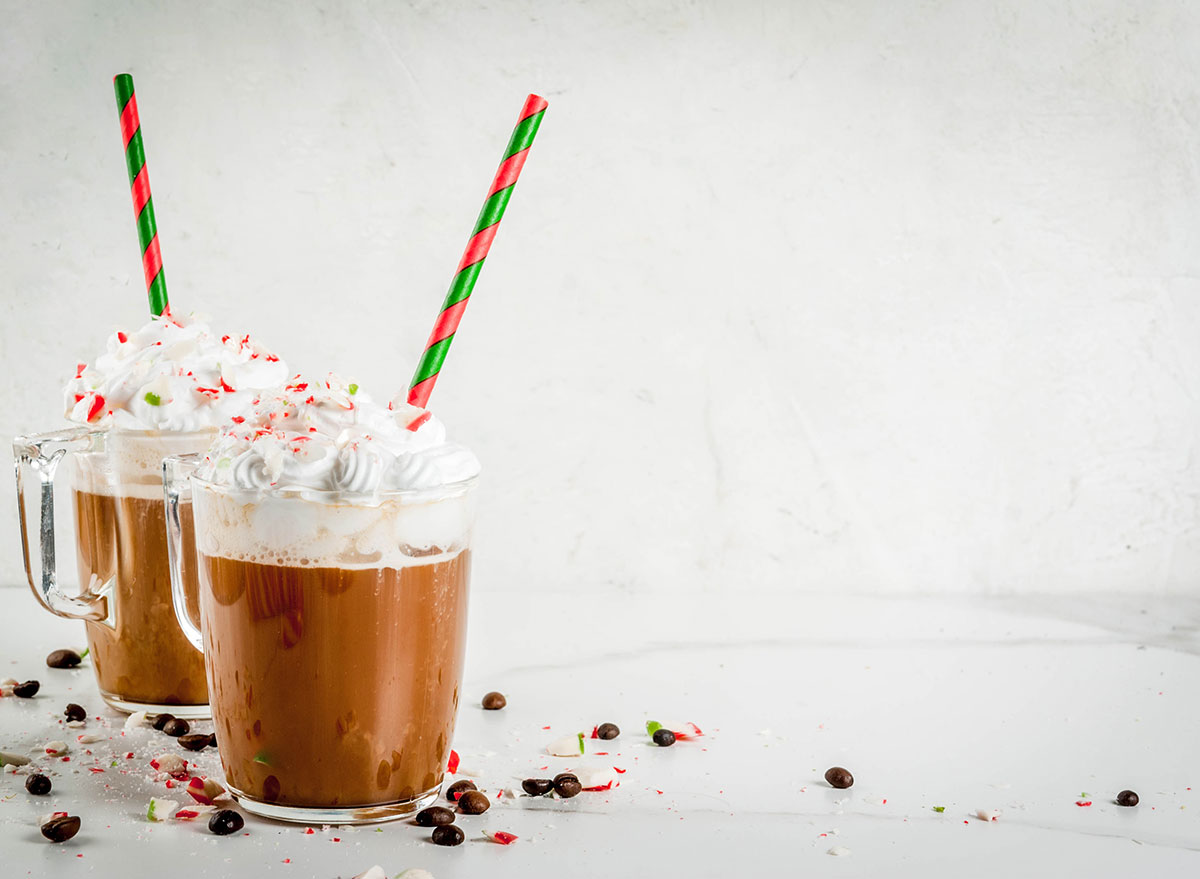 A peppermint mocha may just be the most festive drink of them all. What better way to ring in the holiday cheer than with a minty-fresh yet creamy espresso beverage in hand? And McGrane has just the trick to dial back on the sugar.6254a4d1642c605c54bf1cab17d50f1e
Combine unsweetened almond milk with brewed coffee or espresso, unsweetened cocoa powder, about one tablespoon of maple syrup (per cup), and peppermint extract. For an easier peppermint flavor infusion, she recommends using Nutpods Peppermint Mocha creamer, as it doesn't contain any sugar and only boasts natural flavors. She even has a few tips on how to slim down that peppermint mocha from the coffee shop.
"If you can't say no to ordering a peppermint mocha when out and about, ask your barista if it's possible to use just one or two pumps of the peppermint syrup, which will save you around 5 grams of sugar for every pump that you leave out," she adds. "Also make sure that if you're ordering plant-based milk, like almond or coconut, the coffee shop uses an unsweetened variety."
What happens when you're in the mood for gingerbread cookies and a latte, but don't have the time to make a whole batch of cookies from scratch? You make a hybrid of the two, of course!
"The key to making a gingerbread latte with less sugar is leaning into the spices of gingerbread," says McGrane. "To make your own latte at home, combine your milk or unsweetened milk alternative of choice, brewed espresso, 1/8 teaspoon of cinnamon, 1/8 teaspoon of ground ginger, and a pinch of freshly grated nutmeg."
For a slightly sweeter beverage, McGrane recommends adding one teaspoon of pure maple syrup or, for a more authentic gingerbread flavor, "use 1/2 teaspoon of molasses, which is less sweet than traditional sugars," she says.
Eggnog can rack up the calories, fat, and sugar—all of which are key factors in making you sluggish. To avoid the midday crash this holiday season, try opting for a lower-fat milk option or milk alternative and rely on warming spices to deliver the flavor, as opposed to dousing the creamy drink in sugar.
"To do this, I recommend adding whole spices, like cinnamon sticks and cloves to your milk while it cooks on the stove," says McGrane. "After your eggnog has come to the appropriate temperature, remove it from the stove and stir in one teaspoon of vanilla extract for every three cups of milk used. Or, for a stronger flavor, add fresh vanilla beans or vanilla bean paste."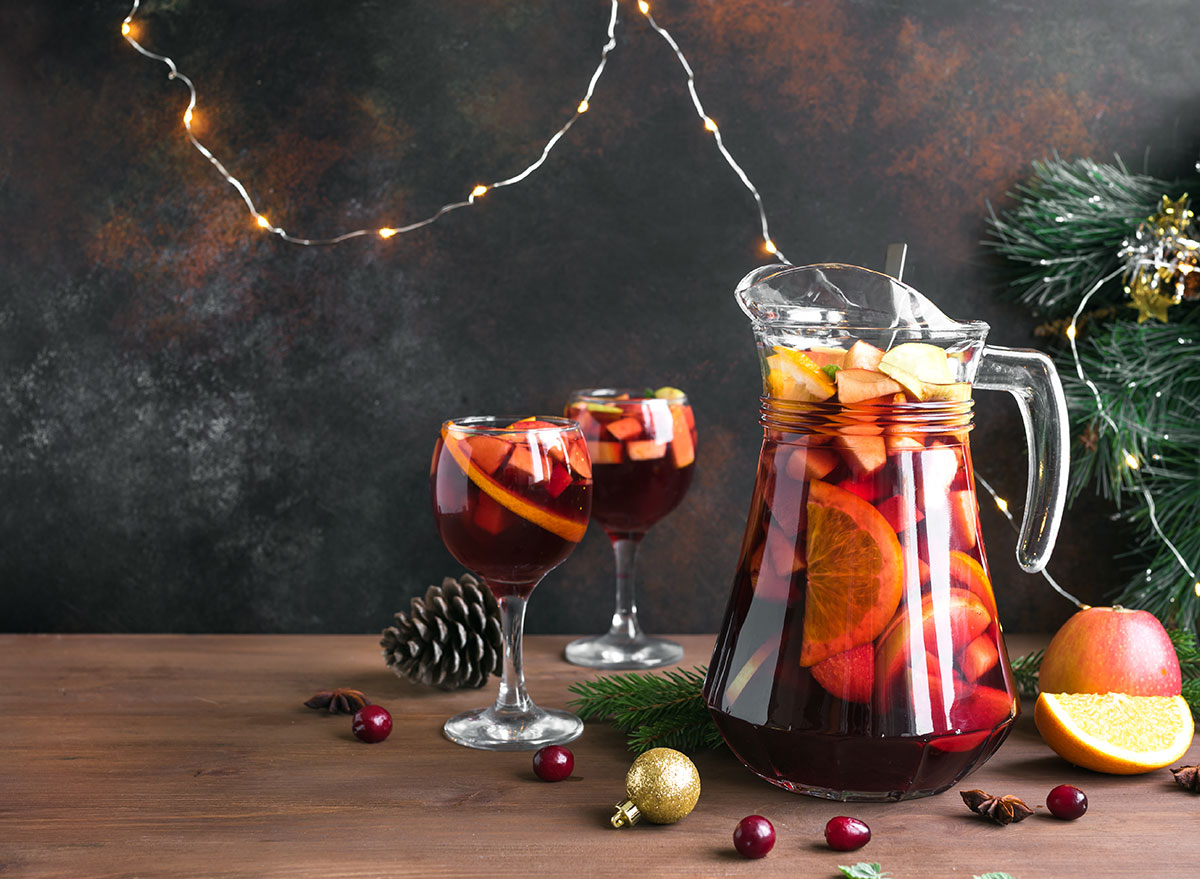 Last but certainly not least, if you're looking for a boozy, refreshing beverage to sip on as you indulge in your Thanksgiving or Christmas meal, winter sangria is an excellent pairing. However, as McGrane points out, the sugar content in sangria can add up very quickly if you're not cognizant of everything you're pouring into it.
"Skip the added sugar altogether and use fresh fruit, homemade fruit purees, and unsweetened fruit juices to lend the sweetness," says McGrane. "For a winter sangria, I particularly like to use a little POM concentrated pomegranate juice and a squeeze of citrus from fresh orange slices."
Another helpful hack? Substitute a sweet red wine for a dry one, and then mix the sangria with sparkling water or seltzer rather than soda.
For more helpful tips on how to host small gatherings this year, read up on CDC Recommends Following These Guidelines Over the Holidays.