9 Ways to Have a Leaner Body Right Now, Say Dietitians
You can slim down and still enjoy yourself this season!
As 2021 draws to a close, there are a lot of holidays to look forward to. While these celebrations give everyone a great chance to come together and indulge in some delicious food, it can feel overwhelming to anyone trying to keep a lean body this season. According to Harvard Medical School, adults typically gain about a pound of weight per year and one study correlates this weight gain primarily to the upcoming winter holidays.
Luckily, we assembled a master list of advice from a handful of experts that guarantee to keep you slim this holiday season. While these tips focus on your overall weight, don't assume you can't also focus on keeping the pounds off certain parts of your body. For even more holiday advice, don't miss the 7 Healthy Eating Habits for the Holidays, Say Dietitians.
Keep a tally on your snacks.
If you're looking to stay lean, keeping track of your snack intake can make a major difference.
"One easy way to lose weight during the holidays is to fit treats into your daily calorie goal," says Ben Tzeel, MPH, RD, CSCS, and founder of Your Diabetes Insider. "With just a little bit of preplanning, you decide that you want a holiday cookie or a slice of pie, all you have to do is plug it into your day and decide how you are going to adjust your other meals in order to eat around said treat. That way if you are trying to lose weight and are in a calorie deficit, you can adjust and still fit those foods into your calorie deficit."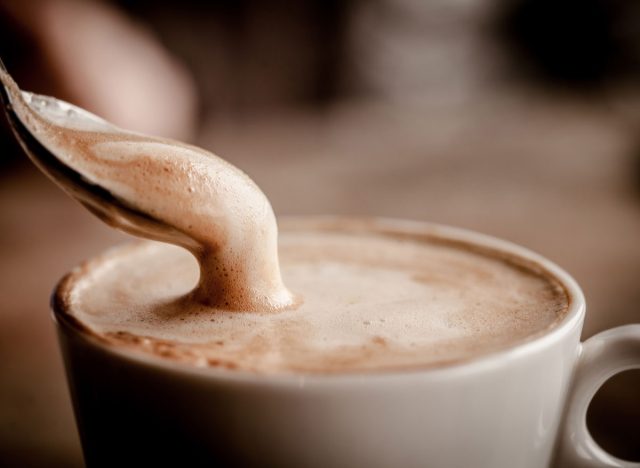 If you need a quick shortcut to trim down some calories in your snacks, consider a sugar alternative.
"Another idea would be to make some of your treats and sweets with an alternative to table sugar," says Tzeel. "For example, you could utilize allulose of stevia which would replace sugar without sacrificing taste. Using one and 1/4 cup of allulose in place of one cup of sugar would save 800 calories within the pie without changing the taste or requiring any additional effort."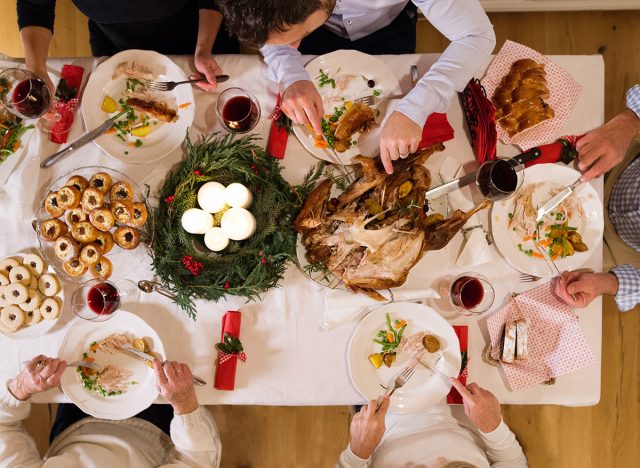 "Mindful eating is an effective way to improve your relationship with food while also preventing over eating and reducing the amount of time you spend thinking about eating, even during the holidays," says Trista Best, MPH, RD, LD at Balance One Supplements. "This approach to eating has the individual rate their hunger on a scale from one to ten prior to eating and their fullness on the same scale while they eat."
Eating mindfully is easier said than done. For some quick tips, check out 11 Mindfulness Hacks to Eat Less, According to Experts for foolproof strategies on how to manage how you eat this holiday season.
Substitute healthier ingredients.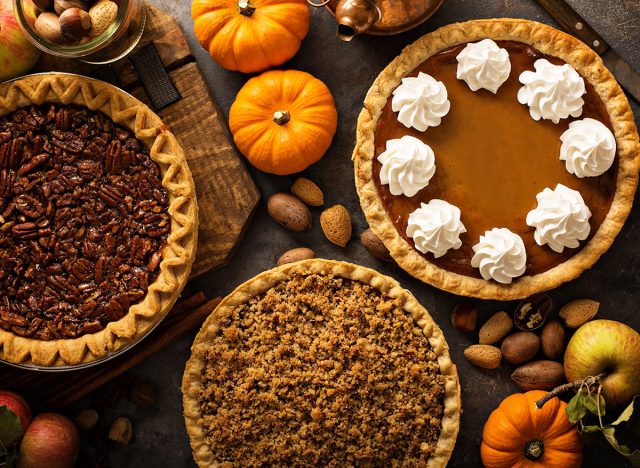 When you can, try to switch out empty calories for more nutritious options.6254a4d1642c605c54bf1cab17d50f1e
"You can also make healthier choices where you're able," says Best. "Some minor changes and exchanges can make many of our favorite comfort and cultural dishes nutrient-dense. For instance, a side item like mashed sweet potatoes will be appreciated for providing guests with immune-supporting nutrients from vitamins A and C. Just one cup of sweet potatoes provides you with almost half the daily recommendation of vitamin C!"
Rid yourself of the all-or-nothing mentality.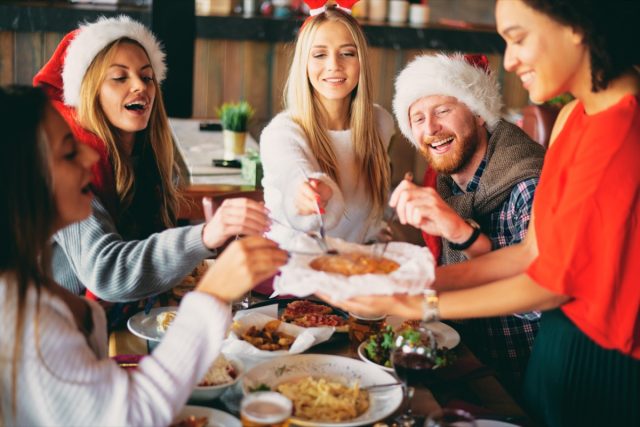 "A lot of people use the holidays to let go of all healthy habits because [your] 'diet starts in January,'" says Paula Doebrich, RDN, MPH, owner of Happea Nutrition. "But this mentality is setting you up for failure because you may feel like you absolutely need to load up on foods that will be off-limits soon."
"Instead of this black and white approach, try including a few comfort foods, while sticking to healthy habits and know that you can always have a small treat but your overall lifestyle will also stay healthy throughout the year," says Doebrich.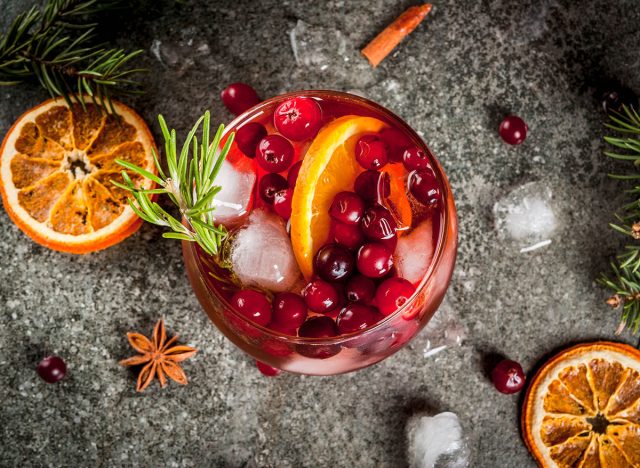 Drinking has the potential to add on some extra unnecessary calories, and big gatherings seem like the optimal place to indulge in a few cocktails or glasses of wine. If you want to avoid the extra holiday pounds, avoid hitting the bar too hard this holiday season.
"Alcohol has a lot of calories that are usually consumed in addition to a meal," Doebrich continues. "Limit drinking alcohol as much as possible and if you are drinking, opt for wine instead of egg nog or sugary cocktails."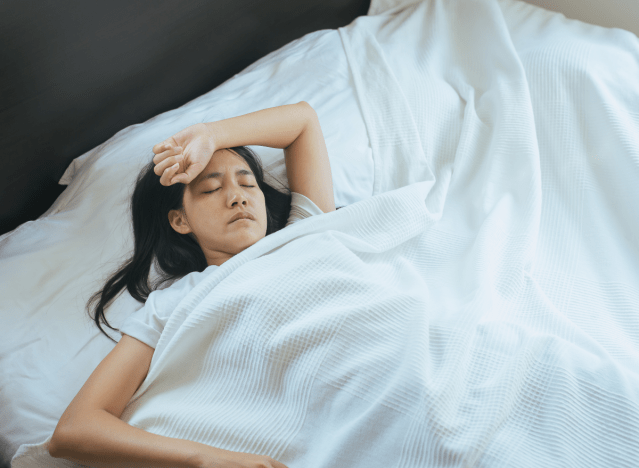 "The holiday season is stressful and sleeping is usually not a priority," says Doebrich. "But sleep deprivation can actually cause sugar cravings and makes you more hungry because it throws off hunger and satiety hormones. This is why getting at least 6 or more hours per night will help you stay in shape."
Getting the right amount of sleep ties into how and what you eat. For a good night's rest, here are the 40 Best and Worst Foods to Eat Before Sleep in order to wake up refreshed and ready to take on the day.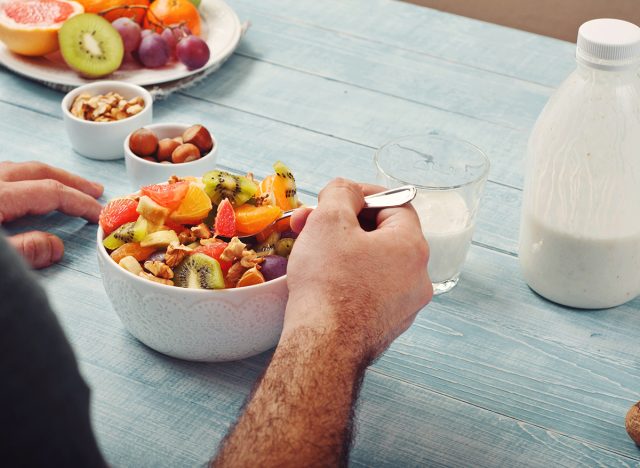 You have likely heard about the importance of eating fruits and vegetables, but the advice holds some extra weight during the winter holidays.
"Include lots of vegetables and fruits in your diet," says Jay Cowin, NNCP, RNT, RNC, CHN, CSNA, and ASYSTEM's registered nutritionist and director of formulations. "This will help you get plenty of vitamins and nutrients that can help keep you healthy. Instead of taking seconds, go for seconds on vegetables and fruits to ensure you do not overeat."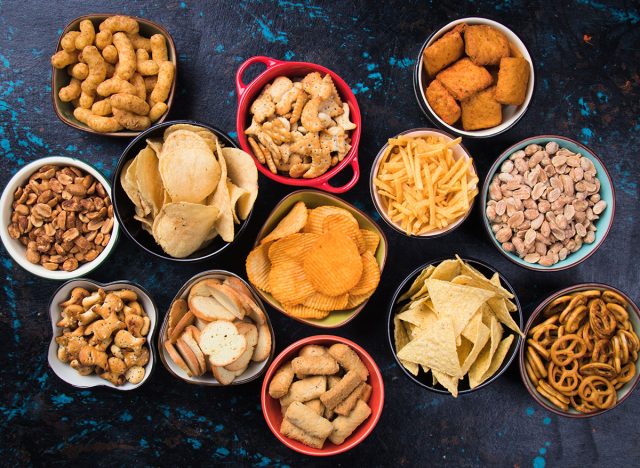 Going hard on the snacks just seems like a natural part of the holidays. With so many finger foods like chips or pretzels available at gatherings, loading up on sodium seems like an inevitability. If you're looking to stay lean, keep an eye on this nutritional figure.
"Limit sodium intake from fries, chips, processed foods, and other sources to less than 1600 milligrams," says Cowin. "Use low sodium soy sauce instead of regular soy sauce—it has less than half the sodium content!"
For even more healthy tips this season, read these next: