9 Tastiest Weight Loss Meals That Are 500 Calories or Less
These healthy and convenient weight loss recipes are full of flavor.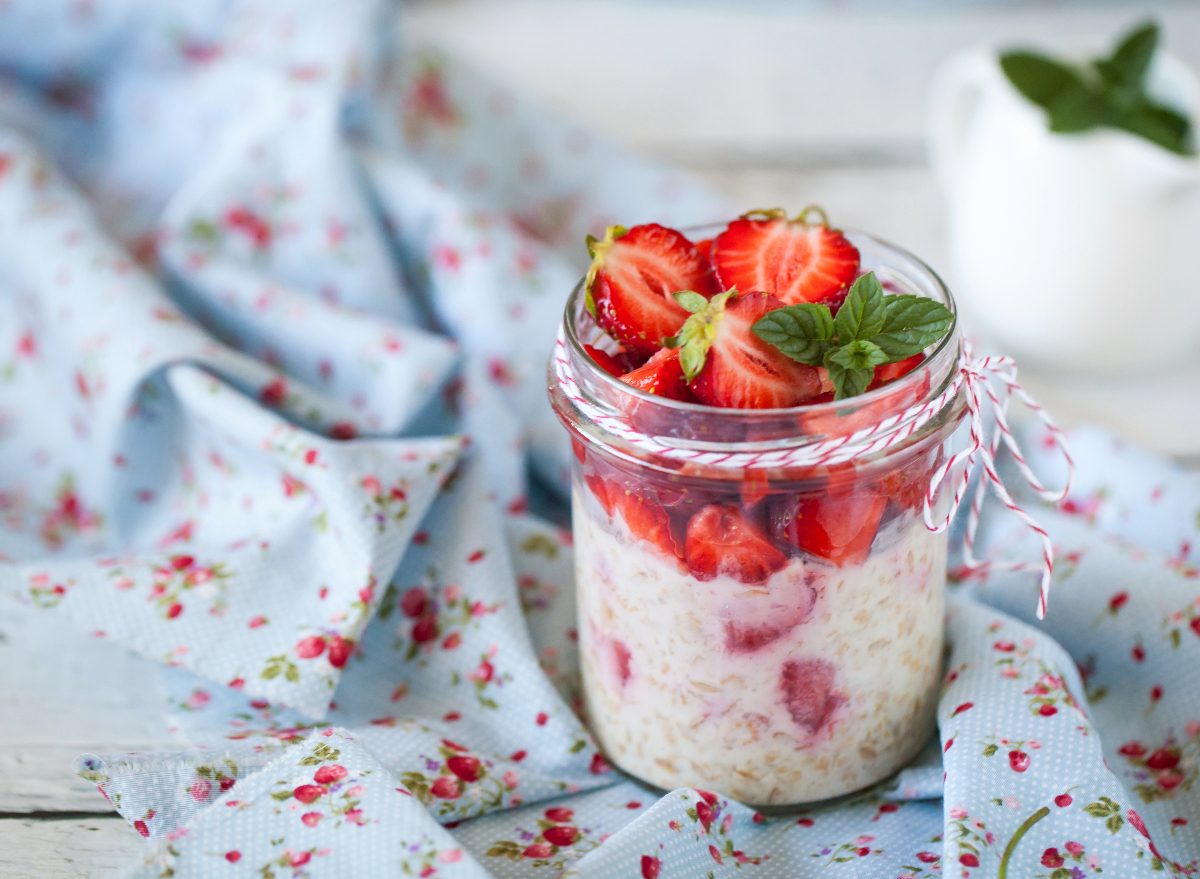 When thinking about eating for weight loss, flavorless veggies and dry fish might come to mind. Luckily, this doesn't have to be the case, and healthy weight loss recipes can be full of flavor and easy to make, without packing in unnecessary excess calories. Even better, healthy meals don't have to require countless ingredients and take hours of prep and cooking. Read on to learn more about some of our favorite tastiest meals for weight loss that are 500 calories or less.
When cooking with weight loss in mind, there are a few meal components that should always be present:
Here are the nine tastiest weight loss meals that are 500 calories or less.
Avocado Toast with Cottage Cheese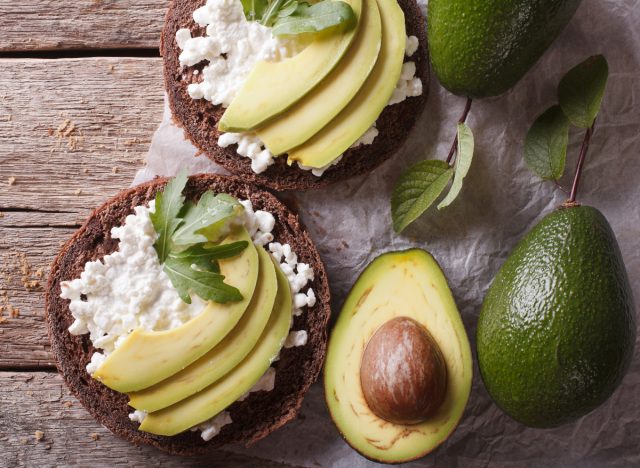 331 calories, 19 g fat (3 g saturated fat), 395 mg sodium, 30 g carbs (9 g fiber, 6 g sugar), 15 g protein
This pairing of ingredients comes together with minimal prep and makes for a filling meal. For those who prefer to minimize their animal protein, this vegetarian option is great. When buying cottage cheese, consider looking for a lower sodium option, and opt for 2% which is a little lower in fat and saturated fat than other options. To boost nutrients, consider adding sliced tomato or veggie sprouts to your toast. For a flavor boost, top everything with a dash of hot sauce or sprinkle of your favorite seasoning.
INGREDIENTS:
HOW TO MAKE IT:
Mash your avocado, and spread it over toasted bread. Top it off with a spread of cottage cheese and optional vegetables and seasonings.
Overnight Oats
444 calories, 17 g fat (3 g saturated fat), 167 mg sodium, 58 g carbs (13 g fiber, 18 g sugar), 26 g protein
Overnight oats make for a balanced grab-and-go breakfast on busy mornings. At 13 grams of fiber, this breakfast is sure to leave you full and satisfied for much of the morning. You can swap the peanut butter for your nut and seed butter of choice, or exchange strawberries for other berries or fruit of your liking. For added flavor, mix in vanilla extract or cinnamon when prepping your oats the night before.
INGREDIENTS:6254a4d1642c605c54bf1cab17d50f1e
HOW TO MAKE IT:
Combine the oats, milk, yogurt, and chia seeds. Mix well, and store the mixture in an air-tight container in the refrigerator overnight. When you are ready to eat, stir in the peanut butter, and top it off with strawberries.
Poke Bowl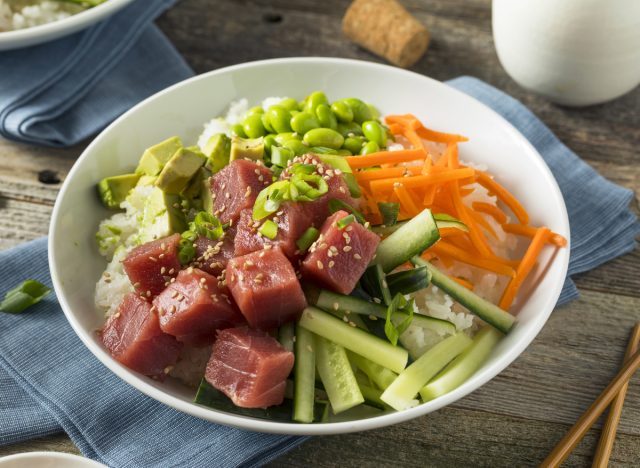 493 calories, 19 g fat (2 g saturated fat), 345 mg sodium, 41 g carbs (12 g fiber, 1 g sugar),40 g protein
This meal has the highest protein content on this list, making for an especially filling meal. Not to mention, 12 grams of fiber and only 1 gram of sugar aids in weight loss goals. Your poke bowl can be modified with easy and low-calorie ingredients to best suit your preferences. Add pickled ginger for a kick of flavor, top with bean sprouts and shredded carrots for added texture, and drizzle with chili sauce to turn up the heat.
INGREDIENTS:
HOW TO MAKE IT:
Prepare your brown rice. While your rice cooks, combine diced tuna and soy sauce in a bowl, and mix. Place in the refrigerator to marinate. Once your rice is cooked and cooled, add your serving to a bowl, and top it off with tuna, edamame, avocado, and sesame seeds.
Loaded Sweet Potato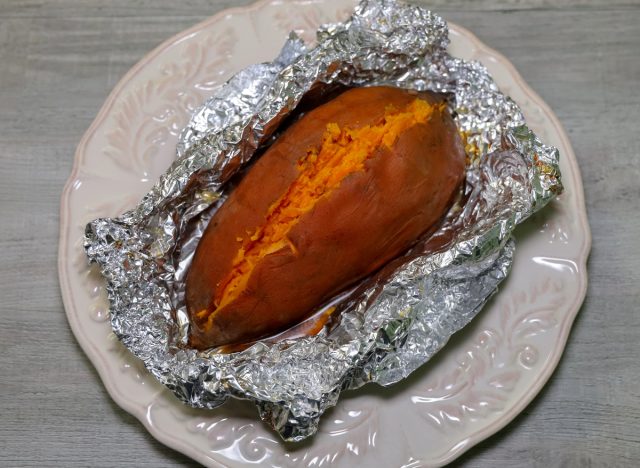 393 calories, 18 g fat (3 g saturated fat), 315 mg sodium, 30 g carbs (13 g fiber, 7 g sugar), 30 g protein
This meal is loaded with fiber and protein, making it incredibly satisfying. Not to mention, it comes together easily. Having a rotisserie chicken on hand is an easy way to incorporate protein into meals. Enjoy the white and dark meat, but skip to the skin to save empty calories. When served with sweet potato, broccoli, and avocado, you have a balanced meal loaded with vitamins, minerals, and antioxidants.
INGREDIENTS:
HOW TO MAKE IT:
Bake your sweet potato until tender. Meanwhile, steam your chopped broccoli. Once the potato is ready, cut it down the middle to open it, and top it with shredded chicken, steamed broccoli, and diced avocado. Top with salt and pepper to taste.
Stir Fry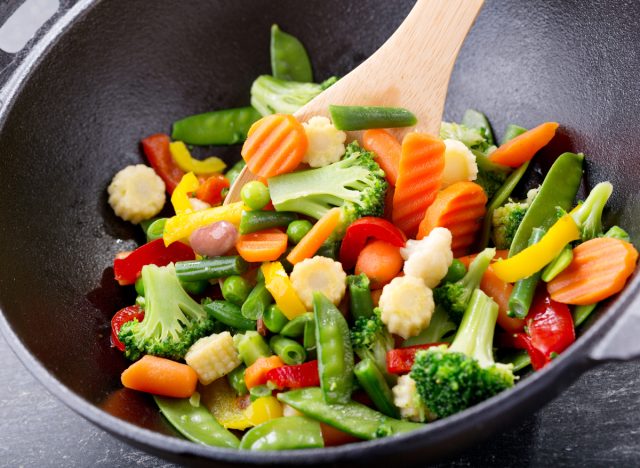 423 calories, 11 g fat (4 g saturated fat), 573 mg sodium, 49 g carbs (8 g fiber, 10 g sugar), 31 g protein
Stir fry can be put together with endless combinations of protein, sauce, and vegetables. To make for a low-prep meal, use rotisserie chicken and frozen vegetables that require minimal prep at home. Sesame oil and low-sodium soy sauce add a unique Asian flavor to this dish. Consider adding grated ginger for an extra boost of flavor! Another protein and fiber-packed meal, this one can be made with any lean protein you have on hand and your choice of vegetables.
INGREDIENTS:
HOW TO MAKE IT:
Heat the sesame oil in a pan over medium heat. Add the frozen vegetables, and cook until warm and tender. Add in the shredded chicken, and heat until warm. Turn off the heat, and toss in the soy sauce. Serve over warm brown rice.
Breakfast Tacos
474 calories, 29 g fat (7 g saturated fat), 521 mg sodium, 31 g carbs (10 g fiber, 1 g sugar), 21 g protein
A classic breakfast that could easily transition into lunch or dinner, breakfast tacos are another meal that offers loads of versatility. Eggs bring the protein, and avocado incorporates filling fat and fiber into the meal. Top with cheese and pico de gallo for a flavor and nutrient boost! Corn tortillas are lower in carbs and calories than flour tortillas, making this meal a great option if you are staying under 500 calories per meal.
INGREDIENTS:
HOW TO MAKE IT:
Heat a non-stick pan over medium heat, and coat it with cooking spray if needed. Meanwhile, crack your eggs in a bowl, and whisk together. Once the pan is heated, pour in the eggs, and gently scramble with a spatula. Once cooked, divide the eggs into two corn tortillas, and top with shredded cheese, sliced avocado, and pico de gallo.
Smoothie Bowl
487 calories, 20 g fat (9 g saturated fat), 75 mg sodium, 53 g carbs (8 g fiber, 34 g sugar), 18 g protein
Another incredibly versatile meal, smoothie bowls are known for their nutrient density and fiber. This option lives up to that reputation with 2.5 cups of produce packed into the meal! Greek yogurt is a great protein source that also adds creaminess to this bowl, and the toppings incorporate a bit more protein, fat, and fiber to make a well-rounded option. While this recipe calls for bananas and berries, feel free to experiment with fruit combinations to create your perfect smoothie bowl.
INGREDIENTS:
Toppings:
HOW TO MAKE IT:
Combine all ingredients above (other than the toppings) in a blender, and pulse on high until well combined. Start by adding only a tablespoon of water, and gradually add until you reach your desired texture. Once blended, serve your smoothie in a bowl, and top with hemp seeds, walnuts, and coconut.
Turkey Lettuce Cups
455 calories, 23 g fat (0 g saturated fat), 635 mg sodium, 34 g carbs (5 g fiber, 18 g sugar), 27 g protein
With only five ingredients, this dish makes for an easy meal. But, don't worry, flavor is not sacrificed! Prepared stir fry sauce brings tons of flavor and is so convenient. Just make sure to compare options at the store, as some brands have more sugar than others, and choose one with the lowest amount of added sugar to help toward your weight loss goals. Lean turkey makes for a filling, low-fat protein source and allows you to put fat grams towards flavor and fiber-packed peanuts. The shredded carrots on top add a nice texture. Consider incorporating other raw veggies, like cucumber sticks or sliced bell pepper for even more fiber and crunch.
INGREDIENTS:
HOW TO MAKE IT:
Heat a non-stick pan over medium heat, and coat with cooking spray if needed. Once heated, add the ground turkey, and brown until thoroughly cooked. Remove from heat, and stir in the stir-fry sauce. Once heated, divide your meat into four portions, and serve equally in lettuce cups. Top with shredded carrots and chopped peanuts.
Pesto Shrimp Pasta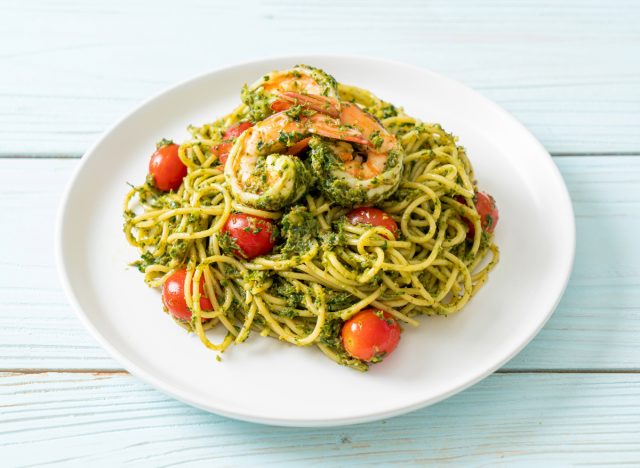 479 calories, 21 g fat (3 g saturated fat), 436 mg sodium, 46 g carbs (8 g fiber, 6 g sugar), 27 g protein
Shrimp is a lean source of protein and cooks fairly quickly, making it a convenient option. Not to mention, it is low in calories relative to meat, making for a great weight loss meal. Pesto adds tons of flavor and healthy fats, and whole wheat pasta is an impressive source of fiber. When combined, you have a balanced, filling meal. The grape tomatoes add more volume to your meal, not to mention fiber and flavor.
INGREDIENTS:
HOW TO MAKE IT:
Heat the olive oil in a pan over medium-high heat. Once heated, add the shrimp, and cook thoroughly. Remove shrimp from heat, and toss with 1 tablespoon of pesto. Next, combine the remaining tablespoon of pesto and halved tomatoes with your cooked pasta. Toss until well incorporated. Top it off with pesto shrimp, and serve warm.
Melissa Rifkin, MS, RDN, CDN
Melissa is a Connecticut-based registered dietitian with over 15 years of experience, including clinical and outpatient settings, and runs the popular nutrition education Instagram account, Confessionofadietitian.
Read more about Melissa
Sources referenced in this article