The Worst Fast Food Breakfast Sandwiches—Ranked
Our advice? Order these sandwiches in moderation.
Breakfast is an opportunity to start your day off on the right foot by getting key vitamins and minerals. Sinking your teeth into a scrumptious sandwich stacked with egg, cheese, and perhaps even a slice or two of lean meat makes for a healthy, satiating morning meal. That is, if you make it at home.
Fast food breakfast sandwiches on the other hand can be loaded in saturated fat and sodium—both of which can pose a threat to your heart health. That's why it's important to know which breakfasts are the worst for you before rolling up to the drive-thru window or hopping on your Uber Eats app.
Below, we call out just six fast-food breakfast sandwiches that will leave you feeling sluggish. We ranked the sandwiches primarily on calories and sodium, but we also took the protein and saturated fat contents into consideration as well. See if your go-to sandwich is one you should only order sparingly.
Here are the unhealthiest fast-food breakfast sandwiches ranked from bad to the absolute worst.
Starbucks Smoked Shoulder Bacon Breakfast Sandwich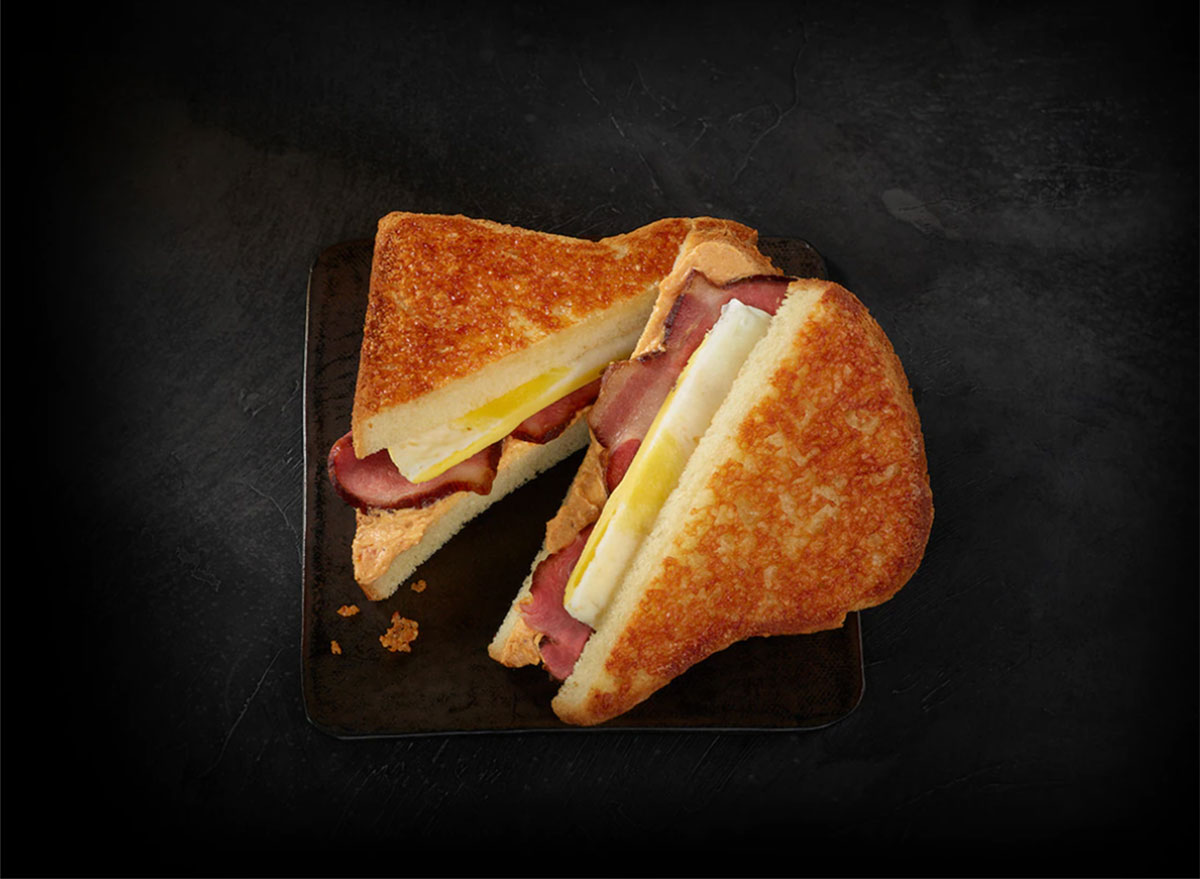 550 calories, 31 g fat (14 g saturated fat, 0 g trans fat), 1,170 mg sodium, 39 g carbs (2 g fiber, 4 g sugar), 26 g protein
Starbucks may be your go-to place for drip coffee, but as tempting as the breakfast sandwiches may look, we suggest you steer clear of ordering them. The Smoked Shoulder Bacon Sandwich, for example, will cost you about 70 percent of your daily allowance of saturated fat and just over 50 percent of your daily needs of sodium.
Instead, try the Turkey Bacon, Cheddar, & Egg White Sandwich, which only contains 230 calories and 2.5 grams of saturated fat.
McDonald's Sausage, Egg & Cheese McGriddles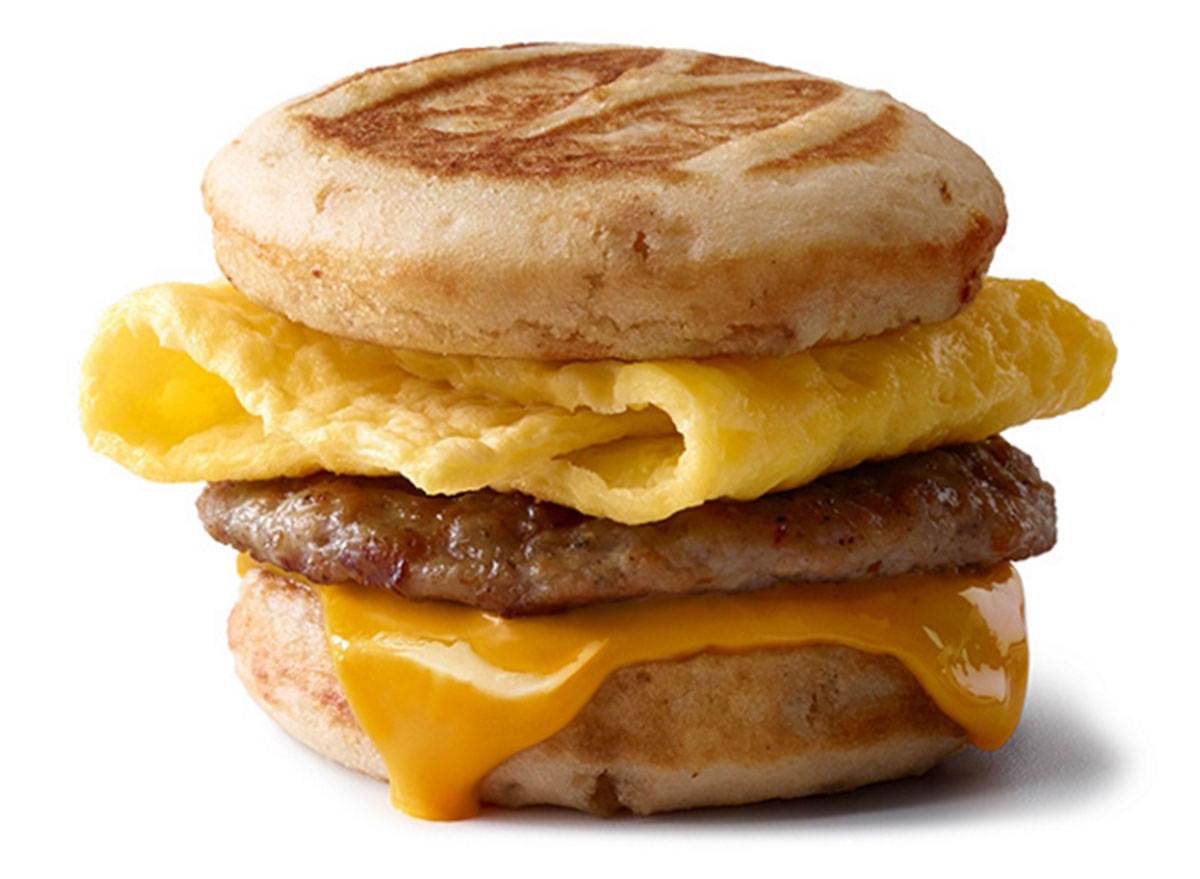 550 calories, 33 g fat (13 g saturated fat, 0 g trans fat), 1,290 mg sodium, 44 g carbs (2 g fiber, 15 g sugar), 19 g protein
We all know the McGriddle breakfast sandwich at McDonald's is iconic for its surprisingly sweet bun, but does that mean it should be your go-to breakfast order? These Griddle cakes are packed in sugar, which is why it contains the most sugar of any breakfast sandwich on this list. Aside from the added sugars, it packs nearly 1,300 milligrams of sodium, which is about 1,000 milligrams short of your daily allowance. That's a ton of salt for just one sandwich.
Don't miss The Worst McDonald's Menu Items You Should Never Order!
Wendy's Sausage, Egg & Cheese Biscuit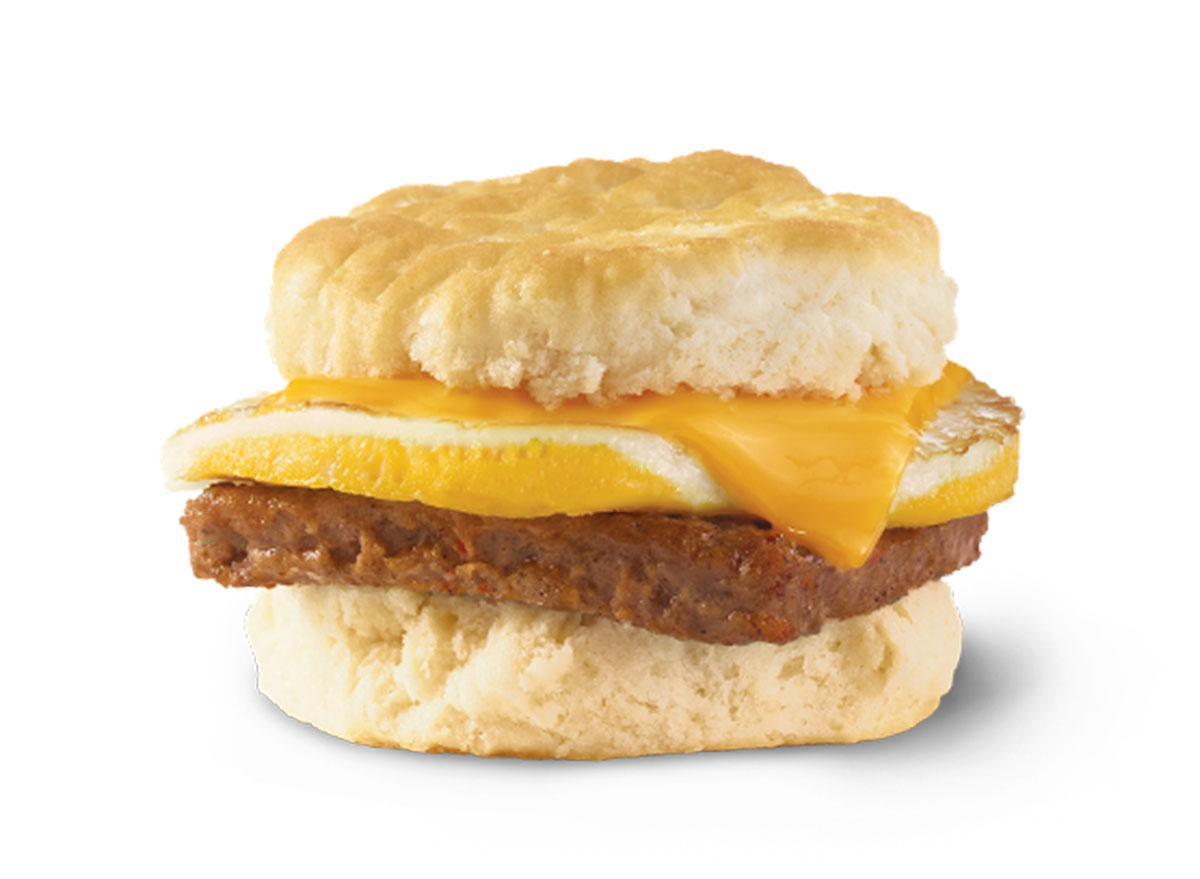 610 calories, 45 g fat (17 g saturated fat, 0.5 g trans fat), 1,370 mg sodium, 29 g carbs (1 g fiber, 3 g sugar), 20 g protein
Wendy's Sausage, Egg, and Cheese Biscuit packs just about your entire day's worth of saturated fat and more than half of your day's worth of sodium. Ditch this sandwich and instead, try the Bacon, Egg & Swiss Croissant—it contains 410 calories, 11 grams saturated fat, and 890 milligrams of sodium. It's not significantly healthier for you by any means, but it's definitely an improvement.
Dunkin' Sausage, Egg & Cheese Sandwich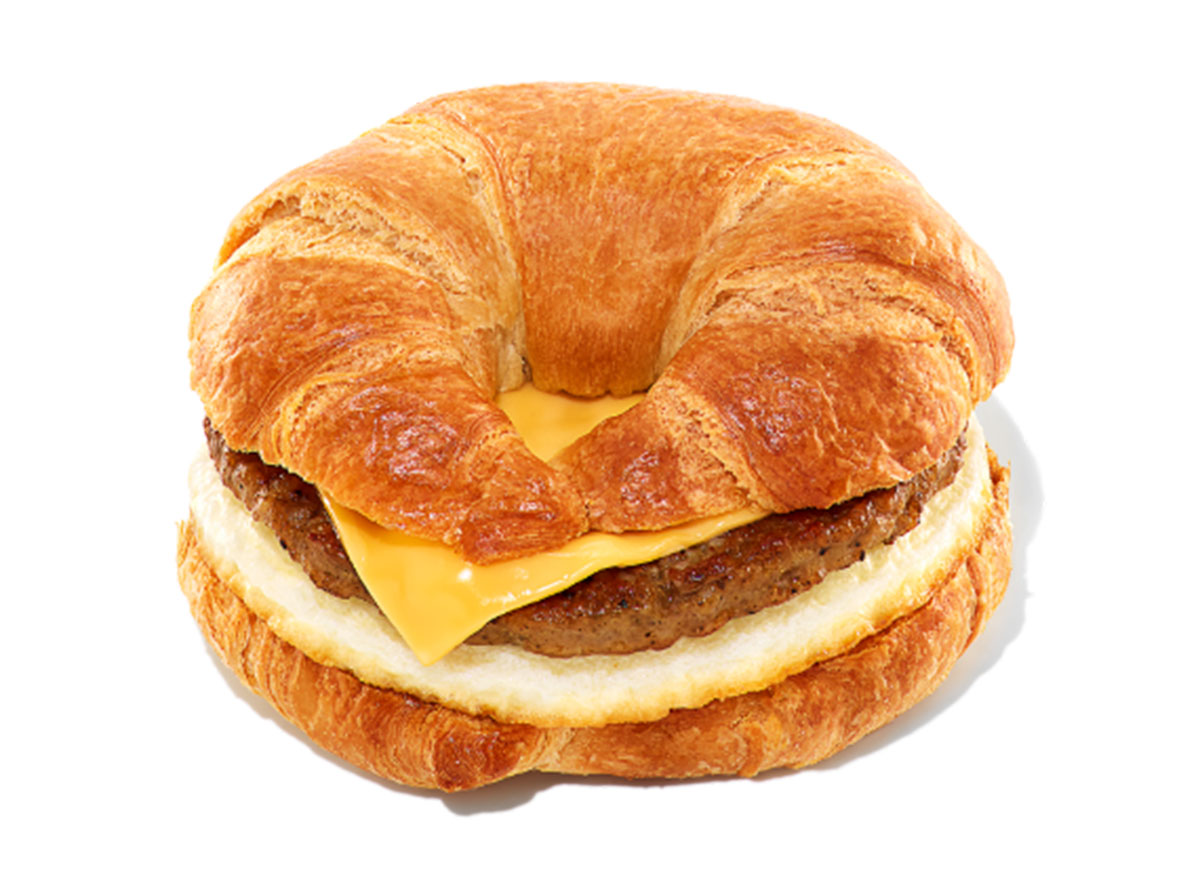 720 calories, 52 g fat (20 g saturated fat, 0 g trans fat), 1,120 mg sodium, 42 g carbs (2 g fiber, 6 g sugar), 21 g protein
Over 700 calories and 20 grams of saturated fat? Sorry Dunkin', but you really dropped the ball here in terms of nutrition. We'll pass on this sandwich and instead order a Maple Long John Donut, which contains less than half of the calories, only 6 grams of saturated fat, and 400 milligrams of sodium. Alternatively, you could order this sandwich on an English muffin and slash nearly 200 calories and 8 grams of saturated fat.
Now, be sure to check out We Tried 12 Donuts from Dunkin' & This Is the Best One.
Burger King Fully Loaded Buttermilk Biscuit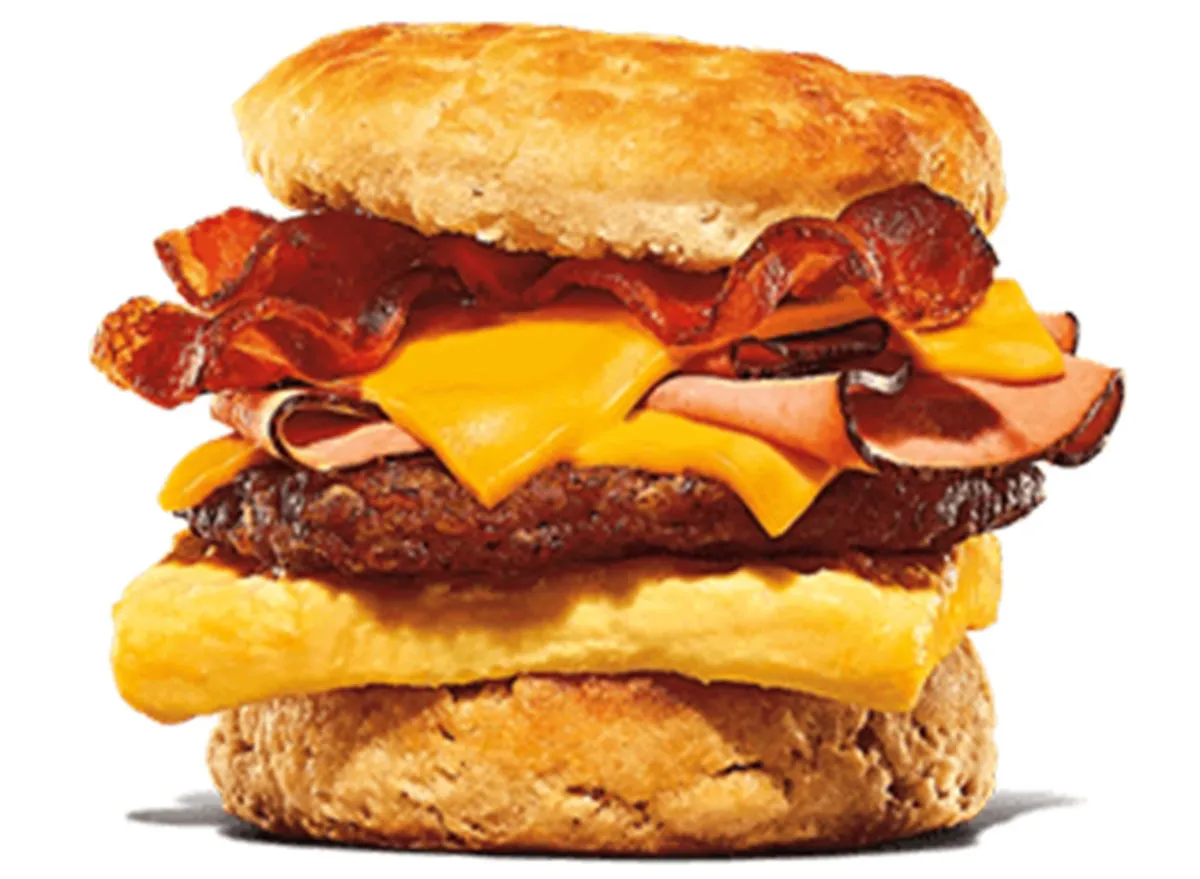 612 calories, 42 g fat (20 g saturated fat, 0 g trans fat), 2,172 mg sodium, 30.5 g carbs (1 g fiber, 4 g sugar), 28 g protein
Notice this sandwich contains fewer calories than Dunkin's. But there is a ton of sodium hiding in this buttery biscuit. For context, the most sodium you should consume each day is 2,300 milligrams. By eating this breakfast sandwich from Burger King, you'll come up just a little over 100 calories short of the recommended daily allowance.
Burger King Double Sausage, Egg, & Cheese Croissan'Wich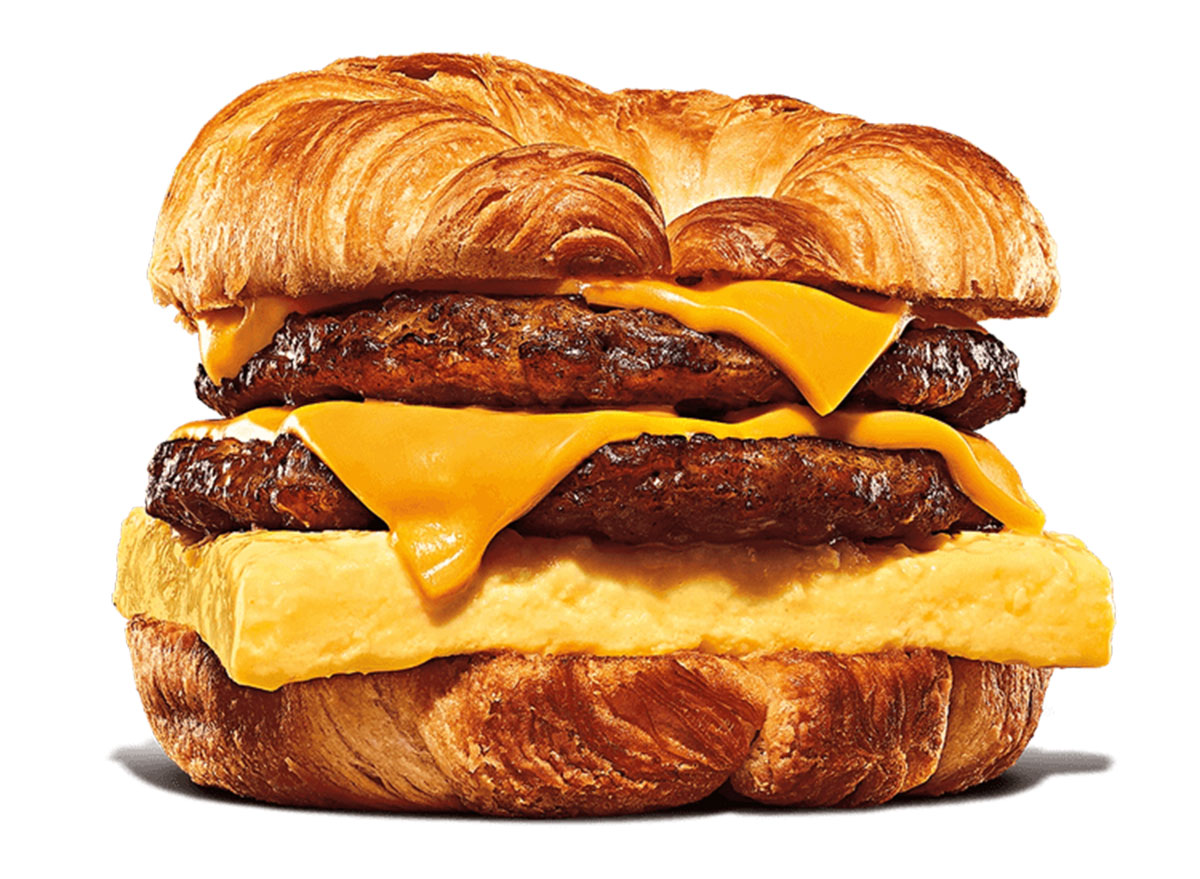 6254a4d1642c605c54bf1cab17d50f1e
793 calories, 58.5 g fat (24 g saturated fat, 0.9 g trans fat), 1,778 mg sodium, 32 g carbs (1 g fiber, 5 g sugar), 33 g protein
Burger King's Double CROISSAN'WICH with Sausage contains trans fat and over 1,700 milligrams of sodium. A double whammy!  The American Heart Association recommends that adults, especially those with high blood pressure, limit themselves to just 1,500 milligrams of sodium each day. This breakfast sandwich would wipe out your entire day's worth, plus some more. No thanks!