5 Worst Cereals for High Blood Sugar, Says Dietitian
If you want to manage your blood sugar, you'll want to avoid these sugary cereals.
As they say, breakfast is the most important meal of the day. This is even more true for folks with diabetes or other blood sugar concerns.
In fact, beginning your day with a balanced breakfast will kickstart stable blood sugar that can last all day! Choosing high-carb, sugary breakfasts and even skipping breakfast altogether will both contribute to erratic blood sugar patterns.
A balanced breakfast has a few essential components:
Protein: Protein stabilizes blood sugar by slowing down our digestion and then slowing down the absorption of carbohydrates in our meals. This in turn slows down the rise in blood glucose after meal times.
Fiber: Similar to protein, fiber takes time to digest. Typically, high-fiber carbs have a positive blood sugar effect in comparison to low-fiber alternatives.
Healthy fats: Fats provide flavor, satisfaction, and more fullness at meals. Often, breakfast cereals are low in fat and don't have the nutrition benefits that a serving of healthy fat at breakfast could offer.
So what are the worst cereals for blood sugar on the market? Read on to find out.
Lucky Charms
PER 1 CUP
: 140 calories, 1.5 g fat (0 g saturated fat), 0 mg cholesterol, 230 mg sodium, 30 g carbs (2 g fiber, 12 g sugar), 3 g protein
Kathryn Bonilla Strickland, RDN, a plant-centered dietitian, tells us "Lucky Charms has 12 grams of added sugar per serving that can spike blood sugar quickly. Despite its claim of 20 grams of whole grains. It only has a measly 2 grams of fiber."
If you have blood sugar concerns, opt for a higher fiber option by choosing a whole grain cereal. When reading the label, look for a cereal with at least 5 grams of fiber per serving!
Cap n' Crunch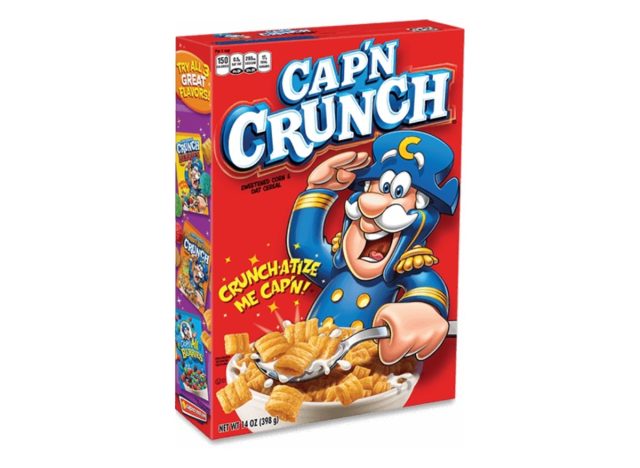 PER 1 CUP
: 150 calories, 2 g fat (0.5 g saturated fat), 0 mg cholesterol, 290 mg sodium, 33 g carbs (<1 g fiber, 17 g sugar), 2 g protein
Dietitian, Morgaine G Sciaudone, RDN, LDN, explains, "Cap'n Crunch contains 17 grams of added sugar, which is more than two-thirds of the recommended daily limit! There are two different sources of sugar listed within the first three ingredients."
Cereal that is high in sugar and low in fiber can create the perfect storm for blood sugar spikes and crashes.
Morgaine continues, "Cap'n Crunch also contains no fiber, very little protein, and small amounts of healthy fat to counteract a blood sugar spike. The sugar content and lack of fiber, fat, and protein will result in blood sugar spikes in folks with diabetes."
Fruit Loops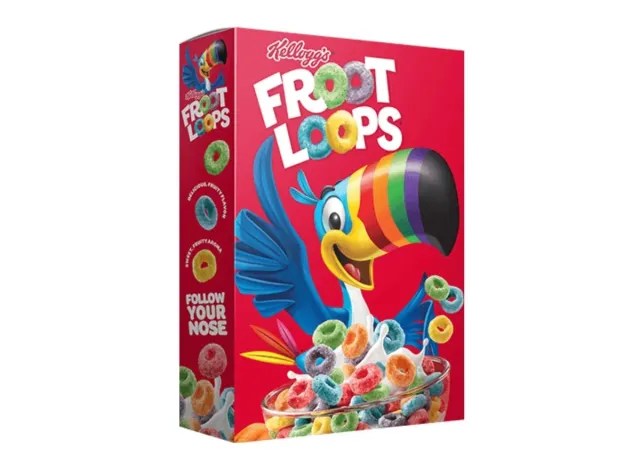 PER 1 1/3 CUP
: 150 calories, 1.5 g fat (0.5 g saturated fat), 0 mg cholesterol, 210 mg sodium, 34 g carbs (2 g fiber, 12 g sugar), 2 g protein
Biswas Aditi, who specialized in Type 2 diabetes at Harvard Medical School reports, "Kellogg's Fruit Loops contain a combination of high calories and sugar-laden additives. Fruit Loops are 44% sugar by weight with 12 grams per serving."6254a4d1642c605c54bf1cab17d50f1e
Further, this nostalgic childhood favorite contains very little protein, fiber, or heart-healthy fat. Instead, choose a whole grain option instead for your breakfast meal, and pair it with a protein source to set your blood sugar up for success for the day.
Frosted Flakes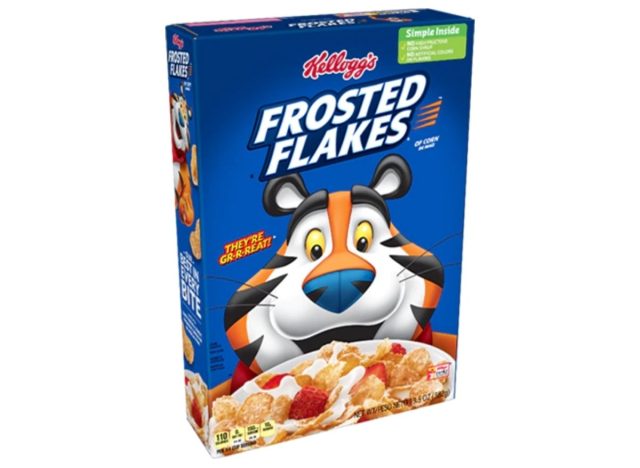 PER 1 CUP
: 130 calories, 0 g fat (0 g saturated fat), 0 mg cholesterol, 190 mg sodium, 33 g carbs (1 g fiber, 12 g sugar), 2 g protein
Tony the Tiger is a great mascot, but this cereal may miss the mark if you are worried about your blood sugar.
Lisa Andrews, MEd, RD, LD, states, "Frosted flakes provide 15 grams of added sugar per cup, or roughly 4 teaspoons of added sugar per serving. This corn-based cereal is also low in dietary fiber, which means you'll be hungry soon after eating them."
For better blood sugars, consider turning this cereal into a trail mix with nuts and seeds for healthy fat, fiber, and little protein to balance out your blood sugar.
Honey Smacks
PER 1 CUP
: 130 calories, 0.5 g fat (0 g saturated fat), 0 mg cholesterol, 45 mg sodium, 32 g carbs (2 g fiber, 18 g sugar), 2 g protein
While products made with honey seem healthier, they can still raise blood sugar like other sugars. Per serving, honey still has 16 grams of sugar in a tablespoon.
Kathryn Piper, RD, LD, explains that "Honey Smacks contains a whopping 18 grams of added sugars per serving. This cereal could spike blood sugars in as little as 15 minutes. In addition to the high sugar content, Honey Smacks lack fiber and protein—both of which will likely contribute to its impact on high blood sugar."
Balanced alternatives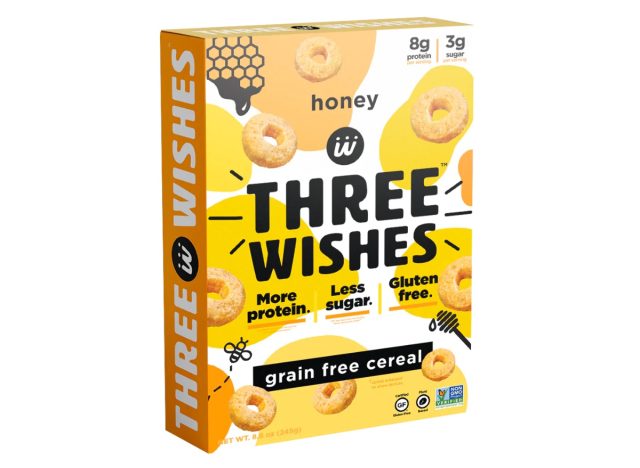 Consumer demand has increased the availability of balanced cereal products on the market. Luckily, now brands are paying attention to the protein and fiber content of their products.
Products like Three Wishes, Magic Spoon, or Catalina Crunch all have blood sugar-friendly options.
Caroline Thomason, RDN
Caroline is a women's health Registered Dietitian and diabetes educator based in Northern Virginia.
Read more about Caroline