9 Worst Fast-Food Menu Items That Are Loaded With Bacon
It might make everything taste better, but all that excess bacon is just bad news for your health.
Bacon, bacon, and more bacon. That seems to be the trend many people flock to when ordering a meal at a fast-food joint or even preparing their own American-style breakfast or breakfast sandwich at home. Bacon is a greasy, delicious, yet fatty staple that people can't seem to get enough of. And it's found its way into more than just breakfast, as a trip to any fast-food restaurant will show you. Fast-food bacon-based menu items are everywhere.
On bread, cookies, donuts, mixed in boozy drinks, sugary milkshakes, and of course in meaty fast-food sandwiches, bacon is becoming even more prevalent on menus. It's clearly being used in innovative ways too, to double the bacon, double the fun, and unfortunately, double the artery-clogging saturated fat, calories, and sodium. (Sorry, but it's true!)
We rounded up a few examples so you know which bacon-slathered fast foods you're better off not ordering if you can help it! Here are the 10 worst fast-food menu items that are heavy on the bacon that you likely should avoid, according to experts. While you're making healthier choices, go ahead and stock up on any of The 7 Healthiest Foods to Eat Right Now.
Checkers/Rally's Baconzilla
Per burger
: 910 calories, 62 g fat (24 g saturated fat, 3 g trans fat), 1,670 mg sodium, 43 g carbs (3 g fiber, 7 g sugar), 46 grams protein
This oh-so-big burger from Checkers/Rally's clearly lives up to its name, as, frankly, it's just over-the-top.
"Their description is sure to mention the mile-high bacon along with mayonnaise, a condiment made essentially of all saturated and trans fats," points out dietitian Trista Best, RD.
Sadly, leaving off the bacon and mayonnaise doesn't improve much, considering it is made with two large high-fat burger patties and two types of cheese. So, it's a doozy either way.
Five Guys Bacon Cheese Dog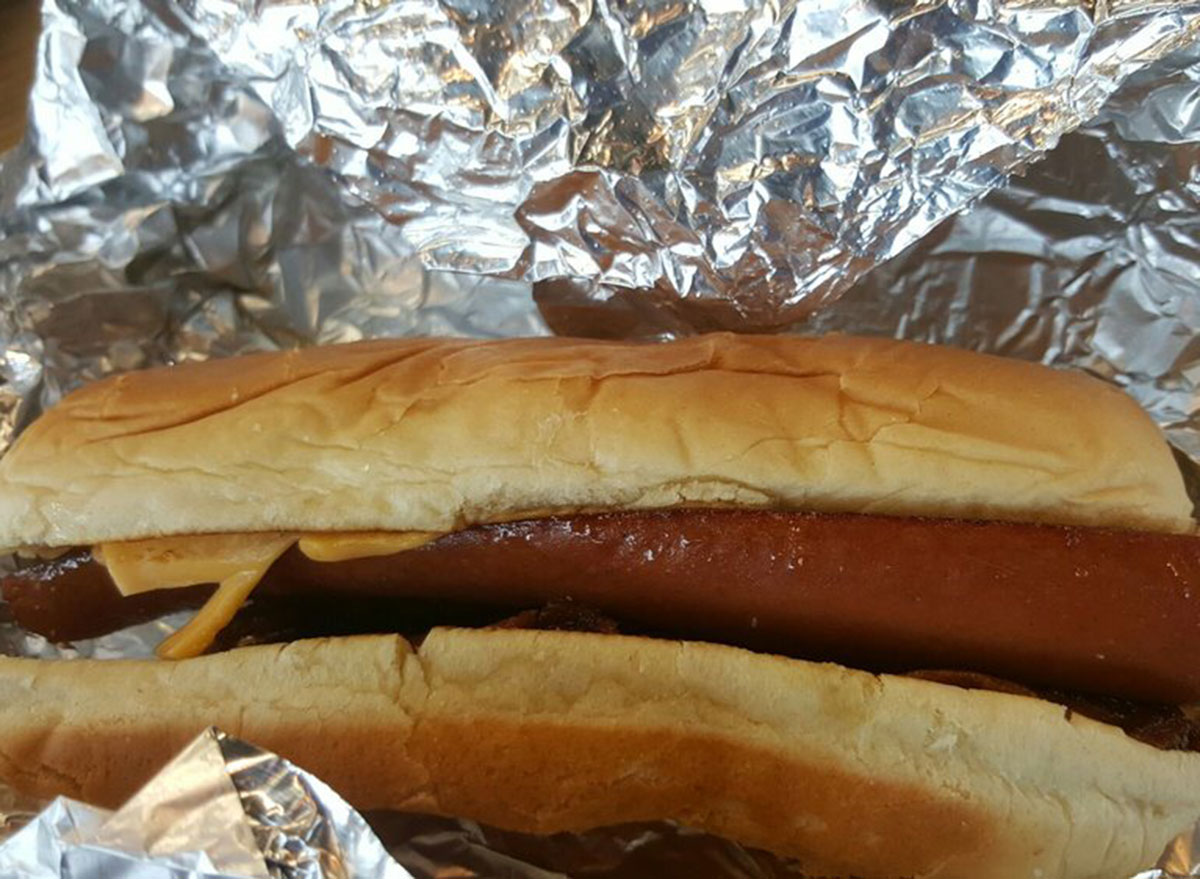 Per hot dog
: 670 calories, 48 g fat, 1,700 mg sodium, 40 g carbs, 15 g protein
"The most disturbing fact about this particular bacon-loaded menu item is that most customers don't stop at just one," says Best. "Hot dogs are one of those meals that typically require at least two for the consumer to feel satisfied."
As if the nutrition information isn't alarming as a single serving, when you double it, you've essentially consumed all your calories, fat, carbs, and sodium for the day in just one meal. And that's without any other side dishes you might be thinking of getting, too. (Who can resist those Five Guys fries, after all?)
Jack In The Box Bacon Ultimate Cheeseburger
Per burger
: 930 calories, 65 g fat (25 g saturated fat, 3 g trans fat), 1,590 mg sodium, 32 g carbs (1 g fiber, 6 g sugar), 55 grams protein
Here, this Jack In The Box burger is made up of two beef patties that are covered with both American and Swiss-style cheeses, mayonnaise, mustard, ketchup, and three slices of bacon, all on a buttery bun.
"This burger is nearly half a day's worth of calories in just one burger, not including the fries and calorie-dense beverage that will likely be eaten alongside it at 930 calories," says Best. "The fat is among the highest of any fast food burger I've seen and the sugar content is also surprisingly high, where the bacon must be made with syrup or some form of sugar for it to reach 6 grams on a burger."
Looking for more helpful tips? Sign up for our newsletter to get daily recipes and food news in your inbox!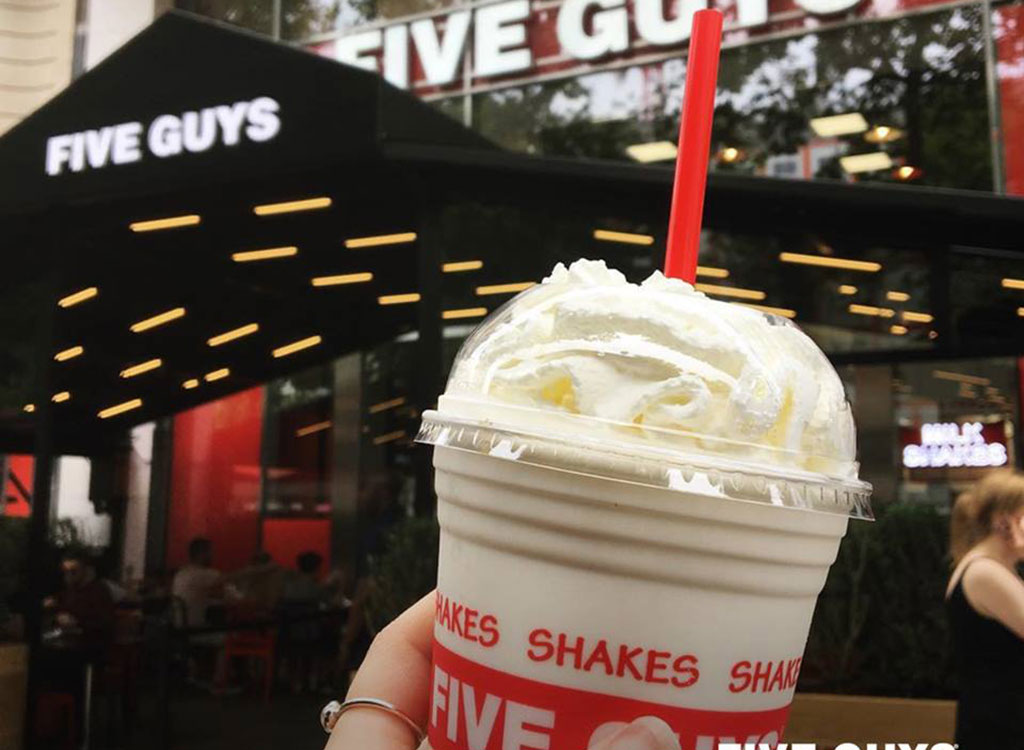 Per shake
: 750 calories, 39 g fat (24 g saturated fat, 1 g trans fat), 620 mg sodium, 84 g carbs (0 g fiber, 82 g sugar), 17 grams protein
Bacon has become a popular addition to just about any meal or snack of the day, including desserts. So it shouldn't come as much of a surprise that Five Guys, you can add bacon as a mix-in to the chain's popular milkshakes.
"If you take the base milkshake nutrition information and add the bacon mix-in information you find yourself with a calorie-dense, sugar-loaded shake, where all but two of the carbohydrate grams in this shake are from sugar, which will inevitably wreak havoc on gut health," says Best.
McDonald's Quarter Pounder With Cheese Bacon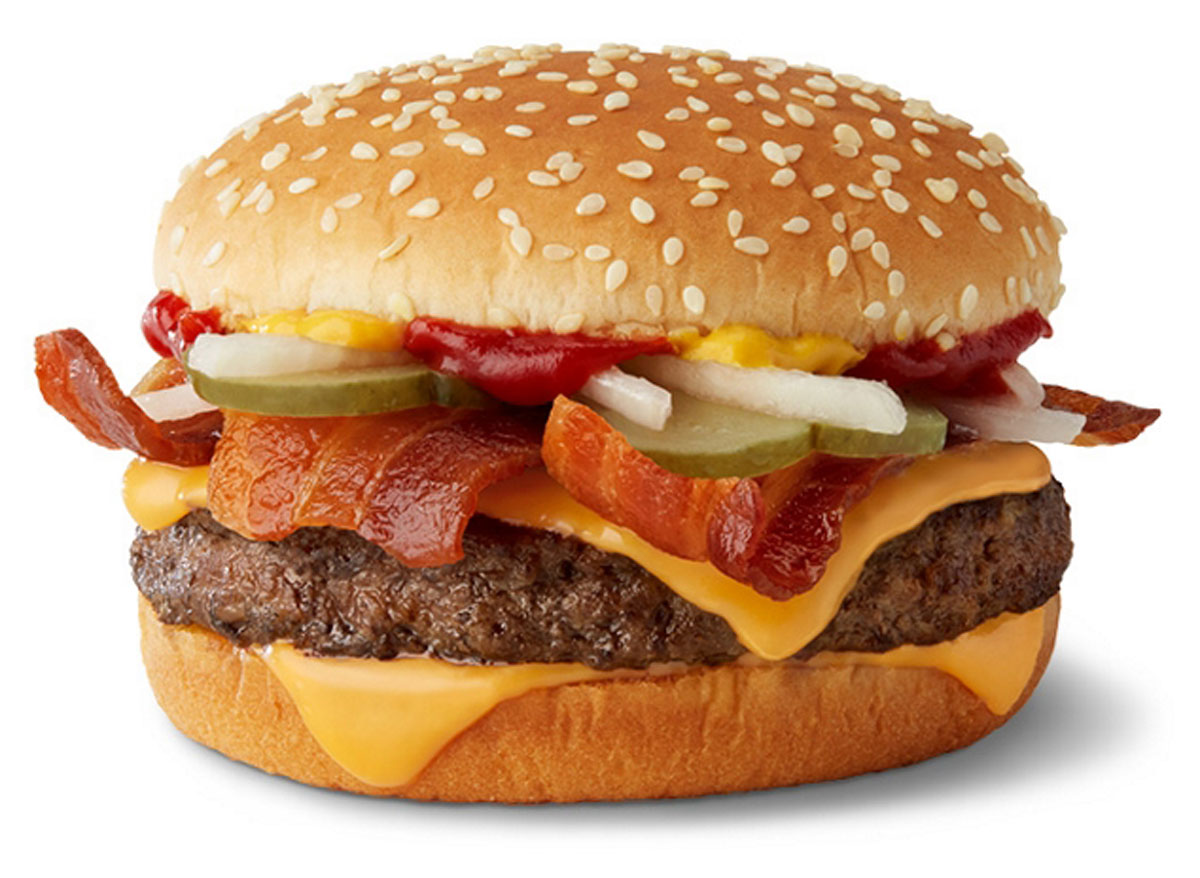 Per burger
: 630 calories, 35 g fat (15 g saturated fat, 1.5 g trans fat), 1,470 mg sodium, 43 g carbs (3 g fiber, 10 g sugar), 36 g protein
Mcdonald's took the quarter pounder and added cheese and bacon to it. Sounds delicious, but that doesn't mean it's suddenly a healthier menu option.
"The sodium is more than half the amount you are supposed to have in a day, plus it's high in fat, including saturated fat (the kind of fat that clogs your arteries)," says dietitian Ilyse Schapiro MS, RD, CDN.
Wendy's Pretzel Bacon Pub Triple Cheeseburger
Per burger
: 1,520 calories, 106 g fat (45 g saturated fat, 5 g trans fat), 1,940 mg sodium, 54 g carbs (4 g fiber, 6 g sugar), 89 g protein
This burger has three beef patties, plus cheese sauce, bacon, crispy fried onions, and more cheese, all on a pretzel bun. Talk about a monster sandwich.
"This is actually the highest calorie burger on the Wendy's menu, and the calories are super high, close to the amount of calories you need in a day," says Schapiro. Plus, it's very high in fat, at 106 grams. The saturated fat is more than double the amount you should eat in a whole day, she adds.
Wendy's Bourbon Bacon Cheeseburger Triple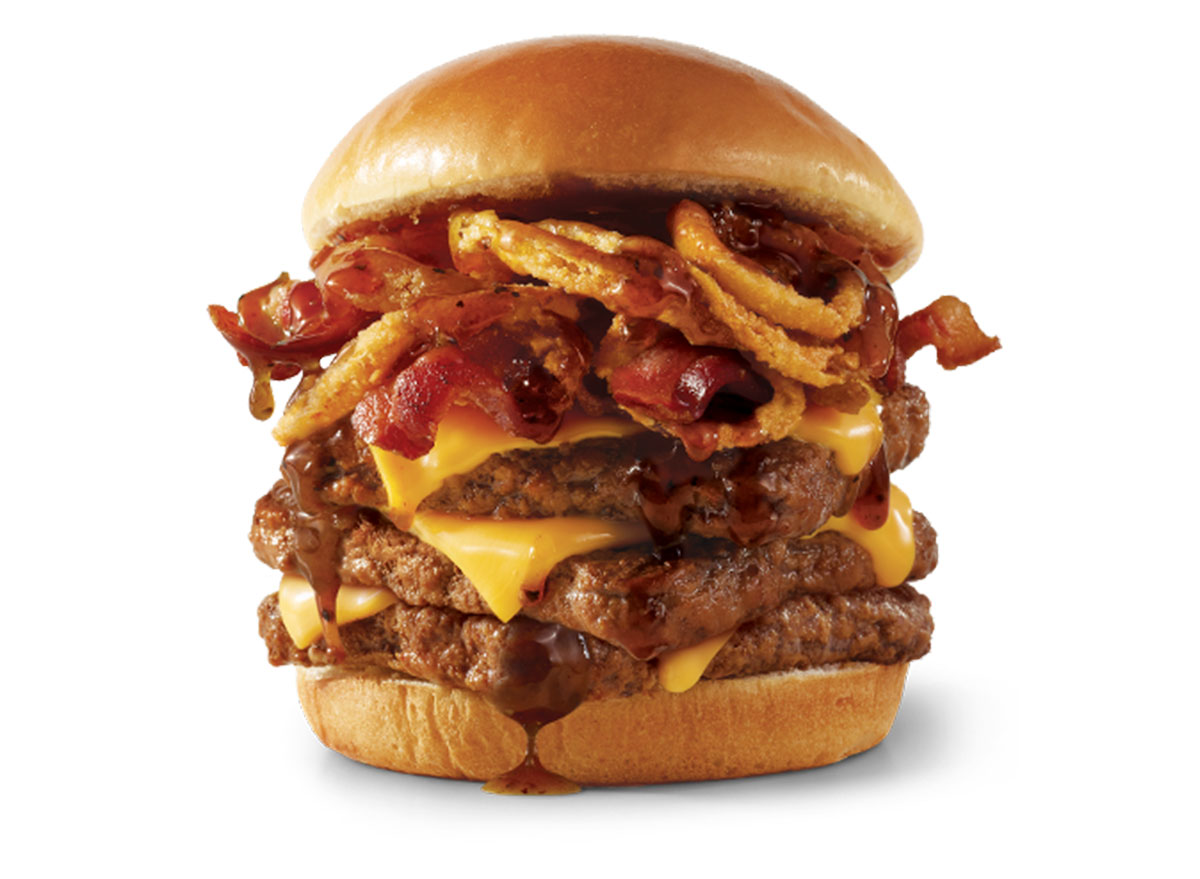 Per burger
: 1,280 calories, 86 g fat (36 g saturated fat, 4.5 g trans fat), 1,940 mg sodium, 52 g carbs (2 g fiber, 16 g sugar), 75 g protein
Wendy's strikes again with this new menu item. One of these burgers has three patties that are topped with smoked bacon, cheese, crispy fried onions, and a bourbon bacon sauce. It's no wonder the burger itself is more than 1,200 calories alone, and is very high in fat, with 36 grams of artery-clogging saturated fat in particular.6254a4d1642c605c54bf1cab17d50f1e
The sodium here is high too, which Schapiro says can be dangerous, as high sodium intake leads to an increased risk of heart disease and stroke.
Carl's Jr. Spicy Double Western Bacon Cheeseburger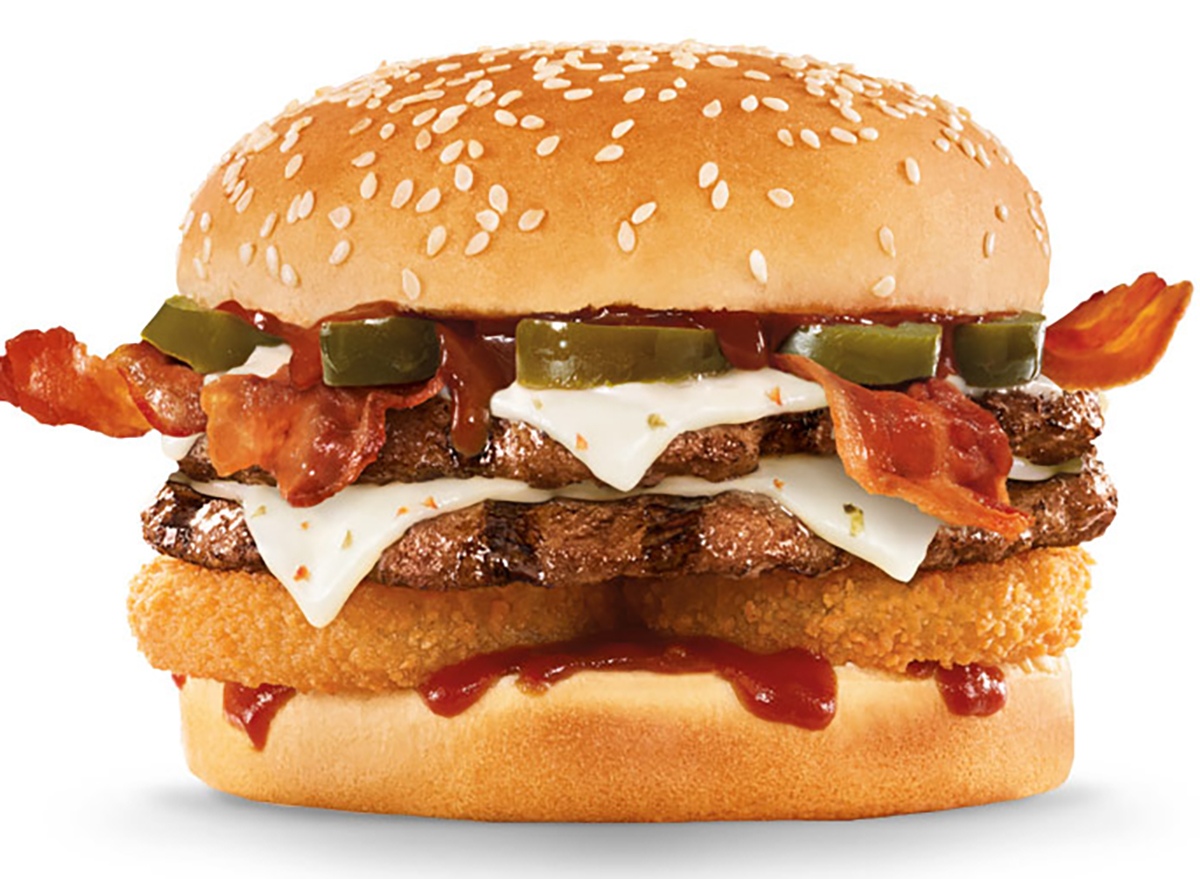 Per burger
: 1,400 calories, 87 g fat (35 g saturated fat, 4 g trans fat), 2,960 mg sodium, 75 g carbs (5 g fiber, 20 g sugar), 80 g protein
"Made with two beef patties, two strips of bacon, pepper jack cheese and topped off with crispy onion rings, there's no question why this burger contains nearly triple the daily 13 grams saturated fat maximum that is recommended by the American Heart Association," says Lyssie Lakatos, RDN, CDN, CFT. "This is an artery-clogging burger that should only be eaten for a very rare splurge, if at all."
Making a bad situation worse? It's got more than an entire day's worth of sodium, too.
Burger King Bacon King Sandwich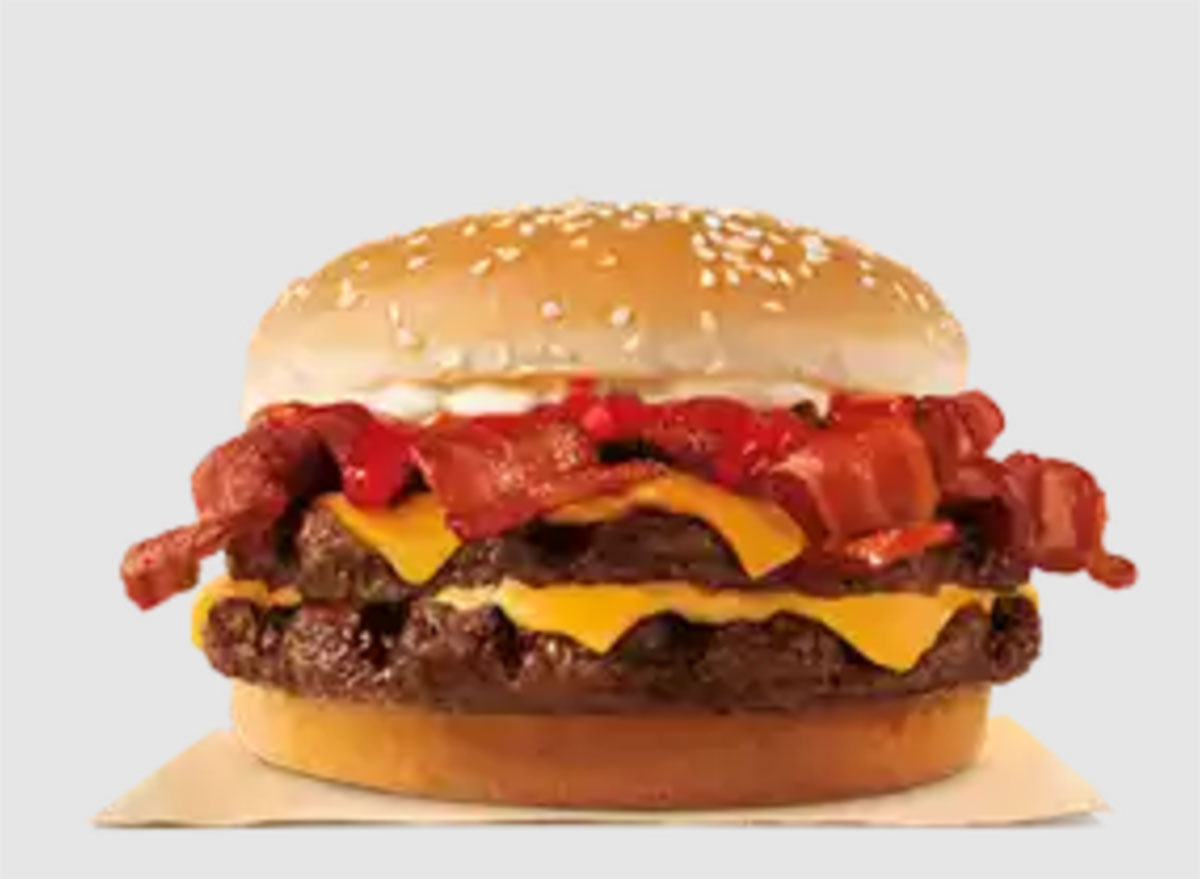 Per burger
: 1,150 calories, 79 g fat (31 g saturated fat, 3.5 g trans fat), 2,150 mg sodium, 49 g carbs (2 g fiber, 10 g sugar), 61 g protein
At Burger King, ordering the Bacon King sandwich means you're feasting on a burger that contains two beef patties, cheese, thick bacon, and mayonnaise. So it's easy to see why it's a diet disaster amongst the list of bacon-packed menu items.
"The sodium is ridiculously high, close to more than you should consume in a day let alone one meal, and it's a calorie and fat overload," says Schapiro.
And don't let the word "sandwich" mislead you into thinking this is a healthier lunch option. It's still a burger!
Isadora Baum
Isadora Baum is a freelance writer, certified health coach, and author of 5-Minute Energy.
Read more about Isadora