4 Worst Fast Food Sandwiches for Belly Fat, Say Dietitians
As delicious as they look, your belly might be seeing it later.
There's no denying that fast food is quick and convenient. Fast food sandwiches, in particular, are easy to grab, making them perfect for doing anything on-the-go, such as driving or heading on a train. Along with being quick and easy food staples, fast food chains strive to make their sandwiches taste delicious. Sometimes, they completely disregard the quality of ingredients used.
Some fast-food chains will diminish the quality of the sandwich by making high-in-fat or high-caloric foods using ingredients that may taste good but could affect your overall health. The use of certain ingredients can also correlate to poor body health such as developing belly fat. With the help of dietitians from our Medical Expert Board, we've gathered four of the worst fast-food sandwiches that could contribute to belly fat. Once you check these out, be sure to look at The Worst Fast Food Donuts in America.
Panera Bread's Bacon Turkey Bravo on Tomato Basil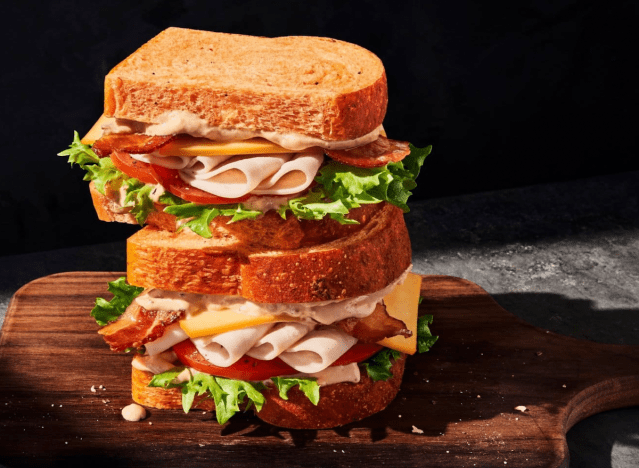 In regards to fast food sandwiches, medical board expert Molly Hembree, MS, RD, LD believes that these foods are sources of excess calories and fat, which can lead to a positive calorie balance if eaten often. It can also contribute to weight gain, which may accumulate around the midsection in some people.6254a4d1642c605c54bf1cab17d50f1e
With that being said, she believes this one sandwich serving can be a contributor.
"This sandwich comes in at an astounding 1,010 calories, with 15 grams as saturated fat, says Hembree. "If you're craving this sandwich, opt for a half sandwich (500 calories), plus a half portion of the Strawberry Poppyseed Salad (120 calories)."
Subway's 12-inch Chicken & Bacon Ranch Sandwich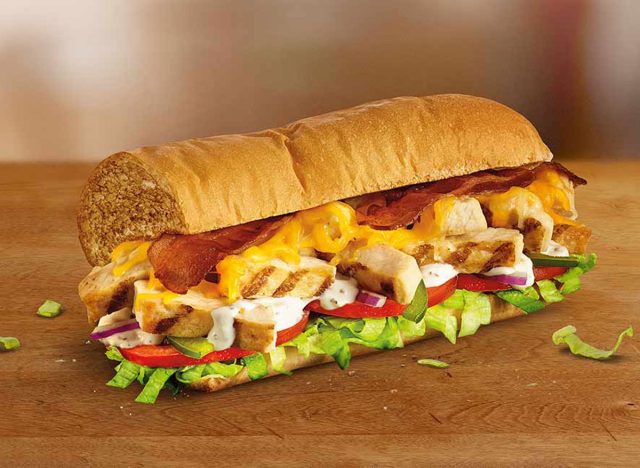 "Hopefully a 12-inch sandwich of any sort isn't really on your radar for a meal, but if it is, steer clear of this sandwich. It packs 1060 calories, including 22 grams of saturated fat," says Hembree. "Here it is again advised that if you must pick this sandwich, do a 6-inch sandwich with a side like baked chips or a fruit cup/fruit slices.
Lauren Manaker, MS, RDN, LDN, CLEC, CPT, The First Time Mom's Pregnancy Cookbook, The 7 Ingredient Healthy Pregnancy Cookbook, and Fueling Male Fertility, also believes this foot-long to be an unhealthy choice when it comes to fast-food sandwiches.
"A Subway chicken and bacon ranch sandwich has over 1,000 calories if you are opting for the footlong size," says Manaker. "Plus, the saturated fat in this sandwich is quite high, which can contribute to weight gain."
Subway's Baja Steak & Jack Melt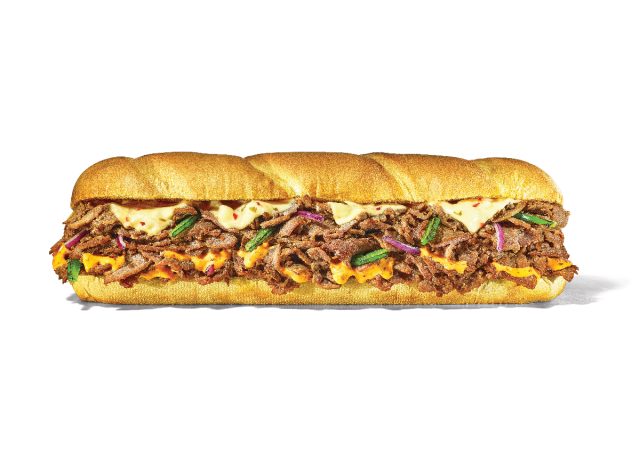 Another Subway staple, this 12-inch sandwich comes in at 1,780 calories, with most of those calories coming from fat at 42%, and carbohydrates coming in at 33%.
According to the American Heart Association, it is recommended that you consume only 5% to 6% of calories from saturated fat. For example, for someone eating 2,000 calories a day, you should consume no more than 120 calories of saturated fat. That would be about 13 grams of saturated fat per day.
However, in this sandwich alone, you are eating 36 grams of saturated fat per serving, which is 180% of your daily intake, making it way over your limit.
Zaxby's Signature Club Sandwich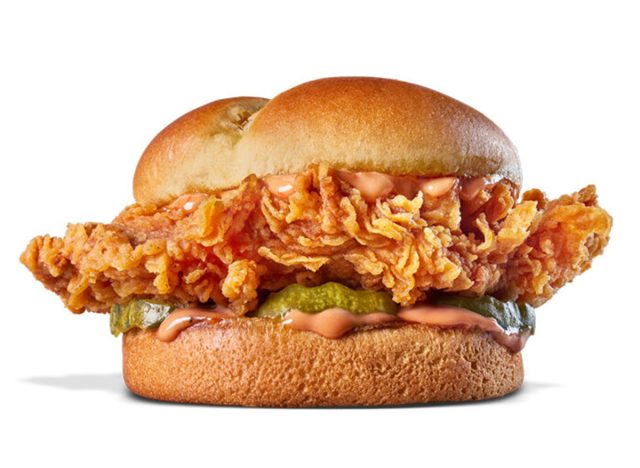 Their signature club sandwich is a double hand-breaded with extra crispy breading. It's then smothered with their famous Zax Sauce and topped with pickles, American cheese, and bacon. To add insult to injury, you can complete your meal with crinkle-cut fries and a small drink. If you had to choose, stay away from the combo meal. Or, opt for their grilled chicken sandwich.
"With over 1,000 calories per sandwich and made with fried chicken, creamy sauce, white bread, and bacon, eating this sandwich frequently won't do you any favors in the belly fat department," says Manaker.
Kayla Garritano
Kayla Garritano graduated from Hofstra University, where she majored in Journalism and double minored in Marketing and Creative Writing.
Read more about Kayla