The Worst Recipes of 2020, According to Our Editors
These recipe trends sure had us puzzled this year.
We will always be fans of a home-cooked meal. Cooking your food at home means you get to control the ingredients that go into your food, including the sugar, fat, and much more. However, while the Internet is a treasure trove for home-cooked recipes, that doesn't mean that all recipes out there are helpful for your health—or even for your convenience. This year alone, we were introduced to a lot of recipe trends that had us confused, either for being full of sugar and fat or for being way too overly complicated. This is why we decided to round up the worst recipes of 2020. Here they are, and for better recipes to make, be sure to check out our list of 100 Easiest Recipes You Can Make.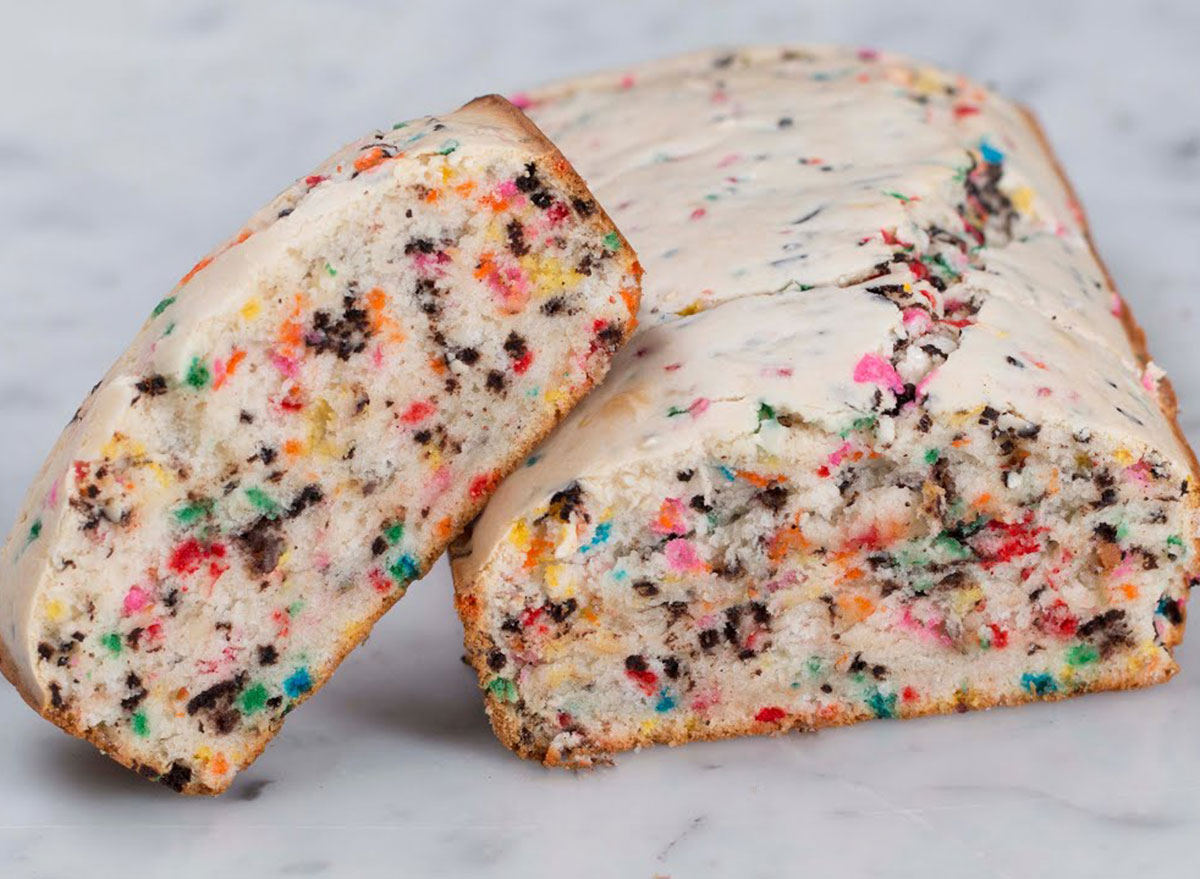 While seemingly easy to throw together, ice cream bread isn't exactly the healthiest food that emerged from 2020. To make, you would simply wait for a tub (or two) of full-fat ice cream to completely melt, then mix together with self-rising flour. Cover the top with rainbow sprinkles and bake until finished. Again, one of the easier recipes to make, but not exactly the healthiest. With the ice cream in the bread, the bread has a whole lot more sugar in it than any other bread you can make at home. Instead of making ice cream bread, stick to something a bit healthier that trended this year—like sourdough bread or banana bread.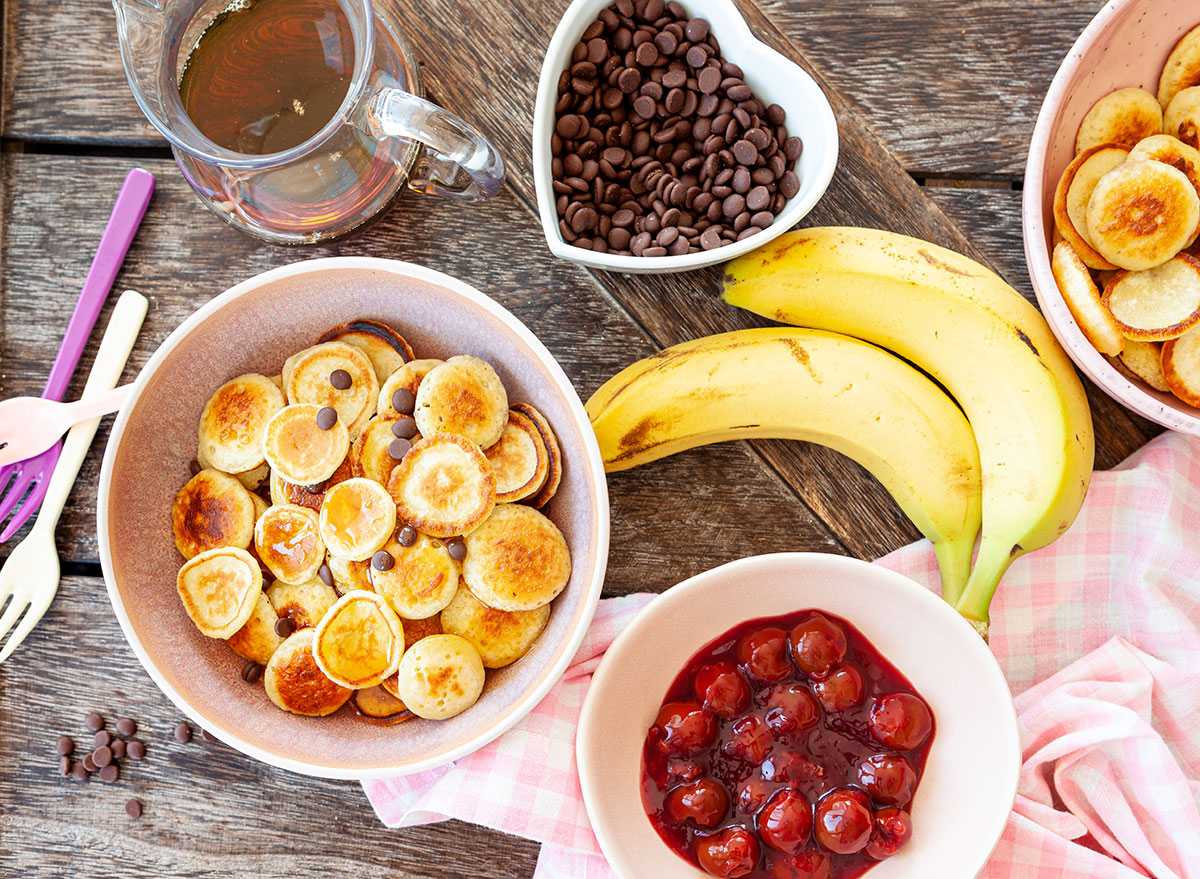 Pancake cereal sure is cute to look at, and makes for a great Instagram photo. But be honest with us—do you really enjoy flipping so many individual pancakes for just one breakfast bowl? Even though you can easily make healthier pancakes for a pancake cereal, we personally would prefer to flip a normal stack of pancakes. Less flipping with the same great taste! Especially if it's our protein pancakes or these flaxseed pancakes with blueberry compote.
A table covered in nachos? While this Viking-style snack sounds intriguing, it doesn't exactly encourage good portion control. The concept emerged on TikTok this year as people covered their tables in tortilla chips, then sprinkled all kinds of toppings including taco meat, queso, guacamole, salsa, sour cream, tomatoes, lettuce, and more. Don't get us wrong—we do love a good plate of chicken nachos or steak nachos. But it's easier to eat those foods when we portion out the perfect, healthy amount to enjoy.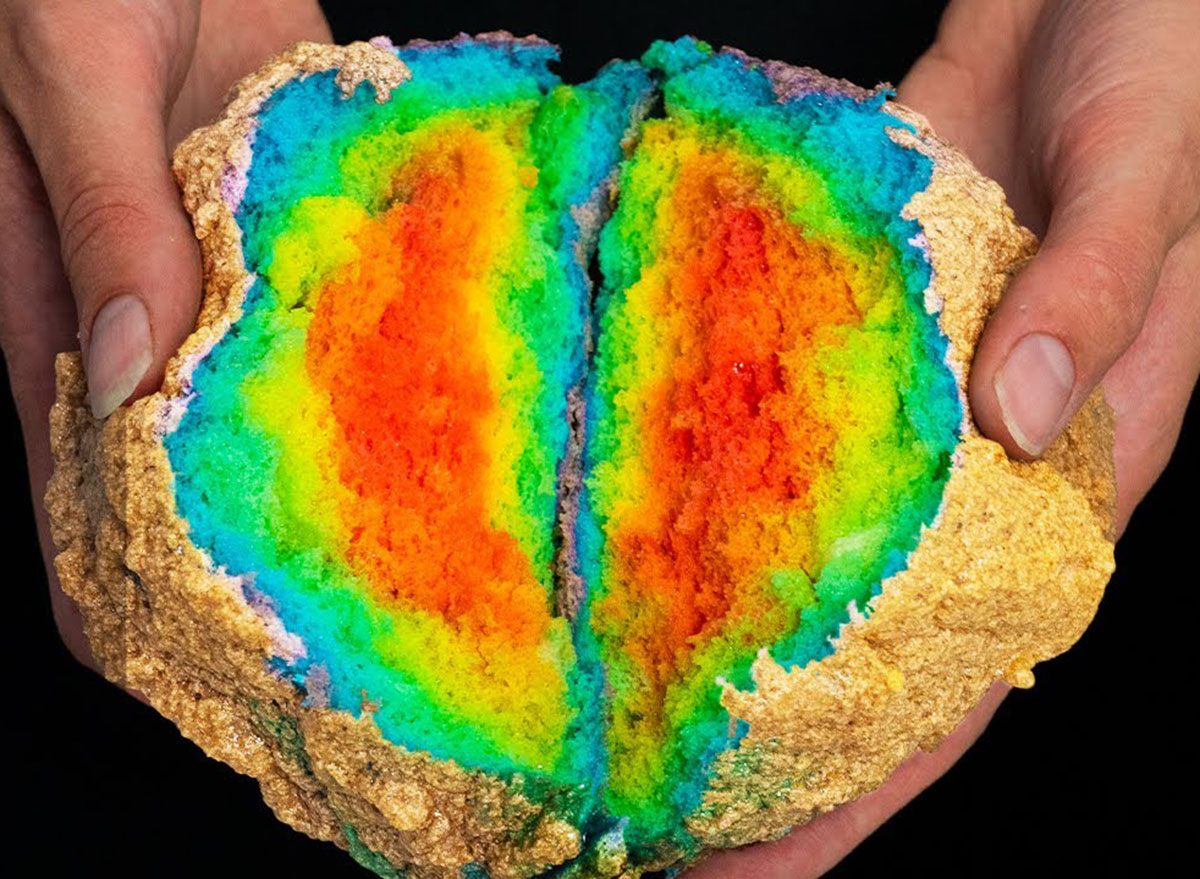 Cloud bread sure is pretty to look at, but let's be real—it's not the most substantial bread to eat for a meal. When it comes to bread, we look for loaves that have good natural fiber content, which helps with digestion and weight loss. Unfortunately, that colorful cloud bread making the rounds on the Internet doesn't include any of the fiber content.
Typically, cloud bread is made of egg whites, sugar, cornstarch, and food coloring. You're even stripping the yolks from the eggs, which means you're losing that filling protein or healthy fat that the yolk provides. Needless to say, this cloud bread isn't the most satiating recipe you can make for yourself.
However, if you're still looking for a low-carb bread that isn't full of sugar, we have a healthier cloud bread recipe that pairs perfectly with this keto breakfast sandwich. You'll feel full and satisfied eating our version—promise!
Jason Derulo's celebration creations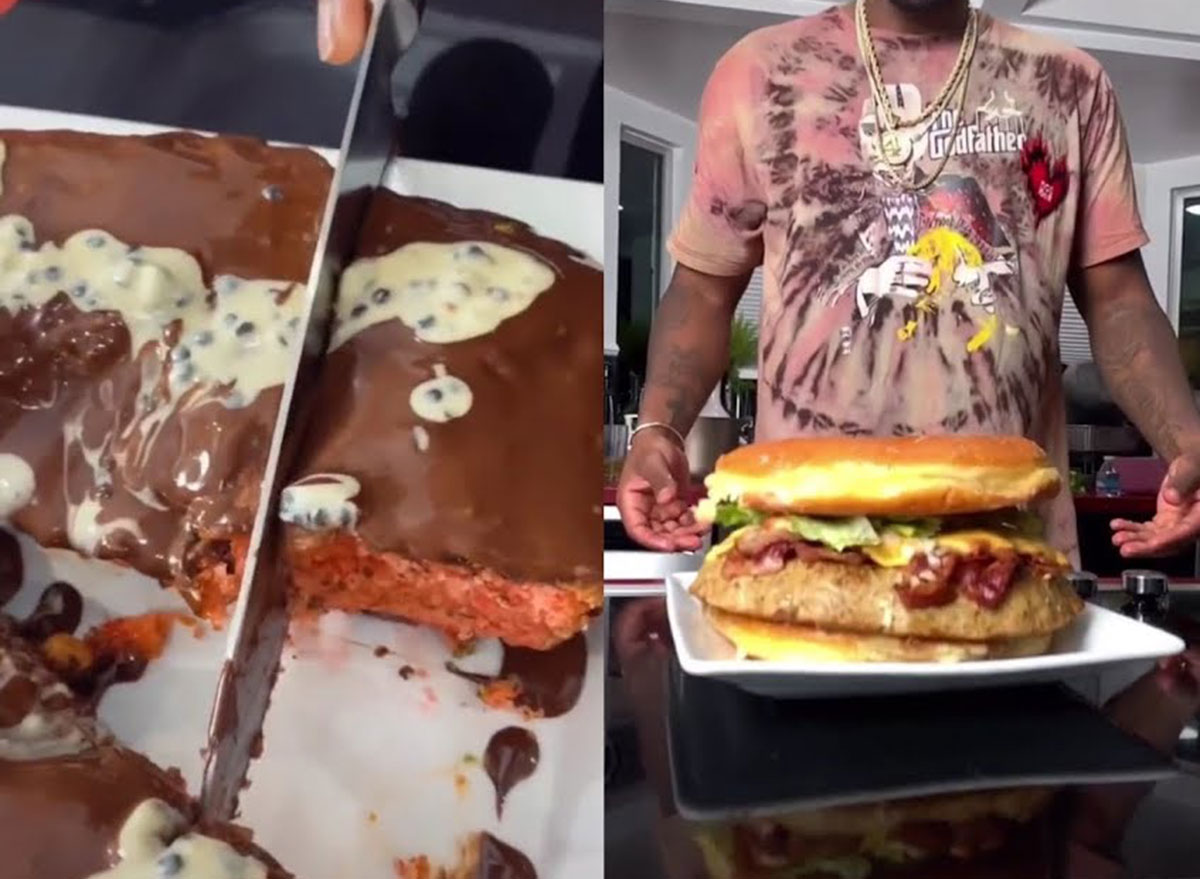 Jason Derulo certainly became a popular phenomenon on TikTok this year, partly because of the crazy sugary creations he makes every time he hits another million followers on the app. They sure are mesmerizing to watch, but if you were to add up the calories of these creations, they wouldn't exactly sit in the category of being healthy. Some of his creations include chocolate and marshmallow filled donut waffles, cookie candy skillets, a cotton candy sandwich stuffed with sour candies and ice cream, and his most recent creation—a gooey casserole made with marshmallows, chips, cereal, gummy worms, sour candy, popcorn, and melted chocolate. He certainly takes his "cheat days" to a whole new level.6254a4d1642c605c54bf1cab17d50f1e
We may not be a fan of these specific recipe food trends from this year, but we sure are loving these 8 Best Food Trends To Try In 2021.
Eat This, Not That!
Inspired by The New York Times best-selling book series, Eat This, Not That! is a brand that's comprised of an award-winning team of journalists and board-certified experts, doctors, nutritionists, chefs, personal trainers, and dietitians who work together to bring you accurate, timely, informative, and actionable content on food, nutrition, dieting, weight loss, health, wellness, and more.
Read more about Eat This