The Worst Sandwiches in America
Hot or cold, crusty or chewy, a sandwich is nothing more than some meat and vegetables getting a big soft hug from some bread. And so it's no wonder sandwiches are among our favorite go-to comfort foods: Mom's grilled cheese and Dad's Sloppy Joes were hallmarks of our early days, when our lunchtime nutritional needs were met by the people who love us.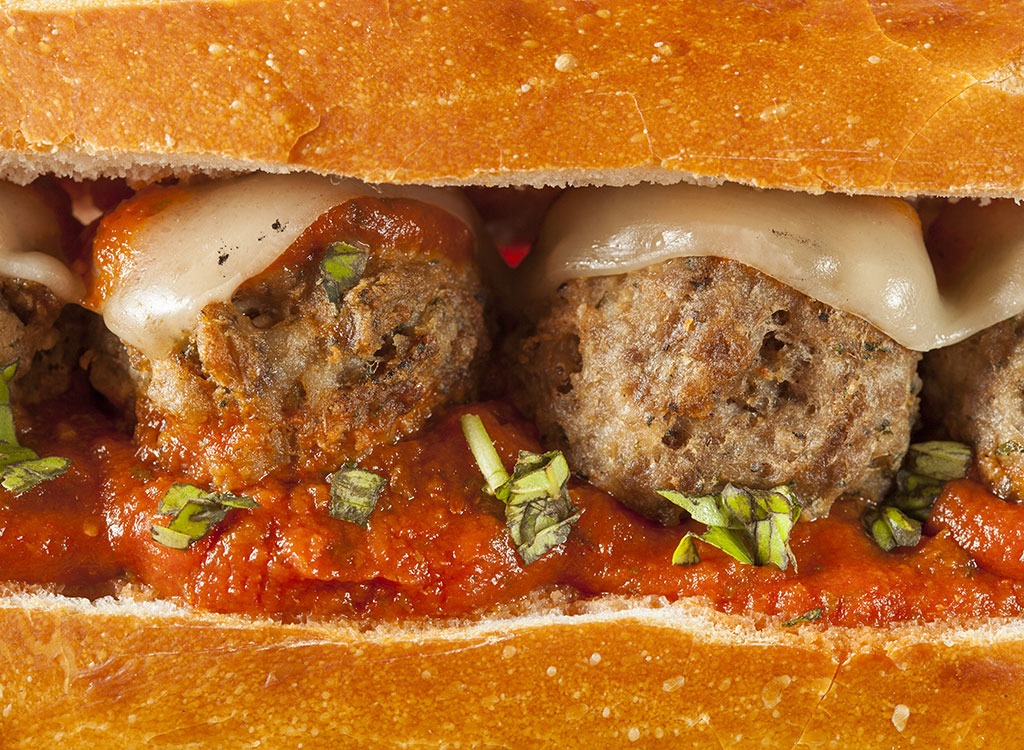 Nowadays, most of our sandwiches are made not with love, but by chain restaurants with anonymous short-order cooks, using cheap fats and low-quality carbs—even in sandwiches that ought to be good for you. Indeed, some of the most calorie-laden lunches out there carry innocent-sounding words like "chicken" or "salad" or even "veggie" in their names.
To help you navigate the lunchtime labyrinth, the editors at Eat This, Not That! magazine researched the most popular restaurants that serve sandwiches to find the good, the bad and the diet monstrosities. To make the right choice every time you eat out, click to read our new, FREE Eat This, Not That! special report: The Top Restaurant Chains Graded by Health!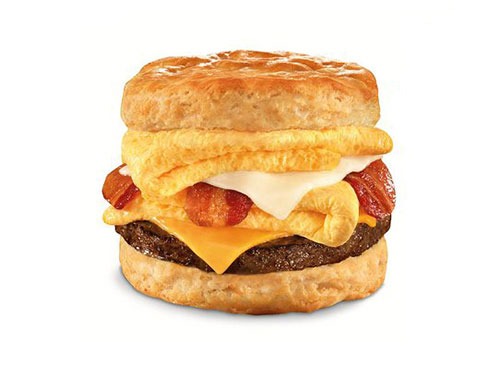 WORST BREAKFAST SANDWICH
Carl's Jr. Monster Biscuit
810 calories, 60 g fat (25 g saturated fat, 6 g trans fat) 1,850 mg sodium, 40 g carbohydrates, 29 g protein
That's the Trans Fat Equivalent of: 6 McDonald's Big Macs!
It would be wrong to start our list any differently than we start each day: with breakfast. Since our last sandwich roundup, the Hardee's Monster Biscuit has been outdone by Carl's Jr's take on it, which features double meats, double egg and double cheese. While it might not be the highest calorically on our list, it's the worst offender when it comes to artery-clogging trans fat—which the FDA plans to ban, calling it "unsafe." The Monster Biscuit not only unhealthy, but, with three days' worth, soon to be illegal.
Eat This Instead!
Carl's Jr. Bacon, Egg & Cheese Biscuit
470 calories, 28 g fat (15 g saturated fat, 0 g trans fat), 1,130 mg sodium, 38 g carbohydrates, 15 g protein
WORST CHICKEN SANDWICH
Chili's Bacon Avocado Chicken Sandwich
1,580 calories, 82 g fat (19 g saturated fat), 3,950 mg sodium, 138 g carbohydrates
That's the Sodium Equivalent of: 26 servings of Saltines stacked tall!
This is the winner of the Worst Chicken Sandwich. Or loser, depending how you look at it. At Chili's, you won't find a sandwich with less than half a day's worth of calories, but this one takes the cake (and has the calorie count of one, too). The plate carries enough sodium to last a person three days. To top it off, last year, Chili's installed tablets at tables for ordering, which in turn raised appetizer and dessert sales by 20%. Chili's: 1, America's waistlines: 0.
Eat This Instead!
Mango-Chile Chicken
520 calories, 17 g fat (3.5 saturated fat), 2,180 mg sodium, 57 g carbohydrates
WORST BBQ SANDWICH
Friendly's Honey BBQ Chicken Supermelt
1,550 calories, 81 g fat (24 g saturated fat), 2,840 mg sodium, 152 g carbohydrates
That's the Calorie Equivalent of: 13 KFC Original Recipe drumsticks in one sandwich!
When you think of BBQ, you don't think of Friendly's—and let's keep it that way. This supermelt smothers "country-breaded"—a.k.a. fried—chicken tenders in honey BBQ sauce, melted Cheddar cheese, piles of bacon and Ranch dressing, and stuffs it all into a greasy sourdough roll. Most sandwiches at Friendly's clock in at four digits worth of calories, so enjoy your BBQ without the bread, and order the Turkey Tips.
Eat This Instead!
Friendly's Teriyaki Turkey Tips Entree with BBQ Sauce
680 calories, 12 g fat, (4 g saturated fat), 2,800 mg sodium, 78 g carbohydrates
And speaking of meat, if you're into looking good and feeling fit, make sure you avoid these 5 Giant Mistakes Most People Make with Protein.
WORST WRAP
Applebee's Chicken Fajita Rollup
1,070 calories, 62 g fat, (27 g saturated fat, 2 g trans fat), 2,250 mg sodium, 66 g carbohydrates
That's the Saturated Fat Equivalent of: 27 slices of bacon!
This combo seems innocent enough, but as the menu says, "brace yourself for bold"—bold calories and fat content, that is. Where it's all hiding before it hits your waistline: chicken, Monterey Jack & cheddar, lettuce and pico wedged into a heavy carb-loaded wrap.
Eat This Instead!
Applebee's Lunch Combo Clubhouse Grille
580 calories, 33 g fat, (10 g saturated fat), 1,400 mg sodium, 45 g carbohydrates
WORST STEAK SANDWICH
Longhorn Steakhouse Tavern Steak Sandwich
1,180 calories, 70 g fat (25 g saturated fat, 1.5 g trans fat), 2,070 mg sodium, 71 g carbohydrates
That's the Fat Equivalent of: snacking on 16 Twinkies!
A recent study from the University of California, San Diego, found higher consumption of trans fat will not only clog your arteries, but can also cause memory loss. Maybe the 1.5 grams in this sandwich will help us forget that we maxed out on fat and sodium for the day in just a few bites. To trim your order — and your waistline — switch to chicken and try these 5 No-Gym, No-Sit-up Tricks for a Flat Belly!
Eat This Instead:
Longhorn Steakhouse Rocky Top Chicken Sandwich
710 calories, 30 g fat (13 g saturated fat, 0.5 g trans fat), 1,340 mg sodium, 52 g carbohydrates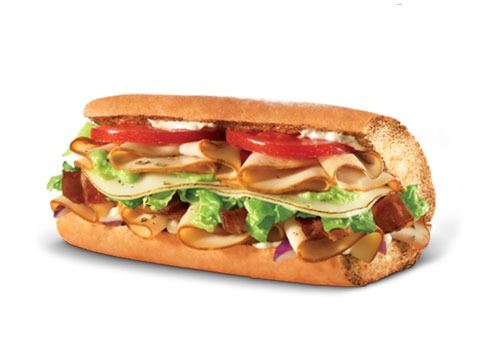 6254a4d1642c605c54bf1cab17d50f1e
WORST TURKEY SANDWICH
Quiznos Turkey Bacon Guacamole Sandwich (Large)
1,300 calories, 69 g fat (20 g saturated fat, 1 g trans fat), 3,870 mg sodium, 109 carbohydrates
That's the Sodium Equivalent of: 341 Lay's Classic chips!
Normally, we'd say olé to guacamole, with studies proving the vast health benefits of avocado—it boosts everything from weight loss to cardiovascular health. (Three cheers to Subway for offering it atop all their subs.) But with a sandwich packing nearly two days' worth of sodium, Quiznos negates the benefits and turns this into a "healthy" head-fake. The menu claims it will twist your taste buds, but we're sure it will have your stomach in knots, too.
Eat This Instead!
Quiznos Turkey Lite on Artisan Wheat (Regular)
490 calories, 9 g fat (2 g saturated fat, 0 g trans fat), 1,960 mg sodium, 76 carbohydrates
WORST VEGGIE SANDWICH
Blimpie VegiMax (Large)
1,040 calories, 41 g fat (11 g saturated fat), 2,550 mg sodium, 110 g carbohydrates
That's the Sodium Equivalent of: 109 Snyder's Pretzel Sticks!
Beware of the health halo: "Veggie" is not synonymous with "healthy," and last time we checked, neither was "rock-hard frozen salt patty." Blimpie disagrees, and has made their mashed-up vegetable oval—taken from a freezer and then thrown into the microwave—the star ingredient of its signature vegetarian option. It's full of more than a day's worth of sodium! To get the "Real. Fresh. Taste" that Blimpie promotes, we recommend ordering—eureka!—real fresh veggies. And make sure you're getting enough of the right veg proteins, with these Eat This, Now That!-recommended 9 Best Meat-Free Proteins for a Flat Stomach!
Eat This Instead!
Blimpie Veggie & Provolone (Regular, no sauce)
330 calories, 9 g fat (4 g saturated fat), 940 mg sodium, 49 g carbs, 3 g fiber, 8 g sugar, 14 g protein
WORST SALAD SANDWICH
Jason's Deli Full Tuna Melt
990 calories, 69 g fat (15 g saturated fat), 1,170 mg sodium, 39 g carbohydrates
That's the Fat Equivalent of: More than 3 Häagen-Dazs Ice Cream Bars!
Back in 2005, Jason's Deli declared Trans Fat Freedom—and the chain earns a gold star in our book, except for their Tuna Melt. Although the deli parades calorie counts across each menu, what's not listed is the 69 grams of fat packed into this midday "healthy" meal.
Eat This Instead!
Jason's Deli Amy's Turkey-O
480 calories, 17 g fat, (6 g saturated fat), 1,380 mg sodium, 56 g carbohydrates
WORST PBJ
Potbelly Big PBJ
1,340 calories, 51 g fat (10 g saturated fat), 1,390 mg sodium, 199 g carbohydrates
That's the sugar equivalent of: 11 Krispy Kreme doughnuts!
With only three ingredients—bread, peanut butter and cheese—this lunchbox favorite has the least amount of ingredients, but the highest calorie count on the menu, not to mention a sugar level that rivals a pot of candy. Instead, trade the P-B-J for a T-K-Y, a lighter take on a turkey and cheese sandwich. Ask for "thin-cut" for a thinner sub, with ⅓ of the bread removed from the regular size. Or try the super-effective, ab-defining "75/25" rule and learn How Maria Menounos Dropped 40 Pounds—and you can, too!
Eat This Instead!
Potbelly T-K-Y Sandwich Skinny
295 calories, 6 g fat (3 g saturated fat), 1,053 mg sodium, 40 g carbohydrates
WORST SANDWICH IN AMERICA
Quiznos Italian Meatball with Double Mozzarella, Marinara (Large)
1,530 calories, 81 g fat (28 g saturated fat, 0.5 g tran fat), 3,580 mg sodium, 122 g carbohydrates
That's the Calorie and Sodium Equivalent of: Three Taco Bell Crunchwrap Supremes!
Why is this the Worst Sandwich in America? Double mozzarella causes double trouble for more than just your waistline—it ups the sodium count, leading to a risk of heart disease—and the meatballs, colored grey, are teeming with fatty oil. Put them between a buttery roll, and slather them in a sugary Marinara sauce, and you don't have a sandwich. You have a pizza. And a bad one.
Eat This Instead!
Quiznos Spicy Monterey Sandwich (Regular)
630 calories, 20 g fat (8 g saturated fat), 2,320 mg sodium, 78 g carbohydrates
Eat This, Not That!
Inspired by The New York Times best-selling book series, Eat This, Not That! is a brand that's comprised of an award-winning team of journalists and board-certified experts, doctors, nutritionists, chefs, personal trainers, and dietitians who work together to bring you accurate, timely, informative, and actionable content on food, nutrition, dieting, weight loss, health, wellness, and more.
Read more about Eat This