25 Zucchini Recipes for Weight Loss
Zucchinis are like that outgoing, sassy friend who you can literally take anywhere. In fact, they usually take the party to a new level, improving the scene wherever they go.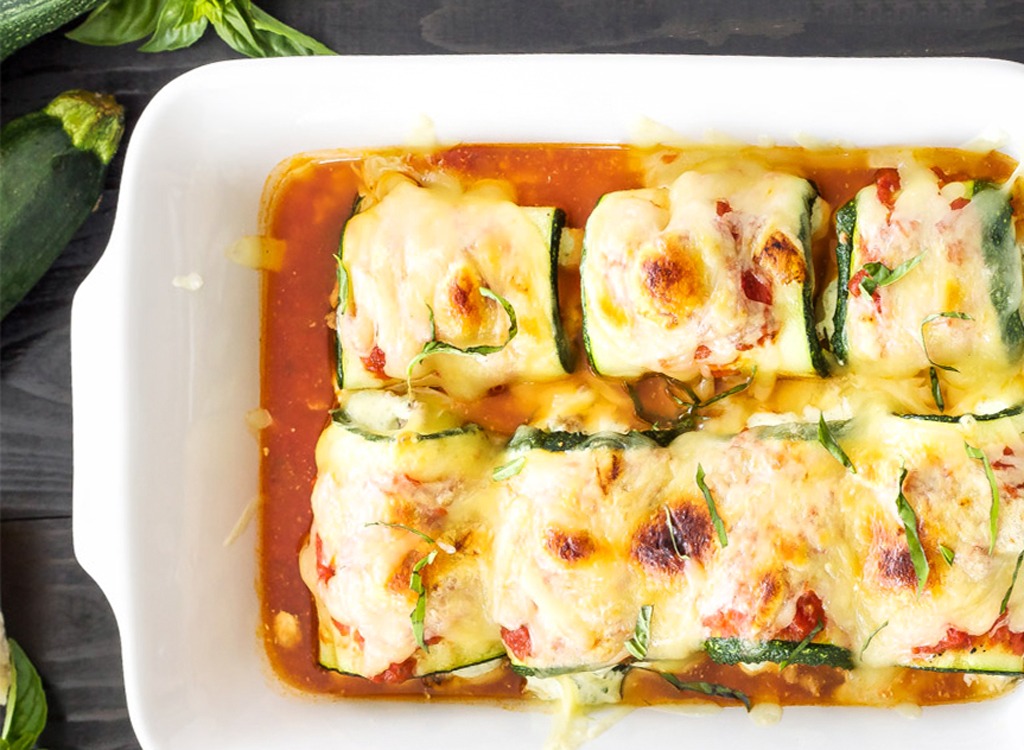 Confession: I'm a bit spoiled, thanks to the fact that my family owns a local farm in my hometown. Every summer, I get to take full advantage of the plethora of fresh, locally-grown vegetables that are at my disposal. And during a visit last week, I stopped to make a zoodle salad (pasta salad made with zoodles), and it's safe to say that my summer romance with zucchini was rekindled. The way it melts in your mouth and flawlessly adapts to whatever ingredients it's combined with? I could not get enough! And I was even more smitten when I saw that you could make literally anything with the super squash—while cutting calories, carbs, fat, and sodium at the same time.
This list takes foodie faves and transforms them into waist-whittling bites. There's a surplus of zucchini out there, so get inspired—or if you're like me, embrace your healthy, good luck and make the most of it! And for when you can't making something at home, stay on track with these #1 Healthiest Menu Option at 40 Popular Restaurants.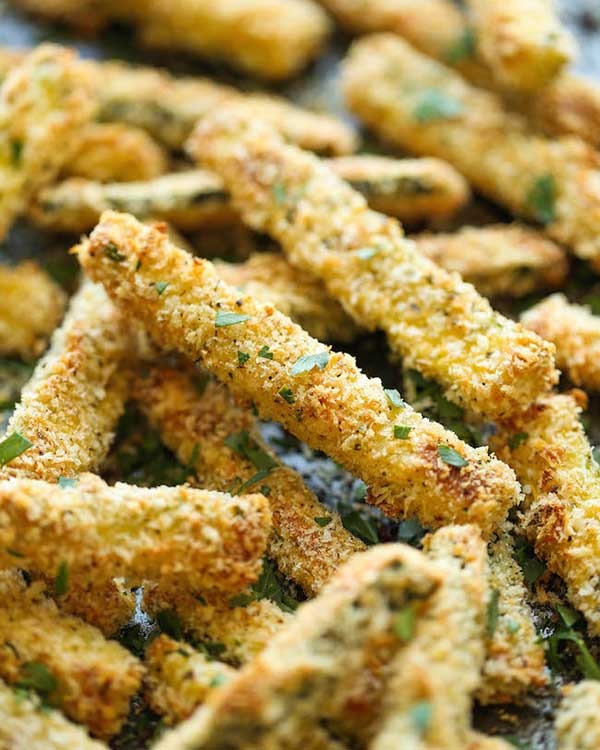 Nutrition: 135 calories, 4.5 g fat (2 g saturated), 181 mg sodium, 15.6 g carbs, <1 g fiber, <1 g sugar, 7.8 g protein
Just because these fries aren't "fried" doesn't mean they're any less of a food orgasm. Don't believe me? Whip up banging recipe to see for yourself. And while you're at it, check out these 25 Best Foods for a Toned Body because science says one good decision often leads to more.
Get the recipe from Damn Delicious.
QUINOA ZUCCHINI PIZZA FRITTERS
Nutrition: 266 calories, 11.1 g fat (5.6 g saturated), 323 mg sodium, 25.6 g carbs, 2.7 g fiber, 1.2 g sugar, 15.4 g protein
When zucchini, quinoa, and pizza unite, nutritional miracles happen. You already know all about the amazing summer squash, but let us introduce you to Q (if you don't already use it on the reg). The super grain is a complete protein, meaning it contains all nine essential amino acids, making it an ideal protein for vegans and vegetarians. Plus, it's a super versatile ingredient, sneaking its way into recipes (like this one) with satiating protein, flat-belly fiber, and a little crunch.
Get the recipe from Kelly's Ambitious Kitchen.
SKINNY CHOCOLATE ZUCCHINI CUPCAKES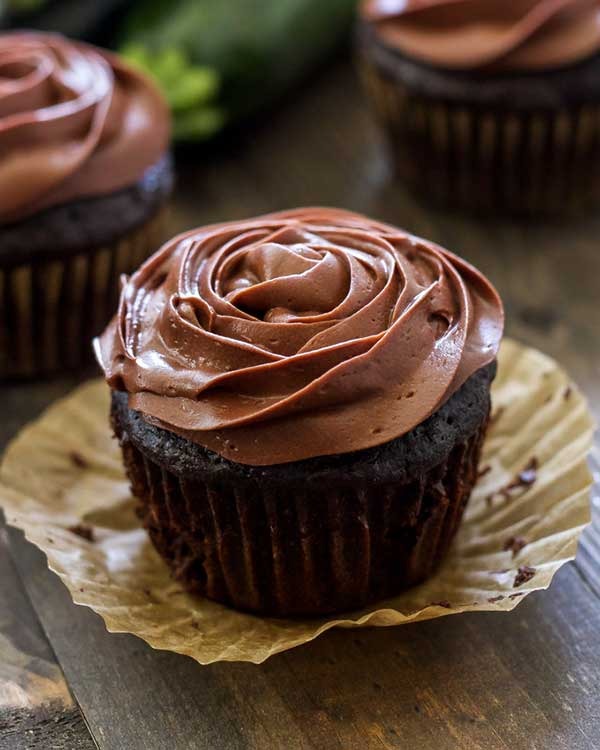 Nutrition: 134 calories, 3.5 g fat (2.5 g saturated), 176 mg sodium, 21.9 g carbs, 2.2 g fiber, 12 g sugar, 4.6 g protein
There is no denying the benefits of yogurt, especially when the Greek kind is snuck into cupcakes. Packing in up to 15 grams per serving, vitamin D, essential amino acids, whey protein and casein—it's an athlete's dream, helping you recover faster and stronger.
Get the recipe from Recipe Runner.
HEALTHY ZUCCHINI TORTILLAS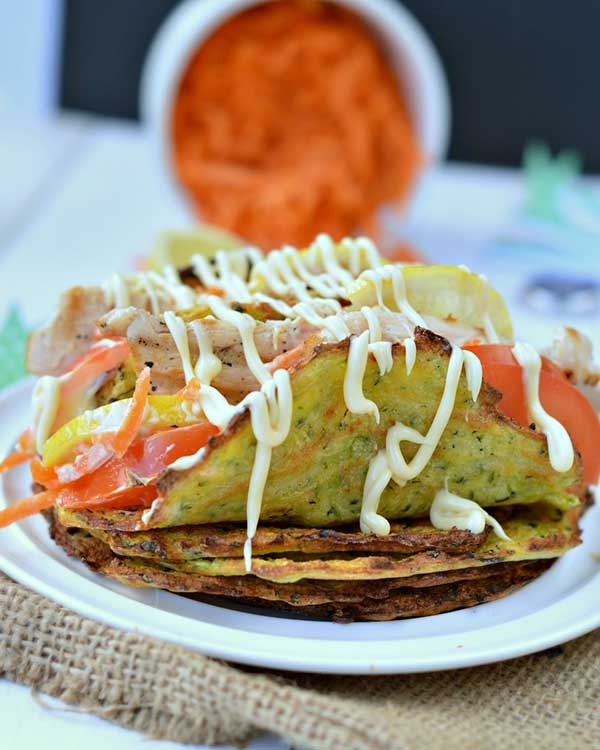 Nutrition: 86 calories, 2.5 g fat (<1 g saturated), 120 mg sodium, 11.5 g carbs, 1.4 g fiber, 1.2 g sugar, 5.3 g protein
With a little ambition, you can give Taco Tuesday a seriously slimming makeover. It's not that difficult, considering the typical tortilla contains double the calories, carbs, and fat (and three times the sodium!) as this healthier-for-you option.
Get the recipe from Sweet As Honey.
KIWI APPLE ZUCCHINI PUREE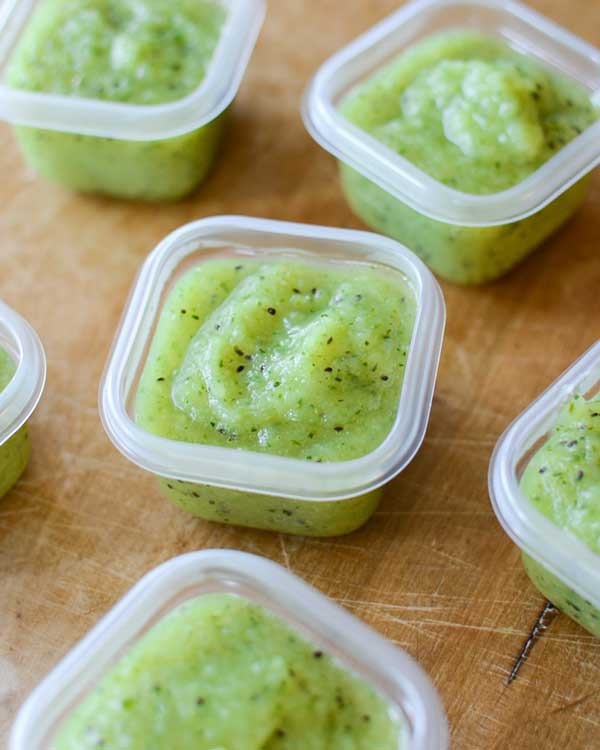 Nutrition: 35 calories, 0 g fat (0 g saturated), 6 mg sodium, 8.6 g carbs, 2 g fiber, 5.7 g sugar, 1 g protein
This tropical puree is the perfect way to innocently satisfy your sweet tooth and speed up metabolism. Apples are packed with belly-slimming fiber and kiwis knock out your vitamin C quota with one punch. What's more? According to a study published in the Journal of the American College of Nutrition, fruits rich in vitamin C help the body oxidize fat during moderate exercise.
Get the recipe from Simply Whisked.
PHILLY CHEESESTEAK ZUCCHINI BOATS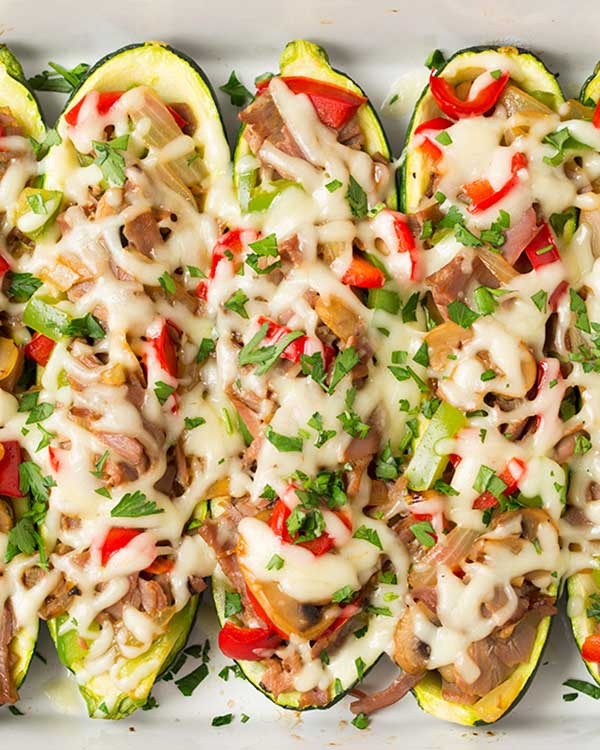 Nutrition: 238 calories, 13.8 g fat (5.3 g saturated), 226 mg sodium, 8.9 g carbs, 2.6 g fiber, 4.6 g sugar, 21 g protein
Who knew Philly cheesesteaks could be more appetizing on a veggie than on a nutrient-void white roll? Give it a try; you can thank us later.
Get the recipe from Cooking Classy.
THAI DRUNKEN ZUCCHINI NOODLES WITH SPICY HONEY CHICKEN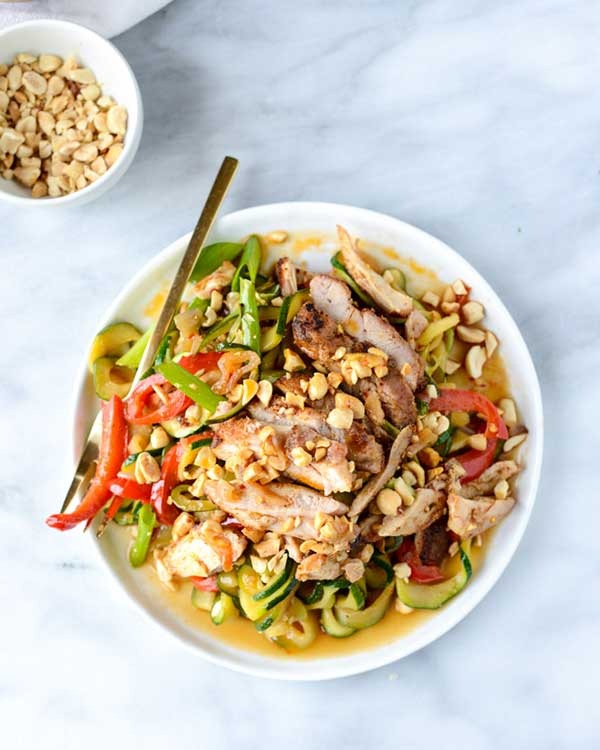 Nutrition: 313 calories, 18 g fat (6.6 g saturated), 346 mg sodium, 13.6 g carbs, 2 g fiber, 10 g sugar, 25 g protein
Coconut oil has one mighty nutritional profile. Not only do the benefits of coconut oil include aiding in weight loss and skin health, it also protects vital organs and even your memory. It easily steals olive's place in any dish (like in this recipe). And with 25 grams of satiating protein and just over 300 calories, this is a totally guilt-free noodle dish!
Get the recipe from How Sweet Eats.
ZUCCHINI CREAM CHEESE MUFFINS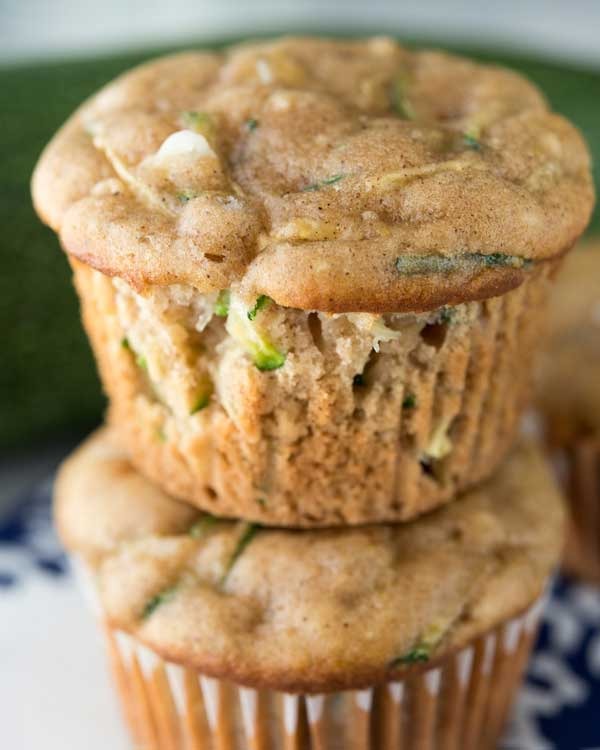 Nutrition: 216 calories, 8.9 g fat (3.3 g saturated), 154 mg sodium, 30.5 g carbs, 1 g fiber, 13.9 g sugar, 4.3 g protein (calculated with greek yogurt cream cheese)
These muffins are "like eating a cupcake for breakfast, only healthier!" Made with unsweetened applesauce (in place of butter or oil to lower the fat and calorie count), this is an occasional morning treat we can get behind.
Get the recipe from Crazy For Crust.
BLUEBERRY BANANA ZUCCHINI BREAD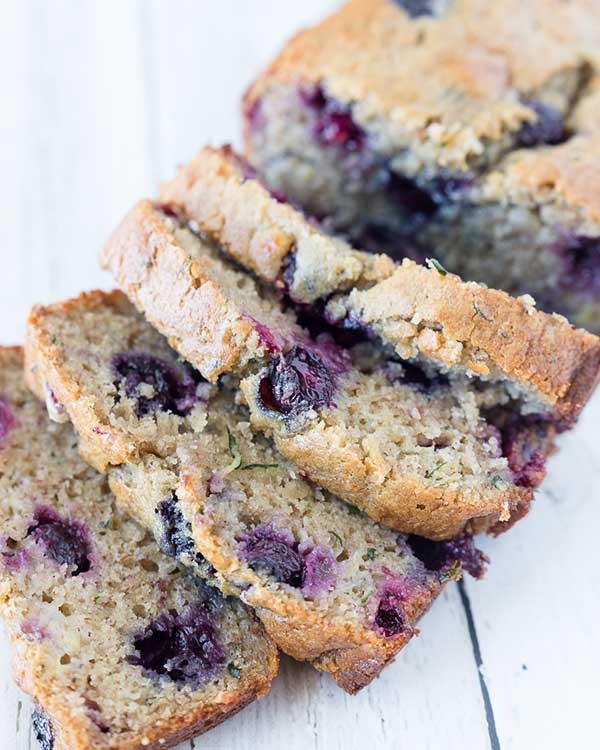 Nutrition: 197 calories, 7.2 g fat (5.5 g saturated), 64 mg sodium, 31.4 g carbs, 1.6 g fiber, 15.2 g sugar, 2.8 g protein
We've just begun the peak season for fresh blueberries in North America, so this recipe is the perfect time to rake in their health benefits. Listen to this: Researchers at the University of Michigan conducted a 90-day trial that fed rats a blueberry-enriched diet, and the results showed significantly-reduced stomach fat in the little animals. Just make sure to cut yourself off after a slice because each portion is nutritionally dense.
Get the recipe from Made to be a Momma.
Nutrition: 158 calories, 7.4 g fat (2.2 g saturated), 151 mg sodium, 15.9 g carbs, 1 g fiber, 1 g sugar, 7 g protein
Dip em, pop em in your mouth, toss em over a salad, or pair em with a sandwich. Who needs potato chips when you have these creative, addictive crisps instead?
Get the recipe from Damn Delicious.
Nutrition:100 calories, 3.7 g fat (1.9 g saturated), 208 mg sodium, 11 g carbs, 1 g fiber, 1.3 g sugar, 6.3 g protein
While we don't recommend you start munching on tater tots after a tough workout, we do suggest whipping up this zucchini version. With a third of the carbs and one-half the fat, they're an ingenious way to sneak more veggies into your diet without undoing the hard work of your sweat session. And since you've exercised and then eaten right, end the day strong with these 30 Things to Do 30 Minutes Before Bed to Lose Weight! 6254a4d1642c605c54bf1cab17d50f1e
Get the recipe from Kirbie Cravings.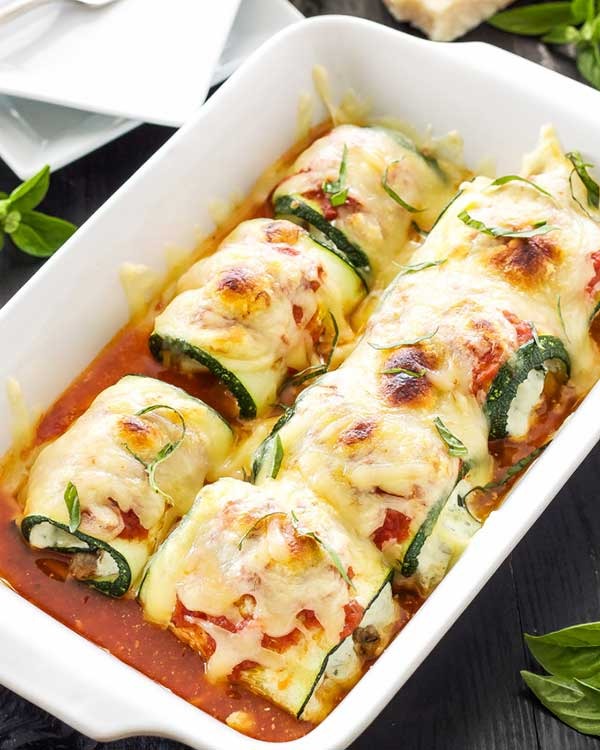 Nutrition:212 calories, 10.6 g fat (6 g saturated), 340 mg sodium, 13.1 g carbs, 2.3 g fiber, 5.9 g sugar, 17.4 g protein
Lasagna is one of those food pleasers that few people can deny their love for. But on the quest to a fitter, tighter, and slimmer body, this carb-laden dish is usually kicked to the curb. Luckily, we've found a recipe that won't demolish your body goals.
Get the recipe from Recipe Runner.
5 INGREDIENT ZUCCHINI FRITTERS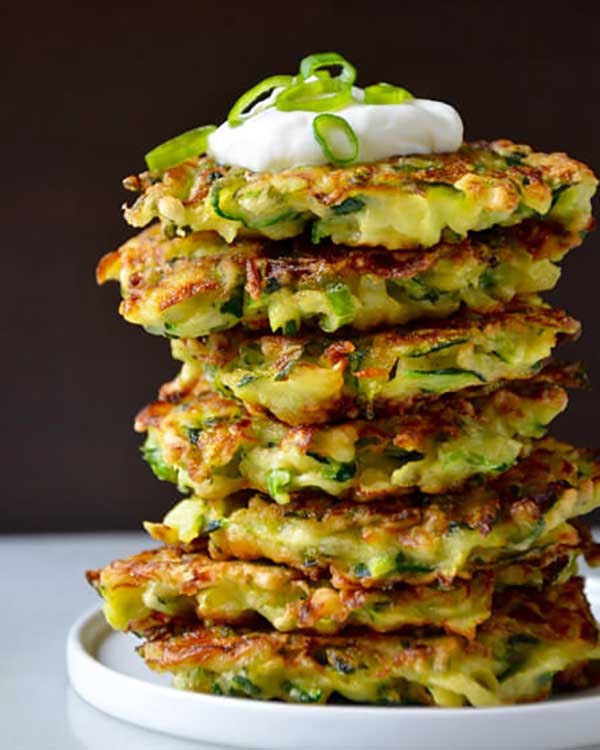 Nutrition: 80 calories, 3.2 g fat (<1 g saturated), 23 mg sodium, 9.9 g carbs, 1 g fiber, 1.1 g sugar, 3.3 g protein
Whether you're looking for low carb snacks, side dishes, or apps, this recipe should be one of the first on your list. With just five wholesome ingredients and 25 minutes, you can transform the summer veggie into addicting crispy fritters.
Get the recipe from Just a Taste.
ZUCCHINI PASTA WITH CREAMY AVOCADO PESTO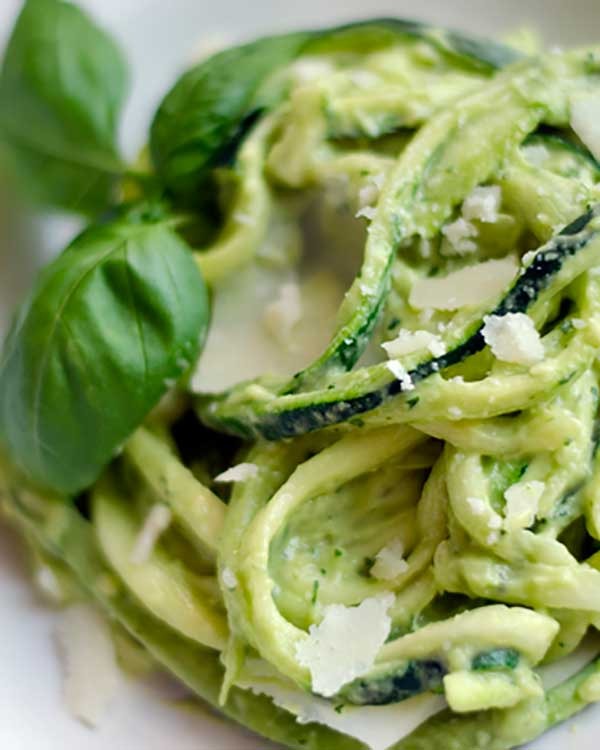 Nutrition:189 calories, 17.1 g fat (3 g saturated), 19 mg sodium, 9.7 g carbs, 5.1 g fiber, 2.9 g sugar, 3 g protein
Avocado pesto is nothing short of divine—for both your body and your taste buds. After all, avocados are among the weight loss gods, rich in heart-healthy, waist-shrinking fats, folate, and carotenoids. A study published in the journal Diabetes Care actually found that a diet rich in monounsaturated fat may prevent body fat distribution around the belly by down-regulating the expression of certain fat genes.
Get the recipe from Live Eat Lean.
CHOCOLATE CHIP ZUCCHINI BREAD OATMEAL BARS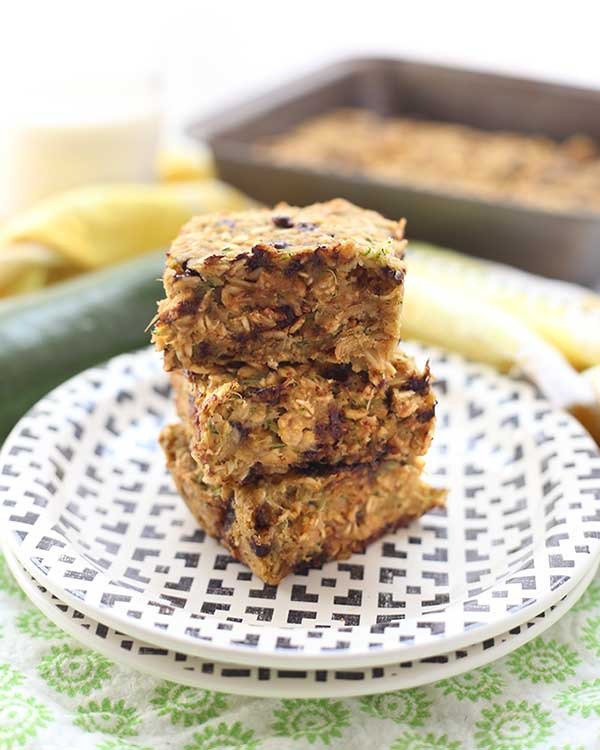 Nutrition:173 calories, 6.8 g fat (4.4 g saturated), 17 mg sodium, 25.9 g carbs, 3 g fiber, 9.8 g sugar, 4 g protein
With the heat waves upon us, there is nothing more frustrating than a bulging stomach. And when it comes to how to get rid of bloating, processed bars are one of the biggest culprits. If you're always on the go, try making a batch of these oatmeal bars to take with you instead. They're void of any added sugars and preservatives and contain belly-slimming oats and antioxidant-boasting chocolate. Better yet, they're under 200 calories.
Get the recipe from The Healthy Maven.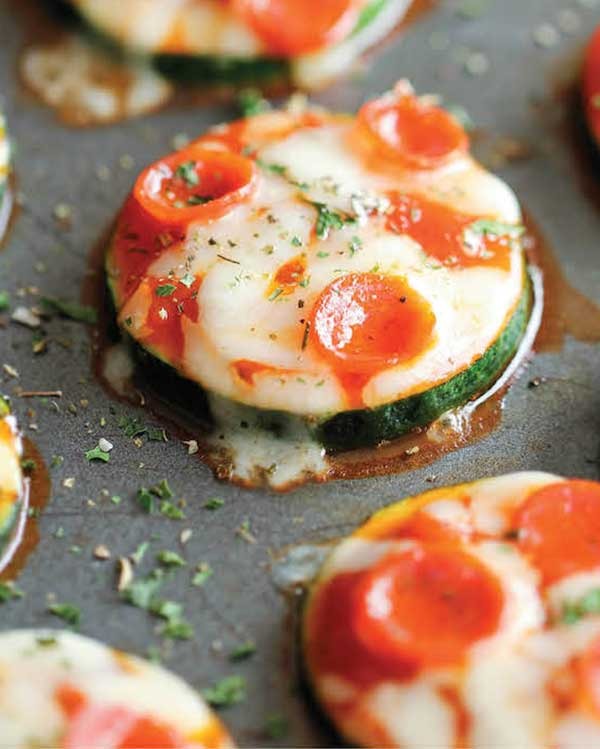 Nutrition: 76.4 calories, 5.3 g fat (1.8 g saturated), 149 mg sodium, 4.2 g carbs, 1.2 g fiber, 2.8 g sugar, 3.5 g protein
One glance at the nutritional profile and it's pretty clear these aren't your typical pizza bites. They're also made with just five simple ingredients and will nix any craving you have for the heavy, belly-bloating boxed stuff.
Get the recipe from Damn Delicious.
Nutrition: 149 calories, 8 g fat (4.2 g saturated), 244 mg sodium, 8.7 g carbs, 2.3 g fiber, 4.4 g sugar, 13 g protein
Fresh basil, mozzarella, garden tomatoes are layered over halved-zucchini and lightly drizzled with EVOO. Not only is the healthy fat loaded with polyphenols—antioxidants that help battle cancer, osteoporosis and brain deterioration—but research suggests it may also increase blood levels of serotonin, a hormone associated with satiety.
Get the recipe from Little Broken.
GLUTEN FREE ZUCCHINI SPAGHETTI FRIED EGGS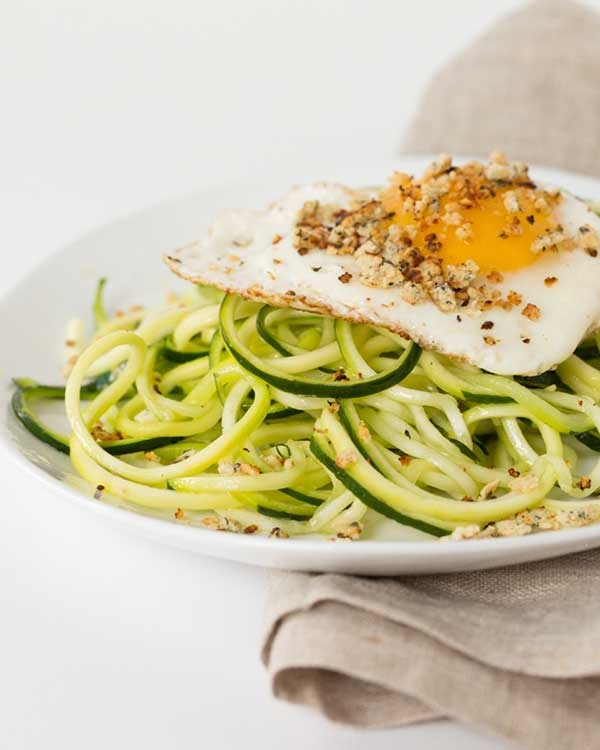 Nutrition: 213 calories, 16 g fat (3 g saturated), 90 mg sodium, 8 g carbs, 3 g fiber, 4 g sugar, 11 g protein
Zoodles don't have to be limited to lunch and dinner; they've earned a spot on your breakfast menu, too! And don't even think about ditching the egg yolks. Research at Wake Forest University reviewed more than 30 egg studies and found no link between egg consumption and heart disease. In fact, a study in the journal Metabolism revealed that eating the whole egg could improve lipoprotein profiles and insulin sensitivity.
Get the recipe from Inspiralized.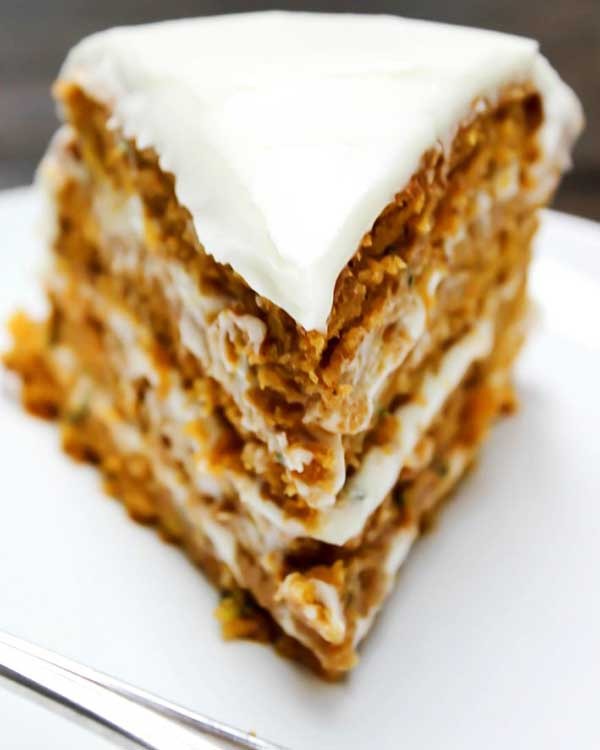 Nutrition: 360 calories, 20.3 g fat *5.6 g saturated), 213 mg sodium, 40.6 g carbs, 1.1 g fiber, 23 g sugar, 5 g protein
Make your cake and eat it, too? Yep! According to dietitian Cassie Bjork, RD, LD of Healthy Simple Life, occasionally including dessert can aid weight loss efforts by warding off feelings of deprivation and bouts of overeating. So, having a slice actually benefits your long term body goals. Plus, this recipe is made with pumpkin, which is a natural appetite suppressant and fat burner. And because pumpkin is only about $1.99 per can, you can enjoy its slimming benefits any time of the year—like, say, in July! For more inspiration, check out these 20 Healthy Pumpkin Recipes for Weight Loss.
Get the recipe from A Dash of Sanity.
CHEESY ZUCCHINI BREAD STICKS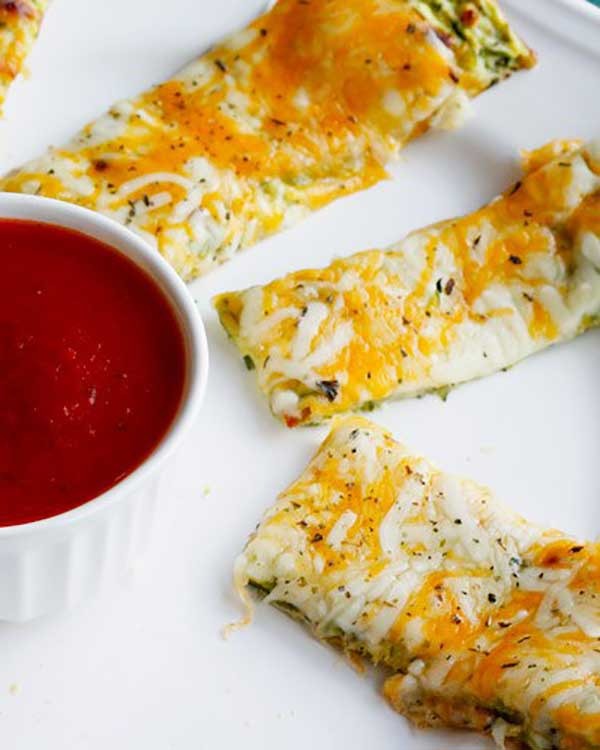 Nutrition: 139 calories, 7.4 g fat (4.1 g saturated), 247 mg sodium, 6.5 g carbs, < 1 g fiber, 1.3 g sugar, 11.7 g protein
Move over, Olive Garden—these zucchini bread sticks put the OG's nutrient-void ones to shame. These versions have just one-third of the fat and half the sodium—and we don't even need to mention the empty carbs you'll save.
Get the recipe from Smile Sandwich.
Basil Tuna Filled Zucchini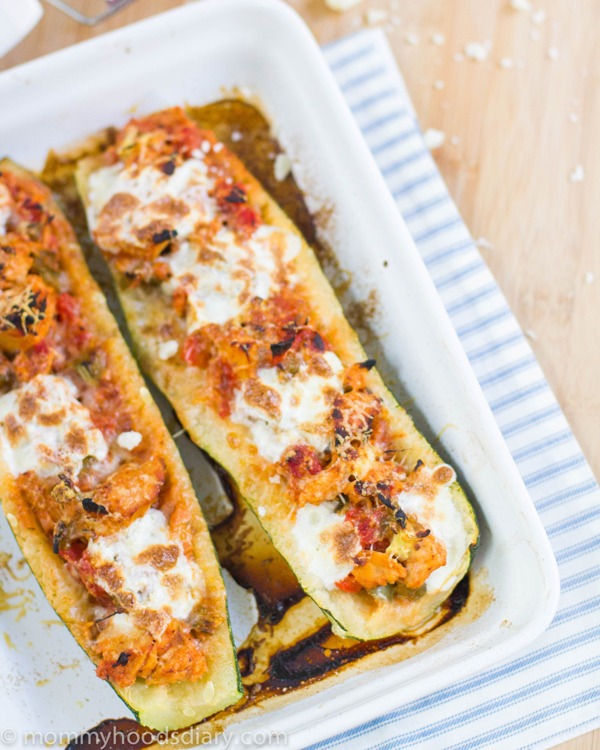 Serves: 4
Nutrition: 371 calories, 22 g fat (8 g saturated fat), 806 mg sodium, 11 g carbs, 5 g fiber, 7 g sugar, 35 g protein
If you keep cans of tuna in your house, this is a simple dish that's easy to throw together in under an hour. With 35 grams of protein, you can be sure it will fill up the whole family, too.
Get the recipe from Mommy's Home.
Grilled Zucchini with Za'atar, Garlic & Labneh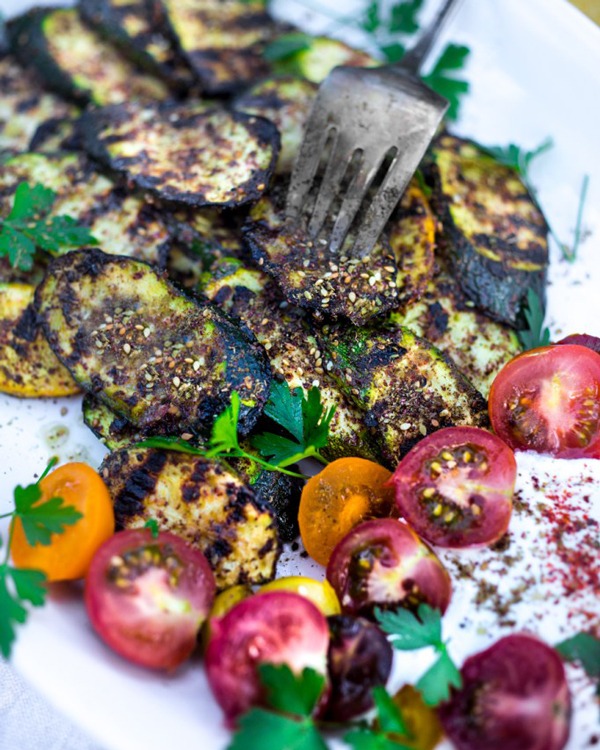 Serves: 5
Nutrition: 72 calories, 4 g fat (0.5 g saturated fat), 473 mg sodium, 8 g carbs, 3 g fiber, 0 g sugar, 5 g protein (calculated without labneh)
If you haven't tried labneh and za'atar together, you are missing out on an amazing (and healthy) Middle-Eastern flavor combo. Another reason to try this? It has almost a day's worth of vitamins A and C! It works great as both an appetizer or side dish.
Get the recipe from Feasting at Home.
Whole Wheat Zucchini Pancakes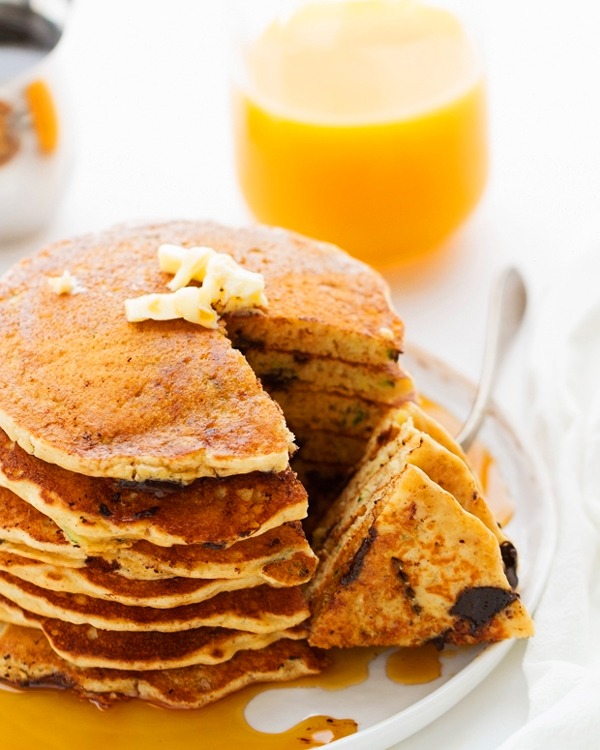 Serves: 4 (2 pancakes per serving)
Nutrition: 307 calories, 14 g fat (8 g saturated fat), 328 mg sodium, 39 g carbs, 7 g fiber, 6 g sugar, 10 g protein
Add some veggies to your morning routine (or breakfast-for-dinner) with these zucchini pancakes. They're still a little high in fat, so substitute a healthy fat, such as coconut oil, in place of the butter for a more waist-friendly version.
Get the recipe from Little Spice Jar.
Paleo Avocado Zucchini Hummus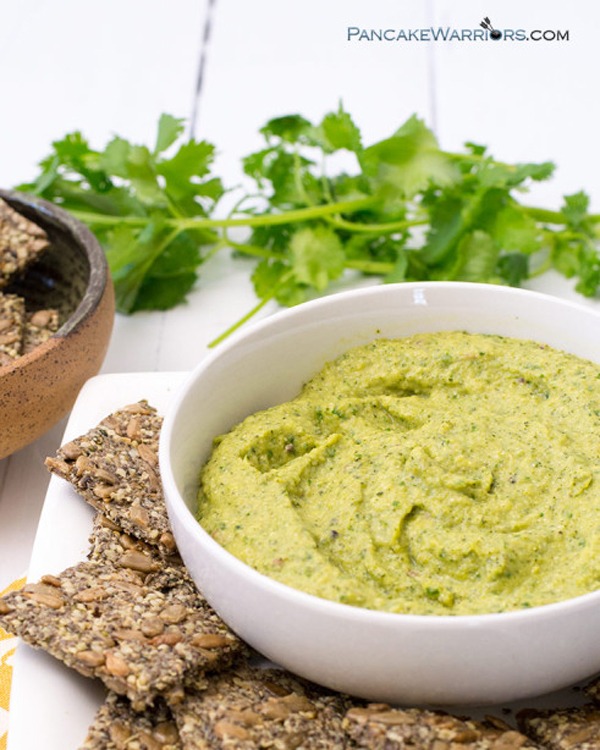 Serves: 4
Nutrition: 73 calories, 4 g fat (0.5 g saturated fat), 624 mg sodium, 9 g carbs, 3 g fiber, 4 g sugar, 2 g protein (calculated with optional hemp hearts)
Hummus is already a healthy go-to snack, filled with fiber, protein, and low in carbs. Adding zucchini to this version means extra nutrients and a fun green color!
Get the recipe from Pancake Warriors.
Spiced Cream Cheese Frosted Zucchini Bars
Serves: 18
Nutrition: 114 calories, 3 g fat (1.5 g saturated fat), 34 mg sodium, 20 g carbs, 0 g fiber, 14 g sugar, 2 g protein (calculated with plain, low-fat yogurt)
If you're on a health-kick but craving some dessert, have a frosted zucchini bar. For around 100 calories and low in fat, these bars are a healthy alternative to other cream cheese based desserts. The trick though, is just eating one!
Get the recipe from A Kitchen Addiction.