15 Best Zucchini Recipes To Make Before Summer's Over
With zucchini, you can make bread, muffins, fries, fritters, noodle dishes and so much more.
Zucchini is a vegetable full of health benefits, but it's easy to get bored with it if you're stuck on just eating it roasted in the oven or sautéed on the stove. If you want to enjoy this summer squash before the season is up but are growing tired of eating it the same way each time, you can try one of these creative zucchini recipes to help you branch out—such as zucchini bread, Thai zucchini noodles, zucchini carbonara, or parmesan zucchini fries.
When you incorporate this summer squash into your diet, you'll be giving yourself a boost of vitamin A, vitamin C, potassium, antioxidants like beta-carotene and lutein, and soluble and insoluble fiber—all while keeping your calories and fat on the lower end. It's also a versatile veggie and one that can go great in a wide assortment of recipes.
For some inspiration on how to use this delicious summer vegetable while it's still in season, check out the following zucchini recipes that you can start making today. Then for more summer recipe ideas, try one of these 38 Best Grilling Recipes On the Planet.
Keto Zucchini Noodles With Bacon Vinaigrette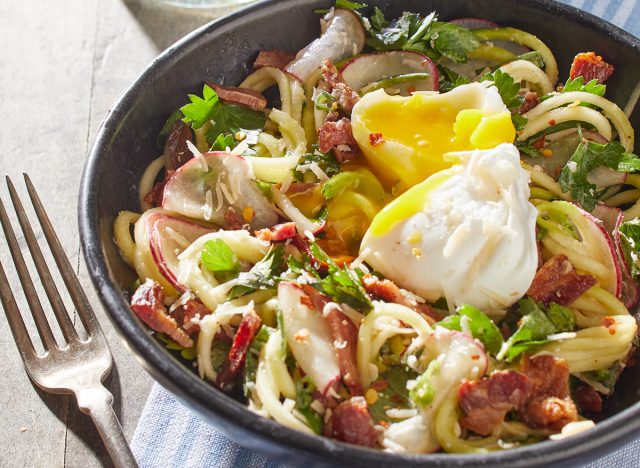 Those who are following the Keto diet often have to kiss their love of pasta goodbye. But while they may not be able to eat a ton of regular noodles, zucchini noodles are a helpful replacement for some classic pasta-heavy recipes. Take these Zucchini Noodles with a Bacon Vinaigrette, for example. Enjoy the decadent flavors for only 9 grams of carbs and 16 grams of protein per serving.
Get our recipe for Keto Zucchini Noodles.
Thai Scallop Curry with Zucchini Noodles & Shiitake Mushrooms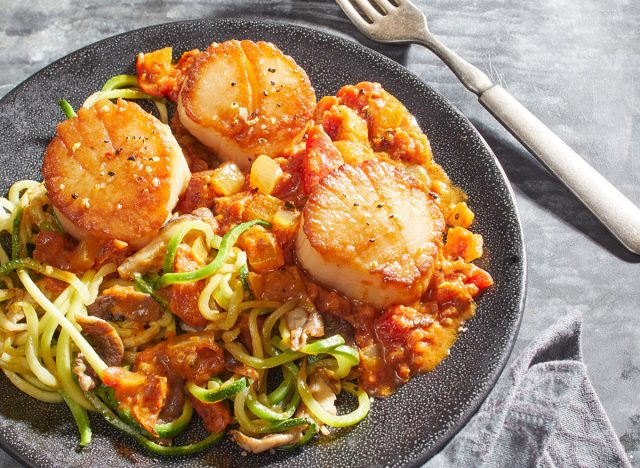 When you're craving a noodle dish like a Thai curry, you'll have to be prepared to rack up some carbohydrates. This isn't always a bad thing, but it depends on your health goals. If you're someone who's on the keto diet or just need to keep your carb count low, these zucchini noodles with Thai curry and scallops is the perfect option.
Get our recipe for Thai Scallop Curry.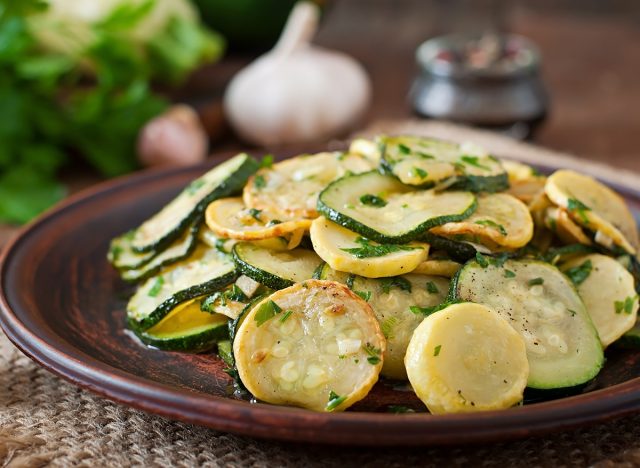 A simple yet delicious summer recipe to try is a sauté with summer squash and zucchini. This is a great side item at any BBQ or cookout, and the use of garlic and balsamic makes for a flavorful dish without tons of effort.
Get our recipe for Zucchini Sauté.
Zucchini Carbonara with Bacon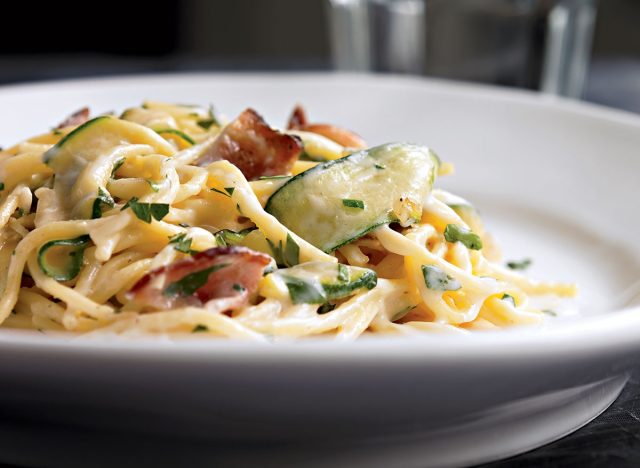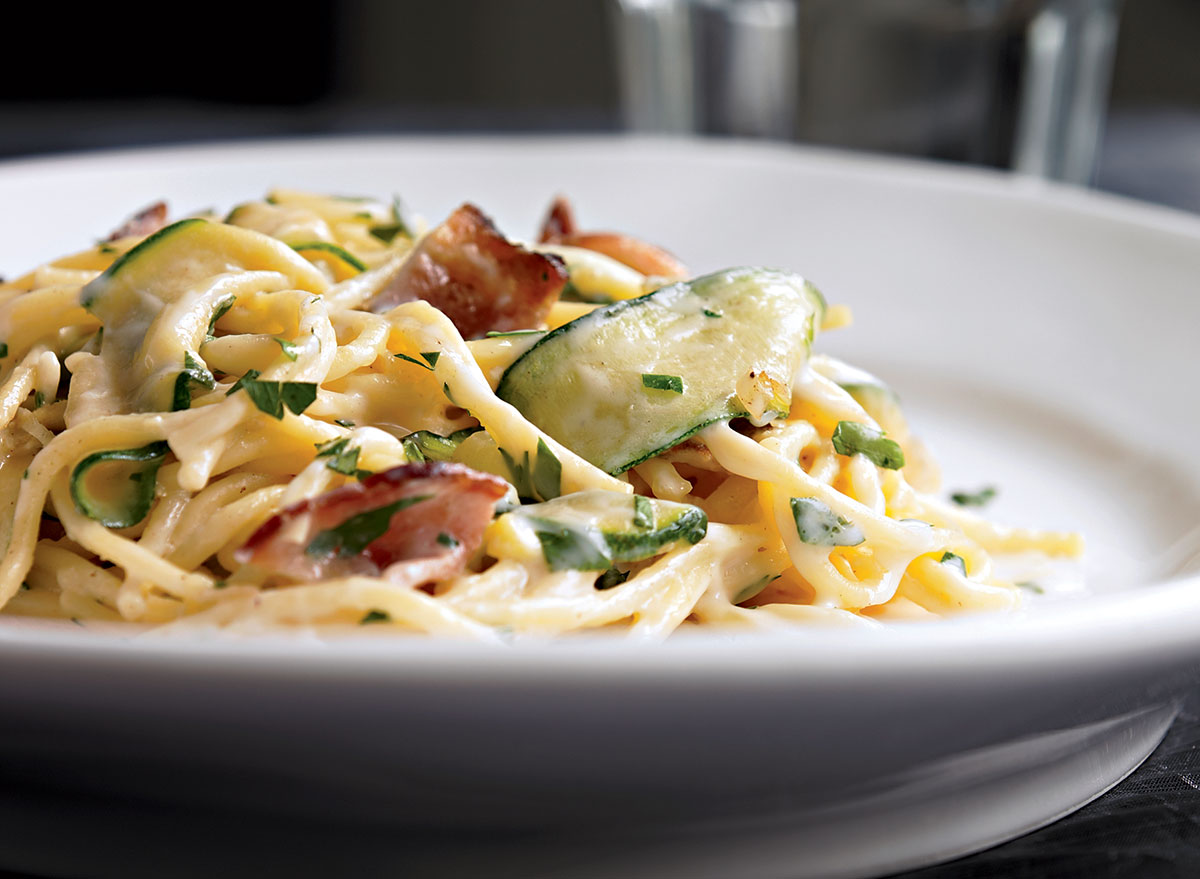 You're probably used to a classic carbonara dish, or have at least had the opportunity to indulge once or twice, but if you want to take this traditional dish up a notch and add in some veggies, this Zucchini Carbonara is just the answer.
Get our recipe for Zucchini Carbonara with Bacon.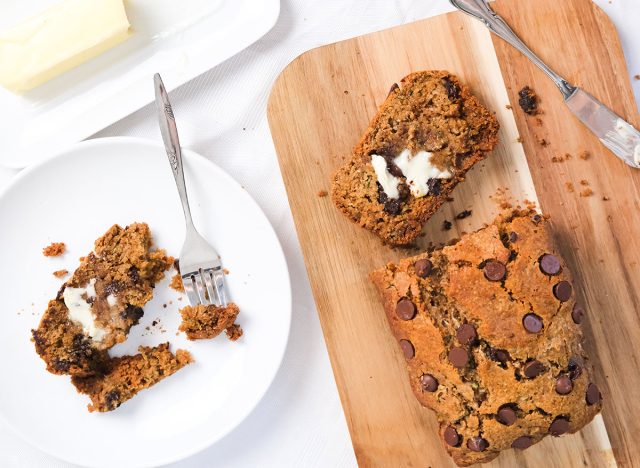 If you have some leftover zucchini in the fridge and are worried you won't be able to use it before it goes bad, this is the recipe for you. This zucchini bread uses two cups of shredded zucchini that you can't taste at all, but it will give the bread extra moisture and a slightly savory feel. This recipe is also entirely gluten-free and can be made dairy-free as well if you use dairy-free chocolate.
Get our recipe for Zucchini Bread.
Roasted Summer Vegetables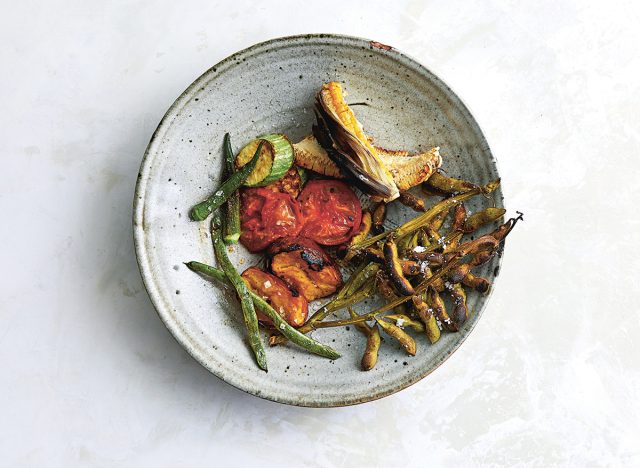 For a simple vegetable dish that will still please a crowd, you can try these Roasted Summer Vegetables, which are made up of zucchini, green beans tomatoes, okra, corn, and potatoes—but you can choose any vegetables that you want. Just toss with some olive oil and wrap up in aluminum foil, and in under an hour, you'll have a tasty veggie plate.
Get the recipe for Roasted Summer Vegetables.
Cauliflower Gnocchi with Roasted Zucchini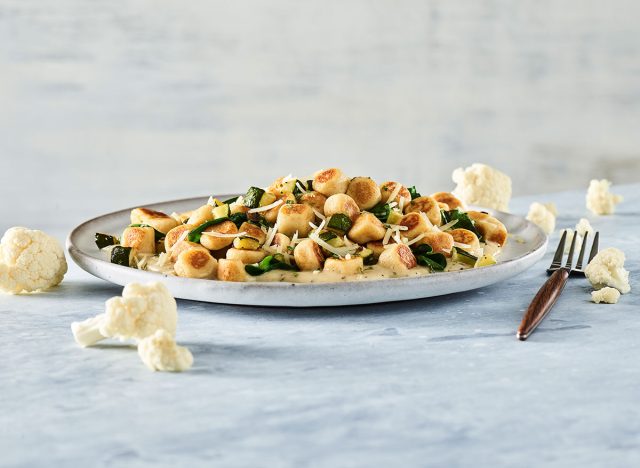 This recipe is a bit more detailed than some of the others on the list, but if you have the time and energy, the flavors of this dish are worth the effort. With a garlic cream sauce and roasted zucchini, this is a gnocchi dish you and your loved ones will be coming back to.
Get the recipe for Cauliflower Gnocchi.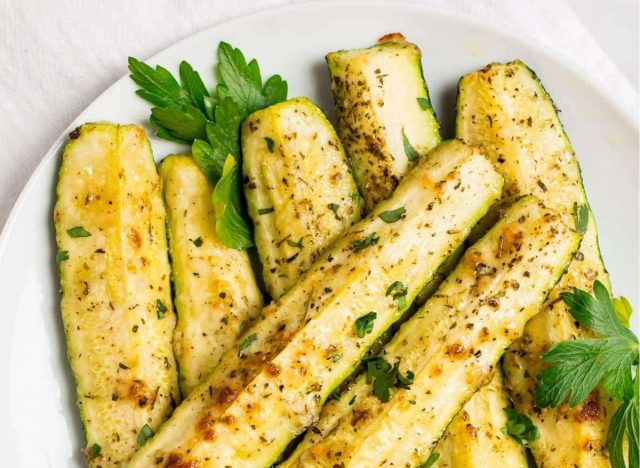 Getting perfectly roasted zucchini can be difficult to accomplish—it can be too soft when it's overdone, or too crunchy if it's not cooked long enough. This recipe helps you roast it to the perfect consistency and flavor, so you'll be able to enjoy this as a side item to any of your favorite summer meals.
Get the recipe from Well Plated By Erin.
Sheet Pan Hot Honey Garlic Chicken and Zucchini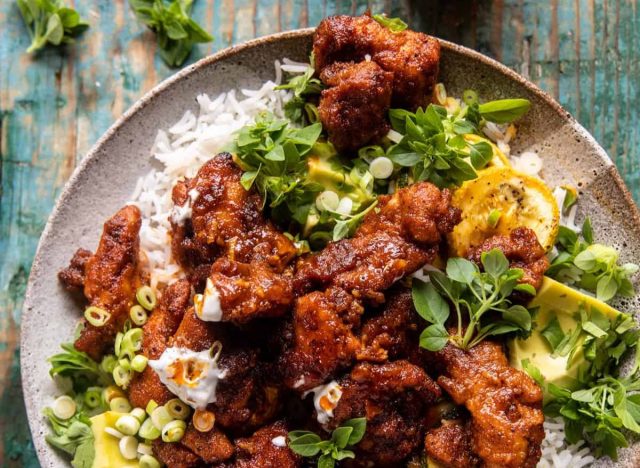 Hot honey has become quite the craze these days and for good reason. This combination of sweet and spicy is satisfying on a number of different types of dishes, with this chicken and zucchini plate being no exception. Throw the chicken and zucchini over a bed of rice and you'll have a delicious and balanced meal.
Get the recipe from Half-Baked Harvest.
Another example of the benefits of using zucchini in your baked goods is this zucchini cake. Moist and slightly savory with a ton of flavor, this cake is the perfect crowd-pleasing recipe to bring to your next event. If you want something other than a sheet pan size, you can make this cake into a bundt cake, cupcakes, or a layered cake.
Get the recipe from Sally's Baking Recipes.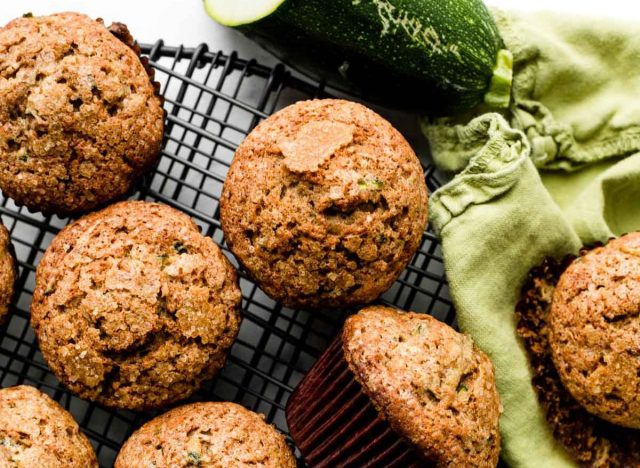 For a quick grab-and-go breakfast that you can make ahead and have for the rest of your week, these zucchini muffins are an easy solution. Made with simple ingredients like cinnamon, nutmeg, sugar, vanilla, and of course zucchini, this recipe is easy enough for anyone to make, regardless of baking experience.
Get the recipe from Sally's Baking Recipes.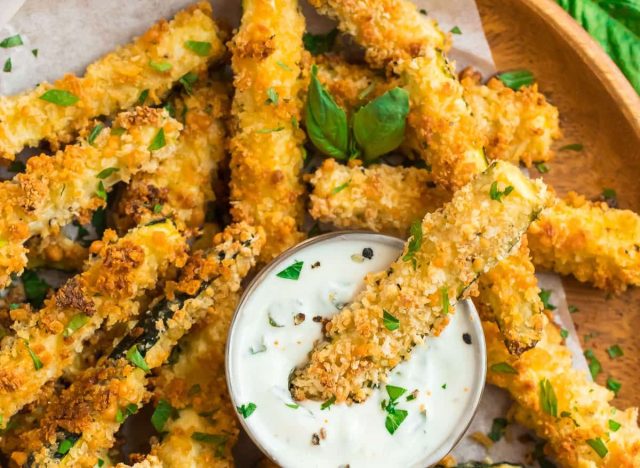 Zucchini fries are a savory treat that can be much healthier than regular French fries, but can still satisfy your cravings for something salty and crispy. These are best with some sort of dip, such as the Basil Dipping Sauce found at the end of the recipe. Zucchini is a mild-flavored vegetable, so most types of sauces will do.
Get the recipe from Well Plated By Erin.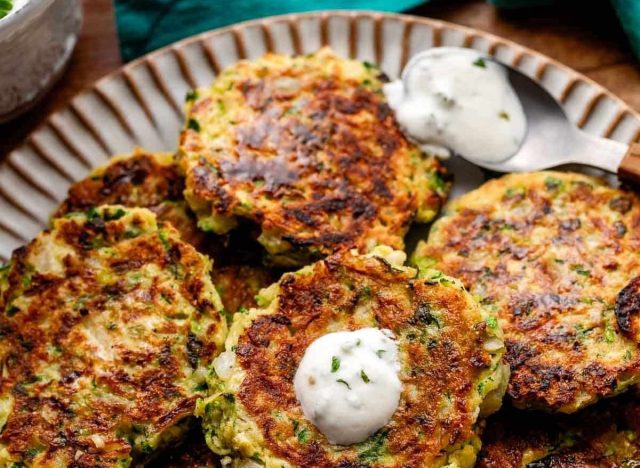 The Zucchini Fritters from Sally's Baking Recipe are a great gluten-free treat that can be enjoyed at any meal of the day. Paired with a yogurt sauce, this dish is an easy way to use up the last of your zucchini before it goes bad.6254a4d1642c605c54bf1cab17d50f1e
Get the recipe from Sally's Baking Recipes.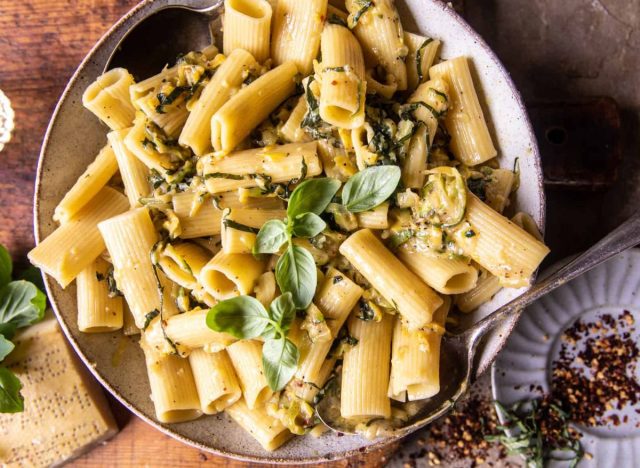 In the mood for a creamy summer pasta? This plate of noodles, zucchini, thyme, parmesan, basil, chili flakes, and garlic makes for an ideal dinner party dish, or one you can make and reheat throughout the week for leftovers. You can leave the zucchini in slices for a bit of texture, or you can blend it in the food processor to make a puree instead.
Get the recipe from Parmesan Pasta.
Sweet Corn and Zucchini Pie
You may think of apples, pumpkin, or pecans when you hear the word "pie," but don't knock a zucchini and corn pie until you try it. With the addition of cheese, butter, and eggs, you'll have a creamy, savory dish that you can bring to your next summer gathering.
Get the recipe from Pinch of Yum.
Sources referenced in this article