7 Filling Snacks Under 100 Calories
Temperatures may be rising, but before you start to peel off your cool-weather wardrobe, you've got to peel back the layers of your diet.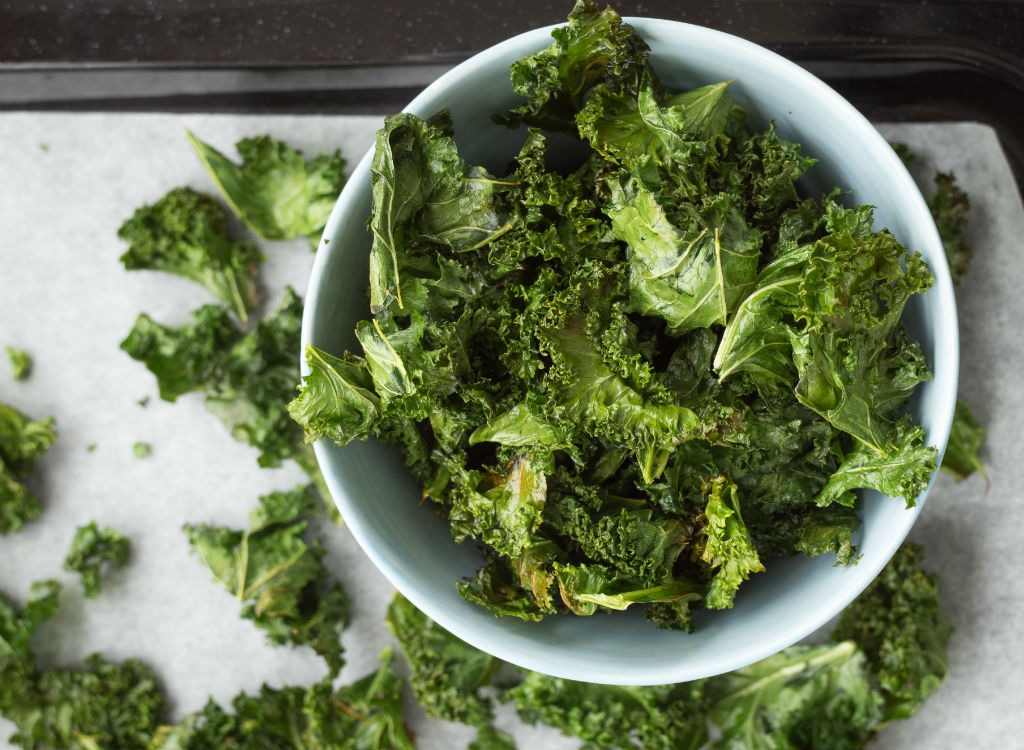 Yes, the grocery store is a minefield of high-calorie foods, but with our help you've got this. You're already scanning labels and re-shelving foods that don't measure up to your needs, but the 400-calorie cost of a single serving of hummus and pretzels is making you feel like you have to rely solely on veggies at snack time. To help get you from your bootcamp workouts to the beach in record time—without suffering snack boredom—we found the most filling snacks that weigh in at or below 100 calories.
Sure, chopped up veggies will always top the list of healthy, low-cal options, but a slimming snack can be much more creative than simple crudité. Here are 7 solid options outside the produce aisle. Beach season, here you come!
Eat This!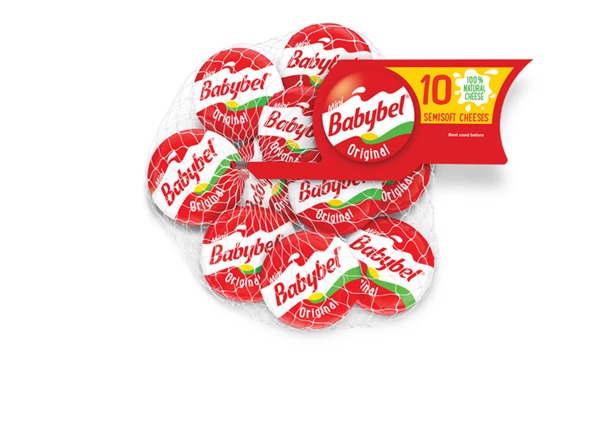 Babybel Original Cheese, one wheel
| | |
| --- | --- |
| Calories | 70 |
| Fat | 6 g |
| Saturated Fat | 4 g |
| Carbs | 0 g |
| Sugar | 0 g |
| Protein | 5 g |
Yes, you can eat cheese! These conveniently packaged snacks are easy to toss into your bag on the go and are perfectly portioned so you don't have to panic when you realize that you really have no clue what one ounce of cheese actually looks like. They may be tiny, but they're great for staving off hunger. "Babybel cheeses offer some protein that can help slow digestion and promote feelings of fullness and satiety," says Isabel Smith, MS, RD, CDN, registered dietitian and founder of Isabel Smith Nutrition.
Eat This!
SeaSnax Chipotle Roasted Seaweed Snacks, 1 pack
| | |
| --- | --- |
| Calories | 15 |
| Fat | 2 g |
| Saturated Fat | 0 g |
| Carbs | 0 g |
| Sugar | 0 g |
| Protein | 0.3 g |
Okay, okay. You may roll your eyes at this one, but honestly how can you pass up crunchy and salty? Roasted seaweed snacks give you the potato chip experience for only 15 calories per serving. Take that, Lays. "These snacks are savory and flavourful–which helps boost satiety–while being low in calories, so they won't leave you feeling overly full. Seaweed also naturally contains iodine, an important nutrient for your thyroid," adds Smith.
Eat This!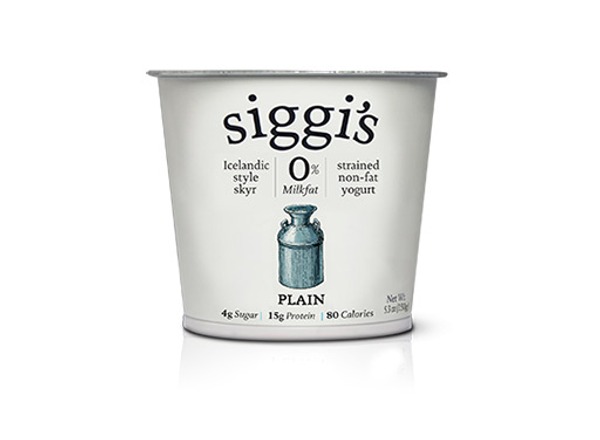 Siggi's 0% Plain Yogurt, 5.3 ounces
| | |
| --- | --- |
| Calories | 80 |
| Fat | 0 g |
| Saturated Fat | 0 g |
| Carbs | 5 g |
| Sugar | 4 g |
| Protein | 15 g |
Many popular low-calorie yogurts taste like you're eating flavored air. What's the point of eating something low-cal if you're going to be starving again 20 minutes later? "Siggi's is great because it has a thick, satisfying texture, yet a single serving of the fat-free plain variety is only 80 calories. Pair it with 3-4 nuts or shredded coconut for extra flavor, crunch and fat for a more satisfying snack that still keeps the calories down," says Smith.
Eat This!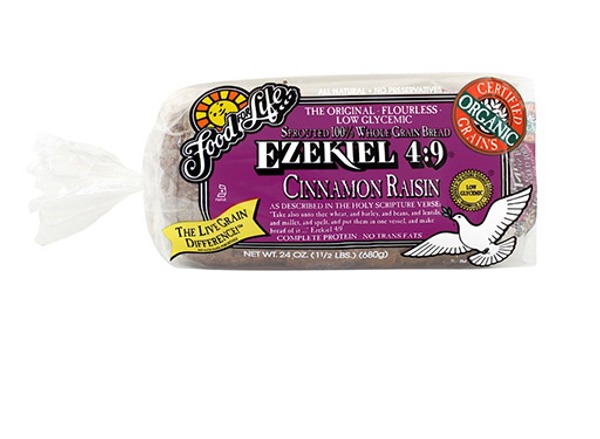 Ezekiel Cinnamon Raisin Sprouted Whole-Grain Bread, one slice
| | |
| --- | --- |
| Calories | 80 |
| Fat | 0 g |
| Saturated Fat | 0 g |
| Carbs | 18 g |
| Sugar | 5 g |
| Protein | 3 g |
Bread is not the devil some claim it to be–as long as you're choosing the right slice. For 80 calories a piece, you can crush that carb craving and provide your body with some honest fuel that won't throw your diet off balance when you choose this sprouted bread. "Ezekiel bread is made from sprouted grains, which makes it higher in protein that will help to promote satiety and balanced blood sugar (think energy). The best pair for a starchy item like this is something with fat or protein—a thin smear of almond or peanut butter (about 1 teaspoon) would land this snack right around 100 calories. The almond butter (or even cashew butter) contains monounsaturated fats that are not only heart healthy, but also promote healthy hair and skin," says Smith.
Eat This!
Blue Diamond 100-Calorie Almond Packs, one pack
| | |
| --- | --- |
| Calories | 100 |
| Fat | 9 g |
| Saturated Fat | 0.5 g |
| Carbs | 3 g |
| Sugar | 1 g |
| Protein | 4 g |
Don't go too nuts here; you've got to stick with the portion packs for these to qualify as a low-calorie snack option. "Almonds–or any nuts, really–are fantastic for promoting satiety, and better than some other snack options because they're low in sugar and a good source of heart-healthy fat," says Smith. They won't go bad for a long time, so keep them stocked in your purse or stash them in your car for those times when you get stuck and your stomach starts grumbling.
Eat This!
SO Delicious Unsweetened Cultured Coconut Milk Yogurt, 4 ounces
| | |
| --- | --- |
| Calories | 50 |
| Fat | 4 g |
| Saturated Fat | 3.5 g |
| Carbs | 6 g |
| Sugar | 1 g |
| Protein | 0 g |
As demand for non-dairy options rises, so does the number of grocery stores adding these pots to their shelves. And no, dairy-free doesn't mean the flavor's missing. These yogurts are just as indulgent as their milk-based counterparts. "They're made of cultured almond or coconut milk, which means they also have healthy bacteria that can promote healthful digestion and may also play a role in supporting the immune system," says Smith. However, as with regular yogurts, Smith suggests sticking with the plain or variety and adding your own fruit for extra flavor to avoid added sugar (both real and artificial).
Eat This!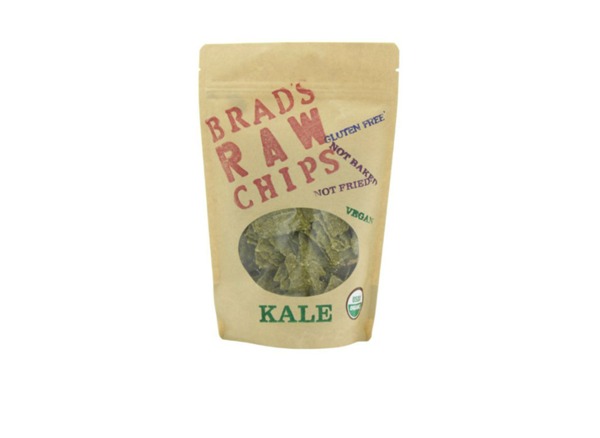 Brad's Raw Chips: Kale, 15 pieces
| | |
| --- | --- |
| Calories | 50 |
| Fat | 1 g |
| Saturated Fat | 0 g |
| Carbs | 9 g |
| Sugar | 1 g |
| Protein | 2 g |
Of course kale is on this list—it's loaded with calcium, iron, energizing B-vitamins, and nutrients that may help to protect against certain types of cancers. If you're among the brave souls who've attempted making your own kale chips, then you know just how hard it is to make them even remotely palatable. Sometimes you're just better off leaving it to the experts. "A whole bag of Brad's Raw Kale Chips is only 50 calories! They're made with flaxseed and buckwheat groats, along with onions, scallions and garlic so they're bursting with flavor. These also have a little protein and fiber, which helps you feel full," says Smith.6254a4d1642c605c54bf1cab17d50f1e
FOR HUNDREDS MORE WEIGHT-LOSS IDEAS, click here for our new book Eat This, Not That! 1,247 Awesome Slimming Swaps. Order now to get your FREE GIFT!