The Best & Worst Menu Items at Auntie Anne's
A registered dietitian offers insight into the best bites and the tasty but less nutritious menu items at this common mall staple.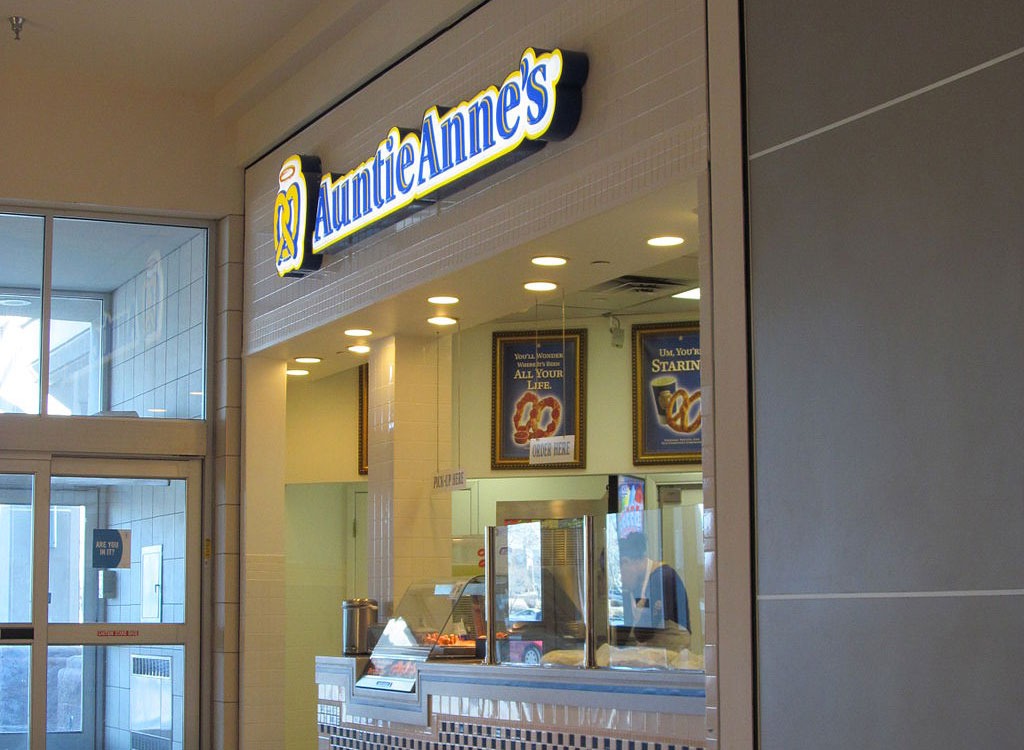 No shopping mall trip is complete without a stop at Auntie Anne's, a pretzel shop founded in Pennsylvania. Auntie Anne's is well-known for its sweet and salty offerings as well as refreshing lemonades that are a great snack after a long day of shopping. But if you are watching what you eat for health reasons, it can be hard to say no to a pit stop at this pretzel shop. However, you can still make smarter, healthier choices when ordering off the Auntie Anne's menu.
We spoke with Mascha Davis, MPH, RDN, private practice registered dietitian nutritionist and author of Eat Your Vitamins to decipher Auntie Anne's menu for some healthier picks, as well as options that should be enjoyed sparingly.
Classic Pretzels
Best: Jalapeño Pretzel, No Butter No Salt
300 calories, 1 g fat (0 g saturated fat, 0 g trans fat), 480 mg sodium, 63 g carbs (2 g fiber, 9 g sugar), 8 g protein
If you love spicy food, the jalapeño pretzel will give you just the kick you need. It is a lower-calorie option on the menu and even contains a bit of protein, which Davis says will help keep you full and satisfied.
To keep fat and sodium in check, be sure to omit butter and salt. The jalapeño offers enough flavor that you won't need them, anyway. Plus, keeping the sodium low is great, Davis says, "because high sodium intake is a major public health issue."
Worst: Roasted Garlic and Parmesan Pretzel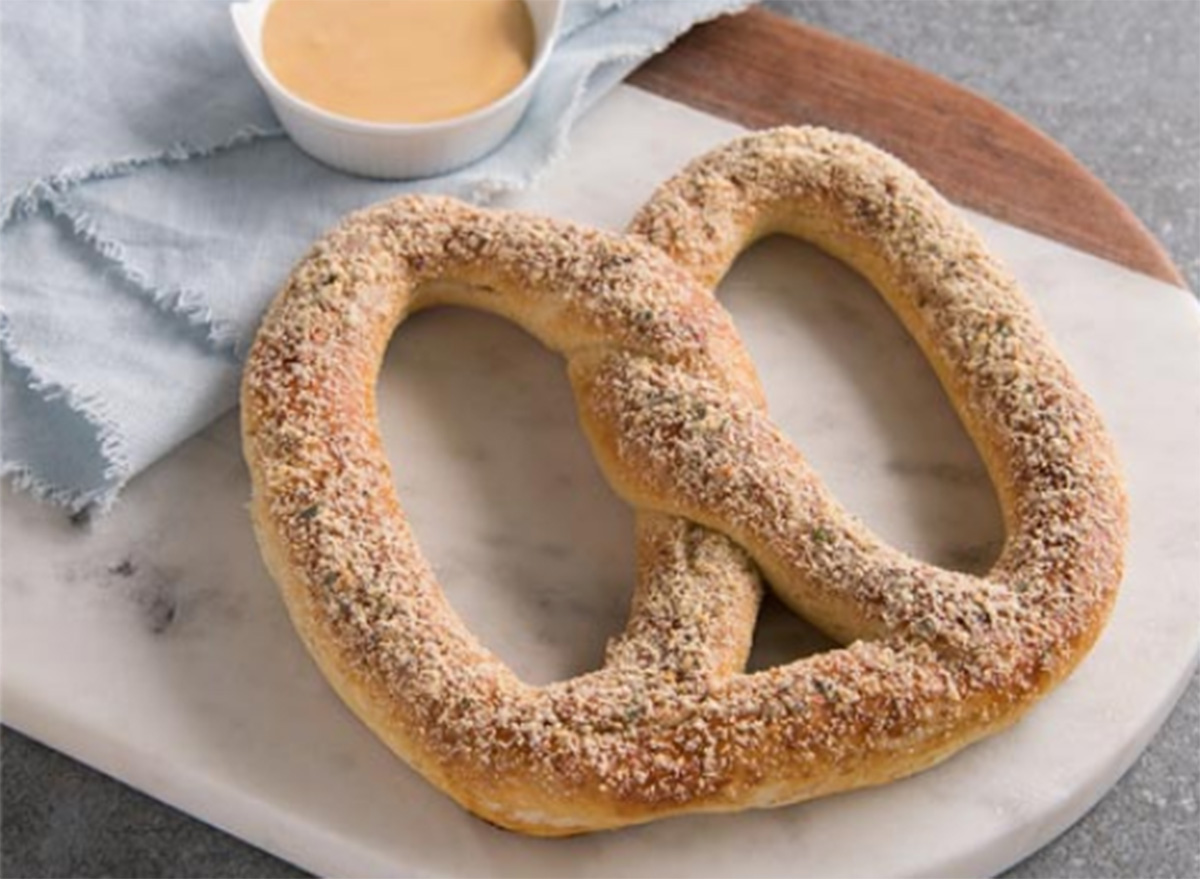 380 calories, 8 g fat (4 g saturated fat, 0 g trans fat), 1,250 mg sodium, 68 g carbs (2 g fiber, 10 g sugar), 9 g protein
Roasted garlic and parmesan is a winning flavor combination, even on a pretzel. But unfortunately at Auntie Anne's, this combination also means a lot of sodium. Davis notes that just because this item is lower in calories doesn't make it a healthy pick. With 1,250 milligrams of sodium, it nearly exceeds the amount of sodium an average person should have in a day. Comparatively, 36 Lay's potato chips have 330 milligrams of sodium, meaning this pretzel is like eating nearly 140 potato chips.
Pretzel Dogs
Best: Pretzel Dog, No Butter
320 calories, 16 g fat (6 g saturated fat, 0.5 g trans fat), 740 mg sodium, 33 g carbs (1 g fiber, 5 g sugar), 11 g protein
Of the options in the pretzel dogs section, the classic pretzel dog with butter omitted is your best bet if you want a healthier option. Although it is still high in sodium, this option is a lower-calorie pick with a small boost in protein and iron.
Worst: Mini Pretzel Dogs, 10 count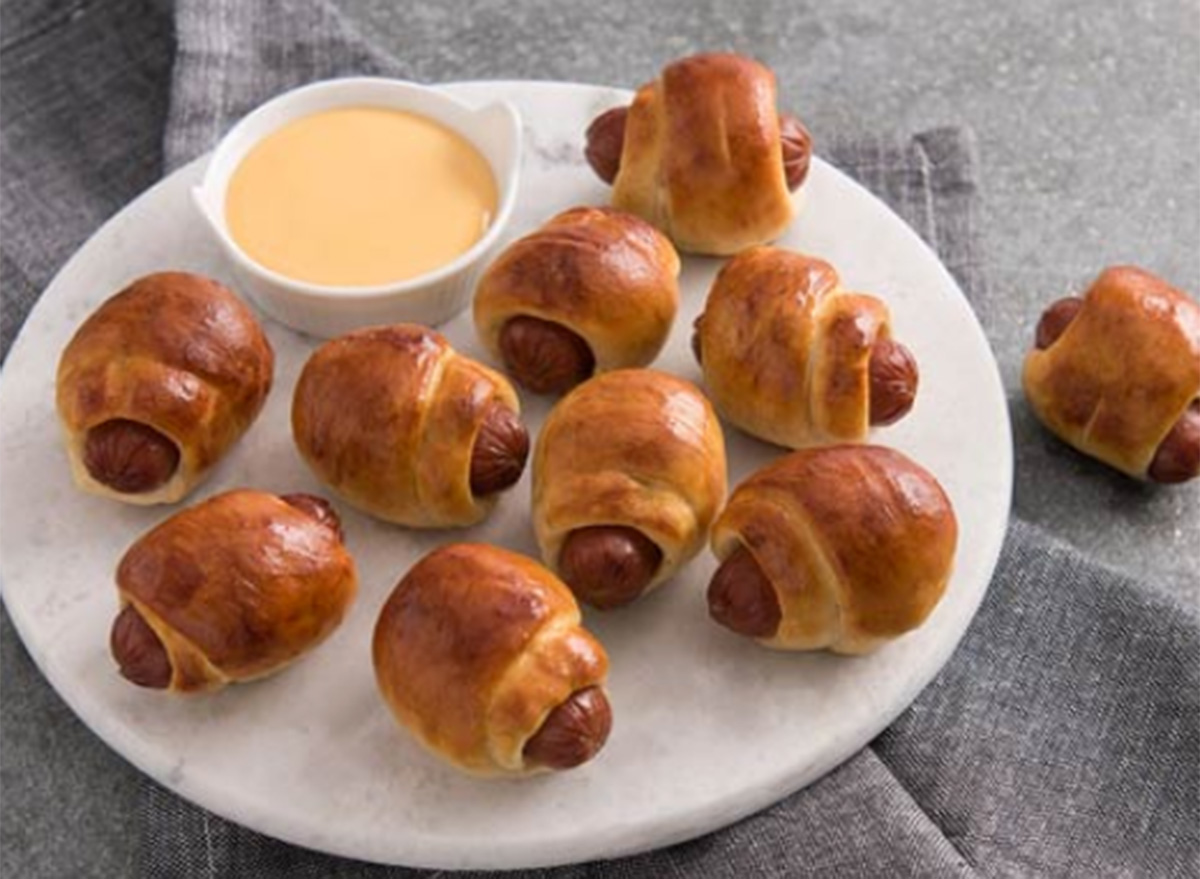 630 calories, 35 g fat (15 g saturated fat, 0 g trans fat), 1,290 mg sodium, 56 g carbs (2 g fiber, 8 g sugar), 20 g protein
Although you might think smaller pretzel dogs would be healthier, they are surprisingly the worst option in this menu category. The mini pretzel dogs, even without butter, are high in calories and have nearly an entire day's worth of sodium in this one snack. The mini pretzel dogs are also higher in fat than any of the other pretzel dog varieties, so if you want a pretzel dog, you are better off getting the full-size version.
Pretzel Nuggets
Best: Pepperoni Nuggets, No Butter
450 calories, 16 g fat (7 g saturated fat, 0 g trans fat), 760 mg sodium, 58 g carbs (2 g fiber, 9 g sugar), 16 g protein
Luckily, there are better-for-you pretzel nuggets to satisfy your cravings. Compared to the other options, such as the original and the cinnamon sugar flavors, the pepperoni nuggets are lower in sodium and sugar.
Davis notes the protein and calcium are other perks of these pretzels, but says to keep a few things in mind before selecting them. "With 450 calories, it is not a great snack, but it can fit into a balanced diet as an occasional treat," she says. Also, make sure to ask for these with no butter, because they already "have some saturated fat and 50 milligrams of cholesterol, so try to not have this too often."
Worst: Original Nuggets
390 calories, 5 g fat (2.5 g saturated fat, 0 g trans fat), 1,280 mg sodium, 75 g carbs (2 g fiber, 11 g sugar), 9 g protein
Pretzel nuggets are a top choice for those stopping by Auntie Anne's before leaving the mall or before heading on your flight while you're waiting in the airport. It's just too easy to pop those little nuggets in your mouth while you are on the go! Unfortunately, the original nuggets are loaded with sodium and contain quite a bit of sugar.
"While being lower in calories, this pretzel has 1,280 milligrams of sodium—about as much as you should have throughout the whole day," says Davis. "It has 11 grams of sugar, which is less than the Cinnamon Sugar Nuggets; however, when combined with the high sodium levels, this item seems to be the worst."
Dips
Best: Marinara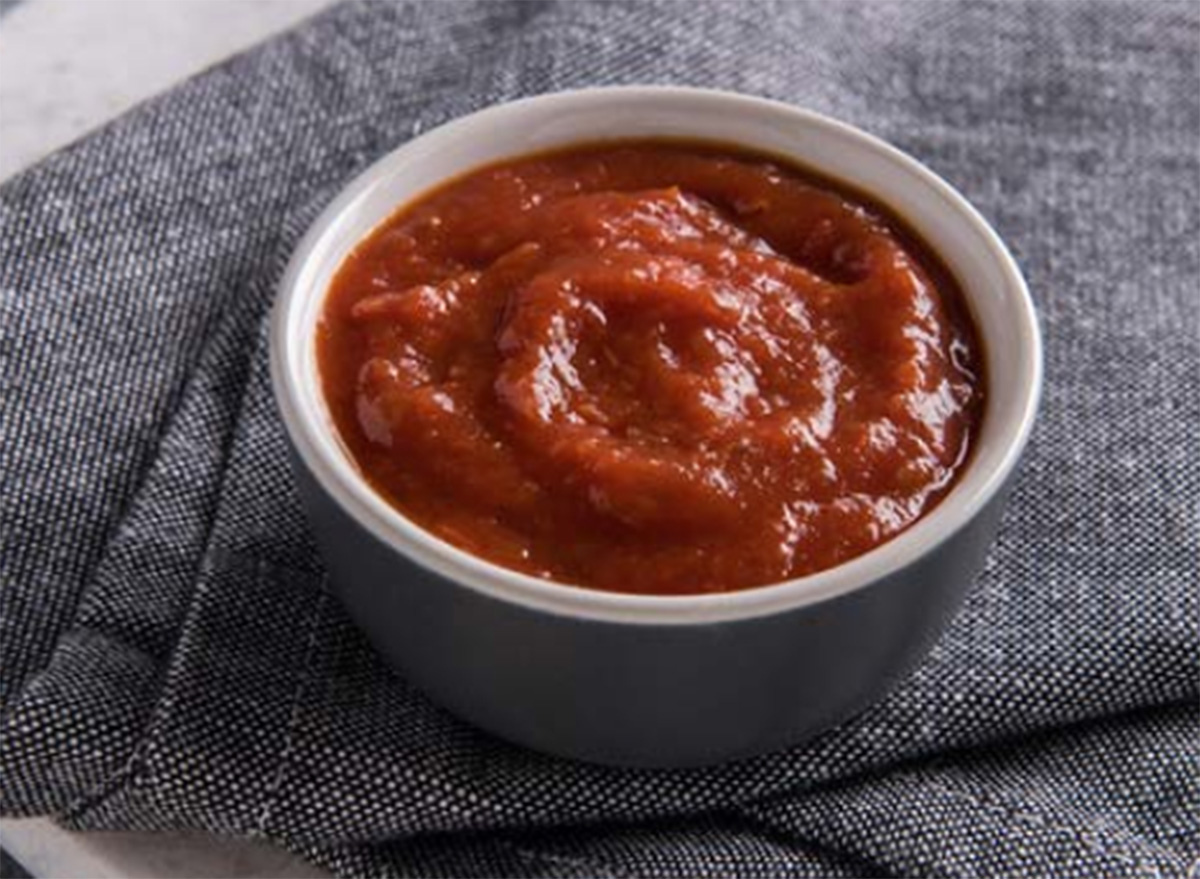 45 calories, 1 g fat (0 g saturated fat, 0 g trans fat), 240 mg sodium, 7 g carbs (2 g fiber, 4 g sugar), 1 g protein
Luckily, not all dips are created equal. If you love a dipping sauce to go with your pretzels, you don't have to sacrifice it. The marinara sauce at Auntie Anne's is the better option, with lower calories and sodium as well as zero saturated fat.
There are a few extra surprise health benefits in this sauce, too. "This dip can boost your fiber intake, and it has 30 percent of your daily requirement for vitamin C," says Davis.
Worst: Melted Cheese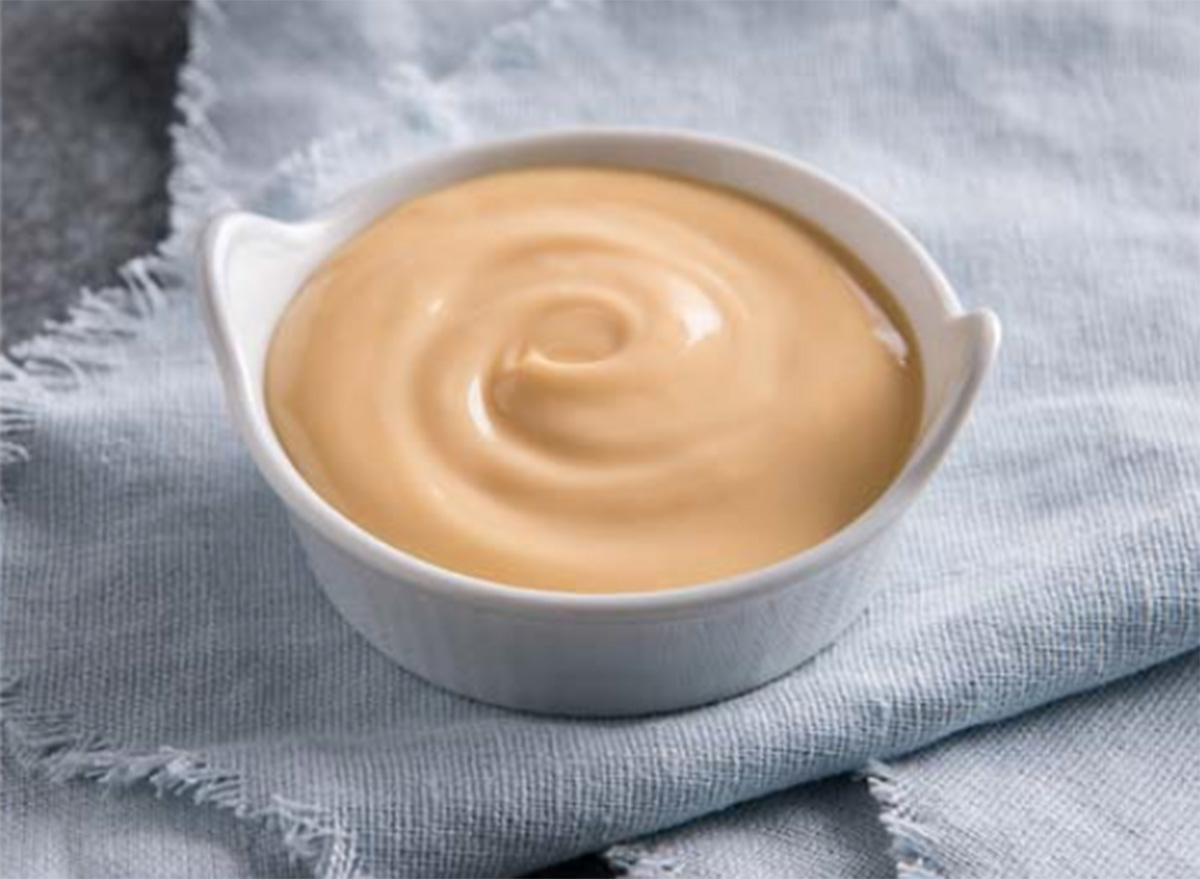 6254a4d1642c605c54bf1cab17d50f1e
90 calories, 8 g fat (3 g saturated fat, 0 g trans fat), 370 mg sodium, 2 g carbs (0 g fiber, 1 g sugar), 3 g protein
Even if you choose a healthier pretzel, you can tack on tons of calories, sodium, and fat depending on the dipping sauce you choose. That is the case with the ever-popular melted cheese dip. Sure, pretzels and cheese are meant for one another, but this combination isn't meant to be with a healthy heart! Davis also mentions that the dipping sauce lacks fiber and vitamin C, meaning it truly offers little in the way of nutritional benefits.
Smoothies, Lemonade & Frozen Lemonade, and Icees
Best: Strawberry Smoothie (16 oz) or Blue Raspberry Icee (16 oz)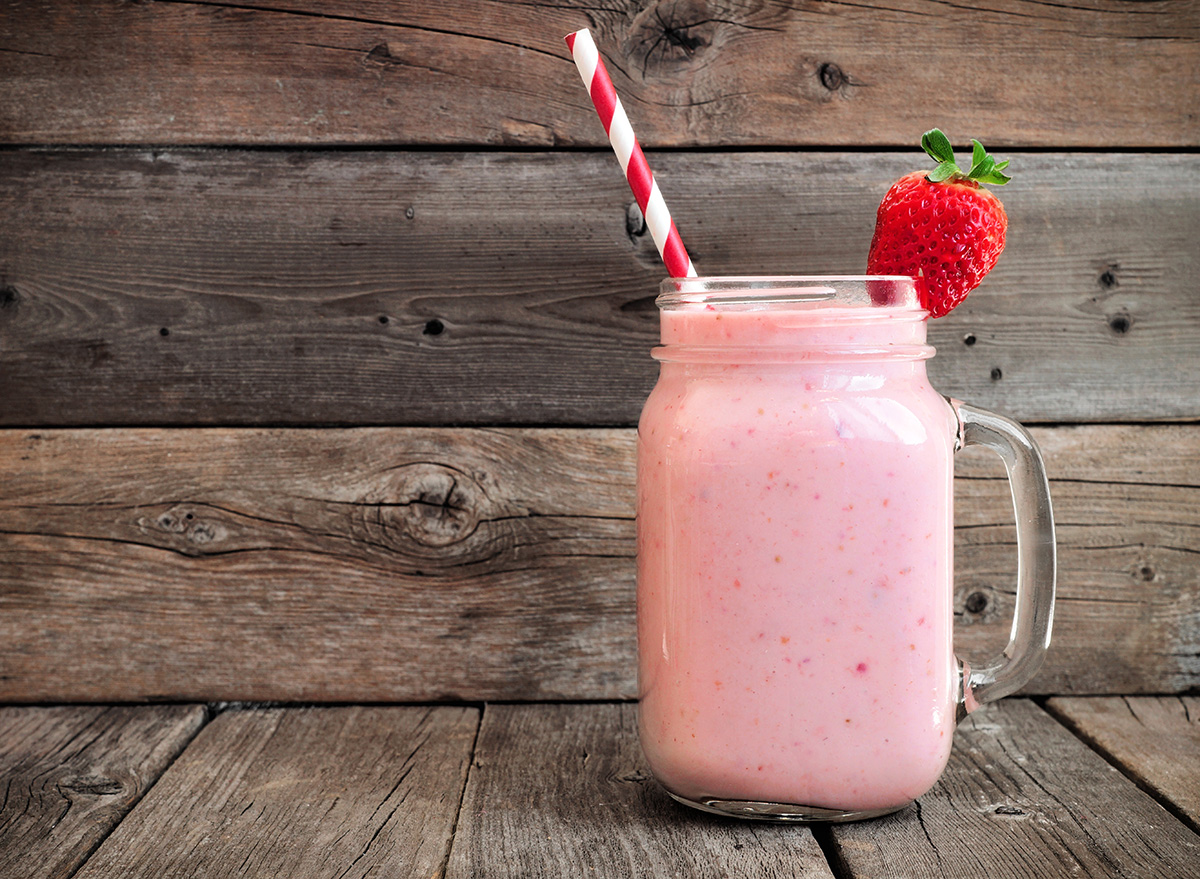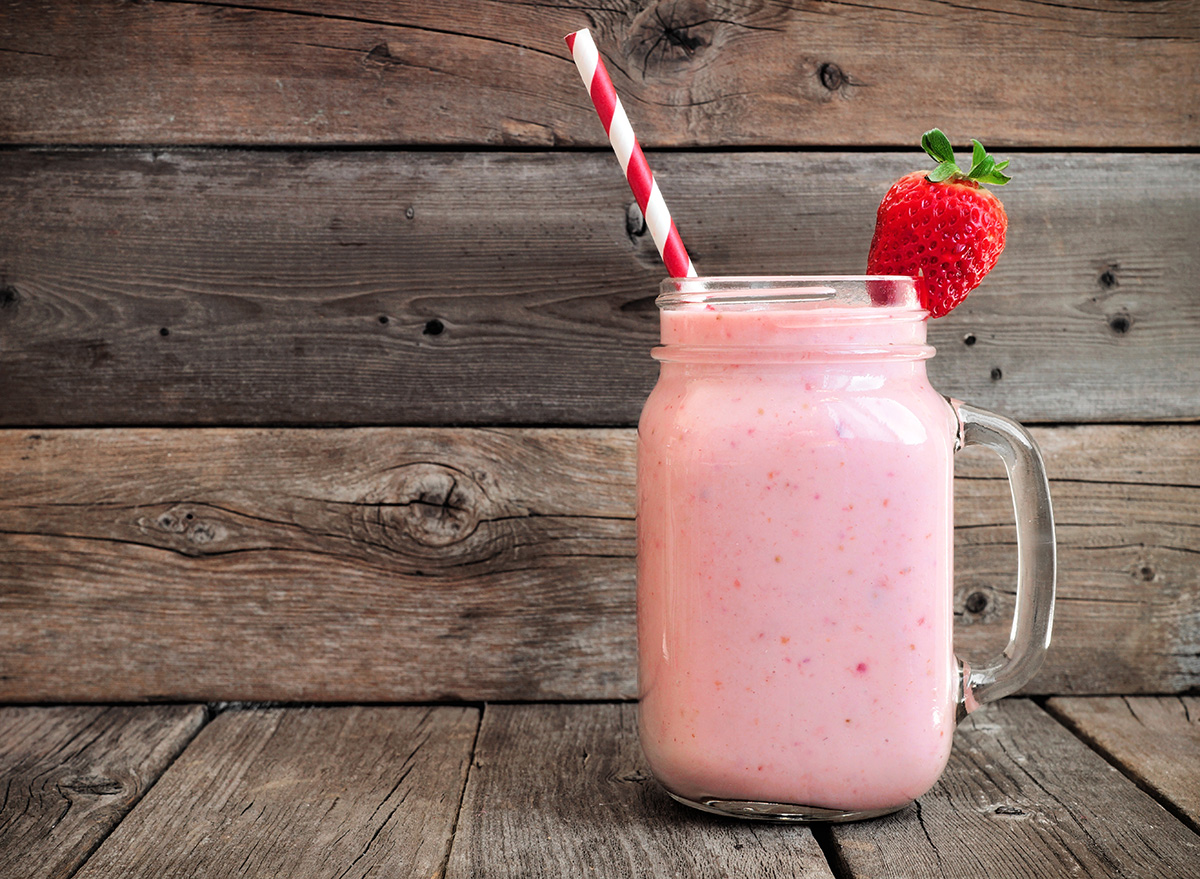 220 calories, 0 g fat (0 g saturated fat, 0 g trans fat), 65 mg sodium, 53 g carbs (1 g fiber, 51 g sugar), 1 g protein
While the 16-ounce strawberry smoothie comes out on top of the "best" picks Davis found on the beverage menu, she still suggests steering clear of these, especially if you are already grabbing a pretzel.
"The smoothie is high in vitamin C and relatively low in calories, but it is still not a good option in my opinion. The sugar is too high!" she says. Instead, Davis suggests to "choose water instead of these sugary beverages," especially if you are already grabbing pretzels to enjoy! Nothing will wash down the pretzels like water.
Worst: Strawberry Lemonade Mixer (16 oz)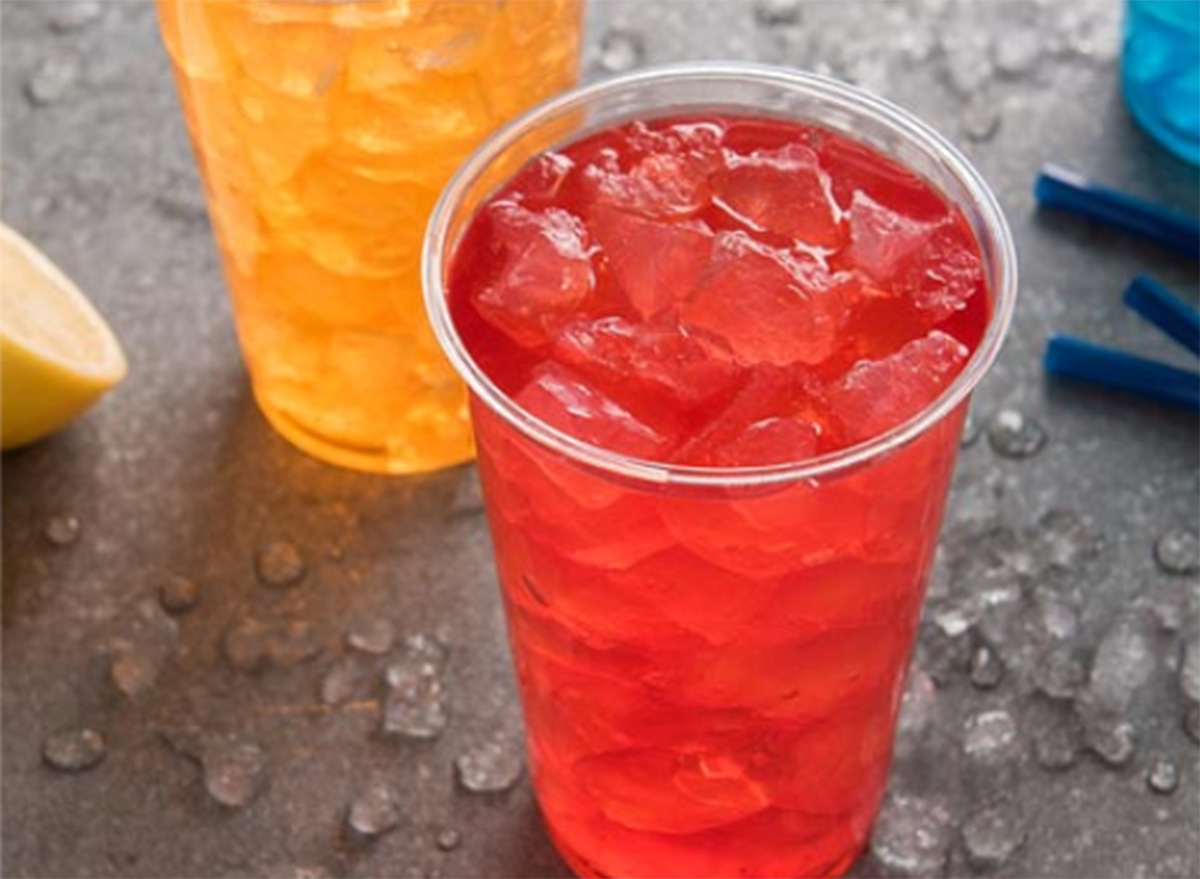 230 calories, 0 g fat (0 g saturated fat, 0 g trans fat), 10 mg sodium, 58 g carbs (0 g fiber, 54 g sugar), 0 g protein
Even if you order pretzels sans the salt, the menu items at Auntie Anne's are not shy of sodium. As such, you'll likely want to order a drink. But with snacks that tend to be high in calories, Davis warns about the added calories and massive amounts of sugar in many of the beverages at this restaurant.
The worst offender? The 32-ounce version of the strawberry lemonade mixer.
"The Lemonade Mixer-Strawberry has 470 calories in a 32-ounce serving, and at 108 grams of sugar, it has as much sugar as 2 and a half cans of Coca-Cola!" Davis says. And in case you think a frozen option is better, think about this. Davis also warns about the wild cherry ICEE, as it has 80 grams of sugar, and she explains this is "almost as much as two cans of Coca-Cola."
Paige Bennett
Paige is a Los Angeles-based editor and freelance writer. In addition to writing for Eat This, Not That!, she works as the content editor for Inhabitat.
Read more about Paige