The Best Apple Cider Vinegar Supplements, According to Dietitians
The very best ways to reap the benefits of this bioactive vinegar.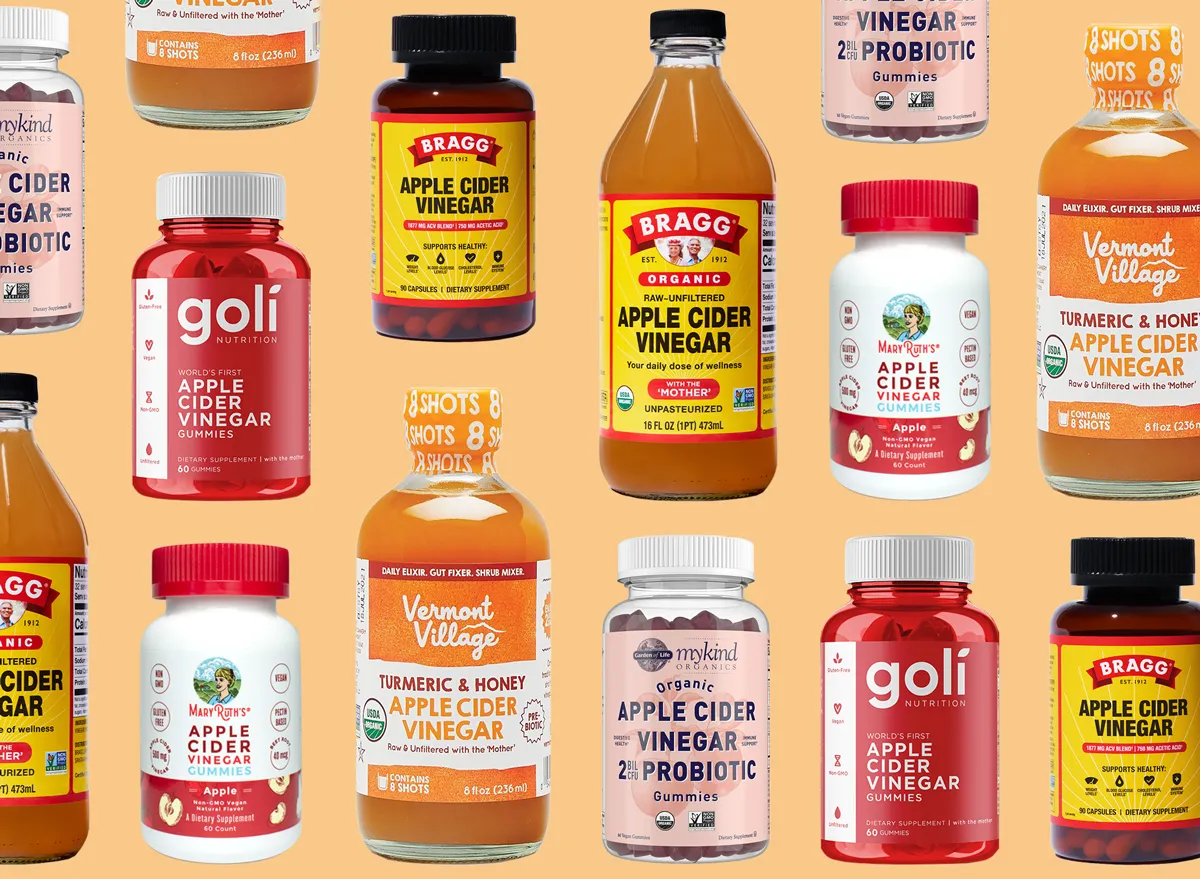 This post contains affiliate links. If you use these links to buy something, we may earn a commission.
Curious about apple cider vinegar? There are more than a handful of good reasons to be intrigued: It can help you lose weight, your cholesterol numbers may become lower, and your insulin response can be moderated, to name a few.
Commonly referred to as ACV, many are turning to the pungent elixir for its purported good-for-you qualities. "ACV has received significant attention recently for its numerous health benefits. Acetic acid, the active ingredient in ACV, has the potential to lower your blood sugar levels, stimulate weight loss, reduce blood pressure and cholesterol levels, regulate inflammation, and reduce your risk of several chronic illnesses," says Kristin Gillespie, MS, RD, LD, advisor for Exercisewithstyle.com, adding that it's also a rich source of antioxidants, which help combat oxidative damage in the body.
Lyssie Lakatos, RDN, CDN, CFT & Tammy Lakatos, RDN, CDN, CFT, The Nutrition Twins, founders of 21-Day Body Reboot, and members of the Eat This, Not That! Medical Expert Board also highlight that ACV "may aid in appetite suppression, weight loss, and in belly fat reduction." They add that "there's been encouraging research linking apple cider vinegar with increased nutrient absorption," but they are also sure to point out that despite all these benefits of ACV, it isn't a cure-all: "there is still no substitute for a healthy, balanced diet."
To really get the most out of any supplement, "it is important to pair them with a generally healthy diet as ACV supplements are lacking a variety of nutrients that should be obtained through your diet," adds Gillespie.
With all these benefits in mind, you're probably wondering how you can start adding this ingredient to your diet. While bottled apple cider vinegar is the most obvious and common way to do that, there are now many different types of apple cider vinegar supplements that can also serve up some similar benefits as the liquid version.
Below, check out these six amazing ways to get your ACV fix, according to dietitians. As always, consult with your doctor or nutritionist before adding a new supplement to your routine, and for more on how to eat healthy, don't miss the 7 Healthiest Foods to Eat Right Now.
Bragg Organic Apple Cider Vinegar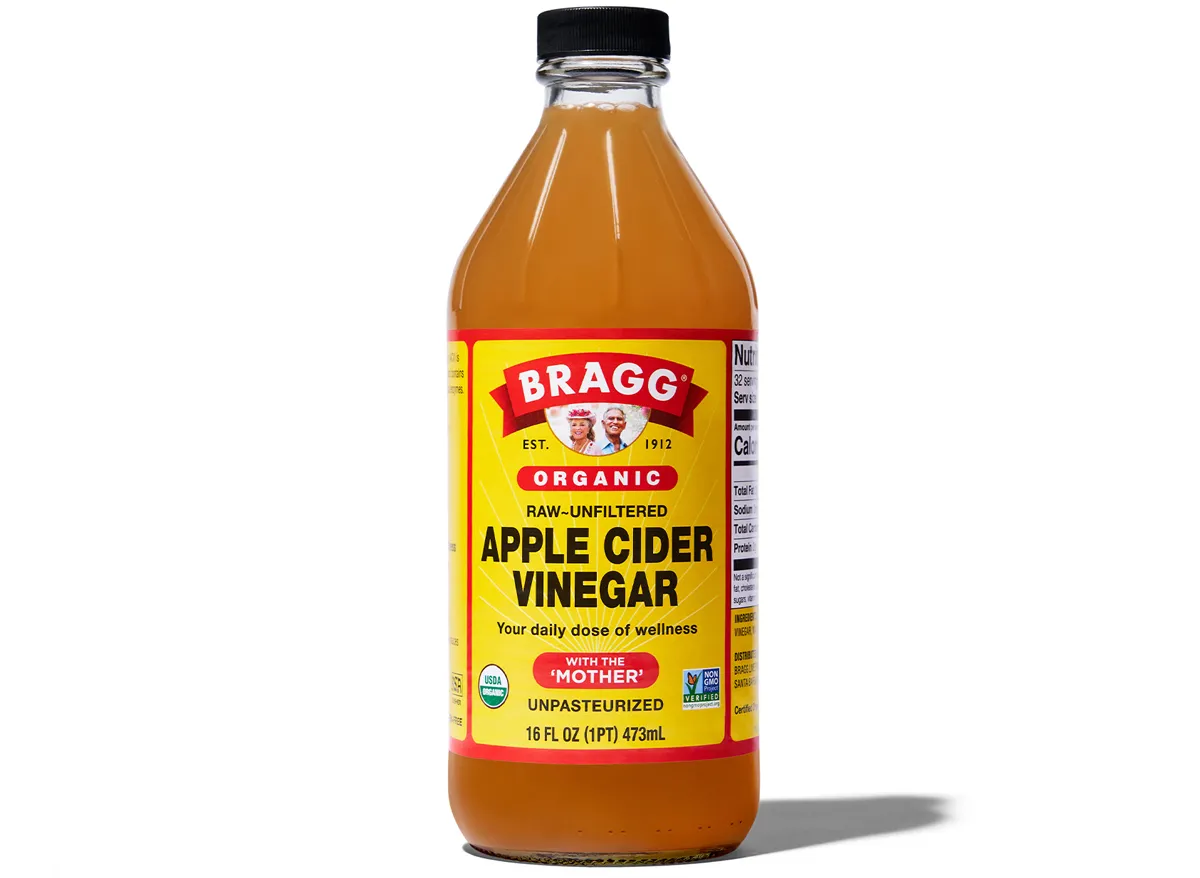 The oldie but goodie, folks. "If you want to consume your ACV the old-fashioned way, this is perhaps the best option. The only ingredient in the product is organic apple cider vinegar, and it contains The Mother, which is the part of it that makes the product cloudy and provides most of the health benefits," says Amy Gorin, MS, RDN, a plant-based registered dietitian and owner of Plant-Based Eats in Stamford, CT. "To get benefits from the product, you can take one tablespoon daily. I definitely wouldn't recommend taking it without food because it's so acidic," she continues, adding that she loves adding it to this homemade salad dressing recipe.
Echoing Gorin, Gillespie says her preferred ACV supplement is this product, too, and she recommends diluting it with water. "As with many foods, plain old ACV is likely better absorbed within the body than in supplement form (although there is minimal research to support this)," she says. "Additionally, diluting ACV is preferred over drinking it straight in the form of a shot because it lessens the risk of damage to tooth enamel."
Bragg Apple Cider Vinegar Capsules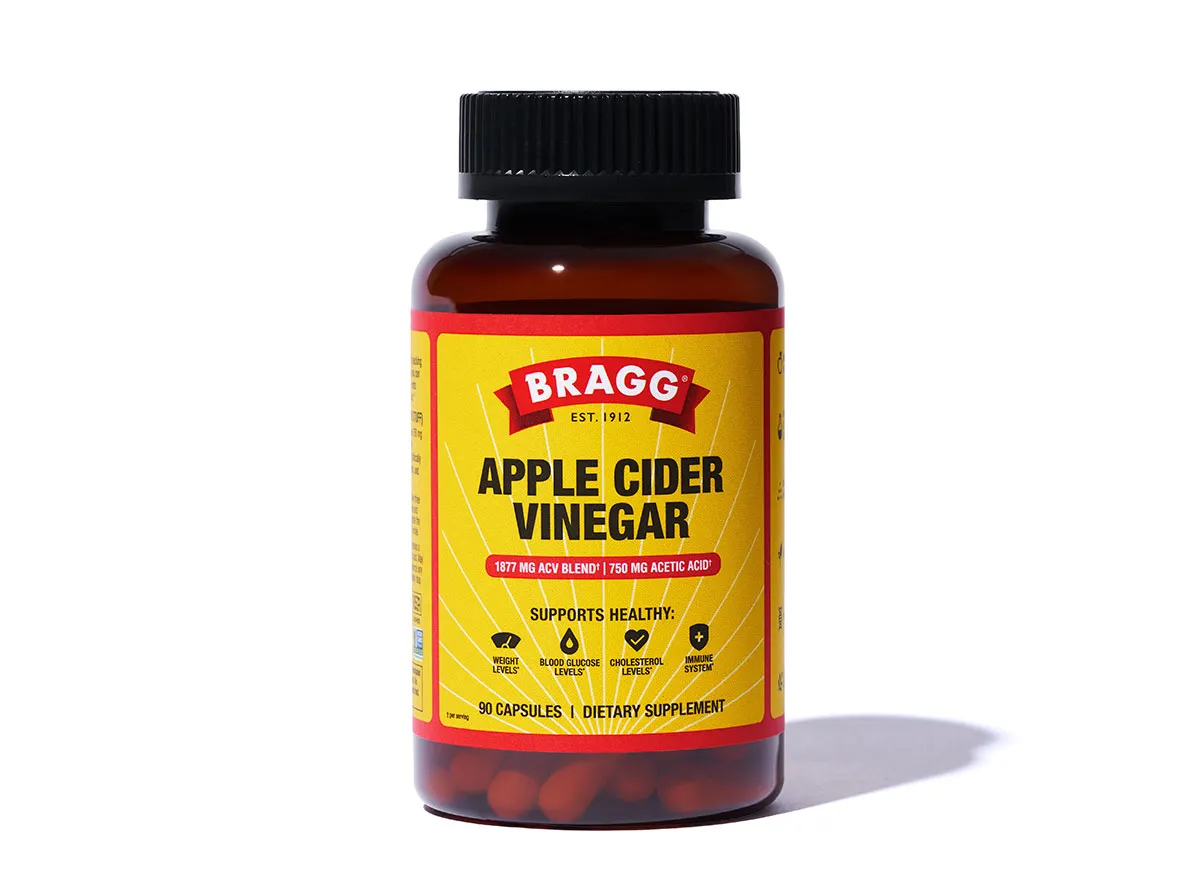 If capsules are more your speed, these are among the best. "Bragg just came out with apple cider vinegar capsules, and the company did a good amount of research before creating this product that has a clinically effective dose of acetic acid in a serving size of three capsules," says Gorin, further noting that the product contains 1,200 IU vitamin D and 13 milligrams of zinc.
Goli Apple Cider Vinegar Gummies
"What I love about these ACV gummies is that they're filled with Vitamin B12, which helps support cellular energy production in your body," says Courtney D'Angelo, MD, RD, author at Fit Healthy Momma and Goli ambassador, adding that they're also gluten-free, vegan, non-GMO, gelatin-free and only contain 1 gram of sugar per serving.
Gillespie especially likes this option for people unable to tolerate the acidic taste that comes with drinking ACV. "Goli gummies are an excellent choice for that group. Not only are they more palatable, but they also contain pomegranate and beetroot for additional antioxidants and vitamins," she says.
Melissa Mitri, MS, RD of Wellness Verge, is also a fan of these gummies for their great flavor, as well as the fact that "they contain added B-vitamins which most other brands do not contain, which can provide energy."
Mary Ruth's Apple Cider Vinegar Gummies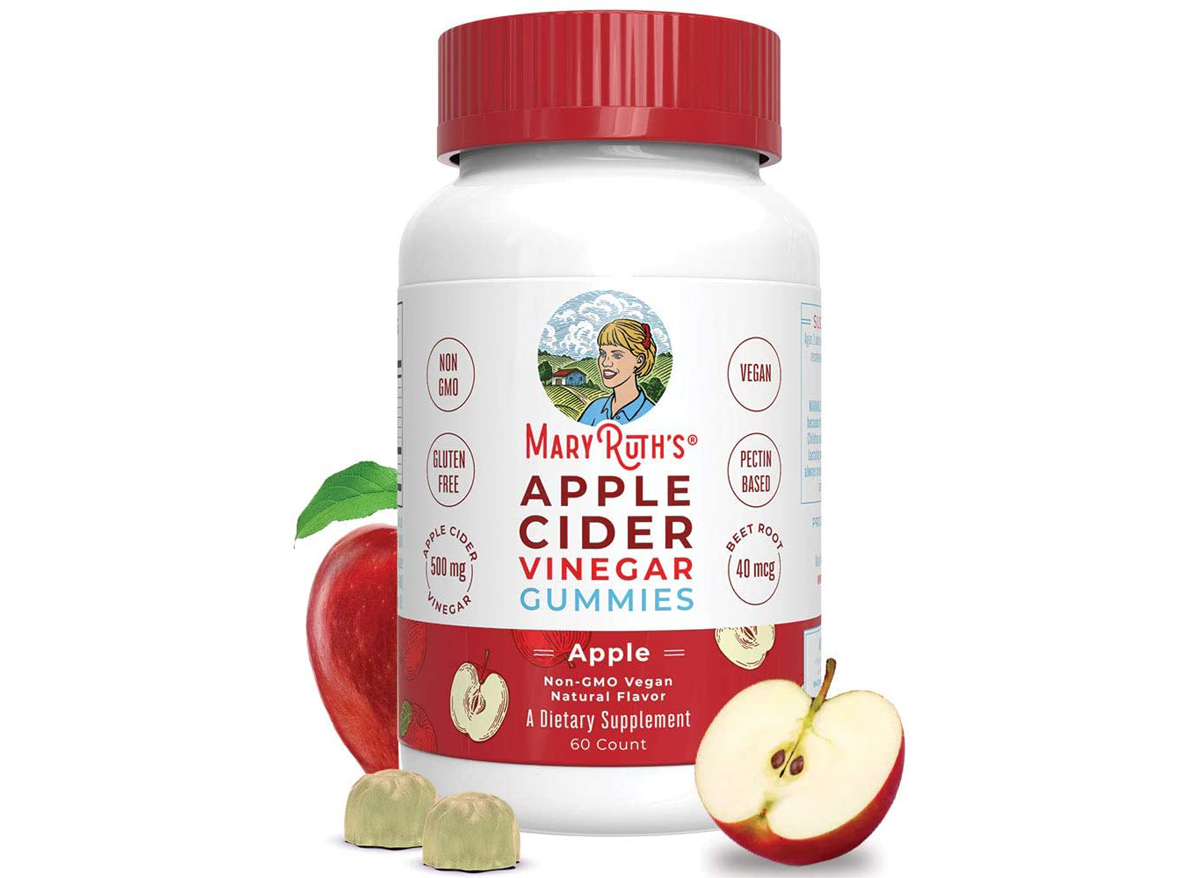 6254a4d1642c605c54bf1cab17d50f1e
"These gummies are 100% organic, non-GMO, and vegan," says Mitri, highlighting the fact that this product contains "the mother," which are health-promoting bacteria present that many other brands do not have. Bonus: "They are low in sugar and contain added antioxidants," she adds.
mykind Organics Apple Cider Vinegar Probiotic Gummies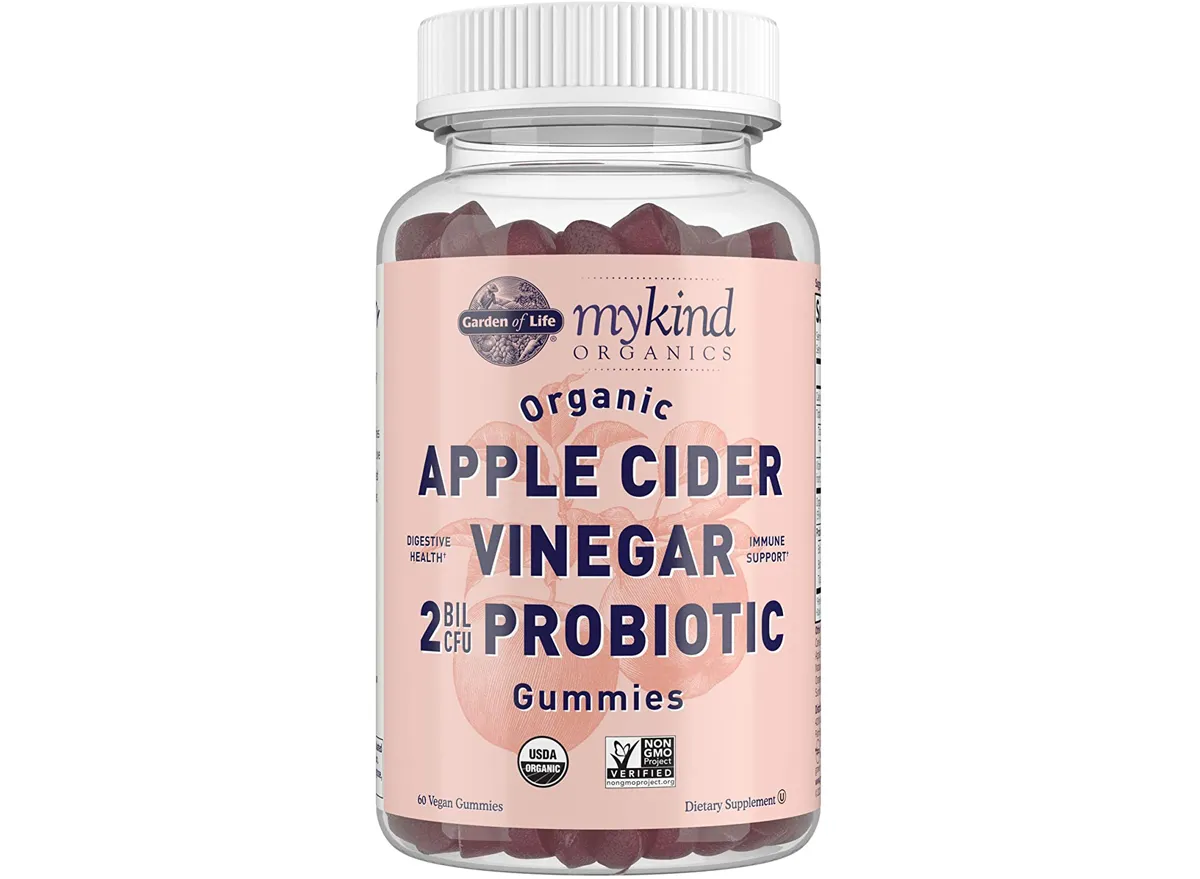 Gillespie calls these ACV gummies a winner, and we like what we see, too. "In addition to containing apple cider vinegar, they contain added probiotics and vitamin B12 to help with your overall health," she says. "The B12 in these gummies comes from whole food sources, resulting in a higher bioavailability than that of synthetic B12 supplements," she elaborates, noting that gummy supplements often contain other (potentially unhealthy) additives and ingredients to make them more palatable but that this product is colored and flavored with natural flavoring agents like green apple, cherries, carrots, and blackcurrant.
Vermont Village Organic Apple Cider Sipping Vinegar with the Mother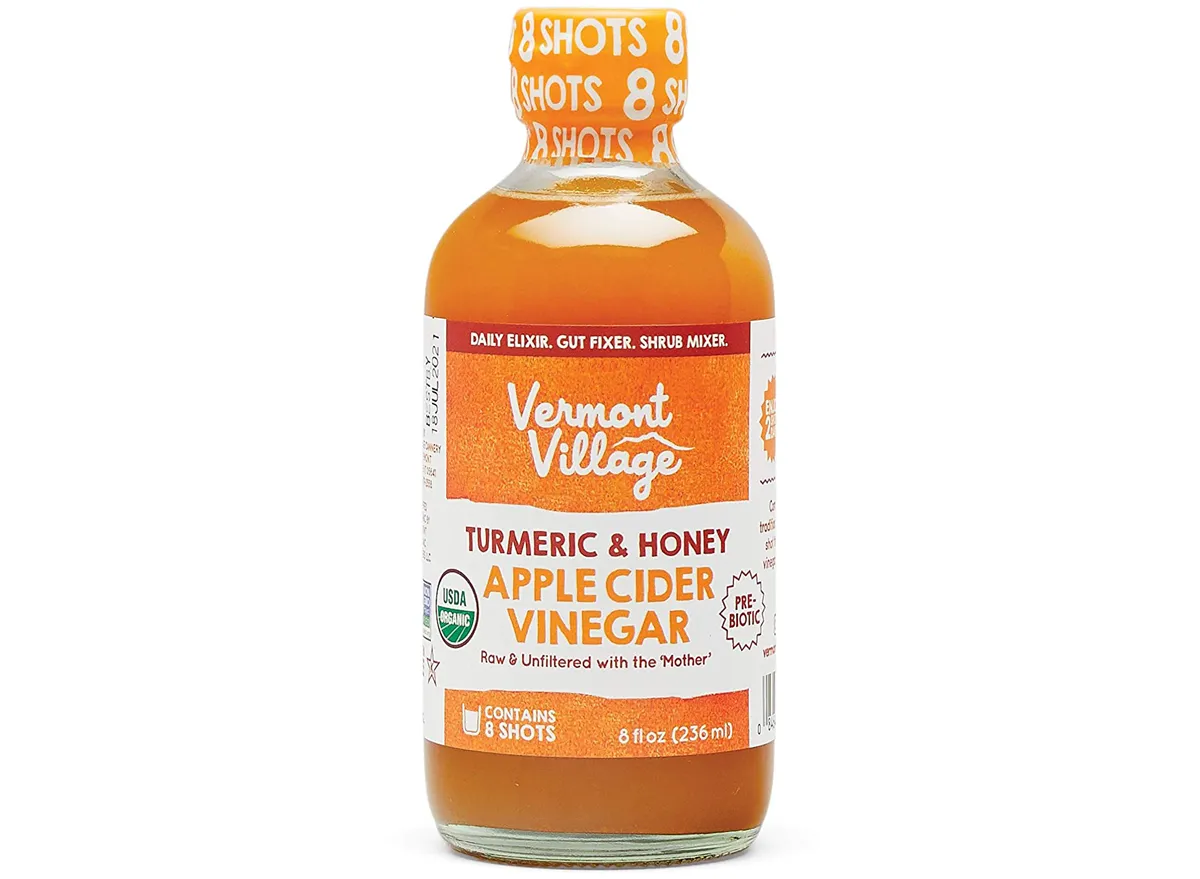 "We like Vermont Village Organic Apple Cider Sipping Vinegar with the Mother. Since it contains the 'mother' it means it's been fermented and contains good-for-you bacteria (probiotics), protein, and enzymes that help you to produce gastric juices that aid in boosting the absorption of nutrients that tend to lessen with age," say The Nutrition Twins. "Probiotics also help with maintaining a healthy gut, healthy brain, and healthy body," they continue, adding that they also like that it's organic and that the various flavors contain anti-inflammatory ingredients like turmeric and blueberries.
"Just be sure to stick to a serving to keep sugar intake in check," they caution. Bottoms up, ACV crew.
Read this next: