6 Best Breakfast Recipes to Slow Aging, Say Dietitians
Not only are these meals delicious, but they also help your body age in a healthy way.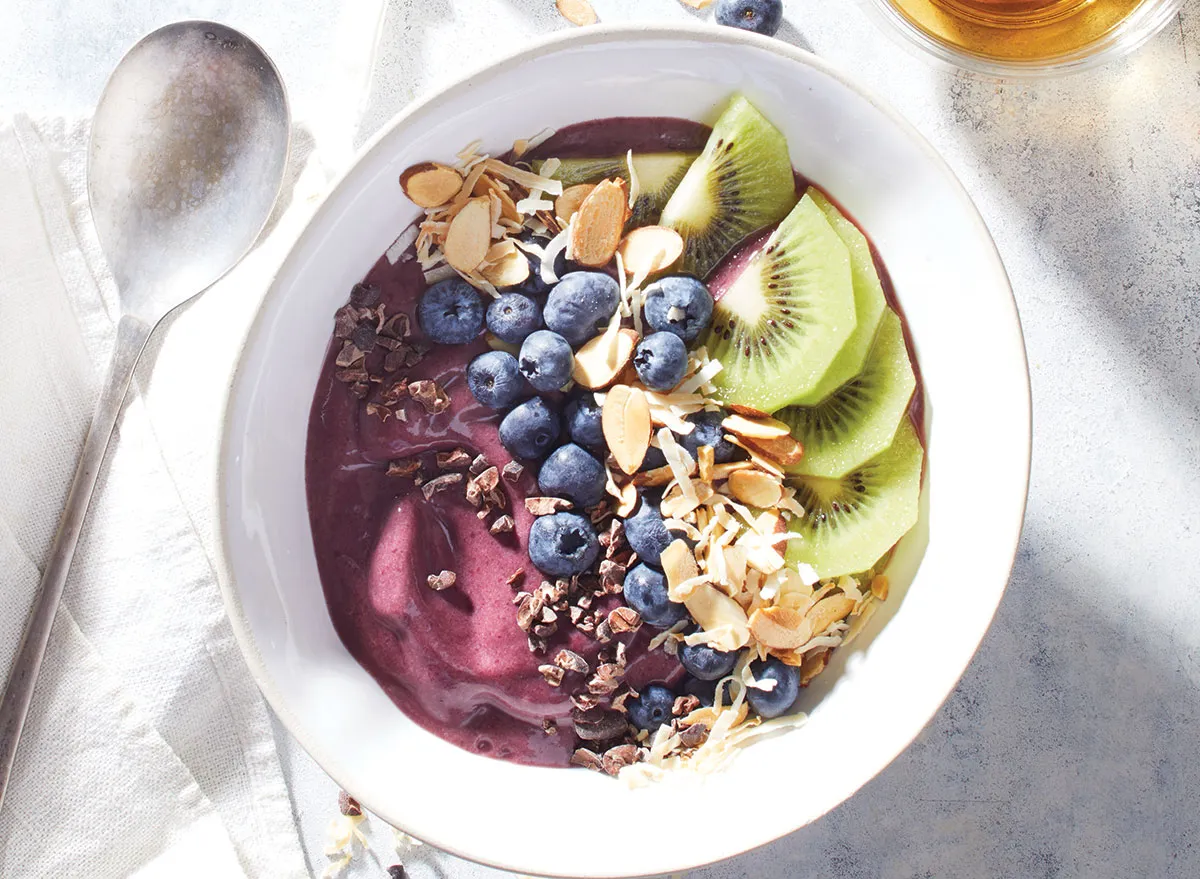 Unfortunately, there is still no miracle Fountain of Youth to be found. But even though we can't completely bring the aging process to a halt, there are lifestyle changes we can make to slow down the process.
One of the healthiest ways to naturally slow the aging process down is by choosing healthy foods to eat on a regular basis. In fact, if you look at the people in the world who live the longest lives on average, a healthy diet is a central pillar to their long life span.
We spoke with our medical experts Tammy Lakatos Shames, RDN, CDN, CFT, and Lyssie Lakatos, RDN, CDN, CFT, aka The Nutrition Twins, to learn more about specific breakfast foods that can help slow the aging process.
Here are some breakfast recipes they hand-selected that you can try for a delicious, anti-aging health boost first thing in the morning. And for healthy recipes to try any time of day, make sure to check out The Best Recipes to Lower Inflammation.
Spring Vegetable Frittata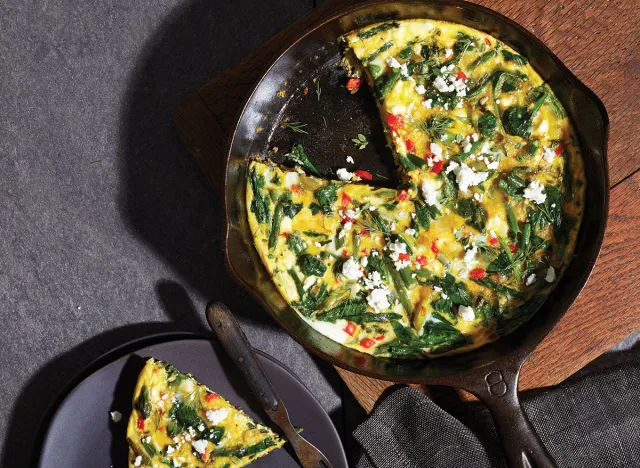 "This frittata is just the way to start your day if you want to turn back the hands of time," say The Nutrition Twins. "For starters, unlike many breakfast options, this savory dish brings the flavor without preservatives, sugars, saturated fat, and other ingredients that promote inflammation, damage the body, and hasten the aging process. This breakfast gets its robust flavor from herbs and spices, which are some of the most potent inflammation fighters. Like most powerful plants, herbs and spices may be even more beneficial when eaten together so they can work synergistically to promote health from many angles."
"In this fragrant frittata, antioxidant-packed dill weed's flavonoids, which are linked to disease prevention, team up with thyme, which has been shown to lower blood pressure and protect against colon and breast cancer," they continue. "Together they are working to fight inflammation and reduce damage to your body's cells."6254a4d1642c605c54bf1cab17d50f1e
"And there's nothing like sneaking a leafy green in to start your day, and with this frittata, spinach provides lutein and beta carotene, inflammation-fighters that have been shown to protect against age-related macular degeneration."
 Get our recipe for Vegetable Frittata. 
Avocado Hummus
"Spread this avocado hummus on a slice of whole-grain toast and it has all the anti-aging and health benefits and creamy satisfaction of avocado toast, plus it packs protein from the chickpeas for extra satisfaction and staying power," say the Nutrition Twins. "Chickpeas provide plant-based protein, which means they contain both fiber and protein to keep your energy on an even keel, stabilize your blood sugar levels, and help to keep you satisfied. All of this helps to stave off hunger and the overeating and weight gain that comes with it."
"When it comes to fighting the ill effects of aging, battling the bulge is an important step because weight gain is linked with inflammation," they continue. "Research shows that chickpeas aid in weight loss even when calories aren't restricted. And for that younger-looking complexion, chickpeas contain antioxidants such as catechins, alpha-carotene, epicatechin, and carotenoid, which all help the skin with anti-aging properties and protection from fine lines."
The Nutrition Twins also note that "avocados may also reduce inflammation in the body, as well as in newly forming skin cells, for prettier, healthier more youthful appearing skin. The antioxidants in garlic fend off inflammation throughout the body that damages the body and aging it."
Get our recipe for Avocado Hummus.
Mango Ginger Overnight Oats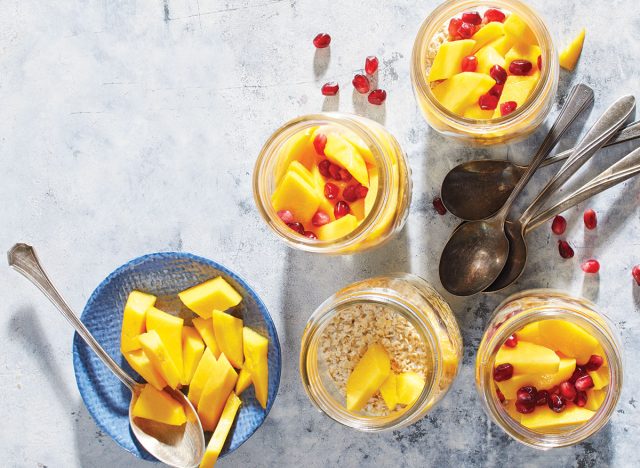 "This easy-to-make recipe is perfect for a hectic morning—simply prepare it the night before, put it in the fridge, and grab it for a major anti-aging boost," say The Nutrition Twins. "The polyphenol antioxidants in oats called avenanthramides (AVE), have the power to boost antioxidant defenses as well as slow the inflammatory response to strenuous exercise. This is particularly important because whether the inflammation is provoked by aging or exercise, it can have a negative impact on health over time."
"Ginger prevents oxidative stress and inflammation associated with aging and degenerative diseases, including Alzheimer's disease, diabetes, hypertension and osteoarthritis, while ginger's antioxidants help to preserve skins' collagen, assisting in keeping it youthful and elastic. Couple those skin benefits with the vitamin C in mangos, which helps with the formation of collagen, and this breakfast is just the bowl you need to maintain soft, supple, young skin."
Get our recipe for Mango Ginger Overnight Oats.
Easy, Healthy Acai Bowl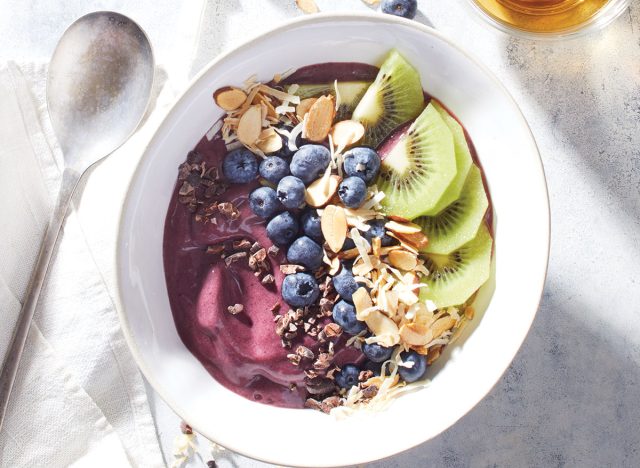 "Easy bowl recipes are all the rage, and this anti-aging one may just become your new bestie," say The Nutrition Twins. "Packed with blueberries, acai, kiwi, and almonds, this is an anti-aging superhero. When it comes to aging, nothing seems to age you faster than forgetfulness and a slow mind, and blueberries help to keep your brain healthy, prevent age-related memory loss, boost brain cells, improve mental health, and increase concentration and focus."
"The polyphenols in acai berries interfere with abnormal cell formation and boost the immune system while their anthocyanins lower bad 'LDL' cholesterol to keep your heart healthy, strong, and youthful, and protect against cardiovascular disease, the most common condition in older adults and the number one cause of death."
"Kiwi fruit is rich in vitamin C, which fights against the free radical formation and helps to keep skin youthful. And thanks to almonds' vitamin E, research has found that almonds may protect against UV damage and wrinkles."
Get our recipe for Acai Bowl.
Plant-Based Matcha Mint Smoothie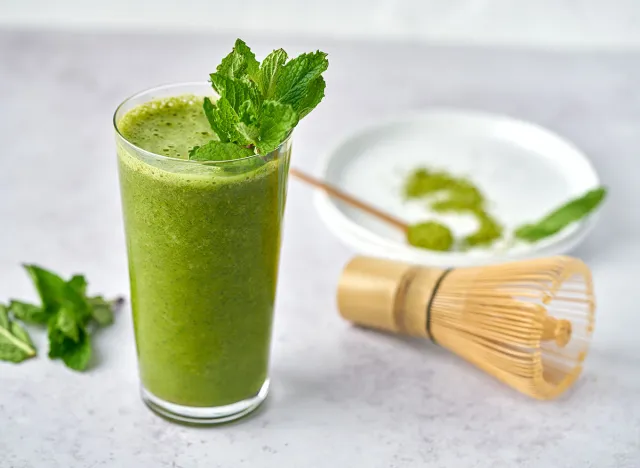 "The ingredients in this smoothie pull out all the anti-aging stops," say The Nutrition Twins. "Matcha is packed with disease-fighting catechins like EGCG (epigallocatechin gallate) and has more than 2 to 3 times the catechins of antioxidant powerhouse green tea, which means it's an inflammation-fighting rock star. The link between inflammation and aging is an important concern because of its association with the development of chronic diseases such as heart disease and diabetes. Thanks to its anti-inflammatory benefits, matcha has been shown to reduce the risk for both of those as well as for high blood pressure, and to protect the brain against aging."
"Spinach is packed with antioxidants including lutein and beta carotene, which fight against inflammation and have been shown to help protect against age-related macular degeneration," they continue. "Mint may boost brain health and may have the potential to help treat the symptoms of Alzheimer's disease.
The Nutrition Twins recommend "pairing this smoothie with Greek yogurt or a hard-boiled egg for extra protein and staying power."
Get our recipe for Matcha Mint Smoothie.
Peach Kale Smoothie Bowl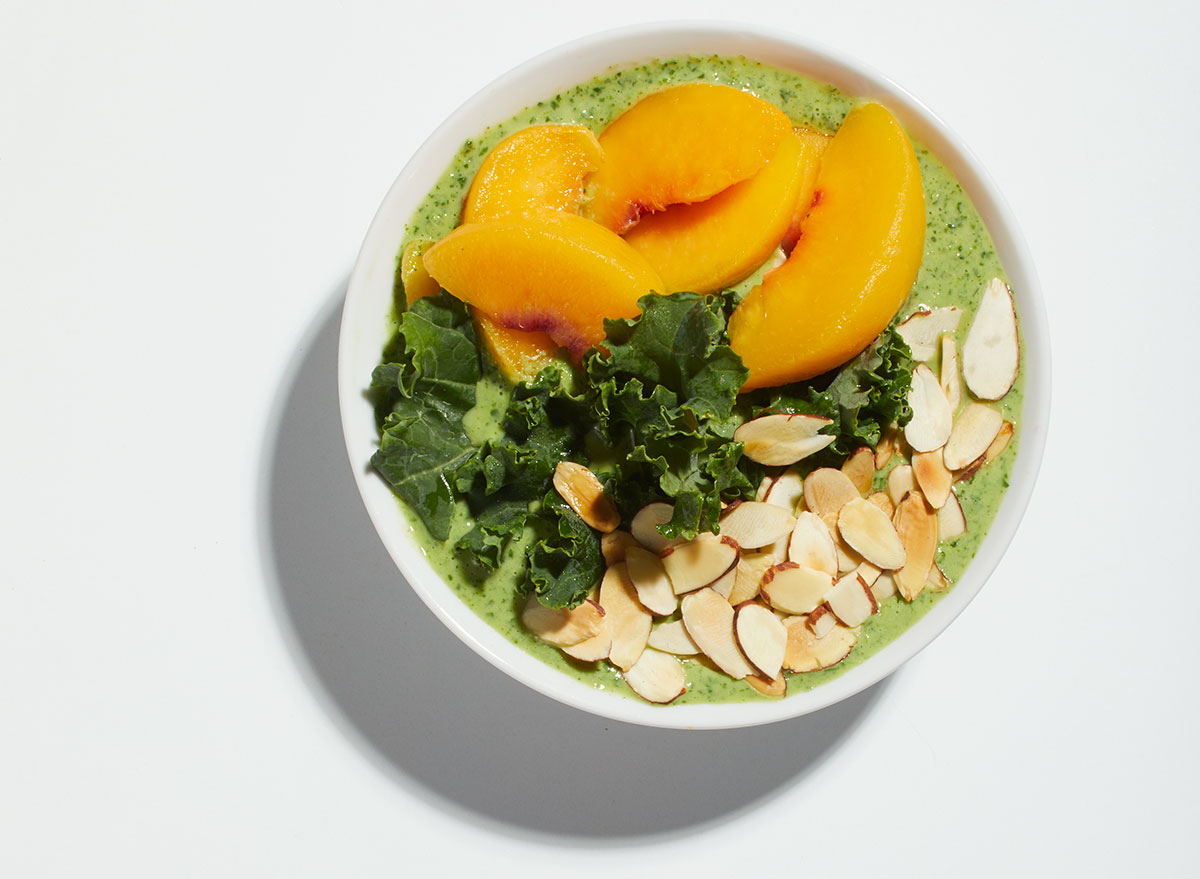 "This simple blend-and-pour-smoothie bowl recipe is packed with anti-aging ingredients," say The Nutrition Twins. "For instance, kale helps to protect against age-related diseases like heart disease and cancer. It contains chlorophyll and can help to prevent the body from absorbing heterocyclic amines, which are carcinogens that are created when you cook animal products at high temperatures. Kale's flavonoids quercetin and kaempferol protect the heart, help to lower blood pressure (which increases as we age), and fight inflammation as well as cancer."
"The vitamin C and antioxidants in the lemon mop up free radicals and prevent skin aging and may positively affect the intestinal tract and microbiome," they continue. "Peaches are also rich in vitamin C to promote collagen, helping to prevent wrinkles and keeping skin soft and supple."
Get our recipe for Peach Kale Smoothie Bowl.