Costco vs. Trader Joe's: Which Has the Best Orange Chicken?
The most beloved TJ's product of all time now has stiff competition.
The product recommendations in this post are recommendations by the writer and/or expert(s) interviewed and do not contain affiliate links. Meaning: If you use these links to buy something, we will not earn a commission.
Of all the many beloved Trader Joe's foods over the years, none is more vaunted than the Mandarin Orange Chicken.
Introduced back in 2004, the popular freezer product has garnered "Best Entrée" and "Favorite Overall" honors so many times that the retailer took an extraordinary step earlier this year by dropping the item from consideration during its annual Customer Choice Awards.
Instead, TJ's elevated the dish to the grocer's newly created Product Hall of Fame. "It would be hard to imagine Trader Joe's without Trader Joe's Mandarin Orange Chicken," the California-based company acknowledged in its announcement.
Though some critics contend the product is overrated, many fans remain fiercely loyal to TJ's version of the classic Chinese-American takeout staple. That devotion has been tested lately, however, following the emergence of a very similar product at an equally popular retailer.
Crazy Cuizine Mandarin Orange Chicken, currently found in the freezer section at Costco, drew immediate comparisons to TJ's signature item, launching a flurry of online debate about which product is superior. "The number one question I got about this mandarin orange chicken is how does it compare to the Trader Joe's version?" Instagrammer @costcofoodreviews noted earlier this summer. "I like the Costco one a lot better!"
The quality of the Costco variety has even caused some longtime TJ's partisans to switch allegiances. "My family of 4 eats a lot of the TJ's orange chicken and after eating the Costco version, I was told we need to take a break from TJ's," one shopper wrote on Reddit. "Costco stuff is excellent."
Still, others are steadfast defenders of TJ's store-brand standard-bearer. "TJs orange chicken is much better than the Costco one," one loyalist wrote on Reddit. "One of the few things I will only buy the TJ version over Costco." Another added, "It's nowhere near as good as the TJ Orange Chicken. I'll die on this hill!"
I decided to find out for myself, picking up packages of both brands and preparing them side-by-side for an easy appraisal. Break out some chopsticks and follow along to see how they stacked up.
Trader Joe's Mandarin Orange Chicken
Per Serving (1 Cup): 320 calories, 16 g fat (3.5 g saturated fat), 330 mg sodium, 24 g carbs (1 g fiber, 6 g sugar), 21 g protein
Admittedly, I've previously tried the ultra-popular orange chicken from Trader Joe's—er, "Trader Ming's," as it says on the package—and I was a little underwhelmed. Goopy-sauced Chinese breaded chicken dishes are a guilty pleasure of mine, but this one tasted a little off to me. Nonetheless, I was happy to give it another go. The dish is super cheap and easy to make. The 22-ounce bag costs $4.99 and it's ready in just three steps: simply bake the frozen chicken morsels at 400 degrees for 18 to 20 minutes. Meanwhile, warm up the sauce, then toss together and dig in.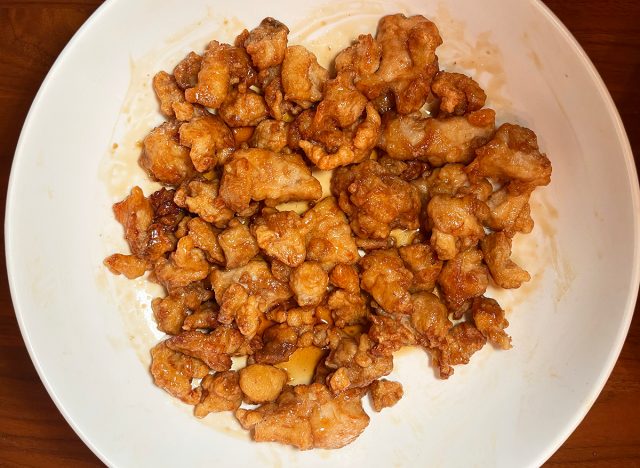 The Look: Right out of the bag, these poultry pieces came in a wide variety of sizes, from tiny nuggets to massive, irregularly shaped morsels. Some carried a noticeable white film, suggesting freezer burn. Even so, they cooked up crispy and nicely brown. Combined with the accompanying sauce, they gleamed in a sort of burnt sienna color, not unlike the kind from your favorite takeout spot.
The Taste: Sweet and tangy, as you might expect, but not at all spicy like some versions. The crispened chicken (purely dark meat, according to the package) came off chewy and a little tough. Something about the meat flavor reminded me of McDonald's Chicken McNuggets, and not in a good way. It just seemed very low-quality to me, and I frankly don't get all the love for this product in general.
Costco's Crazy Cuizine Mandarin Orange Chicken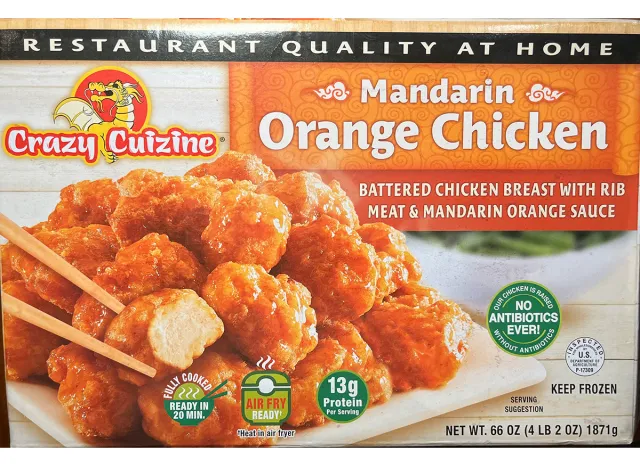 Per Serving (1 Cup): 260 calories, 7 g fat (1 g saturated fat), 500 mg sodium, 35 g carbs (0 g fiber, 14 g sugar), 13 g protein

6254a4d1642c605c54bf1cab17d50f1e

The sudden popularity of this Crazy Cuizine product was evident when I hit my local Costco, as I spotted other shoppers snatching it from the freezer and noticed packages in carts at checkout as well. The price tag is a lot higher than the TJ's version—regularly priced at $15.69, though I found it on sale for $10.99—but you get a lot more for your money, too. The 66-ounce box contains two separate bags of chicken. The cooking instructions are virtually identical to TJ's, with oven heating recommended.
The Look: These breaded nuggets appeared more uniform in shape and size than TJ's poultry parts, and the number of pieces from a single bag nearly overwhelmed my 10-by-14-inch cooking sheet. Unlike the other brand, this showed signs of freezer burn. The chicken browned up nicely but did not turn out quite as crispy as its counterpart. Coated in sauce, the dish beamed brightly brown-orange.
The Taste: A hint of spice upfront before the saucy, savory sweetness takes over. The chicken itself is much more tender and juicy than the TJ's version (made with breast and rib meat, according to the package). Overall the flavor and texture remind me more of a good Chinese takeout rendition. Ideally, the breading would have a little more crunch, but otherwise no complaints.
The Verdict
You can find so many great foods at Trader Joe's, but when it comes to the hugely ballyhooed orange chicken, you can simply do better—especially now that an even tastier, freezer-aisle variety exists at Costco.
The Crazy Cuizine version from the warehouse club is more tender, more toothsome, and equally affordable, given the massive quantity of chicken bits included in the box.
With the Trader Joe's brand, I couldn't bear to even box up the leftovers. But the rival brand tasted great even when reheated the next day. I simply can't say the same about many, if any, other frozen foods at all.