The Best Cupcake in Every State, According to Yelp
Cookie dough cupcakes? Yes, please.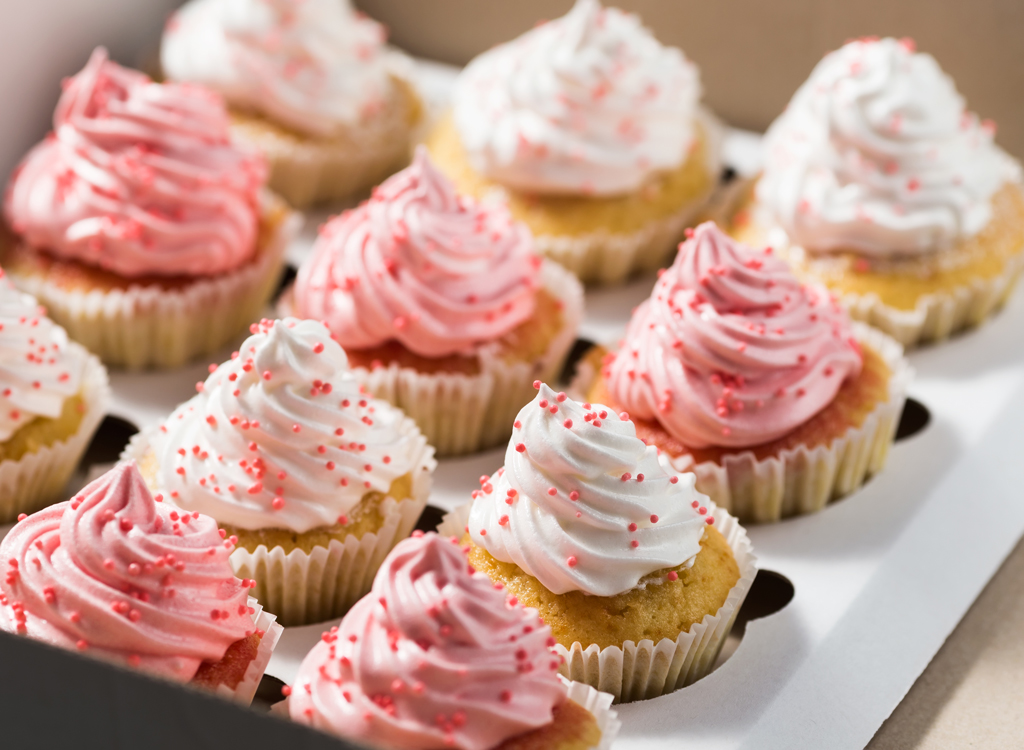 When it comes to cupcakes, the sweet treats can come in hundreds of shapes and sizes. From dipped to filled to sprinkled, the perfect cupcake can be hard to come by. Whether it's texture, moistness level, or cake to frosting ratio, it's easy to cross the line between sickeningly sweet and "to die for" good. These 50 sweet shops across the country seem to have perfected the art of cupcake baking, and we can't wait for you to visit them. Next time you're planning a road trip, consider making a detour to curb your cravings at one of these star sweet shops and try the best cupcake in every state.
Methodology: We've partnered with Yelp to find the best cupcake in every state. To create this list, Yelp identified businesses in the restaurants and food categories with a large concentration of reviews mentioning "cupcake." These spots were then ranked using a number of factors including the total volume and ratings of reviews mentioning "cupcake." Using Yelp's list of best cupcake shops, we combed through the reviews to find the specific cupcake that tops the charts at each establishment. Ready to see which cupcake takes the cake in your state? Read on to find out.
And for more, check out The Most Iconic Dessert in Every State.
ALABAMA: Red Velvet Cheesecake Cupcake at Jozettie's Cupcakes in Montgomery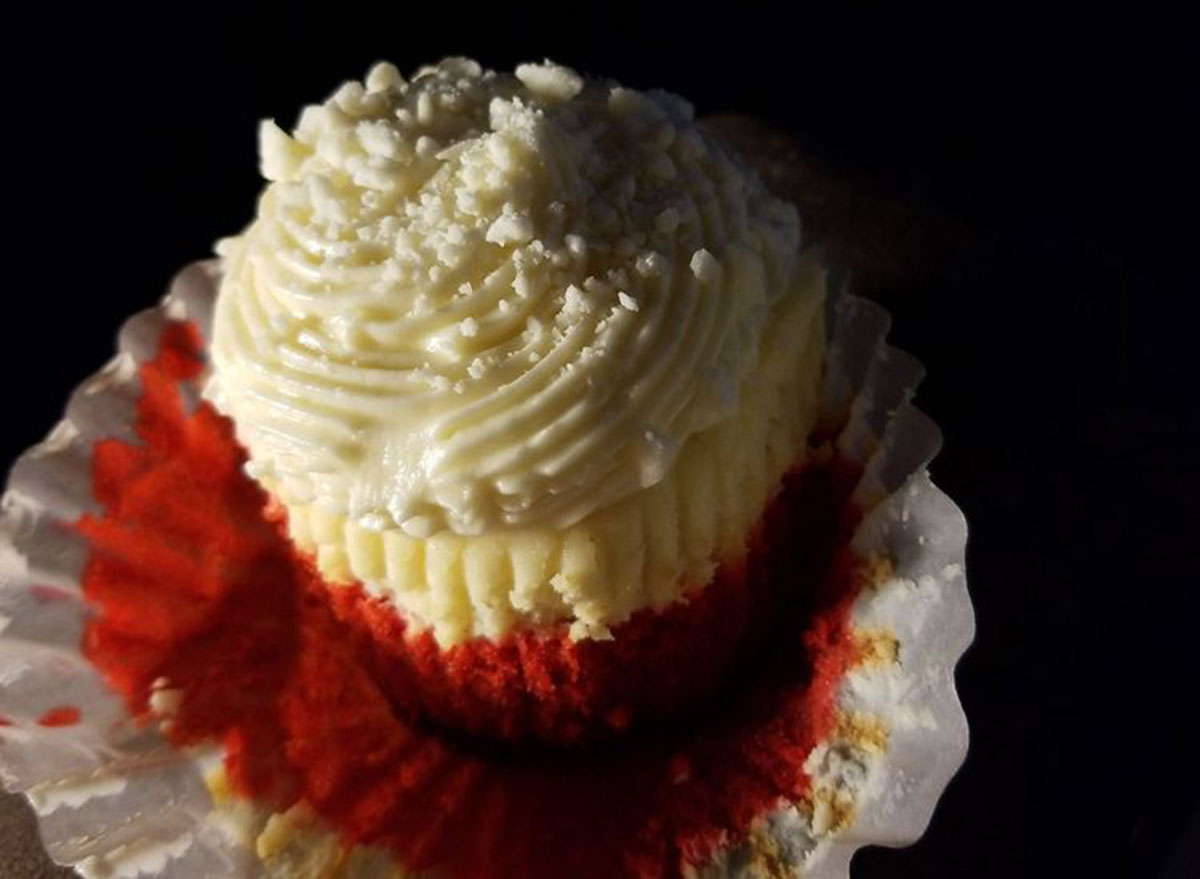 "You won't be sorry that you stopped by. Well, maybe your waistline will, but your soul won't," says one reviewer. This Montgomery bakeshop serves up a wide variety of flavors, from sweet potato to the raved-about Red Velvet Cheesecake Cupcake.
ALASKA: Dark Chocolate Cupcake at Fire Island Rustic Bakeshop in Anchorage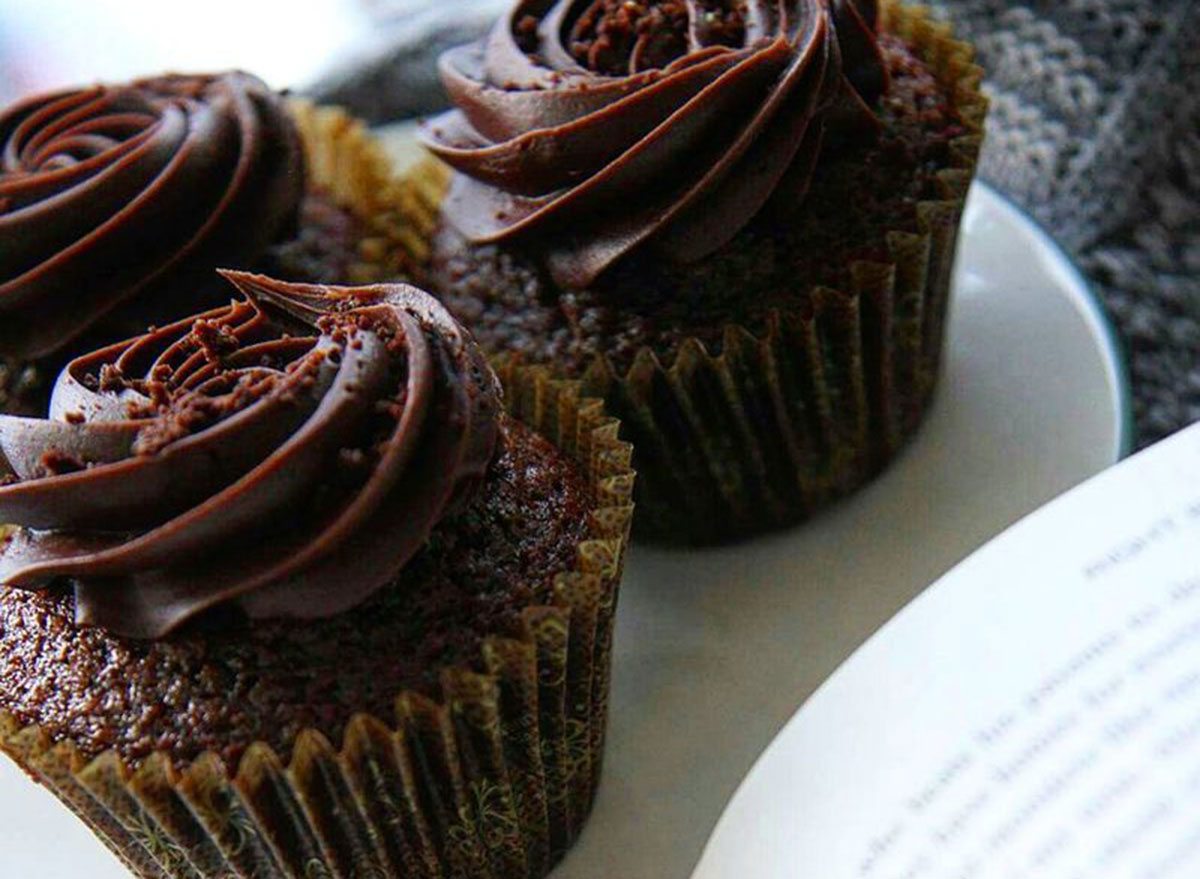 This small artisan bakery, located in the heart of South Edition, has customers coming from across the state to get a taste. What the bakery lacks in size, it makes up for in flavor, serving savory bites as well as decadent treats. If you're lucky enough to make it here, make sure to grab one of their classic dark chocolate cupcakes.
ARIZONA: Peanut Butter Mousse Cupcake at The Great Gadsby Bakery in Gilbert
If you're not already impressed by this peanut butter mousse cupcake, then you're not a true cupcake lover. As the name implies, The Great Gadsby Bakery creates grand sweets.
ARKANSAS: Lemon Lavender Cupcake at Fat Bottomed Girl's Cupcake Shoppe in Hot Springs
This sweet shop was featured on Food Network's Cupcake Wars, and for good reason! From the sassy decor to the list of ever-changing flavors, you'll never be bored. Crowd favorites like the lemon lavender cupcake are sure to turn you into a lifelong fan.
REALTED: The Best Cheesecake in Every State
CALIFORNIA: Danville Bakery in Danville
Unfortunately, the original Yelp pick, Cat's Cupcakery, has closed. The site urges people to try Danville Bakery run by Karen Cordeiro for all their cupcakes and sweet needs. Yelp reviewers cannot heap enough praise on the beautiful creations at this bakery.
COLORADO: Turtle Delight Cupcake at Gold Mine Cupcakes in Golden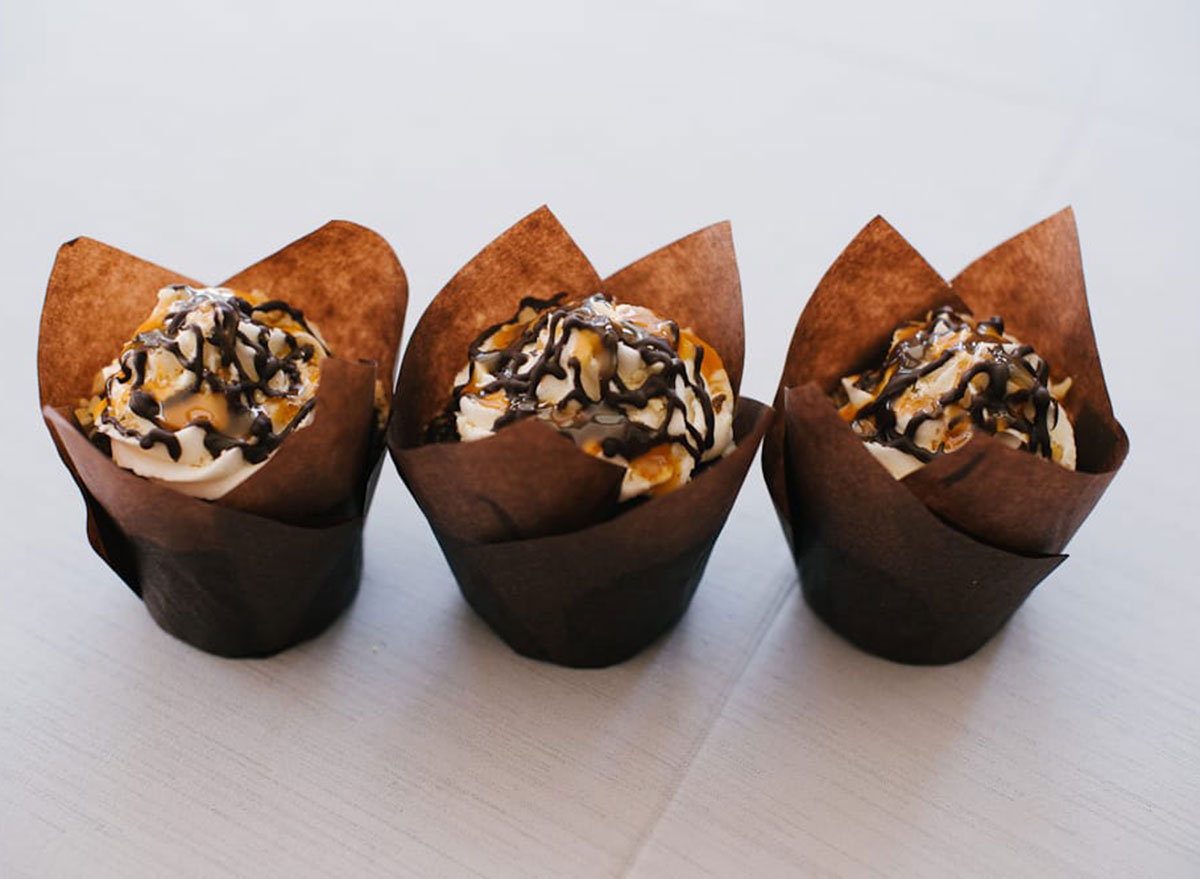 Strike gold at this family-owned and operated cupcakery (pun intended). We recommend trying the turtle delight, topped with nuts and drizzled with chocolate and caramel sauce. Count us in!
CONNECTICUT: S'Moa Cupcake at Cake Gypsy in Avon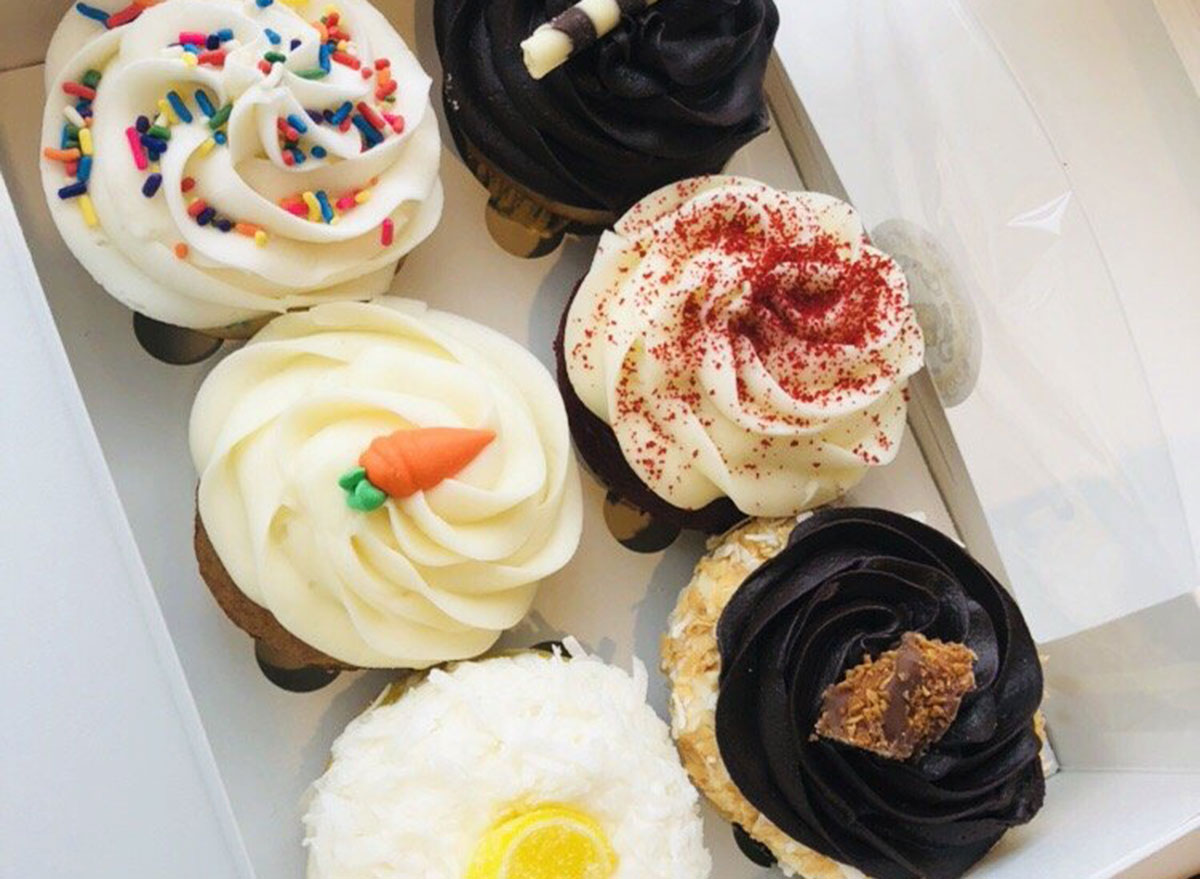 Offering a wide variety of cake pops and cupcakes, Cake Gypsy is highly rated on Yelp, and for good reason. From the classic red velvet to decadent S'Moas, there's something for everyone. And the cherry on top? The sweet shop also whips up dog-friendly treats, so make sure to bring your pup along if you visit!
DELAWARE: Maple Bacon Cupcake at Sweet Somethings in Wilmington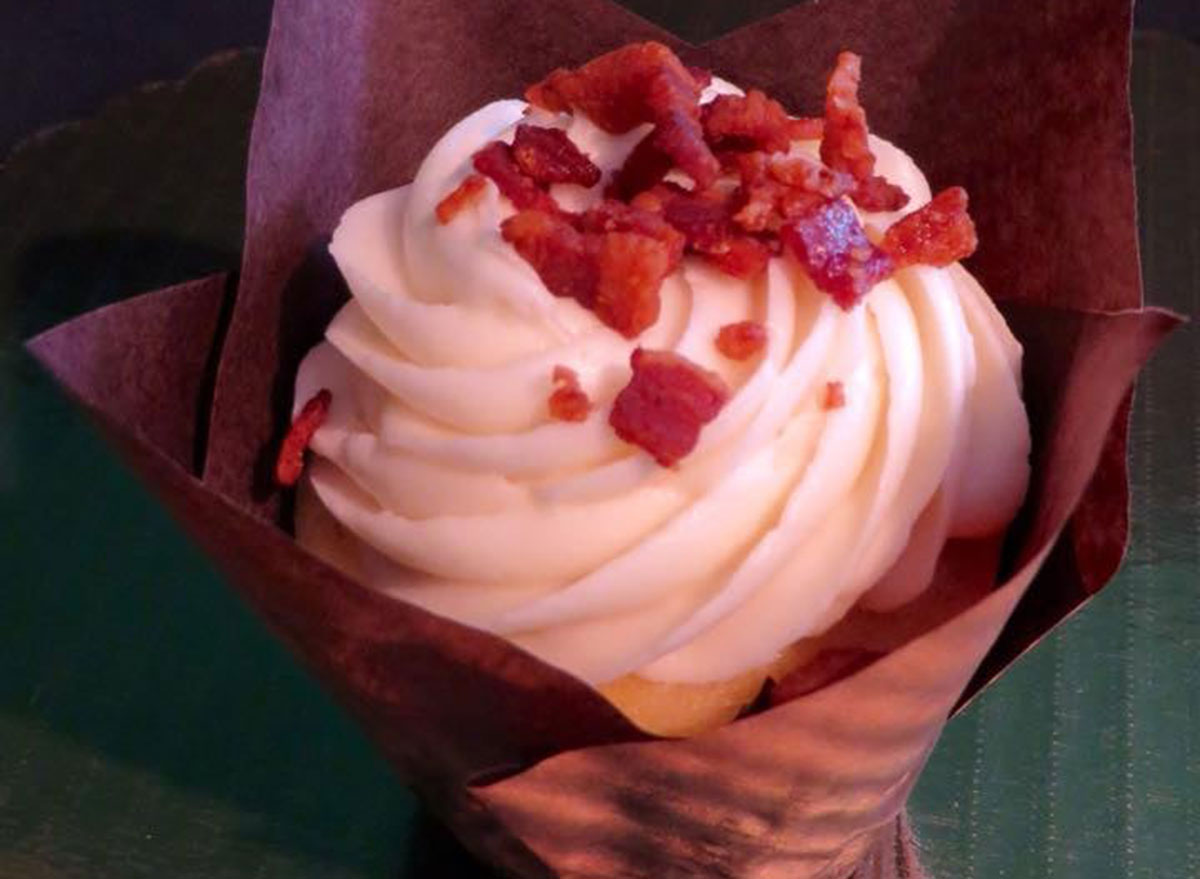 Open since 1997, this bakery has been serving up custom cakes and cupcakes to loyal customers for the past two decades. If you're looking for a new flavor to try, Yelp reviewers can't get enough of the maple bacon cupcake with cream cheese frosting.
FLORIDA: Salted Caramel Chocolate Cupcake at Big Mike's Baking Company in Coral Springs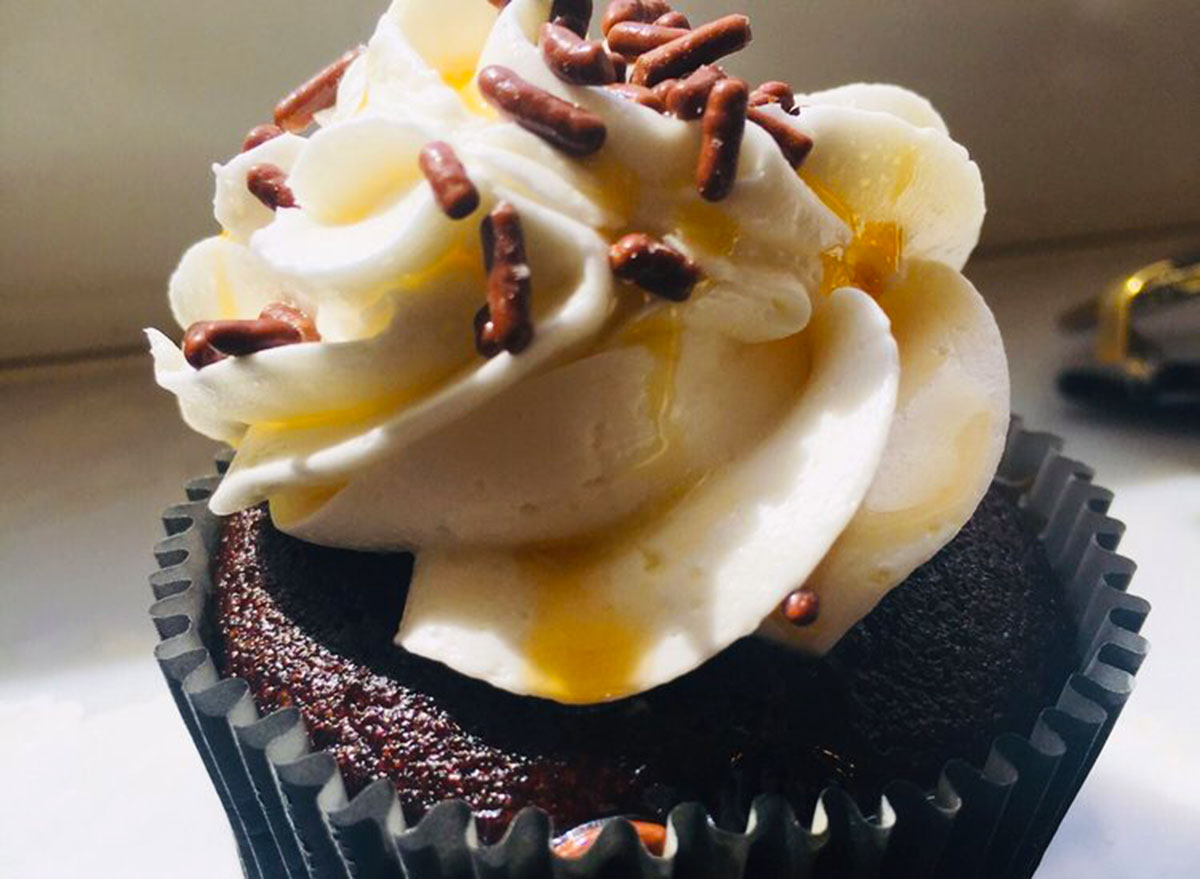 Calling all gluten-free and vegan sweet lovers! This bakery is making dietary-restricted diets a little sweeter. While customers rave about the wide variety of flavors, the salted caramel chocolate cupcake seems to take the cake—literally.
GEORGIA: Banana Cream Pie Cupcake at The Sweet Spot Bakery in Duluth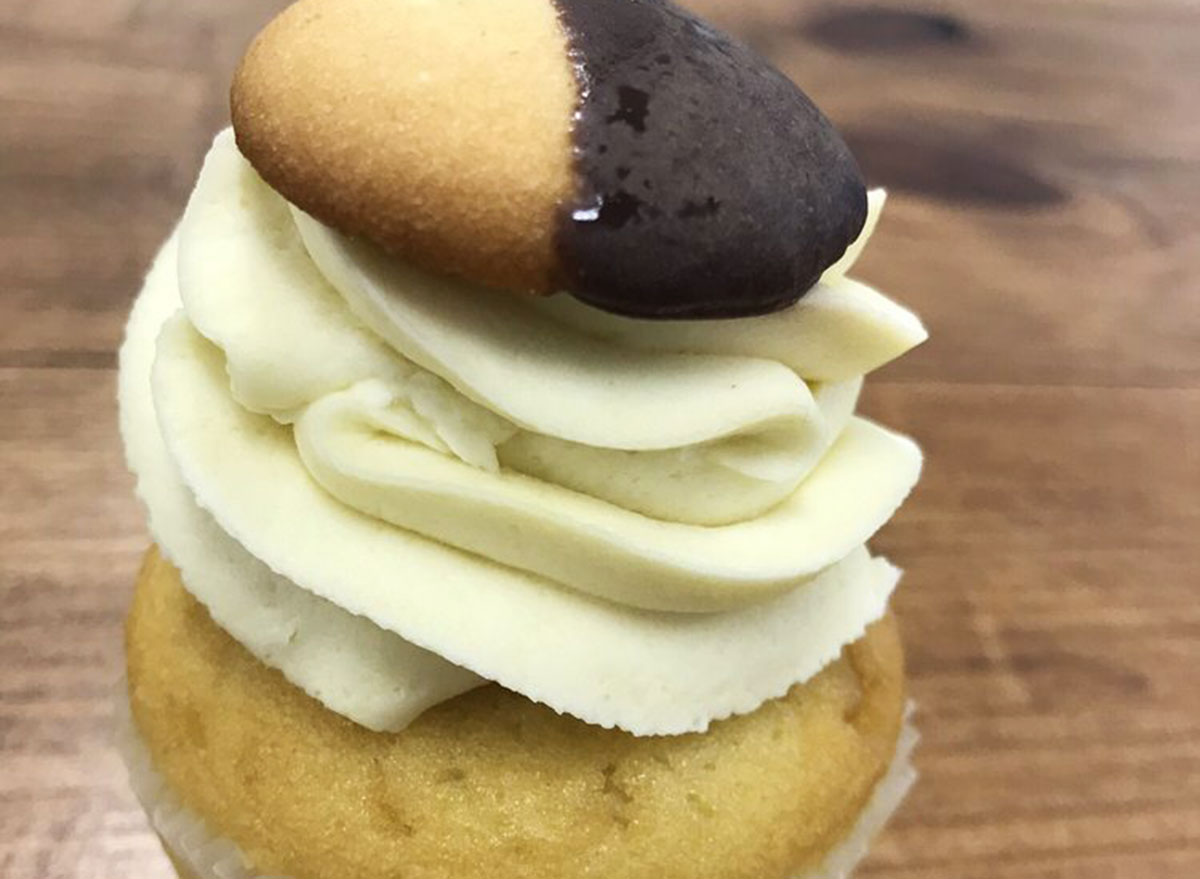 With 22 flavors and counting, The Sweet Spot Bakery will never leave you bored. One Yelp reviewer left a candid comment, saying, "I'll give it to you straight. If you're craving a cupcake and you don't come here, you're being a moron." We'll take their word for it!
HAWAII: Key Lime Pie Cupcake at Legendary Cupcakes in Waialua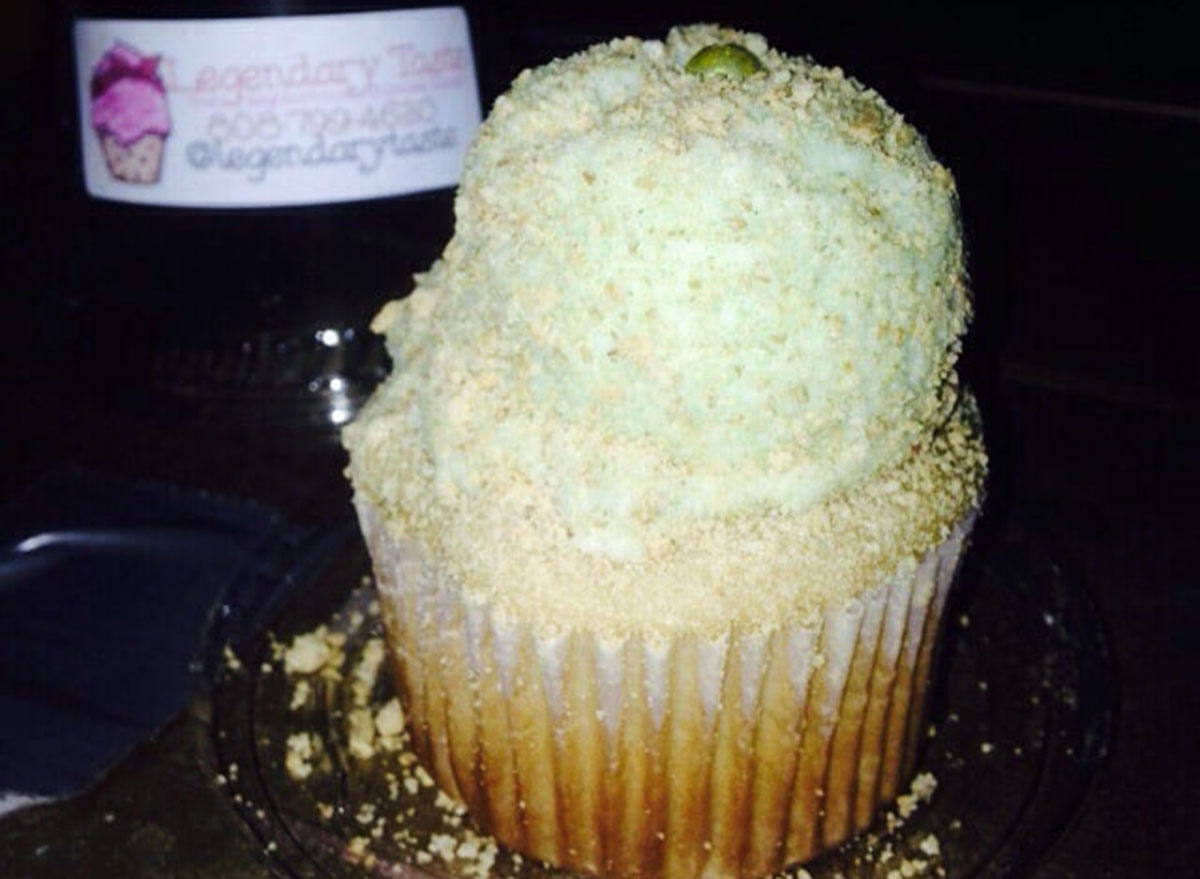 If you want a taste of these "legendary" cupcakes, you'll have to chase down the Legendary Cupcakes food truck. According to one subtle Yelp reviewer, these cakes are "AMAAAAAZZIIIING!!!". Yes, it's worth the all-caps.
IDAHO: Lemon Pucker Cupcake at Stacie's Cakes in Post Falls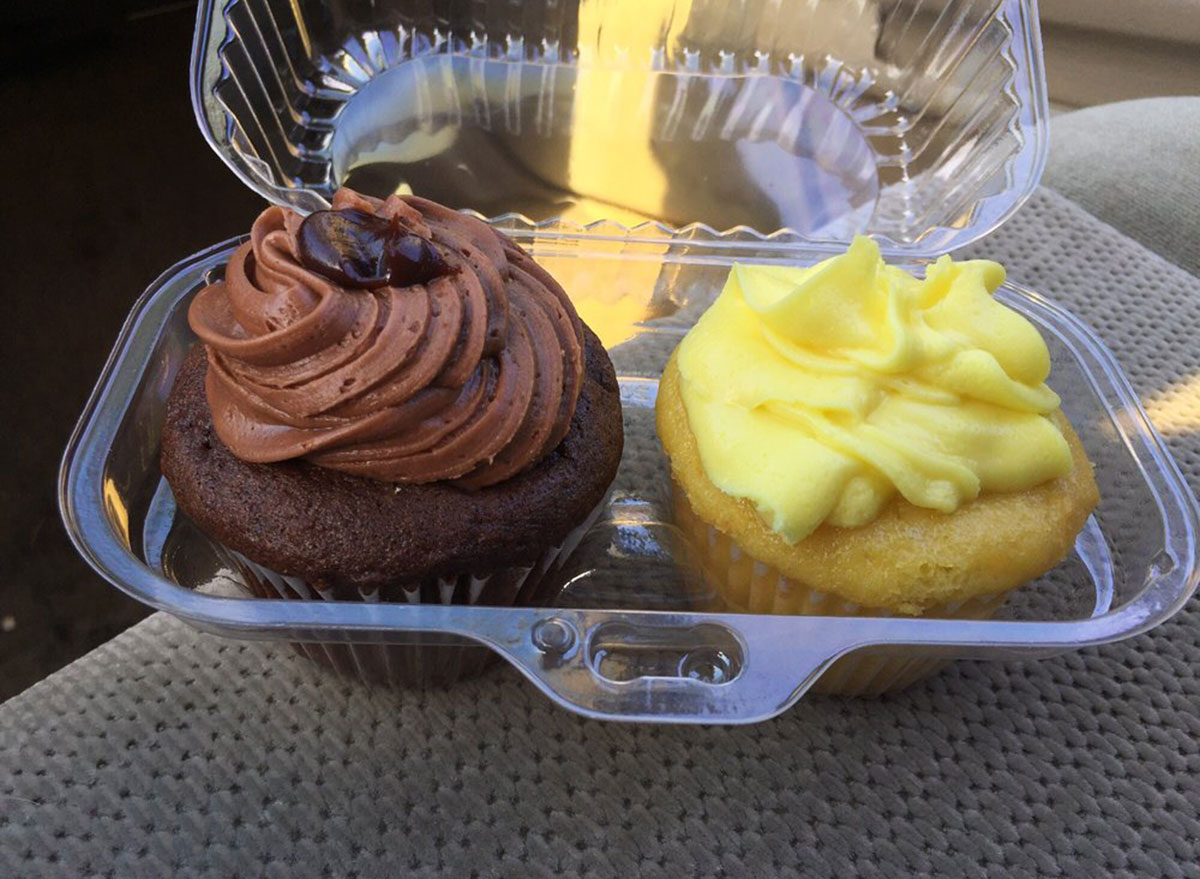 Stacie's Cakes is an indecisive customer's dream—choose ready-made cupcakes or customize your own creation. With the option to pick your cake, filling, and frosting, the opportunities are endless for your next sugar high.
ILLINOIS: Peach Cobbler Cupcake at The Chef and the Baker in Peoria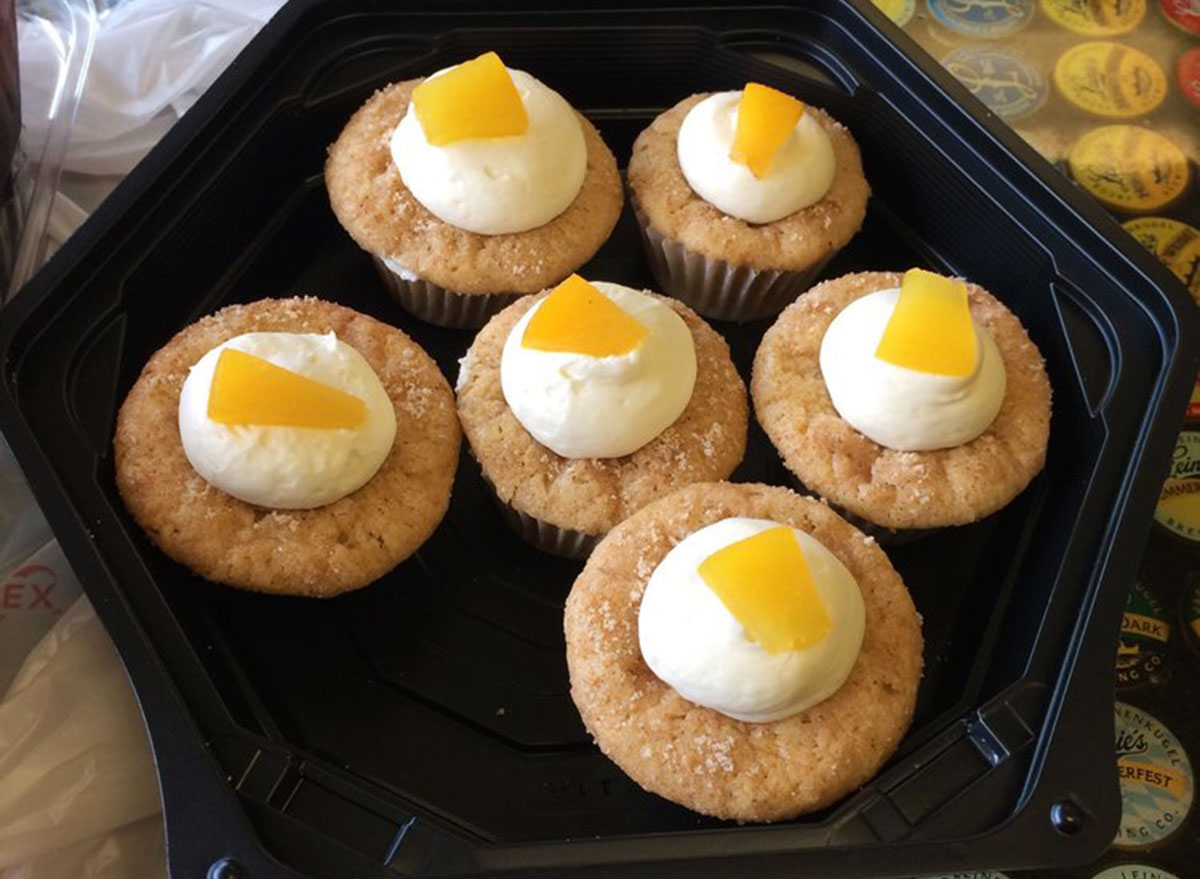 The Chef and the Baker serves up "gourmet eats and homemade sweets" daily. Come for the savory bites and stay for their fresh bakeshop treats, including this peach cobbler cupcake.
INDIANA: Oreo Cookie Cupcake at Underground Cupcakes and Cafe in Bloomington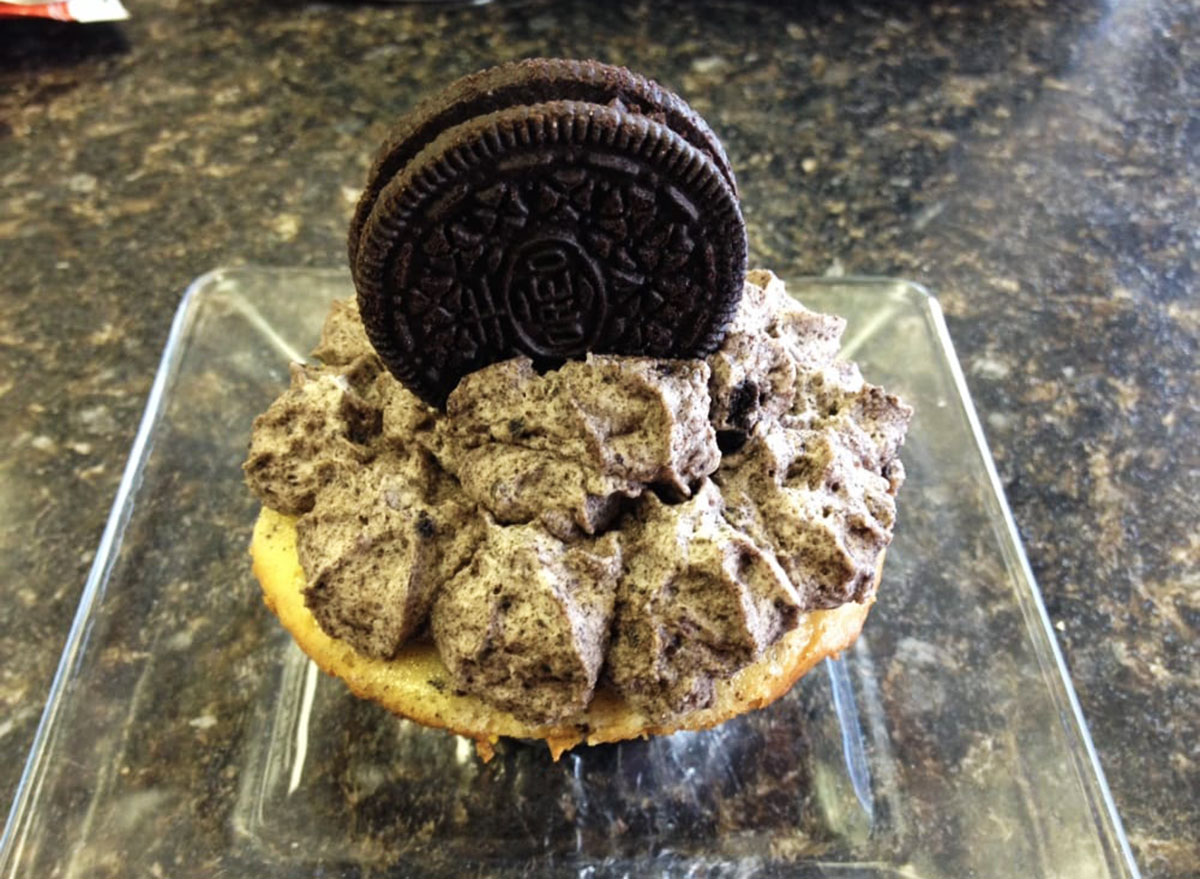 Calling all cookie lovers! Sweeten up your day with this decadent Oreo cookie cupcake at Underground Cupcakes and Cafe.
IOWA: S'mores Cupcake at Molly's Cupcakes in Des Moines
You won't find any basic flavors at this Des Moines sweet staple. Offering unique flavors like toasted s'mores and caramel apple as well as gourmet takes on the classics, even the pickiest eaters will leave satisfied.
KANSAS: Rainbow Cupcake at Cheri's Bakery in Wichita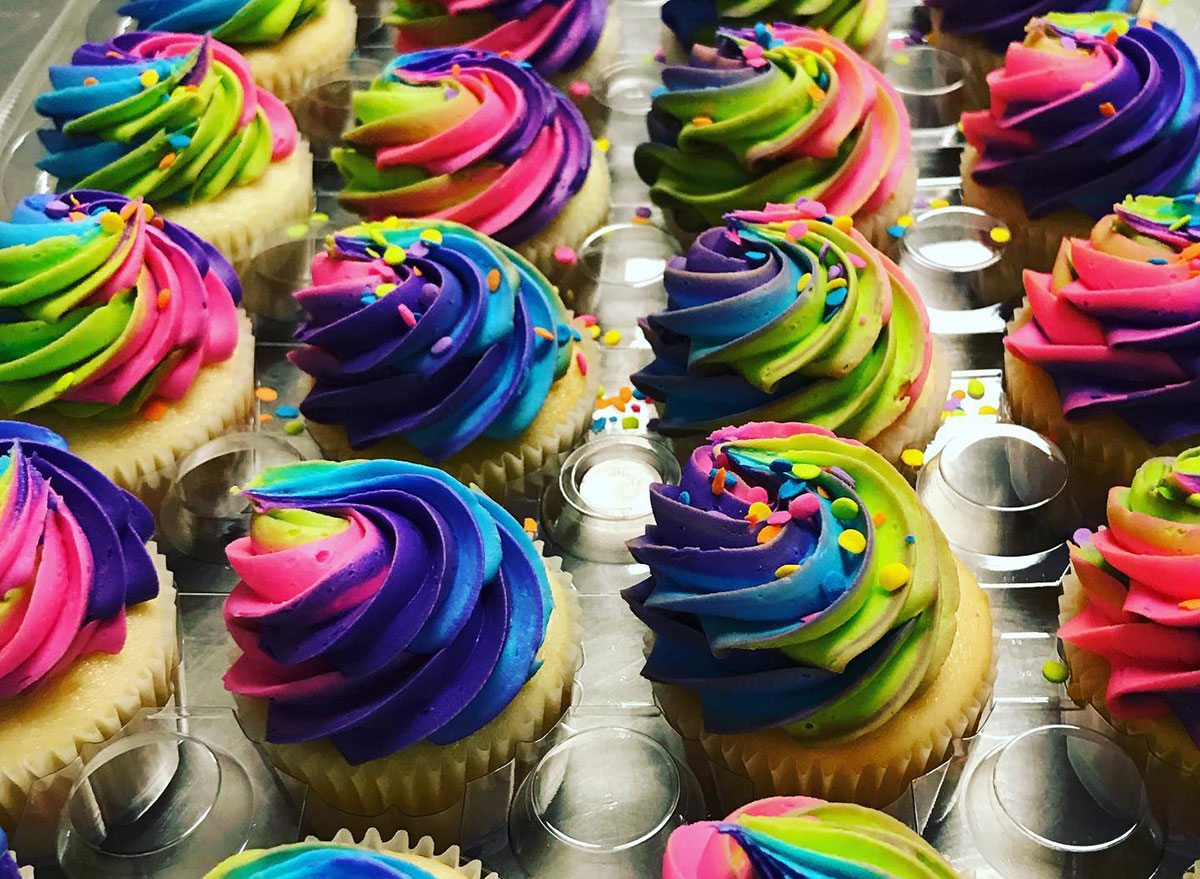 Yelp's pick for Kansas, Kansas City Cupcake Co., has closed. But we think Cheri's Bakery in Wichita sounds just as delicious. Plus, the frosting designs are so cute—you can get your favorite animal or sport right on your dessert. And if you don't like cupcakes, there are also cheesecakes, pies, cookies, and more.
KENTUCKY: Snickers Cupcake at Homemade Ice Cream & Pie Kitchen in Louisville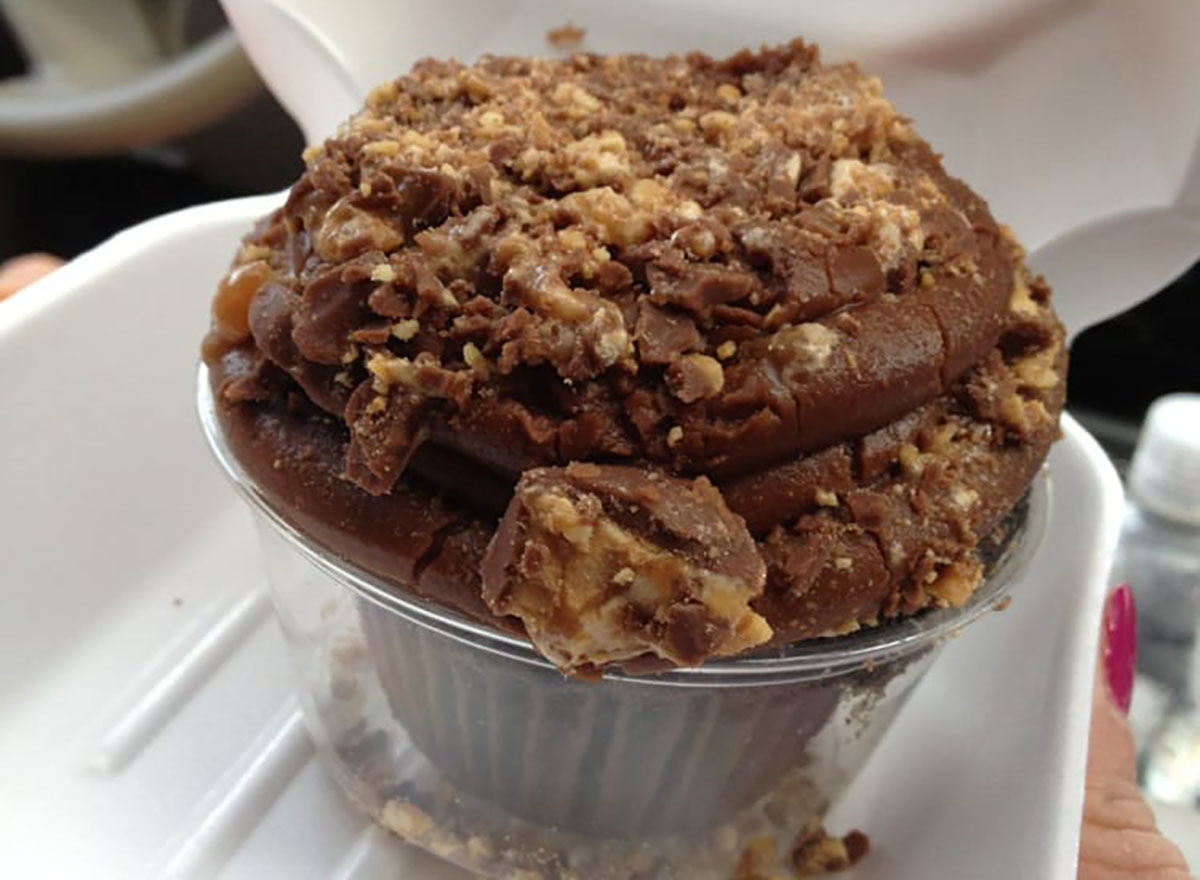 Ice cream, pie, and cupcakes? Homemade Ice Cream & Pie Kitchen sounds too good to be true. If you want to be adventurous, try one of the "upside-down" cupcakes, with the frosting served on the bottom half of the treat.
LOUISIANA: Sweet Potato Cupcake at The Cupcake Collection in New Orleans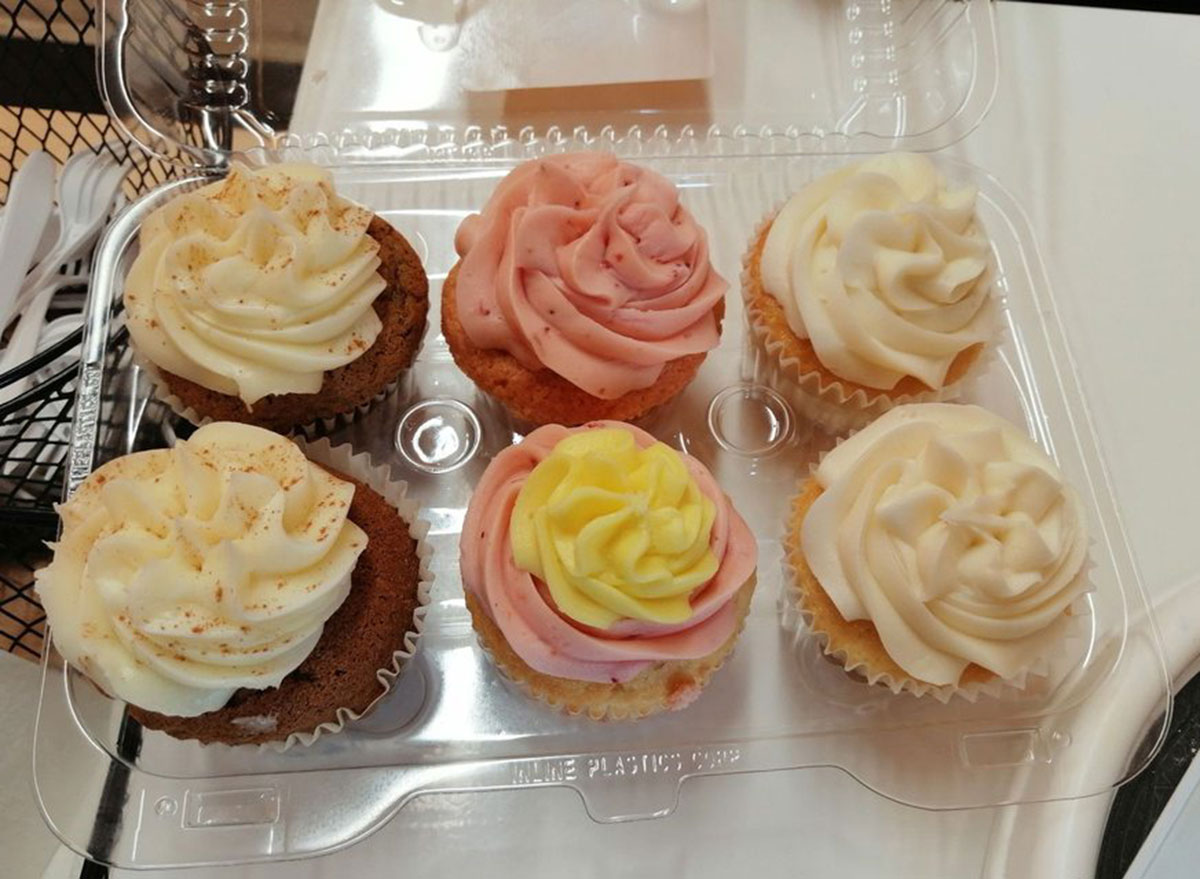 New Orleans is home to the second location of the successful Nashville-based sweet shop, The Cupcake Collection. As the self-proclaimed "Home of the Sweet Potato Cupcake," their featured treat tends to sell out, and fast. One reviewer says, "The sweet potato cupcakes are the star of the show, and rightfully so." Booking our flight to NOLA now!
MAINE: Lemon Raspberry Cupcake at Wild Oats Bakery and Cafe in Brunswick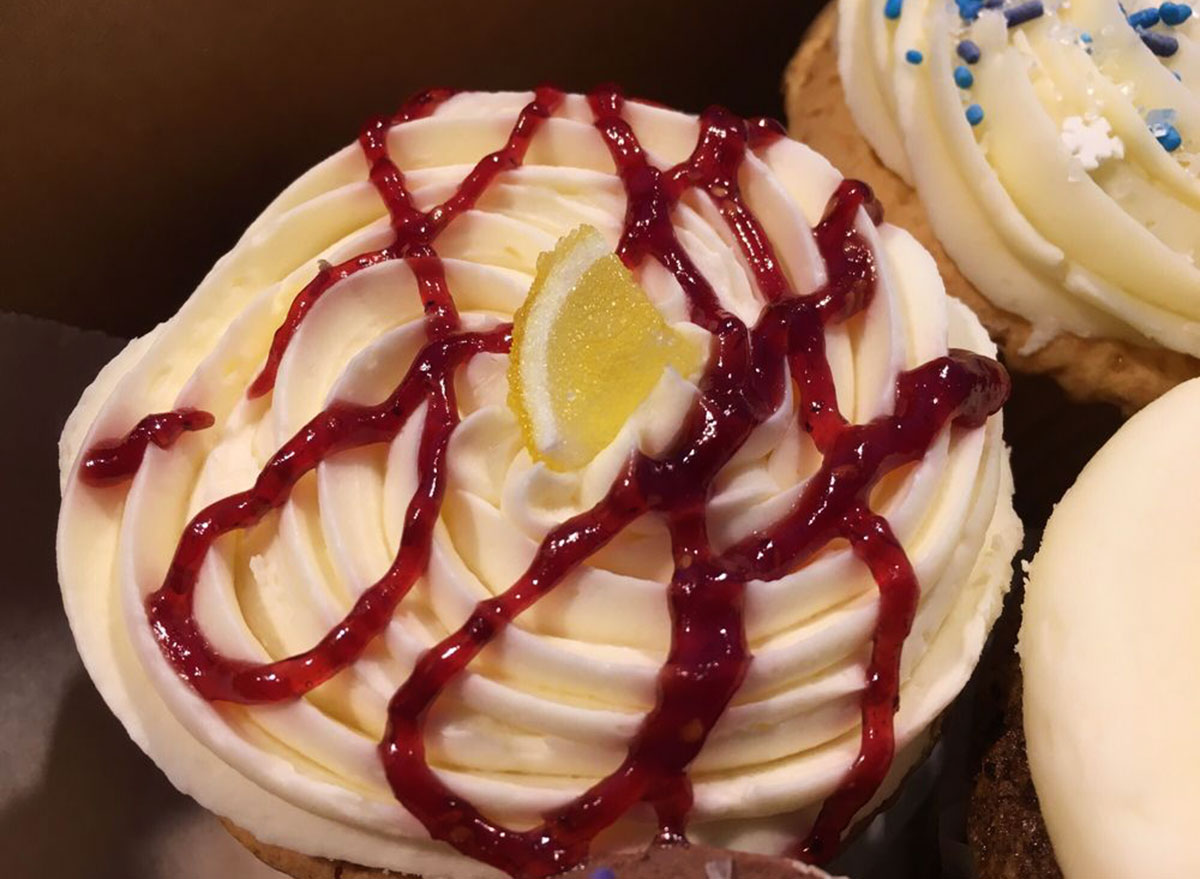 Wild Oats has customers coming from across the state of Maine and beyond for a taste of their freshly-baked goods. The shop, which creates the crowd-favorite lemon raspberry cupcake, prides itself on using all-natural, local, and organic ingredients.
MARYLAND: Strawberries & Cream Cupcake at Cake by Jason Hisley in Lutherville-Timonium
If Jason Hisley's name sounds familiar, it's because he's been on everything from the Food Network to Cake Wars to Cupcake Wars. Visiting this cake shop is your chance to try a celebrity chef's creation!
MASSACHUSETTS: Fruity Pebbles Cupcake at Crave in Beverly
Crave features gluten-free treats that taste like anything but. Creations like the Tiramisu and Fruity Pebbles cupcakes offer decadent alternatives for those with dietary restrictions. I don't know about you, but we're already craving a taste!
MICHIGAN: Chocolate Covered Pretzel Cupcake at Yummy Cupcakes in Bloomfield Hills
At Yummy Cupcakes, the name speaks for itself. If you're a fan of the sweet and salty flavor combo, don't hesitate to grab a chocolate-covered pretzel cupcake, with dark chocolate drizzle and a fluffy chocolate base.
MINNESOTA: Salted Caramel Cupcake at Vegan East in White Bear Lake
When most think of vegan treats, the words "dry, tasteless, and lackluster" might come to mind. Vegan East is transforming the vegan baking industry, one cupcake at a time. One reviewer says, "this place is so good that you shouldn't even describe it as vegan to people who aren't—pretty sure everyone would love it."
MISSISSIPPI: Rocky Road Cupcake at Dolce Bakeshop in Long Beach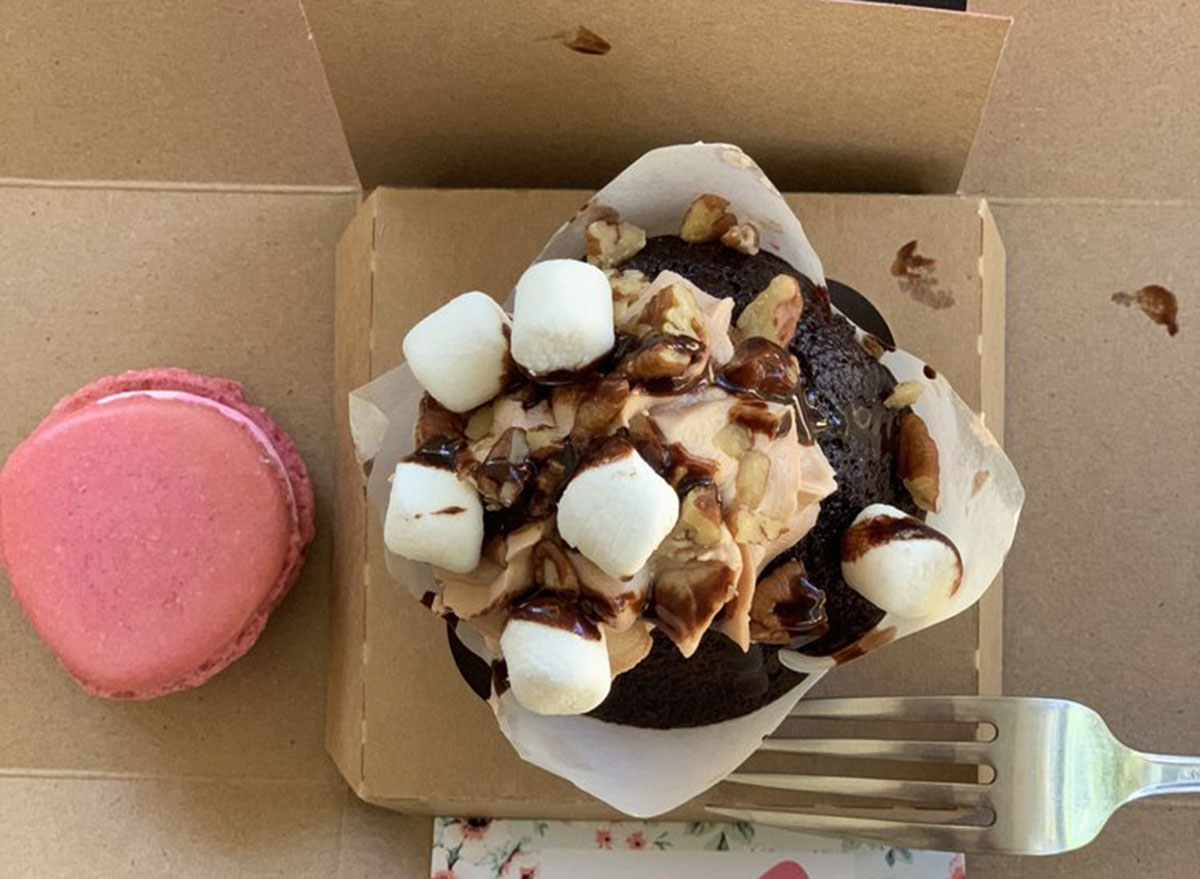 Next time you're in Long Beach, treat yourself to a Rocky Road cupcake at Dolce Bakeshop, complete with chopped nuts, marshmallows, and a decadent chocolate drizzle.6254a4d1642c605c54bf1cab17d50f1e
MISSOURI: Strawberry Crumble Cupcake at SweetArt in Saint Louis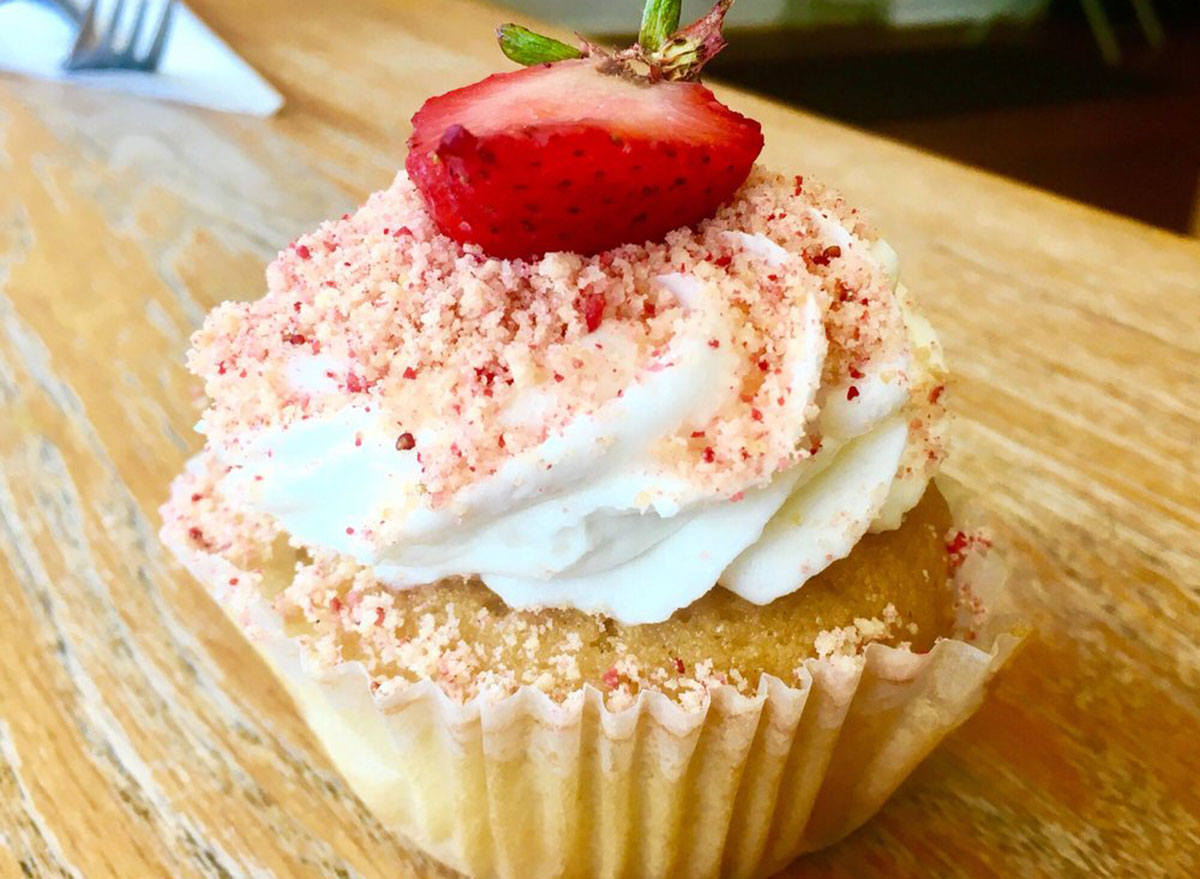 The owners of SweetArt claim to add "a touch of love and magic" to their adored treats. Customers recommend the salted caramel popcorn, cherry cheesecake, and strawberry crumble cupcake as just a few of the must-try items.
MONTANA: Festive Cupcakes at Bernice's Bakery in Missoula
This shop offers a variety of classic flavors, as well as festive seasonal treats, like these Easter-themed cupcakes. And if you're wanting a little caffeination with your indulgence? Bernice's claims to serve the best cup of joe in the Northwest. Talk about the perfect pairing!
NEBRASKA: Italian Dream Cupcake at Cupcake Island in Omaha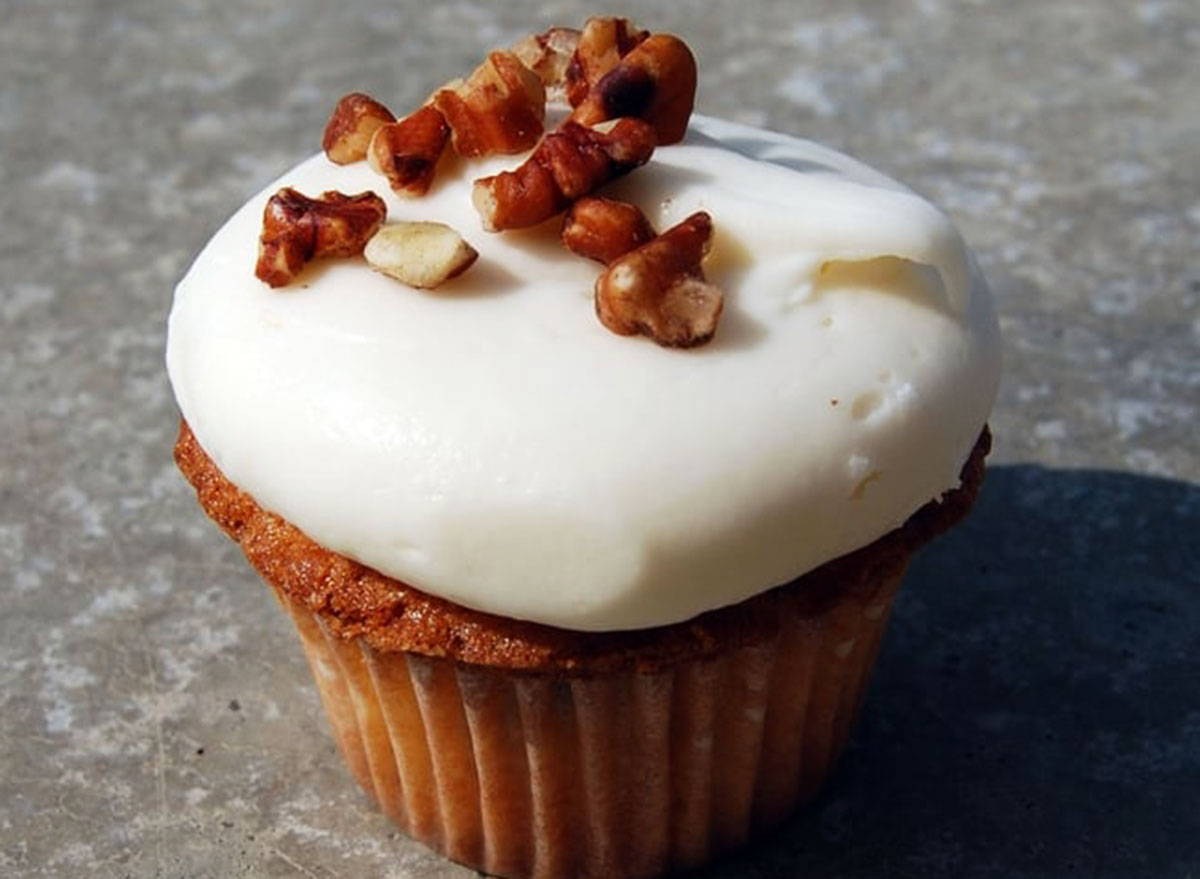 If we were to get stranded on any deserted island, it would be Cupcake Island. One dedicated Yelp reviewer says, "I was born in Omaha, and a few years ago, I got a job offer in California. No joke, I almost didn't make the move because I couldn't imagine life without Cupcake Island." If that doesn't make you want to try one of their treats, we don't know what will.
NEVADA: French Toast Cupcake at Tsp. Baking Company in North Las Vegas
This one-of-a-kind cupcakery offers a unique ambiance, complete with glitter floors and custom artwork throughout the establishment. While the bakery offers a wide variety of colorful flavors, the French toast cupcake seems to be a crowd favorite and is adorned with a cute miniature toast atop the frosting.
NEW HAMPSHIRE: Cinnamon Coffee Cake Cupcake at Queen City Cupcakes in Manchester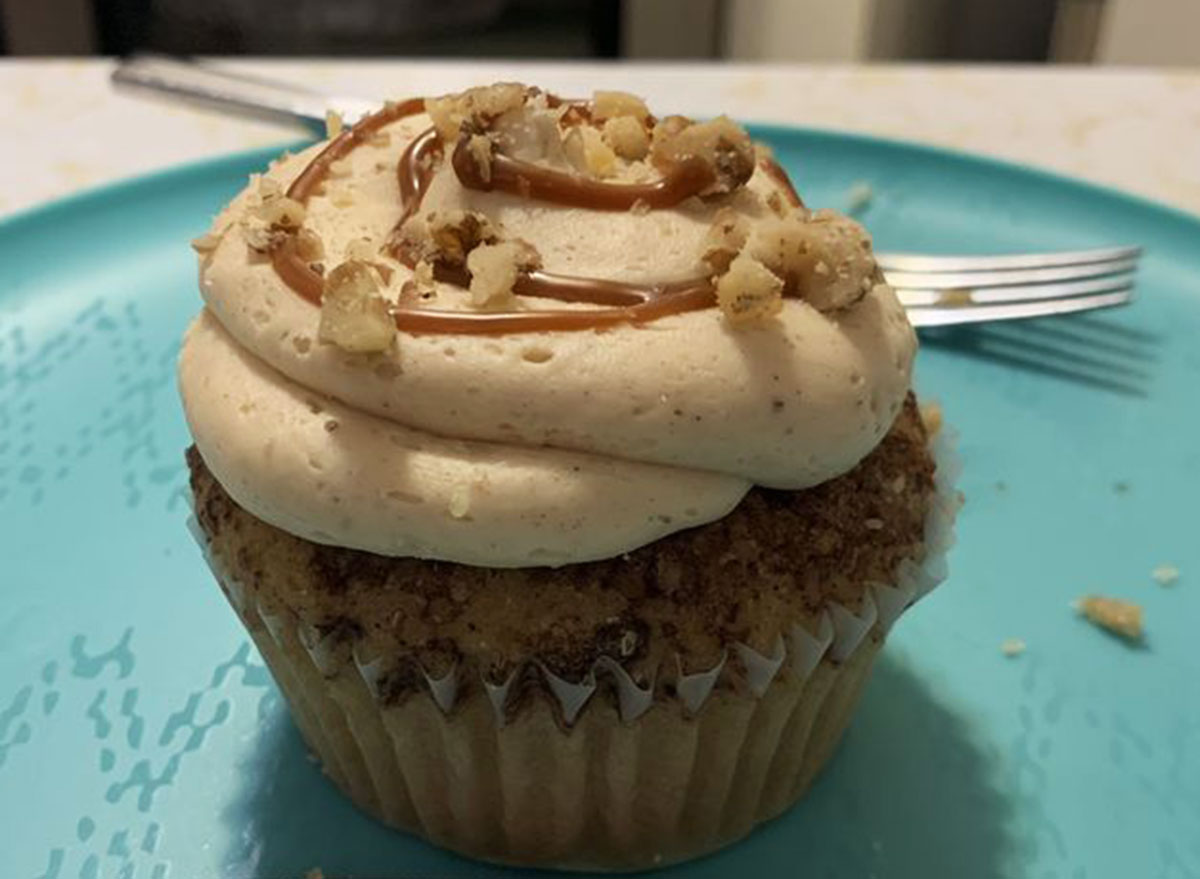 This bakery churns out different flavors daily and is prone to selling out, so get there early for the first pick! Yelpers recommend the cinnamon coffee cake cupcake with caramel drizzle. Drool.
NEW JERSEY: Mini Cupcakes at The Bent Spoon in Princeton
This Princeton staple specializes in artisan ice cream and sorbets, but customers are delighted by the cupcake inventory offered as well. Don't let the line out the door deter you—reviewers say it moves fast.
REALTED: The Best Deli In Every State
NEW MEXICO: Banana Salted Caramel Cupcake at The Grove Cafe & Market in Albuquerque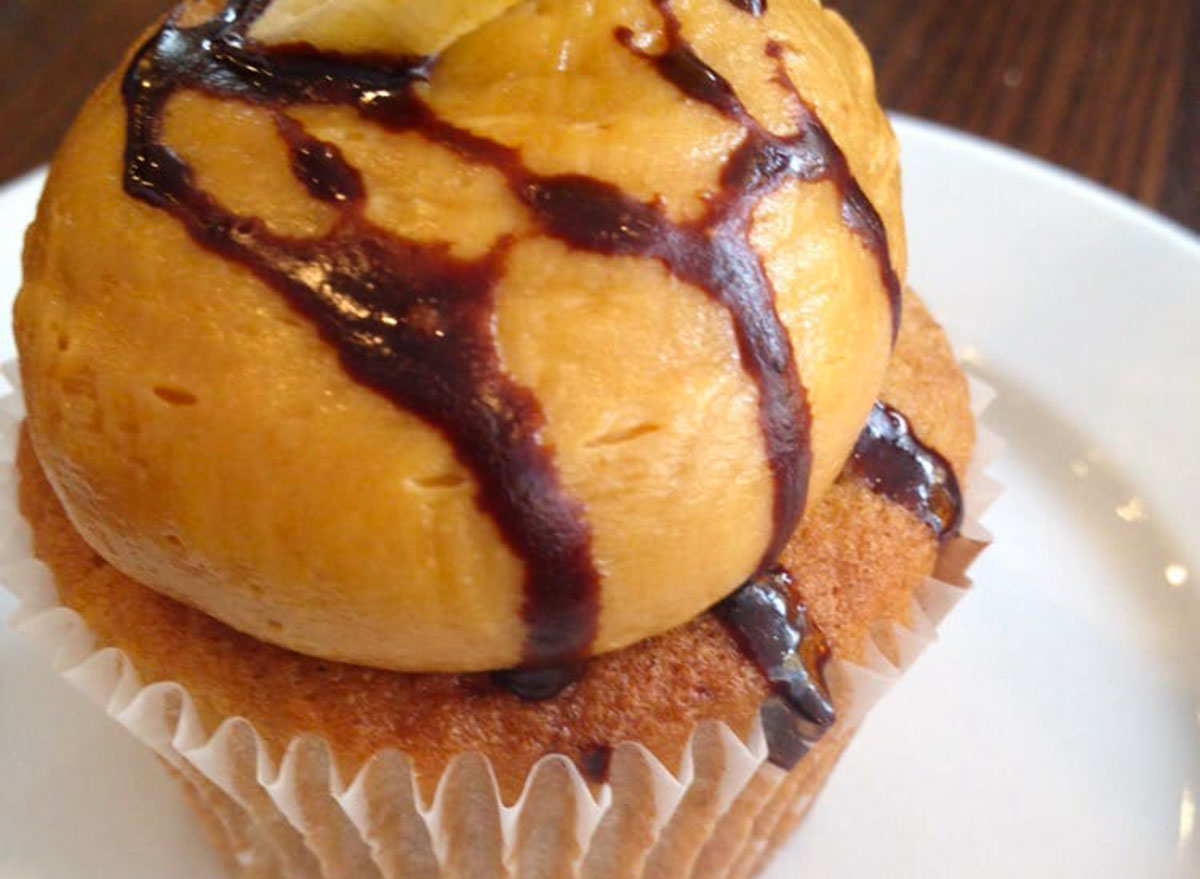 This market is a one-stop shop for all your savory and sweet cravings. Choose from a selection of hearty sandwiches and salads and finish off your meal with a gourmet treat, like this banana salted caramel cupcake.
NEW YORK: Chocolate Strawberry Cream at Funny Face Bakery in New York
Competition is fierce for bakeries in the Big Apple, but Funny Face Bakery seems to take the (cup)cake. One Yelp reviewer seems to sum up all the customer reviews, saying "If I were a cupcake, I would be any one of the ones here. First, they are pretty and delicate and who doesn't want to be pretty? Second, the flavors of both frosting and cupcake are spot on. The perfect bite of frosting and cupcake will make your smile even bigger and your blood sugar levels rise due to pure bliss." Pretty convincing argument.
NORTH CAROLINA: Spicy Bacon Maple Cupcake at The Peppered Cupcake in Wilmington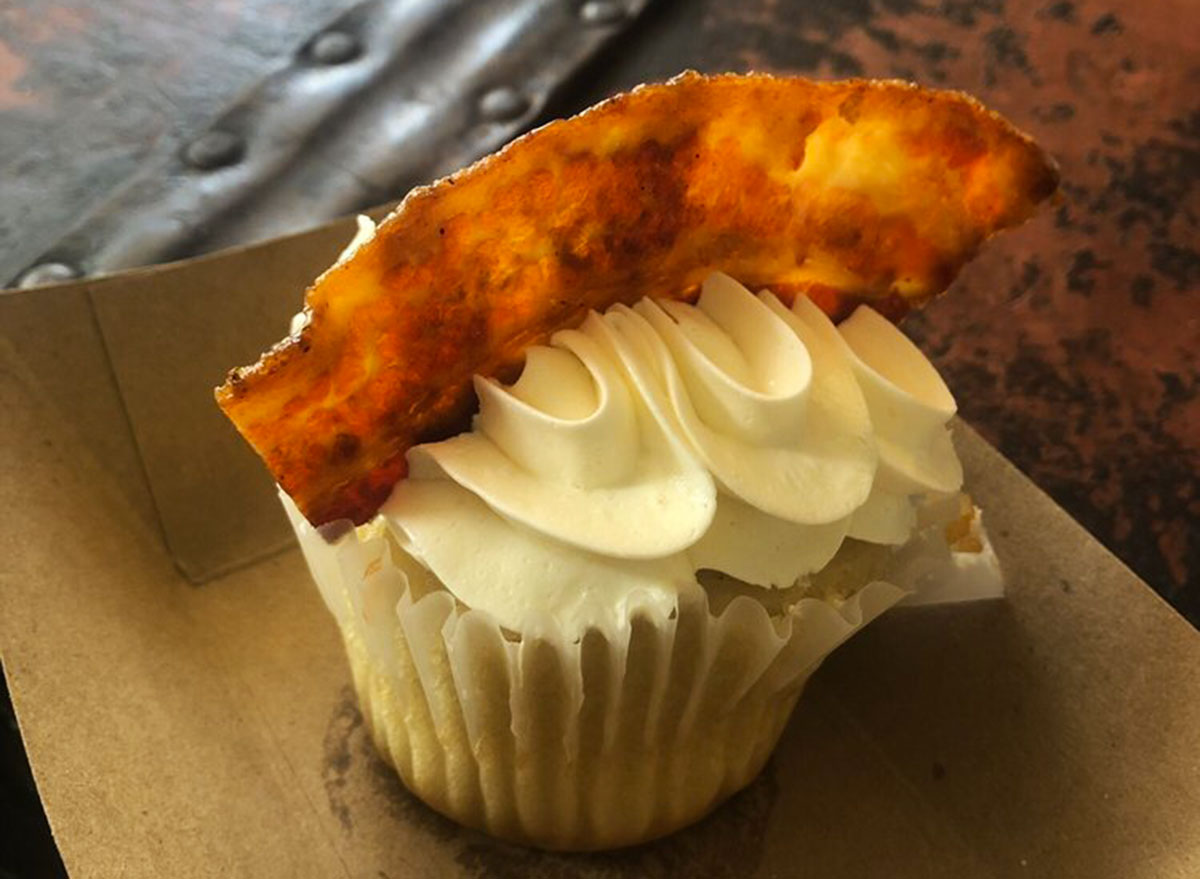 While this sweet shop serves up traditional cupcakes, they also offer savory twists on the classic treat for those looking to venture out of their comfort zone. Customers can't get enough of the blueberry-strawberry jalapeño and spicy bacon maple cupcakes.
NORTH DAKOTA: Sweet Potato Cupcake at Mehl's Gluten-Free Bakery in Fargo
Mehl's proves that gluten-free doesn't have to be boring! Sweeten your day with their sweet potato cupcake, complete with toasted meringue frosting.
OHIO: Apple Pie Cupcake at Twist Cupcakery in Dayton
You would be hard-pressed to find anything less than a five-star review on Twist Cupcakery's Yelp page, and for good reason. Located in downtown Dayton, this unassuming joint churns out unique flavors like peanut butter Oreo and the popular apple pie cupcake.
OKLAHOMA: Sopapilla Cheesecake Cupcake at Green Goodies in Oklahoma City
Don't let the name "Green Goodies" fool you—this bakery is as sweet as it gets. The cherry on top? The shop offers a wide selection of gluten-free and vegan options for those with food allergies. If you have dietary restrictions, this place ensures you don't miss out on flavorful sweet treats, like this gluten-free sopapilla cheesecake cupcake. Yum!
OREGON: S'Mores Cupcake at Toadstool Cupcakes in Portland
The Instagrammable-treats at Toadstool Cupcakes are as tasty as they are photogenic. With the signature round top, cartoon-like decorations, and dozens of flavor options, it's easy to see why customers keep coming back for more.
Note: A message on the website says the bakery is temporarily closed due to the labor shortage.
PENNSYLVANIA: Funfetti Cupcake at The Sweet Life Bakeshop in Philadelphia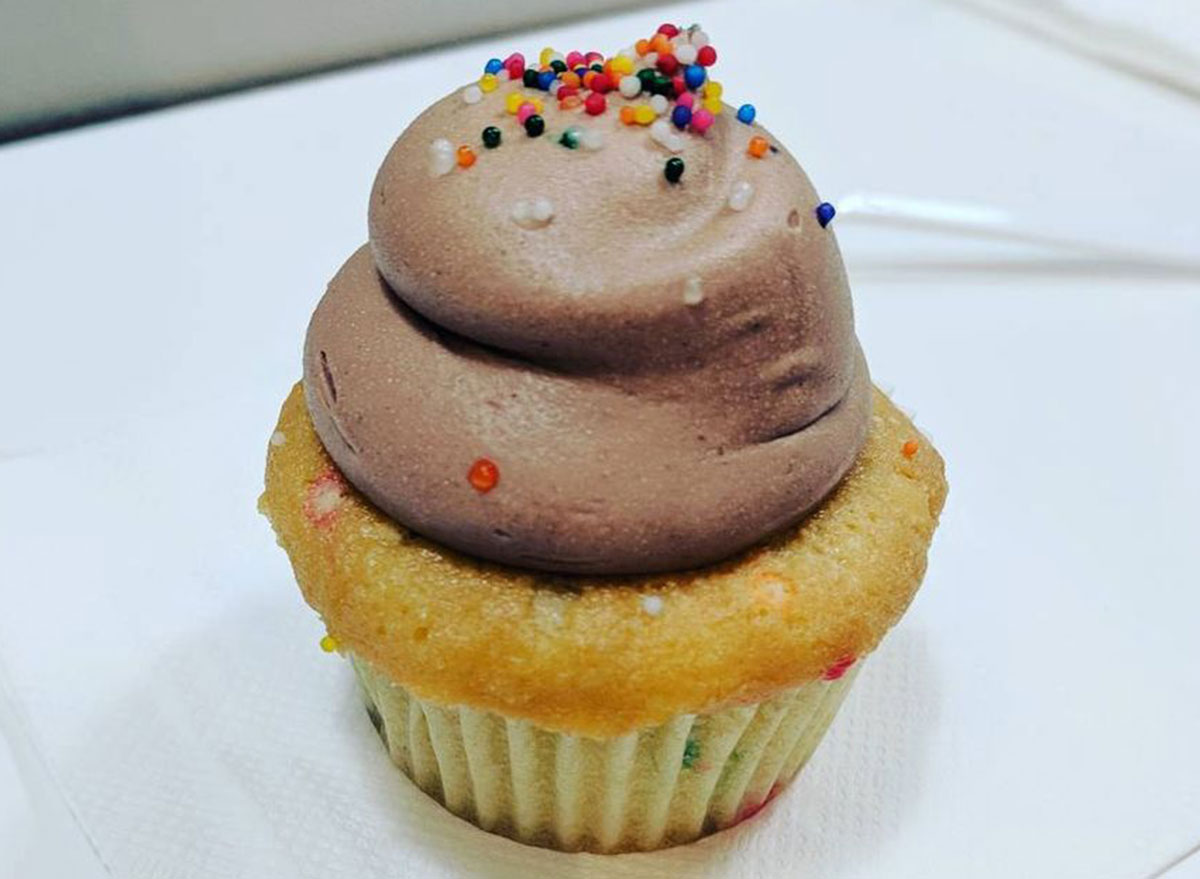 This Philly bakeshop is known for its famous banana pudding, but customers can't stop raving about their homemade cupcake selection. When it comes to the basics, the Sweet Life seems to do it right, with the chocolate buttercream Funfetti cupcake coming out on top as a fan favorite.
RHODE ISLAND: Lemon Lavender Cupcake at Wildflour Vegan Bakery and Café in Pawtucket
One Yelp reviewer says, "Wildflour has made me rethink my 'vegan doesn't taste good' bias." Get a sweet taste of summer with this vegan lemon lavender cupcake.
SOUTH CAROLINA: Vanilla Blueberry Cupcake at Sugar Bakeshop in Charleston
Nestled in the historic Cannonborough Elliotborough neighborhood, Sugar Bakeshop has amassed quite a following since its opening in 2007. From cupcakes to tarts to cookies to pies, this shop is the perfect destination for all your sweet tooth needs.
SOUTH DAKOTA: Caramel By the Sea Cupcake at Oh My Cupcakes! in Sioux Falls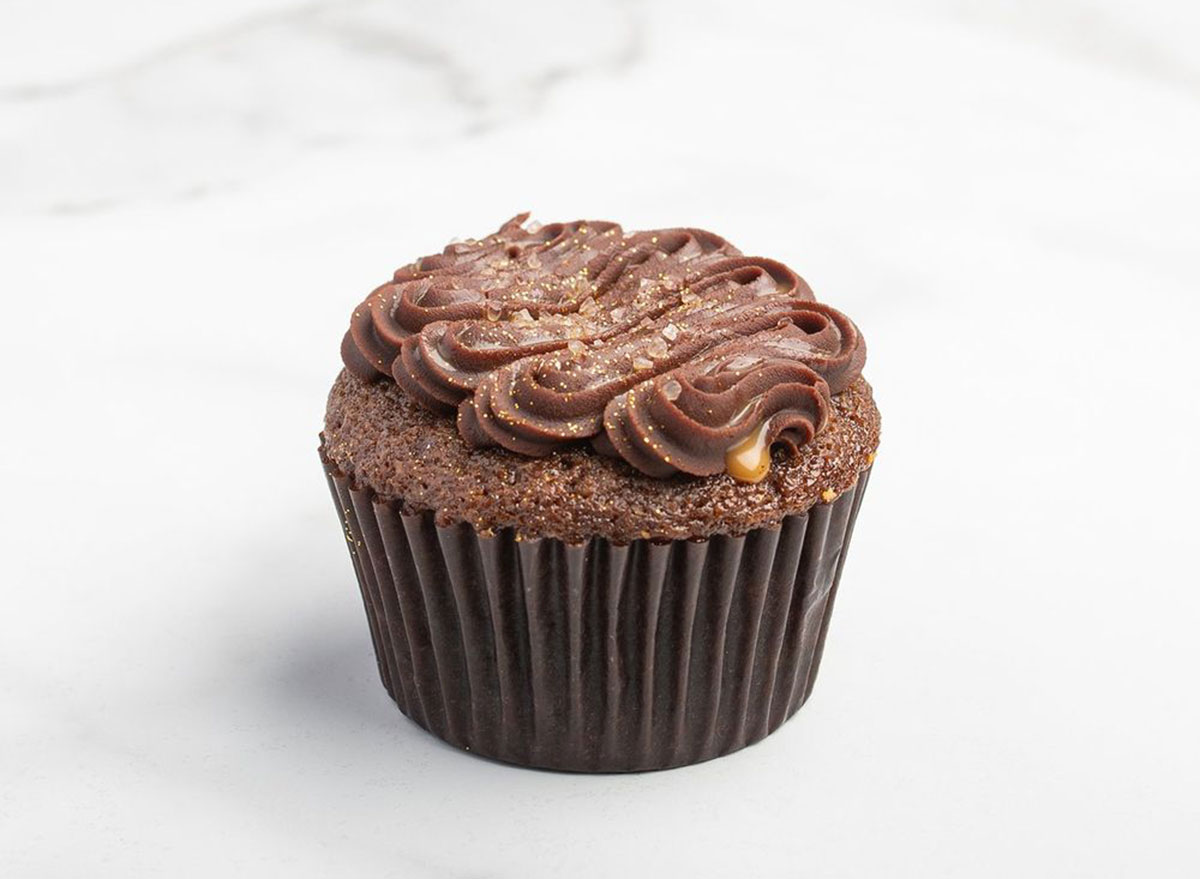 What started as a small rental kitchen has grown into a team of around 30 employees at Oh My Cupcakes! The cupcakes are described by one Yelp reviewer as "moist, flavorful and absolutely delicious." Pick up a Caramel by the Sea cupcake and indulge in a chocolate cupcake infused with house-made salted caramel and topped with rich ganache and fleur de sel.
TENNESSEE: Red Velvet Cupcake at The Cupcake Collection in Nashville
"Seriously the best dessert on the run you can find in Nashville, if not the whole Southeastern United States," says one Yelp reviewer of The Cupcake Collection. We'd like to tell you to try each and every one of these gourmet treats, but instead, we'll recommend the classic red velvet cupcake. You can thank us later.
TEXAS: Chocolate Chip Pecan Cupcake at Crumbville in Houston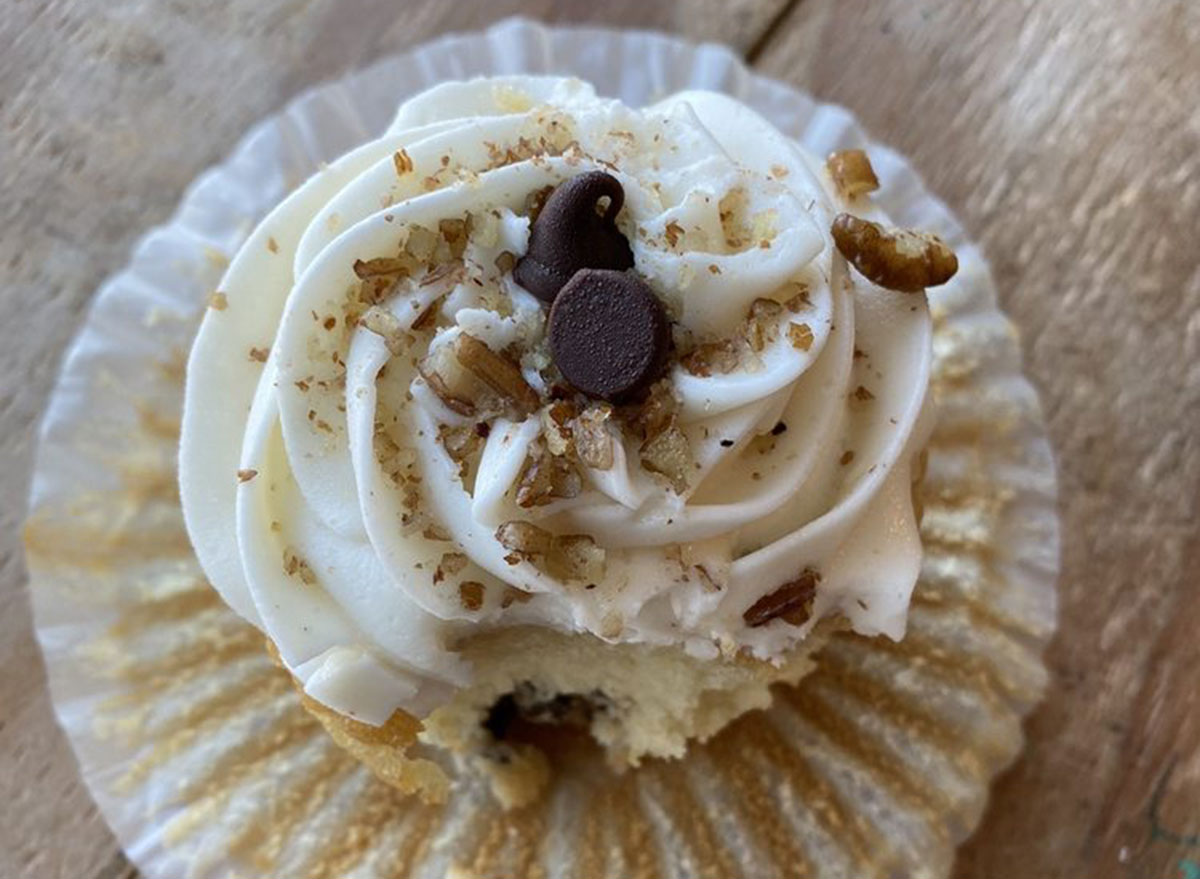 Crumbville is yet another vegan cupcakery to add to your roster. From chocolate chip pecan to red velvet white chocolate chip cupcakes, there are plant-based delicacies for every palate.
REALTED: The Best Dessert Menu in Every State
UTAH: Chocolate Mousse Cheesecake Cupcake at Cravings-Alisha's Cupcakes in Pleasant Grove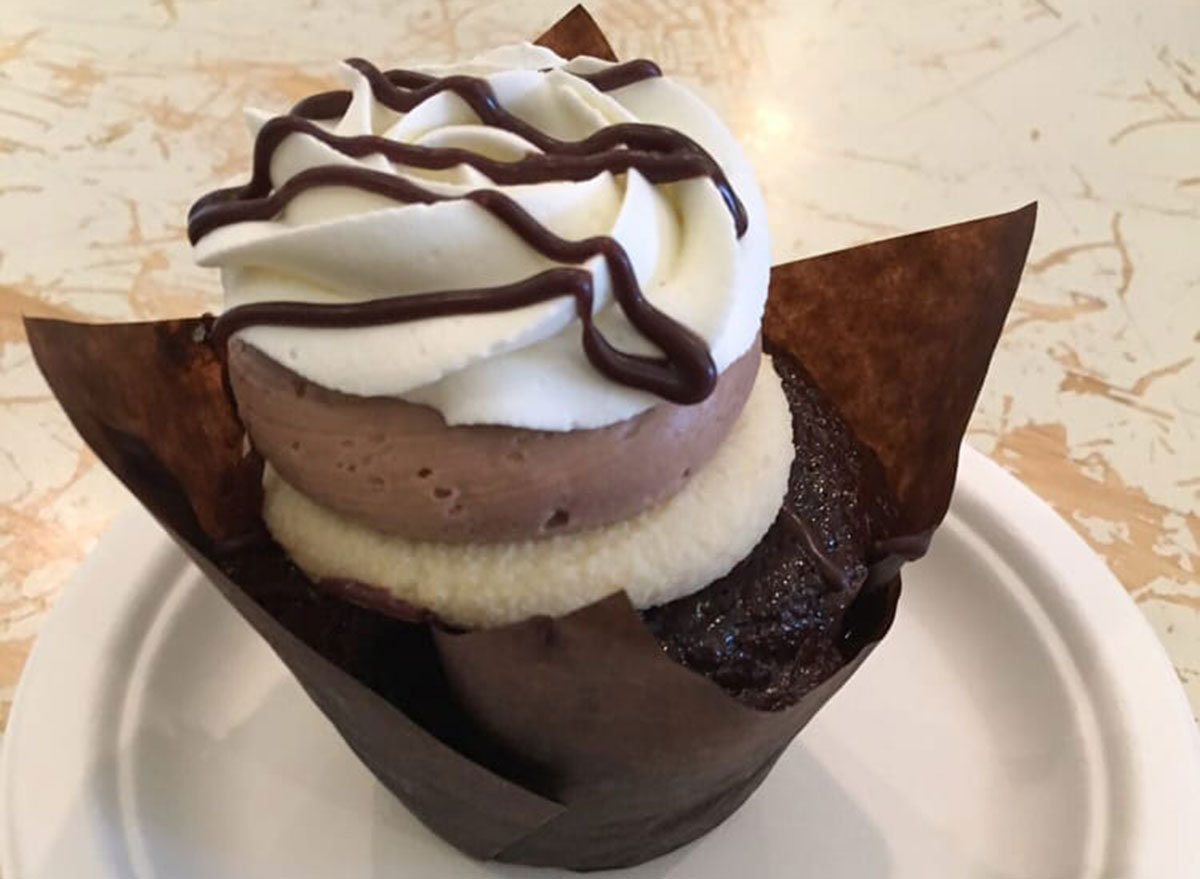 We've got a craving for Cravings! This shop cranks out award-winning cupcakes—they won Season 7 of Cupcake Wars. With the motto "You imagine it—we'll create it," you'll never get tired of their creative creations, like this chocolate mousse cheesecake cupcake, filled with decadent chocolate ganache.
VERMONT: Salted Chocolate Caramel at Superb Cupcake in Williston
Based on the reviews, these cupcakes seem to have the perfect cupcake ratio—the right degree of moistness to sweetness. Yelpers praise Superb Cupcake's attention to detail, friendliness, and salted chocolate caramel cupcake.
VIRGINIA: Red Velvet Cupcake at Best Buns Bread in Arlington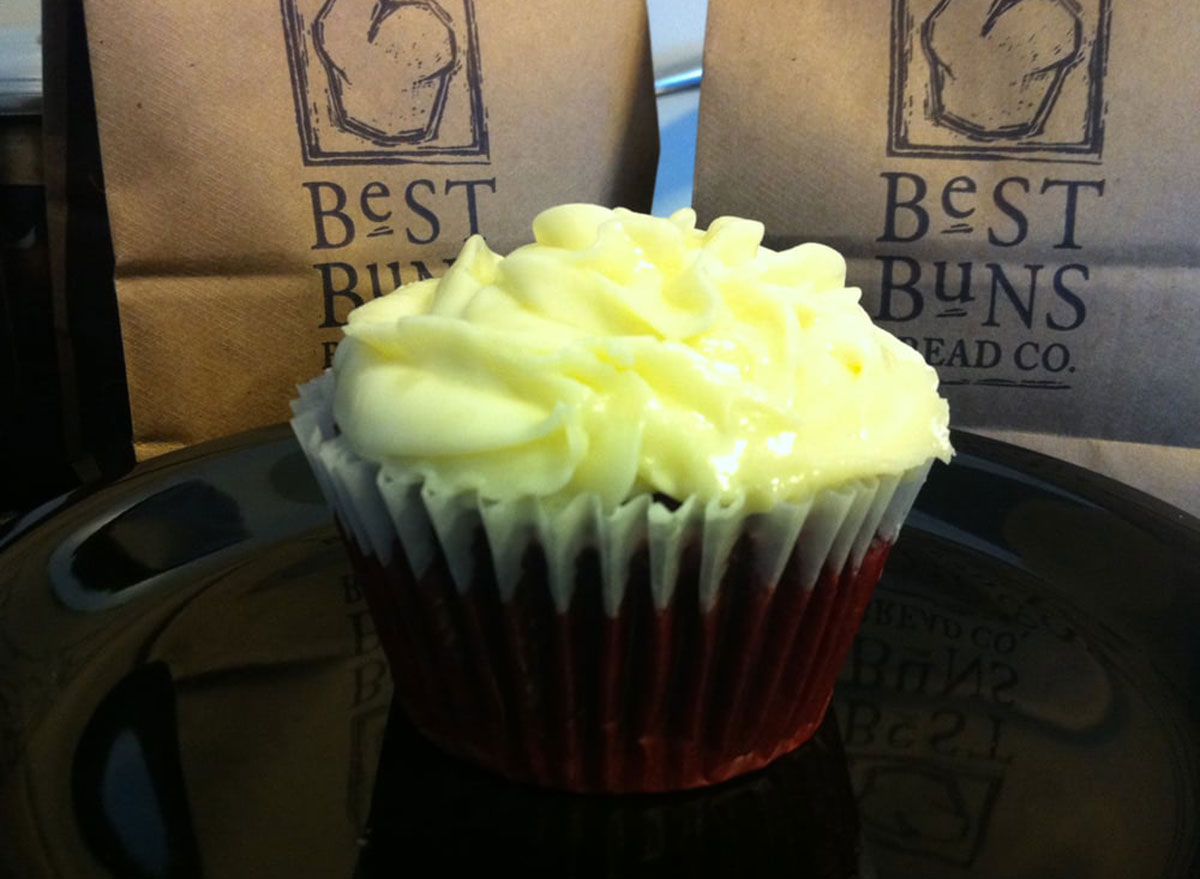 Customers flock to this shop for their fresh breakfast treats and artisan bread. But if you're looking for a more indulgent dessert, check out their selection of cupcakes. One Yelper encourages customers to try one flavor in particular, saying, "Two words: Red Velvet. Seriously, just try it." You don't have to ask us twice!
WASHINGTON: Toasted Coconut Lemon Cupcake at Simply Sweets in Vancouver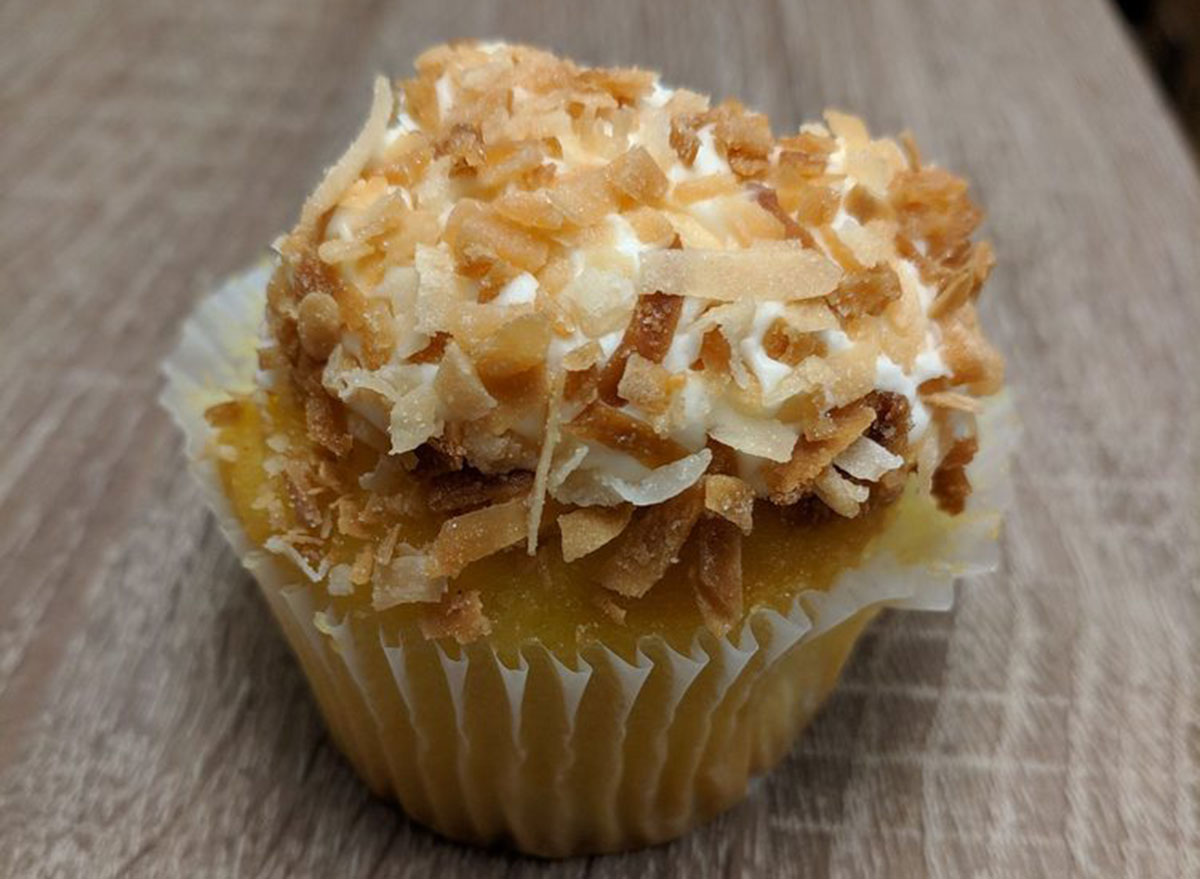 Calling all coconut lovers! Next time you're in Vancouver, don't hesitate to treat yourself to this popular toasted coconut lemon cupcake at Simply Sweets.
WEST VIRGINIA: Cookie Dough Cupcake at My Little Cupcake in Bridgeport
"Every flavor was delicious. The cake was moist and the icing wasn't too sweet," one Yelp reviewer wrote. And with over 40 different flavors everyone is bound to find something they like at My Little Cupcake.
WISCONSIN: Carrot Cake Cupcake at Comet Café in Milwaukee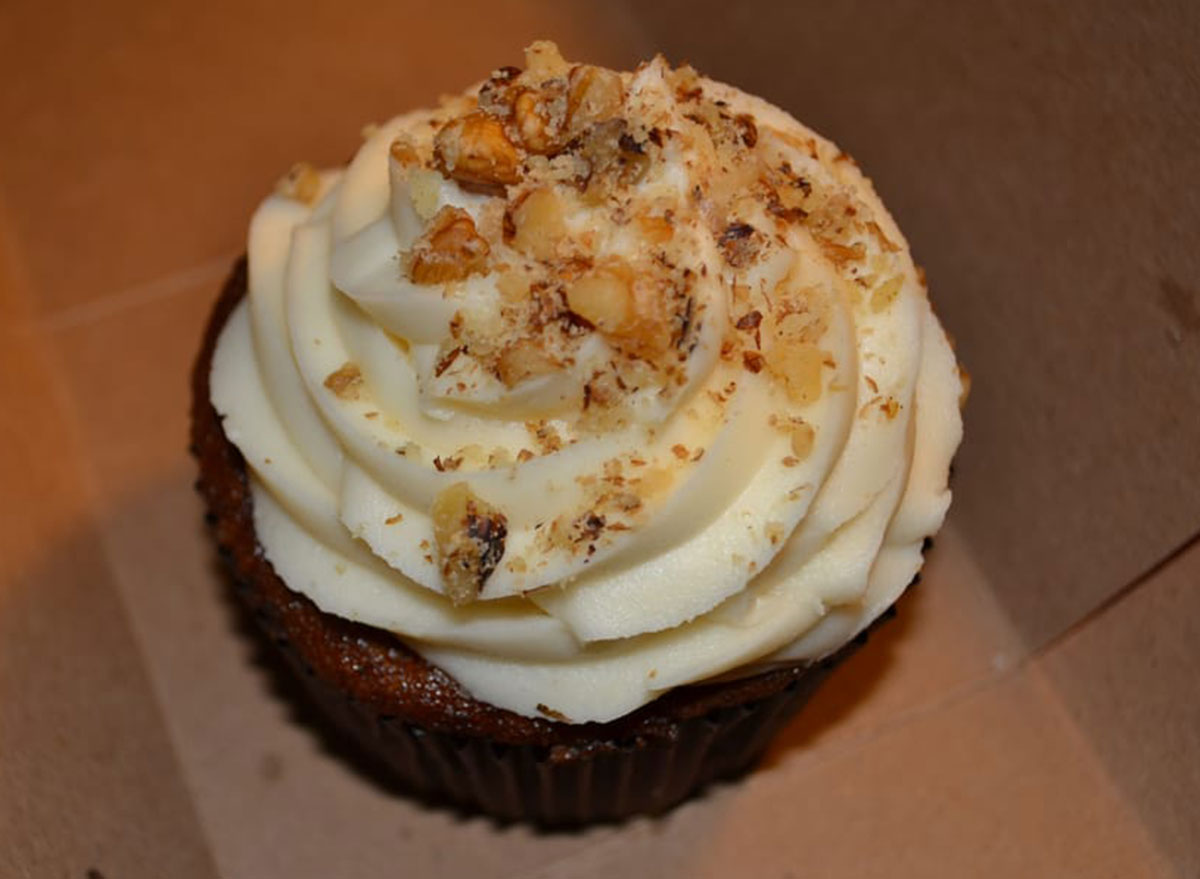 This hole-in-the-wall joint is famous for its savory diner eats, but make sure not to overlook their homemade cupcake menu. Although all the flavors draw raving reviews, customers claim the carrot cake cupcake is a "must order."
NOTE: Comet Cafe is temporarily closed.
WYOMING: Turtle Cupcake at Main Street Deli in Evanston
Have you ever seen a turtle cupcake? This delicacy from Main Street Deli is almost too good to be true.