The #1 Best Eating Habit for Kidney Disease, Says Science
Eating this way may help stop the progression of this chronic illness.
Kidney disease is a growing problem in the United States, and many people are experiencing the pain and discomfort of this illness on a daily basis. If your kidneys are damaged, they're unable to filter blood properly, which can result in serious health consequences and a lot of physical pain.
Kidney disease happens in five stages. The first three stages deal with mild to moderate kidney damage, meaning that the kidneys are normally still able to function. In stages 4 and 5, the damage becomes more severe and the kidneys have a higher risk of failing. According to The American Kidney Fund, the goal in each stage is to slow down the damage and hopefully prevent it from progressing to the next stage.
There are many components that go into treating kidney disease, and one of them is making sure your diet and nutrition are up to snuff. According to The National Kidney Foundation, a healthy diet can help those with kidney disease have more energy, help prevent infection, and help stop the progression of their illness.6254a4d1642c605c54bf1cab17d50f1e
Because of the important role that food and nutrition play in treating chronic kidney disease, researchers are devoting their time and efforts to finding the best diet and eating patterns that can help. Within the last few years, The National Kidney Foundation partnered with the Academy of Nutrition and Dietetics to update their guidelines for nutrition for those with kidney disease. These guidelines are called the "Kidney Disease Outcomes Quality Initiative (KDOQI) Clinical Practice Guideline for Nutrition in CKD."
One of the main shifts that medical professionals have discovered over the years in regards to eating for kidney disease is that in the past, most guidelines were centered on limiting your consumption of sodium, potassium, and phosphorous. But now, the new guidelines are focusing more on overall diet quality and have found that one of the best eating habits for kidney disease is incorporating more plant-based foods and eating less red meat.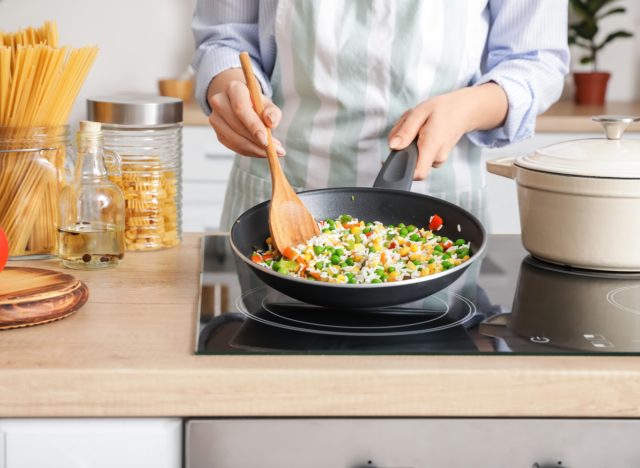 According to the National Kidney Foundation, eating a plant-based diet consisting of vegetables and whole grains may be one of the best ways to care for your kidney health.
More specifically, the NKF also recommends the DASH diet for patients living with chronic kidney disease as a way of potentially slowing down the progression of the illness. The DASH diet consists of plenty of fruits and veggies, legumes, whole grains, seeds, and nuts. It also still allows for poultry and fish, but it encourages the exclusion of red meat and added sugars.
While these guidelines are a helpful place to start for those with chronic kidney disease, it's important to discuss your nutrition plan with your doctor. If you need help with following the DASH diet when you're eating out, read The Best DASH Diet-Approved Menu Items at Your Favorite Restaurant Chains.