The Best DASH Diet-Approved Menu Items at Your Favorite Restaurant Chains
Not sure what to order at a restaurant when on the DASH diet? Look out for these DASH diet restaurant menu items when it's time to order.
Looking to cut your sodium intake, but still want to eat at some of your favorite restaurants? Following the DASH diet may be your best answer for lowing blood pressure without medication, but finding the right entrees to order can be challenging. These DASH diet restaurant menu items should help out with that.
What is the DASH diet?
High blood pressure is nothing to take lightly, and DASH (that's Dietary Approaches to Stop Hypertension) makes it easy to address. Developed to help lower blood pressure without medication, the DASH diet encourages people to reduce sodium and fat and increase potassium, calcium, and magnesium, all of which have been proven to help reduce hypertension.
The DASH diet emphasizes vegetables, fruits, and fish, with allowances for some whole grains, low-fat dairy, poultry, and nuts. Red meat, sweets, and fat are all to be eaten in moderation. It's not a terribly difficult diet to follow, but it does present challenges—especially at restaurants.
When eating out, the toughest element of the DASH diet to follow is undoubtedly ensuring you keep your sodium low. On the standard DASH diet, you can consume up to 2,300 milligrams a day, and the low-sodium version of the diet recommends 1,500 milligrams a day. Either way, that's more than some individual dishes at fast food and fast casual chains.
We've done the research to help you pick the 19 best DASH diet restaurant menu items when dining out.
Chipotle: Veggie Salad with Guacamole, Brown Rice, and Black Beans
575 calories, 29.5 g fat (4.5 g saturated), 770 mg sodium, 67 g carbs (16 g fiber, 3 g sugar), 14 g protein
Chipotle may be one of the best places to eat DASH diet restaurant menu items. Their bar of fresh vegetables, beans, and salsas is a great place to add flavor to your meal without a lot of fat or salt. Start with a salad bowl with grilled veggies and guacamole, and add brown rice, which contains magnesium, one of the essential minerals for helping you lower your cholesterol. Top with quercetin- and saponin-rich black beans, which can help strengthen the heart, and flavor with tomatillo-green chile salsa (included in the nutrient breakdown above) for flavor without the carbs and calories.
Red Lobster: Live Maine Lobster (1 ¼ pounds, steamed) with a side of baked potato
650 calories, 36 g fat (21 g saturated), 310 mg sodium, 45 g carbs (5 g fiber, 2 g sugar), 38 g protein
Red Lobster's eponymous steamed lobster is the best choice on DASH, especially if you forego the buttery sauce and instead ask for fresh lemon slices to squeeze over the sweet lobster meat. Ask for heart-healthy olive oil to drizzle over your baked potato in place of butter, and season with pepper instead of salt, and you're good to go.
Popeyes: Blackened Chicken Tenders (5 pieces) with a side of green beans (regular)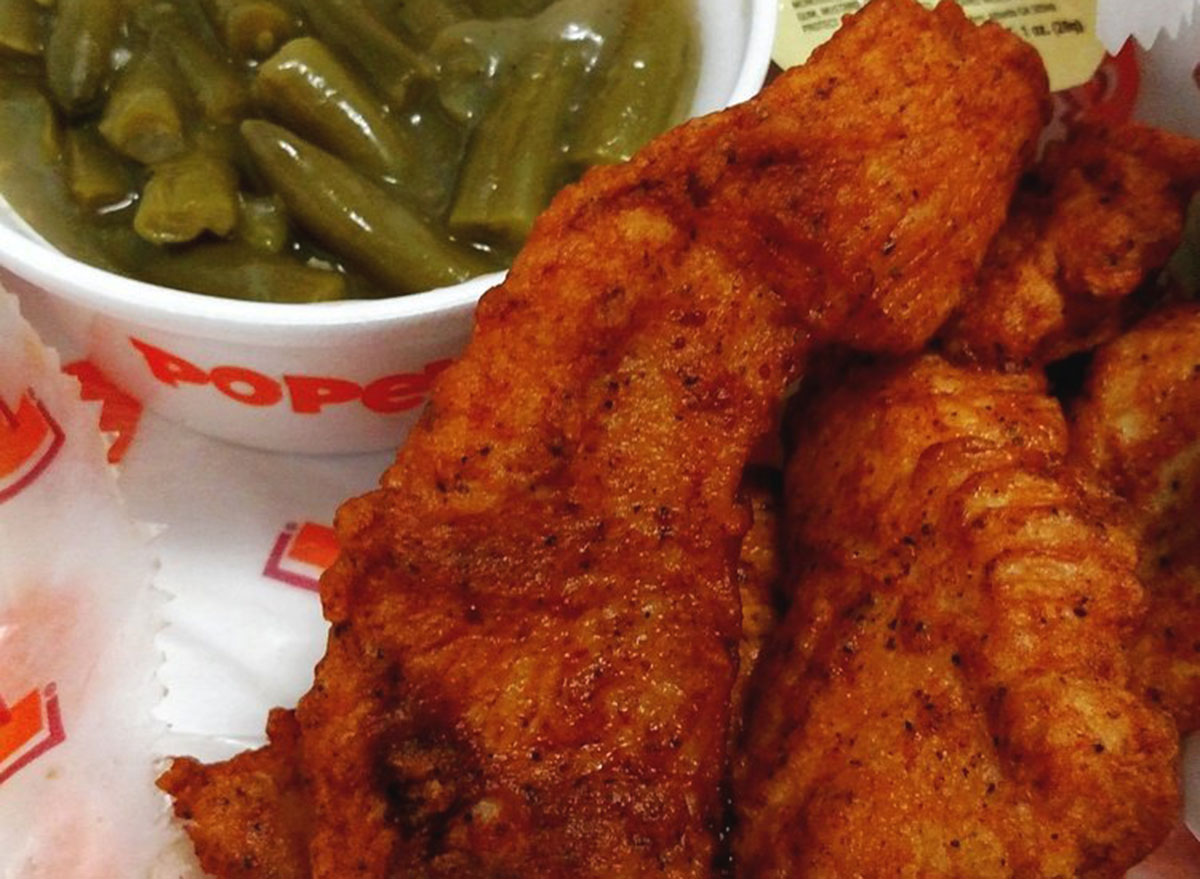 6254a4d1642c605c54bf1cab17d50f1e
338 calories, 5 g fat (0 g saturated), 1593 mg sodium, 10 g carbs (2 g fiber, 2 g sugar), 46 g protein
Steer clear of fatty breading at Popeye's, and instead go for spicy blackened chicken tenders. With a strong black pepper bite, they're even more flavorful than the regular Popeye's chicken. This option usually comes with a biscuit, which it would be best to forego; the only side that's even slightly DASH-friendly at this Louisiana fast-food chain is the side of green beans, which nevertheless catapults this meal into the high-sodium range. Choose a smaller order of blackened tenders (3 instead of 5) if you are on the low-sodium DASH diet to make this meal option work.
PF Chang's: Spicy Tuna Roll and Buddha's Feast Steamed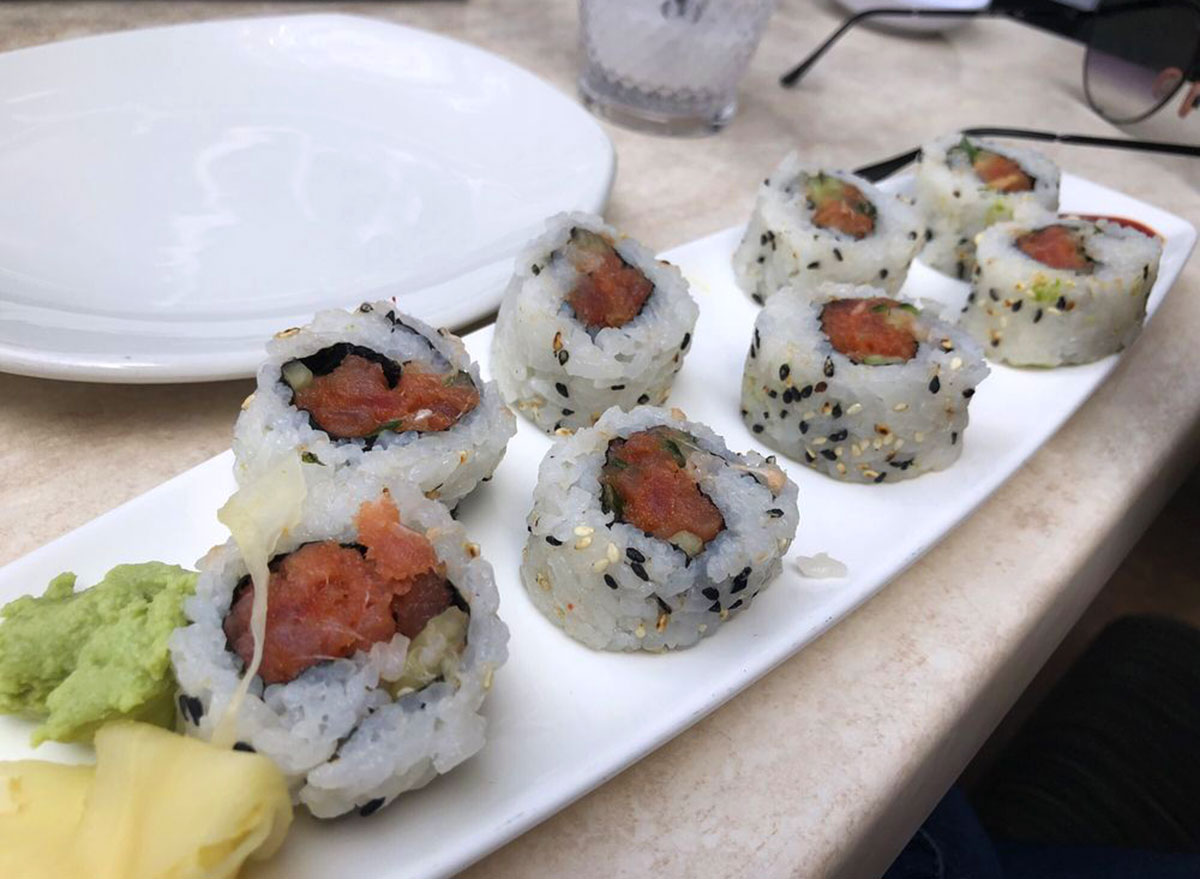 560 calories, 10 g fat (2 g saturated), 990 mg sodium, 75 g carbs (11 g fiber, 23 g sugar), 44 g protein
It's actually not too hard to find DASH diet restaurant menu items at PF Chang's! Start with a Spicy Tuna Roll appetizer before digging into the Steamed Buddha's Feast, featuring baked tofu, asparagus, mushrooms, broccoli, and carrots. Low in sodium and rich in flavor, this dish is super filling and delicious.
Olive Garden: Herb-Grilled Salmon with Parmesan-Crusted Zucchini and Steamed Broccoli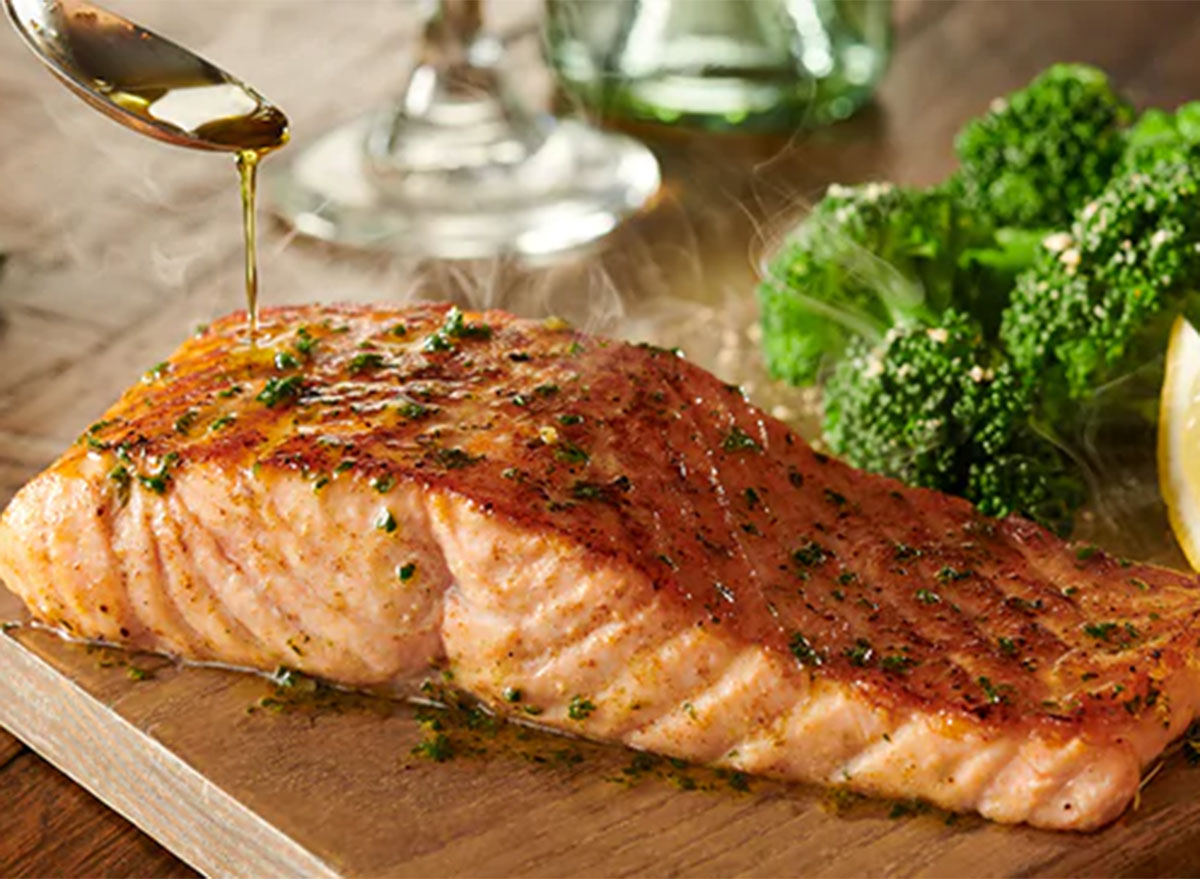 575 calories, 34 g fat (9.5 g saturated), 1185 mg sodium, 21 g carbs (9 g fiber, 7 g sugar), 52 g protein
Head over to the Mediterranean section of your local Olive Garden, where you'll find the Herb-Grilled Salmon with its heart-healthy omega fatty acids. On the side, go for Parmesan-crusted zucchini and steamed broccoli, which will add flavor and nutrients to your meal.
Panda Express: String Bean Chicken Breast with Full Side of Super Greens and Half Side of Steamed Brown Rice
280 calories, 11.5 g fat (2 g saturated), 850 mg sodium, 23 g carbs (9 g fiber, 8 g sugar), 20 g protein
Panda Express, like most American Chinese chains, is an easy place to go overboard on sodium. But this chicken dish, with a mild ginger soy sauce, is fairly reasonable, at just 310 milligrams. A side of broccoli, kale, and cabbage brings tons of vitamins, calcium, and potassium to your plate, while magnesium-rich brown rice makes the perfect foundation to soak up all that tasty sauce.
Chick-fil-A: Grilled Chicken Sandwich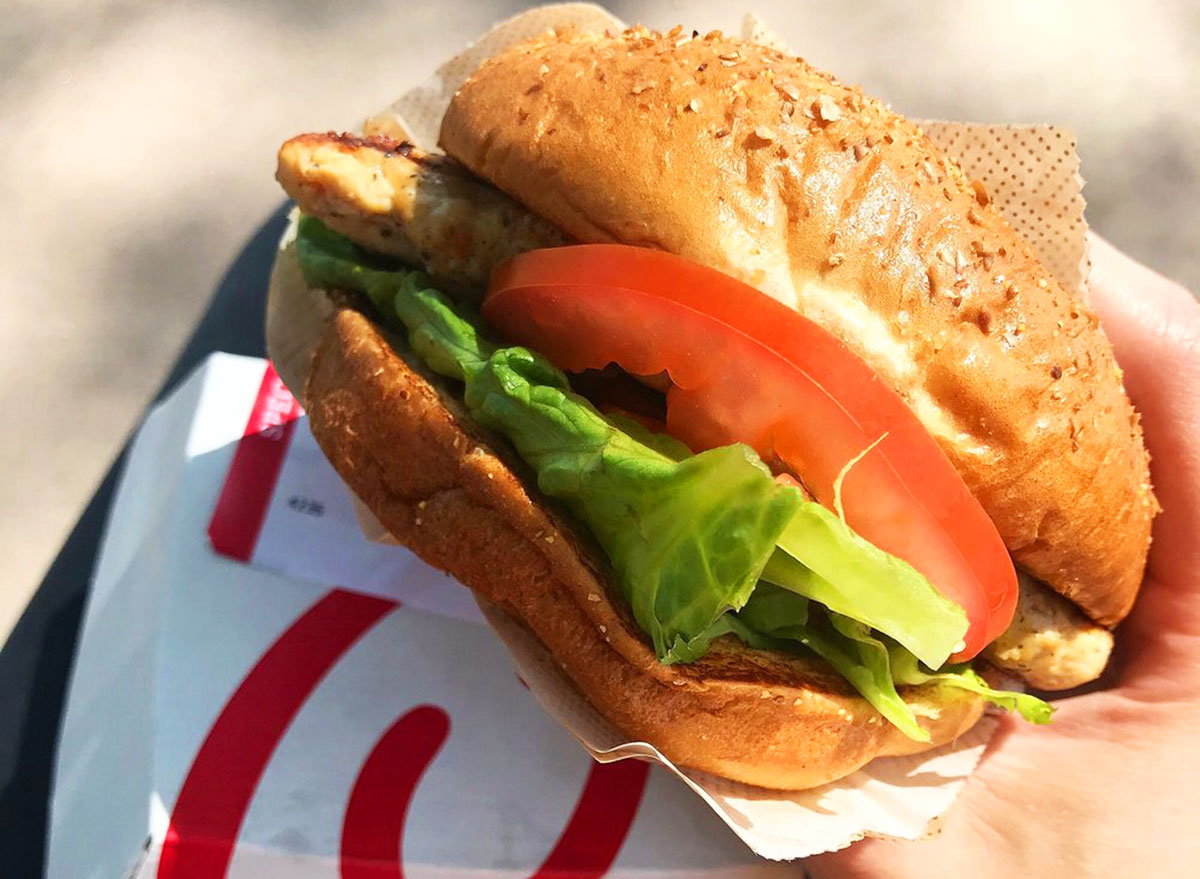 330 calories, 6 g fat (1.5 g saturated), 720 mg sodium, 41 g carbs (4 g fiber, 9 g sugar), 29 g protein
Salads can be a bit of a mixed bag when eating out. While it's certainly a good idea to eat as many fruits and veggies as you can on the DASH diet, dressings laden with sugar, salt, and fat can easily turn salads into junk. At Chick-fil-A, the best option is really a market salad with grilled nuggets and no dressing, but the grilled chicken sandwich is another one of the DASH diet restaurant menu items at this chain. It's far more flavorful, with a lemon-herb marinated chicken breast served on a multigrain brioche bun. If you get the salad but add dressing, it actually turns out being a far worse choice than the sandwich!
Boston Market: Parmesan Rotisserie Quarter Dark Roasted Chicken (1 thigh, 2 drumsticks) with Garlic Dill New Potatoes and Steamed Veggies
570 calories, 27 g fat (8 g saturated), 1470 mg sodium, 41 g carbs (6 g fiber, 7 g sugar), 46 g protein
The true best choice at Boston Market is probably the skinless quarter white, but just because you're on DASH doesn't mean your food needs to be devoid of flavor. Order both the garlic dill new potatoes and the steamed veggie sides to fill out this meal with flavor and nutrients.
TGI Fridays: Simply Grilled Salmon with Jasmine Rice and Veggies
830 calories, 38 g fat (12 g saturated), 1000 mg sodium, 86 g carbs (4 g fiber, 3 g sugar), 39 g protein
Seasoned with hickory-smoked sea salt and topped with Parmesan butter, this salmon from TGI Fridays is luscious, delicious, and healthy. While usually paired with lemon-butter broccoli, skip it and save a whopping 850 extra milligrams of sodium by asking for plain steamed broccoli instead.
Chili's: Grilled Chicken Salad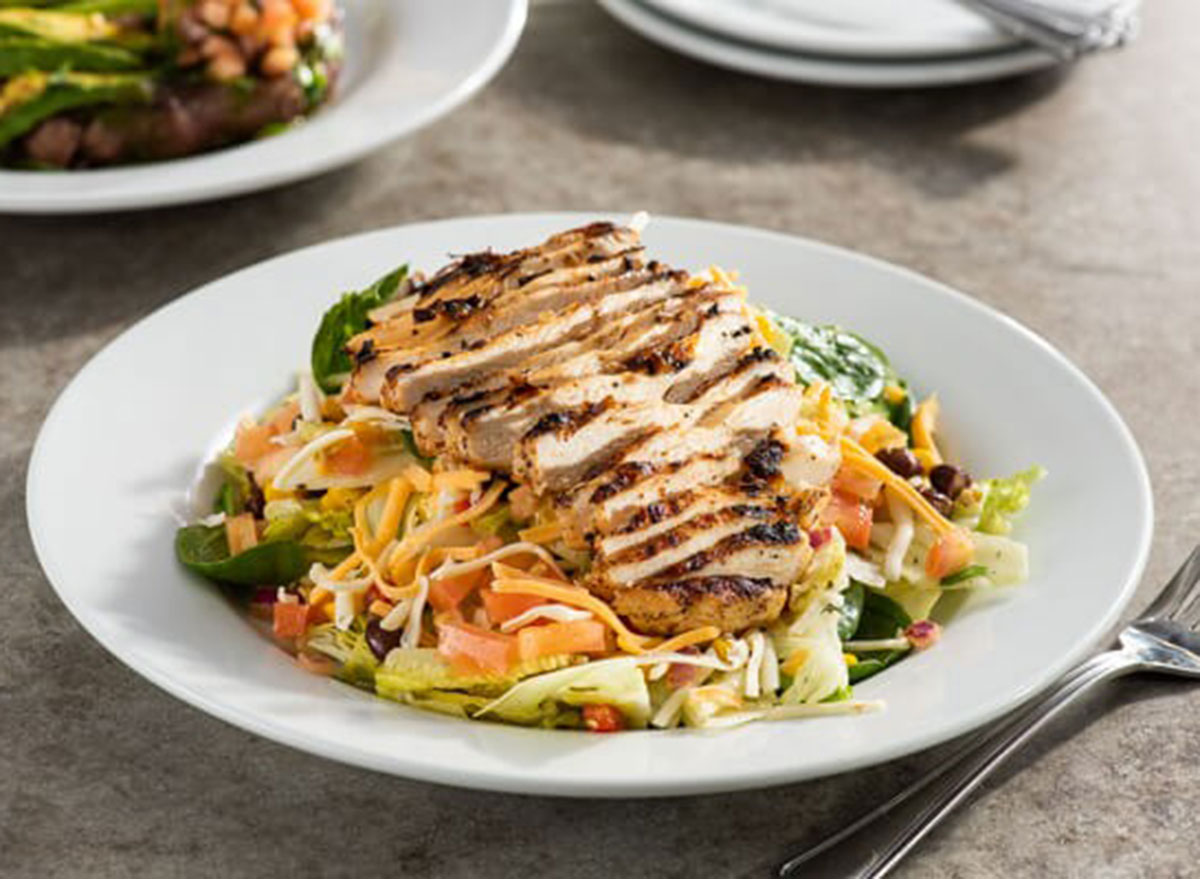 430 calories, 23 g fat (6 g saturated), 1130 mg sodium, 22 g carbs (5 g fiber, 11 g sugar), 36 g protein
If food at Chili's tastes so good, it's thanks to a heavy hand with salt. Here, you'll have to be super careful to avoid excess sodium, but either the Grilled Chicken Salad or California Turkey Club (half sandwich, no chips) will work. We vote for the former, because it includes a healthy dose of veggies: tomatoes, corn, and a black bean salsa. The calorie breakdown above even takes the honey-lime vinaigrette into account.
Bertucci's: Bruschetta and Burrata Pizza (one slice, small), Insalata with Grilled Shrimp, and Oven-Roasted Broccoli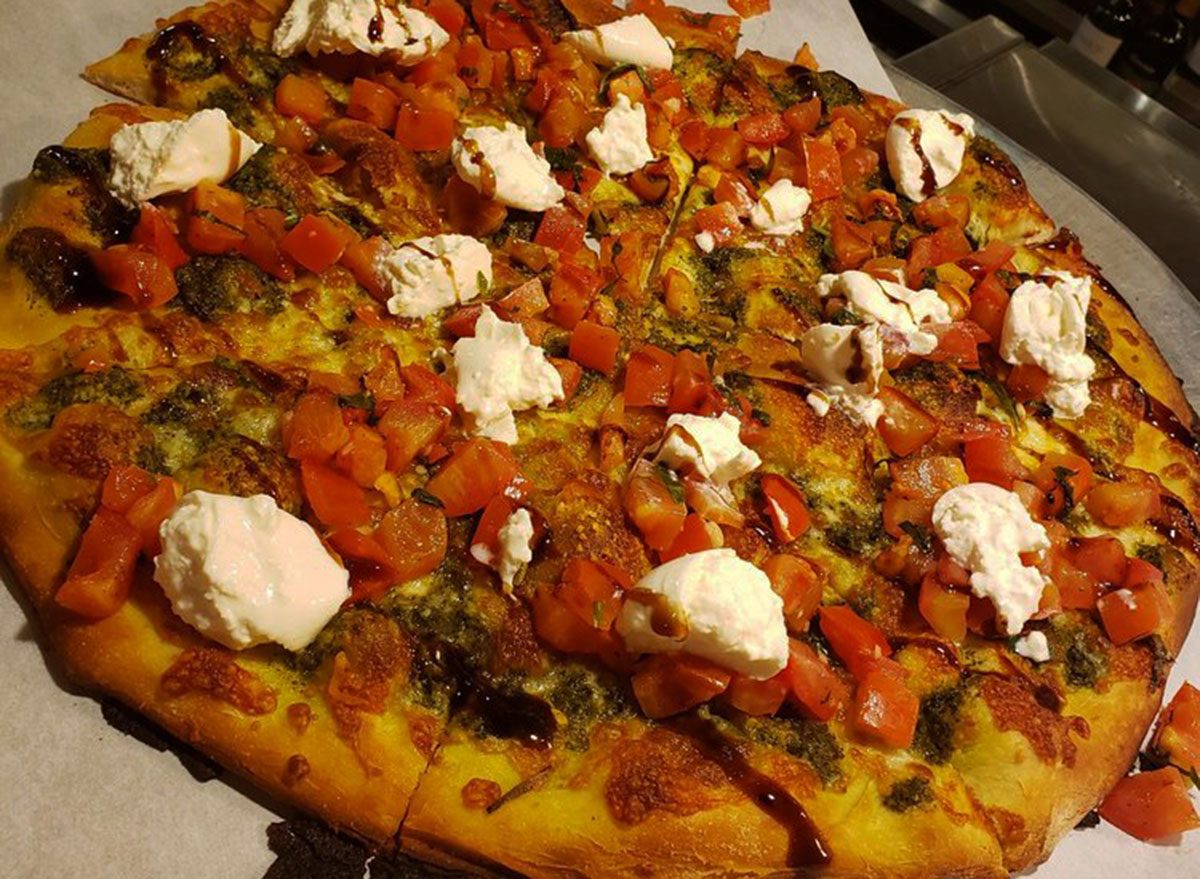 475 calories (22.5 g saturated), 698 mg sodium, 31 g carbs (5 g fiber, 6 g sugar), 13 g protein
To make the perfect meal at Bertucci's that's both flavorful and healthy, you'll have to cobble things together a bit. One slice of the Bruschetta and Burrata pizza should help fulfill your desire for Italian comfort food, while the Insalata—a mix of leafy greens, tomatoes, cucumber, red onion, and olives—topped with grilled shrimp will help fill you up. Add a side of savory oven-roasted broccoli for even more nutrients.
Arby's: Turkey Gyro
470 calories, 20 g fat (3.5 g saturated), 1520 mg sodium, 48 g carbs (3 g fiber, 5 g sugar), 25 g protein
This flavorful sandwich from Arby's is made of thinly sliced roast turkey with Greek seasoning , and it's topped with tzatziki sauce made with yogurt, which one study found could reduce the risk of heart attack among those with high blood pressure.
Hardee's: Charbroiled Chicken Club Sandwich in a Lettuce Wrap (hold the bacon)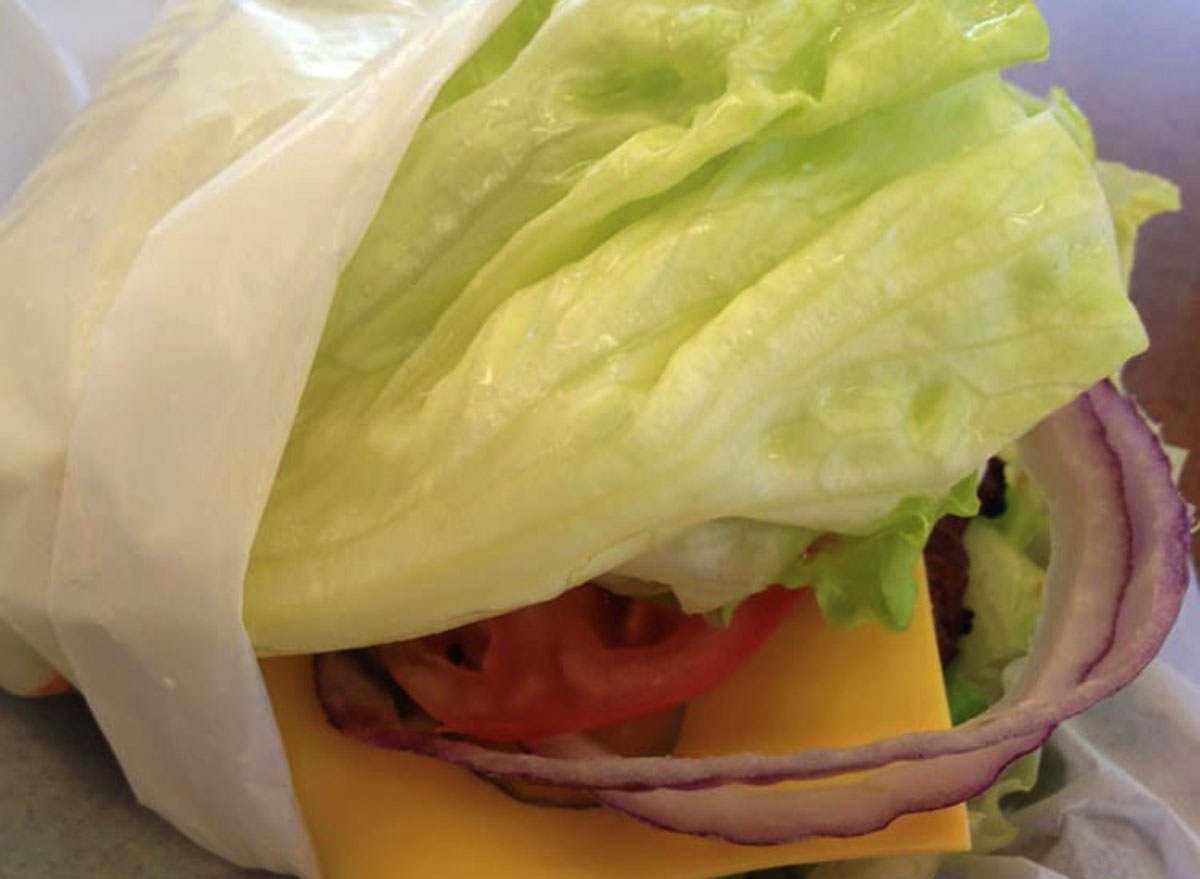 250 calories, 16 g fat (5 g saturated), 660 mg sodium, 12 g carbs (1 g fiber, 8 g sugar), 16 g protein
Take advantage of Hardee's willingness to adapt its menu to create this relatively healthful DASH diet restaurant menu item: a charbroiled chicken club served on a lettuce wrap rather than on a bun, which will cut unnecessary carbs and a bit of salt. Hold the bacon to cut down on sodium even further, and jazz things up with a bit of mustard.
Burger King: Impossible Whopper (hold the mayo)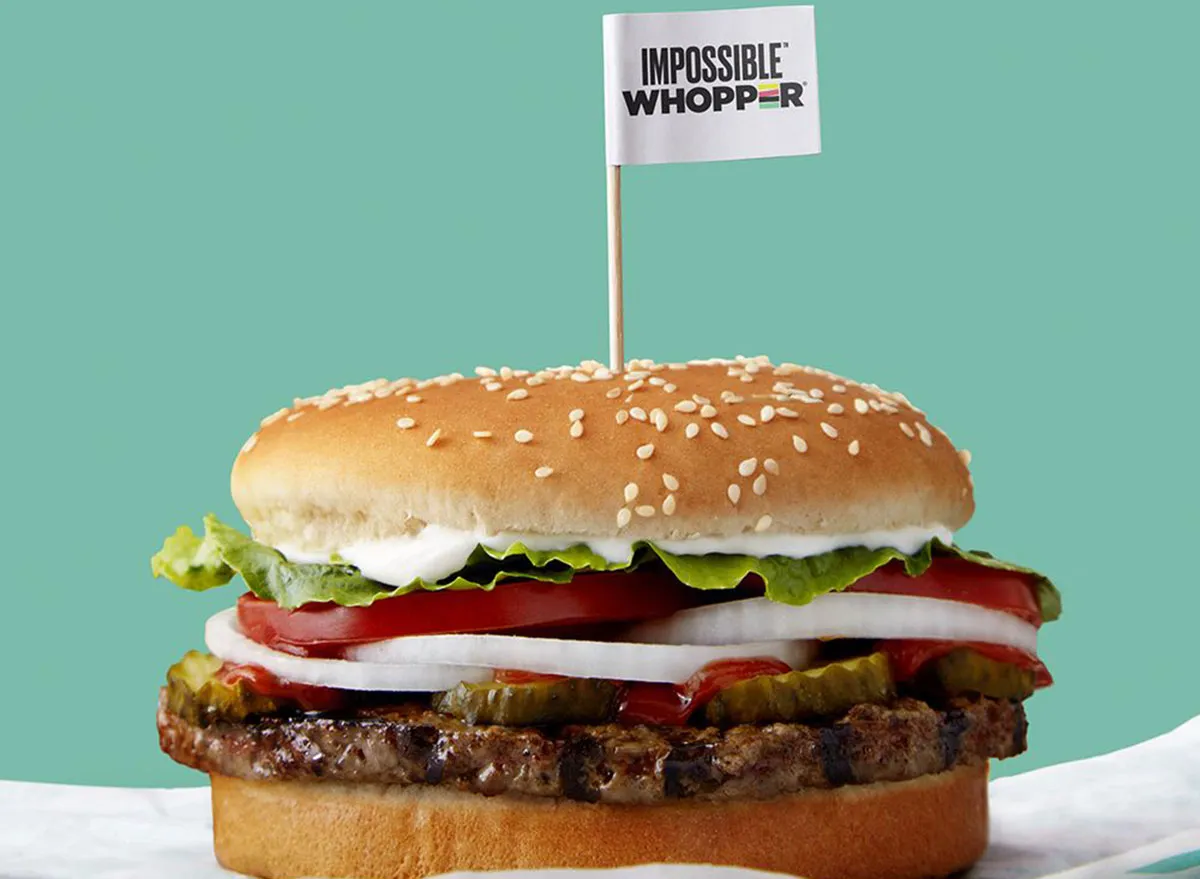 470 calories, 16 g fat (8 g saturated), 940 mg sodium, 58 g carbs (4 g fiber, 12 g sugar), 25 g protein
Burger King is one of the first restaurant chains to sell the Impossible Burger, a plant-based burger that bleeds (and tastes!) like beef. Get all the flavor of a beef burger with this healthier protein made from soy—just hold the mayo to keep fat and sodium to a minimum.
Starbucks: Cheese and Fruit Protein Box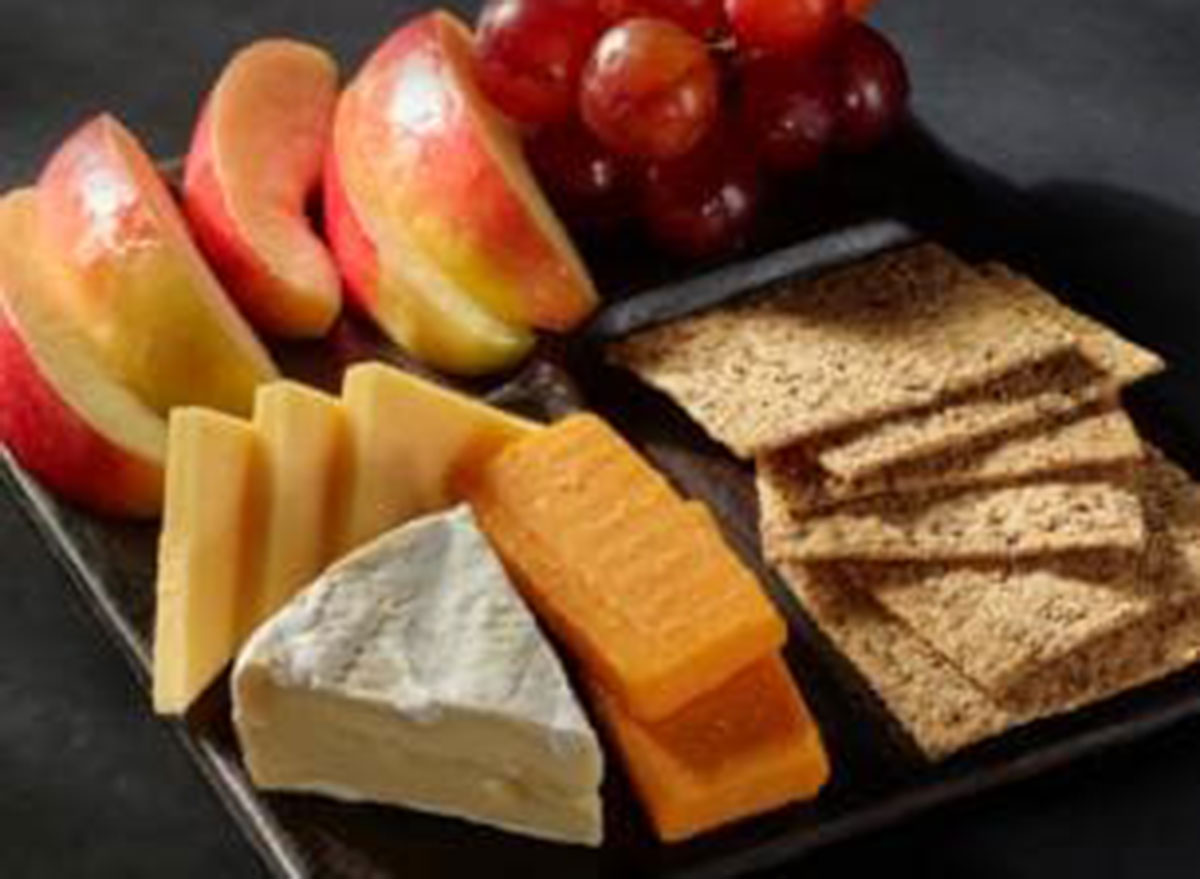 450 calories, 27 g fat (1.3 g saturated), 620 mg sodium, 34 g carbs (4 g fiber, 15 g sugar), 20 g protein
A combination of brie, gouda, and aged cheddar might not seem like the most heart-healthy of choices, but believe it or not, one Irish study found that consuming cheese might actually protect your heart health, especially as compared to non-fermented sources of dairy like milk or butter. Served with multi-grain crackers and vitamin-rich apples and grapes, this box is balanced and protein-rich—the perfect choice alongside a cup of Starbucks' black coffee.
Ruby Tuesday: Grilled Salmon with Grilled Zucchini and Sweet Potato
588 calories, 29 g fat (13 g saturated), 1491 mg sodium, 31 g carbs (5 g fiber, 10 g sugar), 45 g protein
The grilled salmon at Ruby Tuesday comes with two sides: choose the grilled zucchini and sweet potato for antioxidants and beta carotene, which converts to vitamin A in the body and helps support a healthy immune system.
Moe's: Fish Bowl with Pinto Beans, Quinoa, Diced Onions, Fresh Jalapeños, Chopped Cilantro, and Diced Tomatoes
605 calories, 17 g fat (2 g saturated), 1043 mg sodium, 88 g carbs (25 g fiber, 18 g sugar), 41 g protein
Skip the burrito at Moe's, and instead opt for a bowl, which you can dress up to add flavor, texture, and nutrients. Protein-rich quinoa and low-calorie, high-omega fish is the optimal choice. Add whatever fresh veggies you like to make it even more flavorful.
Cracker Barrel: Lemon Pepper Grilled Rainbow Trout with Brussels Sprouts n' Kale Salad and Fresh Steamed Broccoli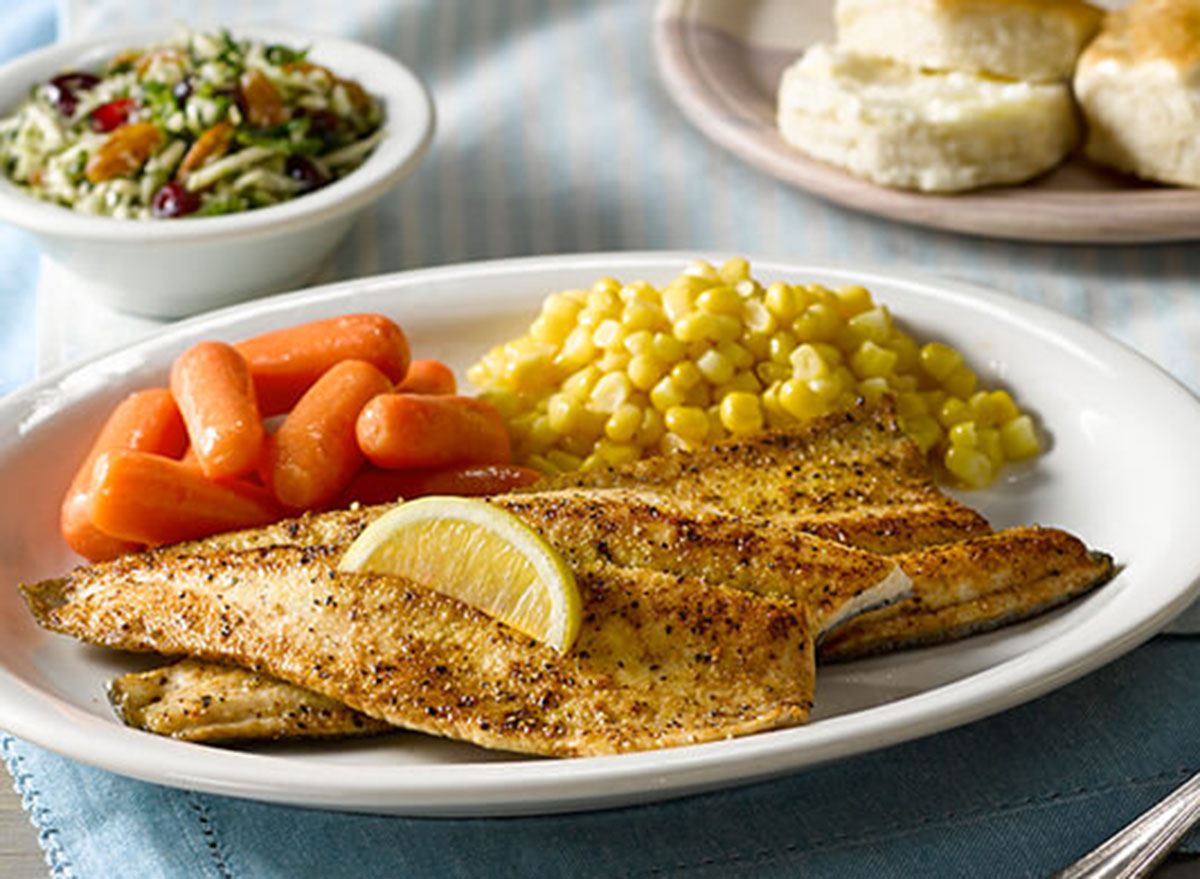 650 calories, 34 g fat (5.5 g saturated), 800 mg sodium, 43 g carbs (5 g fiber, 29 g sugar), 50 g protein
Cracker Barrel lightly seasons its boneless trout fillet and grills them until just tender before serving with your choice of two sides. Opt for the Brussels Sprouts n' Kale Salad and Fresh Steamed Broccoli, and you'll be getting tons of great nutrients from these three members of the brassica family.
California Pizza Kitchen: Banh Mi Bowl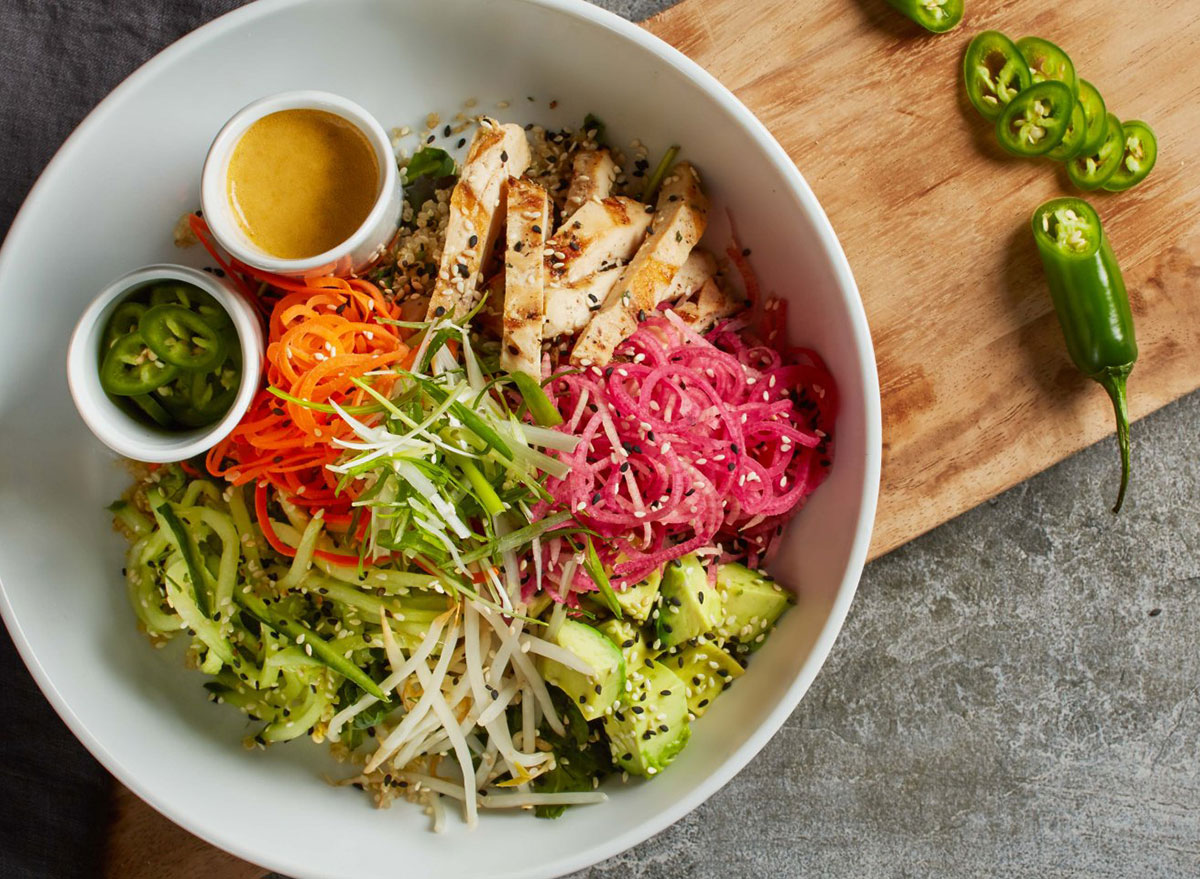 540 calories, 33 g fat (4.5 g saturated), 770 mg sodium, 40 g carbs (9 g fiber, 10 g sugar), 28 g protein
This fresh, tasty bowl from California Pizza Kitchen pairs quinoa and baby kale with fresh herbs, grilled chicken, watermelon radish, and veggies like avocado, cucumber, and bean sprouts. A sprinkling of sesame seeds and a house-made chili-lime vinaigrette seals the deal on this healthful dish with just a slight kick of spice.