8 Best Kirkland Brand Meats You Should Buy at Costco
The club's house brand delivers great quality, a variety of options, and unbeatable prices.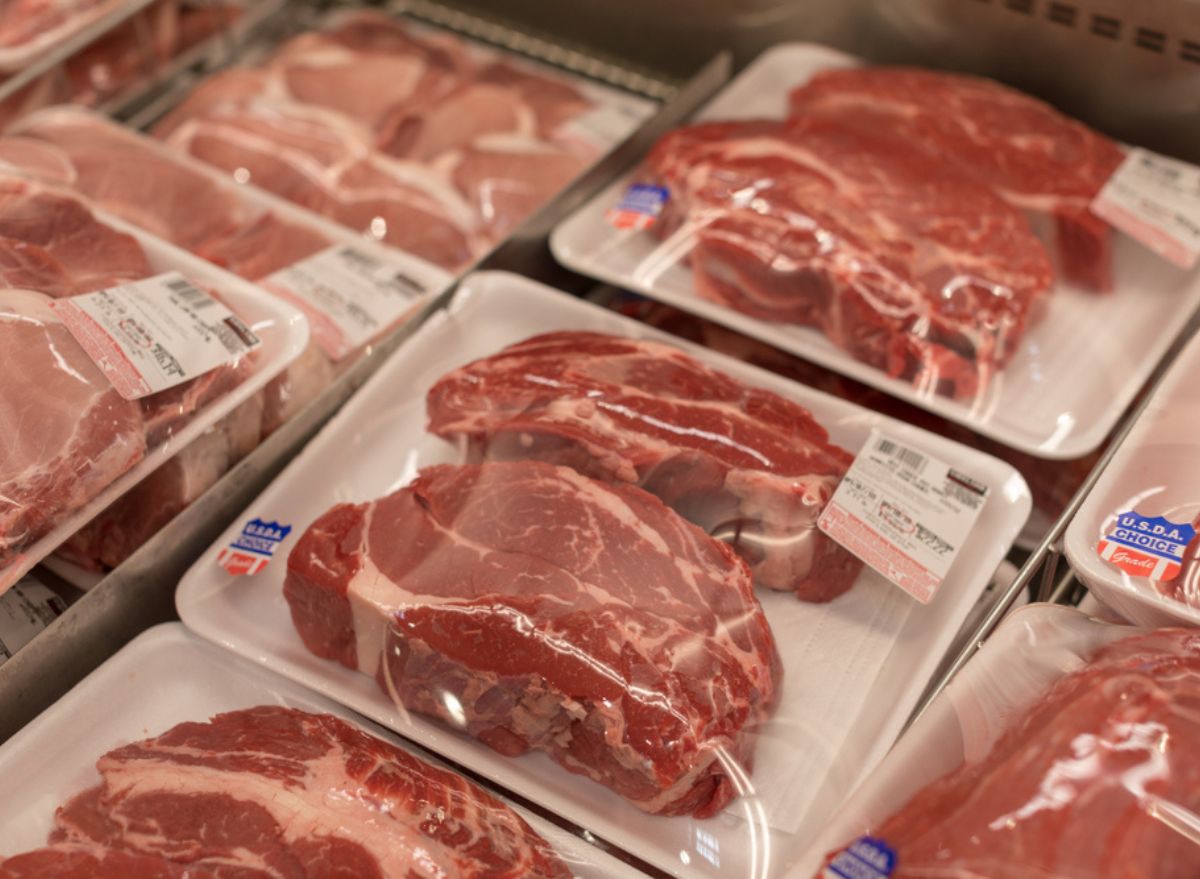 The product recommendations in this post are recommendations by the writer and/or expert(s) interviewed and do not contain affiliate links. Meaning: If you use these links to buy something, we will not earn a commission.
Grocery shopping can sometimes feel like you are running on auto-pilot. You grab the same carton of milk, the same box of cereal, and the same bag of potatoes. But when you turn the corner and arrive at the meat counter, you may notice more time passing before you make your final decision. Picking the perfect cut of meat is an important decision for a number of reasons, including price, quality, and health.
Meat is often the centerpiece of the typical American meal. A 2021 study from the University of Illinois shows the average meat consumption for Americans is 252 pounds per person. The average American clearly prioritizes meat as a regular part of their diet, so choosing what to buy at the grocery store is an important part of their week.
Costco members have a wide variety of options when shopping in the meat department, including many under its store brand Kirkland Signature. Costco is known for selling most of its groceries in bulk, and meats are no exception. Whether you are a new Costco member looking to learn the lay of the land or you want to try something different on your next grocery run, here are some of the best Kirkland Signature meats you should buy.
Kirkland Signature Thick-Sliced Bacon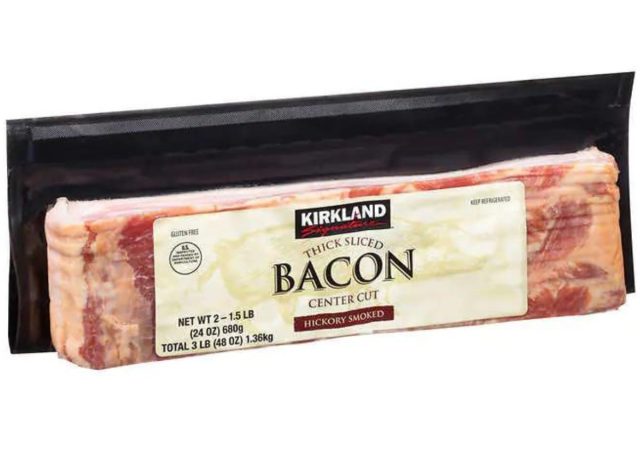 Among the many choices when shopping for meat at Costco, the Kirkland Signature Thick-Sliced Bacon is a top choice for members time and time again. In fact, it is considered one of the top meat department choices at Costco, regardless of brand. Thick-cut is considered by many to be the preferred kind of bacon to choose due to the fact that you are less likely to wind up with flimsy pieces of bacon on your plate. And because it comes in two packages of 1.5-pound slabs of bacon, priced at $11.99 in store, it delivers on value.
Kirkland Signature Organic Ground Beef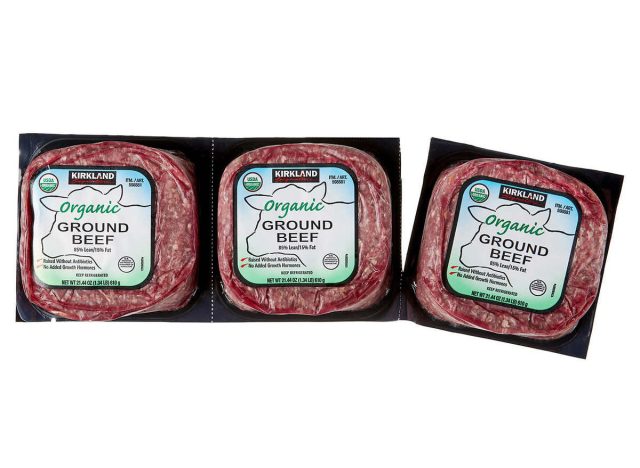 Costco's grocery section offers a large selection of organic products, more than what you will find at competing membership warehouses like Sam's Club and BJ's. If buying organic is an important factor when shopping for meat, then you may want to look into the Kirkland Signature Organic Ground Beef, sold for $26.99 online. It is a highly-rated meat department find at Costco, benefitting both the consumer as well as the environment. Aside from health benefits, the Kirkland organic ground beef is versatile, easy to store and open, and a good value. Blogger ConstContessa notes the individual 1.3-pound packages are also the perfect size for families.6254a4d1642c605c54bf1cab17d50f1e
Kirkland Signature USDA Prime Beef Brisket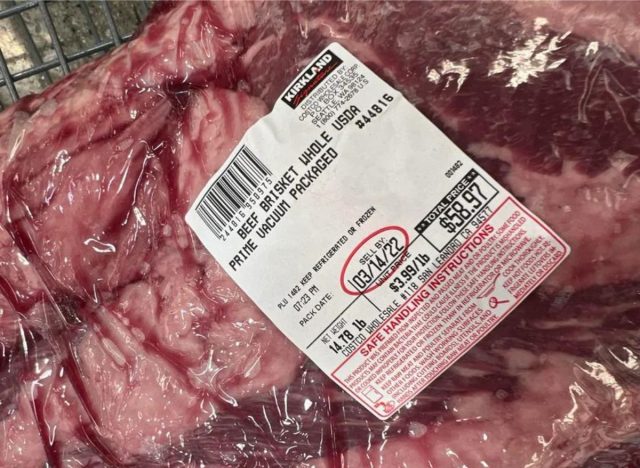 When the occasion arises to cook for a large crowd, many meat connoisseurs turn to the Kirkland Signature USDA Prime Beef Brisket. It is sold in large quantities, so unless you are keen on slicing it into smaller portions and freezing it, this brisket is best for large gatherings. Not only does the USDA Prime label signal high-quality meat, but the brisket is a top choice for sheer value. Costco Grill Dad notes that it is one of the easiest purchasing decisions when shopping at Costco for its value, and a Redditor notes that the Costco brisket is "half the price" of what they would pay to their local butcher.
Kirkland Signature Pork Shoulder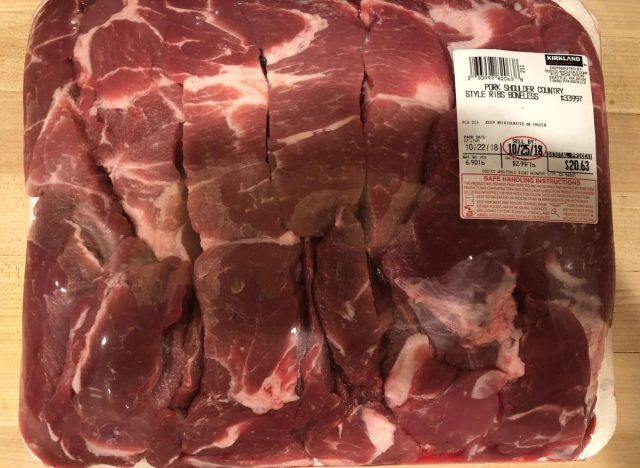 If you are cooking for a crowd that prefers pork, the Kirkland Signature Pork Shoulder Butt is a great option for $1.99 per pound at the warehouse. According to the blog Eat Like No One Else, it is typically sold in packages that weigh in at approximately 15 pounds – that's quite a lot of pork! Eat Like No One Else and Better Be recommend cooking pork shoulder low and slow for the best results. While it makes for great cookout meat, Redditors note all of the different ways the pork shoulder can be used for yourself once cooked, lasting for days.
Kirkland Signature Organic Chicken Drumsticks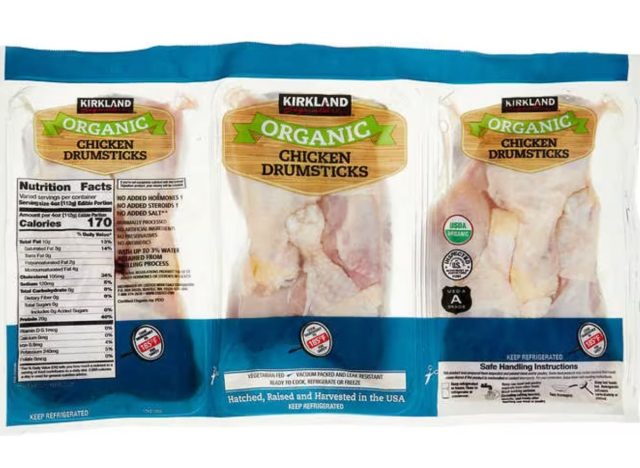 When you get tired of buying and preparing chicken breasts the same way week after week, switch things up and buy the Kirkland Signature Organic Chicken Drumsticks on your next Costco run. If you want the highest-quality poultry meat, organic chicken is the way to go, but you are still likely to get a better bang for your buck when sticking to drumsticks. The price of chicken has been rising, but less-popular cuts of chicken, like drumsticks and thighs, remain cheaper than chicken breasts. Priced at $1.99 per pound in store, the four- to five-pound pack costs about $10 or less.
Kirkland Signature Lamb Loin Chops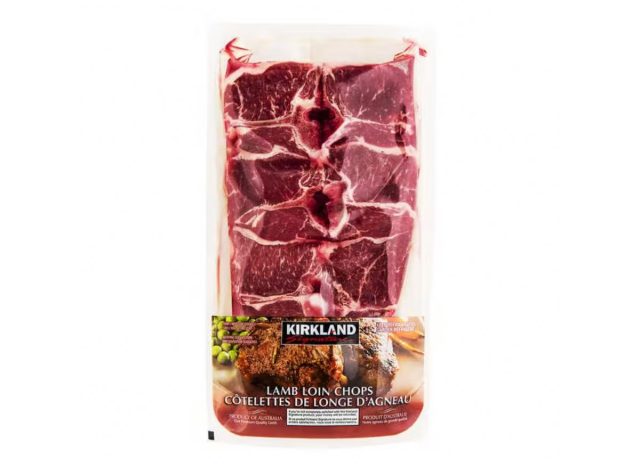 If you're bored with beef or chicken, give lamb chops a try. You may discover how delicious and versatile the meat really is, with a number of great recipes out there. The Kirkland Signature Lamb Loin Chops is a good place to start. The blog Chewing the Fat describes the chops as "irresistible at Costco prices," currently around $5.99 per pound in store. Better Be echoes this claim, noting: "You'd be hard-pressed to find this product for that price at your local grocery store." 
Kirkland Signature Organic Young Chicken Whole Fryers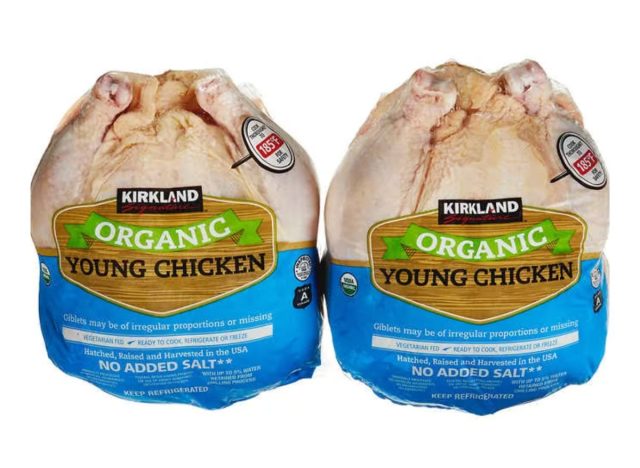 Costco is known for many of its products, not the least of which is its popular $4.99 rotisserie chicken. The ready-to-eat chicken is clearly a solid choice in terms of convenience and value, but perhaps you want it prepared differently or have more control over what ingredients are added. In that instance, Costco also sells its Kirkland Signature Organic Whole Young Chicken. They are sold in a pack of two for $2.99 per pound at the warehouse, and the packs can weigh up to 11 pounds. Consumer Reports notes that rotisserie chickens are loaded with sodium, so cooking your own is better overall for your health.
Kirkland Signature USDA Choice Beef Loin Top Sirloin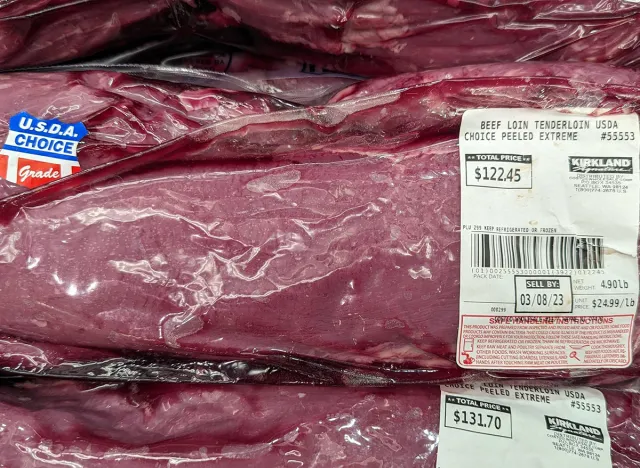 Shopping for meat can often be a pricey endeavor, especially when you are looking for the best possible cut and quality. Many Costco members turn to the Kirkland Signature USDA Choice Beef Loin Top Sirloin for a great-tasting steak that is also a bargain at checkout, priced recently at $8.99 per pound. One Redditor praises the sirloin for its value, noting that it is a popular meat of choice for their family when shopping at Costco. Note that this particular cut of sirloin comes "cap off," meaning the top layer of fat is removed, per Costco Food Database, which may be how you prefer it. Redditors have also spotted top sirloin caps for sale at their local Costco as well, so make sure to speak with the meat department when you visit to see what is in stock.
Carly Neil
Carly Neil is a freelance writer specializing in all things food, travel, Disney, and theme parks.
Read more about Carly