8 Best Kirkland Brand Frozen Foods You Should Buy at Costco
These products offer up a great value and customers have left tons of rave reviews.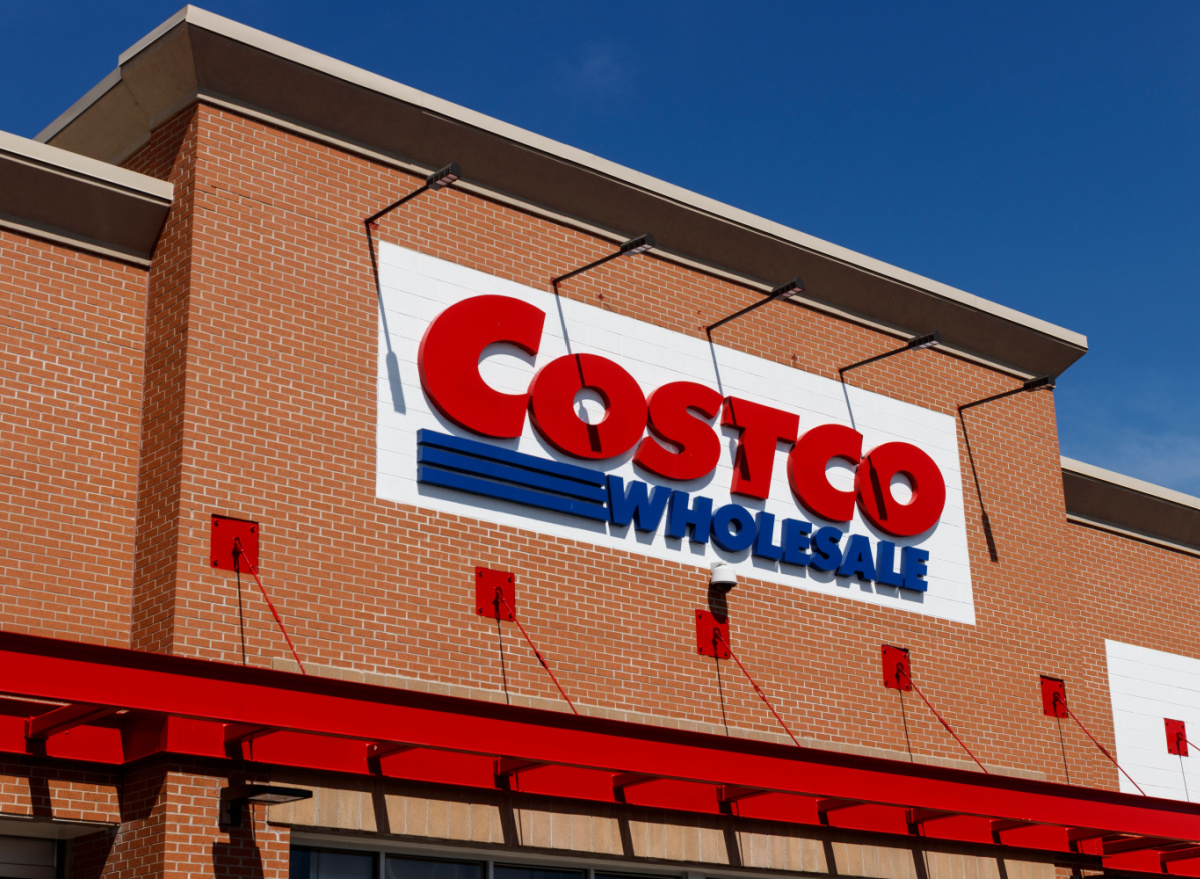 The product recommendations in this post are recommendations by the writer and/or expert(s) interviewed and do not contain affiliate links. Meaning: If you use these links to buy something, we will not earn a commission.
One of the many reasons that shoppers love Costco is the club's own Kirkland Signature brand of goods. While other store brands are often viewed as a "trade down" from higher-quality name brands, Costco asserts that Kirkland products are a "trade up or trade even." That's because many Kirkland items are reputedly made by name-brand companies; Costco just puts its Kirkland label on the package.
In the frozen foods aisle, you will find a lot of Kirkland-brand products, ranging from appetizers to desserts. With so many options, it can be difficult to decide what foods to stock up on, especially when you have limited storage space in your home.
The next time you are at Costco, consider these specific Kirkland-brand frozen foods–they offer great value, and customers have left many rave reviews online.
Kirkland Signature Cauliflower Crust Pizza, Supreme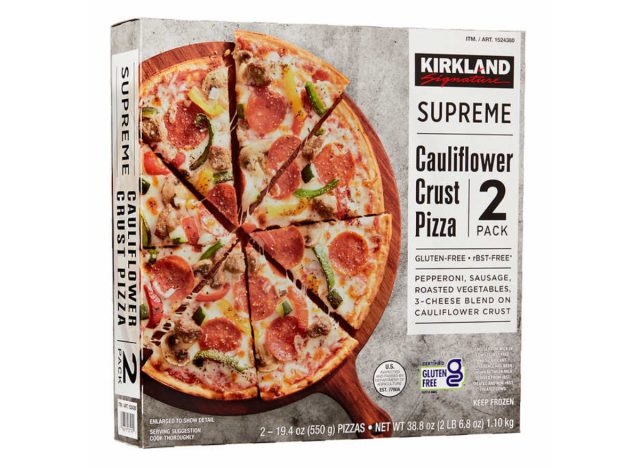 The beloved food court combo pizza may be only a cherished memory at this point, but there is still a way to grab a pie with copious toppings at Costco. In the frozen foods aisle, keep an eye out for the Supreme Kirkland Signature Cauliflower Crust Pizza. It is frequently highlighted by members as a top-rated Kirkland product, not to mention the fact that it is one of many great frozen pizza options available at Costco. One Redditor shared how satisfied they were with the pizza, saying "it was perfectly crunchy crust, just enough sauce, and the meats and peppers, mushrooms were in a perfect combination."
Kirkland Signature Italian Sausage and Beef Lasagna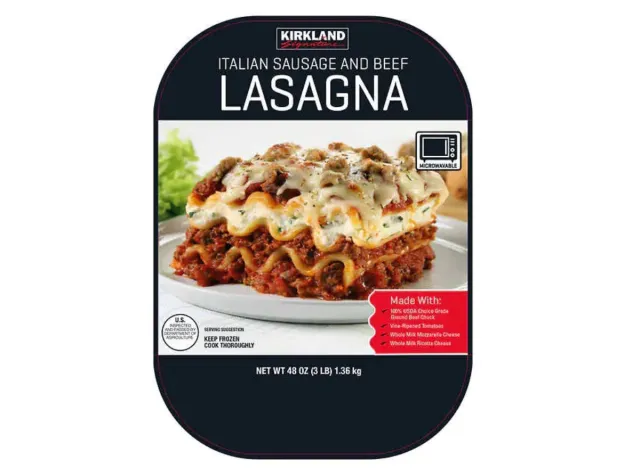 Lasagna is a tedious meal to prepare, though it is often well worth the work. If you are short on time, however, it can be much more convenient to buy a pre-made lasagna that only needs to be reheated. That is where the Kirkland Signature Italian Sausage and Beef Lasagna comes in. It was one of the best grocery items available at Costco in 2022, and it comes recommended by several members on Reddit for go-to frozen meal ideas. It might not be as good as the lasagna your grandmother used to make growing up, but as one Redditor notes, "It's a freezer staple in the category of 'we forgot about dinner, what are we going to do now?' Compared to other pre-packaged frozen foods containing meat and pasta, it's excellent. Comparing it to homemade is an unreasonable expectation."
Kirkland Signature Breaded Panko Shrimp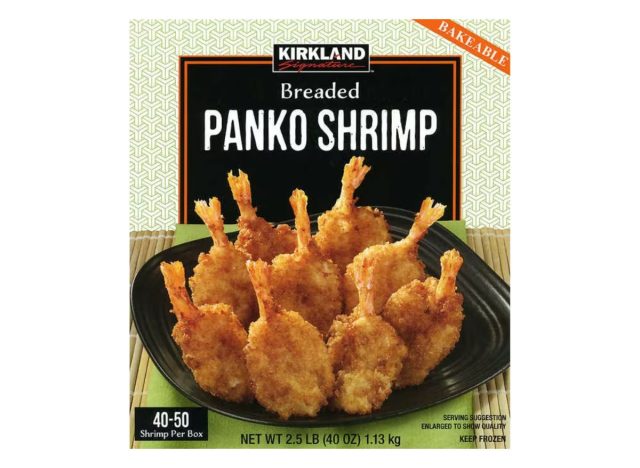 For an easy snack or when you need an appetizer to feed a crowd, Costco sells its very own Kirkland Signature Breaded Panko Shrimp. Speaking of apps, this one, in particular, is one of the best you will find in the frozen foods aisle at Costco. Fans of the panko shrimp are plentiful, with one Redditor pointing out how they are "[s]uper good, I'm definitely going to grab another box! They cooked in the air fryer in about 5 minutes." Another Redditor noted, "In our household, we call this "monthly staples" for our kitchen. These are wonderful as an appetizer and/or full-on meal."6254a4d1642c605c54bf1cab17d50f1e
Kirkland Signature Cheese Pizza, Breadcrumb Crust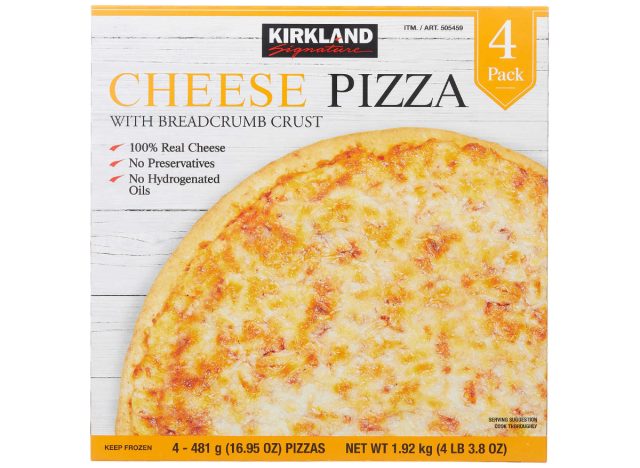 In the world of frozen Costco pizzas, you can get a lot of mileage with the Kirkland Signature Cheese Pizza with the breadcrumb crust. It comes in a pack of four, giving you and your family plenty of pizza to enjoy when you need a quick and tasty dinner idea. If you are a fan of cheese pizza, you can enjoy these on their own. But, if you prefer toppings, it still serves as an excellent base pizza before you toss on your favorite meats and veggies. As one Redditor describes, "I add extra veggies like onions, pepper, olives, jalapenos and bake it. Comes out very nice. For the price, they are the best."
Kirkland Signature Super Premium Ice Cream, Vanilla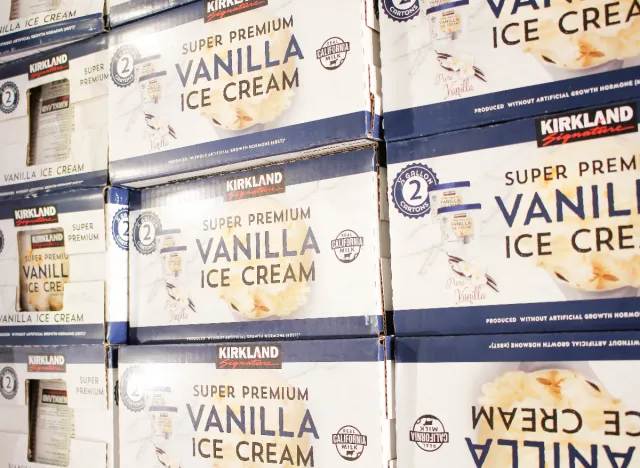 Costco sells a number of desserts, and few are as widely loved by members as the Kirkland Signature Supreme Vanilla Ice Cream. It consistently ranks high when it comes to grocery items available at Costco, especially frozen treats. Its popularity is due in part to its ultra-creamy texture that comes from most of the air being removed in the mixing process. As one Redditor notes, "Most of the ice cream at the grocery store has a lot of air in it, and some are not even ice cream," unlike Kirkland's product, which is labeled as "premium ice cream" for a reason.
Kirkland Signature Three Berry Blend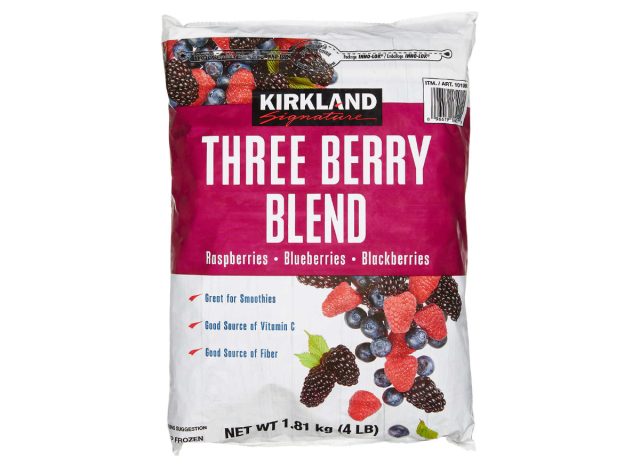 In the mood for a homemade smoothie? The Kirkland Signature Three Berry Blend found in the frozen foods aisle is a great way to incorporate fruit into your daily diet. The blend consists of blueberries, raspberries, and blackberries that provide a ton of necessary nutrients and antioxidants. And since it weighs in at four pounds, your freezer will always be stocked with berries for breakfast. It was a top-rated grocery product among members in 2022 and is consistently one of the best Kirkland products sold at Costco.
Kirkland Signature Frozen Chicken Breasts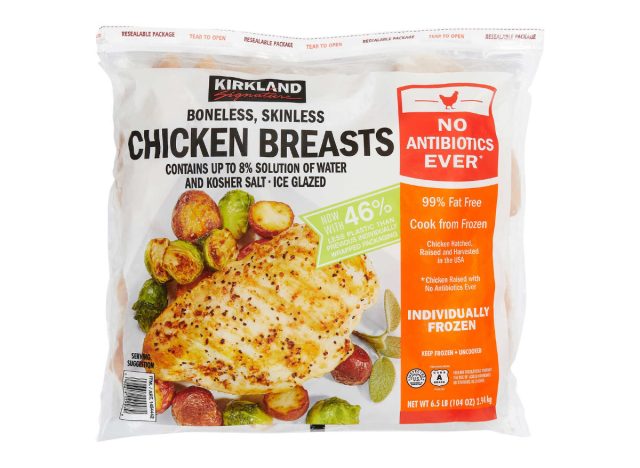 Purchasing meat straight from the butcher counter at your grocery store each week can be costly, so any way to save on protein is worth a look. If you shop at Costco, you can peruse through the meat department for your next meal, or you can head to the frozen foods aisle. There, you will find Kirkland Signature Chicken Breasts, individually frozen and coming in a 6.5-pound bag. It is a convenient option when you want to stock up on chicken but do not want to worry about freezing unused product before it goes bad. Just pick this one bag up and you are ready for a week or longer of meal ideas. Costco also offers a thin-sliced variety of frozen chicken breasts, named by dieticians as an excellent grocery item to throw in your shopping cart to stock up on healthy ingredients.
Kirkland Signature Farmed Atlantic Salmon
Not all foods have as long of a shelf life, and fresh fish is one of those items. Typically, when you buy fish, you want to eat it within a day or two at the most before it starts to spoil. When life inevitably gets in the way, you may find yourself throwing out a perfectly good protein. If only there was a solution! For Costco members, the solution comes in the form of a three-pound bag of Kirkland Signature Farmed Atlantic Salmon. Found in the frozen foods aisle, the bag of center-cut salmon comes boneless and skinless, ready for any number of healthy dinner ideas. It is a popular frozen food among Costco members thanks to its value. It's also really good! As one Redditor explains, "The Kirkland Farmed Atlantic has been the only salmon I've found that smells and tastes the least fishy."
Carly Neil
Carly Neil is a freelance writer specializing in all things food, travel, Disney, and theme parks.
Read more about Carly