6 Major Differences Between Costco, Sam's Club, & BJ's
Which bulk grocery store best fits your needs? Keep reading to find out.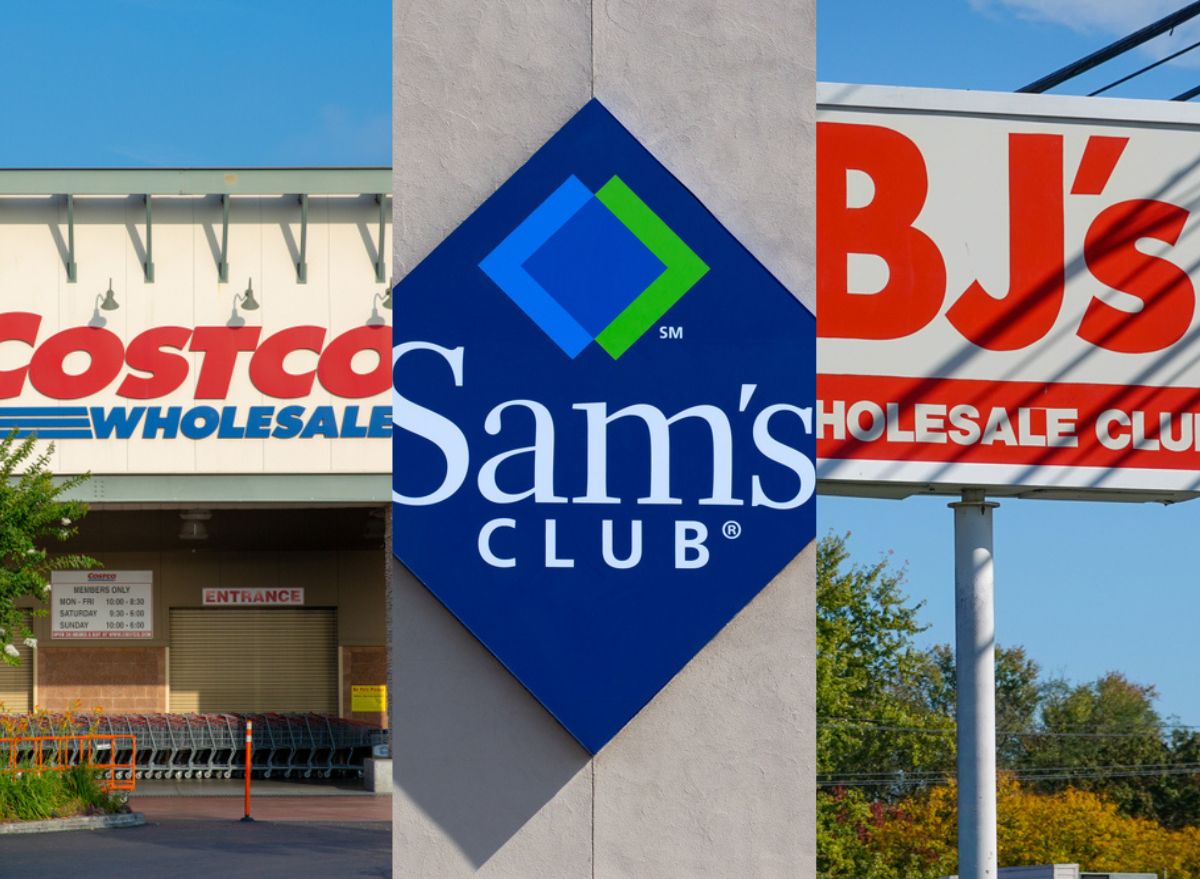 The product recommendations in this post are recommendations by the writer and/or expert(s) interviewed and do not contain affiliate links. Meaning: If you use these links to buy something, we will not earn a commission.
With consumers still feeling the inflationary strain at the grocery store, many are turning to warehouse chains to save money on their weekly purchases. These are not your typical supermarkets: shoppers pay an annual membership fee in order to shop for goods in bulk, often at discounted rates.
If a warehouse membership is what you are looking for, your two main options are national chains Costco and Sam's Club, with the additional option of BJ's Wholesale Club if you live on the East Coast. All three chains provide the same core business model to their customers, where you can buy everyday items in big quantities. Oftentimes these items are available at a better per-unit price than what you would find at your local grocery store, though massive savings are not guaranteed.
You will also find that most of the services and products offered to members outside of your typical grocery run will be more or less the same between all three warehouse chains. Costco, Sam's Club, and BJ's all provide services such as savings on travel packages and car rentals, auto buying programs, pharmacies, and more.
If you are considering signing up for one of these warehouse memberships, it is worth going through the key differences between each one, so you can better choose the right chain for you. Here's a breakdown of how these three popular clubs compare.
​​Membership prices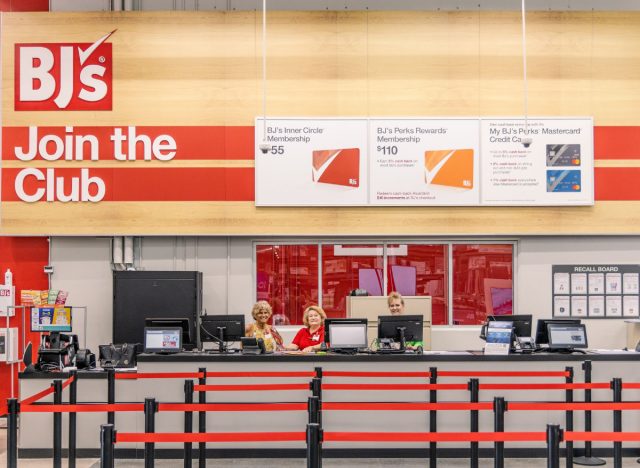 Costco: Costco offers two main membership levels for families. Its introductory Gold Star Membership costs $60 per year, or for $120 a year, you can opt for its Executive Membership. The biggest difference between the memberships is Executive Members receive an annual 2% reward on qualified Costco purchases. Businesses can also sign up for a Business Membership for $60 per year, where members can make purchases for resale.
Sam's Club: Sam's Club's memberships come in at a slightly lower cost than Costco. Its introductory Club membership costs $50 a year, and its premium Plus membership costs $110 per year. Many of the benefits overlap between each membership level, however, Plus members qualify for perks like free shipping, earlier shopping hours, and added savings at the pharmacy. There is no business membership option at Sam's Club.
BJ's: BJ's offers two membership levels: Club and Club+. The Club costs $55 per year per member, with the option to add up to three additional members for $30 each. Club+ costs $110 per year, with members earning up to 2% back in rewards, plus added savings at BJ's gas stations. BJ's also offers two business membership levels for $55 and $110 annually.
Number of locations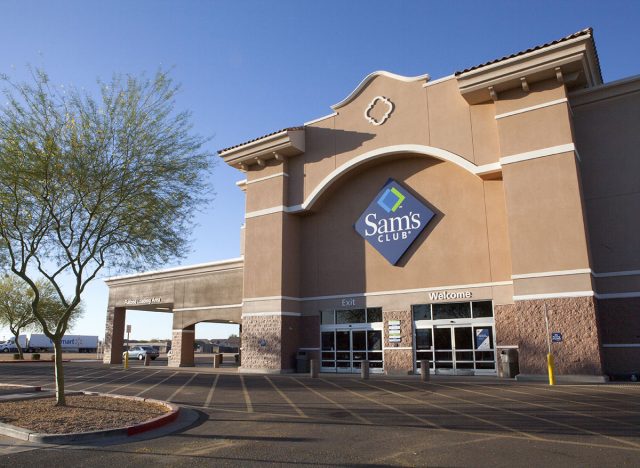 Costco: According to Costco's website, there are currently 586 warehouses across 46 U.S. states. There are hundreds of international locations as well, which members have access to regardless of their country of origin. International Costcos can be found in countries such as Taiwan, Japan, Australia, France, Mexico, and Canada.6254a4d1642c605c54bf1cab17d50f1e
Sam's Club: Sam's Club notes that there are nearly 600 warehouse locations across the United States and Puerto Rico. Per ScrapeHero, there are Sam's Club warehouses in 45 U.S. states, with 14% of those located in the state of Texas alone.
BJ's: BJ's is by far the smallest of the three warehouse chains in terms of total store count. As of 2023, there are over 215 BJ's stores across 16 states, all located along the Eastern seaboard. If you live on the East Coast, it may be worth it to look into a BJ's membership. Otherwise, your only main options for a warehouse membership would be between Costco and Sam's Club.
Average sticker price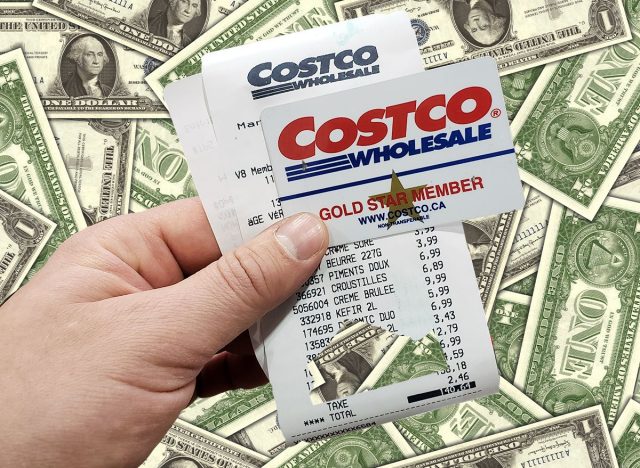 Figuring out which club offers the lowest prices on groceries can be tricky. There have been several articles comparing prices at Costco and Sam's Club, with mixed results.
Business Insider last spring found better deals at Costco on ground beef, dairy milk and eggs, while also citing better bargains at Sam's Club on chicken, pantry items and plant-based milk alternatives. Meanwhile, the Motley Fool last fall found cheaper prices at Sam's on 10 popular items. However, the finance site based that comparison on prices listed through the third-party delivery app Instacart, which includes a significant markup and also charges different prices for club members and non-members. Additionally, Costco often charges more for products purchased online than it does in-store. Costco also sells more organic products than its competitors, which could mean some items will ring up higher than they would at either Sam's Club or BJ's.
So, really, the only way to know for sure is to shop around on your own. It may be worth signing up for a free trial membership at Sam's Club to compare with Costco. Costco does not offer free trials, but it does extend its money-back guarantee to its memberships, so if you sign up for a Costco membership and are not satisfied, you can cancel for a full refund.
For non-food items, one unique benefit about BJ's is that is that it accepts manufacturer coupons, which neither Costco or Sam's Club do. That can add up to even more savings on already-low prices.
Food court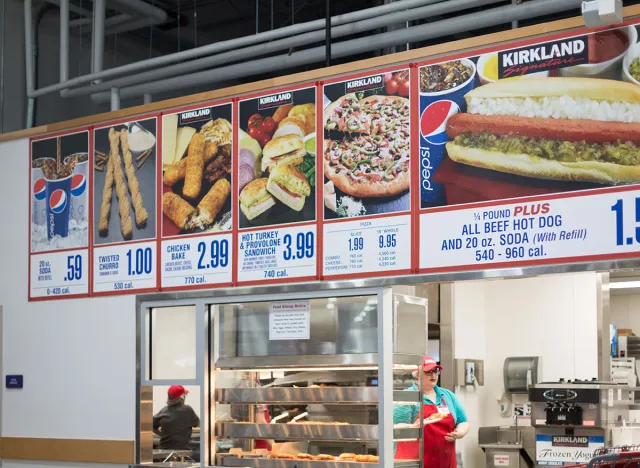 Costco: One of the aspects of a Costco membership that customers enjoy the most is access to the warehouse's food court. The Costco food court sells a number of low-cost items like its famous $1.50 hot dog and soda combo and $1.99 slice of pizza. The menu at Costco is more stripped down than what you will find at Sam's Club, especially following the Covid-19 pandemic, although that is changing.
Sam's Club: The Walmart-owned warehouses include cafes that sell a variety of pizza slices, hot dogs, pretzels, and a pizza-pretzel hybrid. For dessert, members can buy frozen yogurt cups and sundaes. Though there are slight menu differences, the offerings at Sam's Club and Costco are largely the same. One major difference, however, is that Sam's Club cafes are open to all, while Costco's food courts are for members only.
BJ's: BJ's warehouses used to offer food courts, too, but those have been discontinued. Instead, BJ's locations have featured Dunkin' Donuts kiosks since 2016. So while you cannot get a cheap slice of pizza, you can at least sip on some iced coffee—something that Costco and Sam's Club food courts do not offer.
Variety of grocery and non-grocery items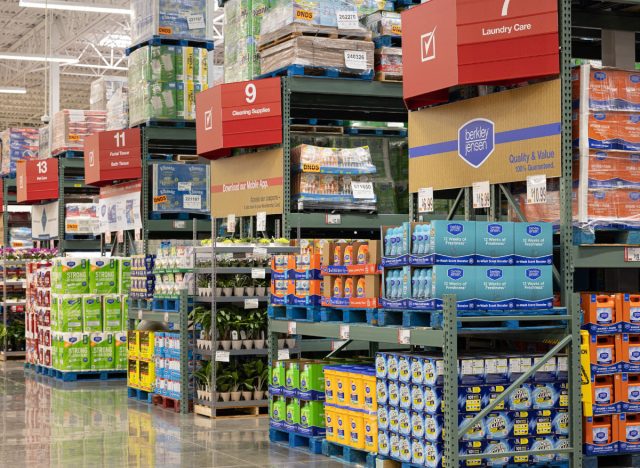 No matter which warehouse you choose, you can find most, if not all, of your weekly groceries there. All three chains sell their products in bulk quantities, meaning you will have a lot more food to store in your cabinets and refrigerator when you return home. All three clubs also carry their own store brands, offering more savings over name brand goods.
There are some differences between the three chains, however. For starters, if you are looking for the widest selection of organic products, stick with Costco. If you just want sheer volume and the most amount of options possible, look into a BJ's membership. It may seem like Costco sells everything under the sun, but it actually carries far fewer items than its competitors. BJ's has long claimed that it carries nearly double the amount of goods as Sam's Club or Costco. Sam's Club also carries more goods than Costco, according to The Motley Fool.
Online shopping
Costco: Online shopping is available at costco.com. In fact, even non-members can purchase items online, including groceries. However, non-members will pay a 5% surcharge on their purchases. Members and non-members alike can have their groceries ordered online and delivered via Instacart. Costco.com offers same-day delivery on all groceries with a $35 minimum spend. Curbside pickup is not available at most warehouse locations.
Sam's Club: Sam's Club members can shop online for groceries and other items you would find in the warehouses. Same-day delivery for groceries is available for members only. Curbside pickup is also available for members. The in-store shopping experience is also made easier by tech, thanks to the Sam's Club Scan & Go feature in its app.
BJ's: Online shopping is available for BJ's members. The warehouse's 1-day non-member shopping pass also extends online, where customers can make purchases at BJs.com without needing a membership card. When ordering groceries online, BJ's offers both same-day delivery as well as curbside pickup. BJ's also offers ExpressPay in its warehouse locations, making the in-store checkout experience far quicker.
Carly Neil
Carly Neil is a freelance writer specializing in all things food, travel, Disney, and theme parks.
Read more about Carly