The Healthiest New Groceries of 2018
Out of the thousands of new grocery products that came to market in 2018, these 20 items are the best of the best.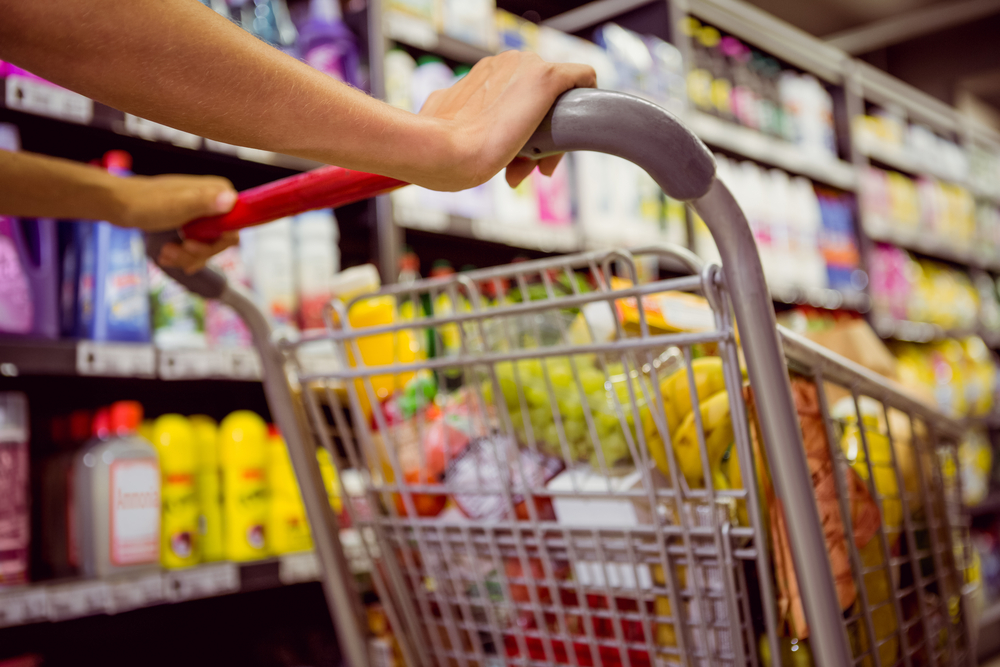 Roughly 21,435 new food products were introduced in grocery stores last year, according to the USDA Economic Research Service. And with so many new choices to choose from when you step foot in a supermarket, it can feel overwhelming when it comes time to choose the best brands for your health.
So instead of wandering aimlessly through overwhelming aisle after aisle, let Eat This, Not That! do the heavy lifting for you. We've scoured the stores looking for the best of the best in healthy foods to come up with these top picks.
Eat healthier with our picks for the healthiest packaged groceries that came to supermarkets near you in 2018. To continue watching out for your body's best interests while you eat out, know when to say "no" to these 100 Unhealthiest Foods of 2018.
Chobani Savor Low-Fat Plain
per 2 tbs
: 20 calories, 0.5 g fat (0 g saturated fat), 10 mg sodium, 1 g carbs (0 g fiber, <1 g sugar), 3 g protein
Chobani is definitely deserving of praise for essentially creating a new condiment. Chobani Savor is a healthy spin on sour cream. The Greek yogurt condiment has 75 percent less fat than sour cream, and thus, fewer calories. We love to squeeze this creamy topping on everything from cheesy enchiladas to grilled chicken tacos and hearty chili. It also comes in handy whenever we're making creamy salad dressings like cilantro lime or Caesar.
RUNA Zero Clean Energy Drink, Watermelon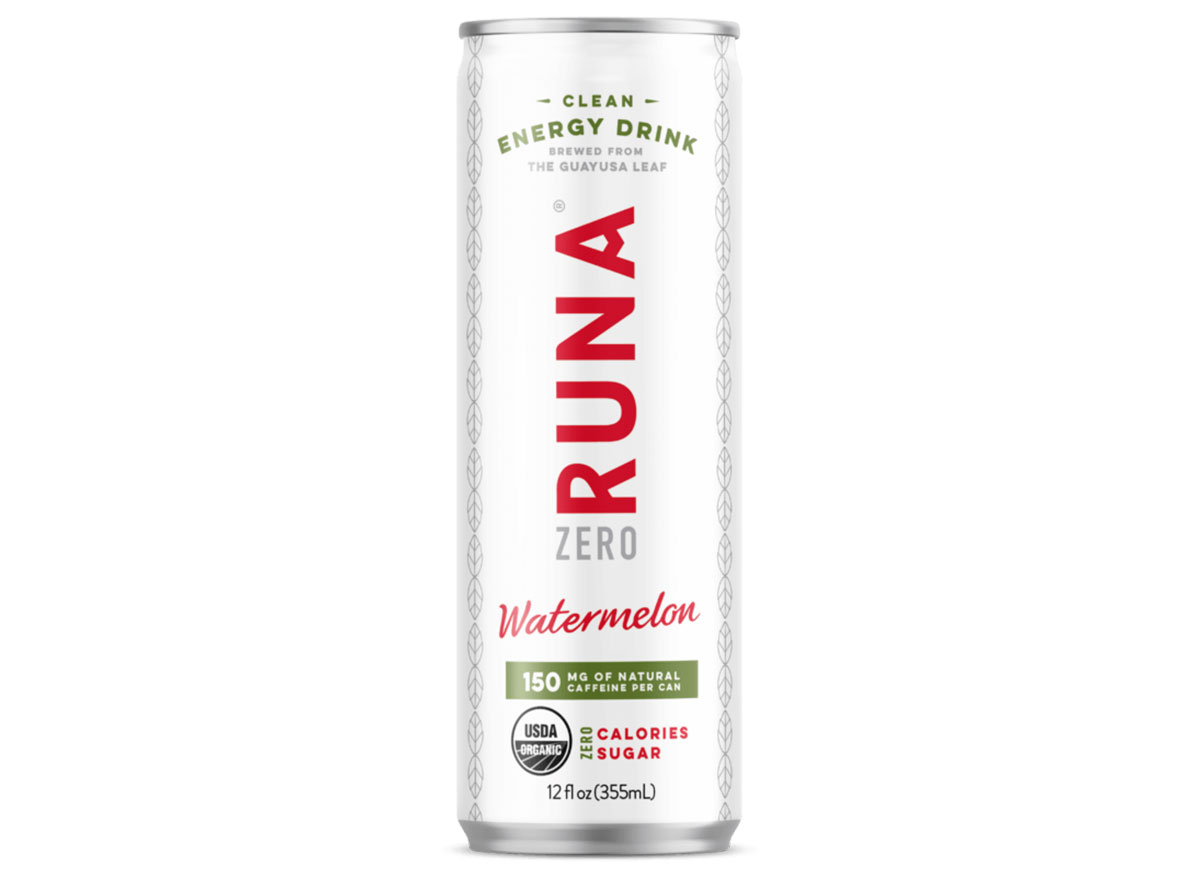 Per 12-oz can
: 0 calories, 0 g fat, 0 g sodium, 1 g carbs (0 g fiber, 0 g sugar), 0 g protein
If you're looking for a drink that helps you tackle your to-do list without having to chug 30 grams of sugar per serving, Runa has you covered. Unlike other "zero" beverage lines, Runa doesn't add any kind of sweetener to this caffeinated energy drink, which derives its crash-free, steady caffeine hit from guayusa leaves. It's a welcome reprieve from other energy drinks on shelves, like Red Bull, which fits a whopping 27 grams of sugar into a smaller 8.4-ounce can.
SHOP NOW ON AMAZON
Koia Fruit Infusions, Mango Creme Smoothie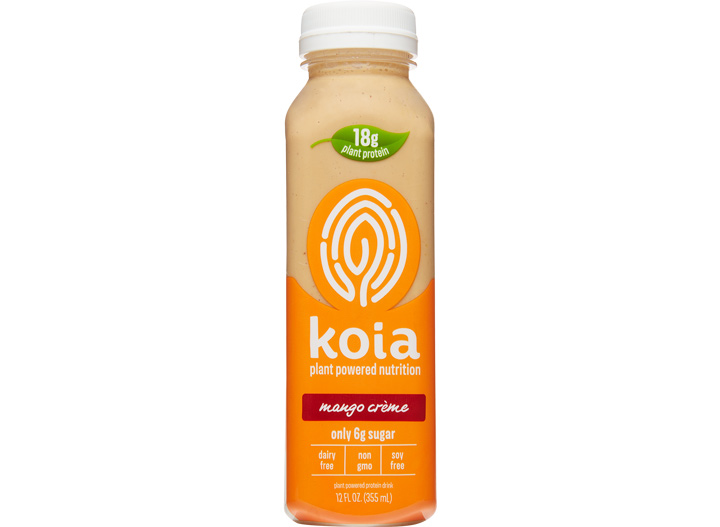 per 12 oz bottle
: 190 calories, 7 g fat (2 g saturated fat), 310 mg sodium, 13 g carbs (6 g fiber, 6 g sugar), 18 g protein
Koia makes such a good thirst- and hunger-quenching protein shake that you'd never guess it was vegan and low in sugar. It starts with a blend of almond and coconut milks for serious creaminess and tosses in mango puree and turmeric extract for a dessert-like flavor. Compared to Bolthouse Farms' Protein Plus Mango drink, this 12-ounce bottle of Koia has almost 35 fewer grams of sugar.
Tribali Foods Mini Chicken & Apple Sliders
Per 2 patties
: 90 calories, 2 g fat (0.5 g saturated fat), 330 mg sodium, 4 g carbs (0 g fiber, 3 g sugar), 13 g protein
Wake up to a better breakfast, courtesy of Tribali. These Whole30-approved, Paleo-friendly sausage sliders are made of organic, free-range chicken with tart apples, sage, thyme, and a bit of nutmeg for a lean way to get 13 grams of protein into your first meal of the day.
KIND Kids Bars, Chewy Chocolate Chip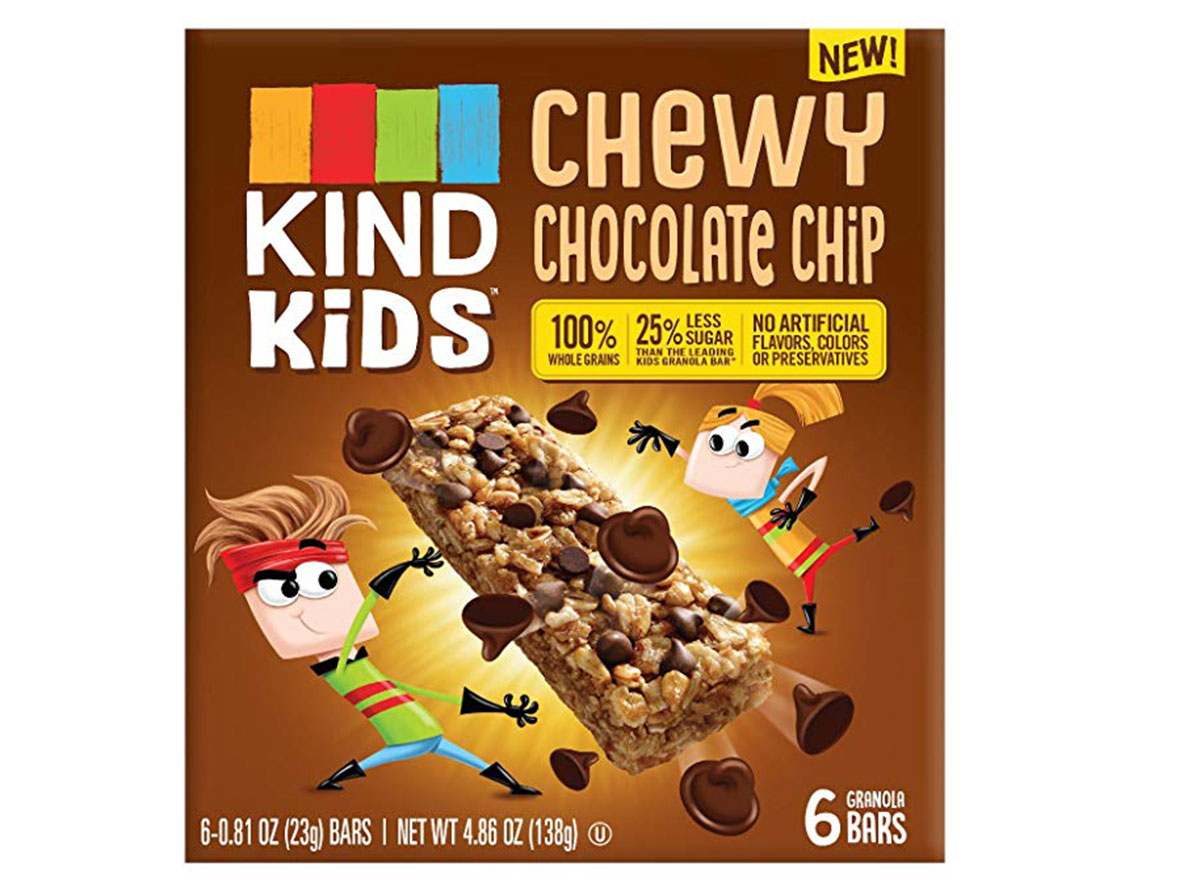 per bar
: 90 calories, 3 g fat (0.5 g saturated fat), 65 mg sodium, 16 g carbs (1 g fiber, 5 g sugar), 1 g protein
Unlike those chewy treats you craved as a kid, this better-for-you bar packs in real ingredients (you won't find any diacetyl tartaric acid ester of mono-diglycerides, sucralose, soybean oil, or artificial ingredients here!) and just five grams of sugar. It's a great addition to your kiddies' lunchboxes!
Halo Top Dairy-Free Vanilla Maple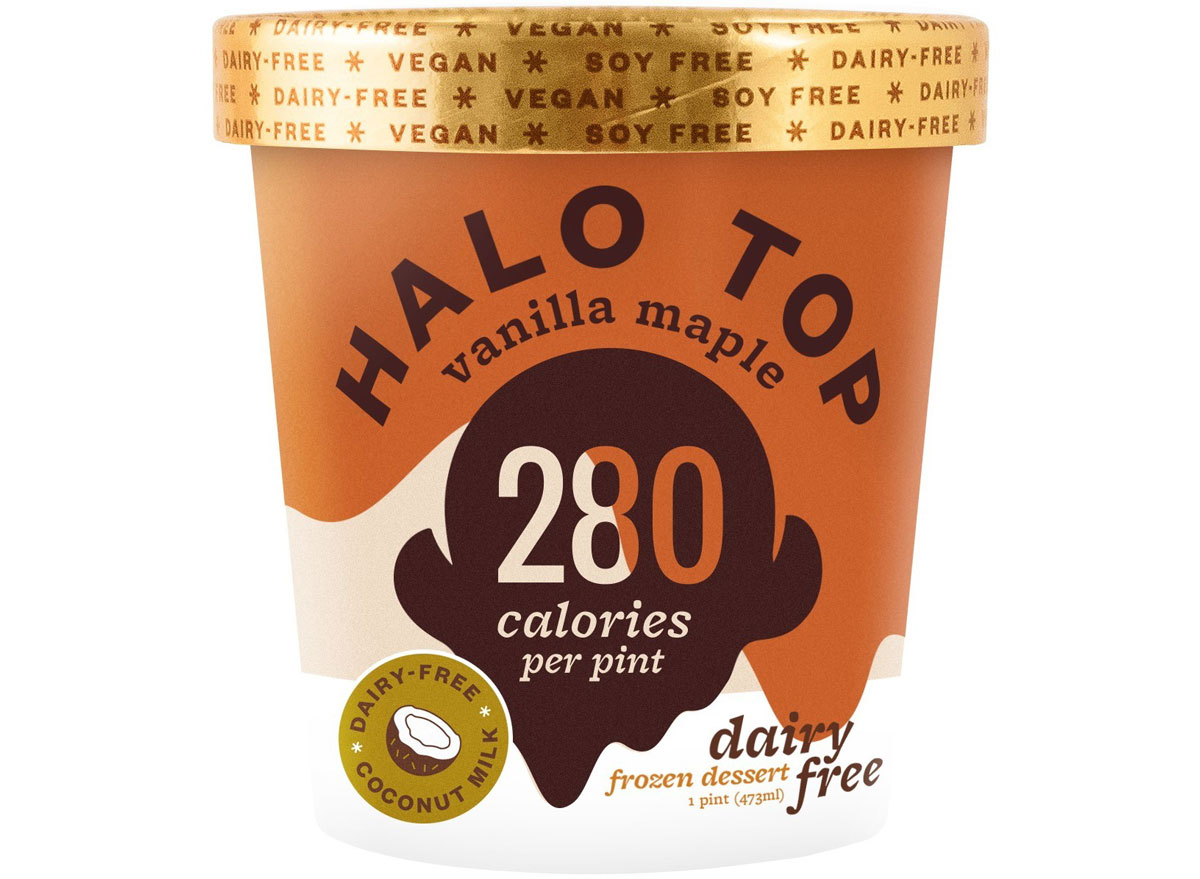 ½ cup
: 70 calories, 2.5 g fat (2 g saturated fat), 75 mg sodium, 15 g carbs (5 g fiber, 4 g sugar, 5 g sugar alcohols), 3 g protein
As someone who just went through a heart-wrenching breakup with dairy, ice cream tops the list of foods I miss. Luckily, Halo Top's dairy-free dessert is a spot-on substitute for the traditional stuff—and it just happens to have way less sugar and a solid dose of fiber.
Organic Girl Avocado Cilantro Dressing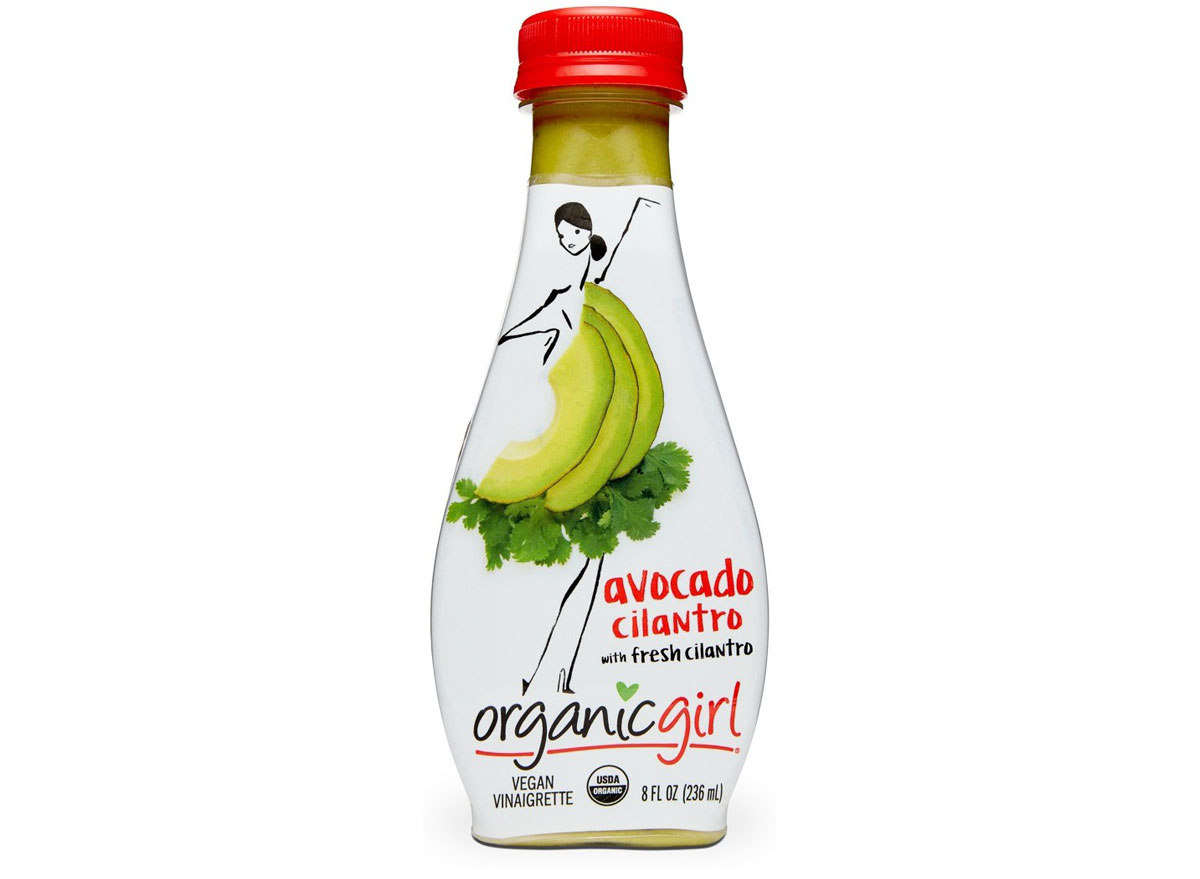 Per 2 tbsp
: 120 calories, 13 g fat (1.5 g saturated fat), 80 mg sodium, 2 g carbs (0 g fiber, 1 g sugar), 0 g protein
We're not normally fans of bottled salad dressings since they're commonly loaded with salt and sugar, but this one is different. The new refrigerated dressing line from Organic Girl is made with fresh ingredients (like organic cilantro, apple cider vinegar, avocado, and jalapenos), is free of preservatives, unnecessary thickeners, gums, and stabilizers, and it tastes like it just came out of a blender, not a bottle.
siggi's No Added Sugar Banana & Cinnamon Yogurt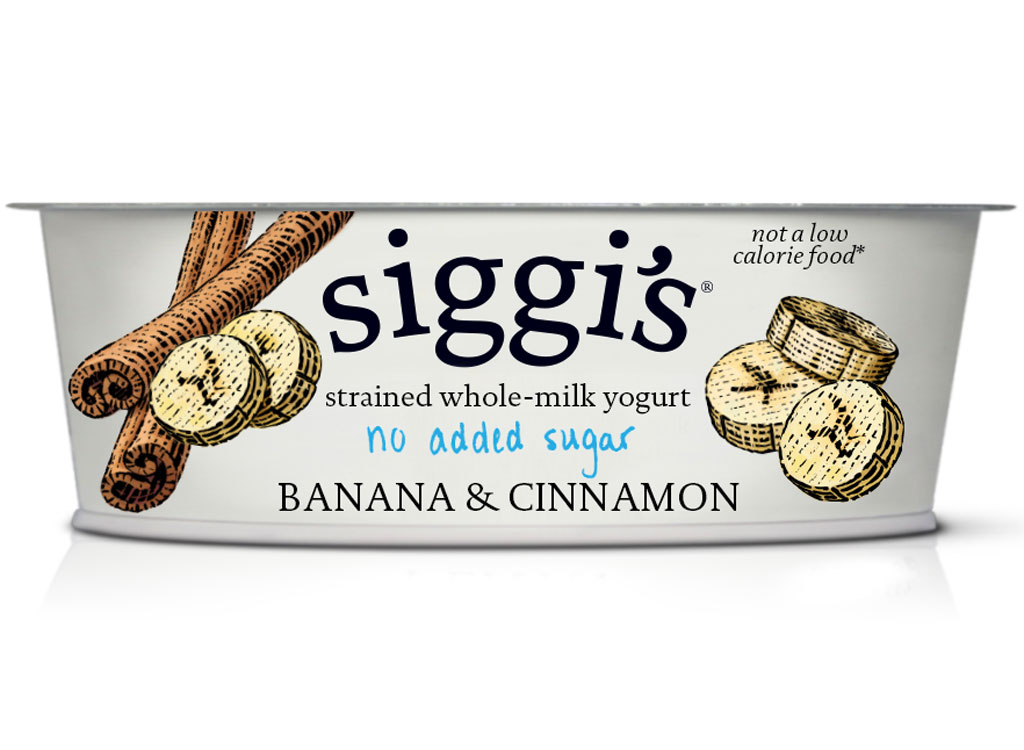 Per 4.4-oz container
: 120 calories, 4 g fat (2.5 g saturated fat), 50 mg sodium, 10 g carbs (1 g fiber, 5 g sugar), 11 g protein
siggi's just cut the sugar content of your favorite breakfast to a mere 5 grams (which comes from the fruit and yogurt—that's it)! The only other fruit-flavored yogurts who can come close to boasting the same nutritional stats use zero-calorie sweeteners such as stevia or metabolism-wrecking artificial sweeteners, like the sucralose and acesulfame potassium used in Yoplait Light and Dannon's Activia Light.
Healthy Choice Cauliflower Curry Power Bowl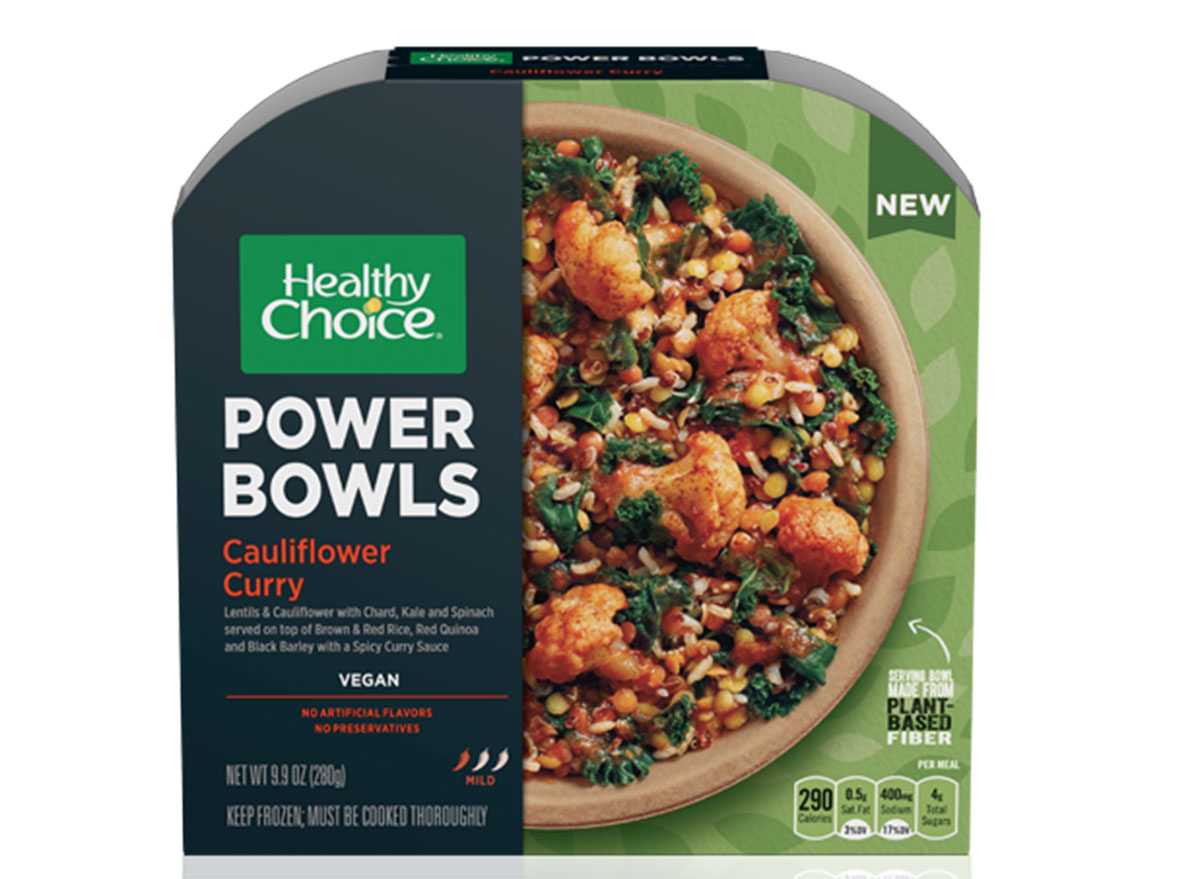 Per bowl
: 290 calories, 3.5 g fat (0.5 g saturated fat), 400 mg sodium, 50 g carbs (7 g fiber, 4 g sugar), 14 g protein
The days of shunning frozen food are over. When you're in need of a quick, healthy meal, this vegetarian bowl from Healthy Choice will pack a powerful protein punch without drowning the entree in sodium, as is custom with other frozen meals.
SHOP NOW ON AMAZON
Health Warrior Protein Mug Muffin, Banana Nut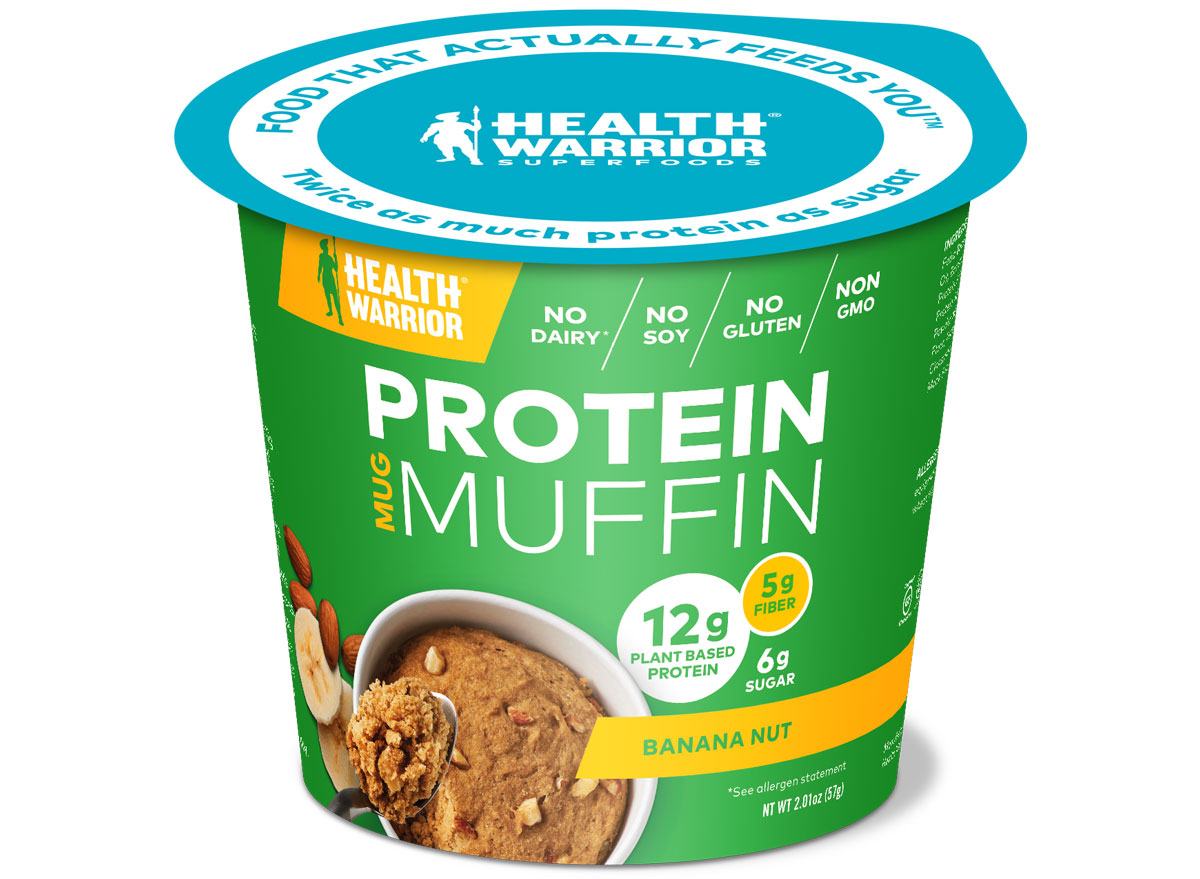 1 mug (57 g)
: 240 calories, 9 g fat (1 g saturated fat), 260 mg sodium, 29 g carbs (5 g fiber, 6 g sugar), 12 g protein
Microwaveable cakes, muffins, and pancakes line store shelves across the country. But once you turn the cup around, you'll notice that most have between 30 and 40 grams of sugar per serving—yikes. Health Warrior fixes this problem by using a touch of brown sugar and zero-calorie sweetener monk fruit extract. The result? Just 6 grams of sugar with an impressive 12 grams of plant-powered protein from fava beans, pumpkin seeds, and flaxseed.
ALOHA Chocolate Mint Plant-Based Protein Bar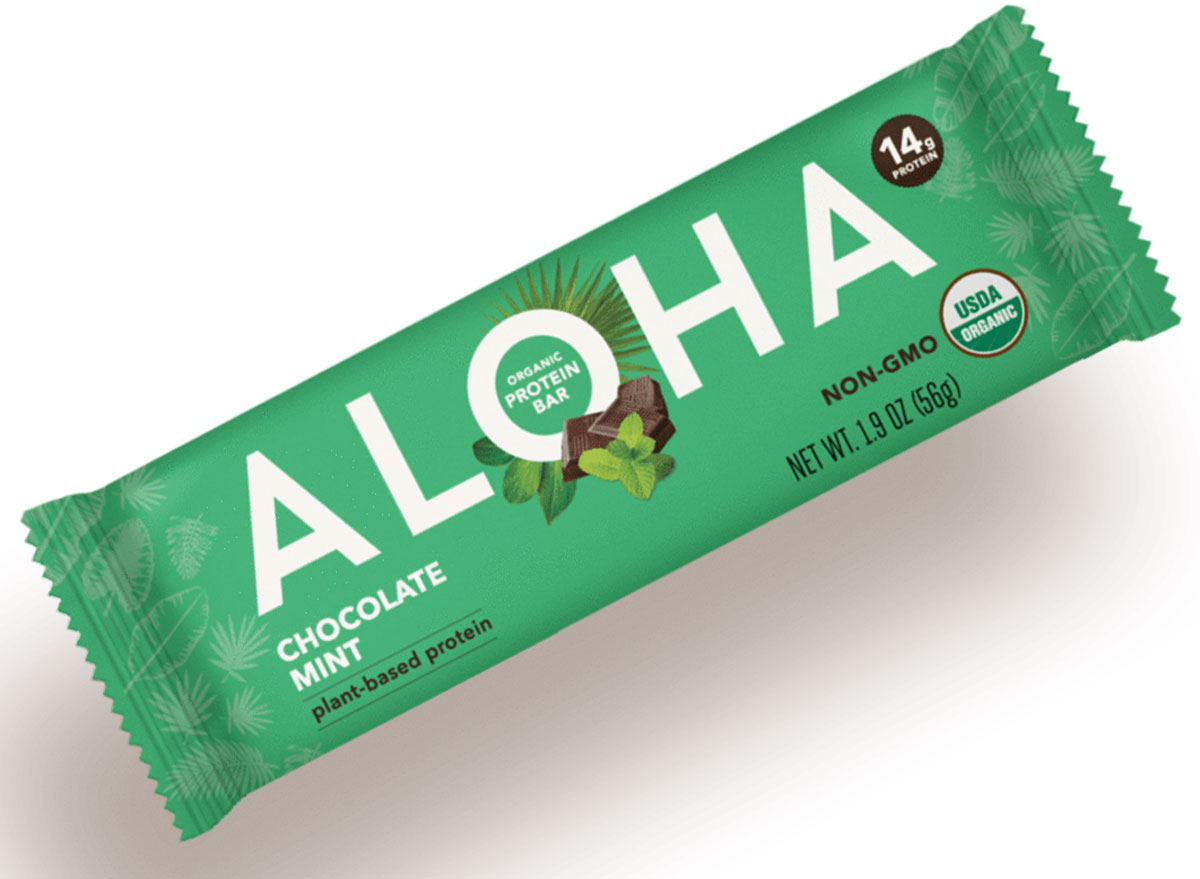 Per bar
: 230 calories, 11 g fat (3.5 g saturated fat), 0 mg sodium, 25 g carbs (11 g fiber, 4 g sugar), 14 g protein
After reformulating their recipe this year, ALOHA's new plant-based protein bar line has half the sugar, double the protein and more fiber. This plant-based protein bar is enrobed in a glossy layer of chocolate that makes it just as indulgent as it is good for your muscles after a HIIT session.
Blue Moose of Boulder Organic Lemon Turmeric On the Go Hummus With Carrot Sticks
Per 1 container
: 150 calories, 7 g fat (1 g saturated fat), 180 mg sodium, 18 g carbs (5 g fiber, 3 g sugar), 5 g protein
Sick of dipping refined-grain pretzels in your hummus? Us too. Instead, opt for a grab-and-go hummus pack from Blue Moose of Boulder. The pack comes with healthy dehydrated carrot sticks to dip in their organic lemon turmeric hummus.
SHOP NOW ON AMAZON
Ancient Harvest Heat-and-Eat Organic Quinoa with Chickpeas & Garlic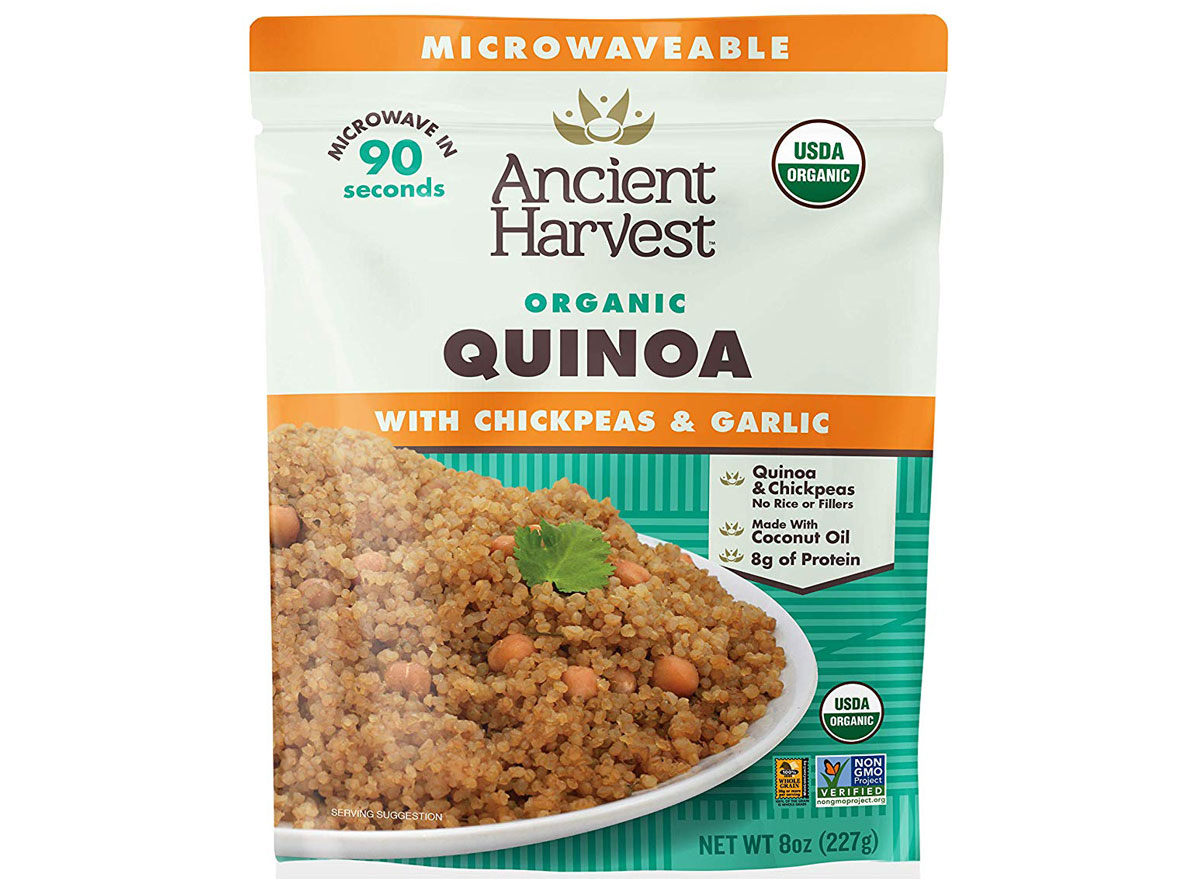 6254a4d1642c605c54bf1cab17d50f1e
Per ½ pouch or 1 cup
: 230 calories, 6 g fat (2.5 g saturated fat), 350 mg sodium, 36 g carbs (4 g fiber, 0 g sugar), 8 g protein
Since I started trying to make more of my lunches, Ancient Harvest's microwaveable quinoa really saved my life. This blend of whole grain quinoa and protein-packed legumes acts as the perfect protein-rich base for Buddha bowls and salads.
YQ Strawberry by Yoplait
Per 5.3 oz container
: 130 calories, 2.5 g fat (1.5 g saturated fat), 70 mg sodium, 10 g carbs (0 g fiber, 9 g sugar), 15 g protein
Thanks to being made with ultra-filtered milk, YQ by Yoplait is both lower in sugar and higher in protein than most fruit-flavored yogurts. An added bonus for those with digestive issues: it's also 99 percent lactose free.
Garden Lites' Frittata Muffins, Spinach Egg White Frittata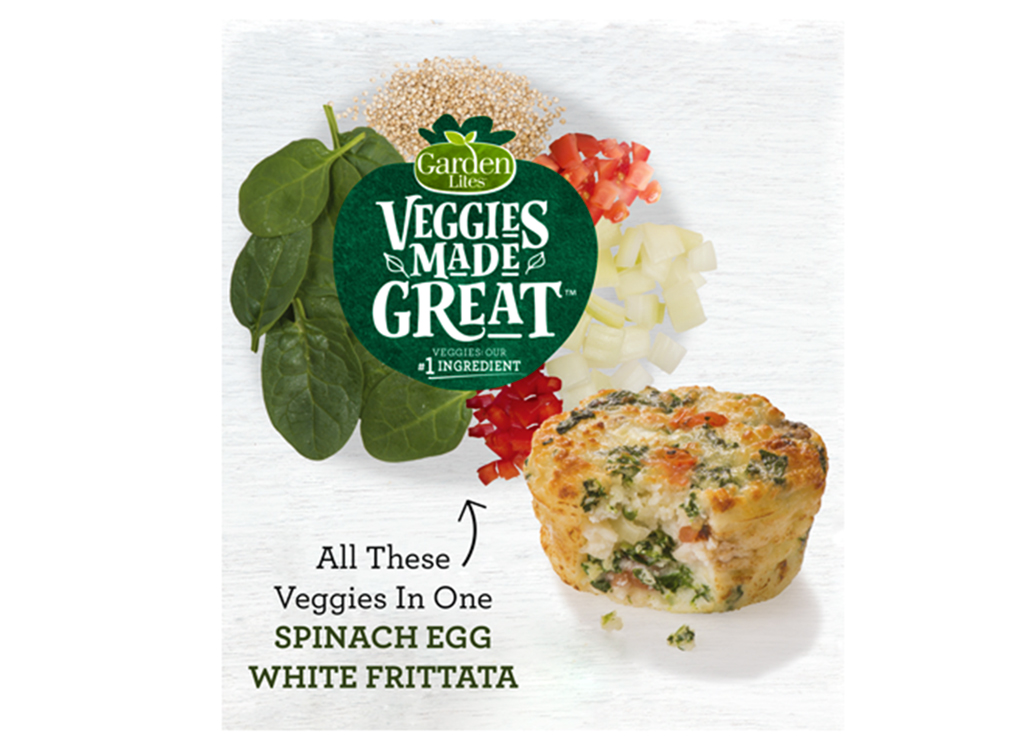 Per 1 frittata
: 70 calories, 4 g fat (1 g saturated fat), 190 mg sodium, 5 g carbs (1 g fiber, 1 g sugar), 5 g protein
Forgot to eat breakfast this morning? Keep a box of these egg white frittatas at work and you won't have to work through the morning hungry. Each frittata comes packed with spinach, tomatoes, onions, and red bell peppers, and they clock in at just 70 calories per bite. All you have to do is pop them into the microwave for 45 seconds or toss in the toaster oven at 350 degrees for 25 minutes.
Simple Mills Hexagon Sprouted Seed Crackers
Per 9 crackers (30 g)
: 140 calories, 7 g fat (0.5 g saturated fat), 210 mg sodium, 17 g carbs (3 g fiber, 0 g sugar), 3 g protein
Usually crackers serve as the supporting player in the hummus or cheese show, but these sprouted grain crackers from Simple Mills are so good, they give brie a run for its money. Sprouting grains increases the bioavailability of many nutrients that are typically locked in cells and are thus missed during digestion. What's more, the seed blend offers a hearty dose of fiber and protein.
Bonne Maman 'Intense' Fruit Spread, Strawberry
Per 1 Tbsp
: 35 calories, 0 g fat (0 g saturated fat), 5 mg sodium, 8 g carbs (3 g fiber, 8 g sugar), 0 g protein
This is new for us! While we typically recommend pairing your PB with real fruit, Bonne Maman finally developed a solution to the high-sugar problem of jams. Their "Intense" line uses 39 percent less sugar (a total of 5 grams!) than their cult classics. They're crafted with simple, natural ingredients found in any kitchen, like lemon juice and sugar.
Maker Overnight Oats, Banana & Coffee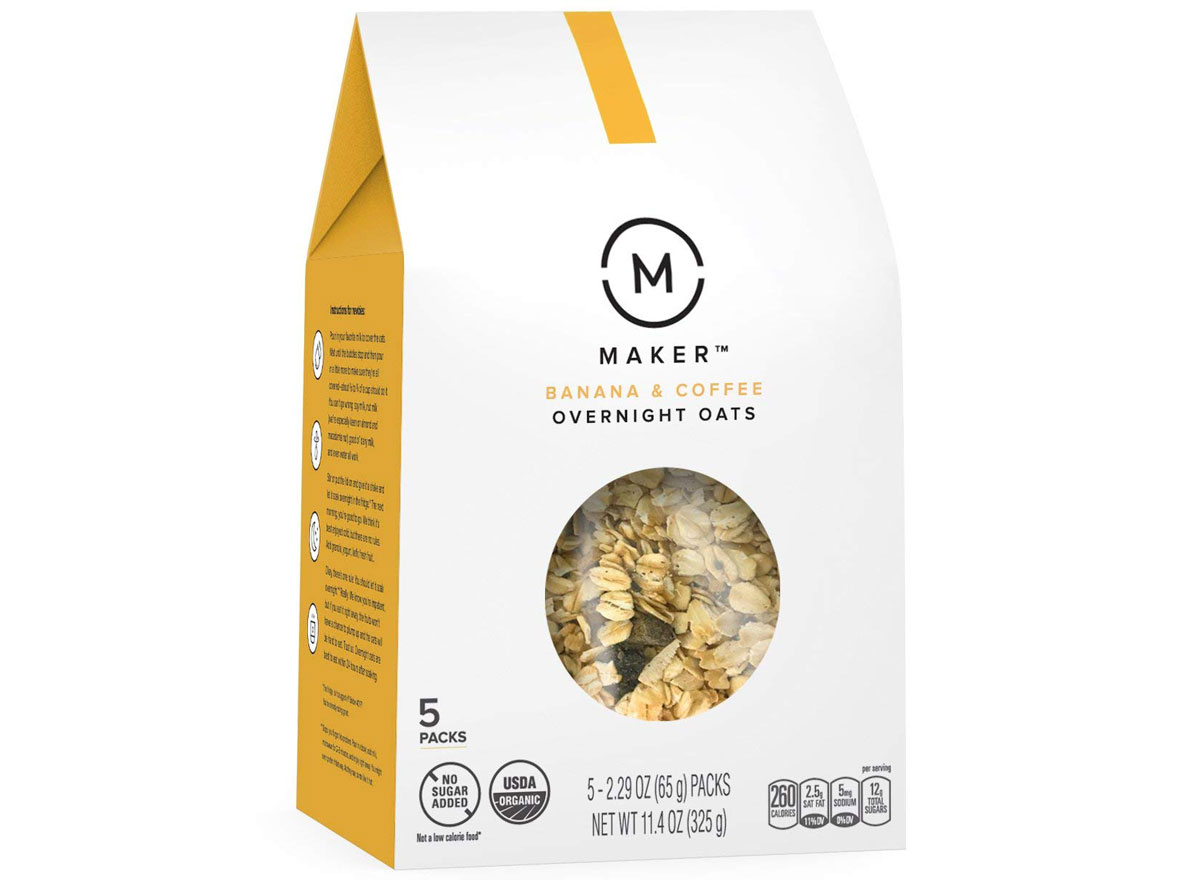 Per pouch
: 260 calories, 5 g fat (2.5 g saturated fat), 5 mg sodium, 45 g carbs (8 g fiber, 12 g sugar), 7 g protein
We've been hyped about overnight oats for years, and even though it's really easy to make at home (just pick one of these overnight oats recipes), it's also just as easy to order it premade online! Maker turns the dial up a notch to create an organic overnight oat blend with no added sugars and an awesome flavor combo of bananas and coffee.
JUST Egg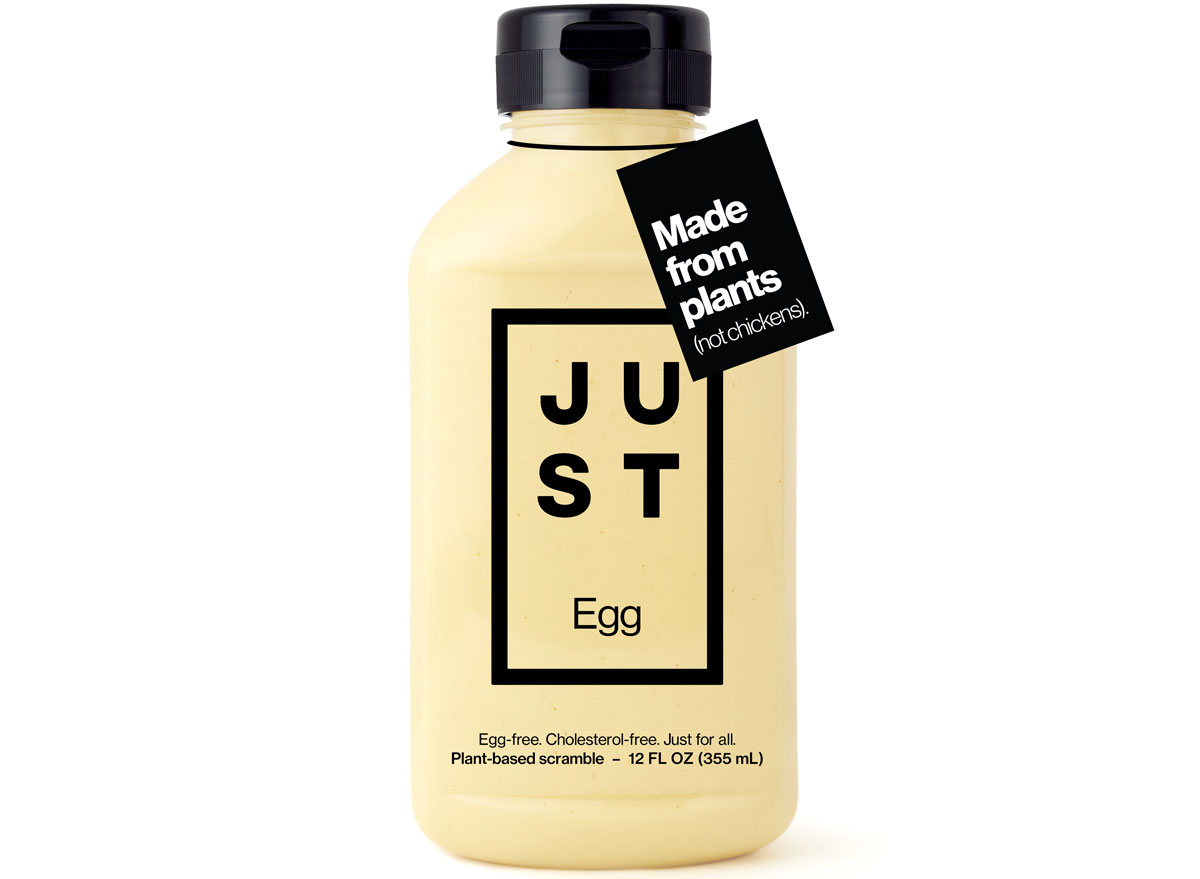 Per 3 Tbsp
: 45 calories, 2.5 g fat (0 g saturated fat), 150 mg sodium, 0 g carbs (0 g fiber, 0 g sugar), 5 g protein
Vegans and those with egg intolerances, you don't have to eat another flax egg again. This egg substitute uses mung bean protein to create a nutritionally-comparable substitute to the mighty egg. (One major bonus: it's much lower in cholesterol.) The best part about this egg substitute is that it actually scrambles up like an egg. It's crazy.
OHi Bar, Peanut Butter
1 bar (51 g)
: 280 calories, 21 g fat (4 g saturated fat), 70 mg sodium, 15 g carbs (5 g fiber, 7 g sugar), 10 g protein
Bored of bars yet? Fall in love all over again with OHi bars! These refrigerated protein bars are just like those energy balls you make. It's a blend of chopped peanuts, chia, flax, and pumpkin seeds, and is sweetened with a hint of coconut nectar. Because they're refrigerated, the brand doesn't have to load up on natural preservatives (like salt and sugar), which keeps these bars at 7 grams of the sweet stuff. Oh, by the way, when you order a box, make sure you get two. (They'll go fast—trust me.)
Olivia Tarantino
Olivia Tarantino is the Managing Editor of Eat This, Not That!, specializing in nutrition, health, and food product coverage.
Read more about Olivia