15 Packaged Foods to Stock up on Right Now as Coronavirus Spreads
As cases continue to pop up in the U.S., it's important to prepare your body and cabinets with these healthy non-perishables.
The world is currently being plagued with coronavirus, and as more and more cases pop up in the U.S., it's probably smart to stock up on a few non-perishable and healthy foods that you can easily store in your kitchen.
Hey, you never know if a self-inflicted or mandated quarantine could happen. And, at the very least, eating immune-boosting foods right now can only help you. So, here are the best packaged foods to buy to keep you healthy, and to have on hand in the event that the coronavirus requires you to stay home.
Bush's Organic Beans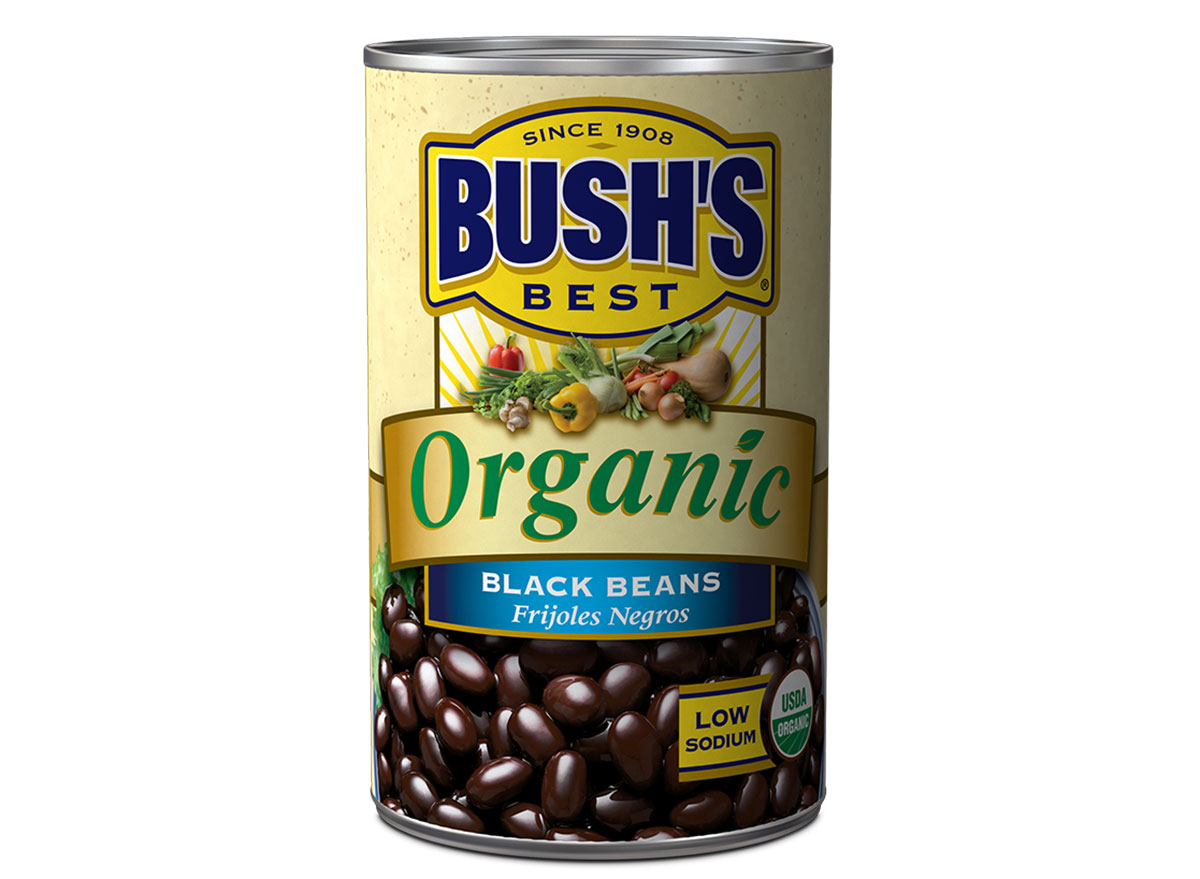 Beans—whether they're red, pinto, black, or navy—are a part of an immunity-boosting diet, says Patricia Bannan, MS, RDN, and LA-based nutritionist and healthy cooking expert.
"Beans are an excellent source of protein, which plays an important role in building cells, including those in your immune system," says Bannan. "Beans also contain a variety of immune-boosting nutrients such as B vitamins, fiber, and antioxidants."
Oatly Oat Milk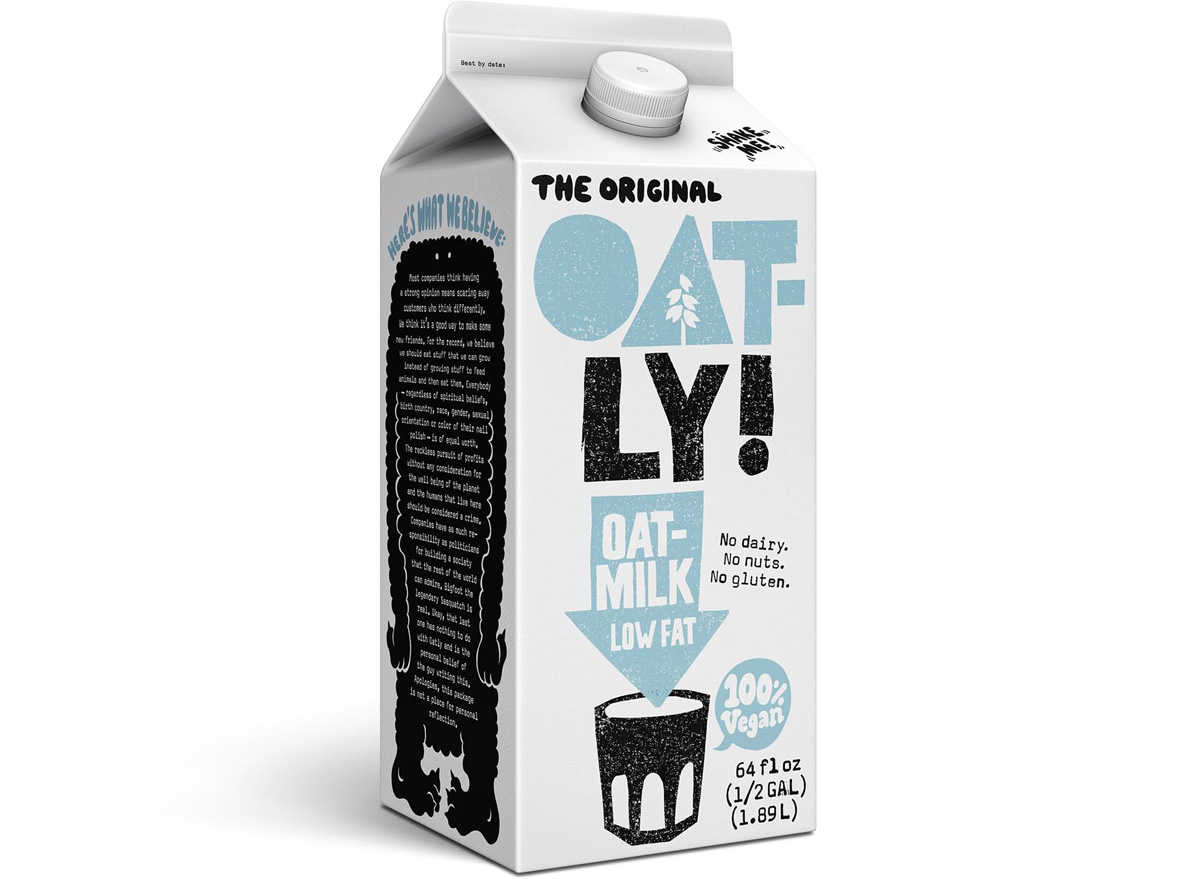 Cow's milk expires quickly, and if you're going to be quarantined, you'll want to stock up on healthy packaged foods that have a longer shelf life. Instead, opt for a non-dairy milk alternative such as oat milk to put in your cereal, oatmeal, and smoothies.
Speaking of smoothies…
Simple Truth Frozen Strawberries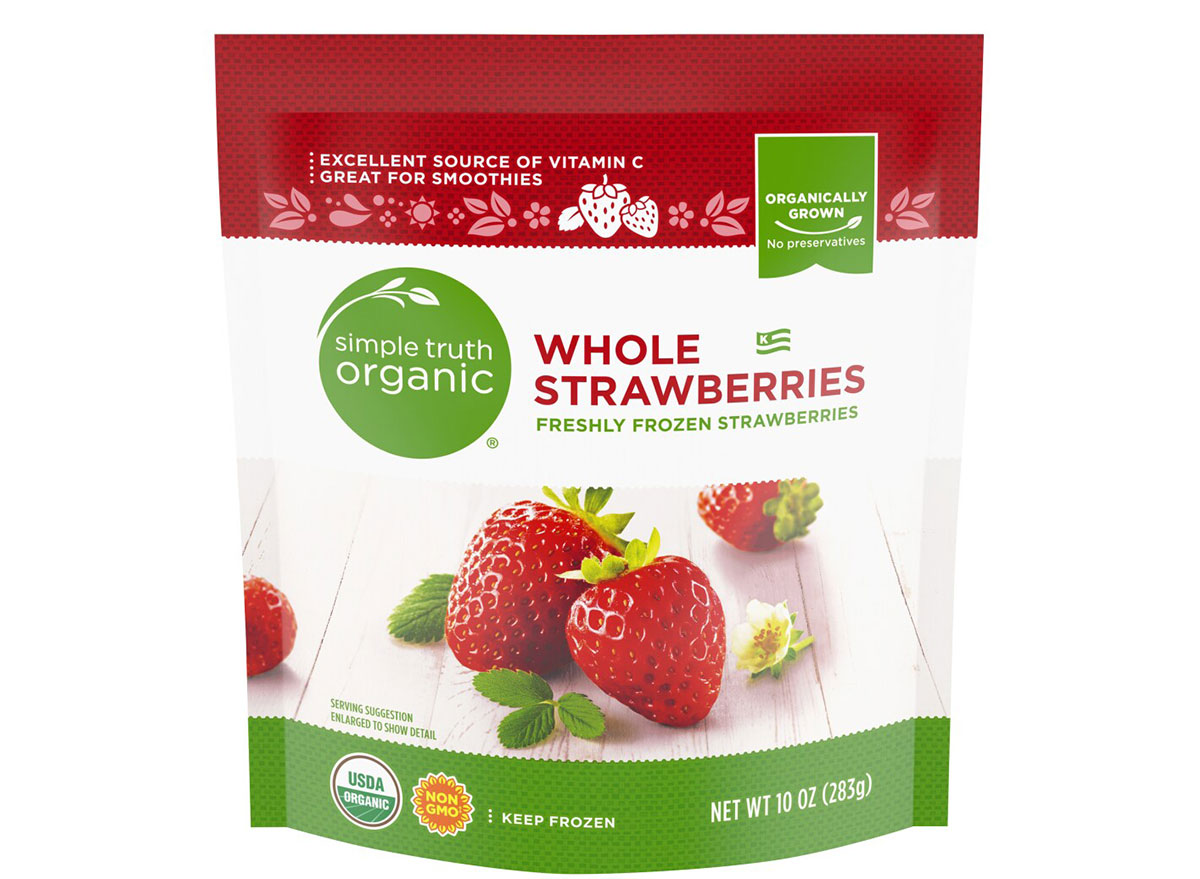 Stocking up on frozen fruit is a great way to make sure you're still eating foods that are full of vitamins and minerals, without having to worry about them spoiling.
"Getting adequate vitamin C is essential to help keep your immune system running strong," says Kelli McGrane MS, RD, registered dietitian for weight loss tracking app, Lose It!. "And while many of us think of citrus fruits, you may be surprised to know that just 1 cup of halved strawberries provides 99 percent of the daily value."
"I like to keep a bag of frozen strawberries in my freezer, as they're perfect for adding to smoothies or heating and adding to oatmeal or Greek yogurt,"says McGrane.
KOS Organic Daily Greens
Another important ingredient to toss into your smoothie? KOS' Show Me The Greens dietary supplement. The scoopable powder is made from a slew of greens including wheatgrass, kale, broccoli, cabbage, green bell peppers, apple, and spirulina. You could just shake this powder with water if you've already perfected your morning smoothie recipe (it is green apple sorbet flavored after all). Consider ordering this product online so you get some vegetables in your diet as you remain in the confines of your home.
Elderberry Gummies
Elderberry is a magical (OK not really, but it sure feels like it!) berry used for medicinal purposes. Nature Made's Elderberry Gummies are packed with the perfect balance of vitamin C and zinc, which is a powerful immune-boosting vitamin and mineral combo. Take two of these gummies every morning to support your immune system and ward off illness as best as you can.
Wild Planet Wild Pink Salmon
"Canned salmon is great to have on hand as it's rich in several immune-boosting nutrients, including zinc, protein, and omega-3 fatty acids," says McGrane. "My go-to brand is Wild Planet Pink Salmon as it's sustainably caught and has the best flavor and texture compared to other brands on the market."
Cappello's Grain-Free Pizza
Forget about ordering pizza in, Cappello's has a few tasty grain- and gluten-free frozen pizzas you can stock up on and heat up at your convenience. You can choose from three flavors: Italian Sausage, Uncured Pepperoni, or Cheese. Alternatively, you could pick up the naked pizza crust and decorate it with your own ingredients, but now may not be the best time for that!6254a4d1642c605c54bf1cab17d50f1e
Cleveland Kraut Roasted Garlic
Fermenting vegetables is a great way not only to allow them to last longer but to also make sure you're receiving essential prebiotics and probiotics. Try one of Cleveland Kraut's six favors of kraut in salads, in rice dishes, or on sandwiches—a great reason to stock up on bread and deli meat, too! We especially love the roasted garlic variety for its antibacterial and antiviral properties.
Stonyfield Probiotic Shots
It's always important to maintain good gut health, however, it's especially important that you do so when you're sick or have limited access to a variety of fresh, nutritious foods. Stonyfield's Organic Daily Probiotics drink is a great way to get your daily dose of probiotics, and even a little protein to boot. Start your morning off with one of these mini drinks!
Bob's Red Mill 13 Bean Soup Mix
Since canned soups can be ultra-high in sodium, McGrane suggests opting for dry soup mix instead to help keep your sodium intake controlled.
"Consisting of dried beans, one serving is high in fiber and protein while being sodium-free and low in saturated fat. All you have to do is combine this shelf-stable mix with low-sodium chicken or vegetable broth for an easy, nutritious meal," she says.
We recommend you pair it with Pacific Foods Low Sodium Organic Vegetable Broth.
County Archer Turkey Jerky
Optimal protein intake is a pivotal part of keeping your immune system strong and fending off illness. Stock up on a trusted brand of jerky, such as County Archer's Turkey Jerky. The turkey that's used in this product was not raised with antibiotics, doesn't contain any preservatives, and incorporates organic ingredients. Just 1 ounce of this jerky packs 10 grams of protein for only 80 calories. Bonus: It's also made with gluten-free tamari soy sauce.
Bonafide Provisions Bone Broth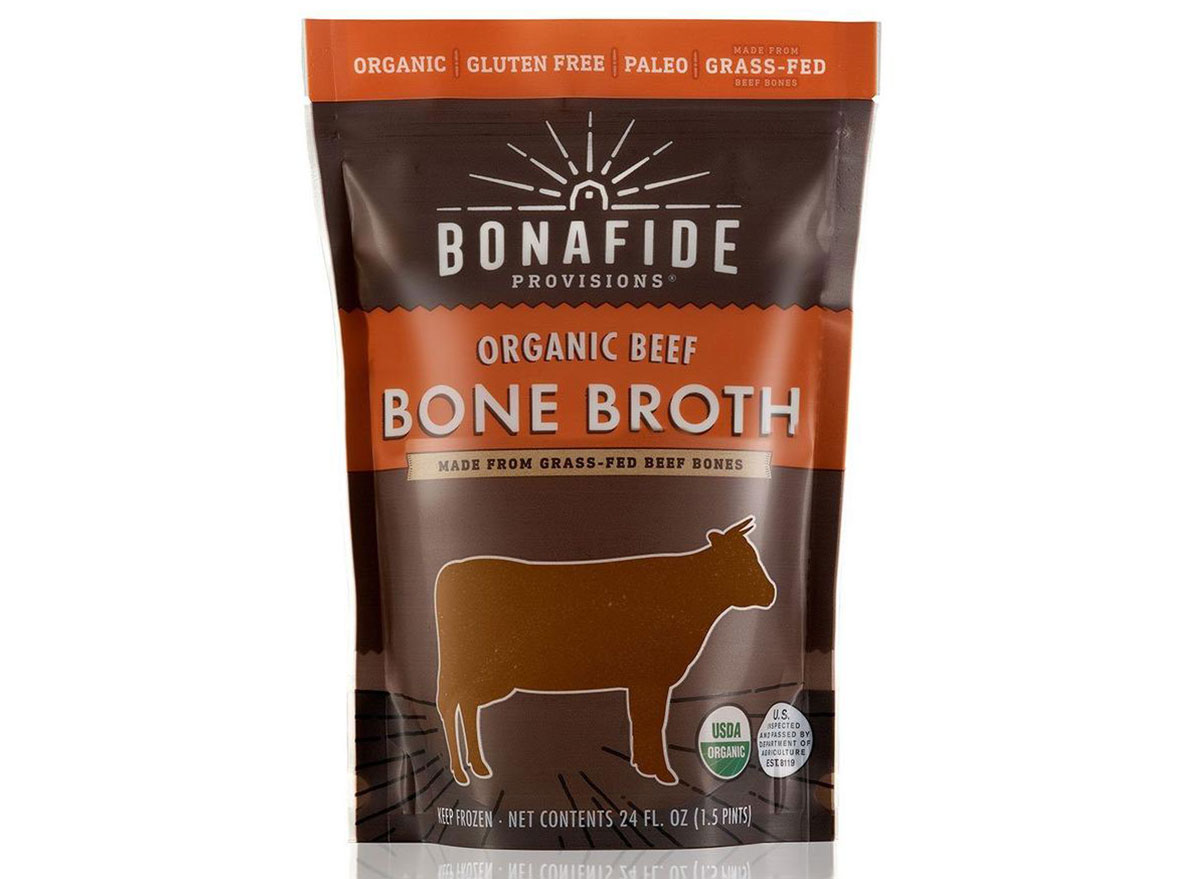 There are many health benefits of bone broth. Not only is it rich in collagen, but it also just tastes great and is very warming to drink. We love the taste of Bonafide's organic beef bone broth and you can drink it as is or make ramen or pho with it at home.
Quaker Oats Old Fashioned Oatmeal
Nothing's more soothing in a time of crisis than a warm bowl of hearty oatmeal.
"Quaker Oats Old Fashioned Oatmeal is [made of] 100 percent whole grain oats," says Bannan. "Oats contain selenium and zinc, two important nutrients for warding off infection and boosting immunity. The beta-glucan fiber found in oats helps boost your infection-fighting red blood cells. They also contain polyphenol antioxidants for good health."
Luvo's Performance Kitchen Ginger Miso
What better time to stock up on frozen foods than now? Enjoy one of Performance Kitchen's variety of eclectic bowls. The Ginger Miso, which includes buckwheat noodles, carrots, green beans, mushrooms, and edamame beans, is an especially tasty option.
Sweet Earth Blackberry Pogo Bar
In case you need a midday snack, try Sweet Earth's all-new POGO! (power on the go) bar. Think of a Pop-Tart, but without all of the added sugars and fake ingredients. The product can be kept frozen and then popped in the toaster when you're ready to indulge. Made with healthful ingredients such as sweet potatoes, blackberries, and chia seeds, this packaged food will provide a lot of nourishment.